5 Delicious Fall Recipes That Actually Include Pumpkin Spice
Another autumn has crept up on us quickly, and with this change in weather comes the flurry of  pumpkin spice everything. It was in 2004, in fact, that the pumpkin spice phenomenon really took off, after Starbucks introduced their Pumpkin Spice Latte nationwide. And ever since, the obsession with this flavor has simply taken over the season, flooding advertisements and hitting the shelves of supermarkets and menus of coffee shops with equal fervour. It's so in-your-face you can surely almost taste it.
There's pumpkin spice vodka, pumpkin spice hummus, pumpkin spice bagels, and pumpkin spice Pringles. The fiercely followed spice is in granola bars, pudding, soy milk, Clif Bars, popcorn, Peeps, Four Loko… and the list goes on, and on… and on.
-->Free e-Guide - Your Body Electric: An Introduction to Bioenergetics: Dr. Christine Schaffner will help you learn the basic principles of energy, frequency and vibrational healing! Click here to learn more!
I myself have never tasted the annual Starbucks treat or purchased the various items filling up the shelves as I saunter through the aisles of the grocery store, but it has concerned me that the mass production of the flavour, in such a wide range of items for such a short period of time, is a marketing ploy by companies to get it while it's hot, and not while it's real. And when The Wall Street Journal broke the news that Starbucks' most beloved fall beverage contains no real pumpkin, rather natural and artificial pumpkin spice flavor, the jig was truly up.
So what's a pumpkin spice fanatic to do? Well, you could carry on trying to pick apart every product presented to you in hopes that it does, indeed, come complete with real pumpkin spice, or you can try to make the following five recipes from scratch that actually come complete with the real deal.
Healthy Homemade Pumpkin Spice Latte
Source: Eating Bird Food
This drink can be whipped up in a total of 10 minutes. Complete with pumpkin puree, pumpkin pie spice, unsweetened vanilla almond milk, vanilla extract, and cinnamon, you'll be happy to find Starbucks isn't your only option. Try the recipe here.
No Bake Pumpkin Spice Energy Bars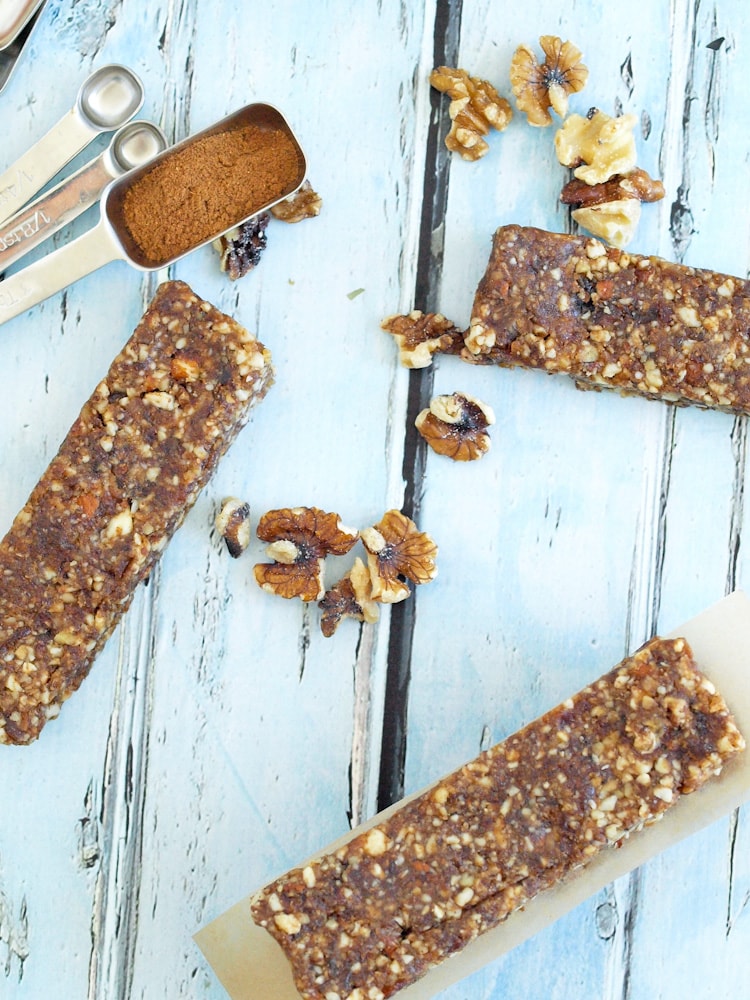 Source: Happy Healthy Mama
Granola bars are one of the go-to options for a healthy snack when time isn't on your side. But not all bars are created equal, so it's important to be mindful of what's really in the ones you get. And if DIY is your thing, then these no-bake bars featuring dates, walnuts, almonds, pumpkin puree, and pumpkin pie spice ought to be on your list. All you have to do is put the ingredients in a food processor and pulse until the mixture is well combined. Here's the recipe.
Healthy Pumpkin Pie Spiced Hummus With Cinnamon Graham Crackers
Source: Gringalicious
Whip up this sweet snack in no time. The crackers call for ingredients like honey, vanilla extract, whole wheat flour, and cinnamon, while the hummus includes pumpkin puree, garbanzo beans, molasses, and walnuts. Find the recipe here.
Pumpkin Spice Baked Apples

Source: The Gracious Pantry
It's fall, so undoubtedly apples are in abundance. This 5-ingredient healthy dessert is full of fiber and vitamins. All there is to it is one apple, honey, pumpkin spice, dried cranberries, and walnuts. Get the recipe here.
Pumpkin Spiced Nuts
Source: Bare Root Girl
Mix together avocado oil, maple syrup, vanilla, salt, pumpkin pie spice, cayenne pepper, and almonds to bake for a crazy good recipe that will feel festive for the season, satisfy your sweet tooth, and still leave you feeling full with healthy fuel. Here's the recipe.
Featured Image: Gimme Some Oven
Make Your Own Vanilla Cashew-Almond Milk (Recipe)
 I know there are plenty of you out there who already make your own nut milk, but for those of you who have yet to make the transition – or for those looking to make their milk a little more exciting – then this post is for you.
Several months ago I started making my own nut milk at home, and it was the best decision I've made in a very long time! I had thought about doing it for ages, but it was always just one of those things that I avoided for no real reason; I assumed it would be too time consuming, too expensive, too… hard. How wrong I was.
If you have ten minutes, a handful of nuts, and some fabric – you can make nut milk.
Once I realized this was going to become a permanent part of my life (immediately after tasting my first batch), I invested the $10 in a nut milk bag, but for my first time around I simply cut the leg off a pair of (clean) pantyhose that would have ended up in the trash, thanks to a lovely run down the thigh. You don't need to invest any money into this if you don't want to. Old pantyhose are also great for mason jar sprouting, FYI.
You'll be amazed at how something that once seemed so daunting so quickly becomes a normal part of your routine. It will literally take 5 minutes of your time once or twice a week – I've spent more time than that choosing which almond milk to buy at the store! And doing this yourself ensures that you know exactly what's going inside your body: no unnecessary chemicals, preservatives, thickeners; no added sugar.
There is something so unbelievably empowering about making something from scratch. The less cans, boxes, and packages you bring into your home, the better you will feel both physically and emotionally – I promise! I can't tell you how proud and excited I feel every time I pull a jar of milk out of the fridge that was made with my own two hands. And I want to share that feeling with everyone.
As if that feeling weren't enough to motivate you… it tastes incredible! I really love this combination of nuts, the cashews lend this milk such a creamy, luxurious taste, and the vanilla just sends things right over the edge. No sugar needed, though a couple of dates thrown in there would be insane.
The other amazing thing about making your own almond milk is that you no longer need to buy almond meal. Many people throw away the leftover almond pulp, but that's literally throwing your money into the garage. Get the most bang for your buck by drying the pulp and using it in baked goods exactly as you would almond meal from the store. I've had great luck with this cashew-almond mixture – it makes my raw cookie dough balls taste extra good, and I'm sure it would work well in a variety of recipes!
Show your body some love and start making your own milk today!
If you have a favourite recipe for nut milk that you'd like to share, post in the comments below!
Vanilla Cashew-Almond Milk (makes 4 cups)
~ gluten free, vegan, sugar free, soy free ~
Ingredients
1/2 cup raw almonds
1/2 cup raw cashews
1/2 vanilla bean pod, beans scraped
1/4 tsp of Himalayan sea salt
4 cups filtered water
Directions
Place your raw nuts in a container (or right in the blender to save yourself from washing more dishes), cover with water, and soak overnight.
When you're ready to use them, drain the water and give the nuts a quick rinse.
Add them back to your blender, along with the 4 cups of water, vanilla, and salt, and blend on high for about a minute. The water will go from clear, to grainy, to white in this time.
Strain into a glass container or mason jar using your nut milk bag or other fabric – you may have to do some squeezing!
Store in the fridge for up to a week.
Notes
Your milk will separate after sitting in the fridge for a while, so just remember to give it a good shake before serving. This does not mean it has gone bad – I made the mistake of throwing out some perfectly good milk before I learned this lesson!
These days, it's not just knowing information and facts that will create change, it's changing ourselves, how we go about communicating, and re-assessing the underlying stories, ideas and beliefs that form our world. We have to practice these things if we truly want to change. At Collective Evolution and CETV, this is a big part of our mission.
Amongst 100's of hours of exclusive content, we have recently completed two short courses to help you become an effective changemaker, one called Profound Realization and the other called How To Do An Effective Media Detox.
10 Quick & Nourishing Smoothie Recipes That Taste Great
In Brief
The Facts:

Smoothies are a great way to pack a lot of nutrients into a filling, delicious meal any time of the day. In our fast-paced world, they help provide a great way to stay healthy on the go.

Reflect On:

If you find combining sugars and fats bloat you, keep them separate. Sugar that comes from eating whole fruit is not the same as added sugar!
Have you ever compromised on a nourishing and filling breakfast because you are running late for work? Well, it has happened to all of us, especially women with kids.
And the good news is, smoothies! That's right! Smoothies are nutrient-rich, delicious and can be made within minutes. You can replace it with your coffee on-the-go as it is much more healthy, filling, and tasty.
Here are 10 such smoothies prepared using a variety of fruits, veggies, and other ingredients. Some of the ingredients are rich in antioxidants, some are protein packed, and a few others are the best anti-inflammatory foods. So indulge in a smoothie marathon and try out one of the below smoothies each day; either as a fully-loaded breakfast or as a filling snack.
Breakfast Smoothie
This is a protein-rich breakfast which is clean and detox-friendly. It consists of,
180ml of coconut milk
1tsp cacao 1tsp coconut oil
120 ml coconut water
25 grams of oats
half a banana (either fresh or frozen)
1tsp almond butter
3 ice cubes
Blend everything together and you are ready to kick start your day on a super healthy note. It contains protein, fibre and all the essential nutrients required for a wholesome breakfast.
Peanut Butter Banana Apple Smoothie
Another protein packed smoothie that is just delicious! This recipe is as easy as it comes.
Add two tablespoons of peanut butter
a banana
some sliced apples and
a few ice cubes
There you go! Banana will give you instant energy, protein from peanut butter, and loads of vitamins and minerals from apple. Nothing can get better than that!
Watermelon Basil Smoothie
Another simple and quick smoothie with just three ingredients. It is healthy, quick and delicious. This smoothie includes watermelon, basil and coconut water. It is super-hydrating and healthy. Watermelon is a rich source of antioxidants, vitamin C, and many other nutrients. It aids conditions such as inflammation, obesity, diabetes and heart diseases. Basil is an amazing source of vitamin K, magnesium, copper, vitamin A, vitamin C, iron, calcium, and omega 3 fatty acids. What more do you need?
Cherry Vanilla Protein Smoothie
Cherries are the best summer fruit ever! Put one cup of cherries along with one cup coconut milk and one scoop of protein powder. It is naturally sweet, creamy and full of deliciousness. This will fulfil your daily dose of protein in a single gulp! Cherries are packed with antioxidants and cancer-preventing elements. Studies show that it also promotes sleep by increasing melatonin levels, relieve arthritis pain, reduce belly fat and is an excellent post-workout snack that can reduce muscle pain.
Strawberry Banana Smoothie
 This healthy and tasty smoothie has only three ingredients;
Strawberry, banana
and non-dairy milk or
water
. Just throw all the ingredients and then blend! It's creamy, colourful, healthy and delicious! Strawberries are a rich source of vitamin C, folic acid, and dietary fibre good for skin health and can beat the
top moisturizers
in terms of the benefits offered. It will help to keep skin healthy and glowing and fights aging, acne, and wrinkles. The banana provides increased energy throughout the day. It can be consumed as a perfect healthy breakfast or as a snack.
Pineapple smoothie
With just two ingredients, it is possible to have a tropical beach experience at home. Don't know how? This pineapple smoothie is just what everyone needs. Frozen or fresh pineapple and almond milk are the only ingredients in this. It is quick, easy and a perfect after workout drink. This combination can never go wrong. Pineapples improve bone strength, eyesight, delays muscle degeneration and aids in digestion. Having this smoothie first thing in the morning can help with smooth bowel movement.
Banana Blueberry Chocolate Smoothie
Who doesn't love chocolates? This smoothie can fix the craving for chocolate and in a healthy way. Adding sugar and other sweeteners can ruin the whole purpose of having a healthy smoothie. Cocoa powder is a perfect substitute that can solve this issue. And blueberries offer a myriad of benefits such as regulate cholesterol and heart diseases. It has fibre, potassium, Vitamin C and other essential nutrients.
The ingredients are
1 sliced banana
1 cup blueberries
1 tablespoon cocoa powder
Water or crushed ice can be added.
Mint Chocolate Smoothie
This is a nutrient-packed smoothie with simple and easily available ingredients. Simply put 1 avocado, 1 banana, 1 scoop of green powder, one tablespoon vegan yogurt, two handfuls of spinach, some almond milk, few mint leaves and 1tsp cocoa powder. The greens offer plenty of vitamins and minerals along with the benefits of avocado. Mint acts as a palate cleanser and improves digestion and bowel movements. It also reduces the symptoms of inflammation, depression, asthma, respiratory diseases, promotes oral care, cures nausea and headache and even prevents cancer.
Post-Workout Smoothie
Tired of the same old peanut butter? Try this smoothie recipe with non-dairy milk, almond butter, bananas, one tablespoon of flaxseeds, natural oats, and honey. It is packed with protein, dietary fiber, omega 3 fatty acids and plenty of other nutrients. Needless to say, extremely delicious. Makes up for an excellent post-workout snack that promotes muscle strength, repair of damaged cells and provides energy.
Beetroot Cinnamon Smoothie
The ingredients are,
1 small raw beetroot
1 handful of almonds
1 handful of baby spinach
ripe banana
ripe avocado
1 tablespoon coconut oil
1 teaspoon cinnamon
1 teaspoon raw honey
1 teaspoon vanilla essence
This smoothie can be customized by adding more fruits or greens. It is perfect for breakfast or as a snack option. Beetroot is a good source of iron, nitrates, magnesium and other antioxidants. It also improves skin health and glows, lower blood pressure and prevent dementia. This smoothie is an ideal option for a pre-workout meal.
So what are you waiting for? Try out these incredibly easy and healthy smoothies and pamper yourself with a great breakfast that nourishes your soul. It's time for some self-love!
References
https://www.medicalnewstoday.com/articles/266886.php
https://bellatory.com/skin/Top-5-Benefits-of-Strawberry-for-Skin
https://www.livescience.com/45487-pineapple-nutrition.html
These days, it's not just knowing information and facts that will create change, it's changing ourselves, how we go about communicating, and re-assessing the underlying stories, ideas and beliefs that form our world. We have to practice these things if we truly want to change. At Collective Evolution and CETV, this is a big part of our mission.
Amongst 100's of hours of exclusive content, we have recently completed two short courses to help you become an effective changemaker, one called Profound Realization and the other called How To Do An Effective Media Detox.
5 of the Best Homemade Vegan Cheeses That Will Make You Forget About The Real Thing
Whether you are recently vegan, plant-based, lactose intolerant, cutting back on animal products, or one of those vegetarians that says, "I just don't think I could ever give up cheese," then, this is for you! This may surprise you, but there are alternative ways to make cheese. Nuts, for example, make a great homemade cheese because of their creamy texture and high fat content. If you're thinking that there is no way nut cheese could replace real cheese, then I challenge you to try at least one of the recipes below and then see what you think.
Here are the top 5 homemade vegan cheeses. Click on the headings for the links to the recipes.
This is one of my absolute favourites. Not only is it extremely easy to make, but it tastes incredible, and in my opinion is even better than the real thing! This cheese can be devoured with crackers or crostini, or even crumbled on top of pasta or pizza. It is truly versatile.
This recipe is awesome! You can actually use this mock ricotta pretty much anywhere you would use regular ricotta. If you're thinking lasagna… so am I! Yum.
Holy Hannah! This recipe will satisfy every nacho craving bone in your body. You can eat it as a dip or skip the baking part and heat it up and drizzle it over some nacho chips. If you bring this to a party, I doubt anyone would even know it's vegan. Fun experiment, anyone?
This is a great spreadable cheese that can be eaten with crackers or on sandwiches; it is also very simple to make.
Just imagine the possibilities. This cheese obviously works great for pizza, but you can also use it for grilled cheese sandwiches, baked pasta, and pretty well anywhere else you would eat mozzarella (like on a fork).
Conclusion
I hope this list gets you as excited as I felt when I first discovered that I could still have delicious tasting 'cheese' even after deciding to drastically cut back my animal product consumption. Please share your thoughts in the comment section below!
Much Love
These days, it's not just knowing information and facts that will create change, it's changing ourselves, how we go about communicating, and re-assessing the underlying stories, ideas and beliefs that form our world. We have to practice these things if we truly want to change. At Collective Evolution and CETV, this is a big part of our mission.
Amongst 100's of hours of exclusive content, we have recently completed two short courses to help you become an effective changemaker, one called Profound Realization and the other called How To Do An Effective Media Detox.