How To Learn To Love Your Body: Forget Societal Standards
Learning to love your body can be an incredible feat. The older we get, the harder it seems to be to keep up with societal standards. Aging can come with a variety of side effects that cause us to feel inferior. Fashion magazines sport images of extremely thin figures whose bodies have gone through the Photoshop machine one too many times. Stretch marks, cellulite, wrinkles, freckles and more are digitally removed to show an image of what makes perfection. We flip through the pages and sigh as we view what we've been brainwashed to believe is admirable.
But while there are plenty of stories of models being told their already svelte bodies are too big for runways and actresses that they're too big for parts (not to mention the silent operation of removing flaws with technology), there is an incredible movement happening that seeks to provide awareness of this problem, and to move past it entirely, living in a world where all bodies of all shapes and sizes and with many different "flaws" are considered normal.
Taking a Stand
What we need in our world is people to look up to; to be the change we seek to see. When people take a stand against over-editing, against being called too fat or too skinny, amongst a number of other insults, it's a powerful thing.
As a content researcher, I have been incredibly inspired lately by the amount of people fighting back. While it seems that no time has been wasted in dishing out detrimental comments in the form of bullying, online or otherwise, it seems that many people are coming forward in hopes that their experiences, and their feelings on the matter, can make a change.
The Fighters
Having a voice in today's world is much easier than it ever used to be. Social media has created a plethora of platforms to make this happen. And while the harsh comments continue to roll in, so do the fighters; those who refuse to let anyone or anything decide what is right for them and their body. Here are five to feel inspired by.
1. Megan Ellis and Taryn Sisco

Photo: Today
These ladies are the co-managers of Barre East Fitness Studio. They received a disheartening newspaper clipping in the mail. The studio had recently been featured in a local newspaper, so when Ellis came upon the piece of mail, she assumed it was a friend congratulating them. To her dismay, it was something far less kind. What the ladies did receive was their clipping covered in hateful messages. "You are fat, bordering on obese," wrote one comment pointing to Ellis.  "You are overweight," wrote another comment pointing to Taryn.
This is how the duo responded:
Photo: Self
2. Kate Allan
This illustrator came out with a series of GIFS this fall to promote self-love and body positivity in a time when we need it most, and when people are willing to listen the most. Her animated illustrations feature women of all shapes, sizes, and colors. Each illustration comes complete with a beautiful message. From "I am amazing just as I am!" to "Confidence looks good on you!" and "The number on the scale does not define me," they represent an inspiring and innovative way to promote the beauty of self-love.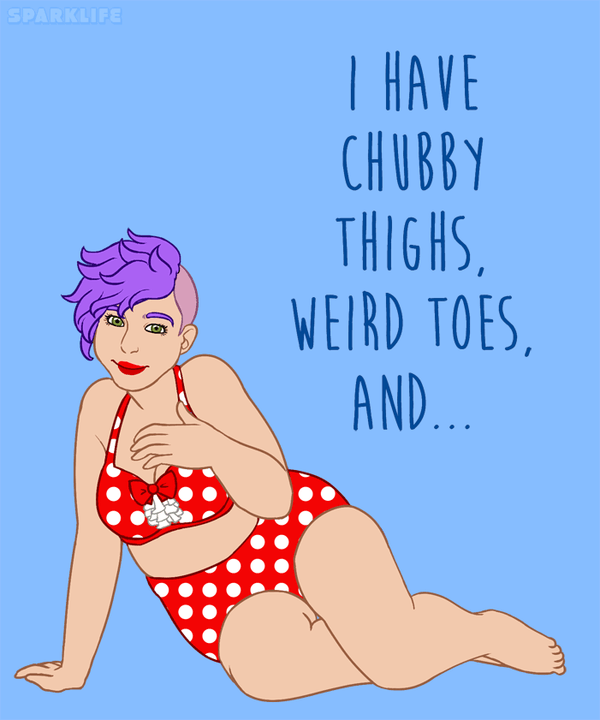 "I think it's important for women to appreciate everything that's beautiful about themselves," Allan said to The Huffington Post. "What's often represented in the media is a very narrow interpretation of beauty — thin, long legs, glowing skin. And while it's obvious why that's attractive, that archetype isn't the only beauty worth noting and flaunting."
3. Sjana Earp
This Australian model, vlogger, and Instagram sensation has quite a few followers listening to and watching her every word and movement as she trots the globe and dishes out advice. But being in the spotlight comes with a price, especially when social media is your main source of representing yourself career wise. When you're a social media influencer, you're allowing yourself to be exposed to intense scrutiny from others. But that doesn't make it okay, and when Sjana was sick of receiving countless comments on social media that called her too skinny, gross, or even told her she needed to eat a sandwich, she decided to stand up for both herself and for anyone else who may be dealing with a similar situation.

"I am so much more than a body — I know that. I am not defined by numbers OR by other peoples opinions of me," she captioned an Instagram photo. "And the body I have, as imperfect or 'skinny' or 'gross' as people may think it is, is MY imperfect body. And I am happy with it despite their irrelevant opinions.. My imperfect body helps me to move, travel, explore, play, and even hug people.. To me, that makes it beautiful. My body is natural and unmanipulated – that to me means that nothing about it can be 'wrong'… We don't look at a landscape and criticise the shape of a valley or the size of a mountain do we? So why are we so quick to judge other natural things like the human figure?"
4. Chrissy Teigen
Source: A Plus
Chrissy Teigen is a famous model, a TV show co-host, and wife to singer John Legend. Being in the spotlight like she is comes with a lot of pressure to look a certain way. But this beauty isn't afraid to show her 'flaws.' Earlier this year, Teigen shared an image of herself on Instagram that would do much more than have fans hitting the 'like' button and moving on. The image, which focused on her stretch marks, came with a caption that read: "Bruises from bumping kitchen drawer handles for a week. Stretchies say hi!" The response was
overwhelming
, with women from all walks of life posting similar photos with the incredibly empowering hashtag
#LoveYourLines
.
5. Rachele Cateyes

Rachele Cateyes is an artist, author, and activist who, as a visual artist, creates drawings surrounding the theme of body positivity. Her images range from slightly sweet to bravely blunt.

Source: Buzzfeed

Source: Buzzfeed
One of her biggest messages is that bodies come in all shapes and sizes, and just because one might be bigger than the other doesn't mean they can't both practice healthy living. "By just existing as fat people, we are told that we're glorifying or promoting obesity. We are harassed under the guise of 'being concerned for our health,' " the artist began. "The reflex is to explain how 'good' we actually are. We engage in healthy behaviors, have loving partners, and will somehow earn the right to be humans."
There are, undoubtedly, people of all shapes, sizes, and career paths taking part in this body positivity movement in a variety of ways. The overall hope seems to be that we will find a healthy way to view ourselves and each other. What do you think of this movement, and are there any people who inspire you most?
We interviewed Franco DeNicola about what is happening with the shift in consciousness. It turned out to be one of the deepest and most important information we pulled out within an interview.
We explored why things are moving a little more slowly with the shift at times, what is stopping certain solutions from coming forward and the important role we all play.
Watch the interview here.
The Hero's Adventure: What Movies Can Teach Us About Facing Our Shadow
In Brief
The Facts:

The Hero's Journey is a multi-staged adventure whereby the 'hero' grows to become a new version of themselves, one that is evolved and at a 'higher level' per se.

Reflect On:

Movies can be viewed in many ways. Some see it as programming others as inspiration. How can we use what we see in movies in our own lives? To grow and evolve as people? To recognize our true callings vs those of Hollywood?
The hero's adventure is a term popularised by Joseph Campbell based upon his 1949 work "The Hero with a Thousand Faces". The late Campbell was an American Professor of Literature and a philosopher who described the adventure one must embark upon to fully realise who he/she is.
A simple explanation from Campbell:
"A hero ventures forth from the world of common day into a region of supernatural wonder: fabulous forces are there encountered and a decisive victory is won: the hero comes back from this mysterious adventure with the power to bestow boons on his fellow man."
Campbell uses the word monomyth to describe this adventure which was taken from James Joyce's book Finnegans Wake.
According to Campbell the monomyth contains 3 stages, with 17 subsections. Not all journeys contain all sections and no two adventures are the same, yet the hero's adventure follows a surprisingly similar pattern. The 3 stages are 1. A call to seek out some kind of adventure. 2. A trial or initiatory period where the hero must face an obstacle or series of obstacles. 3. The return back home with that which you were seeking to find. This often repeats in a number of ways, with various steps being repeated, but this is the idea.
The 17 Steps Of The Heroes Adventure:
The Call:
The call to adventure

Refusal of the call

Supernatural aid

Crossing the threshold

Belly of the whale
The Initiation:
The road of trials

The meeting with the goddess

Woman as temptress

Atonement with the father

Apotheosis

The ultimate boon
The Return:
Refusal of the return

The magic flight

Rescue from without

The crossing of the return threshold

Master of two worlds

Freedom to live
When you look to Hollywood movies and best selling fiction books they all follow the same pattern. Star Wars writer, George Lucas, was a friend of Joseph Campbell and famously said that without Campbell there would have been no Star Wars.
Star Wars
If you take Star Wars, it is the perfect example of the Hero's Journey:
The Call: Luke Skywalker is living a mundane existence, and then while cleaning R2D2 he is shown a holographic recording seeking help from Princess Leia.
The Initiation: Obi-Wan becomes a mentor to Luke, and teaches him to "use the force". Along the way he meets Han Solo, Chewbacca and other unsuspecting helpers until he completes his apprentice (which he does not know is taking place). Finally after much fighting, Luke is able to rescue Princess Leia and destroy the death star.
The Return: Then he returns home a new man where Leia awards Luke with medals for his heroism.
The Matrix
The Matrix is another example.
The Call: Thomas Anderson is fed up with life at a dead end job and knows there is more to his existence. He has a dream in which his computer types "follow the white rabbit" when someone comes to buy illegal computer programmes from him they ask him to join them on a night out. He declines, but when one of the group turns, she has a tattoo of a white rabbit, so he decides to follow.
The Initiation: Thomas Anderson becomes his computer alias Neo. He meets Trinity, and later Morpheus and is offered to be shown the truth in the form of the red pill (truth) or blue pill (fantasy). He opts for the truth pill and is initiated into a mysterious world where reality as he knew it is actually a computer programme. He gets to download multiple skills, thinks he is The One, but then realises he is not The One. Morpheus gets taken by the agents and he decides to save him.
The Return: Upon trying to save Morpheus he realises he is The One, saves him and defeats the agents. This is him returning with the realisation he is The One, although the return and initiation cross over a little.
This is the same structure you see in Harry Potter, The Wizard Of Oz, Alice In Wonderland, The Alchemist and just about every story based movie there is.
But how is this helpful?
This is the same story we can use as a metaphorical representation of who and where we are in our lives.
If you think life is meaningless and mundane, this means you should be on the lookout for synchronicities and clues of how to break free.
If you have just had a strong urge to go and do something very far removed from your comfort zone that has the potential to change your circumstances, then you probably should.
If you are stuck in a painful situation that seems to have no end, this means you are in an initiation. Being in an initiation does not guarantee you will pass "the test" but at some point you will be given an opportunity to break a cycle or take an opportunity.
If you have just been through an ordeal and conquered your inner (and sometimes outer) demons, bask in the glory, but remember there was 9 Star Wars movies, 4 Matrix movies and 8 Harry Potter books. Your Heroes Adventure may have many chapters, so strap in and try to enjoy the journey.
Much love, Luke.
---
If you would like to download my free eBook- Psychology Meets Spirituality- Secrets To A Supercharged Life You Control YOU CAN DO SO HERE
We interviewed Franco DeNicola about what is happening with the shift in consciousness. It turned out to be one of the deepest and most important information we pulled out within an interview.
We explored why things are moving a little more slowly with the shift at times, what is stopping certain solutions from coming forward and the important role we all play.
Watch the interview here.
On Taking Life Too Seriously
In Brief
The Facts:

Much of the time in life, we allow ourselves to take situations VERY seriously. This will sometimes turn pain into suffering, or prolong the challenges we face for growth. It also stops us from truly finding peace in life.

Reflect On:

Do you feel a constant sense of anxiety in your life? Underlying everything? Where do you notice you take life or situations too seriously? What do you do to begin connecting back to self, and taking life less seriously?
Do you go through life with constant angst? A feeling deep down that there is always a little bit of stress or a little bit of worry? I've been through this. And in some ways, I thought it would never go away. But I focused on self awareness and living in the heart enough to kiss those days goodbye.
We can sure take life too seriously at times can't we? I mean it's fair. We have stresses in life that we get caught up in, we go, go, go, go, and often forget to take a moment to breathe. In Western culture, it's all about obsessing over goals and getting there and telling ourselves sotries about what life will be like when we do finally get there… but what often happens to us when we live this way? We step into unconsciousness. We stop taking time to FEEL.
I want to help us remember to be STILL with this.
Various experiences and events have taken place in my life that have challenged some of my deepest ideals, belief systems and concepts that I felt were a part of me. This has gone on and occurred in my entire 11 year journey of truly changing myself. Whether it had to do with the work I do, friends, the world, relationships or big decisions in life, many things were challenged. It has truly been an incredible ride.
We sometimes might think "when will all the change and 'chaos' end?" A good question indeed, but isn't this what we are here for at this time? To truly look at ourselves, look at all that we hold onto and all that we define our reality with. Literally everything! If you are feeling like you are the only one out there going through this stuff and feel like everything is backwards -that things are constantly being challenged, know that what you are experiencing is perfect, and we must remember to have fun with it!
Not Just A Human Experience
We are not here at this time to simply have 'a human experience,' we are here to evolve the human experience. It's different! Stop looking at the past to tell us what to do, how we should move forward, and what 'the greats' did in our past to figure things out. We are not in that time, and the zeitgeist of our time now is not to simply exist but to be present as we deeply evolve the way of life on this planet.
We hear a lot "but we're human, just embrace that!" That's all fine, but what does that mean? What is a human? How should we be? Does being human mean accepting the world as it is? Are we capable of more? Can we redefine what it means to be human and what life should look like? Why do we give up so easily on dreaming big about these things?
I used to accept MANY limitations about myself and what I could do. But eventually, I was faced with the chance to let all that go, and reimagine what was possible. Even when everyone told me I was crazy and I couldn't do what I was trying to do, I used my connection to self and consciousness to create it. Because I believed I was capable of more, and so is everyone else. This is how Collective Evolution, the site your on, came to be.
Embracing Change
After experiencing the many deep questions and challenges I have thus far, overcoming them and moving forward, I have one very special thing that I have reminded myself about over and over and truly understand to a deep level. We are here to play and evolve! None of what we are experiencing is as serious as we think!!
The mind and ego can make things very real, very dramatic, very frightening. I know! But the highest aspect of who we are is always clear, always neutral, and always sharing with us exactly what we need to hear because IT IS US! We are not the mind or the stories it creates that makes things so serious. They are there because that is our challenge. To go beyond the mind and the stories it creates -so we can experience this sensorial world and remember who we truly are (click to listen to my podcast on this topic.)
So let's remember, whether it's life choices, relationships, friends, work, family, sports, or everyday events, know that it's just an experience! We can spend our whole lives always caught up in the drama and the intensity, saying "oh my gosh things are so tough, the world is so crazy, my life is upside down, and I'm so busy!" but where does this lead us? This is a question we must ask ourselves.
If we remain caught up in these perceptions, repetitive patterns of mind, we will continue to miss out on the entire journey we are on because we are lost and caught up in the mind. We perpetuate our so called "suffering" when we make things serious and make them a big deal. When we can see it for what it is, we allow the emotions to subside, allow back in our full potential and know how to take action forward. This is called finding true peace.
I'm not talking about simply accepting things and saying "well get over it" or "that's how it is, so deal with it." No. I'm talking about truly seeing things for what they are. Seeing why we color something in a particular way. Seeing the belief system behind why something is good or bad or right or wrong or even why it's serious!
I promise you, behind every strong emotion, every serious situation, there is a belief system that makes it that way. One that is held in the mind and made real by the mind. But the mind is not YOU! See the story! Let it go and just play! You will find much peace and joy in flowing through your experience in this way.
We interviewed Franco DeNicola about what is happening with the shift in consciousness. It turned out to be one of the deepest and most important information we pulled out within an interview.
We explored why things are moving a little more slowly with the shift at times, what is stopping certain solutions from coming forward and the important role we all play.
Watch the interview here.
Have You Realized The Profundity Of Our True Nature?
In Brief
The Facts:

In life, we typically move about, seeing all material for what we define it as. This makes things convenient in a way, but there is a profoundness to not only seeing beyond these definitions, but also tapping back into full potential.

Reflect On:

Have you ever tried practicing the awareness that you are not your mind nor your body? Why do we identify so strongly with just our physical body, and is it time to begin to remember we are much more than that?
Who we really are has been staring us in the face the whole time.
Take a look at your body, but look at it from a completely impersonal perspective; free of any thought about it at all. Without labels like arms and legs; without any sense of ownership, just as it is. Look in the mirror at your face, your eyes, but look without the thinking mind. This body that you get to use and throw around the joint, is a product of the universe. Conditions were apparently perfect here on Earth for Humans to exist. A magnificent sculpture, carved from stardust, gases, cells, minerals, heat – one of the most complex arrangements of cells and energy you have ever laid your eyes upon.
There is no boundary to the human body; there is no "in here" and "out there." The body is a constant flow of energy, never a stationary or permanent thing we could pin down. There is a constant flow of air coming in and out, molecules by our skin, bacteria breaking down food in our stomach, there is no boundary between the body and the environment. It's like a river, never the same body of water in any two moments.
Then, how about all the stuff the body perceives. All the sounds, tastes, smells, visual images and so on. The human body makes the whole world we're privy to. The brain selects a very narrow band of frequencies and constructs reality according to the bandwidth of what our senses relay for us. The visual spectrum is only a very narrow band, while other sentient beings select out different bands for their viewing pleasure. So reality as we know it, never exists objectively, only subjectively through the being that is observing it. Without an observer what does it exist as? Just a soup of frequencies I suppose.
I find this phenomenal! There are little reality bubbles existing wherever a sentient being is alive. Energy has coalesced into the form of a human being, a giraffe, an ant, a butterfly, a chameleon, an amoeba, and through these configurations, the universe is observing itself. It is having experiences with itself.
So essentially, the whole world that you exist in – the reality bubble that you spend your entire life in – is entirely made by the human body. Your human body. Everything, all of it. Look at the image your eyes are creating. Look at how immaculate, perfect and impeccably high the resolution is! Check out how infinite the colour palette is. Take another look in the mirror at the wonder of your eyes. Those things stuck in that head, those things that we call eyes are absolutely wondrous biological organs, composed of trillions of living cells; living in harmony, being fed by the fuel you place in your mouth. Those things are taking frequencies of energy, sending it at light speed to your brain, where trillions more cells convert it into a picture. WOW!
And while I'm on that subject: have you ever wondered how electrical signals in the brain – how realistically an infinite amount of neurons in our brain – can create the conscious experience of sound out of electrical impulses? How does something biological turn electricity into the conscious experience of smell? Into the emotion of love, of anger?
So look around you. Look what you're part of. You're on a planet zooming through space at hundreds of kilometres per second, circling around in a gigantic galaxy. You're amongst animals, forests, bodies of water, lightning, rain, drought, plants and soil. You're amongst life! You're seeing it unfold right before your eyes, seeing life in all its animation. I don't see why it should seem like there's anything else to do, other than admire what we're amongst, and create.
Just as the bus motors down the street, so too does the galaxy arms revolve around its core. A child eats breakfast, while an asteroid erupts as it passes through an atmosphere. We are as much an expression of this universe as the plants and galaxies. This universe has arranged itself in such complex ways, in such exquisite patterns, so that it may know itself through our eyes. We have become an aperture for energy to know what it inherently is.
When we look deeper into our own nature, we find that things are even more extraordinary than what exists in the physical realm of bodies, animals, plants and stars.
There is this notion of separation in our society, where we exist separately from the outside world of other stuff. We are separate from the table, our house, other people and the whole cosmos. We feel this too, because we feel that we are the human body, or the thinker somewhere in the head. But this notion is learnt, cultivated, but not all cultures prescribe to this way of being at all.
The whole world is consciousness; it all exists within, not out there somewhere. This is the worldview slowly being ushered in by quantum mechanics and eastern traditions. They've arrived now at the same point, but there is obvious resistance because the old system composed of survival-of-the-fittest, authority, institutions and competition rely on our illusory separateness for vitality.
Consciousness is the way in which biological functions of firing neurons in the brain are turned into a conscious experience. Consciousness is something transcendent of the physical world, and is therefore never affected by the  realm of form. It is so perfect and complete already, not needing fulfillment or healing in any way.
The thing is, most of us don't feel this way though. We still feel separate, small, incomplete and not an integrated part of the whole. We still feel like we are locked up inside a head looking out at separate stuff. But there are ways in which consciousness can shift and identify with something much deeper. The first step is usually quieting the mind through meditation. Our thoughts have run rampant, and we've taken this incessant internal monologue to be who we are. But if you do one session of meditation, you'll see that the mind comes in all by itself, starts up fantasies, conversations, judgments and memories all by itself, while you are trying to focus on your breath. While you're trying to be silent, the mind has other ideas. Meditation shows us we aren't the thinker at all; it shows us that we are the witnessing presence OF thought.
A thought is as much a sensation as the taste of ice cream is; we've just placed too much emphasis and belief in thought. So rather than identifying consciousness with something superimposed upon it (the mind, the "small self", the ego) we can shine the light back in on itself via techniques like meditation, and identify as pure consciousness itself. We become not only the witnesser of all sensation, but we merge with it, just as we did with the mind. The feeling of self shifts from the mind with all its thoughts and ideas about the world, to sensation. And sensation is essentially the universe! You become the whole universe.
We interviewed Franco DeNicola about what is happening with the shift in consciousness. It turned out to be one of the deepest and most important information we pulled out within an interview.
We explored why things are moving a little more slowly with the shift at times, what is stopping certain solutions from coming forward and the important role we all play.
Watch the interview here.