How To Learn To Love Your Body: Forget Societal Standards
Learning to love your body can be an incredible feat. The older we get, the harder it seems to be to keep up with societal standards. Aging can come with a variety of side effects that cause us to feel inferior. Fashion magazines sport images of extremely thin figures whose bodies have gone through the Photoshop machine one too many times. Stretch marks, cellulite, wrinkles, freckles and more are digitally removed to show an image of what makes perfection. We flip through the pages and sigh as we view what we've been brainwashed to believe is admirable.
But while there are plenty of stories of models being told their already svelte bodies are too big for runways and actresses that they're too big for parts (not to mention the silent operation of removing flaws with technology), there is an incredible movement happening that seeks to provide awareness of this problem, and to move past it entirely, living in a world where all bodies of all shapes and sizes and with many different "flaws" are considered normal.
Taking a Stand
What we need in our world is people to look up to; to be the change we seek to see. When people take a stand against over-editing, against being called too fat or too skinny, amongst a number of other insults, it's a powerful thing.
As a content researcher, I have been incredibly inspired lately by the amount of people fighting back. While it seems that no time has been wasted in dishing out detrimental comments in the form of bullying, online or otherwise, it seems that many people are coming forward in hopes that their experiences, and their feelings on the matter, can make a change.
The Fighters
Having a voice in today's world is much easier than it ever used to be. Social media has created a plethora of platforms to make this happen. And while the harsh comments continue to roll in, so do the fighters; those who refuse to let anyone or anything decide what is right for them and their body. Here are five to feel inspired by.
1. Megan Ellis and Taryn Sisco

Photo: Today
These ladies are the co-managers of Barre East Fitness Studio. They received a disheartening newspaper clipping in the mail. The studio had recently been featured in a local newspaper, so when Ellis came upon the piece of mail, she assumed it was a friend congratulating them. To her dismay, it was something far less kind. What the ladies did receive was their clipping covered in hateful messages. "You are fat, bordering on obese," wrote one comment pointing to Ellis.  "You are overweight," wrote another comment pointing to Taryn.
This is how the duo responded:
Photo: Self
2. Kate Allan
This illustrator came out with a series of GIFS this fall to promote self-love and body positivity in a time when we need it most, and when people are willing to listen the most. Her animated illustrations feature women of all shapes, sizes, and colors. Each illustration comes complete with a beautiful message. From "I am amazing just as I am!" to "Confidence looks good on you!" and "The number on the scale does not define me," they represent an inspiring and innovative way to promote the beauty of self-love.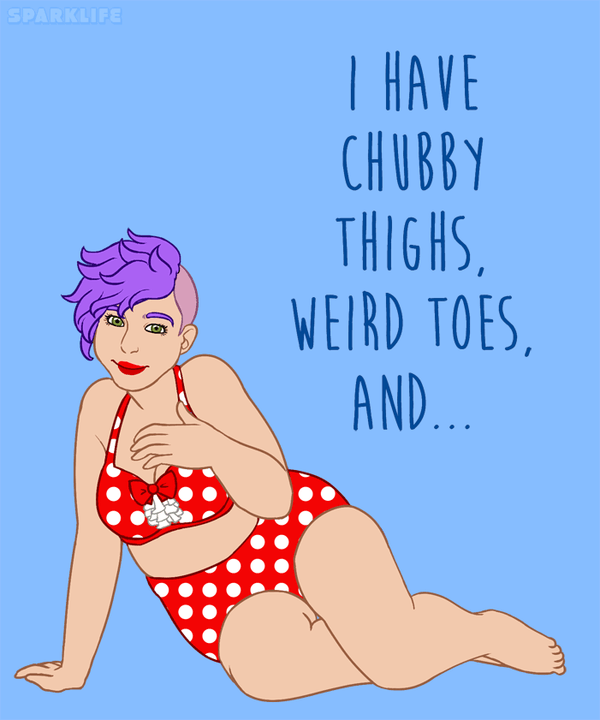 "I think it's important for women to appreciate everything that's beautiful about themselves," Allan said to The Huffington Post. "What's often represented in the media is a very narrow interpretation of beauty — thin, long legs, glowing skin. And while it's obvious why that's attractive, that archetype isn't the only beauty worth noting and flaunting."
3. Sjana Earp
This Australian model, vlogger, and Instagram sensation has quite a few followers listening to and watching her every word and movement as she trots the globe and dishes out advice. But being in the spotlight comes with a price, especially when social media is your main source of representing yourself career wise. When you're a social media influencer, you're allowing yourself to be exposed to intense scrutiny from others. But that doesn't make it okay, and when Sjana was sick of receiving countless comments on social media that called her too skinny, gross, or even told her she needed to eat a sandwich, she decided to stand up for both herself and for anyone else who may be dealing with a similar situation.

"I am so much more than a body — I know that. I am not defined by numbers OR by other peoples opinions of me," she captioned an Instagram photo. "And the body I have, as imperfect or 'skinny' or 'gross' as people may think it is, is MY imperfect body. And I am happy with it despite their irrelevant opinions.. My imperfect body helps me to move, travel, explore, play, and even hug people.. To me, that makes it beautiful. My body is natural and unmanipulated – that to me means that nothing about it can be 'wrong'… We don't look at a landscape and criticise the shape of a valley or the size of a mountain do we? So why are we so quick to judge other natural things like the human figure?"
4. Chrissy Teigen
Source: A Plus
Chrissy Teigen is a famous model, a TV show co-host, and wife to singer John Legend. Being in the spotlight like she is comes with a lot of pressure to look a certain way. But this beauty isn't afraid to show her 'flaws.' Earlier this year, Teigen shared an image of herself on Instagram that would do much more than have fans hitting the 'like' button and moving on. The image, which focused on her stretch marks, came with a caption that read: "Bruises from bumping kitchen drawer handles for a week. Stretchies say hi!" The response was
overwhelming
, with women from all walks of life posting similar photos with the incredibly empowering hashtag
#LoveYourLines
.
5. Rachele Cateyes

Rachele Cateyes is an artist, author, and activist who, as a visual artist, creates drawings surrounding the theme of body positivity. Her images range from slightly sweet to bravely blunt.

Source: Buzzfeed

Source: Buzzfeed
One of her biggest messages is that bodies come in all shapes and sizes, and just because one might be bigger than the other doesn't mean they can't both practice healthy living. "By just existing as fat people, we are told that we're glorifying or promoting obesity. We are harassed under the guise of 'being concerned for our health,' " the artist began. "The reflex is to explain how 'good' we actually are. We engage in healthy behaviors, have loving partners, and will somehow earn the right to be humans."
There are, undoubtedly, people of all shapes, sizes, and career paths taking part in this body positivity movement in a variety of ways. The overall hope seems to be that we will find a healthy way to view ourselves and each other. What do you think of this movement, and are there any people who inspire you most?
An art piece and lunar calendar all in one. This calendar features moon phases for every day of the month for the entirety of 2020.
Hologrpahic foil set on a dark 11" x 11" poster makes the moon's phases shimmer as light strikes them in this unique art piece.
Buy yours here!
How Collective Consciousness Can Change The Entire Human Experience
In Brief
The Facts:

Science has demonstrated that there is an energy field that connects us all, and that at its core, all matter is consciousness. Collective Consciousness plays a huge role in how our world functions.

Reflect On:

What do you believe is possible for yourself and for humanity? Do you feel we are capable of creating a world where we can thrive? Do you find yourself thinking humans are not capable of much? These beliefs affect the world around us deeply.
Want to see change in the world? We have to change collective consciousness. And in order to do that, we must change ourselves.
This has been the core message of Collective Evolution since our humble beginnings in 2009. Why? Because collective consciousness is something at the centre, or core, of what connects all of us. In post material science we are beginning to understand that we are not entirely just a brain inside a body, and that consciousness is who we truly are. Beyond that, consciousness is also at the crux of everything.
We sit at an interesting time in our history where the need and desire to change our world has become something almost all of us feel. Whether we witness the apparent chaos of daily life, the turmoil that happens in areas around the world, or whether we witness the challenges in our own life, we feel this need for change. Deep down, something about the human experience, as it is, seems outdated and almost stale.
We've grown tired of suffering, pain, war, poverty, doing the same thing over and over again. We want to experience something new, rich and deep. This is showing up in political activism, the search for who we are beyond our identities, the search for meaning in life and wanting to do careers that we love.
Ultimately, we are searching for peace and a deeper understanding of our reality. So how do we do this? How do we change our world, change the various daily structures we deal with like our economy, government, career paths, as well as the limited idea of what life is and should be. How do we end our suffering and war with one another to truly create a world where we can thrive and have abundance?
Collective Consciousness
If you are gaining curiosity reading this, great. You are feeling something that has been growing within you, and all of us, for quite some time. If you think these ideas are laughable, and that none of this change is possible, then great, because the video below is for you too. Because your disbelief is playing a role in why our world is this way, and it's time to explore what that truly means.
Collective consciousness is an energy field, if you will, by which groups of people or all humans connect to and share ideas, beliefs and understandings about our world. This is not a physical space, but one that is energetic or conscious.
Below is a video I created to help explain how something called collective consciousness functions, so we can begin to understand why we must change ourselves to change our world, and how our limited belief of what our world is and can be, plays a role in keeping it that way.
Post Material Science & Consciousness
The Princeton Engineering Anomalies Research (PEAR) Laboratory has been trying to wrap their heads around the subject and have concluded that the human mind does, in fact, have a capacity to influence the output of devices known as Random Event Generators (REGs), on a collective scale, or via collective consciousness.
A project that initially started when a student was curious to study the effects of the human mind and intention on the surrounding environment, turned into a rigorous testing lab where Dr. Robert Jahn and his lab assistant spent many hours experimenting to determine whether or not the mind has an effect on our physical world. Jahn and his assistant were able to determine that the human minds interactions with the machines demonstrated a relationship that was not physical in nature. The mind was able to affect and change outcomes of the machine in ways that were beyond standard deviations. In essence, consciousness was having an effect over the physical world.
To determine the effects of the mind's intention on the physical world, they built several machines called a random number generator. The machine would essentially mimic a coin flip and record the results over time. The machine performed 200 flips per second and produced an average mean of 100 as one would expect. Left unattended, the machine would continue to produce results that suggested a 50/50 chance of producing either heads or tails. The interesting results came when human intention started to interact with the machine. What was once a random 50/50 chance of producing heads or tails began to deviate from expectation as the observer began to intend for the numbers to be higher or lower. While the effects of the mind over the machines was not large, it was enough that contemporary physics is unable to explain what exactly is happening. Perhaps this is where the quantum world can shed light?
The implications of this research on humanity is quite fascinating given it could reach into the realms of creating a world of peace, a thriving world and abundance. If intentions and thoughts can impact something the way it has been demonstrated above, why not explore the boundaries of how far this can go? It is my feeling and understanding that we create our realities with our intentions and state of consciousness and I feel science is starting to confirm this. In time we will realize the true power of our minds and intentions.
The video below is a very brief synopsis of the Princeton Engineering Anomalies Research laboratory of Princeton University, whose research into mind-matter interaction forms the foundation of Psyleron Technology.
If we wish to understand collective consciousness more deeply, and how we are all truly connected, a great place to start is to begin exploring what we are discovering in the field of post material science as we study consciousness.
We have a great deal of content to explore on that by clicking here. 
To explore deeply who you truly are, you can listen to this CE Podcast episode.
Sources:
Princeton PEAR Lab
An art piece and lunar calendar all in one. This calendar features moon phases for every day of the month for the entirety of 2020.
Hologrpahic foil set on a dark 11" x 11" poster makes the moon's phases shimmer as light strikes them in this unique art piece.
Buy yours here!
The Health Benefits Of Reading Books Compared To Reading From Screens
In Brief
The Facts:

Numerous studies show the scientific benefits of reading. These benefits tend to increase when reading from actual books rather than screens.

Reflect On:

Do screens consume the majority of your time? When was the last time you read a book? Reading is akin to exercise for your brain.
In the age of information we are being bombarded left, right and center with quick facts, fake news, censored information, video images and so much more. This is greatly affecting the span of our attention. To many the idea of picking up a book, when we could just as easily listen to it, or read segments on our phones is completely absurd. However, there are many benefits that come along with reading books that just might make it worth it to you.
Consider just the very act of reading a book in itself, holding it, turning the pages, seeing your progress in the development of the story, it's almost as if you are a part of it.
Benefits Of Reading Books
Reading requires patience and diligence, which is not something required from a glance and a click on a quick headline. Reading a book  is almost a kin to running a marathon for your brain, I mean if you can finish a whole book!
Reading stimulates imagination and creativity.
Research has shown that reading helps with comprehension and emotional intelligence as well as fluid intelligence — meaning the ability to reason and have flexible thinking. This leads to smarter decision-making regarding yourself and others.
As we age, our memory will decline, but regular reading can help keep minds sharper longer according to research published in Neurology. Frequently exercising your mind was also proven in that same study to lower mental decline by 32 percent.
"Our study suggests that exercising your brain by taking part in activities such as these across a person's lifetime, from childhood through old age, is important for brain health in old age," study author Robert. S. Wilson of the Rush University Medical Center in Chicago said in a statement. "Based on this, we shouldn't underestimate the effects of everyday activities, such as reading and writing, on our children, ourselves and our parents or grandparents."
Reading can help make you more empathetic — researchers from the Netherlands designed two experiments showing that people who were "emotionally transported" by a work of fiction experienced boosts in empathy,
"In two experimental studies, we were able to show that self-reported empathic skills significantly changed over the course of one week for readers of a fictional story by fiction authors Arthur Conan Doyle and José Saramago," they wrote in their findings. "More specifically, highly transported readers of Doyle became more empathic, while non-transported readers of both Doyle and Saramago became less empathic."
Even More Reasons Read Books
Aside from these deeper reasons to read books, here are some more basic ones:
Books are a lot easier on the eyes than screens, which will provide a nice break for many of us as we are spending an increasing amount of time staring at screens at work, at home, on our smartphones while watching Netflix — your eyes could use the break.
One survey of 429 university students revealed that nearly half had complained of strained eyes after reading digitally. Electronic books can cause screen fatigue, which may lead to blurred vision, redness, dryness, and irritation. With print books, you don't have to worry about any of that.
If you are reading an actual book, there is less of a chance that you will be distracted compared to reading on your phone. A book has no notification pings, buzzes or pop-ups, and you can ensure this distraction free time by leaving your phone in another room or putting it on silent or on airplane mode while reading.
Another great thing about books and the wonderful byproduct of less screen time is less exposure to electromagnetic frequencies, if you don't have your phone on you, and perhaps you even have your Wi-Fi turned off while not in use you are giving your body a bit of a break from the constant bombardment of these frequencies.
Reading books before bed can help you sleep better, the main reason being — they do not emit blue light, or any kind of light at all actually, which has been shown to interfere with a good night's rest. Not only that, but personally I find in general, reading a book tends to make me sleepy, so I enjoy reading a few chapters before putting my head down for the night.
Who doesn't love the smell of a good book? You know that lovely, kind of musty smell old books give off? Or the fresh, crisp paper smell of a brand new book?
Final Thoughts To Consider?
Will reading books become an outdated thing of the past? Or will we be able to stand by the benefits of books and keep collecting them for generations to come? Only time will tell! To finish off, I'll leave you with some words of wisdom from the late, great, Dr. Seuss,
"The more that you read, the more things you will know. The more that you learn, the more places you'll go." — Dr. Seuss
Much Love
An art piece and lunar calendar all in one. This calendar features moon phases for every day of the month for the entirety of 2020.
Hologrpahic foil set on a dark 11" x 11" poster makes the moon's phases shimmer as light strikes them in this unique art piece.
Buy yours here!
Full Moon In Gemini: Learning, Healing, & Inspired Action
We are having a Full Moon in Gemini on December 11th-12th, depending on your location. This is the peak of the Lunar cycle that began with a New Moon in Sagittarius on November 26th. The energies of the Full Moon are strongest in the days surrounding it yet its astrological configurations still play a part over the following two weeks. You may also start to see its themes build up following the New Moon prior to it.
Interestingly this Full Moon occurs on 12/12 for most of the world and at 12:12am in the EST time zone. The year 2019 adds to 12 as well (2+0+1+9= 12). This can be interpreted in different ways, however, the thing that I would like to point out is that 12 is associated with completion and astrologically with Pisces which is the final and 12th sign.
This is not only the last Full Moon (and complete lunar cycle) of the year but the last one of the decade. In the Universal time zone it will be occurring at 5:12am, with the number being associated with change. This Full Moon will be followed by eclipses that are ushering in the new decade which also fits with this 5-12 energy.
Full Moon's are a period in which we feel a push-pull between two opposing signs, in this case being the Moon in Gemini and Sun in Sagittarius. It can play out as either a conflict, integration, or some sort of dynamic playing out between the energies of both signs.
We can feel this opposition happening individually within us and/or we can also experience it play out around us with some people (or circumstances) expressing the Sagittarius side and others expressing the Gemini side. In some cases, Full Moon's can also reflect/trigger some sort of change which may apply more in this case when considering some of the other factors mentioned in this article.
Gemini is a Mercury ruled Air sign with a strong mental orientation. It is communicative, articulate, informative, social, inquisitive, clever, multifaceted, versatile, witty, agile, and dualistic. This sign is also associated with the immediate environment, the neighbourhood, siblings, commuting, reading, audiobooks/podcasts, mail, and writing. Negatively, Gemini energy can be scattered, superficial, gossipy, inconsistent, two faced, and lack emotion.
Sagittarius is a Jupiter ruled Fire sign motivated by passion, exploration, and beliefs. It is broadminded, freedom loving, philosophical, optimistic, visionary, expansive, aspiring, risk taking, and big picture oriented. This sign is also associated with higher education, media, sales/marketing, religion, morals,  travel, foreign lands, and other international matters or pursuits. Negatively, Sagittarius energy can be unrealistic, pretentious, judgemental, excessive, blunt, preachy, and have a hard time comprehending limitations.
Both of these signs within this polarity are about learning and communicating what they know. The difference between them is that Gemini leans more towards sharing/learning knowledge from a variety of sources while Sagittarius leans more towards developing its own perspective based on the synthesis of what has been learned and experienced. Gemini can also be more factual in comparison to the idealistic Sagittarian energy.
Full Moon Square Neptune & Quincunx Venus-Saturn-Pluto Conjunction
This Full Moon is separating from a square with Neptune which is strongest in the day leading up to it. This can be good for creative, spiritual, compassionate activities especially if they are linked  to the Gemini-Sagittarius themes mentioned above. However, this can also reflect confusion, impracticality, delusion, escapism, and unreliability.
Venus is separating from a tight conjunction with Saturn and moving towards Pluto at the time of this Full Moon. In the days leading up to this, there could have been more serious or restrictive energy around Venus ruled areas of love, friendship, money, values, or pleasures.
Perhaps a need to be more disciplined, responsible, committed, restraining, or realistic could be a theme. Obstacles, limitations, cautiousness, or endings may have also come up. This can be good for stabilizing, solidifying, building, or taking a mature approach towards things pertaining to Venus.
Pluto in the mix can add more heaviness to this energy. However, Venus makes its conjunction to Pluto in the following two days, after its interaction with Saturn. The themes mentioned above may be followed by or combined with intensity, passion, obsession, secrets, empowerment, evolution, transformation, or even some sort of purging and release. This can also be a period of revealing or getting clear around Venus issues.
This Full Moon is in a quincunx aspect to this Saturn-Venus-Pluto conjunction. This can create a disconnect between these issues (mentioned in the last two paragraphs) and our feelings or other things going on in our lives. This can also reflect challenges and irritations which may  require adjustments.
Jupiter Newly in Capricorn Trine Uranus in Taurus
On December 2nd, Jupiter entered Capricorn and will stay there for the next year. It joins Saturn, Pluto, and the South Node in which it will be making conjunctions within 2020. Overall, Jupiter in this sign connecting to these planets can be good for different types of growth around worldly goals, ambitions, structures, and towards building anything with the long term in mind. It can also bring some endings around these things as well.
Jupiter forms a trine with Uranus in Taurus which is strongest from this Full Moon until the following week with it peaking on December 15th. This can be good for learning or expansiveness towards something new, unusual, unconventional, technological, metaphysical, scientific, or perhaps even revolutionary.
It can also be connected to beliefs, travel, and other types of exploration. For some people it can manifest as sudden luck or bring some sort of freedom. Considering that this aspect is occurring in Earth signs, it can play out around material, physical, financial, or practical matters.
Mars Trine Neptune, Sextile Saturn, Pluto
Mars in Scorpio is in a trine with Neptune in Pisces in the day leading up to, and few days following, this Full Moon. This can reflect actions that are inspired, creative, spiritual, imaginative, or compassionate. Activities or efforts
involving art or water may also be a theme. For some people it can be magical on a sexual level, however this also depends on how the Venus-Saturn-Pluto aspect (mentioned earlier) is playing out which can bring some heaviness to relationships in some cases.
Mars then moves towards a sextile to Saturn and Pluto in Capricorn which peaks from December 17th to 23rd. This is good for applying ourselves in a way that is practical, realistic, responsible, thorough, stable, focused, tangible, or purposeful. Efforts towards bringing more structure or building towards something may be a theme. This can help us to be more focused, overcome obstacles, making productive changes, and uncovering things to assist us in making progress.
Eclipse Season is Approaching with Neptune, Chiron, and Uranus in Transition
In the two weeks after this Full Moon we will have a Solar Eclipse in Capricorn on December 25th/26th followed by a Lunar Eclipse in Cancer on January 10th/11th. Neptune recently ended its retrograde, Uranus finishes its retrograde in a month, while Chiron is transitioning out of retrograde at the time of this Full Moon.
All of this combined shows that the period from mid-November until mid-January is a time of transitions, changes, and new developments. Eclipses can reflect beginnings, endings, and even evolutionary developments in specific areas of our lives that can begin to play out in the six weeks prior up until the six months following. (I will be writing separate articles on these eclipse, join my mailing list here to ensure that you are notified when they are published)
Planets, and other celestial bodies like Chiron, going from retrograde to direct can help us progress forward in new ways in areas connected to what they represent and how they are interacting with our personal astrology charts. I covered Neptune going direct in my previous article and will be covering Uranus going direct in an upcoming eclipse article. However, the most significant one at this point is Chiron as it is transitioning during this Full Moon phase. Its themes will be coming up more strongly.
Chiron is associated with old wounds, trauma, blockages, negative patterns, and other issues getting in the way of our potential, self-expression, and the embodiment of our highest selves. It is also associated with the solutions to our healing, awareness, and achieving wholeness.
It is about developing a different relationship with our wounds by turning them into strengths or working with them in a more positive way. Chiron is the maverick, it is unorthodox, holistic, and can bridge things together that are normally separate and are not thought to be compatible with each other.
Things To Consider During This Period
Is there anything new or different that you'd like to learn at this time? What have you been inspired to do in the last few weeks? Do you need to take into consideration certain facts, instructions, or details in order to fulfill your aspirations?
What has been coming up for you in regards to Venus issues of love, friendships, values, creativity, aesthetics, money, and pleasures? Do you need to address anything pertaining to these things? Have any issues or themes connected to your wounds or negative patterns come up? What do you need to do to heal/address this and move forward in a more empowered way?
These are just some examples of what you may be experiencing during this period; however, there may be other variations of this energy playing out. If you wish to do any sort of intentional release connected to what has come up it is best to do so anytime after the peak of the Full Moon or as it is waning over the following two weeks. The exact moment of it will be on December 12th at 5:12am Universal Time. You can click here to see what that is in your time zone.
Follow me on INSTAGRAM, FACEBOOK, and YOUTUBE for more astrology related content.
—
Looking for astrological insight into what is going on in your life? Or perhaps looking to better understand your life and its potentials? Get a personalized astrology reading with Carmen (author of this article) specific to you based on your exact birth date, time, and location. Click here for more information or to order. 
An art piece and lunar calendar all in one. This calendar features moon phases for every day of the month for the entirety of 2020.
Hologrpahic foil set on a dark 11" x 11" poster makes the moon's phases shimmer as light strikes them in this unique art piece.
Buy yours here!