How To Learn To Love Your Body: Forget Societal Standards
Learning to love your body can be an incredible feat. The older we get, the harder it seems to be to keep up with societal standards. Aging can come with a variety of side effects that cause us to feel inferior. Fashion magazines sport images of extremely thin figures whose bodies have gone through the Photoshop machine one too many times. Stretch marks, cellulite, wrinkles, freckles and more are digitally removed to show an image of what makes perfection. We flip through the pages and sigh as we view what we've been brainwashed to believe is admirable.
But while there are plenty of stories of models being told their already svelte bodies are too big for runways and actresses that they're too big for parts (not to mention the silent operation of removing flaws with technology), there is an incredible movement happening that seeks to provide awareness of this problem, and to move past it entirely, living in a world where all bodies of all shapes and sizes and with many different "flaws" are considered normal.
Taking a Stand
What we need in our world is people to look up to; to be the change we seek to see. When people take a stand against over-editing, against being called too fat or too skinny, amongst a number of other insults, it's a powerful thing.
As a content researcher, I have been incredibly inspired lately by the amount of people fighting back. While it seems that no time has been wasted in dishing out detrimental comments in the form of bullying, online or otherwise, it seems that many people are coming forward in hopes that their experiences, and their feelings on the matter, can make a change.
The Fighters
Having a voice in today's world is much easier than it ever used to be. Social media has created a plethora of platforms to make this happen. And while the harsh comments continue to roll in, so do the fighters; those who refuse to let anyone or anything decide what is right for them and their body. Here are five to feel inspired by.
1. Megan Ellis and Taryn Sisco

Photo: Today
These ladies are the co-managers of Barre East Fitness Studio. They received a disheartening newspaper clipping in the mail. The studio had recently been featured in a local newspaper, so when Ellis came upon the piece of mail, she assumed it was a friend congratulating them. To her dismay, it was something far less kind. What the ladies did receive was their clipping covered in hateful messages. "You are fat, bordering on obese," wrote one comment pointing to Ellis.  "You are overweight," wrote another comment pointing to Taryn.
This is how the duo responded:
Photo: Self
2. Kate Allan
This illustrator came out with a series of GIFS this fall to promote self-love and body positivity in a time when we need it most, and when people are willing to listen the most. Her animated illustrations feature women of all shapes, sizes, and colors. Each illustration comes complete with a beautiful message. From "I am amazing just as I am!" to "Confidence looks good on you!" and "The number on the scale does not define me," they represent an inspiring and innovative way to promote the beauty of self-love.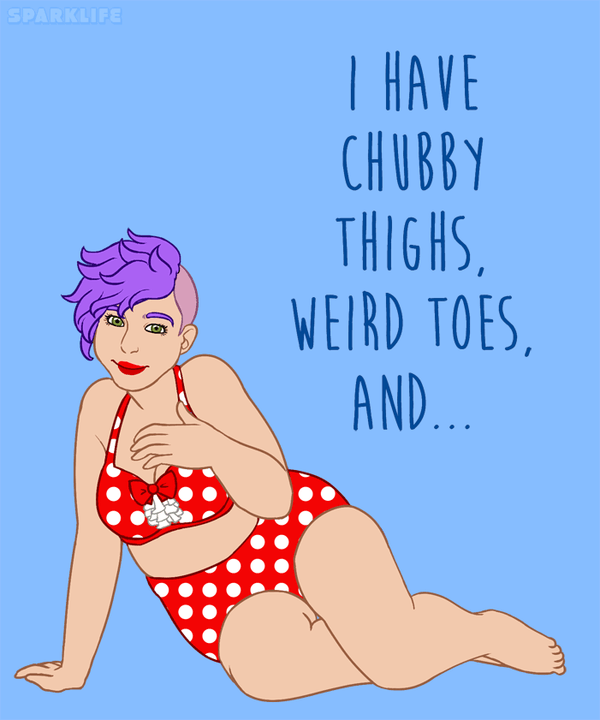 "I think it's important for women to appreciate everything that's beautiful about themselves," Allan said to The Huffington Post. "What's often represented in the media is a very narrow interpretation of beauty — thin, long legs, glowing skin. And while it's obvious why that's attractive, that archetype isn't the only beauty worth noting and flaunting."
3. Sjana Earp
This Australian model, vlogger, and Instagram sensation has quite a few followers listening to and watching her every word and movement as she trots the globe and dishes out advice. But being in the spotlight comes with a price, especially when social media is your main source of representing yourself career wise. When you're a social media influencer, you're allowing yourself to be exposed to intense scrutiny from others. But that doesn't make it okay, and when Sjana was sick of receiving countless comments on social media that called her too skinny, gross, or even told her she needed to eat a sandwich, she decided to stand up for both herself and for anyone else who may be dealing with a similar situation.

"I am so much more than a body — I know that. I am not defined by numbers OR by other peoples opinions of me," she captioned an Instagram photo. "And the body I have, as imperfect or 'skinny' or 'gross' as people may think it is, is MY imperfect body. And I am happy with it despite their irrelevant opinions.. My imperfect body helps me to move, travel, explore, play, and even hug people.. To me, that makes it beautiful. My body is natural and unmanipulated – that to me means that nothing about it can be 'wrong'… We don't look at a landscape and criticise the shape of a valley or the size of a mountain do we? So why are we so quick to judge other natural things like the human figure?"
4. Chrissy Teigen
Source: A Plus
Chrissy Teigen is a famous model, a TV show co-host, and wife to singer John Legend. Being in the spotlight like she is comes with a lot of pressure to look a certain way. But this beauty isn't afraid to show her 'flaws.' Earlier this year, Teigen shared an image of herself on Instagram that would do much more than have fans hitting the 'like' button and moving on. The image, which focused on her stretch marks, came with a caption that read: "Bruises from bumping kitchen drawer handles for a week. Stretchies say hi!" The response was
overwhelming
, with women from all walks of life posting similar photos with the incredibly empowering hashtag
#LoveYourLines
.
5. Rachele Cateyes

Rachele Cateyes is an artist, author, and activist who, as a visual artist, creates drawings surrounding the theme of body positivity. Her images range from slightly sweet to bravely blunt.

Source: Buzzfeed

Source: Buzzfeed
One of her biggest messages is that bodies come in all shapes and sizes, and just because one might be bigger than the other doesn't mean they can't both practice healthy living. "By just existing as fat people, we are told that we're glorifying or promoting obesity. We are harassed under the guise of 'being concerned for our health,' " the artist began. "The reflex is to explain how 'good' we actually are. We engage in healthy behaviors, have loving partners, and will somehow earn the right to be humans."
There are, undoubtedly, people of all shapes, sizes, and career paths taking part in this body positivity movement in a variety of ways. The overall hope seems to be that we will find a healthy way to view ourselves and each other. What do you think of this movement, and are there any people who inspire you most?
The demand for Collective Evolution's content is bigger than ever, except ad agencies and social media keep cutting our revenues. This is making it hard for us to continue.
In order to stay truly independent, we need your help. We are not going to put up paywalls on this website, as we want to get our info out far and wide. For as little as $3 a month, you can help keep CE alive!
Supermoon In Libra: Relationship Adjustments
We are having a Full Moon in Libra on March 20th-21st depending on where you are located in the world. This is the peak of the Lunar cycle that began on March 6 with a New Moon in Pisces. It will also be the last of three back to back Supermoons happening in 2019, which is when the Moon appears larger and brighter due to its closer proximity to the Earth. The previous one in February was the brightest of the three.
This Full Moon coincides with the Equinox, which is the beginning of Aries season (via the Tropical Zodiac) and is the first of 12 signs. Traditionally, some cultures observe this period as the beginning of a New Year, which makes much more cosmological sense than the calendar New Year. Even this transition from dreamy and floaty Pisces to active and direct Aries tends to be the most obvious and noticeable transition between signs.
During this Full Moon, we can experience either a push-pull or collaboration between the Sun in Aries and Moon in Libra. The energies of it gradually build up and become more noticeable on the day of and days surrounding it. It is also part of the backdrop of the other astrological influences/reflections over the following two weeks.
Aries and Libra are two out of the four Cardinal signs which are the first signs of each quarter of the zodiac. They all have an initiating quality in their own way. Aries is a fire sign ruled by Mars. It is about action, moving forward, pioneering, independence, self-identity, self-orientation, and leadership. It is bold, courageous, and instinctual, yet it can also be aggressive, impulsive, impatient, selfish, and hot tempered.
Libra is an Air sign ruled by Venus. It is about relating, relationships, partnerships, codependency, consideration, harmony, balance, fairness, art, creativity, and beauty. It is sociable, diplomatic, and intellectual, yet it can also be indecisive, passive aggressive, vain, and even judgemental. Although Aries is much more of an initiating sign in comparison to Libra due to the qualities mentioned above, Libra still expresses its Cardinal energy socially and towards consideration.
An interesting thing to mention is that this Full Moon happens right at the beginning of Libra at 0 degrees due to it occurring  on the Equinox. This degree tends to be more potent and sometimes can reflect exploring new experiences or actions connected to that sign.
Full Moon Opposite Sun/Chiron Conjunction, Quincunx Uranus
The Sun is aligned with Chiron, which brings its themes into the opposition of this Full Moon. This could trigger wounds, blockages, and patterns connected to self-identity, independence, willpower, ego, or other Aries themes mentioned in the section above. It can also reflect potential healing, bridging or uniting two parts of something, holistic awareness, and combined with the current Mercury Retrograde in Pisces it could also have a spiritual tone. This can be a source of either potential challenges and/or growth around relationships at this time.
The Full Moon is in a quincunx with Uranus in Taurus, which could reflect changes, surprises, disruptions, new experiences, rebellion, or other curve balls being thrown at us that may require some adjustments. In many cases it will be connected to the themes of the Aries-Libra opposition mentioned and can play out in our relationship dynamics, but it can also manifest in other ways. In Taurus it could have something to do with money, possessions, or values.
Venus Square Mars and Sextile Jupiter, Mars Trine Pluto
Venus, the ruler of Libra, is in Aquarius while in a tight square with Mars in Taurus, which is the ruler of Aries. This aspect emphasizes the potential challenges of this Full Moon. The way we or others assert our personal wants, values, or resources can be at odds with social or romantic aspects of our lives. However, this aspect can also be supportive creatively or sexually, especially considering that Venus is also in a harmonious aspect with Jupiter.
Venus in a sextile with Jupiter in Sagittarius can reflect growth, learning, and overall expansiveness in different types of relationships. In some cases it can be connected to travel/foreign countries, social media, education, and beliefs. However, the developments that could occur might require adjustments in how we assert ourselves.
Mars is in a trine with Pluto, which can be good for actions that are focused, deep, and powerful. It can also be good for applying ourselves in a confident or empowering way and towards making positive changes.
Mercury Retrograde Moving Towards Neptune Before Going Direct
Mercury has been retrograde in Pisces since March 5th, a day before this Lunar cycle started. This retrograde extends the strong Piscean energy into most of Aries season. The actual retrograde ends on March 28th; however, the following days can still feel retrograde-ish. The few weeks following are known as the 'post shadow,' which is when its themes conclude and things start to fall into place more smoothly and productively.
While Mercury is transitioning from retrograde to direct, it will be aligned with Neptune. Our intuition can be heightened and we can be divinely inspired. Our thoughts and communications can be revolved around spirituality, compassion, empathy, and sacrifice. This can be a period of magical experiences or interactions with others. However, this can be challenging for rational and linear thinking. We can overlook mundane details easily and can also be confused. You can read more about this retrograde here.
Things To Consider During This Period
What recurring themes have been coming up for you in recent weeks, and what directions are your circumstances pushing you towards? How can you balance your individual needs with your relationship's needs? Do you or others in your life have any wounds or blockages getting in the way? If so, what can you do to resolve or address the situation?
These are just some examples of themes that could come up during this period; however, there may be other variations of this energy playing out as well.  If you wish to do any sort of intentional release connected to what has come up at this Full Moon, it is best to do so anytime over the two weeks following, when it is waning. The exact moment of this Full Moon is on the night of March 20th/21st at 1:43am Universal Time. You can click here to see what that is in your time zone.
—
I am extending my Sale on Astrology Readings until the end of March. 20% – 30% off! More information here.
Follow me on INSTAGRAM, FACEBOOK, and YOUTUBE for more astrology related content.
The demand for Collective Evolution's content is bigger than ever, except ad agencies and social media keep cutting our revenues. This is making it hard for us to continue.
In order to stay truly independent, we need your help. We are not going to put up paywalls on this website, as we want to get our info out far and wide. For as little as $3 a month, you can help keep CE alive!
A Simple Trick To Unlock Determination & Focus
In Brief
The Facts:

In a world filled with distractions, the ability to lock in and focus has become harder and harder to master. But rather than looking outside of yourself for a solution, the key may just lie within.

Reflect On:

How many notifications do you receive daily? Are there any Apps that rather than always receiving notifications from you could instead just check at certain times?
A recent study revealed that in the United States, the average smartphone user receives 45.9 push notifications per day, and many of us exceed that number. From Facebook to Instagram to Twitter to WhatsApp to Gmail, everything is constantly vying for our attention.
As a result of this overload, we're experiencing a collective inability to focus at our highest potential and a reality where the majority of us are consistently fighting off some sort of urge to do something else.
(Fun Fact: Even as I've just started to write this article I've already seen my phone light up twice with notifications. I've now followed my own rules and have turned it over to lock in on the task at hand–more on this later.)
Even if you are part of the dying breed of individuals who have sworn off social media, although you finding and reading this article suggests otherwise, we all seem to be having an incredibly difficult time staying focused.
And with every useless scroll through our Instagram news feed and with every endless YouTube video rabbit hole we fall into, we only further shrink our attention span and strengthen the programming that convinces us that this is normal behaviour.
Assuming that part of why you clicked on this article is because you do have something that you ideally would like to focus on and ultimately accomplish, I'd like to share with you the best tactic I've personally found (and some bonus ones) to "lock in." Believe it or not, this tactic is not a specific exercise, but is instead designed for you to realize that you still have an incredible ability to focus within you. It hasn't gone anywhere, it's just been misguided.
In fact, it's likely getting more use than you could ever imagine.
The best way to explain this further is by using an example. Think of the last time you either: A) lost your phone, or B) forgot to bring a charger and realized that your phone was about to die.
The moment that either of those realities kick in for most of us, we immediately enter a state where nothing else matters. In scenario A, we search everywhere possible, call it from any other device we can get our hands on, and seek out the assistance of everyone available. In scenario B, despite being an introvert on the daily, we suddenly find ourselves engaging in conversation with everyone by asking for a charger, and if one can't be found we start planning our exit no matter how much fun we're having pre-low battery.
We've all experienced and have seen this before. When assessed like this, it likely sounds like a form of insanity–and I wouldn't be surprised if it is–but from a completely different perspective, it's actually fully "locked in" determination.
You see, we all have the capacity to focus on one particular thing and give all of ourselves to it, it's just that our auto-pilot has become the opposite because of the sheer number of distractions we are exposed to and have become addicted to.
So rather than looking outside of yourself for some practice or technique that's going to help you focus and finish writing that book, completing the homework, or finally send out those wedding thank you cards, look within and realize that you are still a determination powerhouse just waiting to be re-guided.
Bonus Tips: 1) When working on something important, put your phone on silent and either put it in another room or face down on your desk. 2) Consider turning off notifications and instead just check certain apps at particular points in the day. I've personally turned off all notifications from Facebook, Instagram and all audible email pushes.
---
For more brutally honest personal development content designed for those who actually want to change be sure to subscribe to my YouTube Channel and to follow me on Instagram. And to receive my free eBook on 5 Simple Daily Hacks For A Genuinely Happier Life click HERE.
The demand for Collective Evolution's content is bigger than ever, except ad agencies and social media keep cutting our revenues. This is making it hard for us to continue.
In order to stay truly independent, we need your help. We are not going to put up paywalls on this website, as we want to get our info out far and wide. For as little as $3 a month, you can help keep CE alive!
Indigenous Leaders Share the Prophecy of the Reunion of the Condor and Eagle (VIDEO)
In Brief
The Facts:

Indigenous cultures from around the globe all share a prophecy about the time we are living in now. It states that the people of Earth will unite in some sort of spiritual awakening with the common goal of peace on Earth.

Reflect On:

Think about how much human consciousness has changed within the past 10 years alone. We are starting to see through the lies and deception, we are starting to realize that it's really time to change things here on our planet. We are in the process.
Indigenous cultures today struggle to remember their teachings. It doesn't help that the western world portrays them in a certain light, but the fact remains that indigenous cultures were extremely advanced. They understood how to live in harmony with the Earth, and their teachings were very profound, insightful and spiritual. You don't need to look far to see how knowledgable they were, and their knowledge of our planet, the cosmos, science and mathematics still baffles experts today. How they were able to acquire certain knowledge and build various structures is still a mystery, as many of these things would be difficult to replicate even using modern technology. We see this with the pyramids built by various indigenous cultures throughout history, pieces of artwork, and several other anomalous artifacts that really don't receive much media attention. These people were highly advanced, but unfortunately colonization and the arrival of the Europeans changed all of that. I still get upset when I hear people interpret these cultures as very 'primitive,' as if they just lived in forests. That interpretation is very far from the truth.
Scholars have estimated that, prior to the 'discovery' of the Americas by Europeans, the pre-contact era population could have been as high as 100 million people. American anthropologist and ethnohistorian Henry F. Dobyns, most known for his published research on American Indians and Hispanic peoples in Latin and North America, estimated that more than one hundred twelve million people inhabited the Americas prior to European arrival. (source)(source)(source)
When these cultures were wiped out, so were their teachings, knowledge and wisdom. It was replaced with religious indoctrination, and indigenous cultures throughout the world, especially in North America, have since struggled to regain and retain the knowledge and teachings that were lost.
But things are changing.
These cultures also had prophecies, and many of them speak of a time when all of this knowledge would be lost, but then would eventually return to Earth. Prophecies speak of indigenous cultures and bloodlines reuniting. We're living in a special time right now because that ancient indigenous prophecy wasn't just referring to the 'spiritual awakening' of their own people, but of the entire planet, and this is the process we're going through today.
It gives me chills just thinking about it. The time has come where many desire a cleaner, greener, more cooperative human experience where everybody can thrive. Humanity has the potential to live in peace and meet the needs of everyone easily. We can live in harmony with nature and work with it, not against it.
Here at Collective Evolution, we refer to this time as the shift in consciousness, and we are currently living through it. The 'darkness' is being exposed, and this 'darkness' has primarily relied on the manipulation of human consciousness. Our thoughts, feelings and perceptions about what is happening on our planet have been completely altered by the same forces that once sought to wipe out indigenous knowledge and implant their own ideals. Just as the surviving indigenous after European arrival were brainwashed and indoctrinated, we too have been brainwashed and indoctrinated.
Today, we live in a society that manipulates our consciousness in order to justify wars, wars based on false premises. We are made to believe that, even with all our technological advancements and potential to provide abundance for all, that this is not 'economically feasible.' We've been made to believe that our medicines are helping us, and that we can 'out-do' nature and rise above it. So many of humanity's actions are not in harmony with the planet and all life on it.
Thankfully, this mass spiritual awakening is here. Not only is humanity becoming aware of the fact that we can change the human experience to one that resonates with all, but we are also realizing that we've been manipulated, that we have the power to change, and that a world beyond our physical material world exists. Non-material science is becoming stronger, and awareness of the metaphysical world is becoming the norm.
Many activist movements are growing, and truth movements and campaigns have been gaining attention and popularity for years. We are no longer sitting idle, we are raising our voice, we are acting, and we are bringing about a shift in consciousness and a spiritual awakening that was prophesied  long before we were even here. It's a beautiful time to be alive, and the best way to bring about peace, love, unity and cooperation is to embody these qualities within ourselves.
Below is a video of indigenous leaders and elders sharing and explaining the current transitional time that we are living in.
There have been wounds of injustice, of oppression, of colonization, of greed, of superstition, all those things which injure the human heart. At the same time there's been no way for this to be expressed, it's been held inside. So this ancestral wound is this wound that's been carried on from generation to generation to generation, this intergenerational trauma. But it was also prophesied  and promised that after a period of 500 years that a great, great spiritual spring time would emerge with such power and such intensity that all that had been covered in the cold bitter snow would be revealed and cleansed and purified. And that we would emerge galvanized, reunited as not only the reunion of the Condor and Eagle, but a reunion of the entire human family. This time is now. (This quote was taken from the video below.)
The Takeaway
We are truly living in an apocalypse. But that doesn't mean it's the end of the world, but rather a disclosure or revelation of knowledge. A lot of truths are being exposed today within several different subjects, be it food, politics, health, etc. We are being presented with knowledge that severely contrasts what we've been indoctrinated to believe. Having our collective belief systems questioned and challenged is not an easy process, and many are still fighting to hang on to old ways and belief systems. This is all part of the current spiritual transformation/shift in consciousness that the human race is experiencing as a collective. It's all part of these ancient prophecies.
The demand for Collective Evolution's content is bigger than ever, except ad agencies and social media keep cutting our revenues. This is making it hard for us to continue.
In order to stay truly independent, we need your help. We are not going to put up paywalls on this website, as we want to get our info out far and wide. For as little as $3 a month, you can help keep CE alive!