How To Learn To Love Your Body: Forget Societal Standards
Take a moment and breathe. Place your hand over your chest area, near your heart. Breathe slowly into the area for about a minute, focusing on a sense of ease entering your mind and body. Click here to learn why we suggest this.
Learning to love your body can be an incredible feat. The older we get, the harder it seems to be to keep up with societal standards. Aging can come with a variety of side effects that cause us to feel inferior. Fashion magazines sport images of extremely thin figures whose bodies have gone through the Photoshop machine one too many times. Stretch marks, cellulite, wrinkles, freckles and more are digitally removed to show an image of what makes perfection. We flip through the pages and sigh as we view what we've been brainwashed to believe is admirable.
But while there are plenty of stories of models being told their already svelte bodies are too big for runways and actresses that they're too big for parts (not to mention the silent operation of removing flaws with technology), there is an incredible movement happening that seeks to provide awareness of this problem, and to move past it entirely, living in a world where all bodies of all shapes and sizes and with many different "flaws" are considered normal.
--> Our Journalism Is Moving - Our investigative journalism and reporting is moving to our new brand called The Pulse. Click here to stay informed.
Taking a Stand
What we need in our world is people to look up to; to be the change we seek to see. When people take a stand against over-editing, against being called too fat or too skinny, amongst a number of other insults, it's a powerful thing.
As a content researcher, I have been incredibly inspired lately by the amount of people fighting back. While it seems that no time has been wasted in dishing out detrimental comments in the form of bullying, online or otherwise, it seems that many people are coming forward in hopes that their experiences, and their feelings on the matter, can make a change.
The Fighters
Having a voice in today's world is much easier than it ever used to be. Social media has created a plethora of platforms to make this happen. And while the harsh comments continue to roll in, so do the fighters; those who refuse to let anyone or anything decide what is right for them and their body. Here are five to feel inspired by.
1. Megan Ellis and Taryn Sisco

Photo: Today
These ladies are the co-managers of Barre East Fitness Studio. They received a disheartening newspaper clipping in the mail. The studio had recently been featured in a local newspaper, so when Ellis came upon the piece of mail, she assumed it was a friend congratulating them. To her dismay, it was something far less kind. What the ladies did receive was their clipping covered in hateful messages. "You are fat, bordering on obese," wrote one comment pointing to Ellis.  "You are overweight," wrote another comment pointing to Taryn.
This is how the duo responded:
Photo: Self
2. Kate Allan
This illustrator came out with a series of GIFS this fall to promote self-love and body positivity in a time when we need it most, and when people are willing to listen the most. Her animated illustrations feature women of all shapes, sizes, and colors. Each illustration comes complete with a beautiful message. From "I am amazing just as I am!" to "Confidence looks good on you!" and "The number on the scale does not define me," they represent an inspiring and innovative way to promote the beauty of self-love.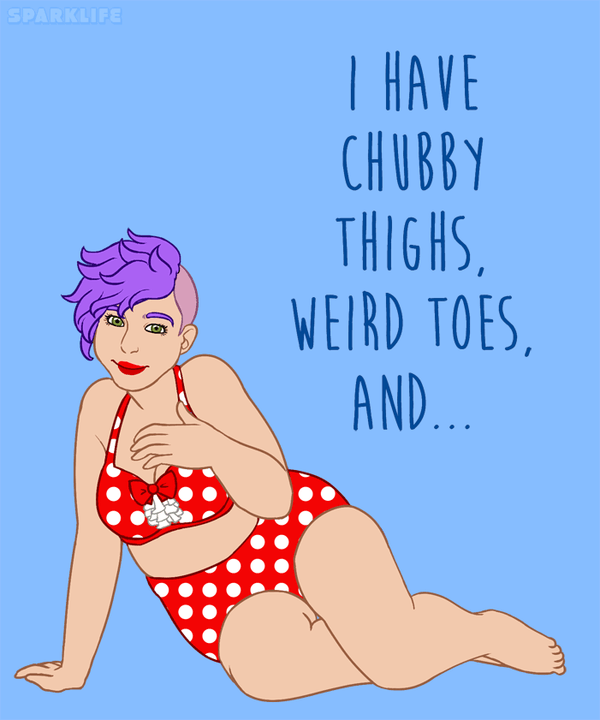 "I think it's important for women to appreciate everything that's beautiful about themselves," Allan said to The Huffington Post. "What's often represented in the media is a very narrow interpretation of beauty — thin, long legs, glowing skin. And while it's obvious why that's attractive, that archetype isn't the only beauty worth noting and flaunting."
3. Sjana Earp
This Australian model, vlogger, and Instagram sensation has quite a few followers listening to and watching her every word and movement as she trots the globe and dishes out advice. But being in the spotlight comes with a price, especially when social media is your main source of representing yourself career wise. When you're a social media influencer, you're allowing yourself to be exposed to intense scrutiny from others. But that doesn't make it okay, and when Sjana was sick of receiving countless comments on social media that called her too skinny, gross, or even told her she needed to eat a sandwich, she decided to stand up for both herself and for anyone else who may be dealing with a similar situation.

"I am so much more than a body — I know that. I am not defined by numbers OR by other peoples opinions of me," she captioned an Instagram photo. "And the body I have, as imperfect or 'skinny' or 'gross' as people may think it is, is MY imperfect body. And I am happy with it despite their irrelevant opinions.. My imperfect body helps me to move, travel, explore, play, and even hug people.. To me, that makes it beautiful. My body is natural and unmanipulated – that to me means that nothing about it can be 'wrong'… We don't look at a landscape and criticise the shape of a valley or the size of a mountain do we? So why are we so quick to judge other natural things like the human figure?"
4. Chrissy Teigen
Source: A Plus
Chrissy Teigen is a famous model, a TV show co-host, and wife to singer John Legend. Being in the spotlight like she is comes with a lot of pressure to look a certain way. But this beauty isn't afraid to show her 'flaws.' Earlier this year, Teigen shared an image of herself on Instagram that would do much more than have fans hitting the 'like' button and moving on. The image, which focused on her stretch marks, came with a caption that read: "Bruises from bumping kitchen drawer handles for a week. Stretchies say hi!" The response was
overwhelming
, with women from all walks of life posting similar photos with the incredibly empowering hashtag
#LoveYourLines
.
5. Rachele Cateyes

Rachele Cateyes is an artist, author, and activist who, as a visual artist, creates drawings surrounding the theme of body positivity. Her images range from slightly sweet to bravely blunt.

Source: Buzzfeed

Source: Buzzfeed
One of her biggest messages is that bodies come in all shapes and sizes, and just because one might be bigger than the other doesn't mean they can't both practice healthy living. "By just existing as fat people, we are told that we're glorifying or promoting obesity. We are harassed under the guise of 'being concerned for our health,' " the artist began. "The reflex is to explain how 'good' we actually are. We engage in healthy behaviors, have loving partners, and will somehow earn the right to be humans."
There are, undoubtedly, people of all shapes, sizes, and career paths taking part in this body positivity movement in a variety of ways. The overall hope seems to be that we will find a healthy way to view ourselves and each other. What do you think of this movement, and are there any people who inspire you most?
Click below to watch a sneak peek of our brand new course!
Our new course is called 'Overcoming Bias & Improving Critical Thinking.' This 5 week course is instructed by Dr. Madhava Setty & Joe Martino
If you have been wanting to build your self awareness, improve your.critical thinking, become more heart centered and be more aware of bias, this is the perfect course!
Full Moon In Aquarius: Rationality & Seriousness
Take a moment and breathe. Place your hand over your chest area, near your heart. Breathe slowly into the area for about a minute, focusing on a sense of ease entering your mind and body. Click here to learn why we suggest this.
We are having a Full Moon in Aquarius on July 23rd/24th. It will appear the brightest on the night of the 23rd throughout most of the world and on the night of the 24th in the time zones East of Japan. This is the peak of the Lunar cycle that began with a New Moon in Cancer on July 9th/10th.
The energies of a Full Moon are strongest in the days surrounding it yet its astrological configurations also play a part over the following two weeks. You may start to see its themes slowly build up after the New Moon prior.
This is a period in which we feel a push-pull between two opposing signs, in this case being the Moon in Aquarius and the Sun in Leo. It can play out as either a conflict, an integration, or some sort of dynamic between the energies of both signs. The Moon reflects the expression of feeling and emotion while the Sun reflects the expression of ego and conscious self.
We may feel this opposition happening individually within us and/or we can also experience it play out around us; with some people (or circumstances) expressing the Aquarius side and others expressing the Leo side. In some cases, Full Moons can also reflect/trigger some sort of change or release.
Full Moon In Aquarius Opposite Sun In Leo
Leo season began 36 hours before the Full Moon and will continue until August 22nd/23rd. This is the sign of self-expression, creativity, love, affection, children, courage, vitality, passion, leadership, generosity, and playfulness. Ruled by the Sun, it is also about shining in our power and being in alignment with what really lights us up and gets us excited.
The negative expressions of Leo can be egotistical, self-absorbed, authoritarian, dramatic, stubborn, jealous, and hot-tempered.  As it is associated with seeking praise and attention, it can be demanding of respect and be boisterous without considering or caring about how others respond to that.
The Full Moon highlights and brings the energies of the opposing sign of Aquarius into this Leo backdrop. This is the sign of friends, networks, social dynamics, social issues, groups, teams, humanity, and being in the best interest of the collective. This energy is unconventional, idealistic, innovative, progressive, scientific, original, inventive, technological, reforming, and even revolutionary.
Negatively, Aquarius can be overly detached, aloof, unemotional, and very invested in the mind at the expense of the heart. Traditionally ruled by Saturn, it can also be unyielding when it comes to the ideas and perspectives that it has already decided on.
Both Leo and Aquarius have some similarities. They are 'Fixed' signs and therefore can both be determined yet stubborn. They are also both associated with originality and authenticity. In Aquarius, this comes from its unconventional and innovative attributes while in Leo it comes from being inspired by its heart centred self-expression.
Full Moon Quincunx Venus, Conjunct Saturn, & Square Uranus
This Full Moon is in a quincunx with Venus which has recently entered Virgo. Our feelings, emotions, needs, or domestic lives may be at odds with friendships, values, finances, pleasure, or matters of love. It can be hard to integrate these areas but being flexible and making adjustments can be the solution.
The Full Moon is moving towards Saturn in the same sign. This can reflect a serious energy and we may be faced with limitations, restrictions, delays, or obstacles. We or others may be emotionally distant, pessimistic, or reserved. However, this can be good for some sort of effort that requires discipline, structure, and orderliness. After the Full Moon period, some of these energies will be strong again on August 1st/2nd.
Following the conjunction with Saturn, the Moon forms a square aspect with the disruptive Uranus in Taurus. This is activating the square between Saturn and Uranus that is happening throughout the year which I've covered in previous articles. Themes around 'old versus new', 'restrictions versus freedom', 'the status quo versus revolution', 'commitments/responsibilities versus liberation', 'elder versus youth', 'progressiveness versus tradition' and so forth.
Jupiter Going Back Into Aquarius
Jupiter entered its home sign of Pisces in mid-May for a short stint as it is returning back into Aquarius on July 28th/29th. The planet of expansion, freedom, beliefs, perspective, education, is unrestrained in Pisces and gets to express itself more ideally in this sign. We have seen examples of this as many jurisdictions loosened up covid related restrictions during this period.
With it going back into Aquarius, a traditionally Saturn ruled sign with Saturn currently present there, Jupiter will be more inhibited until late December when it re-enters Pisces again. It's possible that during this 5 month period may experience more restrictive measures return or new ones implemented. We may also experience this in different ways in our personal lives such as not being able to expand the way we'd like to. However, this might not be noticeable immediately.
The combination of Saturn and Jupiter in Aquarius (which began last December) can be good for building towards something or planting seeds pertaining to some sort of technological integration, social networking, collective or social pursuits, activism, new scientific approaches to things, and innovation.
Venus Square Lunar Nodes, Mars Opposite Jupiter
Venus will be in a square with the Lunar Nodes which will be strong from July 28th-30th. We may be reflecting on the past and future, or perhaps at a crossroads, when it comes to friendships, love, values, or financial matters. We may need to complete something and address what is holding us back  to help us move on and take a step forward in an evolutionary way when it comes to these areas of life. Venus is in Virgo so therefore discernment, details, practicality, health, organization, or efficiency may be key.
At this time Mars will be switching from Leo to Virgo while in an opposition to Jupiter. We may begin to feel the need to apply ourselves in a way that is more productive, sustainable, healthy, and clean. However, we can overextend ourselves and take on more than we can handle. This can also play out as conflicts around beliefs, perspectives, opinions, or judgements.
Mercury's Superior Conjunction
Mercury will be in its Superior Conjunction on August 1st/2nd which is in an important phase of Mercury's cycle with the Sun. From this point onward we may have a better perception around certain things that were seeded or occurred in the previous two months which may also help our momentum forward. .
Circumstances and developments that happen at this time can help us gain more clarity or facilitate necessary realizations to help us make the right decisions and appropriate mental focus. During this conjunction, the Sun and Mercury will be opposing Saturn which can play out as hindrances or the need to be pragmatic as part of this process.
Things To Consider
How can you balance or integrate your personal passions with the needs of the collective? How can you resolve any conflicts between leadership and a team or group? Are you experiencing any challenges or conflict between your heart and intellect? What areas of your life do you need to be more orderly, structured, disciplined, or take more seriously? Is there anything that you need to separate from? How can you apply yourself in a more noble way?
These are just some examples of themes that could come up or ways to approach this period; however, there may be other variations of this energy playing out as well.  If you wish to do any sort of intentional release, it is best to do so after it begins to wane following the peak or during the two weeks afterwards when it is waning before the next New Moon. The exact peak of this Full Moon is at 2:37am Universal Time on July 24th, night of the 23rd. You can click here to see what that is in your time zone.
Follow me on INSTAGRAM, FACEBOOK, and YOUTUBE for more astrology-related content.
—
Gain astrological insight into what is going on in your life and have a better understanding of your individual potentials. Get a personalized astrology reading with Carmen (author of this article) specific to you based on your exact birth date, time, and location. Click here for more information or to order
Click below to watch a sneak peek of our brand new course!
Our new course is called 'Overcoming Bias & Improving Critical Thinking.' This 5 week course is instructed by Dr. Madhava Setty & Joe Martino
If you have been wanting to build your self awareness, improve your.critical thinking, become more heart centered and be more aware of bias, this is the perfect course!
How To Embrace New Ideas & Envision A Better World
Take a moment and breathe. Place your hand over your chest area, near your heart. Breathe slowly into the area for about a minute, focusing on a sense of ease entering your mind and body. Click here to learn why we suggest this.
In this video I explore how to look in our minds and bodies for resistance towards new solutions and ideas. If we are to create a more thriving world, what has to happen within us? How do we use new and emerging solutions in a pure form, without applying the old dominance or capitalistic stories to them?
It can, very understandably, be hard to imagine something different than what we're doing now. Especially when we consider we don't know HOW things would change or what will happen to the current life we've built.
What if real global solutions involve shifting our long term plans? How do we gain a sense of comfort and stability in challenges we seek to solve at their core?
Every time I've been faced with some pretty big changes I had to make in my life, if I ever sensed resistance in myself, I had to find it in my body as well as navigate it in my mind.  I explain more in the video below.
Click below to watch a sneak peek of our brand new course!
Our new course is called 'Overcoming Bias & Improving Critical Thinking.' This 5 week course is instructed by Dr. Madhava Setty & Joe Martino
If you have been wanting to build your self awareness, improve your.critical thinking, become more heart centered and be more aware of bias, this is the perfect course!
Raising Our Vibration Through Compassion & Unconditional Love
Take a moment and breathe. Place your hand over your chest area, near your heart. Breathe slowly into the area for about a minute, focusing on a sense of ease entering your mind and body. Click here to learn why we suggest this.
An internationally recognized nonprofit research and education organization, the Institute of HeartMath dedicates itself to helping people reduce stress, self-regulate emotions, and build energy and resilience for healthy, happy lives. HeartMath tools, technology, and training teach people to rely on the intelligence of their hearts in concert with that of their minds at home, school, work, and play.
It's becoming clearer to many of us that working together with kindness, compassion and acceptance are the missing pieces for resetting humanity's fast and furious trajectory into separation and division. It's also becoming obvious that we cannot create solutions from the same consciousness level that's creating the problems. Raising our consciousness vibration for drawing peaceful solutions is an undertaking that calls for kindness, forgiveness and an inclusive love that respects our differences.
A large portion of their research has investigated heart and brain interaction. Researchers have examined how the heart and brain communicate with each other and how that affects our consciousness and the way in which we perceive our world. For example, when a person is feeling really positive emotions like gratitude, love, or appreciation, the heart beats out a certain message. Because the heart beats out the largest electromagnetic field produced in the body, it can yield significant data for researchers.
HeartMath has discovered that  emotional information is actually coded and modulated into these fields. By learning to shift our emotions, we are changing the information coded into the magnetic fields that are radiated by the heart, and that can impact those around us. We are fundamentally and deeply connected with each other and the planet itself.
This is very important work, as it shows how the heart plays an important role far beyond what is commonly known. For instance, did you know that your heart emits electromagnetic fields that change according to your emotions, or that the human heart has a magnetic field that can be measured up to several feet away from the human body? Did you know that positive emotions create physiological benefits in your body, and that you can boost your immune system by conjuring up positive emotions? Did you know that negative emotions can create nervous system chaos, and that positive emotions do the complete opposite? Did you know that the heart has a system of neurons that have both short term and long term memory, and that their signals sent to the brain can affect our emotional experiences? Did you know that in fetal development, the heart forms and starts beating before the brain is developed? Did you know that a mother's brainwaves can synchronize to her baby's heartbeats? Did you know that the heart sends more information to the brain than vice versa?
All of these facts, published research papers, and more can be accessed at heartmath.org.
I recently came across an article published by HeartMath titled "Raising Our Vibration Through Compassion & Unconditional Love" written by Sara Childre, Pres. of HeartMath Institute and Doc Childre, HeartMath Founder. I thought I would post it below for those who are interested.
Vibrations
HeartMath and many systems use the term vibration in reference to the quality of thoughts, feelings, emotions and attitudes that are generated and influenced by our beliefs, memories, choices, environmental stimuli and more. For example, you often hear people say, "I had to leave that office, the vibes were so low it was draining my energy, or, "I felt a lift from being in her positive vibration."
The vibration of our moods, attitudes, thoughts and feelings can rise and fall throughout the day, based on our actions and reactions to others, ourselves, or to life's issues. The vibes we emanate to others and to the environment vary, based on our resilience for balancing our mind, emotions and disposition – especially in today's dynamic emotional climate.
Lower-level vibrations can occur at every turn in connection with frustration, anger, disappointment, sadness, judgment, comparisons and much more. These emotions are part of being human, but it is within our power to shift out of these debilitating feelings into higher vibrational attitudes and perceptions.
An easy way to maintain a higher vibration is to interweave the qualities of our heart in our connections and interactions. These heart qualities include love, care, compassion, kindness, appreciation, forgiveness, and more. Anyone who experiences these qualities knows their power to lift our feelings into a kinder and more stress-free outlook.
Raising Others' Vibrations
For evidence that the heartfelt intentions of one individual can raise the heart vibration of others, HeartMath cites studies it has conducted. You may be familiar with the study in which a dog's incoherent heart rhythms became coherently aligned with a boy's heart rhythms as he radiated intentional love and care to his dog. Go to Josh and Mable to read more.
Science tells us that human beings and all creatures radiate an electromagnetic field produced by the heartbeat. Our feelings broadcast like radio waves through this field. When you are in the presence of a group of friends, family or others, everyone's thoughts, feelings and attitudes are intermingling in your immediate area — which HeartMath calls the field environment.
Another study, with 40 participants, explored the effects of being in a coherent field environment. The participants were divided into 10 groups of four people who were seated around a table. They were all connected to equipment that simultaneously measured their level of heart rhythm coherence. Three of the participants had been previously trained in the Heart Lock-In technique and were instructed to get into a coherent state at random times unknown by the fourth untrained person. Overall, as the coherent vibration of the three HeartMath-trained participants increased, the untrained person's coherence level also measurably increased from being in that more coherent field environment.
Poised in Higher Vibrations
When poised in our higher vibration, we experience many benefits. Decisions and solutions flow more easily due to increased access to our heart's intuitive wisdom; our discernment becomes more inclusive and our choices become clearer and more effective; it gets much easier to deflect frustration, anxiety, impatience and other chronic stress producers that strain our critical thinking and reasoning.
Most all of us feel more self-secure when in our higher vibrational composure, yet it can be harder to maintain in the midst of challenges and ramped up stress. We can learn to lift our vibration to meet challenges by adding heart qualities of conscious care, kindness, gratitude or compassion in our interactions. As these qualities of love move through our system, it lifts our attitudes automatically for the highest way to deal with the situation at hand.
Unconditional love and compassion are among the highest vibrations of love and are not subject to preconditions, limitations, or requirements of others. They serve the greater interest and benefit of all sentient beings and the environment in which they exist. Many people are realizing that unconditional love and compassion are from our higher consciousness potentials with the capacity for healing and attracting solutions for social transformation.
Uncountable numbers of people have experienced the benefits of compassion and more individuals are resonating with this powerful expression of love in these times of robust change. Practicing compassion is something we can do that benefits all, yet it takes heartfelt commitment to anchor this responsibility to the whole of which we are a part.
Summary of Benefits From Raising Our Vibration Levels
Increased care and kindness flow more automatically in our connections.
We are more clear-minded and self-secure in our choices and actions.
Our mind and emotions interact more harmoniously to suit our needs.
We deflect common stress triggers – frustration, impatience, intolerance, etc.
We are much more resilient and resistant to fears and self-doubt.
Our heart's deeper care is not overridden by our disruptive mind and emotions.
The lift in our attitude wards off anxiety, excessive worries and overwhelm.
We tend to lift others and the environment when our vibration is up.
We are less judgmental and intolerant with others and ourselves, which prevents mega stress accumulation.
Lifting our vibration amplifies our intuitive heart feelings for better choices and outcomes.
Simple Exercises to Raise Your Vibration
(Adapted from exercises in the Heart Intelligence: Connecting with the Intuitive Guidance of the Heart book.)
How to replace lower vibrational feelings, such as sadness, anger, insecurity, anxiety, self-judgment, rejection, etc.
1. Exercise: Find a quiet place where, for a few minutes, you can breathe easily, imagining with each breath that your mind, emotions and body are becoming still inside. In this stillness, desire the uplifting feeling you would like to have, and as you breathe, imagine breathing this new feeling into your being for a while. Imagine you are creating it with your breath.
2. Another Exercise: When feeling low, just sit quietly and imagine radiating love, compassion and stillness into your mental and emotional nature. Self-care is often allowing ourselves to have a low moment without compounding it with self-criticism. When our light is dim, it helps to give ourselves the feeling of compassionate heart warmth that we would give a child or a pet that is infirm. Even if it doesn't stop the pain, we know it can help energetically. If we feel awkward while trying this, it helps to ask ourselves, "What's the difference in nurturing ourselves with compassionate intention than taking the vitamins and health foods we consume for self-care?" Or, "Why do we teach kids to put their hand over a hurt area and radiate sunshine from their heart to help it feel better?" We do this because it's a natural expression of self-compassion, with benefits to their mental, emotional and physical nature.
You can soon feel a difference when doing these exercises, unless extremely challenged. If it doesn't work the first time, be patient and simply try again later. Being genuine makes a difference. This activates your heart energy. Practicing for a few days in a row strengthens your capacity to reset unwanted feelings and lower vibrations.
Simple exercises such as these can do more to lift your vibration than you may think. Make it fun to consciously reset your vibration throughout the day and watch your spirit lift and the stress accumulation diminish.
Click below to watch a sneak peek of our brand new course!
Our new course is called 'Overcoming Bias & Improving Critical Thinking.' This 5 week course is instructed by Dr. Madhava Setty & Joe Martino
If you have been wanting to build your self awareness, improve your.critical thinking, become more heart centered and be more aware of bias, this is the perfect course!