How To Learn To Love Your Body: Forget Societal Standards
Learning to love your body can be an incredible feat. The older we get, the harder it seems to be to keep up with societal standards. Aging can come with a variety of side effects that cause us to feel inferior. Fashion magazines sport images of extremely thin figures whose bodies have gone through the Photoshop machine one too many times. Stretch marks, cellulite, wrinkles, freckles and more are digitally removed to show an image of what makes perfection. We flip through the pages and sigh as we view what we've been brainwashed to believe is admirable.
But while there are plenty of stories of models being told their already svelte bodies are too big for runways and actresses that they're too big for parts (not to mention the silent operation of removing flaws with technology), there is an incredible movement happening that seeks to provide awareness of this problem, and to move past it entirely, living in a world where all bodies of all shapes and sizes and with many different "flaws" are considered normal.
-->Listened to our latest podcast episode yet? Joe and Dr. Madhava Setty deliver a special report aimed at gaining clarity around the COVID-19 vaccine. Is it safe and effective? Can it actually change your DNA? Click here to listen!
Taking a Stand
What we need in our world is people to look up to; to be the change we seek to see. When people take a stand against over-editing, against being called too fat or too skinny, amongst a number of other insults, it's a powerful thing.
As a content researcher, I have been incredibly inspired lately by the amount of people fighting back. While it seems that no time has been wasted in dishing out detrimental comments in the form of bullying, online or otherwise, it seems that many people are coming forward in hopes that their experiences, and their feelings on the matter, can make a change.
The Fighters
Having a voice in today's world is much easier than it ever used to be. Social media has created a plethora of platforms to make this happen. And while the harsh comments continue to roll in, so do the fighters; those who refuse to let anyone or anything decide what is right for them and their body. Here are five to feel inspired by.
1. Megan Ellis and Taryn Sisco

Photo: Today
These ladies are the co-managers of Barre East Fitness Studio. They received a disheartening newspaper clipping in the mail. The studio had recently been featured in a local newspaper, so when Ellis came upon the piece of mail, she assumed it was a friend congratulating them. To her dismay, it was something far less kind. What the ladies did receive was their clipping covered in hateful messages. "You are fat, bordering on obese," wrote one comment pointing to Ellis.  "You are overweight," wrote another comment pointing to Taryn.
This is how the duo responded:
Photo: Self
2. Kate Allan
This illustrator came out with a series of GIFS this fall to promote self-love and body positivity in a time when we need it most, and when people are willing to listen the most. Her animated illustrations feature women of all shapes, sizes, and colors. Each illustration comes complete with a beautiful message. From "I am amazing just as I am!" to "Confidence looks good on you!" and "The number on the scale does not define me," they represent an inspiring and innovative way to promote the beauty of self-love.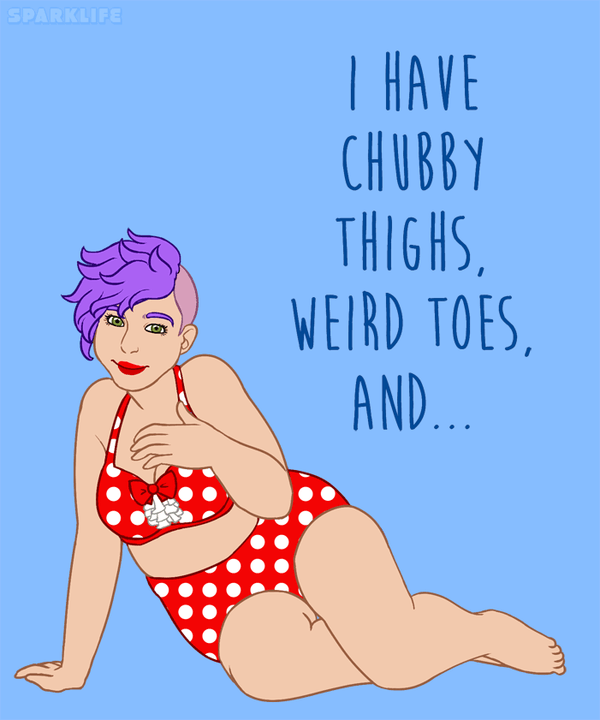 "I think it's important for women to appreciate everything that's beautiful about themselves," Allan said to The Huffington Post. "What's often represented in the media is a very narrow interpretation of beauty — thin, long legs, glowing skin. And while it's obvious why that's attractive, that archetype isn't the only beauty worth noting and flaunting."
3. Sjana Earp
This Australian model, vlogger, and Instagram sensation has quite a few followers listening to and watching her every word and movement as she trots the globe and dishes out advice. But being in the spotlight comes with a price, especially when social media is your main source of representing yourself career wise. When you're a social media influencer, you're allowing yourself to be exposed to intense scrutiny from others. But that doesn't make it okay, and when Sjana was sick of receiving countless comments on social media that called her too skinny, gross, or even told her she needed to eat a sandwich, she decided to stand up for both herself and for anyone else who may be dealing with a similar situation.

"I am so much more than a body — I know that. I am not defined by numbers OR by other peoples opinions of me," she captioned an Instagram photo. "And the body I have, as imperfect or 'skinny' or 'gross' as people may think it is, is MY imperfect body. And I am happy with it despite their irrelevant opinions.. My imperfect body helps me to move, travel, explore, play, and even hug people.. To me, that makes it beautiful. My body is natural and unmanipulated – that to me means that nothing about it can be 'wrong'… We don't look at a landscape and criticise the shape of a valley or the size of a mountain do we? So why are we so quick to judge other natural things like the human figure?"
4. Chrissy Teigen
Source: A Plus
Chrissy Teigen is a famous model, a TV show co-host, and wife to singer John Legend. Being in the spotlight like she is comes with a lot of pressure to look a certain way. But this beauty isn't afraid to show her 'flaws.' Earlier this year, Teigen shared an image of herself on Instagram that would do much more than have fans hitting the 'like' button and moving on. The image, which focused on her stretch marks, came with a caption that read: "Bruises from bumping kitchen drawer handles for a week. Stretchies say hi!" The response was
overwhelming
, with women from all walks of life posting similar photos with the incredibly empowering hashtag
#LoveYourLines
.
5. Rachele Cateyes

Rachele Cateyes is an artist, author, and activist who, as a visual artist, creates drawings surrounding the theme of body positivity. Her images range from slightly sweet to bravely blunt.

Source: Buzzfeed

Source: Buzzfeed
One of her biggest messages is that bodies come in all shapes and sizes, and just because one might be bigger than the other doesn't mean they can't both practice healthy living. "By just existing as fat people, we are told that we're glorifying or promoting obesity. We are harassed under the guise of 'being concerned for our health,' " the artist began. "The reflex is to explain how 'good' we actually are. We engage in healthy behaviors, have loving partners, and will somehow earn the right to be humans."
There are, undoubtedly, people of all shapes, sizes, and career paths taking part in this body positivity movement in a variety of ways. The overall hope seems to be that we will find a healthy way to view ourselves and each other. What do you think of this movement, and are there any people who inspire you most?
These days, it's not just knowing information and facts that will create change, it's changing ourselves, how we go about communicating, and re-assessing the underlying stories, ideas and beliefs that form our world. We have to practice these things if we truly want to change. At Collective Evolution and CETV, this is a big part of our mission.
Amongst 100's of hours of exclusive content, we have recently completed two short courses to help you become an effective changemaker, one called Profound Realization and the other called How To Do An Effective Media Detox.
New Moon In Capricorn: Power Struggles, Intensity & Renewal
We are having a New Moon in Capricorn on January 13th throughout most of the world and on the night of the 12th in Central to Western North America. This is initiating a 29.5 day lunar cycle and new wave of energy for the coming month; however, the astrological configurations mentioned in this article will be more prominent over the following two weeks. This cycle will include a Full Moon in Leo on January 28th/29th.
Capricorn season began on the December 21st solstice, just over three weeks prior to this lunation, and will end on January 19th/20th when Aquarius season begins. However, this New Moon will carry some of the Capricorn energies into the earlier part of Aquarius season.
This is a good period of working with and co-creating with the energies of this sign. Capricorn is associated with structure, ambitions, achieving goals, mastery, business, career, social status, responsibilities, duty, authority, governance, and hard work. It is cautious, worldly, conservative, and pragmatic. As an Earth sign, it has the qualities of practicality, reliability, solidity and being grounded. This element is very much orientated around the physical and material world. Negatively, Capricorn energy can be too serious, cynical, cold, controlling, and unrelenting.
New Moon Conjunct Pluto
This New Moon is aligned with Pluto which is also in Capricorn. This energy can be strong willed, focused, calculated, strategic, secretive, transformational, probing, deep, regenerating, sexual, cleansing, purging, and evolutionary. It can also be destructive, heavy, controlling, intense, subversive, obsessive, compulsive, jealous, power seeking, authoritarian, abusive, violent, manipulative, and dark.
Pluto rules
investments, taboos, transmutation, hidden matters, repressed feelings, shadows, psychoanalysis, and the underworld. It is associated with power struggles, conspiracies, viruses, death, fears as well as fearlessness. This Plutonian energy will be strongly felt during the New Moon and in the two days following it, but it will still affect the entire Lunar Cycle.
Pluto has been in Capricorn since 2008 and will be there until 2024. Collectively, this is a period of major changes affecting government, financial structures, and business in a big way. This has been more obvious in recent years as Saturn, the Lunar South Node, and Jupiter have all joined Pluto in the same sign. This will continue to be a big theme over the remaining years of Pluto in Capricorn and beyond. We also recently had a Great Conjunction in Aquarius on December 21st which also reflects changes affecting society in a big way over a long period.
This Lunar Cycle can really trigger the collective impact of this energy especially considering the current landscape. To learn more about all of this, I recommend reading my Pluto in Capricorn article from 2017 here and my more recent Great Conjunction article here.
Mars Conjunct Uranus In Taurus Square Jupiter & Saturn in Aquarius
The action oriented Mars recently changed signs into Taurus on January 6th/7th and has since been approaching Uranus, the planet of surprises and rebellion, in the same sign. They are both applying squares to Saturn and Jupiter in Aquarius which are still in close proximity with each other.
During this New Moon, from January 12th-14th, Mars is in a square with Saturn which is the first exact aspect made between these four planets. Our actions can be faced with obstacles, delays, resistance, or limitations. Conflicts around boundaries or restrictions can play out. Doing tasks may require extra patience and caution.
As this is finishing, Jupiter will be going into an exact square with Uranus from January 14th to the 19th. This energy can be freedom seeking, rebellious, scattered, idealistic, or even risk taking. It could be good for exploring, learning, education, or expansiveness around things that are new to us, unconventional, technological, scientific, progressive, or metaphysical.
Mars then makes its exact conjunction with Uranus from the 19th to the 21st while it is finishing its square Jupiter. It can really crank up the energies mentioned above and this energy can also be impulsive, erratic, experimental, disruptive, surprising, irritable, and quick tempered.
From the 21st until the 24th, Mars will then be in exact square with Jupiter. We may feel like doing things in a big way but it's important to be cautious around what we do because we can more easily apply ourselves in a way that is overextending, overestimating, or overlooking of important things. Conflicts around beliefs, opinions, judgements, and principles can play out.
During the later part of this period, the Sun will be in a conjunction with Saturn from the 23rd to 24th. This can have a serious tone, and perhaps the need to be realistic, cautious, orderly, disciplined, committed, or responsible, may come up. Following this, the Sun will be making aspects to Jupiter, Uranus, and Mars in the last week of January and into the first few days of February which can trigger some of the energies mentioned earlier in this section.
The combination of all of these planets in close proximity to aspects with each other throughout January can be good for applying ourselves in new ways that are congruent with changes that are happening personally or collectively. However, it can also be a time of anger, impulsiveness, and rebelliousness towards obstacles, restrictions, opinions, beliefs, authority figures, as well as other recent or upcoming developments, circumstances, or changes.
Venus Square Chiron &  Trine Uranus, Mercury Entering pre-Retrograde Shadow
Venus in Capricorn is in a square with Chiron in Aries at the time of this New Moon and in the day leading up to it.  This can bring up wounds, blockages, negative patterns, or can reflect themes around healing, holistic perception, or perhaps solutions when it comes to love, our social life, friends, pleasures, values, or monetary issues.
Venus is also in a trine with Uranus in Taurus which is strongest in the day and half following this New Moon. It can bring a new, stimulating, unusual, exciting, inspiring, liberating, unexpected, or unique energy around our relations with others.  This can also reflect surprises, positive changes, or freeing type of developments around financial matters. In some cases it can be good for exploring new ways of making money that can be innovative, online, metaphysical, or technologically oriented.
On January 15th, Mercury in Aquarius will be entering the shadow period of its retrograde that will be beginning on January 30th/31st and last until February 20th/21st. It can increasingly start to feel like it's retrograde during these weeks leading up to it as delays, technological/mechanical problems, mistakes, miscommunications, misunderstandings, or other complications can be more probable than in the previous six weeks.
Certain developments, interactions, connections, or issues that occur at this time can be connected to how this retrograde will affect us in February through its adjusting and perceptive changing qualities. There can be something we are not seeing clearly that needs to unfold throughout the upcoming retrograde and post-retrograde process. I will be writing a separate article on this, you can join my mailing list here to ensure that you receive it.
Making Intentions & Things To Consider
What changes do you need to make when it comes to your ambitions, career, structures, or business matters? What can you do to make your profession more congruent with a changing world? What are you fighting for and what can you do to be more calculated, effective, and persuasive? What kind of strategies can you employ to help you achieve your goals? Do you need to be more innovative when it comes to making money? What area of your life is calling for some sort of purging, cleansing, empowerment, and/or transformation?
These are just some examples of what to consider or focus your intentions on at this time. However, it is good to reflect on anything else that is coming up for you. It is generally best to make any intentions within the first 24 hours following a New Moon. The exact moment it will occur is 5:00am Universal Time on January 13th. You can click here to see what that is in your time zone.
Follow me on INSTAGRAM, FACEBOOK, and YOUTUBE for more astrology-related content.
—
I'm currently doing a DISCOUNT with 20-30% off personal readings.  Gain more astrological insight into what is going on in your life and have a better understanding of your individual potentials. Get a personalized astrology reading with Carmen (author of this article) specific to you based on your exact birth date, time, and location. Click here for more information or to order.
These days, it's not just knowing information and facts that will create change, it's changing ourselves, how we go about communicating, and re-assessing the underlying stories, ideas and beliefs that form our world. We have to practice these things if we truly want to change. At Collective Evolution and CETV, this is a big part of our mission.
Amongst 100's of hours of exclusive content, we have recently completed two short courses to help you become an effective changemaker, one called Profound Realization and the other called How To Do An Effective Media Detox.
Mermaids: Ancient Mythology or Actual Reality?
In Brief
The Facts:

Mermaids have been written about by several cultures across multiple time periods, from Babylon till now. There have even been claims of recent sightings. With all of the lore that exists, it's not hard to imagine these beings could be real.

Reflect On:

How many examples exist where ancient knowledge has turned into ancient fact? How much do we really know about our true suppressed history? Could there be a whole world we don't know about our there?
Photo credit: Ramakien Murals depicting the hero Hanuman meeting the mermaid Suvannamaccha, Wat Phra Kaew, Bangkok, Thailand, 1831.
Ancient lore is fascinating to say the least, especially if you dive into mythology. What's always attractive about mythology is that there are good reasons to believe that a lot of it isn't actually mythological, but real in some cases.
We see this in many examples, Plato's (among others before and after him) description of Atlantis could be one, especially when you tie in all of the evidence that's emerged of its existence. Another example could be people with 'superhuman' abilities, like clairvoyance, telepathy, and psychokinesis that we find in a lot of Buddhist and other ancient Eastern texts.
Today, there are many documents and examples of people who demonstrate these types of  abilities. Another great example is Nikola Tesla, who derived his ideas of "free energy" and electrical generators from ancient Vedic concepts.  Let's not forget about modern day quantum physics and neuroscience and their close correlation with ancient eastern philosophy and buddhism.
There are many topics to choose from, and it seems that we always place ideas and concepts that don't fit within the frame of  accepted reality into the  'mythological' category. This is obviously quite understandable, but remember that those who actually spoke about these creatures and studied the lore are certain some of these so-called mythological concepts were completely real. Why is that so?
Perhaps they were? I don't think we should completely rule out the possibility. Mermaids are a great example, and one of many.
Mermaids
We see images everywhere today, Starbucks even uses the two-tailed mermaid as their logo. According to Greek mythology, mermaids, also known as sirens, were predatory in nature, masters in the art of seduction. They would seduce men at sea with songs and promises of sex, only to kill those who succumbed to their lure. But stories of their benevolence and malevolence differ.
One study in the Journal of Academic Study of Religion explains,
The mermaid blurs the boundary between woman and fish, femininity and carnality, land and sea, human and other. She is also held to be an astral entity in various metaphysical circles, in the mermaiding industry she is often marketed as an ambassador for marine preservation, and in the general pervasiveness of this character, competing with inhuman beings such as vampires, werewolves, and angels in the heavily mediated realm of contemporary culture, the mermaid represents an additional opportunity to invest in an other-than-human identity.
They are also depicted in ancient Vedic lore, the story of Suvannamaccha, for example, comes from the Asian versions of ancient Hindu mythology. They are not always depicted as luring, tricky beasts, some stories speak of them as protectors, falling in love, and more. They also tell of a history of capture, which isn't surprising, reflecting a dark tendency of the human race in our current state of consciousness. It would be no surprise why these beings may not take to kindly to the race of men, and perhaps still don't. After all, look what we've done to the oceans and continue to do. Look what we are doing to life on this planet…
Etheric Domain
According to one of the foremost authorities on the subject, Manly P. Hall (from his book, The Secret Teachings of All Ages), the Undines, as they were also known, were water elementals, that function "in the invisible, spiritual essence called humid (or liquid) ether.
This is particularly interesting because that's another thing that's been spoken of in ancient "mythology" for so long, but now physics is showing it to be true. Here's a great quote that illustrates that:
"And they allowed Apollonius to ask questions; and he asked them of what they thought the cosmos was composed; but they replied; "Of elements." "Are there then four?" he asked. "Not four," said Larchas,  "but five." "And how can there be a fifth," said Apollonius, "alongside of water and air and earth and fire?" "There is the ether," replied the other, "which we must regard as the stuff of which gods are made; for just as all mortal creatures inhale the wire, so do immortal and divine natures inhale the ether." "Am I," said Appollonius, "to regard the universe as a living creature?" "Yes," said the other. – The Life of Apollonius of Tyana, Philostratus, 220AD (source)
According to Nikola Tesla,
"All perceptible matter comes from a primary substance, or tenuity beyond conception, filling all space, the akasha or luminiferous ether, which is acted upon by the life-giving Prana or creative force, calling into existence, in never-ending cycles all things and phenomena."– Nikola Tesla, Man's Greatest Achievement, 1907
Other-Dimensional Visitation
This is why, in my opinion, it's not hard at all believing that forms of life, invisible to our senses, also dwell in the ether and in realms we cannot perceive with our senses. Other beings would be nature spirits like fairies or gnomes who, according to the lore, can also appear in our 'dimensional' reality as well, on our frequency, if they choose to do so.
According to Hall, from The Secret Teachings of All Ages,
The Undines are able to control, to a great degree, the course and function of this fluid in Nature. Beauty seems to be the keynote of the water spirits. Wherever we find them pictured in art or sculpture, they abound in symmetry and grace. Controlling the water element–which has always been a feminine symbol–it is natural that the water spirits should most often be symbolized as female.
Hall writes about how there are many different groups of Undines; some live in waterfalls, others in fast-moving rivers or remote marshes, some in mountain lakes as well as in the ocean.
In describing them, the ancients agreed on certain salient features. In general, nearly all the Undines closely resemble human beings in appearance and size, though the ones inhabiting small streams and fountains were of correspondingly of lesser proportions. It was believed that these water spirits were occasionally capable of assuming the appearance of normal human beings and actually associating with men and women.
 He goes on to describe stories of these water spirits and their adoption by families. As far as the males, Hall does not dismiss their existence but writes that practically nothing is known about them. We do know of one, however, called Neptune. We also know of another.
The Babylonians worshipped a fish-tailed god named Oannes. John Ashton, author of Curious Creatures in Zoology, proposes that this is the first depiction of a merman. Also in ancient lore, the goddess Atargatis, chief goddess of northern Syria, was depicted as a fish-bodied human, supposedly constituting the first known representation of a mermaid.
He describes a group of Undines interestingly, and different from other mythology we see. Perhaps these 'elementals' differ from other creatures that are closer to our own frequency? Hall goes on to explain,
Their temperament is said to be vital, and to them has been given as their throne the western corner of creation. They are rather emotional beings, friendly to human life and fond of serving mankind. They are sometimes pictured riding on dolphins or other great fish and seem to have a special love of flowers and plants, which they serve almost as devotedly and intelligently as the gnomes. Ancient poets have said that the songs of the Undines were heard in the West Wind and that their lives were consecrated to the beautifying of the material earth.
It's also noteworthy to mention that multiple apparent sightings have been recorded and spoken about in modern history as well, according to numerous eyewitnesses a few years ago, from a seaside shore town in Israel. They said it looked like a cross between a little girl and a dolphin, and only comes out at sunset. "People are telling us they are sure they have seen the mermaid and they are all independent of each other," said Natti Zilberman, a local council spokesman, as she spoke to ABC News. It sparked so much controversy that the Mayor offered a million dollar reward for a photograph.
Perhaps there are many concepts of our reality that remain unknown to us? Always interesting to explore 🙂 There are many truths waiting to be discovered that would completely change our perception of not only our planet but also the nature of reality itself.
These days, it's not just knowing information and facts that will create change, it's changing ourselves, how we go about communicating, and re-assessing the underlying stories, ideas and beliefs that form our world. We have to practice these things if we truly want to change. At Collective Evolution and CETV, this is a big part of our mission.
Amongst 100's of hours of exclusive content, we have recently completed two short courses to help you become an effective changemaker, one called Profound Realization and the other called How To Do An Effective Media Detox.
Who Are You Really? The Impactful Video That Could Change Your Life
This short and sweet film reminds us of who we are at the core: the person we were before being made to believe that growing up meant giving up your creativity and your authenticity; the person we were before losing touch with nature and our true Self. We can get so caught up with the business of life that we forget the joy of it, and go about our days unconsciously, with no idea how much self-awareness we have lost. For some of us living in the corporate world, or doing any job we are unsatisfied with, we might not even realize we are living out our days on auto-pilot. Choices are presented to us and we make decisions automatically, robotically even, without putting much thought into the act — without putting much of ourselves into the choosing.
"What you do today is important because you are exchanging a day of your life for it."

– unknown
So how do you find out who you really are and what you really want out of life? The answer is simple: Give yourself a day to be completely present.
Evaluate how you feel when you wake up, when you go to work, when you are at work, how you communicate with others, etc. What are you really feeling? If you feel complacent or disengaged, it might be time to reexamine your current position at work (or in life) so that you are sure you are getting the most out of what you are given, which sometimes might just go right over your head.
The beautiful thing about life is that it is ever-changing; it moves with or without us and we have a choice about whether to live actively or passively — to engage in everything life has to offer or to fall into the background of someone else's life.
So what do you choose?
As a side note, we have a powerful course inside our membership area called CETV that helps to bring presence and self awareness to your everyday life through a simple set of tools. It's called Profound Realization and you can check it out here.
"Your life does not get better by chance, it gets better by change." 

– Jim Rohn
So here it is: "I am Nature" by Alex Eslam, written by Die Rabauken.
These days, it's not just knowing information and facts that will create change, it's changing ourselves, how we go about communicating, and re-assessing the underlying stories, ideas and beliefs that form our world. We have to practice these things if we truly want to change. At Collective Evolution and CETV, this is a big part of our mission.
Amongst 100's of hours of exclusive content, we have recently completed two short courses to help you become an effective changemaker, one called Profound Realization and the other called How To Do An Effective Media Detox.