Breaking Down Religious Dogmas & Deciphering The Truth
Religion is filled with a number of dogmatic concepts yet there are gems that lie underneath the doctrinaires of how to conduct one's spiritual life. Setting aside religion's literal depictions of creation and conduct on this earthly plane, one can learn to appreciate the core lessons and values embedded in each belief system without needing a devout subscription to many of religion's divisive ideologies.
What matters are the core messages of how to live a happy and peaceful life, while getting more of what you want and helping others do the same through proper moral conduct and harmony with divinity.
The questions that truly concern humanity since its conception are:
Who are we?
What is the purpose of our lives? What is our role in the cosmos?
How and why do we act the way we do toward ourselves and others?
What is happening in the world today and why?
Throughout this series we will explore shamanic, polytheist, and monotheistic myths and theologies to uncover and reveal that which is hidden below the exoteric presentation of spirituality in its organized forms. The immediate focus at the beginning of this series will be the ancient traditions, as much of their wisdom serves as the foundation of the modern religions that influence our culture.
This is aimed toward giving you an understanding of how various societies have described the basic laws of moral action, consciousness, and manifestation that pertain to the human condition, while grasping the unique cultural, geographical, and chronological understandings that all point to reasonably similar and useful understandings of governing yourself mentally, emotionally, and physically. The applicable wisdom that lies underneath the dogma of modern theologies may provide clarity and guidance toward your journey of ascension.
The stories and figures are not to be taken literally as they are archetypes, allegories, emblems, parables, and metaphors used to depict an understanding of how reality works in relation to the ethereal which is our microcosm deep and within, our grounded reality, which is our immediate environment, and the divine, which is the macrocosm far and beyond — all of which harmoniously work in accordance with each other.
Back then, without the tools and precision of modern science and mathematics accessible to the masses, as well as the useful level of technological development during those eras, an understanding of reality had to be depicted visually through symbology while engaging the imagination's ability to add meaning and context to the quality of their stories of creation and conduct. The problem that spurred from this was that people demanded, coerced, and enforced that their word is the Truth. This right brain perspective can run wild, as those who subscribe to the strict ideologies of their faith take every word and depiction of their sacred understandings literally, with no room for practical analysis. This leads to division among people as well as unquestioned obedience to theologies that are tainted with man's manipulation to control the will of the people.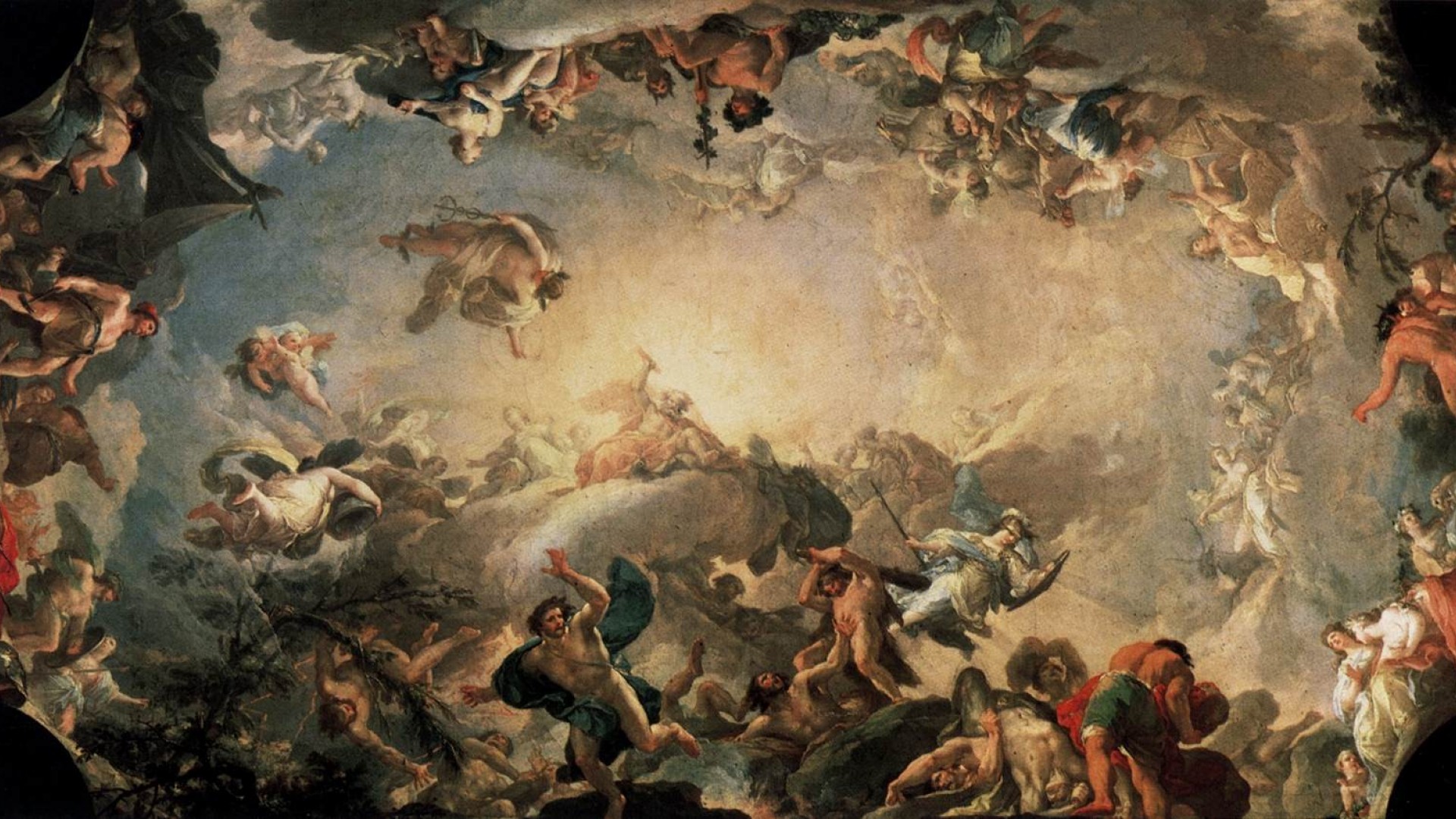 "We live in a world of numerous ideologies and belief systems, all competing for the same real estate, your mind."

– David Snyder
Separate yourself from the superficial and dive deep into the esoteric meanings behind these stories and figureheads, as seeing past those illusions will enable you to reveal a common understanding of divinity and knowledge of self.
Did an enlightened figurehead such as Jesus really exist? It's quite possible. If he did, was he really able to walk on water and turn it into wine? We can't prove that. Instead of getting lost in those details, it is more important to understand the core applicable messages of his teachings as well as the other prophetic leaders, and stories told in religious traditions that share a core commonality with many other belief systems.
Our society focuses on the things that divide and separate our religions, which in turn separate us. Perhaps we can benefit from understanding instead what connects us, in relation to our needs and values. So in an attempt to break down the formality of these religions, I'm going to present the core knowledge that leads to a higher understanding of self and environment, as it will translate to better ways of governing oneself from within and navigating one's journey without.
The word Religion comes from the Latin word "Religare," meaning to tie back, hold back, or to bind fast. To bind is to thwart or hold back the progress of an opposing force or practitioner. A religion is a fixed point of view of understanding divinity, while holding back perspectives and levels of understanding the fall outside of the established religion. All religions share a core truth that the exoteric elements are holding back and because of this, the grounded esoteric alternatives of many modern religions are more interconnected with the commonalities of all cultures. Religion is a box for consciousness because you're not seeing the whole picture.
Esoteric traditions were more grounded in the here and now while instilling the divine Will in one's current plane of existence rather than seeking it only in the next life. The divine Will was to maintain balance and order so that everything that works within the system of creation continued to function. This form of order was not coercive authoritarian driven, it was an order that lent itself to responsibly maintaining the harmony and balance through systems and cycles that prevented chaos. Likewise hell on earth can exist within and without if proper balance and order are not maintained, as well as failing to resolve one's karmic challenges in the present.
In marvel of the heavens, many belief systems are intimately connected with some form of astrotheology, which was the worship of astronomical bodies as Deities. To this day, very high levels of the Catholic church own some of the most expensive and powerful telescopes in the world, yet to the masses below those power structures of Catholicism, studying the night sky or even dabbling in one's Horoscope is forbidden, as it is considered to be blasphemous. The study of the planets, stars, sun, and moon, as well as their relation to the cycles that repeat, such as their orbits and sequential seasons, intervolving solstices and equinoxes, are incorporated into the esoteric laws of analogy.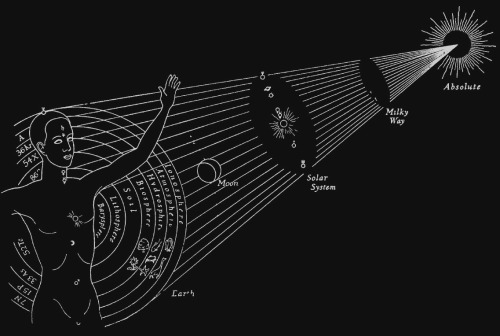 The laws of analogy are very present in our understanding of the physical word, meaning, at different levels of reality, the same patterns and cycles repeat themselves; as above, so below; so within, so without. In light of astronomy and horoscopes, the word horoscope, which pertains to one's life path in relation to the cycles around the sun, is derived from the name Horus, an ancient Egyptian sun God and later adapted into Greek language as Horos.
The ancient Egyptian culture and mythology, which has influence other religions, fundamentally subscribed to a sun worshiping religion. In many cultures the sun was their first astrological body, or higher power to be depicted as a deity. It was bright and luminous, it allowed one to see, and it gave life. One could feel the sun's warmth and was starkly aware of its power to incinerate. It is tangible enough to be seen and felt, yet it was impossibly out of reach, as its presence and power were above those who marveled at it, making one an insignificant spec in comparison to it. Association with the Sun has laid the basic premise for the duality of many belief systems that integrate the polarities of light and darkness, a concept that will repeat itself much throughout this series as we explore other belief systems and ideologies.
Horus was the sun God, depicted as the golden falcon who rises in the east, flies across the sky in a solar ark until he reaches the west and Sets. He makes his trek across the sky daily across the horizon. The word Horizon means "the zone of Horus." Hori is the generative word for Horus, Zon refers to the zone of Horus, thus it is the horizon of Horus, which is where Horus appears on the horizon. It is his arc, his flight path across the sky.
Horus is also named Amen-Ra. Amen is the name ancient Egyptians said after a prayer to evoke the sun God Amen-Ra. Amen-Ra represents the sun (Horus) at its zenith, which is the sun at its highest point. The zenith is the highest point in its arc across the sky. The highest point of Horus's flight path, at 12 noon, is called Amen-Ra.
Horus is depicted as the savior who is anointed with the light, vision, and wisdom. He is the son of the creator God who brings wisdom by knowing what is seen with the light.
Horus has 3 main family members — a mother, father, and brother. His mother Isis is the moon Goddess of the night sky. At night she is the queen of the heavens who rules the night sky, while her husband Osiris is the creator God and ruler of the heavens. In ancient Egyptian mythology, Isis gives birth to the rising sun each day, which is the solar God Horus, who is given divine right by Osiris to rule and give light to the earth during his horizon.
After his trek across the horizon, his brother Set conquers Horus as his fall from the sky Sets into the underworld of darkness. (In other Egyptian stories Set is also depicted as his uncle, but either role has little consequence over the major role he plays as the dark pillar of duality.) Set is considered the dark figure, who is in a state of ignorance because he does not posses the light to see. He lives entirely in the shadows of darkness and ignorance, yet he is the conqueror of the light at night. Set represents chaos, death, and sin, and is somewhat of a devilish figure among the mythology of ancient Egypt. However, he is not entirely depicted as evil because the ancient Egyptians understood that his darkness was necessary for Horus's light to exist. His bad qualities were more understood as an accepted duality between light and dark, good and evil, positive and negative.
Horus and Set were originally expressions of innate duality, the two aspects of creation playing a role throughout the cycles of the day-sky and night-sky.
In the picture below, Horus is touching the pharaoh on the right temple, and his dark brother set is touching the left temple. This represents the duality of consciousness. Horus is the right mind, wisdom, moral action, order, and peace. 
The left side is the God of darkness, deception, storms, chaos, anger, domination, control, and war.
Eventually Horus and Set reconciled and negotiated their conduct so that one wasn't selfishly looking out for himself or having to defend against the other's transgression. A trusting relationship was formed in which both sides began to understand the importance of their complimentary existence. Without this balance of opposites, Horus would not be able to uphold the balance of Ma'at. This balance gave Horus the ability to fight chaos, which was represented as well by the God Apep, who was even more of a personification of evil left unchecked prior to Horus becoming Ra. Set manifested chaos within, while Apep manifested chaos in the external environment. Since Horus, who was the light, represented the peace while being the God of war who instills Ma'at's order over the chaos, one could speculate that the tactics of combat were consulted with Set since he had lived much of his life in affliction. It was during this time of balance with Set that Horus was able to reach his highest point, becoming Ra to fight Apep and instill the will of Ma'at on earth as it is in heaven.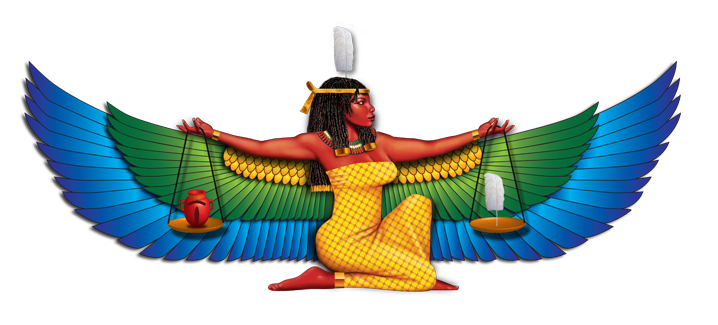 Fighting the chaos of Apep was inspired by the will of Ma'at. Ma'at is the Goddess or conception of truth, balance, order, harmony, law, morality, and justice. She carried out order in the heavens and on earth by regulating the stars, seasons, and regulating moral action of Gods and Pharoahs. Carrying out the karmic order and natural laws of the heavens was done on the earthly plane by fighting the external physical chaos of those who had abandoned truth, justice, and equality. Just as people who deal with the devil become ego-absorbed demon archetypes, people who were imbalanced in the ways of Set became Apeps. Foreign invaders who threatened the balance were also considered Apeps. Other forms of chaos beyond human acts on the earth plane were also considered to be influenced by the spirit of Apep. The union of Horus and Set is a lesson to Egypt's citizens to reconcile the internal chaos within by accepting the parts of themselves that need the light's guidance. As long as there was chaos within, the threat of chaos (Apep) existing in the external environment was imminent. Apep's external chaos threatened to provoke the actions of Set within, making it more difficult to restore order and balance throughout the land and the people.
Both Horus and Set whisper in the ears of the pharaoh while the pharaoh has free will to decide who he listens to and what action to take. It was intended that he carry out the will of Ma'at upon his kingdom by creating balance within his inner kingdom. Pharoahs are frequently depicted with the emblems of Ma'at to emphasize their role of upholding divine order. Through the ruling of the Pharaoh, Egyptian citizens were expected to follow this legitimate form of order that is aligned with the principles of moral action, growth, and sustainability.
This was important to uphold because a disturbance in the force of cosmic harmony could have a significant impact on the individual and the state. A Pharoah self absorbed in ego could bring about disaster and chaos. In addition, the actions and judgments of the Pharoah were meant to guide the citizens through the ambiguous moments of reality, simplifying the principles of Ma'at so that choices of the citizens are made with the highest integrity and care. Obeying the order was not servitude to selfish authority figures, it was doing your part to integrate into the wholeness of an ordered, balanced, natural divinity, which is why authority and compassion were integrated into the foundation of ancient Egyptians.
The degree to which one obeys Ma'at will determine the karmic consequences weighing on the heart of the individual. The heart could only be rewarded for its devotion to Ma'at if it embodied the light, not only in its weightlessness but also in its luminosity to see the truth of proper action.
The ancient Egyptians used these myths and analogies to depict that each of these archetypes exist within us and the symbology of them is meant to remind us of their presence in our daily lives. They are moral, orderly, and divine symbolic analogies, an expression of consciousness, not to be taken as physical Gods.
They represent the pillars of duality: the light and darkness within ourselves that we must reconcile in order to make proper actions. The dark elements help us understand our fears and desires, and with this understanding we cycle back into the light of wisdom. They are Gods within us that influence our actions. Without balance the light and darkness are continually at war, battling for dominance over our behavior. To try and extinguish the darkness would only cause Set to resist with war. Negotiation was the only way because complete annihilation of the darker elements within was beyond our mortal capabilities.
Beyond our inner universe and the grounded earth, Isfet was the chaos of the heavens that threatened the stability of the heavens, which is the absence of light and order, injustice, chaos, violence, and evil, all of which threatened to trickle down into the earthly plane of form which interacts with the inner world of the Pharoah and his people.
On all levels of reality, this balancing cycle of order and harmony must be upheld to maintain the structure above and below. If the balance of Ma'at was not maintained, the ignorance of order would manifest as Isfet, which is chaos in the heavens, chaos in Apep who will disrupt the earthly realm, and chaos within Set, who will affect the Pharoahs and citizens from within. Isfet is more of an abstract concept with no known God attached to it to give its understanding a more relatable nature. It is seen more as the absence of structure and balance, which means that there is more responsibility on the part of Ma'at to maintain structure, rather than to blame external circumstances. It was pretty much all on Ma'at to balance the heavens.
Set's chaotic and warlike qualities were reconciled to fight chaos outside of his temple. The Pharoah would fight manifestations of Apep through the actions of Horus, the emotions of Set, and the Instruction of Ma'at. As long as he was balanced with Horus, Isfet would not destroy their temple. The destructive force of Set was still useful when fighting an enemy of Ma'at. In the heavens, on the other hand, Ma'at was threatened by the absence of responsibility if she did not maintain order, not by an opposing deity who continually aspired to disrupt her. Lack of order in the heavens would cause a lack of order on the earth plane, causing irritability within Apep and Set.
Polarity and balance are the main concepts to understand in the Egyptian myths shared in this article. The Creator God Osiris gives man free choice to govern his actions, as both light and dark are his children, Horus and Set. In religion, dualism means the belief in two supreme opposed powers — Gods or sets of divine or demonic beings — that influence the world, which has had an important presence in the history of thought and religion.
Dualism can also denote a co-eternal binary opposition to indicate a system which contains two essential parts. Moral dualism is the belief of the great complement or conflict between the benevolent and the malevolent. It simply implies that there are two moral opposites at work. Some of these dualities imply harmony in which one balances the other, such as yin and yang, while other forms of duality imply rivalry and opposition, such as good and evil.
The process of reconciling between these two opposites will resurface throughout this series. It is important to have a foundational understanding and acceptance of the duality that exists within and outside of man in order to grasp the more detailed concepts of future teachings. In this case we talked about light and darkness as it relates to Horus and Set, brothers of the same father, one representing good, the other representing bad. It is only when we balance these two that we can become stable from within. This is not to say that darkness can have equal control over us. To balance the dark is to bring it into the light of consciousness so that it no longer controls you. The sight and understanding of that darkness will reduce its influence that threatens Ma'at's inner and environmental stability. As we build our temple from within we must be aware of Horus and Set on either sides of our temple.
Over the past year, Revealed Films has been filming researchers, medical professionals, scientists, athletes, executives, moms, advocates, and many more to clear the air on all things supplements. The global viewing event for Supplements Revealed is finally here and we want you to see it - February 18-28.
Meditation Changes The "Structure & Function of the Brain" In A Positive Way
In Brief
The Facts:

A recent study has found found that different types of meditation can actually effect different areas of the brain.

Reflect On:

Should meditation be included in the school curriculum, and used to treat certain mental ailments?
If you look at most 'masters' in the field of meditation, a common theme that currently exists is a big misconception about meditation, that it has to be done a certain way, that you have to sit a specific way or do something in particular in order to reap the benefits. These masters will be the first to tell you that it doesn't have to be one specific way.
That being said, many spiritual groups, like certain monks for example, are taught different types of meditation in several different ways, so really, there's no correct way to meditate, and the process of connecting with one's higher self and quieting the mind can be done in multiple ways and practiced at various levels.
When meditating, one shouldn't try to "empty" their mind, but instead, try to let ones thoughts, feelings, and whatever emotions end up 'popping' in there, pop in there. There should be no resistance to thoughts, no judgement of them. Simply let them be, don't attach to them and just be at peace with it. You're not doing anything wrong, just focus on your breath.
Personally, I believe that meditation is a state of being more than anything else.  Throughout the day, one can resist judging their thoughts, letting them flow until they are no more, or just be in a constant state of peace and self awareness. Contrary to popular belief, you can meditate anywhere, it can be done before bed, in the shower, while you are going for a walk, or even while washing the dishes.
That being said, I do also believe, speaking from my experience, that sitting down and doing the proper breath work and being present is a slightly different method and can sometimes create a more powerful experience, but there seems to be different variations of the exact same thing.
What's interesting about meditation is the fact that it's been practiced for thousands of years, and several ancient cultures were well aware of not only the non-physical benefits but its physical benefits as well, something modern day science is just starting to discover.
One of the most recent studies has found that different types of meditation can actually effect different areas of the brain.
As Alice G. Walton, a writer for Forbes points out,
"Meditation and mindfulness training have accumulated some impressive evidence, suggesting that the practices can change not only the structure and function of the brain, but also our behaviour and moment-to-moment experience."
She is correct, probably even more so than she knows. The evidence showing just how strong the mind-body connection is can actually be overwhelming. In fact, studies in the field of parapsychology have just as much, if not more, statistical significance via peer-reviewed research than the science which has been published to approve several different drugs, like antiplatelets, or the science that shows a daily dose of aspirin can help prevent a heart attack. It was published in 1999, by a statistics professor at UC Irvine.
This new study, which was recently published by the Max Planck Institute found that three different types of meditation are associated to changes in corresponding brain regions.
Watson goes on to explain,
"Participants, who were between 20 and 55 years of age, engaged in three different types of training for three months each, totalling a nine-month study period. The first training was dubbed the "Presence" module, and was very similar to focused awareness meditation, an ancient practice that's been studied a lot in recent years. In this study, participants learned to focus their attention, brining it back when it wandered, and to attend to the breath and to their internal body sensations." 
The second phase of training was called "Affect," and its purpose was to increase compassion and empathy for others. The participants learned about a specific meditation dealing with "loving-kindness," and again, the sole intention here was to enhance one's compassion and empathy.
The last one was called the "Perspective" module, where the focus was simply to observe one's own thoughts without judgement, while enhancing their understanding towards the perspectives of other people.
The researchers hypothesized that these methods would lead to volume increases in corresponding parts of the brain.  Numerous studies have proven the many physiological benefits of meditation, and the latest one comes from Harvard University of a study conducted by Harvard researchers at Massachusetts General Hospital (MGH)  who determined that meditation literally rebuilds the brain's grey matter in just eight weeks. It's the very first study to document that meditation produces changes in grey matter over time.
This recent study found the same thing, and they discovered that when they scanned the participants' brains at the end of each module and then compared the groups against one another:
"Training in Presence was linked to enhanced thickness in the anterior prefrontal cortex (PFC) and the anterior cingulate cortex (ACC), which are known to be strongly involved in attention. Affect training was linked to increased thickness in regions known to be involved in socially driven emotions like empathy: and Perspective training associated with changes in areas involved in understanding the mental states of others, and, interestingly, inhibiting the perspective of oneself." 
These results further elaborate on a wealth of previous studies showing what meditation can do to the brain.
Walton goes on to emphasize,
"Lots of research has found that experienced meditators have significantly altered brain structure and function, but a growing number of studies has also found that relatively brief meditation training in novices (for instance, the well-known eight-week MBSR program) can also shift brain function, improve well-being, and reduce symptoms of depression and anxiety." 
The authors of the study mention:
"With growing globalization, interconnectedness, and complexity of our societies, 'soft skills' have become increasingly important…Social competences, such as empathy, compassion, and taking the perspective of another person, allow for a better understanding of others' feelings and different beliefs and are crucial for successful cooperation." 
Why This Is Relevant & Important
Imagine if this type of practice became a requirement of multiple school boards, what do you think would happen? For most of us, since the day we are born we're all encouraged to follow the same path, and one of those paths is spending a large portion of our lives, for many years, for the entire day, at school. Then, as we age into adults, we do the same thing with 'work.' This type of human experience is far from natural, which is why I believe it to be one of the reasons (out of many) that stress, diseases, and mental health issues, among other rates, continue to rise exponentially.
While going through this process, we're never really taught how to question the experience, we simply comply and are never really taught any sort of emotional education, at all. We don't learn to deal with our emotions, we don't learn about empathy, compassion, and stepping into another persons shoes… We're not really taught what we are naturally gifted with from birth. It's our empathy and compassion, our concern for others that makes human beings so special, but growing up, we don't really talk about these things.
The world is changing in many different ways, and awareness about this kind of practice is spreading around like it never has before. Multiple schools are incorporating mindfulness education into their programs, and many parents from my generation are also incorporating these important concepts into their child's development.
This is great to see, and as time unfolds, the more we tap into non-physical science and its tremendous benefits, the more we will speed up the changes that are so desperately needed on our planet right now.
---
Related CE Articles:
Scientists Demonstrate What Meditation Does To Your Gut & Your Brain
Mind-Body Connection During Meditation Can Now Be Measured – Thanks To Science
Study Outlines What Prayer, Meditation & Yoga Can Do To The Human Body
Physicists Examine Consciousness & Conclude The Universe Is Spiritual, Immaterial & Mental
Physicists Say Consciousness Should Be Considered A State of Matter – The Non-Physical Is Real
This is How Powerful The Mind/Body Connection Really Is
Nepals Military Set To Use Transcendental Meditation To Relieve Global Collective Stress To Stop War
"I Was Sort of a Jackass Before Meditation" – This Is How We Can Change Police Brutality
Tibetan Buddhist Master Monk Explains How Meditation Is Not What Most People Think It Is
How To Meditate: 6 Method That Can Get Anyone Meditating
Over the past year, Revealed Films has been filming researchers, medical professionals, scientists, athletes, executives, moms, advocates, and many more to clear the air on all things supplements. The global viewing event for Supplements Revealed is finally here and we want you to see it - February 18-28.
'The Event' – What's Really Happening & What You Need To Know About It
In Brief
The Facts:

It is alleged by many in the spiritual community that something called 'THE EVENT' will play out that will either bring about a great awakening and the end of an era of struggle and captivity for humanity.

Reflect On:

Why do we always hear of events that involve humanity sitting around and waiting for something? Why is it that we never have to take responsibility for our part in something? We are here, not to wait for a saviour, but to take action within the self.
You probably have been hearing about 'The Event', in articles, vlogs and conversation. All around the internet are preparing people for what some are calling the ascension event that will suddenly wake everyone up and end all of the cabal behavior on the planet.
There's a lot to say about this, and a lot of helpful info we can consider to bring ourselves to a point of understanding as well as practicality, i.e. what we can do. My intention here isn't to burst any bubbles about this, but to bring us back to an authentic place within ourselves and also back to our intuition.
One final thing, over the course of the past 10 years I've not shared much about where I get my info, what I've been tapped into since I was younger, the practices I use and how I've practiced to truly develop some of these skills. I've kept more quiet because I personally like to fly under the radar; simply be myself, remain quiet and live the change and my truth. I don't believe in having to be loud about our abilities to convince others of who we are. Tapping into intuition, having a strong connection 24 hours a day to my higher self, hearing beings, 'downloading' or visually seeing and connecting with peoples lives, getting consistent info downloads etc, these are all a natural part of my life but it's not something that makes me or anyone else special. It's simply part of developing it. Some of us may start with different 'abilities' more activated, but we can always develop things. CE wasn't built the way it was simply by using my mind to figure things out, it took diligent conscious practice and intuition to know what was most serving for humanity and when. To take complex conscious ideas and make them reach a mass audience and create virality.
I share this because, we seem to be at a time where confusion is high, disinformation is even higher, and many of us aren't truly practicing the information we are hearing about or learning. So I share this as what I'm about to convey below is important and I don't wish to reduce the content to simply 'I've done research,' these truths come from deeper places. The same places you can access through heart based living and a solid connection to your higher self.
I believe we need to 'cut the crap' when it comes to all the identification with "I'm an intuitive," "I'm an empath," "I'm a channeller" etc, and realize we all have those abilities within us if we choose to awaken by practice. It's time for true empowerment 🙂
What Has Been Said About 'The Event'
First let's begin with what's being said. It is being called a breakthrough for the planet that will cause a number of different unfoldments. Some say the defeat and arrest of the cabal, resetting of financial systems, disclosure of ET's, aliens coming to the planet, revelation of new and advanced technologies, new governments and political systems etc.
It's being claimed that on the non physical plane: there will be a "big wave or flash of energy and light coming from the Galactic Central sun going towards the surface of the planet". (The galactic central sun is an object in the Sagittarius constellation.) The energy from the Central Sun will stimulate a flash or special kind of light from the Sun that permeates the earth and humanity, raising the frequencies of all living entities on the planet.
It is said that it will not be a major negative event but one that is positive. Some are even suggesting to prepare with several weeks of food and supplies as it may knock out our current infrastructures. It's also being said that this wave of energy will be soooo powerful that it will literally fry people's brains and make them go crazy.
I have a lot to say about all of this.
First, A Note On Channeling 
From what I have gathered, most people are learning 'channeling' information about this from various sources or beings out there. This of course is a real thing and completely possible, but there are caveats that we often don't consider. I've experienced some very good, very talented channellers who are tapped right in to authentic stuff, then again I've also seen the opposite.
In a lot of ways I have always steered people away from channeling. Mainly because it takes a level of mastery to truly understand and feel out what one is tapping into. Not only that, much of the time the information you can get from your higher self is more than enough to keep you rolling, and it has nothing to do with channeling. Your connection to your higher self is constant if you practice. The desire to jump deep into channeling can sometimes come from an egoic desire to want to see the future, know the future or even in some ways.. have a 'super power' of sorts. I'm not saying there is anything wrong with this, but more so that this can be what pushes us to want it. Like I said above, of course there are many authentic channellers out there as well.
Over the 10 years I have been exploring and observing different channellers, I've noticed a lot of the same thing. Repeating the same stuff over and over again, repeating vague and often obvious things, noticing that the channelled info is simply coming from the mind of the channeller and not actually from another being or source etc. From a personal point of view, my message has always been about going within, instead of focusing so much attention on getting information like this from outside ourselves.
From a listener point of view, there is general curiosity which is a beautiful thing, but sometimes we also start jumping into the idea of wanting to know what's going to happen, being aware of the future and what's coming… so as to control things or be able to prepare. This can be helpful at times, but it can also be a source of getting us stuck or limited. It also resembles a faith based, religious-like mentality where we take word of what is to come, and then act on that, without ever checking how we feel inside. The way I've practiced over the years is, my primary source (85% – 90% of where I get my information like this) is from my own self or higher self, my secondary source would be corroborating information with various sources out there like other people, channellers, intuitives etc etc. I feel this is a more ideal course of action as it asks YOU to develop your own knowing and connection with & to your higher self. This is part of an authentic path towards shifting consciousness when we take action and make the necessary changes from within.
The Reality Of What's Happening
I made a film several years ago called The Collective Evolution III: The Shift. It is all about the shift in consciousness taking place, what's going on and where humanity is headed. It's presented in a way that can be passed across any group; those that view things through science, spirituality or who are on the fence. The purpose of the film was to bring these understandings to a grounded and practical space, where much of the human experience exists at this time. In the film, I go into great detail about the cosmic ray portion of the shift, which much of The Event refers to. I'd recommend watching the film for further understanding, but will also elaborate below.
The shift we're experiencing is ongoing. MANY waves have already hit our planet and are still coming. This has been happening for years and it is PART of what is causing so many of the changes we are seeing today. Shifts in the way people think, shifts in how our world works, insurgence of equality, the calls for changes in our financial systems, political systems and so forth.
These waves have been happening for decades and have been intensifying as we go. They are made up of cosmic bursts from our sun, the galactic sun, surrounding stars and so forth. All cosmic waves carry unique energies with unique signatures and information. This information carries the ability to evolve thought, ideas, DNA, change energy signatures and so forth. But it's also important to note that this energy has be 'throttled' in a sense, through our agreement, and for good reason. More on this in a second.
THE EVENT is following the same path as many other claims like this. It makes this shift in consciousness about ONE thing, ONE moment and so forth. Much like we did with 2012.
Many claim "nothing happened in 2012" because they were looking for something physical and were looking for something HUGE to happen. Yet energies did in fact shift in big ways in and around the 2012 dates many were talking about. But they also shifted in ways prior to that, and after that as well. This shift is a process and one that will continue to unfold over time little by little. Yes many of us are wearing a bit thin as this intensifies, but this simply means we have work to do and it might be harsh to accept but if I've witnessed a prominent practice in the overall spiritual movement it's not practicing what we preach. "I know that information already!" But are you doing it?
Continuing on here, yes, bigger events will continue to take place and mass 'traumas' will be experienced as we are challenged with big time change, but we won't bite off more than we can chew. (I say traumas to describe what will feel like very tough times for many people as we realize, en masse, things like the existence of a cabal, how we've been systematically manipulated our entire lives, our spiritual connection hindered on purpose etc. This will be tough until we work through it all. Hence traumatic feelings.)
Humanity often feels like we are victim to things we experience. Energies, beings, events happening, other people etc, but we choose and agree to things and take them on as we are ready for them. This doesn't mean that being ready for it won't cause some pain, the idea isn't avoiding pain. With pain we often get growth. Suffering comes when we choose to ignore the growth that can be presented to us through pain.
I know that idea doesn't sit well with some of us but ask the question, where does sitting with pain and holding onto it forever lead us? Even from a logical perspective, the answer is to work past it and grow from it, as lingering only creates more suffering.
It has been 10 years since I founded Collective Evolution and began working in the consciousness space. During that time I have created a conscious media and education company (CE), 4 films in the consciousness space and have met many spiritual teachers from around the world for interviews, as friends and so forth. I also have diligently practiced exploring consciousness through sober means, developing my intuition and so forth. In my courses I spread the message of authentic change from within that is built around truly shifting your consciousness so your connection to self and your way of being is automatic, not built on acting from belief systems.
From this space I share simply that the overwhelming feeling points to the fact that humanity is on a journey, one that may be slow at times, but challenges US to be the ones that take action. We must take action from within to shift ourselves; it's through that space within ourselves that we begin to take action to shift our external world.
Much like we see when we do EVERYTHING for someone and never challenge them to do their own work and suddenly they don't quite learn and aren't empowered in their own way, we are on that journey with the shift we face personally as well. Although it's tempting to view a single event as something that will come in and do the bulk of the work for us, this isn't going to happen simply because it doesn't serve us. This is a gradual process.
We're here to do the work within ourselves. Yes, energies will come in and assist with that process as the sun and central sun act as a purveyors of evolution, but it's also up to us. Beings are already watching and assisting closely in slowing down many of the energies coming in due to the fact that they are a bit too intense for our consciousness at the moment. This is primarily because many of us aren't actually practicing what we are learning. We read books, learn about things and then go on living in the same old ways. We don't shift our diets, we don't practice meditation or presence, we don't disempower the ego and we don't live from our hearts, even though we know this will lead us to a thriving world.
Partly this happens because our current world is intense. There is a lot of work being done to keep us stuck, keep us distracted and so forth. But this is simply presented as an added challenge, to help build our strength within ourselves. We CAN DO IT, otherwise we wouldn't have bit off this much. Remember that.
Don't Wait, It's Now
More than waiting or focusing on a single event, look at what we have right here, right now – in our world and within ourselves. This is truly all we have to focus on, and as you have intuitive feelings towards other things, follow them. But remember to not get fixated on events, dates and promises that claim to come in and take care of everything for us. NOW is most important. Our financial systems, political systems, technologies and so forth will shift and evolve as we do.. it's not one before the other. Remember quantum physics? We determine our external reality based on how our consciousness projects our world. How do we project a thriving world if we don't do the internal work first to shift our consciousness? Our outside world simply reflects us. For it to shift, we must do so first.
Are you doing what you love in your life and living from a space where you follow your hearts desires? Are you practicing the observation of the ego and continually shifting from egoic consciousness to heart based living? Are you practicing meditation to reduce over-thinking and more presence? Are you treating others in a way you would want to be treated.. as much as you can, not just sometimes? Are you choosing to empathize and understand where people are at and why vs judging them and calling them names?
All of these things are ways to move towards living in the heart. It's about going from the mind, to the heart.
Some Key Reflections
When it comes to beings/aliens, remember that in many ways they are just souls having an experience and they may or may not have had experiences as humans. Their advice sometimes may be missing some key details on what it means to be human.
Beings are not 'above us'. Aliens are not 'above us.' We don't need to bring the mentality in that humans are some primitive culture, as this brings about judgement most of the time. We are all just having experiences, and in many ways we teach things to these other beings just as they teach us.
What can you do right now to practice living in your heart and make that a daily state of being?
Getting or hearing information from outside of yourself is great, and it's part of how we use one another to learn. Are you checking within yourself about whether or not things are true? How does it feel for you when you know it's true?
Over the past year, Revealed Films has been filming researchers, medical professionals, scientists, athletes, executives, moms, advocates, and many more to clear the air on all things supplements. The global viewing event for Supplements Revealed is finally here and we want you to see it - February 18-28.
Pictures Showing How The Advertising Industry Exploits Women
In recent years, the world of fashion and advertising has distastefully blurred the lines between right and wrong, creating a pronounced grey area of supposedly acceptable imagery which includes everything from BDSM and rape to abuse, aggression, and underage perversion. And this phenomenon can't simply be narrowed down to 'artistry' when the symbolism is so blatantly sexist and even morbid.
I mean, is it appropriate for 4-year olds to have a lingerie line, never mind to be photographed in them? I have a 2-year old niece and while I think it's adorable for her to have cute bathing suits, I would never allow her to wear something provocative in any way. It's heavily insinuated that Americans are just uptight when it comes to sex, and in many respects this is true, but there is a line that must be drawn when it comes to children that culture cannot influence.
So while Luis Paredes, the publisher of The Lingerie Journal, may blithely assert that "while Americans may be shocked, the line of clothing wouldn't cause a ripple in Europe," the reality is that we are looking at the exploitation of children. We may have antiquated views about breastfeeding and sex, to be sure, but sexualized images of children are in a whole different ballpark, and considering the UK's current heavy investigation into pedophile rings being attended by high government officials, maybe these ads should be causing some ripples.
Kylie Jenner, an heiress of the Kardashian clan, has received heavy media attention over her recent lip injection (to each their own), but it was this particular photo shoot that brought her under major scrutiny. The cover image for Interview magazine features Kylie in a wheelchair. Why?
Shot by Steven Klein, the shoot is supposed to be reminiscent of work produced by Allen Jones, a British pop artist famous for his controversial sculptures of half-naked women on all fours and in other submissive positions being used as human furniture. Quite objectifying. (You can view the full gallery here.)
These next few images highlight the absurdity of advertisements today, switching the sex of the subject (or should I say object) in the ad to underscore how ridiculous and demeaning their roles truly are. Thanks to Lauren Wade from Take Part for creating these images.
Sisley ad, photographed by Terry Richardson, 2006
This isn't the first time we've seen sexual abuse in advertisements and it definitely isn't less upsetting when a guy takes her place. The disturbing tone of this ad is hardly surprising considering it was shot by the infamous Terry Richardson, who carries a string of sexual misconduct allegations with models under his belt. I mean the guy himself said, "It's not who you know, it's who you blow. I don't have a hole in my jeans for nothing."
Tom Ford for Men ad, photographed by Terry Richardson, 2007
Well we certainly know that sex sells, but why is this appropriate as an advertisement, yet women are still being shunned into bathroom stalls to breastfeed their babies? It's easy to see how much less appealing this is with men's breasts instead.
American Apparel ad, 2010
Wondering what the purpose of this ad is? You're not alone, since this is a product that is clearly marketed to women. But these images really come as no surprise. American Apparel CEO Dov Charney was unceremoniously dismissed from his position in December of 2014 because of the A.A. board's "ongoing investigation into alleged misconduct"  — which includes (but is not limited to): holding an employee as a personal sex slave for eight months, sexually harassing multiple models and employees, assaulting a store manager, using ethnic and racist slurs with staff, and masturbating in front of a reporter in a 2004 Jane magazine article.
American Apparel ad, 2007
If this really is an ad marketed to women, what kind of message is it supposed to send? This image is pretty standard for the company though, considering they once featured then-CEO Dov Charney in bed with models in one ad and having his crotch licked in another. How did it get this far to publication? Even with a male on display it's pretty disturbing, but at least brings some humour. Interesting that one is sexy and the other comical.
Marc Jacobs ad, photographed by Juergen Teller, 2008
What do you think this ad is trying to illustrate? Why would a brand use a wrinkled bag to market their products?
These images only provide a glimpse at broad the spectrum of degradation toward women present in advertising and if you think the images itself are enough to make you ponder, imagine what goes on at these shoots or even at the castings.
Charlotte Waters was a 19-year-old art student when she contacted Terry Richardson for a shoot, having only heard he was a good connection to make and work with. "He had me unbutton his pants, and he took his penis out, and it was all completely downhill from there." She said in an interview with Vocativ. He even went as far as ejaculating on her face. 
Sara Ziff, founder of advocacy group Model Alliance, was also 19 when her agency sent her to Richardson. "It was supposed to be for a mainstream fashion magazine, but when I arrived, he unexpectedly asked me to pose topless," she says. "I felt pressured to comply because my agent had told me to make a good impression because he was an important photographer who shot for all the major magazines and brands." On HuffPost Live, Ziff exclaimed, "[Richardson] will ask you to take your clothes off at the casting, and in some cases, give him sexual favors."
Model Alliance is Sara Ziff's effort to establish fair labor standards for models working in the American fashion industry. She hopes to protect working models from exploitation, especially from sexual abuse, and to improve the lot of its members in terms of pay and working conditions. It has drawn up a "Models' Bill of Rights."
Model Alliance was inspired by Sara's time working on the documentary Picture Me
Sara had this to say about the documentary in an interview with Fashionista:
["Picture Me"] was on the festival circuit in 2009, and it was really at Q&A discussions for the film that we started talking about the need for a union, like the equivalent of the Screen Actors' Guild, which is now SAG-AFTRA, for models. Models would come to these screenings and get really emotional talking about bad experiences they've had, and the film became this organizing tool to raise awareness publicly, but also within the industry. We wanted an existing union to extend membership to models, but when it became clear that that wasn't possible, I was crazy enough to take it upon myself and start up from scratch, which people warned me not to do, but I also was studying labor and organizing in college.
The majority of models start their careers before the age 16, with most working unchaperoned and far from home. This creates an unconscionable environment of coercion, where the incentive to get hired (and remain employed) is enough to keep most girls quiet. Sara Ziff talks about her own experience with this firsthand at the age of 14:
When I entered the business as a 14-year-old schoolgirl, I was routinely asked to do topless shoots and pose seductively. To this day, in an industry dominated by minors, there is no policy of informed consent for jobs involving full or partial nudity. A recent survey shows that 86.8% of models have been asked to pose nude at a casting or job without advance notice.
Girl Model is another documentary exposing the terrifyingly young age at which some models start working. The film follows 13-year-old Siberian-born model Nadya Vall on her quest to become a model, accompanied most of the time by Ashley Arbaugh, the American modeling scout (and former model) who discovers her.
In my opinion, to be successful and thrive in the fashion industry, you need to have a sound idea of who you are as an individual and what you stand for, and unfortunately, most girls who are recruited at 14 or younger are still discovering who they are and what their place is in the world. This makes it easier for agents and scouts to shape them into who they think they should be, almost inevitably promoting a mental instability and dependency on those around them.
This article can only provide for you a different perspective on the reality that certain individuals in the fashion industry must face. Like with all things in life, there are great things about this industry and there are terrible, but it just seems that most of the 'bad' has been swept under the rug, with little to no attention being paid to the bigger fallacies presented by advertising companies.
Images like these allow us to see the toxic leaks that are trickling into our society, helping us to be more critical about what we are ingesting visually and more proactive in learning more about a massive money making machine that bombards us with a skewed view of the world from all sides.
Stay critical and stay aware, it helps to shift perspectives and ultimately the industry.
Sources
http://www.theguardian.com/commentisfree/cifamerica/2012/feb/13/ugly-truth-fashion-model-behavior
http://www.takepart.com/feature/2014/07/09/what-if-fashion-objectified-males-same-scary-way-it-does-females
http://www.vocativ.com/underworld/sex/oh-god-whats-happening-close-personal-terry-richardson-model/
http://www.huffingtonpost.com/2014/07/17/fashion-ads-treated-men-and-women-same_n_5589243.html
http://www.theguardian.com/fashion/2012/feb/01/sara-ziff-models-workers-rights-group
http://www.theguardian.com/commentisfree/cifamerica/2012/feb/13/ugly-truth-fashion-model-behavior
http://nymag.com/thecut/2014/06/terry-richardson-interview.html
Over the past year, Revealed Films has been filming researchers, medical professionals, scientists, athletes, executives, moms, advocates, and many more to clear the air on all things supplements. The global viewing event for Supplements Revealed is finally here and we want you to see it - February 18-28.