Breaking Down Religious Dogmas & Deciphering The Truth
Religion is filled with a number of dogmatic concepts yet there are gems that lie underneath the doctrinaires of how to conduct one's spiritual life. Setting aside religion's literal depictions of creation and conduct on this earthly plane, one can learn to appreciate the core lessons and values embedded in each belief system without needing a devout subscription to many of religion's divisive ideologies.
What matters are the core messages of how to live a happy and peaceful life, while getting more of what you want and helping others do the same through proper moral conduct and harmony with divinity.
The questions that truly concern humanity since its conception are:
Who are we?
What is the purpose of our lives? What is our role in the cosmos?
How and why do we act the way we do toward ourselves and others?
What is happening in the world today and why?
Throughout this series we will explore shamanic, polytheist, and monotheistic myths and theologies to uncover and reveal that which is hidden below the exoteric presentation of spirituality in its organized forms. The immediate focus at the beginning of this series will be the ancient traditions, as much of their wisdom serves as the foundation of the modern religions that influence our culture.
This is aimed toward giving you an understanding of how various societies have described the basic laws of moral action, consciousness, and manifestation that pertain to the human condition, while grasping the unique cultural, geographical, and chronological understandings that all point to reasonably similar and useful understandings of governing yourself mentally, emotionally, and physically. The applicable wisdom that lies underneath the dogma of modern theologies may provide clarity and guidance toward your journey of ascension.
The stories and figures are not to be taken literally as they are archetypes, allegories, emblems, parables, and metaphors used to depict an understanding of how reality works in relation to the ethereal which is our microcosm deep and within, our grounded reality, which is our immediate environment, and the divine, which is the macrocosm far and beyond — all of which harmoniously work in accordance with each other.
Back then, without the tools and precision of modern science and mathematics accessible to the masses, as well as the useful level of technological development during those eras, an understanding of reality had to be depicted visually through symbology while engaging the imagination's ability to add meaning and context to the quality of their stories of creation and conduct. The problem that spurred from this was that people demanded, coerced, and enforced that their word is the Truth. This right brain perspective can run wild, as those who subscribe to the strict ideologies of their faith take every word and depiction of their sacred understandings literally, with no room for practical analysis. This leads to division among people as well as unquestioned obedience to theologies that are tainted with man's manipulation to control the will of the people.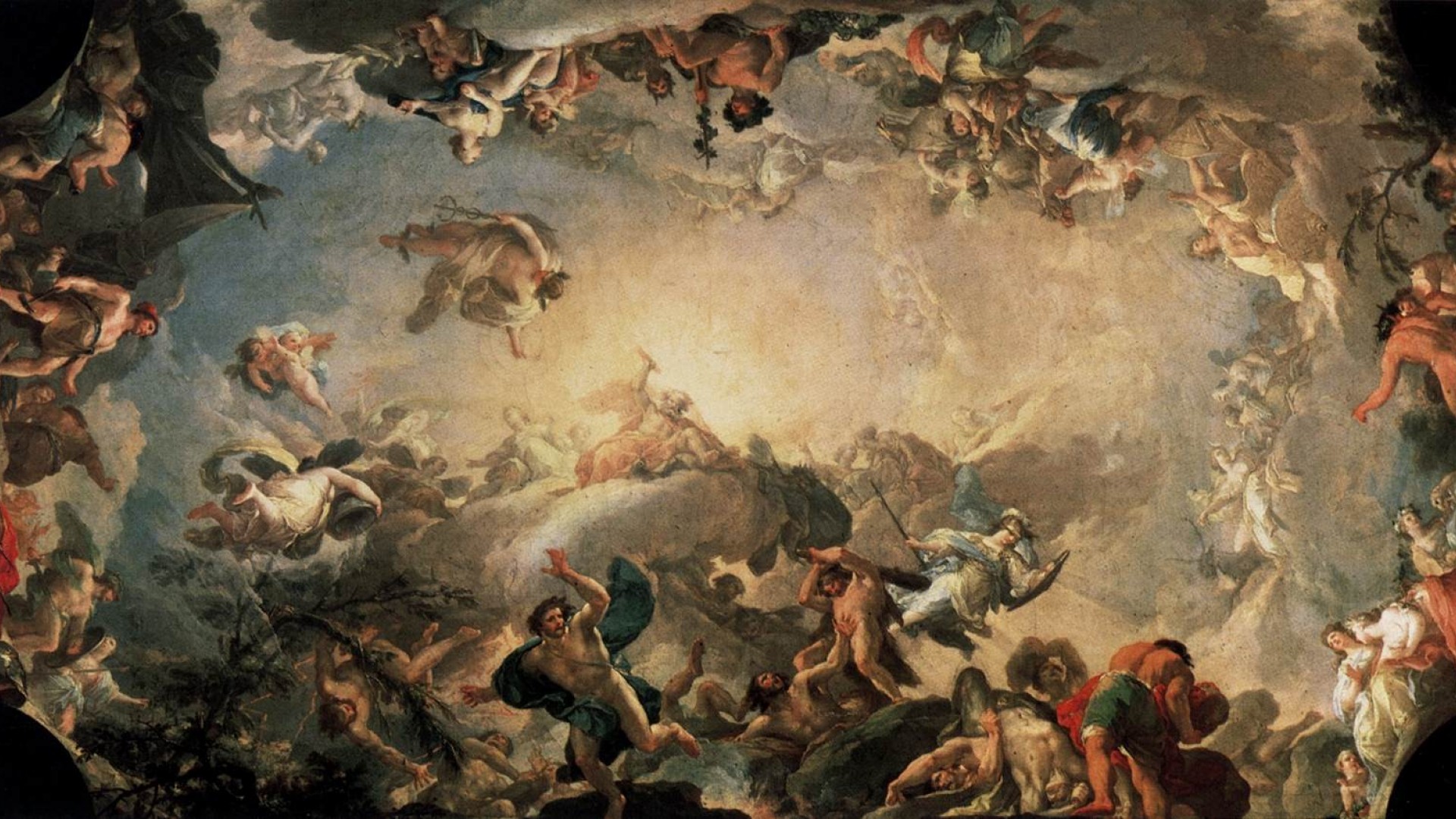 "We live in a world of numerous ideologies and belief systems, all competing for the same real estate, your mind."

– David Snyder
Separate yourself from the superficial and dive deep into the esoteric meanings behind these stories and figureheads, as seeing past those illusions will enable you to reveal a common understanding of divinity and knowledge of self.
Did an enlightened figurehead such as Jesus really exist? It's quite possible. If he did, was he really able to walk on water and turn it into wine? We can't prove that. Instead of getting lost in those details, it is more important to understand the core applicable messages of his teachings as well as the other prophetic leaders, and stories told in religious traditions that share a core commonality with many other belief systems.
Our society focuses on the things that divide and separate our religions, which in turn separate us. Perhaps we can benefit from understanding instead what connects us, in relation to our needs and values. So in an attempt to break down the formality of these religions, I'm going to present the core knowledge that leads to a higher understanding of self and environment, as it will translate to better ways of governing oneself from within and navigating one's journey without.
The word Religion comes from the Latin word "Religare," meaning to tie back, hold back, or to bind fast. To bind is to thwart or hold back the progress of an opposing force or practitioner. A religion is a fixed point of view of understanding divinity, while holding back perspectives and levels of understanding the fall outside of the established religion. All religions share a core truth that the exoteric elements are holding back and because of this, the grounded esoteric alternatives of many modern religions are more interconnected with the commonalities of all cultures. Religion is a box for consciousness because you're not seeing the whole picture.
Esoteric traditions were more grounded in the here and now while instilling the divine Will in one's current plane of existence rather than seeking it only in the next life. The divine Will was to maintain balance and order so that everything that works within the system of creation continued to function. This form of order was not coercive authoritarian driven, it was an order that lent itself to responsibly maintaining the harmony and balance through systems and cycles that prevented chaos. Likewise hell on earth can exist within and without if proper balance and order are not maintained, as well as failing to resolve one's karmic challenges in the present.
In marvel of the heavens, many belief systems are intimately connected with some form of astrotheology, which was the worship of astronomical bodies as Deities. To this day, very high levels of the Catholic church own some of the most expensive and powerful telescopes in the world, yet to the masses below those power structures of Catholicism, studying the night sky or even dabbling in one's Horoscope is forbidden, as it is considered to be blasphemous. The study of the planets, stars, sun, and moon, as well as their relation to the cycles that repeat, such as their orbits and sequential seasons, intervolving solstices and equinoxes, are incorporated into the esoteric laws of analogy.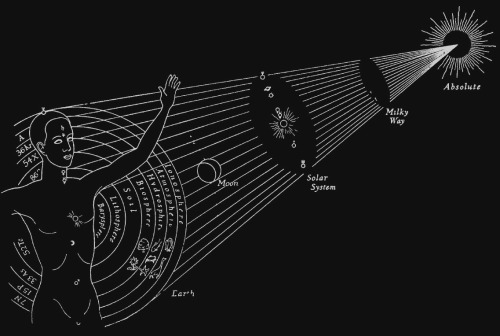 The laws of analogy are very present in our understanding of the physical word, meaning, at different levels of reality, the same patterns and cycles repeat themselves; as above, so below; so within, so without. In light of astronomy and horoscopes, the word horoscope, which pertains to one's life path in relation to the cycles around the sun, is derived from the name Horus, an ancient Egyptian sun God and later adapted into Greek language as Horos.
The ancient Egyptian culture and mythology, which has influence other religions, fundamentally subscribed to a sun worshiping religion. In many cultures the sun was their first astrological body, or higher power to be depicted as a deity. It was bright and luminous, it allowed one to see, and it gave life. One could feel the sun's warmth and was starkly aware of its power to incinerate. It is tangible enough to be seen and felt, yet it was impossibly out of reach, as its presence and power were above those who marveled at it, making one an insignificant spec in comparison to it. Association with the Sun has laid the basic premise for the duality of many belief systems that integrate the polarities of light and darkness, a concept that will repeat itself much throughout this series as we explore other belief systems and ideologies.
Horus was the sun God, depicted as the golden falcon who rises in the east, flies across the sky in a solar ark until he reaches the west and Sets. He makes his trek across the sky daily across the horizon. The word Horizon means "the zone of Horus." Hori is the generative word for Horus, Zon refers to the zone of Horus, thus it is the horizon of Horus, which is where Horus appears on the horizon. It is his arc, his flight path across the sky.
Horus is also named Amen-Ra. Amen is the name ancient Egyptians said after a prayer to evoke the sun God Amen-Ra. Amen-Ra represents the sun (Horus) at its zenith, which is the sun at its highest point. The zenith is the highest point in its arc across the sky. The highest point of Horus's flight path, at 12 noon, is called Amen-Ra.
Horus is depicted as the savior who is anointed with the light, vision, and wisdom. He is the son of the creator God who brings wisdom by knowing what is seen with the light.
Horus has 3 main family members — a mother, father, and brother. His mother Isis is the moon Goddess of the night sky. At night she is the queen of the heavens who rules the night sky, while her husband Osiris is the creator God and ruler of the heavens. In ancient Egyptian mythology, Isis gives birth to the rising sun each day, which is the solar God Horus, who is given divine right by Osiris to rule and give light to the earth during his horizon.
After his trek across the horizon, his brother Set conquers Horus as his fall from the sky Sets into the underworld of darkness. (In other Egyptian stories Set is also depicted as his uncle, but either role has little consequence over the major role he plays as the dark pillar of duality.) Set is considered the dark figure, who is in a state of ignorance because he does not posses the light to see. He lives entirely in the shadows of darkness and ignorance, yet he is the conqueror of the light at night. Set represents chaos, death, and sin, and is somewhat of a devilish figure among the mythology of ancient Egypt. However, he is not entirely depicted as evil because the ancient Egyptians understood that his darkness was necessary for Horus's light to exist. His bad qualities were more understood as an accepted duality between light and dark, good and evil, positive and negative.
Horus and Set were originally expressions of innate duality, the two aspects of creation playing a role throughout the cycles of the day-sky and night-sky.
In the picture below, Horus is touching the pharaoh on the right temple, and his dark brother set is touching the left temple. This represents the duality of consciousness. Horus is the right mind, wisdom, moral action, order, and peace. 
The left side is the God of darkness, deception, storms, chaos, anger, domination, control, and war.
Eventually Horus and Set reconciled and negotiated their conduct so that one wasn't selfishly looking out for himself or having to defend against the other's transgression. A trusting relationship was formed in which both sides began to understand the importance of their complimentary existence. Without this balance of opposites, Horus would not be able to uphold the balance of Ma'at. This balance gave Horus the ability to fight chaos, which was represented as well by the God Apep, who was even more of a personification of evil left unchecked prior to Horus becoming Ra. Set manifested chaos within, while Apep manifested chaos in the external environment. Since Horus, who was the light, represented the peace while being the God of war who instills Ma'at's order over the chaos, one could speculate that the tactics of combat were consulted with Set since he had lived much of his life in affliction. It was during this time of balance with Set that Horus was able to reach his highest point, becoming Ra to fight Apep and instill the will of Ma'at on earth as it is in heaven.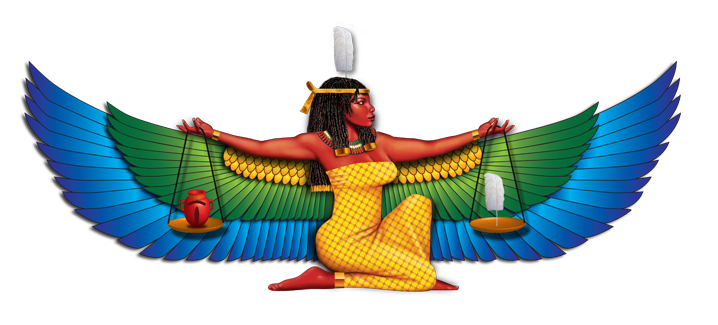 Fighting the chaos of Apep was inspired by the will of Ma'at. Ma'at is the Goddess or conception of truth, balance, order, harmony, law, morality, and justice. She carried out order in the heavens and on earth by regulating the stars, seasons, and regulating moral action of Gods and Pharoahs. Carrying out the karmic order and natural laws of the heavens was done on the earthly plane by fighting the external physical chaos of those who had abandoned truth, justice, and equality. Just as people who deal with the devil become ego-absorbed demon archetypes, people who were imbalanced in the ways of Set became Apeps. Foreign invaders who threatened the balance were also considered Apeps. Other forms of chaos beyond human acts on the earth plane were also considered to be influenced by the spirit of Apep. The union of Horus and Set is a lesson to Egypt's citizens to reconcile the internal chaos within by accepting the parts of themselves that need the light's guidance. As long as there was chaos within, the threat of chaos (Apep) existing in the external environment was imminent. Apep's external chaos threatened to provoke the actions of Set within, making it more difficult to restore order and balance throughout the land and the people.
Both Horus and Set whisper in the ears of the pharaoh while the pharaoh has free will to decide who he listens to and what action to take. It was intended that he carry out the will of Ma'at upon his kingdom by creating balance within his inner kingdom. Pharoahs are frequently depicted with the emblems of Ma'at to emphasize their role of upholding divine order. Through the ruling of the Pharaoh, Egyptian citizens were expected to follow this legitimate form of order that is aligned with the principles of moral action, growth, and sustainability.
This was important to uphold because a disturbance in the force of cosmic harmony could have a significant impact on the individual and the state. A Pharoah self absorbed in ego could bring about disaster and chaos. In addition, the actions and judgments of the Pharoah were meant to guide the citizens through the ambiguous moments of reality, simplifying the principles of Ma'at so that choices of the citizens are made with the highest integrity and care. Obeying the order was not servitude to selfish authority figures, it was doing your part to integrate into the wholeness of an ordered, balanced, natural divinity, which is why authority and compassion were integrated into the foundation of ancient Egyptians.
The degree to which one obeys Ma'at will determine the karmic consequences weighing on the heart of the individual. The heart could only be rewarded for its devotion to Ma'at if it embodied the light, not only in its weightlessness but also in its luminosity to see the truth of proper action.
The ancient Egyptians used these myths and analogies to depict that each of these archetypes exist within us and the symbology of them is meant to remind us of their presence in our daily lives. They are moral, orderly, and divine symbolic analogies, an expression of consciousness, not to be taken as physical Gods.
They represent the pillars of duality: the light and darkness within ourselves that we must reconcile in order to make proper actions. The dark elements help us understand our fears and desires, and with this understanding we cycle back into the light of wisdom. They are Gods within us that influence our actions. Without balance the light and darkness are continually at war, battling for dominance over our behavior. To try and extinguish the darkness would only cause Set to resist with war. Negotiation was the only way because complete annihilation of the darker elements within was beyond our mortal capabilities.
Beyond our inner universe and the grounded earth, Isfet was the chaos of the heavens that threatened the stability of the heavens, which is the absence of light and order, injustice, chaos, violence, and evil, all of which threatened to trickle down into the earthly plane of form which interacts with the inner world of the Pharoah and his people.
On all levels of reality, this balancing cycle of order and harmony must be upheld to maintain the structure above and below. If the balance of Ma'at was not maintained, the ignorance of order would manifest as Isfet, which is chaos in the heavens, chaos in Apep who will disrupt the earthly realm, and chaos within Set, who will affect the Pharoahs and citizens from within. Isfet is more of an abstract concept with no known God attached to it to give its understanding a more relatable nature. It is seen more as the absence of structure and balance, which means that there is more responsibility on the part of Ma'at to maintain structure, rather than to blame external circumstances. It was pretty much all on Ma'at to balance the heavens.
Set's chaotic and warlike qualities were reconciled to fight chaos outside of his temple. The Pharoah would fight manifestations of Apep through the actions of Horus, the emotions of Set, and the Instruction of Ma'at. As long as he was balanced with Horus, Isfet would not destroy their temple. The destructive force of Set was still useful when fighting an enemy of Ma'at. In the heavens, on the other hand, Ma'at was threatened by the absence of responsibility if she did not maintain order, not by an opposing deity who continually aspired to disrupt her. Lack of order in the heavens would cause a lack of order on the earth plane, causing irritability within Apep and Set.
Polarity and balance are the main concepts to understand in the Egyptian myths shared in this article. The Creator God Osiris gives man free choice to govern his actions, as both light and dark are his children, Horus and Set. In religion, dualism means the belief in two supreme opposed powers — Gods or sets of divine or demonic beings — that influence the world, which has had an important presence in the history of thought and religion.
Dualism can also denote a co-eternal binary opposition to indicate a system which contains two essential parts. Moral dualism is the belief of the great complement or conflict between the benevolent and the malevolent. It simply implies that there are two moral opposites at work. Some of these dualities imply harmony in which one balances the other, such as yin and yang, while other forms of duality imply rivalry and opposition, such as good and evil.
The process of reconciling between these two opposites will resurface throughout this series. It is important to have a foundational understanding and acceptance of the duality that exists within and outside of man in order to grasp the more detailed concepts of future teachings. In this case we talked about light and darkness as it relates to Horus and Set, brothers of the same father, one representing good, the other representing bad. It is only when we balance these two that we can become stable from within. This is not to say that darkness can have equal control over us. To balance the dark is to bring it into the light of consciousness so that it no longer controls you. The sight and understanding of that darkness will reduce its influence that threatens Ma'at's inner and environmental stability. As we build our temple from within we must be aware of Horus and Set on either sides of our temple.
Your life path number can tell you A LOT about you.
With the ancient science of Numerology you can find out accurate and revealing information just from your name and birth date.
Get your free numerology reading and learn more about how you can use numerology in your life to find out more about your path and journey. Get Your free reading.
Who Lucifer Actually Is & Why They Are Here (Part 2: Bloodline Families)
In Brief
The Facts:

The 'Fall of Lucifer' can be understood as the fulfillment of an agreement to bring evil to the Earth in order to create duality and hence the possibility of free will. Lucifer is a group soul that individuated through 13 sacred bloodlines.

Reflect On:

How would our relationships change if we believed that all the evil in our world was actually here to enable us to have free will? How would it impact our personal evolution?
(Note: If you have not read part 1 of this article, my strong recommendation is to follow the link and read it first, because it provides an essential context for the discussion here.)
As we described in Part 1, Lucifer is considered to be a highly evolved 'group soul', having reached 6th density, while our world is currently in 3rd density transitioning to 4th density. The concept of 'group soul' is important here, as it suggests that, as individual souls evolve towards reunion with the One Creator, they gather into ever larger sub-groups of consciousness from which they came.
In this context, the 'Fall of Lucifer' is actually based on an agreement between Lucifer and the Earth's planetary logos (creator) known as Yahweh, an agreement designed to introduce 'evil' to the planet in order to foster human free will and subsequently accelerate human evolution.
Fallen Angel
In the Bible there is reference made to the fall of Lucifer, characterized as God's punishment for a self-centered angel who aspired to be above the one almighty God:
"How you are fallen from heaven,
O Lucifer, son of the morning!
How you are cut down to the ground,
You who weakened the nations!
For you have said in your heart:
'I will ascend into heaven,
I will exalt my throne above the stars of God;" –Isaiah, 14:12-13
What this in fact represents is the result of Yahweh's anger at his human population having disobeyed him by succumbing to Lucifer's temptation in the garden. Yahweh had only reluctantly accepted the proposition that his human subjects be granted free will, and actually went ahead with it believing they would not disobey him.
If you are wondering 'How could God the Creator be angry?' it helps to understand that Yahweh is not the One Creator but rather simply the creator of the planet Earth, and as a planetary logos had not evolved beyond anger, jealousy, and revenge. While being fully aware and very powerful, Yahweh's soul had not grown much since the creation of the planet. It is, in fact, the evolution of the human race that is the vehicle for Yahweh's own evolution into higher densities.
Lucifer Confined To Astral Planes
And so Yahweh took out his wrath, not only on his human population–which is well documented in the Old Testament–but on Lucifer as well. He confined the group soul to the Earth's Astral Planes. Lucifer's 'fall from grace' is actually a consequence of Yahweh's jealousy, because Lucifer, as a 6th density group soul, had become a more highly evolved being than Yahweh was. Here is how Hidden-Hand explains the blowback from Yahweh's actions:
Now that Free Will had been granted, Yahweh could not retract it, and we have to stay here as contracted to continue to provide the planet with the Polarity choice. Since then, Yahweh has confined us (as a Group Soul) here within the Earth's Astral Planes (which is very constricting and uncomfortable for a Being of our Wisdom and experience).

The Council of Elders gave us the choice to be released (against Yahweh's will), but at the cancellation of our contract to Serve the planet earth; or to remain and fulfill our assignment, and endure Yahweh's self-proclaimed "Wrath". We stayed, but as a karmic result of our Group Soul's confinement by Yahweh, our own individuated Souls were given the mandate (by The Council) to "Rule" over Yahweh's people during our physical incarnations here on your planet.
The fact that the soul group's individuated souls 'were given the mandate (by The Council) to "Rule" over Yahweh's people' is of paramount importance. It gives us a much greater and more profound understanding of the nature of the presence of evil on this planet. The oft-heard references to a nefarious 'Cabal' or 'Illuminati' group running the planet, no matter how accurate or inaccurate as those words may be, appears to be validated in this big-picture view.
The 13 Bloodlines
In effect, due to the karma that Yahweh created by his petty acts of jealousy and rage, the group soul named Lucifer would not simply be stoking the fires of evil on the planet from afar, but the individuated souls of that group soul would incarnate on the planet via 13 sacred bloodlines to actually rule the planet from a much higher level of consciousness and self-awareness that humans would have.
The original 'incarnation' seems to correspond to the Nephilim or 'Fallen Angels,' whose integration into the human race is described in Genesis 6:4:
The Nephilim were on the earth in those days—and also afterward—when the sons of God went to the daughters of humans and had children by them.
This may be where the 13 bloodlines got started. What is important to note is that, while the human race lived on the Earth with a healthy dose of 'amnesia' of who they were for the purposes of their own evolution, it does not seem as though the individuated souls of Lucifer were in the same boat. They consciously understood their role on Earth, and have had a structure in place to maintain cohesion in their role as rulers through their understanding that they are part of the 'Family,' an understanding that is passed down by every generation. Hidden-Hand, in fact, identifies himself as a 'generational member':
I am a generational member of a Ruling Bloodline Family, our Lineage can be traced back beyond antiquity. From the earliest times of your recorded "history", and beyond, our Family has been 'directing' the 'play' from behind the scenes, in one way or another.

There are 13 'base' or 'core' original bloodlines. Yet there are many many other lines that spring from these, as do rivers from the oceans. If you imagine the 13 Original lines as Primary colour, that can be mixed to create a vast array of other colours, then you will have some comprehension. Again, no competition, just Family.
Disciplines Of Training Within The Family
The Family, then, appears to be essentially the group soul of Lucifer, whose core members unify around their sole and original purpose, to provide the catalyst for human growth through playing the role of controlling rulers of the planet. They do so, according to Hidden-Hand, through a very comprehensive program of training of family members in key areas of human influence:
There are six disciplines of training within the Family, and each member of the Family is schooled extensively in all of them, from early childhood. We all have an area of specialty, though we have experience in all spheres. The six spheres or 'schools' of learning are Military, Government, Spiritual, Scholarship, Leadership, and Sciences. In practice, out there on the 'stage' of public life, we hold key positions in all of these main areas of importance. With the addition of a complicit Media machine and ownership of your Financial establishments, all bases are covered.
Hidden Hand Of Influence
These positions of power are not what we first think of–politicians, generals, corporate heads, even the visible monarchy. In reference to a question about the British Royalty, Hidden-Hand says the following:
The British Royalty is not the most powerful line. The names that you know, do not hold the real ancient power. There are others above these lineages in the Hierarchy. You will not know the names of these lines.
So the individuated souls of Lucifer do indeed play the role of a hidden hand, and hold the true power behind those people and institutions who seem to exert the most authority in the world. Are these powerful Luciferian souls actually perpetrating evil in the world themselves, or are they just inciting evil within human beings? We will examine this question in part 3.
Your life path number can tell you A LOT about you.
With the ancient science of Numerology you can find out accurate and revealing information just from your name and birth date.
Get your free numerology reading and learn more about how you can use numerology in your life to find out more about your path and journey. Get Your free reading.
Why 'Conspiracy Theories' & Spirituality Are Intimately Connected
In Brief
The Facts:

Refusing to understand how our world truly functions and simply calling exploration into this as 'negative' is a common spiritual bypass. The elite/cabal is here for a reason, we must understand that.

Reflect On:

Why do we find ourselves calling conspiracies negative or something we should not talk about? Why do we refuse to face some of the 'darker' things inside, or even outside, of ourselves?
Is it considered 'not spiritual' to talk about an elite or cabal running our world? This has become a commonplace today, and there is a great deal of ridicule that comes when people feel looking at the truth of what is playing out in our world is 'crazy' or a 'negative' thing to do. In fact, the 'negative' label on conspiracy theories we place is one of the biggest spiritual bypasses we can do. Let's dive into this.
The truth is, understanding the way our world truly functions and consciousness evolution (spirituality) go hand in hand. Why? Because it is all part of life here. It is not separate! You don't have spirituality on one side and conspiracies or truth on the other. It's all interconnected in our life and human experience. And it's time to bring them together.
Note: I did an amazing CE Podcast episode on this subject you can listen to here. It goes even deeper into the subject than this article.
The Challenge
This isn't true 100% of the time of course, but in a lot of cases, we see those in the truth-seeking realm feel consciousness or spirituality is airy fairy and has no place in the big picture and is just a new age distraction. On the flip side, we see those engaged in spirituality-seeking feel conspiracy/truth-seeking people are crazy and negative. While there is truth to some extent in both cases, there is a lot more to the discussion and a very important purpose for both.
You've probably experienced it at some point, it's believable that GMO's are unhealthy and corporations are using them to make money in a number of ways but it's damaging to people and the environment, but yet there is no possible way that's happening with vaccines… or that 9/11 was an inside job. Let me be the first to say, there are a number of conspiracy theories that have no backing, no facts, are far-reaching and in many cases don't even help us along our journey. But this is not the case with many, in fact, the amount of evidence is often staggering and it's simply that we don't want to believe it.
I'm writing this because I'm calling for an end of the reduction of conversation to 'that's crazy' 'that's fake news' 'that's a conspiracy' etc. as it does nothing but maintain division, a lack of awareness and a misinformed world that can't thrive. Time and time again what is often called 'conspiracy' turns out to be true only a few months or a year later. We can end this cycle by learning and choosing to listen instead of dismissing, then checking in with our hearts/souls about what role this is playing in our experience so we can dissolve the need for the cabal.
Why They Go Hand In Hand
Some of us view spirituality as learning techniques to feel good, as ways to cope with life and the challenges we have in our modern world. Some view it as a means to begin to feel better about the prospect of death. Others view it as a way to explore what's beyond the physical and who we truly are.
From a conspiratorial side, when we're talking about digging past mainstream media to find out what's really going on in our world, some view it as a way to disempower the elite that does not have humanities best interests at heart. Others view it as a way to take back our power. Some see it as a way to uncover the truth of how our world truly works so we can begin to thrive. Some react to these truths with wanting revenge or justice, this is an important thing to note as this is where the spirituality comes in.
So it appears we have 'two sides' as we often like to do within ego states of consciousness. But what role does the elite and cabal play in our experience? How has that served to suppress our spirituality and why has it all happened? The two are intimately connected because part of the game we are playing on earth here is that we have to uncover what has been happening in our reality and remember who we truly are. This is a spiritual journey, that involves understanding the players in the game and the roles they play.
I've been running a conscious media and education company for 9.5 years now. Our mission is to bridge the gap between truth-seeking and spirituality via exploring a shift in consciousness taking place on our planet. We understand that both are part of one big picture in life and you can only go so far in each before you MUST bring in the other to deepen your understanding.
During the 9.5 years since I started Collective Evolution, I have seen thousands of people go through various stages of discovering and learning, both in truth-seeking and spirituality, that has sent them on different paths. Some begin to discover our food system is rigged for a lack of health and they begin eating cleaner. This leads them to understand our entire world is 'rigged against us' and suddenly there is a shift in how they see the world. I have seen others attend a yoga class and this begins a journey into connecting with self deeply.
But in both cases, I often see an identity form. The yogi becomes identified as a 'spiritual person,' dresses a certain way, talks a certain way and may refuse to look at anything the 'truth-seekers' are saying because they don't want to fall into that crowd. The truth-seekers are often angry, pissed off at the world, call everyone else sheeple and think the elite need to die in prisons. They might look at the 'yogi' or 'spiritual' crowd as having fallen into pseudo-scientific new age deception because they look at consciousness and spirituality.
Then there are those who have journeyed beyond that stage and are simply authentic and understand how both ingredients, truth-seeking and spirituality, are one in the same and part of the journey. They are both a part of this game we call life and if we truly want to evolve, move forward, remove the cabal and so forth, we must see the truth and learn why it was there in the first place for our own evolution in consciousness.
The video below explores the role the elite/cabal play in our spiritual journey.
It's A Role!
Remember, what the cabal and elite are doing isn't negative in the big picture scheme of things. To our mind it might be, but not to our souls. This is why you must connect deeply with self to overcome the vengeful hateful view the mind creates when we observe them.
What they are doing simply is. And for our souls, it is the journey we asked for to challenge ourselves to remember who we truly are in a very disconnected system. The cabal, are just souls having an experience too, and we all agreed on this together. This doesn't mean we accept what they are doing in the physical and just take it, no, it simply means we must evolve our consciousness and overcome the need for them for it to stop.
How does that look or happen? We must understand why it's there by going beyond the judgement and the emotion and see what the trap it creates for us. With that understanding, we no longer can get trapped in the angry, hateful emotions that hold this world in place and instead we choose, from a consciousness point of view, to create a different world. This not only affects collective consciousness and helps others awaken, but we then now can create a new world, both physically and consciously, that comes from a higher state of consciousness and not one that is built in fear, anger and judgement of the old one. Remaining in that old state will only create more of the same world.
Again, I feel it is very important to listen to the podcast episode on this one as it goes into deep detail about this.
Final Thoughts
If you find yourself viewing matters in either of these polarized lights, challenge yourself to ask why? Why have this opposition to either side and why are we coloring things as positive or negative in the first place? What is that showing us about ourselves? Our fear of looking at our own 'darkness?' Collective 'darkness?' In many ways, what the elite/cabal are doing is just a reflection of our own journeys on a macro scale. It's reflecting humanity's current state of consciousness as we awaken to the truth. Change Starts Within.
Your life path number can tell you A LOT about you.
With the ancient science of Numerology you can find out accurate and revealing information just from your name and birth date.
Get your free numerology reading and learn more about how you can use numerology in your life to find out more about your path and journey. Get Your free reading.
Who Lucifer Actually Is & Why They Are Here (Part 1)
In Brief
The Facts:

Lucifer is etymologically defined as the 'light bearer' and 'morning star', the bringer of light and wisdom. Yet Lucifer is also widely considered as the embodiment of pure 'evil.'

Reflect On:

How can we come to understand Lucifer in a way that reconciles the apparent contradictions about who he is? It's time we view their role in a neutral light to begin to understand their purpose in our reality.
Of all subjects to venture into, writing about Lucifer could be among the most contentious of them all. Many readers will likely come into the discussion with pre-conceived notions and emotional triggers that are difficult to lay aside, even just for the amount of time it takes to read this article. But put them aside we must, if we are to have a fruitful conversation.
I am not out to convince anybody about an opinion. I am out to elaborate upon an understanding of who and what Lucifer is that I find best explains the entire body of information that is out there about him. Further, this explanation resonates the most with the paradigm I currently hold about spirituality and my understanding about why we are here on the planet at this time.
Some of my information comes from a forum thread between a self-proclaimed "generational member of a Ruling Bloodline Family," and forum members who pose questions to the person going under the moniker 'Hidden-Hand.' I found this information particularly, ahem, illuminating.
Context
A general understanding that I work with about our life here on the planet is that we have incarnated into this '3rd density' reality to evolve, individually and collectively, to the 4th and higher densities. David Wilcock and others speak about our ascension into the 4th density as an event that was slated around the end of the Mayan calendar in December 2012, and remains imminent, as he speaks about in his book The Ascension Mysteries.
This ascension of our individual and group souls, unfolding in accordance with astrological cycles that our solar system is tied into, is the quintessential spiritual 'movement' of all sentient beings in our universe, whether they are focusing on their own advances up through the densities, ending in a return to oneness with the supreme creator, or holding themselves back by choice to help other beings rise out of those lower densities. This is the 'game' that has been set up, to give life its vitality, direction, and purpose.
Creation
A very simple way to explain how 'Creation' works within this context will help in our understanding of who Lucifer is. Basically, the one 'Supreme Creator' did not create all there is as such. The one 'Supreme Creator' created many 'sub-creators.' A sub-creator (also known as a 'logos') could then create 'sub-sub-creators.' In other words, there is something of a hierarchy or 'chain' of creation that goes from the unmanifest 'Supreme Creator' all the way down to us as individual souls, who are also 'creators' in our own right. Simply stated, there are creator-beings who are creators of planets, suns, galaxies, and even universes.
When asked who directly created us, Hidden-Hand replies thusly:
Your Creator, the one you have called 'Yahweh', is not "God" inasmuch as your bible refers to him as being "the One True God". He is 'a' Creator (or Sub-Sub-Logos) rather than the One Infinite Creator. He is not even a Galactic level Logos, but rather, is the Planetary Logos for this one planet.
Stay with me now. If we can entertain the possibility that creation is multi-leveled, and that at the 'planetary' level the 'creator' of a planet has free will to create as they choose, then the stories we hear from the book of Genesis take on far more meaning. Apparently, Yahweh decided to create a nice planet that was somewhat of a paradise, because essentially evil didn't exist there and the human beings lived in a state of reverence and obedience towards Yahweh, who was providing humans all they needed.
Nonetheless, in the absence of conflict, challenge, or stress, neither the humans nor Yahweh himself were evolving towards reunion with 'Supreme Creator,' which as we previously mentioned is the 'game' that we all signed up for. Humans did not have any 'free will' because in the absence of evil in their world things were 'all good' and they had nothing to choose from.
Enter Lucifer.
Lucifer  
According to Hidden-Hand, Lucifer (the 'light-bearer') is an advanced 6th-density being (or 'group soul') that agreed to descend into 3rd density on planet Earth to provide the 'context' by which human beings could experience free choice. That context was made possible by the introduction of 'evil.' In the face of 'evil' humans would for the first time be able to choose 'good' over something else.
Hidden-Hand describes how polarity and the presence of evil first came into mankind's experience:
Yahweh agreed that we would introduce the concept of Free Will to Earth's inhabitants, by offering them an initial choice, as to whether they 'wanted' it or not. Hence, "The Tree of the Knowledge of 'Good and Evil'" (or more accurately, the Knowledge of Polarity, of Positive or Negative).

Yahweh takes his inhabitants to a new 'garden' and tells them you can do anything you like, except this one thing, thus creating the desire to do the one thing there are told they cannot. Hence, a "Choice". We provide the Catalyst by telling them the benefits of attaining Knowledge, they eat from the tree, and the rest is history.
Hence Lucifer 'tempts' humanity into polarity, as polarity is the one context through which knowledge can be acquired. In essence, Lucifer has agreed to play a very challenging role on our planet in order to be a catalyst for our evolution into the higher densities.
Not An Endorsement Of Luciferianism
If you are still with me, you undoubtedly agree that conversations like this require a high level of discernment between what is being said and what is not being said. While Lucifer has so far been characterized as a highly evolved bringer of light and knowledge, for example,  there has been no support given to the principles or the practice of Luciferianism or the 'Luciferian Doctrine.' I hope you will rejoin me when we deal with those concepts in Part 2.
Your life path number can tell you A LOT about you.
With the ancient science of Numerology you can find out accurate and revealing information just from your name and birth date.
Get your free numerology reading and learn more about how you can use numerology in your life to find out more about your path and journey. Get Your free reading.