Breaking Down Religious Dogmas & Deciphering The Truth
Religion is filled with a number of dogmatic concepts yet there are gems that lie underneath the doctrinaires of how to conduct one's spiritual life. Setting aside religion's literal depictions of creation and conduct on this earthly plane, one can learn to appreciate the core lessons and values embedded in each belief system without needing a devout subscription to many of religion's divisive ideologies.
What matters are the core messages of how to live a happy and peaceful life, while getting more of what you want and helping others do the same through proper moral conduct and harmony with divinity.
--> High Quality CBD Our friends at PuraThrive worked with industry experts to create one of the most bioavailable CBD extracts possible. Get yours today before it runs out. Click here to learn more.
The questions that truly concern humanity since its conception are:
Who are we?
What is the purpose of our lives? What is our role in the cosmos?
How and why do we act the way we do toward ourselves and others?
What is happening in the world today and why?
Throughout this series we will explore shamanic, polytheist, and monotheistic myths and theologies to uncover and reveal that which is hidden below the exoteric presentation of spirituality in its organized forms. The immediate focus at the beginning of this series will be the ancient traditions, as much of their wisdom serves as the foundation of the modern religions that influence our culture.
This is aimed toward giving you an understanding of how various societies have described the basic laws of moral action, consciousness, and manifestation that pertain to the human condition, while grasping the unique cultural, geographical, and chronological understandings that all point to reasonably similar and useful understandings of governing yourself mentally, emotionally, and physically. The applicable wisdom that lies underneath the dogma of modern theologies may provide clarity and guidance toward your journey of ascension.
The stories and figures are not to be taken literally as they are archetypes, allegories, emblems, parables, and metaphors used to depict an understanding of how reality works in relation to the ethereal which is our microcosm deep and within, our grounded reality, which is our immediate environment, and the divine, which is the macrocosm far and beyond — all of which harmoniously work in accordance with each other.
Back then, without the tools and precision of modern science and mathematics accessible to the masses, as well as the useful level of technological development during those eras, an understanding of reality had to be depicted visually through symbology while engaging the imagination's ability to add meaning and context to the quality of their stories of creation and conduct. The problem that spurred from this was that people demanded, coerced, and enforced that their word is the Truth. This right brain perspective can run wild, as those who subscribe to the strict ideologies of their faith take every word and depiction of their sacred understandings literally, with no room for practical analysis. This leads to division among people as well as unquestioned obedience to theologies that are tainted with man's manipulation to control the will of the people.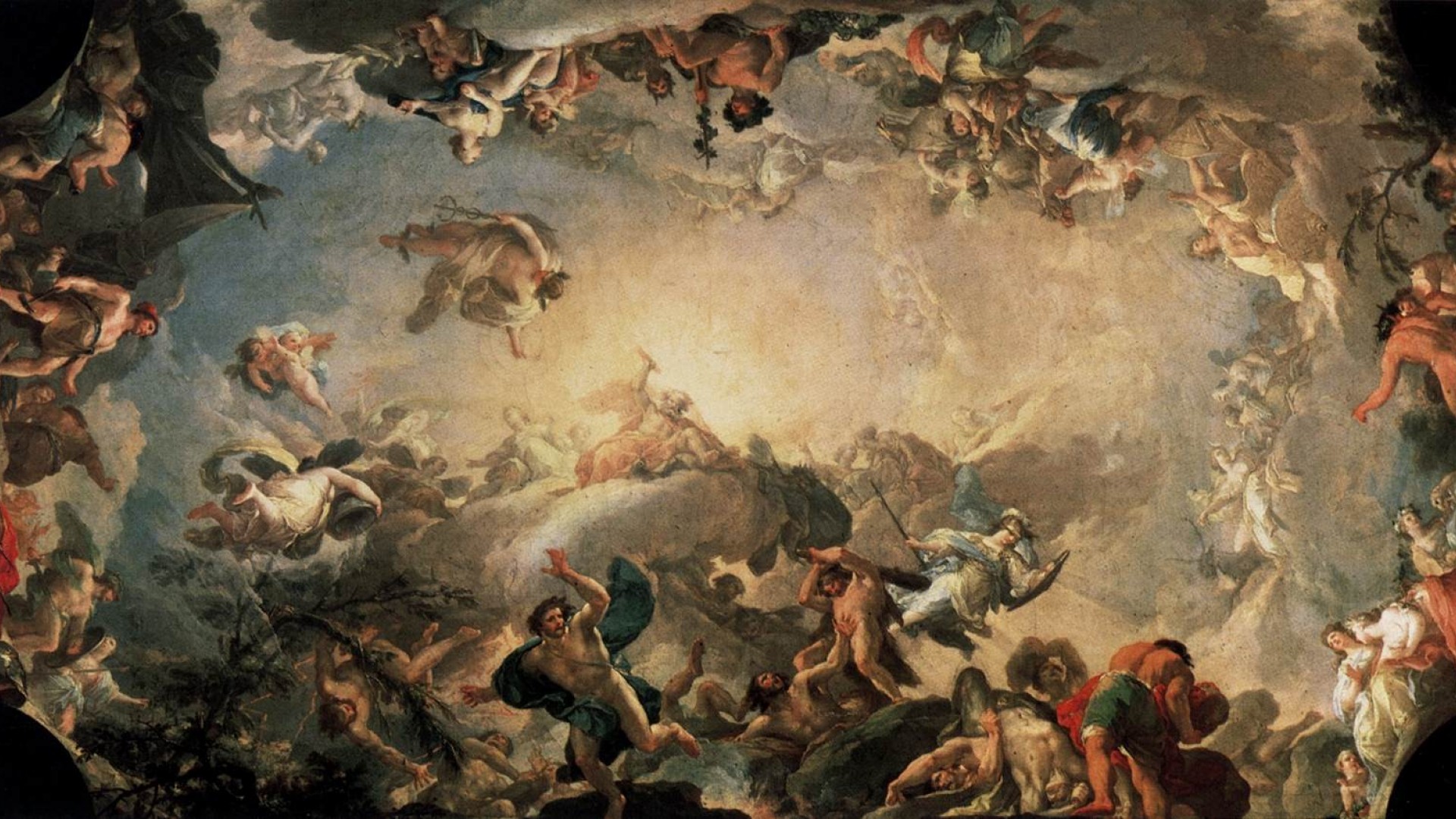 "We live in a world of numerous ideologies and belief systems, all competing for the same real estate, your mind."

– David Snyder
Separate yourself from the superficial and dive deep into the esoteric meanings behind these stories and figureheads, as seeing past those illusions will enable you to reveal a common understanding of divinity and knowledge of self.
Did an enlightened figurehead such as Jesus really exist? It's quite possible. If he did, was he really able to walk on water and turn it into wine? We can't prove that. Instead of getting lost in those details, it is more important to understand the core applicable messages of his teachings as well as the other prophetic leaders, and stories told in religious traditions that share a core commonality with many other belief systems.
Our society focuses on the things that divide and separate our religions, which in turn separate us. Perhaps we can benefit from understanding instead what connects us, in relation to our needs and values. So in an attempt to break down the formality of these religions, I'm going to present the core knowledge that leads to a higher understanding of self and environment, as it will translate to better ways of governing oneself from within and navigating one's journey without.
The word Religion comes from the Latin word "Religare," meaning to tie back, hold back, or to bind fast. To bind is to thwart or hold back the progress of an opposing force or practitioner. A religion is a fixed point of view of understanding divinity, while holding back perspectives and levels of understanding the fall outside of the established religion. All religions share a core truth that the exoteric elements are holding back and because of this, the grounded esoteric alternatives of many modern religions are more interconnected with the commonalities of all cultures. Religion is a box for consciousness because you're not seeing the whole picture.
Esoteric traditions were more grounded in the here and now while instilling the divine Will in one's current plane of existence rather than seeking it only in the next life. The divine Will was to maintain balance and order so that everything that works within the system of creation continued to function. This form of order was not coercive authoritarian driven, it was an order that lent itself to responsibly maintaining the harmony and balance through systems and cycles that prevented chaos. Likewise hell on earth can exist within and without if proper balance and order are not maintained, as well as failing to resolve one's karmic challenges in the present.
In marvel of the heavens, many belief systems are intimately connected with some form of astrotheology, which was the worship of astronomical bodies as Deities. To this day, very high levels of the Catholic church own some of the most expensive and powerful telescopes in the world, yet to the masses below those power structures of Catholicism, studying the night sky or even dabbling in one's Horoscope is forbidden, as it is considered to be blasphemous. The study of the planets, stars, sun, and moon, as well as their relation to the cycles that repeat, such as their orbits and sequential seasons, intervolving solstices and equinoxes, are incorporated into the esoteric laws of analogy.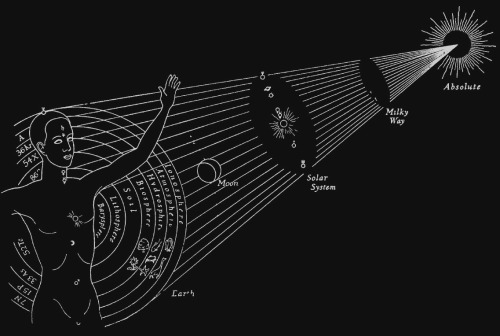 The laws of analogy are very present in our understanding of the physical word, meaning, at different levels of reality, the same patterns and cycles repeat themselves; as above, so below; so within, so without. In light of astronomy and horoscopes, the word horoscope, which pertains to one's life path in relation to the cycles around the sun, is derived from the name Horus, an ancient Egyptian sun God and later adapted into Greek language as Horos.
The ancient Egyptian culture and mythology, which has influence other religions, fundamentally subscribed to a sun worshiping religion. In many cultures the sun was their first astrological body, or higher power to be depicted as a deity. It was bright and luminous, it allowed one to see, and it gave life. One could feel the sun's warmth and was starkly aware of its power to incinerate. It is tangible enough to be seen and felt, yet it was impossibly out of reach, as its presence and power were above those who marveled at it, making one an insignificant spec in comparison to it. Association with the Sun has laid the basic premise for the duality of many belief systems that integrate the polarities of light and darkness, a concept that will repeat itself much throughout this series as we explore other belief systems and ideologies.
Horus was the sun God, depicted as the golden falcon who rises in the east, flies across the sky in a solar ark until he reaches the west and Sets. He makes his trek across the sky daily across the horizon. The word Horizon means "the zone of Horus." Hori is the generative word for Horus, Zon refers to the zone of Horus, thus it is the horizon of Horus, which is where Horus appears on the horizon. It is his arc, his flight path across the sky.
Horus is also named Amen-Ra. Amen is the name ancient Egyptians said after a prayer to evoke the sun God Amen-Ra. Amen-Ra represents the sun (Horus) at its zenith, which is the sun at its highest point. The zenith is the highest point in its arc across the sky. The highest point of Horus's flight path, at 12 noon, is called Amen-Ra.
Horus is depicted as the savior who is anointed with the light, vision, and wisdom. He is the son of the creator God who brings wisdom by knowing what is seen with the light.
Horus has 3 main family members — a mother, father, and brother. His mother Isis is the moon Goddess of the night sky. At night she is the queen of the heavens who rules the night sky, while her husband Osiris is the creator God and ruler of the heavens. In ancient Egyptian mythology, Isis gives birth to the rising sun each day, which is the solar God Horus, who is given divine right by Osiris to rule and give light to the earth during his horizon.
After his trek across the horizon, his brother Set conquers Horus as his fall from the sky Sets into the underworld of darkness. (In other Egyptian stories Set is also depicted as his uncle, but either role has little consequence over the major role he plays as the dark pillar of duality.) Set is considered the dark figure, who is in a state of ignorance because he does not posses the light to see. He lives entirely in the shadows of darkness and ignorance, yet he is the conqueror of the light at night. Set represents chaos, death, and sin, and is somewhat of a devilish figure among the mythology of ancient Egypt. However, he is not entirely depicted as evil because the ancient Egyptians understood that his darkness was necessary for Horus's light to exist. His bad qualities were more understood as an accepted duality between light and dark, good and evil, positive and negative.
Horus and Set were originally expressions of innate duality, the two aspects of creation playing a role throughout the cycles of the day-sky and night-sky.
In the picture below, Horus is touching the pharaoh on the right temple, and his dark brother set is touching the left temple. This represents the duality of consciousness. Horus is the right mind, wisdom, moral action, order, and peace. 
The left side is the God of darkness, deception, storms, chaos, anger, domination, control, and war.
Eventually Horus and Set reconciled and negotiated their conduct so that one wasn't selfishly looking out for himself or having to defend against the other's transgression. A trusting relationship was formed in which both sides began to understand the importance of their complimentary existence. Without this balance of opposites, Horus would not be able to uphold the balance of Ma'at. This balance gave Horus the ability to fight chaos, which was represented as well by the God Apep, who was even more of a personification of evil left unchecked prior to Horus becoming Ra. Set manifested chaos within, while Apep manifested chaos in the external environment. Since Horus, who was the light, represented the peace while being the God of war who instills Ma'at's order over the chaos, one could speculate that the tactics of combat were consulted with Set since he had lived much of his life in affliction. It was during this time of balance with Set that Horus was able to reach his highest point, becoming Ra to fight Apep and instill the will of Ma'at on earth as it is in heaven.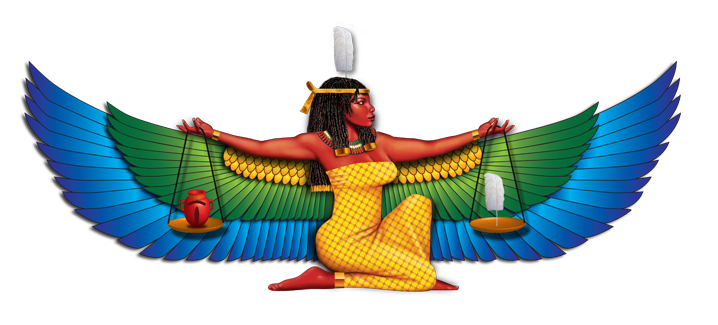 Fighting the chaos of Apep was inspired by the will of Ma'at. Ma'at is the Goddess or conception of truth, balance, order, harmony, law, morality, and justice. She carried out order in the heavens and on earth by regulating the stars, seasons, and regulating moral action of Gods and Pharoahs. Carrying out the karmic order and natural laws of the heavens was done on the earthly plane by fighting the external physical chaos of those who had abandoned truth, justice, and equality. Just as people who deal with the devil become ego-absorbed demon archetypes, people who were imbalanced in the ways of Set became Apeps. Foreign invaders who threatened the balance were also considered Apeps. Other forms of chaos beyond human acts on the earth plane were also considered to be influenced by the spirit of Apep. The union of Horus and Set is a lesson to Egypt's citizens to reconcile the internal chaos within by accepting the parts of themselves that need the light's guidance. As long as there was chaos within, the threat of chaos (Apep) existing in the external environment was imminent. Apep's external chaos threatened to provoke the actions of Set within, making it more difficult to restore order and balance throughout the land and the people.
Both Horus and Set whisper in the ears of the pharaoh while the pharaoh has free will to decide who he listens to and what action to take. It was intended that he carry out the will of Ma'at upon his kingdom by creating balance within his inner kingdom. Pharoahs are frequently depicted with the emblems of Ma'at to emphasize their role of upholding divine order. Through the ruling of the Pharaoh, Egyptian citizens were expected to follow this legitimate form of order that is aligned with the principles of moral action, growth, and sustainability.
This was important to uphold because a disturbance in the force of cosmic harmony could have a significant impact on the individual and the state. A Pharoah self absorbed in ego could bring about disaster and chaos. In addition, the actions and judgments of the Pharoah were meant to guide the citizens through the ambiguous moments of reality, simplifying the principles of Ma'at so that choices of the citizens are made with the highest integrity and care. Obeying the order was not servitude to selfish authority figures, it was doing your part to integrate into the wholeness of an ordered, balanced, natural divinity, which is why authority and compassion were integrated into the foundation of ancient Egyptians.
The degree to which one obeys Ma'at will determine the karmic consequences weighing on the heart of the individual. The heart could only be rewarded for its devotion to Ma'at if it embodied the light, not only in its weightlessness but also in its luminosity to see the truth of proper action.
The ancient Egyptians used these myths and analogies to depict that each of these archetypes exist within us and the symbology of them is meant to remind us of their presence in our daily lives. They are moral, orderly, and divine symbolic analogies, an expression of consciousness, not to be taken as physical Gods.
They represent the pillars of duality: the light and darkness within ourselves that we must reconcile in order to make proper actions. The dark elements help us understand our fears and desires, and with this understanding we cycle back into the light of wisdom. They are Gods within us that influence our actions. Without balance the light and darkness are continually at war, battling for dominance over our behavior. To try and extinguish the darkness would only cause Set to resist with war. Negotiation was the only way because complete annihilation of the darker elements within was beyond our mortal capabilities.
Beyond our inner universe and the grounded earth, Isfet was the chaos of the heavens that threatened the stability of the heavens, which is the absence of light and order, injustice, chaos, violence, and evil, all of which threatened to trickle down into the earthly plane of form which interacts with the inner world of the Pharoah and his people.
On all levels of reality, this balancing cycle of order and harmony must be upheld to maintain the structure above and below. If the balance of Ma'at was not maintained, the ignorance of order would manifest as Isfet, which is chaos in the heavens, chaos in Apep who will disrupt the earthly realm, and chaos within Set, who will affect the Pharoahs and citizens from within. Isfet is more of an abstract concept with no known God attached to it to give its understanding a more relatable nature. It is seen more as the absence of structure and balance, which means that there is more responsibility on the part of Ma'at to maintain structure, rather than to blame external circumstances. It was pretty much all on Ma'at to balance the heavens.
Set's chaotic and warlike qualities were reconciled to fight chaos outside of his temple. The Pharoah would fight manifestations of Apep through the actions of Horus, the emotions of Set, and the Instruction of Ma'at. As long as he was balanced with Horus, Isfet would not destroy their temple. The destructive force of Set was still useful when fighting an enemy of Ma'at. In the heavens, on the other hand, Ma'at was threatened by the absence of responsibility if she did not maintain order, not by an opposing deity who continually aspired to disrupt her. Lack of order in the heavens would cause a lack of order on the earth plane, causing irritability within Apep and Set.
Polarity and balance are the main concepts to understand in the Egyptian myths shared in this article. The Creator God Osiris gives man free choice to govern his actions, as both light and dark are his children, Horus and Set. In religion, dualism means the belief in two supreme opposed powers — Gods or sets of divine or demonic beings — that influence the world, which has had an important presence in the history of thought and religion.
Dualism can also denote a co-eternal binary opposition to indicate a system which contains two essential parts. Moral dualism is the belief of the great complement or conflict between the benevolent and the malevolent. It simply implies that there are two moral opposites at work. Some of these dualities imply harmony in which one balances the other, such as yin and yang, while other forms of duality imply rivalry and opposition, such as good and evil.
The process of reconciling between these two opposites will resurface throughout this series. It is important to have a foundational understanding and acceptance of the duality that exists within and outside of man in order to grasp the more detailed concepts of future teachings. In this case we talked about light and darkness as it relates to Horus and Set, brothers of the same father, one representing good, the other representing bad. It is only when we balance these two that we can become stable from within. This is not to say that darkness can have equal control over us. To balance the dark is to bring it into the light of consciousness so that it no longer controls you. The sight and understanding of that darkness will reduce its influence that threatens Ma'at's inner and environmental stability. As we build our temple from within we must be aware of Horus and Set on either sides of our temple.
Collective Evolution is one of the world's fastest-growing conscious media and education companies providing news and tools to raise collective consciousness. Get inside access to Collective Evolution by becoming a member of CETV.
Stream content 24/7 and enjoy mind-expanding interviews, original shows, documentaries and guided programs.
Click here to start a FREE 7-Day Trial and help conscious media thrive!
Extraordinary Children Who Can Do "Impossible" Things: A Documented Reality
In Brief
The Facts:

A document archived in the CIA's electronic reading room written by a University Professor details the reality of children, and adults, who have gifted abilities in the area of parapsychology.

Reflect On:

Why has this kind of phenomena been ridiculed in the mainstream, yet vigorously and secretively studied at the highest levels of government?
Cassandra Vieten, PhD and current President/CEO at the Institute of Noetic Sciences (IONS), which was founded by astronaut Dr. Edgar Mitchell, could not have put it any better. She said, "There seems to be a deep concern that the whole field (science) will be tarnished by studying phenomenon that is tainted by its association with superstition, spiritualism and magic. Protecting against this possibility sometimes seems more important than encouraging scientific exploration or protecting academic freedom. But this may be changing."
The statement above is true, for years discoveries have been rejected simply because they are big time paradigm busters. No matter how much truth, validity and scientific backing they have, the simple fact that they conflict with long held belief systems is enough to brush them off. It's great to see this changing, because it's important to expand human consciousness, which is done so by pushing the boundaries of what we think we know and discovering new concepts of our reality that we once thought held no validity, but actually do.
How much scientific validity do topics like psychokinesis, clairvoyance, telepathy and remote viewing (all fit under the umbrella of parapsychology) have? Here is a great quote from Dr. Jessica Utts, the Chair of the Department of Statistics at the University of California, Irvine and a professor there since 2008.
"What convinced me was just the evidence, the accumulating evidence as I worked in this field and I got to see more and more of the evidence. I visited the laboratories, even beyond where I was working to see what they were doing and I could see that they had really tight controls…And so I got convinced by the good science that I saw being done. And in fact I will say as a statistician I've consulted in a lot of different areas of science; the methodology and the controls on these experiments are tighter than any other area of science where I've worked."  (source)
China's Psychic Children
Are there psychic children in China? It's hard to believe that there are not after one dives into the documentation that's been made available through the long process of declassification, or by Freedom of Information Act (FIOA) requests. One can simply examine the science of parapsychology alone and come to the conclusion that yes, something significant is going on here when it comes to the phenomena within the realm of parapsychology.
Not only is this type of phenomenon being reported today, but it's been throughout history and across many cultures, this is evident in ancient literature, from the Vedic texts and the yoga sutras, to Jesus, Moses, Milarepa, Mohammed and more. Again, modern day evidence is suggesting that these abilities are much more than folklore.
One interesting article/document I cam across is titled "China's Psychic Savants." I accessed it from the CIA's electronic reading room. It's a document that was written by Marcel Truzzi, a former professor at Eastern Michigan University and founding co-chairman of the Committee for the Scientific Investigation of Claims of the Paranormal (CSICOP), and a founder of the Society for Scientific Exploration.
The introduction provides a good background of the lore from China regarding this phenomenon,
Eleven-year-old Tang Yu and his friend Chen Xioming were on their way home from school in the remote mountain village of Dazhu County when they began to wrestle. Tang brushed against Chen's coat pocket, the story goes, and had the sudden vision of two Chinese symbols. He described the vivid symbols to Chen, who pulled a package of Flying Wild Goose cigarettes from his pocket. The label on the side of the package, the boys reported, consisted of the two symbols Tan Yu had "seen."

Tang Yu was reluctant to share his discovery with Tang Keming, his fifty-year-old peasant father. He knew his claim would sound like a lie. Instead, he began to play guessing games with the villagers. He asked them to write random characters on pieces of paper, crumple the paper into balls, and let him hold each ball in turn next to his ear. Tang then guessed the message within, his guesses, it was said, always proved right. Word of the boy spread beyond his small town to all the Sichuan province in central China.

Soon the region's science commission and its bureau of education and culture had asked to examine Tang, and researchers there confirmed his ability to identify words and colours on small wads of paper held to his ear. News reporters and awe-struck officials of the Sichuan Provincial Party Committee quickly backed those results, and on March 11, 1979, this remarkable tale was published in Sichuan Daily.
Truzzi goes on,
Reports began coming in about children with powers of telepathy, clairvoyance, X-ray vision, and psychokinesis. The typical child was between the ages of nine and fourteen, but a few were as young as four or as old as twenty-five; and it was estimated by Feng Hua, a traditional Chinese physician, that there were about 2,000 such gifted children within the Chinese population of 1 billion.

By early 1980 these remarkable children had made their way to the pages of China's prestigious Nature Journal. And that February the surge of interest prompted Nature Journal to sponsor a huge conference – the First Science Symposium on the Extraordinary Function of the Human Body – for participants from more than 20 colleges and medical schools. The proceedings were filmed by the Shanghai Science and Education Studio, and the film, called Do You Believe It? was shown over national television to millions of Chinese.
He then goes on to describe a number of cases and examples, it's quite interesting, but there are many to choose from beyond this specific document that provide great examples. The facts Truzzi write about here were were also outlined in a declassified US Air Force report on teleportation, which was made available through the Federation of American Scientists. That document also touches upon China's psychic children, mentioning, in this case, the ones that were able to teleport full objects from one location to another without touching them.
Another one, titled "Research into Paranormal Ability To Break Through Spatial Barriers"  touches upon the same thing, and also provides multiple examples of children and people being video tapped and documented, under double blind conditions, being able to do the same thing. This particular document, which was declassified through a Freedom of Information Act request (FOIA), outlines specific people with very special abilities and how they've been studied by thousands of scientists and governments around the world for a very long time.
Pretty intriguing, isn't it?
The Takeaway
It's very interesting that studies regarding parapsychological phenomenon have been conducted at the highest levels of government, particularly within the defense department of multiple countries, with successful results. A great example from the United States was the remote viewing program, remote viewing refers to the ability to perceive a remote location other that the one the individual is located in, regardless of distance.
The success of this program is  outlined in a statement made by Dr. Hal Puthoff from a paper published after the program's declassification in 1995:
"To summarize, over the years, the back-and-forth criticism of protocols, refinement of methods, and successful replication of this type of remote viewing in independent laboratories has yielded considerable scientific evidence for the reality of the [remote viewing] phenomenon. Adding to the strength of these results was the discovery that a growing number of individuals could be found to demonstrate high-quality remote viewing, often to their own surprise. . . . The development of this capability at SRI has evolved to the point where visiting CIA personnel with no previous exposure to such concepts have performed well under controlled laboratory conditions." (source)(source)
Parapsychology is truly a consciousness expanding field that can really open up our minds to aspects of our reality that have, and continue to go largely ignored. There is much more to us as human beings than we've been made to believe, and if we stop, think, and do some research, it's not hard to see how something significant has been overlooked.
Collective Evolution is one of the world's fastest-growing conscious media and education companies providing news and tools to raise collective consciousness. Get inside access to Collective Evolution by becoming a member of CETV.
Stream content 24/7 and enjoy mind-expanding interviews, original shows, documentaries and guided programs.
Click here to start a FREE 7-Day Trial and help conscious media thrive!
Extraordinary Cases of Children Remembering Their Past Lives & Proving It
Reincarnation is a fascinating subject that has remained on the fringe of scientific study for too long. Fortunately, it has recently begun to attract serious interest from the scientific community. Decades ago, American astronomer and astrobiologist Carl Sagan stated that "there are three claims in the [parapsychology] field which, in my opinion, deserve serious study," with one being "that young children sometimes report details of a previous life, which upon checking turn out to be accurate and which they could not have known about in any other way than reincarnation." Fast forward to today, and amazing discoveries have been made, as multiple researchers have taken it upon themselves to study this intriguing and inexplicable — at least from a materialist scientific worldview — phenomenon. Subjects like reincarnation belong to the non-material sciences, an area of research that deserves more attention. As Nikola Tesla himself said, "the day science begins to study non-physical phenomena, it will make more progress in one decade than in all the previous centuries of its existence."
University of Virginia psychiatrist Jim Tucker is arguably the world's leading researcher on this topic, and in 2008, he published a review of cases that were suggestive of reincarnation in the journal Explore.
A typical reincarnation case, described by Jim, includes subjects reporting a past life experience. The interesting thing is that 100 percent of subjects who report past life remembrance are children. The average age when they start remembering their past life is at 35 months, and their descriptions of events and experiences from their past life are often extensive and remarkably detailed. Tucker has pointed out that these children show very strong emotional involvement when they speak about their experiences; some actually cry and beg their parents to be taken to what they say is their previous family.
According to Tucker:
The subjects usually stop making their past-life statements by the age of six to seven, and most seem to lose the purported memories. This is the age when children start school and begin having more experiences in the current life, as well as when they tend to lose their early childhood memories.
Anonymous
Eli Lasch, a prominent physician in Israel who served as a senior consultant in the coordination of health services in the Gaza Strip. He passed away in 2009, but before he did, he was investigating a supposed reincarnation case in which a three-year old boy claimed to have remembered a past life. In this life, he remembered being struck by a big blow to the head with an axe, and having a long, red birthmark on his head.
The present-day boy, whose name remained confidential throughout the entire study, also had a birthmark in the exact same spot, which is interesting because multiple studies, like the one published in Explore, point out how shared birthmarks are common to children who remember their past lives.
The boy's father and a number of other relatives in the village decided to visit neighbouring communities to see if his past life identity could be established and Dr. Lasch was invited to join. On this journey, they visited multiple villages until the boy remembered the right one. He remembered his own first and last name, as well as the first and last name of his murderer.
According to the Institute for the Integration of Science, Intuition, and Spirit:
A member of this community, who had heard the boy's story, said that he had known the man that the boy said that he was in the past lifetime. This man had disappeared 4 years earlier and was never found. It was assumed that this person must have come to some misfortune as it was known that individuals were killed or taken prisoner in the border areas between Israel and Syria for being suspected of being spies.

The group went through the village and at one point the boy pointed out this past life house. Curious bystanders gathered around and suddenly the boy walked up to a man and called him by name. The man acknowledged that the boy correctly named him and the boy then said:

"I used to be your neighbor. We had a fight and you killed me with an ax."

Dr. Lasch then observed that this man's face suddenly became white as a sheet.  The 3-year-old than stated:

"I even know where he buried my body."

The boy then led the group, which included the accused murderer, into fields that were located nearby. The boy stopped in front of a pile of stones and reported:

"He buried my body under these stones and the ax over there."
Sam Taylor
Sam Taylor is one child Tucker studied and wrote about. Born 18 months after his paternal grandfather died, he first began recalling details of a past life when he was just over a year old:
When he was 1.5 years old, he looked up as his father was changing his diaper and said, "When I was your age, I used to change your diapers." He began talking more about having been his grandfather. He eventually told details of his grandfather's life that his parents felt certain he could not have learned through normal means, such as the fact that his grandfather's sister had been murdered and that his grandmother had used a food processor to make milkshakes for his grandfather every day at the end of his life. (source)
Pretty remarkable, isn't it?
Ryan – A Boy From The Midwest
Ryan's story began when he was 4 years old, when he was experiencing frequent, horrible nightmares. Once he turned five, he made an announcement to his mother. He told her, "I used to be somebody else."
He would often talk about "going home" to Hollywood and would beg his mother to take him there. He told her detailed stories about meeting stars like Rita Hayworth, dancing in Broadway productions, and working for an agency where people would frequently change their names. He even remembered that the name of the street he used to live on had the word "rock" in it.
Ryan's mother Cyndi said that "his stories were so detailed and they were so extensive, that it just wasn't like a child could have made it up."
Cyndi decided to check out some books about Hollywood from her local library, thinking that maybe something inside would catch her son's attention, and it did. Cyndi said that once she found the below picture — of the man Ryan claims to have been in his past life — everything changed.
They decided to seek Tucker's help, who took on the case and started his research. After only approximately two weeks, a Hollywood film archivist was able to confirm the identity of the man in the photo. The picture was from a film titled "Night After Night," and the man was Marty Martyn, who had been a movie extra and then later became a powerful Hollywood agent before passing away in 1964.
Martyn had in fact danced on Broadway, worked at an agency where stage names were often created for new clients, traveled overseas to Paris, and lived at 825 North Roxbury Drive in Beverly Hills. These were all details that Ryan was able to communicate to Tucker before they learned the identity of who he described; for example, Ryan knew that the address had "Rox" in it. Ryan was also able to recall how many children Martyn had and how many times he was married. More remarkable still is the fact that Ryan knew Martyn had two sisters, but Martyn's own daughter did not. Ryan also remembers an African-American maid; Marty and his wife employed several. These are just a few of 55 incredible facts that Ryan can remember from his previous life as Marty Martyn, though as he ages, his memories become increasingly dim.
Chanai Choomalaiwong
Chanai is a boy from Thailand, who, when he was three years old, began saying that he had been a teacher named Bua Kai who had been shot and killed as he rode his bike to school. He pleaded and begged to be taken to Bua Kai's parents, who he felt were his own parents. He knew the village where they lived, and eventually convinced his grandmother to take him there. According to the research:
His grandmother reported that after they got off the bus, Chanai led her to a house where an older couple lived. Chanai appeared to recognize the couple, who were the parents of Bua Kai Lawnak, a teacher who had been shot and killed on the way to school five years before Chanai was born.
The fascinating thing is that Kai and Chanai had something in common. Kai, who was shot from behind, had small, round wounds on the back of his head, typical of an entry wound, and larger exit wounds on his forehead; Chanai was born with two birthmarks, a small, round birthmark on the back of his head, and a larger, irregularly shaped one towards the front.
The Case of P.M
P.M was a boy whose half brother had died from neuroblastoma 12 years before his birth. The half brother was diagnosed after he began limping, and then suffered a pathological fracture on his left tibia. He underwent a biopsy of a nodule on his scalp, just above his right ear, and received chemotherapy through a central line in his right external jugular vein. At the time of his death he was two years old, and blind in his left eye.
P.M was born with three birthmarks that match the lesions on his half brother, as well as with a swelling 1cm in diameter above his right ear and a dark, slanting mark on the lower right anterior surface of his neck. He also had what's known as a 'corneal leukoma,' which caused him to be virtually blind in his left eye. As soon as P.M. started to walk, he did so with a limp, sparing his left side, and at around the age of 4.5 years he spoke to his mother about wanting to return to the family's previous home, describing it with great accuracy. He also spoke of his brother's scalp surgery even though he had never been told of it before.
Kendra Carter 
When Kendra began swimming lessons at the age of 4, she immediately developed an emotional attachment to her coach. Shortly after she started her lessons, she began saying that the coach's baby had died and that the coach had been sick and pushed her baby out. Kendra's mother was always at her lessons, and when she asked Kendra how she knew these things, her reply was, "I'm the baby that was in her tummy." Kendra went on to describe an abortion, and her mother later found out that the coach had indeed had an abortion 9 years before Kendra was even born:
Kendra became happy and bubbly when she was with the coach but quiet otherwise, and her mother let her spend more and more time with the coach until she was staying with her three nights a week. Eventually, the coach had a falling out with Kendra's mother and cut off contact with the family. Kendra then went into a depression and did not speak for 4.5 months. The coach reestablished more limited contact at that point, and Kendra slowly began talking again and participating in activities. (source)
James Leininger
At the time of this case, James was a 4 year old boy from Louisiana. And he believed he was once a World War II pilot who had been shot down over Iwo Jima, an island that the United States fought to capture in 1945.
His parents first realized this when James started to have nightmares, waking up and screaming "airplane crash" and "plane on fire." He knew details about the WWII aircraft that would be impossible for a youngster to know. For example, when his mother referred to an object on the bottom of a model plane as a bomb, she was corrected by James, who informed her that it was a 'drop tank.' In anther instance, he and his parents were watching a documentary, and the narrator called a Japanese plane a Zero, when James insisted that it was Tony. In both cases, James turned out to be right.
James also insisted that in his previous life, he had flown off a ship named the Natoma, which, as the Leiningers discovered, was a WW11 aircraft carrier (USS Natoma Bay). James said that his previous name was also James, and shockingly, in the USS Natoma Bay squadron, there was a pilot names James Huston who had been killed in action over the Pacific ocean.
Dr. Tucker obtained additional documents for several of James Leininger's statements, and they were made before anyone in the family had even heard of James Huston or the USS Natoma Baby.
Ask yourself, how could a two-year-old in Louisiana remember being a World War II pilot shot down over the Pacific?
The biggest skeptic of this case was the boy's father, who remarked that he was "the original skeptic, but the information James gave us was so striking and unusual. If someone wants to look at the facts and challenge them, they're welcome to examine everything we have." (source)
An Explanation?
My Take On Reincarnation
I personally, wholeheartedly believe that reincarnation is real, but I don't think it's the only option for what takes place after death. I believe some souls can reincarnate, as we've seen above, into another life. I also believe some can reincarnate onto other planets, as beings we would consider to be alien. Furthermore, I believe reincarnation is just one option for a soul; perhaps they have the option to travel to other dimensions and experience a life there, or to completely forgo reincarnation and experience life in the non-physical realm, free from a physical body. Perhaps a soul must continue to reincarnate until certain lessons are learned to move to another 'level?' I also believe that there is a common place where all souls come from, so perhaps some of us go there. I believe, as Plato did, that when the soul enters into a physical body, it forgets where it came from, and has no recollection of that previous experience. I don't believe this material world is the only one in existence; there are worlds out there that are beyond our physical senses. Perhaps we come to know them in the afterlife?
I can only speculate, of  course, but I truly don't think reincarnation is the only option for a soul leaving its body. Perhaps the soul has a choice to reincarnate? Perhaps there are other options as well.
Sources:
https://med.virginia.edu/perceptual-studies/wp-content/uploads/sites/267/2015/11/REI37.pdf
http://www.rd.com/health/conditions/chilling-reincarnation-stories/
http://uvamagazine.org/articles/the_science_of_reincarnation
Collective Evolution is one of the world's fastest-growing conscious media and education companies providing news and tools to raise collective consciousness. Get inside access to Collective Evolution by becoming a member of CETV.
Stream content 24/7 and enjoy mind-expanding interviews, original shows, documentaries and guided programs.
Click here to start a FREE 7-Day Trial and help conscious media thrive!
How I Obtained A Conscientious Exemption From Mask-Wearing At School For My Child
In Brief
The Facts:

I was able to obtain a conscientious exemption from mask-wearing in public school for my 6-year old son.

Reflect On:

Will these Covid measures and the incoming promise of mandatory vaccines serve to push a critical mass of humanity to learn about, and ultimately stand up for, their natural and innate freedom of choice?
I have studied the principles of natural law, and I am clear that the inherent freedom of choice of every individual is the ultimate foundation of life on Earth. How these principles became the basis for real-world action occurred when I heard that my school board had decided, quite of their own accord, while professing to be 'following the direction' of the public health office of a neighboring district, that children in grades 1-3 in their schools would also be required to wear masks in school.
I will give you the whole story of my quest for a conscientious exemption from mask-wearing for my son as I am not entirely sure which of my actions actually turned the result in my favor. I do this to empower everyone with a full understanding of what we are dealing with in terms of school mask mandates and the manner in which school boards are trying to implement them. I am in Ontario, Canada so things might be different in different countries, but I believe that the ultimate application of natural law and our natural freedom of choice can and should be pursued anywhere in the world.
My journey began with an internet search of my school board, a phone number of the communications office which undersigned the announcement of the mandate, and my phone call to that office asking how I would apply for a conscientious exemption. Through voice mail the officer said I should be in touch with the principal, who said I should be in touch with the superintendent, who said I should speak to the trustee, who said I should go back to the superintendent. This is a process that went on for two weeks and ultimately gets us to the first day of school and this letter I sent to all the trustees who, it seemed to me, made up the school board and hence collectively made the ultimate decision that was affecting me.
My Letter to the Trustees
Dear Dufferin Peel Catholic District School Board Trustees,
Here it is, Tuesday, September 8th, 2020, the day that DPCDSB schools open, and I have not received the information I need to make an informed decision on whether or not I should send my son to school. He is slated to begin the Grade 1 French Immersion program at St. Pio de Pietrelcina.
After initially voicing my concerns about mandatory masking and applying for an exemption on conscientious grounds to a school board representative I was directed to the principal of St. Pio de Pietrelcina. She was polite and took my concerns seriously, but said that she had no latitude to make any decisions on exemptions on conscientious grounds. She suggested I speak to the superintendant.
I spoke first to the superintendant's assistant, who was polite and took my concerns seriously, and said I would have to speak to the superintendant.
I spoke to the superintendant, who was polite and took my concerns seriously, but said that they had not received any 'direction' from health officials about qualification for medical exemptions. When I reiterated the point that I am seeking a conscientious, and not a medical exemption, she said that I should talk to the trustee for my school's area.
I spoke to the trustee, who was polite and took my concerns seriously, but didn't feel he was in any position to advance my cause. He referred me back to the superintendant, who, according to him, would contact me to let me know how I can make my request for an exemption to the school board.
I understand that these are trying times and things are changing rapidly, but I still believe you would agree that I'm getting the runaround. And the school year has already started.
So I will simply make my case in this letter, and I hope this letter will be able to cut through the bureaucracy and be read by all DPCDSB trustees, to whom it is addressed. I am requesting an official response undersigned by at least a majority of the school board members, who are directly responsible for the fact that, at present, my son is being forced to wear a mask at school in order to receive a public education.
Request for a Conscientious Exemption for my son from wearing a mask in school  
My fervent belief is that all directives related to 'mandatory' mask wearing in Canada are illegal and infringe on the rights of individual Canadians, based on the Charter of Rights and Freedoms.
However, in this letter I will speak specifically to my son's case. At present, the DPCDSB has decided to unilaterally mandate mask-wearing for Grade 1 students (this particular decision was not imposed upon them by Peel Public Health). And so my son, who is supposed to begin the Grade 1 French Immersion program at St. Pio de Pietrelcina in a few days, is being forced to wear a mask in order to get a public education.
I will cite a small portion of the Canadian Charter of Rights and Freedoms and explain how it applies in this case:
1.      The Canadian Charter of Rights and Freedoms guarantees the rights and freedoms set out in it subject only to such reasonable limits prescribed by law as can be demonstrably justified in a free and democratic society.
2.       Everyone has the following fundamental freedoms:
(a) freedom of conscience and religion;
I believe that forcing my 6-year old son to wear a mask may cause psychological and physical harm to him. Therefore, as his legal guardian, I cannot in good conscience allow this to happen. In mandating mask-wearing for my son, you violate my freedom of conscience as well as my son's freedom of conscience, as he does not want to wear a mask.
Two more points, while not essential to my argument, serve to highlight my belief that the decision by the DPCDSB to mandate masks for young children in school shows an egregious lack of responsibility and concern for the health and well-being of the children who have been entrusted under their care:
1.       There is NO science, meaning no randomized control trials, which suggest that wearing a mask might have any impact in reducing the spread of a virus. In fact, any studies investigating the ability of masks to stop the spread of a virus have concluded that masks are not effective at all in this regard. (source) Mask mandates are based on the 'opinions' of Public Health Officers (political appointees) that 'mask-wearing may have benefits', opinions which are not grounded in the science.
2.       The statistics, which clearly show that low infectivity rates and a virtually zero mortality rate among children, would suggest that what would really be in the best interest of children's health and well-being would be a normal return to school, without masks, distancing, cohorting, sanitizing, and any other measures. This has been the belief of many researchers and scientists in that very field of study whose views have been suppressed or marginalized in the media.
In other words, going back to section 1 of the Charter, I do not believe these measures have been 'demonstrably justified.'
That being said, the main point of this letter is to get an answer to my request that my son be permitted to attend school without a mask, based on my conscientious objection. If denied, my son will not be going to school and I will begin to consider notices of liability to those on the DPCDSB responsible for implementing policy, who in my opinion have far overstepped their authority in attempting to enforce mandatory masking in their schools, especially for students in Grades 1-3 which was not imposed upon them by Peel Public Health and was a unilateral decision.
Thank you,
Richard Enos
The Response
Now it becomes interesting, when you are going about the business of standing up for your inherent rights, to wonder what drives otherwise busy and difficult-to-reach people into responding and suddenly having answers.
It was either the same day or the next morning that the vice-principal of the school contacted me and told me he was going to send the exemption form to me and that I should fill it out. I made it clear to him that I was requesting a conscientious and not a medical exemption, and he told me that I should fill it out nonetheless so that the school authority would have on record exactly what kind of exemption I am seeking, and I agreed I would do so.
Meanwhile, one of the trustees forwarded my email to the school board's director of education, saying that this would end the 'runaround' I had been experiencing. And sure enough, the director of education sent me an email the same day, saying the following:
I am aware that the school has recently reached out to you to provide you with the documentation required to request an exemption. Given that you have identified the adverse negative psychological impact of wearing a mask on your child, I would encourage you to request an exemption.
Now I was intrigued by the phrasing 'you have identified the adverse negative psychological impact…' given that all I said was that I believed wearing a mask 'may cause psychological and physical harm to him.' So in essence, she reframes my conscientious exemption as a medical exemption.
I nonetheless filled out my exemption form, being as explicit as I possibly could that I was filing a conscientious objection. In fact, reading it, I don't think that anyone can confuse this with a 'medical' exemption (the part I wrote is in bold and italics).
My Exemption Request
MASK ACCOMMODATION/EXEMPTION REQUEST FORM
I am requesting an exemption for my child from wearing a non-medical face mask while at school, (which includes indoor during the school day, transportation and in any before and after school program for the following reason(s):
REASON
I believe wearing a mask is potentially harmful to my son's psychological and physical health. I cannot in good conscience allow my son to be required to wear a mask while in school. The Charter of Rights and Freedoms indicates the following:
The Canadian Charter of Rights and Freedoms guarantees the rights and freedoms set out in it subject only to such reasonable limits prescribed by law as can be demonstrably justified in a free and democratic society.
Everyone has the following fundamental freedoms: a) freedom of conscience and religion;
Based on the current science and current statistics I have researched (I do not include them here but would be willing to provide them if requested), I contend that mandating mask-wearing for children in school has not been 'demonstrably justified,' thereby liberating me to act in good conscience and demand that my son be exempt from having to wear a mask while in school.
ⅅ I have attached supporting documentation (please note that medical documentation is not required)
The Response
I sent the document and reminded the vice-principal in my email that my son would not be attending school until this exemption had been confirmed.
Lo and behold, this message from the school was in my inbox the next morning:
Hello

Kellen's mask exemption has been approved.

His first day back at school will be Monday September 14th 2020
But this is not the end of the story. I found this email to be oddly informal for a matter of such obvious importance to me. It was not undersigned by anyone, only the school signature was underneath, and there was no signed copy of the exemption form attached, which on the second page had checkboxes indicating who had been informed of my son's exemption (teacher, bus driver, librarian, etc.)
This was Wednesday, September 9th, and because of staggered entry my son was only to start the following Monday, having already missed his orientation day. I immediately sent a reply stating that I wanted to know who actually sent me the email, and who had approved the exemption. By Monday I had not heard back from the school, and consequently I kept my son home. The school called and left a message inquiring about my son's absence. In response, I wrote a rather sharply-worded email explaining that I will not be sending my son to school until my questions were answered.
I received a phone call a few hours later from a very agitated principal. I got her to say that the email was 'from the school,' and therefore, yes, 'from her'. As to who approved the exemption, she said she didn't know. She said she sent the exemption form to the superintendent and was later sent a curt email that the exemption had been 'approved'. That's all she knew. She was not at all happy with the general lack of information she was receiving from the school board. I did my best to help bring a conciliatory tone to the conversation and noted that it seemed like the principal was more a victim than a cause of this confusion.
And so I was left to assume that the Director of Education must have approved the exemption, since the Superintendent told me that she herself didn't have the power to approve an exemption based on conscience. I sent an email to the Director of Education, demanding to know who had approved my son's exemption. You wouldn't believe what her answer was:
I regret the experience you are having regarding your request for a mask exemption.  The principal is the individual who has the authority to approve a mask exemption.  That said, it is ultimately my responsibility to ensure principals have all the necessary information to carry out the responsibilities we task them with.  I will continue to work to ensure that our principals have a fulsome understanding of the process and support them in implementation.
Where I am at Now
This email was the final nail in the coffin for me. I spoke with my wife and we both agreed that we didn't feel comfortable having my son in an institution that demonstrated such a lack of accountability from top to bottom. We have pulled our son out of public school and have begun homeschooling him. However, I know this is not an option for many, especially for those whose children indicate that they want to go to school and see their friends. So this article is more for those parents, to come to an understanding of what they are dealing with and what their rights are.
The way I see it, these bureaucrats are all part of a top-down control structure, from the Ministry of Education through the public health offices, and down through the school boards' director of education, trustees, superintendents, and principals. One of the necessary qualifications for these jobs is a willingness to take and implement orders from above, rather than asserting critical and independent thought. At all levels people know that opposing directives from above based on their independent thought would likely mean termination.
Consequently, I see these people are acting (and reacting) from the state of fear that they have been subjected to. I'm not really interested in continuing to investigate these people to try to figure out who is lying and who might be liable for damages. My experience confirms for me the reality that this whole interlocked, top-down system of education, as with other systems under government control, has a clear and specific agenda to augment their control and to willingly deceive people about their rights and freedoms protected by the charter.
The way they are doing it is by forcing those lower down the ladder to actually assume the legal responsibility for enacting and enforcing these measures, without giving those people any choice as to whether or not they actually believe it is good to implement them. Speaking to all levels of the school board was an exercise in a perpetual 'passing of the buck' where I could not find a single person willing to stand behind or take ownership of any of these mandates or the justification for them.
The good news here is that this is a situation ripe for all individuals, and particularly parents of young children, to exercise their rights of conscience and request (read: demand) a conscientious exemption from mask-wearing for their child. Of course it requires courage and persistence, and perhaps even a willingness to keep their child out of school as I did until the matter is resolved. But if you feel within you a burning desire to stand up for your rights under these circumstances, I hope my story has helped to equip you to do just that.
This article was originally published on my own website daocoaching.com.
Collective Evolution is one of the world's fastest-growing conscious media and education companies providing news and tools to raise collective consciousness. Get inside access to Collective Evolution by becoming a member of CETV.
Stream content 24/7 and enjoy mind-expanding interviews, original shows, documentaries and guided programs.
Click here to start a FREE 7-Day Trial and help conscious media thrive!