Breaking Down Religious Dogmas & Deciphering The Truth
Religion is filled with a number of dogmatic concepts yet there are gems that lie underneath the doctrinaires of how to conduct one's spiritual life. Setting aside religion's literal depictions of creation and conduct on this earthly plane, one can learn to appreciate the core lessons and values embedded in each belief system without needing a devout subscription to many of religion's divisive ideologies.
What matters are the core messages of how to live a happy and peaceful life, while getting more of what you want and helping others do the same through proper moral conduct and harmony with divinity.
The questions that truly concern humanity since its conception are:
Who are we?
What is the purpose of our lives? What is our role in the cosmos?
How and why do we act the way we do toward ourselves and others?
What is happening in the world today and why?
Throughout this series we will explore shamanic, polytheist, and monotheistic myths and theologies to uncover and reveal that which is hidden below the exoteric presentation of spirituality in its organized forms. The immediate focus at the beginning of this series will be the ancient traditions, as much of their wisdom serves as the foundation of the modern religions that influence our culture.
This is aimed toward giving you an understanding of how various societies have described the basic laws of moral action, consciousness, and manifestation that pertain to the human condition, while grasping the unique cultural, geographical, and chronological understandings that all point to reasonably similar and useful understandings of governing yourself mentally, emotionally, and physically. The applicable wisdom that lies underneath the dogma of modern theologies may provide clarity and guidance toward your journey of ascension.
The stories and figures are not to be taken literally as they are archetypes, allegories, emblems, parables, and metaphors used to depict an understanding of how reality works in relation to the ethereal which is our microcosm deep and within, our grounded reality, which is our immediate environment, and the divine, which is the macrocosm far and beyond — all of which harmoniously work in accordance with each other.
Back then, without the tools and precision of modern science and mathematics accessible to the masses, as well as the useful level of technological development during those eras, an understanding of reality had to be depicted visually through symbology while engaging the imagination's ability to add meaning and context to the quality of their stories of creation and conduct. The problem that spurred from this was that people demanded, coerced, and enforced that their word is the Truth. This right brain perspective can run wild, as those who subscribe to the strict ideologies of their faith take every word and depiction of their sacred understandings literally, with no room for practical analysis. This leads to division among people as well as unquestioned obedience to theologies that are tainted with man's manipulation to control the will of the people.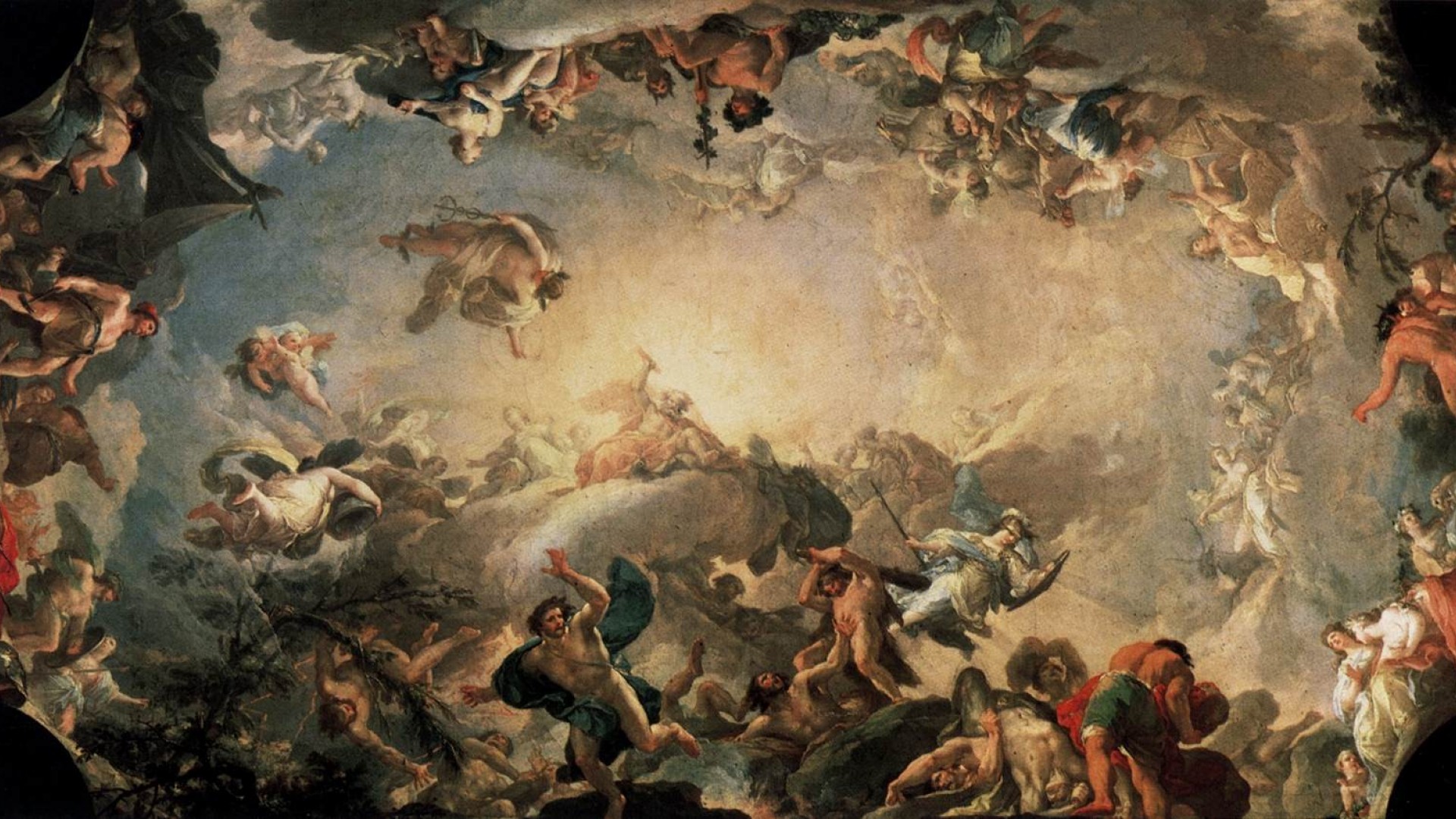 "We live in a world of numerous ideologies and belief systems, all competing for the same real estate, your mind."

– David Snyder
Separate yourself from the superficial and dive deep into the esoteric meanings behind these stories and figureheads, as seeing past those illusions will enable you to reveal a common understanding of divinity and knowledge of self.
Did an enlightened figurehead such as Jesus really exist? It's quite possible. If he did, was he really able to walk on water and turn it into wine? We can't prove that. Instead of getting lost in those details, it is more important to understand the core applicable messages of his teachings as well as the other prophetic leaders, and stories told in religious traditions that share a core commonality with many other belief systems.
Our society focuses on the things that divide and separate our religions, which in turn separate us. Perhaps we can benefit from understanding instead what connects us, in relation to our needs and values. So in an attempt to break down the formality of these religions, I'm going to present the core knowledge that leads to a higher understanding of self and environment, as it will translate to better ways of governing oneself from within and navigating one's journey without.
The word Religion comes from the Latin word "Religare," meaning to tie back, hold back, or to bind fast. To bind is to thwart or hold back the progress of an opposing force or practitioner. A religion is a fixed point of view of understanding divinity, while holding back perspectives and levels of understanding the fall outside of the established religion. All religions share a core truth that the exoteric elements are holding back and because of this, the grounded esoteric alternatives of many modern religions are more interconnected with the commonalities of all cultures. Religion is a box for consciousness because you're not seeing the whole picture.
Esoteric traditions were more grounded in the here and now while instilling the divine Will in one's current plane of existence rather than seeking it only in the next life. The divine Will was to maintain balance and order so that everything that works within the system of creation continued to function. This form of order was not coercive authoritarian driven, it was an order that lent itself to responsibly maintaining the harmony and balance through systems and cycles that prevented chaos. Likewise hell on earth can exist within and without if proper balance and order are not maintained, as well as failing to resolve one's karmic challenges in the present.
In marvel of the heavens, many belief systems are intimately connected with some form of astrotheology, which was the worship of astronomical bodies as Deities. To this day, very high levels of the Catholic church own some of the most expensive and powerful telescopes in the world, yet to the masses below those power structures of Catholicism, studying the night sky or even dabbling in one's Horoscope is forbidden, as it is considered to be blasphemous. The study of the planets, stars, sun, and moon, as well as their relation to the cycles that repeat, such as their orbits and sequential seasons, intervolving solstices and equinoxes, are incorporated into the esoteric laws of analogy.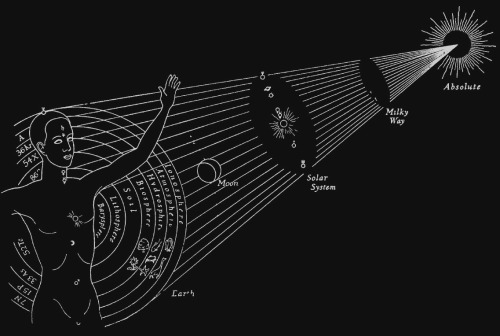 The laws of analogy are very present in our understanding of the physical word, meaning, at different levels of reality, the same patterns and cycles repeat themselves; as above, so below; so within, so without. In light of astronomy and horoscopes, the word horoscope, which pertains to one's life path in relation to the cycles around the sun, is derived from the name Horus, an ancient Egyptian sun God and later adapted into Greek language as Horos.
The ancient Egyptian culture and mythology, which has influence other religions, fundamentally subscribed to a sun worshiping religion. In many cultures the sun was their first astrological body, or higher power to be depicted as a deity. It was bright and luminous, it allowed one to see, and it gave life. One could feel the sun's warmth and was starkly aware of its power to incinerate. It is tangible enough to be seen and felt, yet it was impossibly out of reach, as its presence and power were above those who marveled at it, making one an insignificant spec in comparison to it. Association with the Sun has laid the basic premise for the duality of many belief systems that integrate the polarities of light and darkness, a concept that will repeat itself much throughout this series as we explore other belief systems and ideologies.
Horus was the sun God, depicted as the golden falcon who rises in the east, flies across the sky in a solar ark until he reaches the west and Sets. He makes his trek across the sky daily across the horizon. The word Horizon means "the zone of Horus." Hori is the generative word for Horus, Zon refers to the zone of Horus, thus it is the horizon of Horus, which is where Horus appears on the horizon. It is his arc, his flight path across the sky.
Horus is also named Amen-Ra. Amen is the name ancient Egyptians said after a prayer to evoke the sun God Amen-Ra. Amen-Ra represents the sun (Horus) at its zenith, which is the sun at its highest point. The zenith is the highest point in its arc across the sky. The highest point of Horus's flight path, at 12 noon, is called Amen-Ra.
Horus is depicted as the savior who is anointed with the light, vision, and wisdom. He is the son of the creator God who brings wisdom by knowing what is seen with the light.
Horus has 3 main family members — a mother, father, and brother. His mother Isis is the moon Goddess of the night sky. At night she is the queen of the heavens who rules the night sky, while her husband Osiris is the creator God and ruler of the heavens. In ancient Egyptian mythology, Isis gives birth to the rising sun each day, which is the solar God Horus, who is given divine right by Osiris to rule and give light to the earth during his horizon.
After his trek across the horizon, his brother Set conquers Horus as his fall from the sky Sets into the underworld of darkness. (In other Egyptian stories Set is also depicted as his uncle, but either role has little consequence over the major role he plays as the dark pillar of duality.) Set is considered the dark figure, who is in a state of ignorance because he does not posses the light to see. He lives entirely in the shadows of darkness and ignorance, yet he is the conqueror of the light at night. Set represents chaos, death, and sin, and is somewhat of a devilish figure among the mythology of ancient Egypt. However, he is not entirely depicted as evil because the ancient Egyptians understood that his darkness was necessary for Horus's light to exist. His bad qualities were more understood as an accepted duality between light and dark, good and evil, positive and negative.
Horus and Set were originally expressions of innate duality, the two aspects of creation playing a role throughout the cycles of the day-sky and night-sky.
In the picture below, Horus is touching the pharaoh on the right temple, and his dark brother set is touching the left temple. This represents the duality of consciousness. Horus is the right mind, wisdom, moral action, order, and peace. 
The left side is the God of darkness, deception, storms, chaos, anger, domination, control, and war.
Eventually Horus and Set reconciled and negotiated their conduct so that one wasn't selfishly looking out for himself or having to defend against the other's transgression. A trusting relationship was formed in which both sides began to understand the importance of their complimentary existence. Without this balance of opposites, Horus would not be able to uphold the balance of Ma'at. This balance gave Horus the ability to fight chaos, which was represented as well by the God Apep, who was even more of a personification of evil left unchecked prior to Horus becoming Ra. Set manifested chaos within, while Apep manifested chaos in the external environment. Since Horus, who was the light, represented the peace while being the God of war who instills Ma'at's order over the chaos, one could speculate that the tactics of combat were consulted with Set since he had lived much of his life in affliction. It was during this time of balance with Set that Horus was able to reach his highest point, becoming Ra to fight Apep and instill the will of Ma'at on earth as it is in heaven.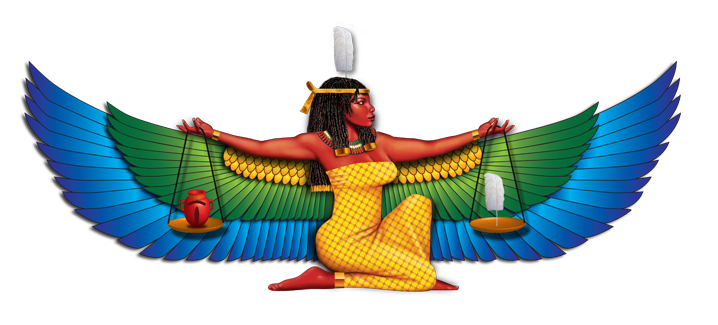 Fighting the chaos of Apep was inspired by the will of Ma'at. Ma'at is the Goddess or conception of truth, balance, order, harmony, law, morality, and justice. She carried out order in the heavens and on earth by regulating the stars, seasons, and regulating moral action of Gods and Pharoahs. Carrying out the karmic order and natural laws of the heavens was done on the earthly plane by fighting the external physical chaos of those who had abandoned truth, justice, and equality. Just as people who deal with the devil become ego-absorbed demon archetypes, people who were imbalanced in the ways of Set became Apeps. Foreign invaders who threatened the balance were also considered Apeps. Other forms of chaos beyond human acts on the earth plane were also considered to be influenced by the spirit of Apep. The union of Horus and Set is a lesson to Egypt's citizens to reconcile the internal chaos within by accepting the parts of themselves that need the light's guidance. As long as there was chaos within, the threat of chaos (Apep) existing in the external environment was imminent. Apep's external chaos threatened to provoke the actions of Set within, making it more difficult to restore order and balance throughout the land and the people.
Both Horus and Set whisper in the ears of the pharaoh while the pharaoh has free will to decide who he listens to and what action to take. It was intended that he carry out the will of Ma'at upon his kingdom by creating balance within his inner kingdom. Pharoahs are frequently depicted with the emblems of Ma'at to emphasize their role of upholding divine order. Through the ruling of the Pharaoh, Egyptian citizens were expected to follow this legitimate form of order that is aligned with the principles of moral action, growth, and sustainability.
This was important to uphold because a disturbance in the force of cosmic harmony could have a significant impact on the individual and the state. A Pharoah self absorbed in ego could bring about disaster and chaos. In addition, the actions and judgments of the Pharoah were meant to guide the citizens through the ambiguous moments of reality, simplifying the principles of Ma'at so that choices of the citizens are made with the highest integrity and care. Obeying the order was not servitude to selfish authority figures, it was doing your part to integrate into the wholeness of an ordered, balanced, natural divinity, which is why authority and compassion were integrated into the foundation of ancient Egyptians.
The degree to which one obeys Ma'at will determine the karmic consequences weighing on the heart of the individual. The heart could only be rewarded for its devotion to Ma'at if it embodied the light, not only in its weightlessness but also in its luminosity to see the truth of proper action.
The ancient Egyptians used these myths and analogies to depict that each of these archetypes exist within us and the symbology of them is meant to remind us of their presence in our daily lives. They are moral, orderly, and divine symbolic analogies, an expression of consciousness, not to be taken as physical Gods.
They represent the pillars of duality: the light and darkness within ourselves that we must reconcile in order to make proper actions. The dark elements help us understand our fears and desires, and with this understanding we cycle back into the light of wisdom. They are Gods within us that influence our actions. Without balance the light and darkness are continually at war, battling for dominance over our behavior. To try and extinguish the darkness would only cause Set to resist with war. Negotiation was the only way because complete annihilation of the darker elements within was beyond our mortal capabilities.
Beyond our inner universe and the grounded earth, Isfet was the chaos of the heavens that threatened the stability of the heavens, which is the absence of light and order, injustice, chaos, violence, and evil, all of which threatened to trickle down into the earthly plane of form which interacts with the inner world of the Pharoah and his people.
On all levels of reality, this balancing cycle of order and harmony must be upheld to maintain the structure above and below. If the balance of Ma'at was not maintained, the ignorance of order would manifest as Isfet, which is chaos in the heavens, chaos in Apep who will disrupt the earthly realm, and chaos within Set, who will affect the Pharoahs and citizens from within. Isfet is more of an abstract concept with no known God attached to it to give its understanding a more relatable nature. It is seen more as the absence of structure and balance, which means that there is more responsibility on the part of Ma'at to maintain structure, rather than to blame external circumstances. It was pretty much all on Ma'at to balance the heavens.
Set's chaotic and warlike qualities were reconciled to fight chaos outside of his temple. The Pharoah would fight manifestations of Apep through the actions of Horus, the emotions of Set, and the Instruction of Ma'at. As long as he was balanced with Horus, Isfet would not destroy their temple. The destructive force of Set was still useful when fighting an enemy of Ma'at. In the heavens, on the other hand, Ma'at was threatened by the absence of responsibility if she did not maintain order, not by an opposing deity who continually aspired to disrupt her. Lack of order in the heavens would cause a lack of order on the earth plane, causing irritability within Apep and Set.
Polarity and balance are the main concepts to understand in the Egyptian myths shared in this article. The Creator God Osiris gives man free choice to govern his actions, as both light and dark are his children, Horus and Set. In religion, dualism means the belief in two supreme opposed powers — Gods or sets of divine or demonic beings — that influence the world, which has had an important presence in the history of thought and religion.
Dualism can also denote a co-eternal binary opposition to indicate a system which contains two essential parts. Moral dualism is the belief of the great complement or conflict between the benevolent and the malevolent. It simply implies that there are two moral opposites at work. Some of these dualities imply harmony in which one balances the other, such as yin and yang, while other forms of duality imply rivalry and opposition, such as good and evil.
The process of reconciling between these two opposites will resurface throughout this series. It is important to have a foundational understanding and acceptance of the duality that exists within and outside of man in order to grasp the more detailed concepts of future teachings. In this case we talked about light and darkness as it relates to Horus and Set, brothers of the same father, one representing good, the other representing bad. It is only when we balance these two that we can become stable from within. This is not to say that darkness can have equal control over us. To balance the dark is to bring it into the light of consciousness so that it no longer controls you. The sight and understanding of that darkness will reduce its influence that threatens Ma'at's inner and environmental stability. As we build our temple from within we must be aware of Horus and Set on either sides of our temple.
The demand for Collective Evolution's content is bigger than ever, except ad agencies and social media keep cutting our revenues. This is making it hard for us to continue.
In order to stay truly independent, we need your help. We are not going to put up paywalls on this website, as we want to get our info out far and wide. For as little as $3 a month, you can help keep CE alive!
Some Tips To Help You Unwind Your Busy Monkey Mind
In Brief
The Facts:

Many of us are unable to relax entirely, as we rush through our days with constant mental chatter and to-do lists on our minds. However, there are relaxing techniques that are easy to implement throughout the day to help us calm our "monkey minds."

Reflect On:

Taking more time to be still, step away from the busyness of life, and learning to unwind helps us feel more grounded and less scattered — thus positively impacting all areas of our lives.
Most people believe relaxing activities are only done in the evenings, and should be grouped in categories, scheduled, or put in an evening "routine," as if it's simply another item to check off your "to-do" list.
The good news? You don't have to wait until the evening to unwind and relax. In fact, you shouldn't. You deserve to feel grounded in your center and a sense of peace all day, not for just a few hours at the end of your day. You shouldn't have to, and you absolutely do not have to and mustn't do so. It is time to do away with the philosophy that it is only safe to entertain the idea of relaxation at the very end of your day, after spending the large majority of your waking hours walking through the day scattered, stressed, anxious, drained, ungrounded and thrown about. You deserve more, and there's a way to get there. There is a way to unwind that busy, chaotic monkey mind which owns most of your waking hours and is not aligned with your true nature, or the place deep within where stillness and serenity reside. 
Understandably, this may seem quite impossible once you've trained your body and mind to operate in a "go, go, go" mode without any sense of stillness.
The thing is though, you don't have to take time off or become a monk … you can rest in stillness while doing the same things you're currently doing — and an added bonus to the already amazing benefit of not living a frantic life is that everything you do will be of higher quality. I think you'll find that all other aspects of life outside of work (relationships, health, etc.) will dramatically improve as a result.
So, here are some tips for unwinding that busy "monkey mind" not only in the evenings, but throughout the day too:
Start your day with a "mental dump." Write out all the things you need to do in a notebook. This relieves a lot of stress, and by getting it all down on paper, you typically realize most of it is just mind made and you really only need to make one or two things your priorities. There is zero reason to even stress about the rest.
Every so often, ideally once an hour if you can, set aside as little as 3-5 minute blocks of times for stillness and silence throughout your day. Meditate or go outside and sit in nature or take a walk (which, of course, are also forms of meditation). This will help you return to your core and stay more rooted throughout the day.

 
Engage in creative activity or "play": Do something purely for the pleasure of doing it, do it just for fun, with no end goal in mind. An aside: unstructured time for "play" (an activity done purely for fun rather than to gain something from it), is said to be crucial to your creative process. So, if you're an artist of any type and you're feeling "blocked," just keep this in mind. You might just need some unstructured time to enjoy whatever you feel like enjoying at any given moment without having to justify it.
Almost all articles on anxiety and insomnia suggest putting away all electronic devices or turning them off completely for the night. Though many of us may find this difficult given our heavy reliance on technology, it is crucial to shut your devices off before bed as they can reduce melatonin production.
If you have difficulty shutting your phone off entirely, you could try a few other remedies including using blue light filters on your devices, avoiding news outlets or anything that will get a rise out of you, and avoiding violent movies and shows before bed. 
And if you read at night, there is one thing that has helped me immensely —only read fiction, or less stimulating material. Avoid books and magazines that make you want to be more productive, stimulate new ideas prompting your mind to do anything but unwind, and instead just enjoy some good old fiction. Although it's important to read and educate ourselves, I've found that stimulating my brain with this content before bed can reduce my sleep quality. 
Meditation is, of course, the number one most suggested method for taming the monkey mind. However, sitting still for someone with a scattered brain can be difficult. One method to troubleshoot this and not feel like you have to discipline yourself to 'meditate for 20 minutes straight in the lotus position' is to just sit down, close your eyes and take 10 deep breaths. After all, you can do anything for 10 breaths, right?
The Takeaway
Whatever you do during your free time, savor the pleasure of the process rather than thinking of the end goal. In fact, who cares if you even reach the end goal? Who cares if you even have one? Let's just go ahead and throw the whole idea of a goal in regards to this topic away … lest we wish to possibly defeat our purpose. 
What are your tips and life hacks for unwinding your monkey mind when it gets the best of you? 
The demand for Collective Evolution's content is bigger than ever, except ad agencies and social media keep cutting our revenues. This is making it hard for us to continue.
In order to stay truly independent, we need your help. We are not going to put up paywalls on this website, as we want to get our info out far and wide. For as little as $3 a month, you can help keep CE alive!
Gillette's New Ad On "Toxic Masculinity" Is Great – And Necessary, But…
In Brief
The Facts:

A new commercial from Gillette tackles the issue of 'toxic masculinity.' The commercial asks us questions about male culture and challenges us to step up and change what we're doing. But did they tackle this well?

Reflect On:

What else can we take from the commentary of this commercial? Where else can we find these same behaviours in our society? Further, what is the purpose of the extreme, identity-based politics we see today? Is it causing more harm than good?
In an age of extremes, the nuance of this article is going to be what helps us understand what we are truly seeing in terms of the challenges we face and how we can solve them without generating a strong opinion on these issues. I encourage you all to carefully read this article as if we want to help move away from things like "toxic masculinity," "toxic femininity," racism and so forth, but we must do so wisely by truly understanding the depth of what is being said.
Before I continue on, I want to say that in many cases, when talking about issues regarding men, women, or any particular race as politics and media often do today, we must remember that what is talked about does not represent the whole of any group. In fact, in many cases, it only represents a very small percentage of the group being discussed.
As a result of aspects of our consciousness, which we will discuss further in this article, there is no shortage of extremism in society right now when it comes to the discussion of gender. The #MeToo movement helped the greater population recognize that sexism is a huge problem within prominent industries, like music and film, where women are being harassed or abused sexually by men. This then extended to a greater discussion about sexual abuse in society in general, which I feel anyone can agree is an important topic to bring awareness to. In fact, I don't know if I have ever come across anyone who actually opposes putting a stop to something like this, yet due to extreme positions, many are being wrongfully accused of such opposition. This is where we need to have a deeper discussion.
By now we know it happens, we don't need another article exposing it, we need one talking about solutions, so that is what I'm going to focus on.
We exist in very polarized states of consciousness, and because we are a society who has not put a large focus on emotional intelligence, many issues that come to the forefront go through a long period of extremism before/if we become grounded again in order to truly understand what's going on.
Of course, what I am talking about doesn't relate only to what occurred after the #MeToo movement began, but with anything, including people's views on government conspiracies, race, politics and other societal issues. In short, we attempt to apply blanket statements to issues instead of viewing things on a case by case basis or through the properly grounded facts that we do have about an issue.
As Stefan Molyneux puts it,
"The general leftist approach is that all disparities in group outcomes are the result of prejudice, of racism, of sexism, of colonialism, of exploitation of generally bad white male behaviour."
Ultimately he goes on to say that if you choose not to look at the larger reasons as to why certain things are happening in our world, you will always be stuck blaming racism, sexism, the patriarchy, men, women, or any particular race. We must preface our discussion with this gnosis before discussing what's next because it is only in the grounded understandings of our world that we actually can tell where we are at.
 Gillette Aims To Help Raise Awareness About "Toxic Masculinity"
I've put the terms toxic masculinity and toxic femininity in quotations both times thus far because many people have very different ideas of what those things look like and mean. In fact, some people don't even think "toxic femininity" exists, similar to the way they feel only white people are capable of being racist.
For the purposes of this article, I refer to the term toxic masculinity as partaking in a destructive form of male culture that does not operate on the basis of respect, equality and self-responsibility, and that will often exude overly strong behaviours of sexualizing women and competing with others to maintain egoic power. In short, much of what we have seen as male culture through pop culture, movies, music, and so forth can tinker on promoting this form of masculinity. It's seen in situations where a female is marginalized down to simply being a sex object or situations where male dominance is valued and strived for.
Let's have a look at this Gillette ad before we continue the conversation.
As Gillette accurately illustrates in its new ad, justifying certain behaviours that are not self-responsible and that do not create a harmonious world with statements like "boys will be boys," is not something we can continue to do if we want to create a better world. Furthermore, leading by example and being able to speak up about behaviours you observe in others is important. It's important not to do so in a condescending and judgemental tone, but rather by using a compassionate tone instead that truly questions the behaviour and allows you to empathize with how the other may feel in a situation. Further to that, we must recognize what this ad fails to point out, these behaviours don't and haven't come from all males, likely not even the majority.
As Gillette brand director Pankaj Bhalla told the Wall Street Journal,
"This is an important conversation happening, and as a company that encourages men to be their best, we feel compelled to both address it and take action of our own, … "We are taking a realistic look at what's happening today, and aiming to inspire change by acknowledging that the old saying 'boys will be boys' is not an excuse. We want to hold ourselves to a higher standard, and hope all the men we serve will come along on that journey to find our 'best' together."
I have been in a number of situations where I'm in an all-male setting and one or two males are talking disrespectfully about females and I will observe other males join in simply so they feel included in the conversation or so that the other men don't judge them. I personally know the men who joined in on the conversation don't actually agree with the others, but do so because they feel they have to. Or better put, they do not know themselves or are comfortable enough with themselves to take the potential backlash that can sometimes come from not joining in.
This is why I say the way through these challenges is not by creating an enemy, judging their behaviour, and casting them out like many are doing, but instead by helping people question what they are doing and encouraging a culture of self-responsibility, empathy, and a deeper relationship with self. These sorts of conversations can be openly had, but it's challenging because of our societal norms. Instead, our culture is often either that of the 'toxic masculinity' in question or that of extreme judgement towards unfavorable behaviours. Both are extremes, and neither help change the individual in a deep manner.
To be clear, any gender, any race and any person from a socio-economic class can take part in the disconnected behaviours mentioned above. It is not just men.
This is also where the nuance comes in. It's important to recognize that not all men represent characteristics of "toxic masculinity." Male pop culture might, and male pop culture does affect a certain subset of people, but it is not representative of the whole. This leads to my one small issue with the Gillette commercial. It, like many people today seem to be doing, is throwing the baby out with the bath water, i.e. not paying attention to nuance. In the case of #MeToo and this commercial, this behaviour does not apply to all men, perhaps not even to most men. We must remember that societal issues don't apply to everyone within any particular subset of people, yet that is what people often focus on. This is also why so many enemies are being created. It's like how some will view all Muslims as terrorists, for example.
Let's recall the quote from Stefan Molyneux above, "The general leftist approach is that all disparities in group outcomes are the result of prejudice, of racism, of sexism, of colonialism, of exploitation of generally bad white male behaviour." He is absolutely right in pointing out that the reasons for these things are not as simple as people want them to be, and thus we run in circles of extremes. I bring this point up not to turn the focus away from men, but because I actually care about seeing our culture change. I've spent enough time coming to understand that people have become outright extreme and misinformed about issues because we are too focused on an enemy and choosing sides. Thus, we have no clue where we actually stand. This is about changing how we live and operate as humans, not just of any particular race or gender.
If there are feelings of wanting to say or utilize some of the classic deflections of today including "easy for you to say from a white male privileged standpoint," please save it. Let's have the courage to have mature, grounded conversations, ones that can help us solve the challenges we face together.
If Not Careful, Our Unchecked Behaviour Divides Us
Like with any movement that begins, it often starts on a positive and helpful note. In this case, bringing awareness to sexual abuse of women is important to address. But the movement has come under fire to some extent as it appears to be going too far. The reasons for this include sweeping judgments, assumptions, and a lack of understanding of things that are said or what's happening.
This has caused great divides amongst people whereby gender happens to be the card played when any issue is brought forth, even when gender truly has nothing to do with it. We are similarly seeing this with race.
This has given rise to grounded voices like Candace Owens, Jordan Peterson, Ben Shapiro, and Cassie Jaye, to name a few, who are discussing gender inequality in a way that is helping us to diagnose the problem more clearly and ultimately understand how to move forward. This is, of course, in contrast to the extremism out there where you begin to see women hating men or men hating women simply because we are always attempting to blame people for problems.
Cassie Jaye talks a lot about humanizing your 'enemy.' In her case, her enemy was males. As she discusses in her TEDx talk, when she released her movie The Red Pill, she received a great deal of backlash from feminists as her film explored The Men's Right's movement from her perspective as a feminist. As you might imagine, in her film, Cassie decided to go and speak to people directly. She learned about the people she was fighting against, and in some cases hated, only to realize that in most cases the issues and people involved were not quite who she thought they were.
She goes onto discuss that the greatest issue and challenge she faced was "having to peel back the layers of my own bias." She goes deeper saying "it turned out I did meet my enemy while filming. It was my ego saying that I was right, and they were subhuman."
Near the close of her talk she states "It's no secret now that I no longer call myself a feminist, but I must clarify, I am not anti-feminist, and I am not a men's rights activist. I still support women's rights, and I now care about men's rights as well. However, I believe if we want to honestly discuss gender equality, we need to invite all voices to the table. Yet this is not what is happening. Men's groups are continually vilified, falsely referred to as hate groups and their voices are systematically silenced."
The point here is not to pit men's groups against women's groups and see who is right, the point is that we have to stop creating sides and enemies. We instead must create a culture where we truly see one another beyond the physical realm. We also must see that in our own ways, we experience challenges from a system that truly does not support our growth.
When her film was released, the media entered into the popular groupthink of our modern times when it comes to gender politics, causing her to become one of the most hated filmmakers at the time. All she did in her film was explore the truth, beyond the fight of side vs side. She instead chose to see things for that they truly are, and this led to what I like to call an upheaval of emotions in viewers that struggle with neutral viewpoints, and instead are addicted to the fight and having an enemy.
This is where I believe many of us exist today. We live in a world where we're encouraged to choose a side, accept limiting beliefs about what is going on, and ultimately become addicted to the drama of having an enemy to fight… even when they are not doing what you think they are doing.
The Takeaway
What benefit truly comes from identifying as a certain form of activist? I'm not talking about simply saying "I'm an environmentalist" so people understand you care about the environment, I'm talking about when we identify so deeply as an environmentalist that we now filter everything we hear and learn through that lens, thus blocking us from not only hearing the truth but understanding where we stand as a collective. What benefit does that serve other than to show us what disconnection looks like?
I feel it's time we pay attention to the nuance, the facts and the feelings within our hearts and stop working so hard to find or even create an enemy.
The demand for Collective Evolution's content is bigger than ever, except ad agencies and social media keep cutting our revenues. This is making it hard for us to continue.
In order to stay truly independent, we need your help. We are not going to put up paywalls on this website, as we want to get our info out far and wide. For as little as $3 a month, you can help keep CE alive!
The Most Powerful Testimony I've Ever Heard: My Interview With Anneke Lucas
In Brief
The Facts:

My interview with Anneke Lucas, which CE will be launching for free to the public starting January 17th, only came about through a willingness to follow synchronicities and trust the path they lead me on.

Reflect On:

Are we paying attention to synchronicities and trusting our intuition enough to act on them, no matter how unusual or impractical they may seem?
I believe that life brings synchronicities to those who are open to them. Well, I suppose life brings synchronicities to everybody, but it is those of us who accept that the universe has a more comprehensive vision of our life mission than we do that are more likely to take advantage of them. It is not so much that we have to be on the lookout for every sign and symbol that flashes past us; it's more about noticing the things that resonate most with us, calling us to pay attention and perhaps even take action.
It was only four months after starting to work for CE that I got an email with the heading 'Change from within' from a woman named Anneke Lucas, where she said the following:
I'm writing to thank you for your articles about the nature of power, pedophilia and Satanic practices. As a survivor, it is refreshing to find someone writing about these issues with such clarity, with both awareness of the problem and the dawning awakening of humanity to this darkness.
A friend of hers had forwarded her my James Gunn article and she went on to read other articles including my Lucifer series. The first thing that gave me that tingling feeling about the timing of this email was the fact that I had become aware of Anneke Lucas' story at the office a week earlier when someone had sent me a link to one of her videos. In fact, I even wrote about this synchronicity in my reply to her.
In her initial email she briefly introduced herself as someone who had gone through Satanic ritual and sexual abuse, and directed me to some of the videos she had done, including a TedX talk she had given. She ended by saying 'I would like to keep communication open, perhaps further explore synergies.' It was this elegant invitation that resonated most with me, and as I researched who she was and what she had been through, I was not only awed by the unthinkable amount of trauma she had endured in her childhood, but deeply impressed with her clear-minded analyses into the nature of her perpetrators and their own trauma-based motives.
From reading her writings, like this Elephant Journal article, I gained some insight into how perpetrators of pedophilia are desperately seeking the feeling of their own lost childhood innocence. They project their own trauma onto an innocent child to gain power and momentarily escape their own feelings of shame and lack:
Power addicts are attached to positive projections. Admirers, followers, lovers, fans and in the case of pedophiles, the child victims, are parental substitutes, unwittingly providing the necessary fuel for this addiction.

By being thought of as powerful, different, special, more attractive, bigger or better, power addicts adopt those projections and use them as nurturing substance, feeding the damaged infant inside, which can be experienced as emptiness or a sort of black hole if the person has no connection to that inner part.

The power game lies in keeping one's own negative thoughts secret while warding off negative projections and using positive ones to maximum advantage, so obtaining the feeling of innocence through calculating and exploitative means.
Exploring Synergies
Through my own life experiences, I have come to believe that no trauma is beyond healing. One of the reasons I began to delve into pedophilia and Satanic practices since I started writing for CE was because I felt that I could bring some nuance to the discussion that transcends the rage and disgust that many tend to react with. Seeing Anneke's words, I felt that in some ways she was a kindred soul, but at the same time she endured and overcame exponentially more suffering and abuse than I could have ever imagined. I felt that she had a profound and meaningful story to tell, one that could be of benefit to all people in their journey toward healing. I felt it would be a great privilege to help her tell her story.
I asked her if there are any of her videos or writings that she wanted me to analyze and write about, or if she would be interested in an interview via Skype. I even asked her where she lived (Brooklyn, NY, as it turns out) in the unlikely event that I could arrange a live interview with her. It was unlikely indeed, since I had not been with CE very long and had never done an interview for them (or ever, to be frank). Not only that, but we were going through a budget crunch at CE, as everyone had to have their hours (and pay) reduced to part-time. I thought there was no way I could ask to expense flights for both myself and our cameraman James to fly to Brooklyn to conduct a live interview. So I didn't ask.
Ideas about how to get something done remotely occupied my brain over the next few days, which lead to various discussions at the office and some back-and-forth emails with Anneke. Then one morning it just hit me. This was too important an interview not to do live, and this was too great an experience for me not to take the opportunity to meet Anneke in person and have a conversation. I decided that I would find the cheapest flights, ask CE's Founder Joe for a small budget to cover some of the expenses, and pay for the rest myself if I had to. Joe was cool with the idea, James was up for a road trip, and everything fell into place, including James knowing a friend in Brooklyn that we could stay with for the night. I feel very grateful that I chose to follow the synchronicity of Anneke's initial email invitation.
The Interview
The road trip was filled with synchronistic numbers and fortuitous events. We were in New York and we arrived at James' friend's place at 9:11 pm. The next morning, our GPS had us arriving at Anneke's place at 9:11 am. Our flight down was smooth as silk, and when we flew back we transferred to an earlier flight and were upgraded to first class.
The interview itself went exceptionally well. We were warmly greeted by our gracious host and the entire interview was conducted in a space of trust and comfort. And that comfort grew quickly as the interview went along, as Anneke mentioned that she was happy to be not just with one but two people who 'get it' and were able to hear her story with equanimity. We initially thought we would be restricted to shoot from 8 am to 2 pm, but Anneke had made arrangements to allow us to continue filming for as long as we were able to.
Anneke's daughter came home from school in the afternoon (surprisingly, since she had been asked by Anneke to stay with a friend until the interview was over), but she defiantly said she didn't want to and that she was going to her room instead, but that she would put headphones on and would not disturb us. At that point I felt comfortable enough to tease Anneke and say that it was 'too bad she turned out just like you!' We all had a good laugh and were able to resume working into the evening, which allowed us to get the whole story in over 4 hours of video content, virtually all of which was usable for the 4-part video series.
Anneke's story is filled with revelations of the nefarious activities perpetrated by the royals and elites of Belgian society, but more importantly Anneke goes deep into the healing journey she went through after suffering so much trauma. This testimony not only gives incredible insights into how each one of us can face our darkness as individuals, but also provides a roadmap to the healing of our planet from the state of collective trauma and dysfunction we currently live in. Some of the details were captured in another article we published a few days ago entitled 'Survivor Of Elite Child Sex Slavery Discloses Her Incredible Escape & Her Healing Journey.'
The Takeaway
As we have discussed many times in our articles at CE, an essential aspect of our personal awakening is to look into the darkness of our unhealed emotions. Similarly, at the collective level, our healing will not come to pass if we are not willing to bear witness to the most profane examples of human activity. This is not to say we need to remain fixated in either fear or indignation or even fascination towards these heinous acts; but we need to acknowledge them and, as a collective, take ownership of them so that we have the power to move forward.
This four-part interview with Anneke Lucas reflects just this. We first come to grips with her harrowing story of subjugation and the miracle of her escape; then, we come to marvel at the breadth of her healing journey and discuss its implications for us as a collective.
I invite everyone to sign up for the official launch of this free four-part video series starting on January 17th, and would be surprised if you did not agree that this was the most powerful testimony you've ever heard.
The demand for Collective Evolution's content is bigger than ever, except ad agencies and social media keep cutting our revenues. This is making it hard for us to continue.
In order to stay truly independent, we need your help. We are not going to put up paywalls on this website, as we want to get our info out far and wide. For as little as $3 a month, you can help keep CE alive!