Breaking Down Religious Dogmas & Deciphering The Truth
Religion is filled with a number of dogmatic concepts yet there are gems that lie underneath the doctrinaires of how to conduct one's spiritual life. Setting aside religion's literal depictions of creation and conduct on this earthly plane, one can learn to appreciate the core lessons and values embedded in each belief system without needing a devout subscription to many of religion's divisive ideologies.
What matters are the core messages of how to live a happy and peaceful life, while getting more of what you want and helping others do the same through proper moral conduct and harmony with divinity.
The questions that truly concern humanity since its conception are:
Who are we?
What is the purpose of our lives? What is our role in the cosmos?
How and why do we act the way we do toward ourselves and others?
What is happening in the world today and why?
Throughout this series we will explore shamanic, polytheist, and monotheistic myths and theologies to uncover and reveal that which is hidden below the exoteric presentation of spirituality in its organized forms. The immediate focus at the beginning of this series will be the ancient traditions, as much of their wisdom serves as the foundation of the modern religions that influence our culture.
This is aimed toward giving you an understanding of how various societies have described the basic laws of moral action, consciousness, and manifestation that pertain to the human condition, while grasping the unique cultural, geographical, and chronological understandings that all point to reasonably similar and useful understandings of governing yourself mentally, emotionally, and physically. The applicable wisdom that lies underneath the dogma of modern theologies may provide clarity and guidance toward your journey of ascension.
The stories and figures are not to be taken literally as they are archetypes, allegories, emblems, parables, and metaphors used to depict an understanding of how reality works in relation to the ethereal which is our microcosm deep and within, our grounded reality, which is our immediate environment, and the divine, which is the macrocosm far and beyond — all of which harmoniously work in accordance with each other.
Back then, without the tools and precision of modern science and mathematics accessible to the masses, as well as the useful level of technological development during those eras, an understanding of reality had to be depicted visually through symbology while engaging the imagination's ability to add meaning and context to the quality of their stories of creation and conduct. The problem that spurred from this was that people demanded, coerced, and enforced that their word is the Truth. This right brain perspective can run wild, as those who subscribe to the strict ideologies of their faith take every word and depiction of their sacred understandings literally, with no room for practical analysis. This leads to division among people as well as unquestioned obedience to theologies that are tainted with man's manipulation to control the will of the people.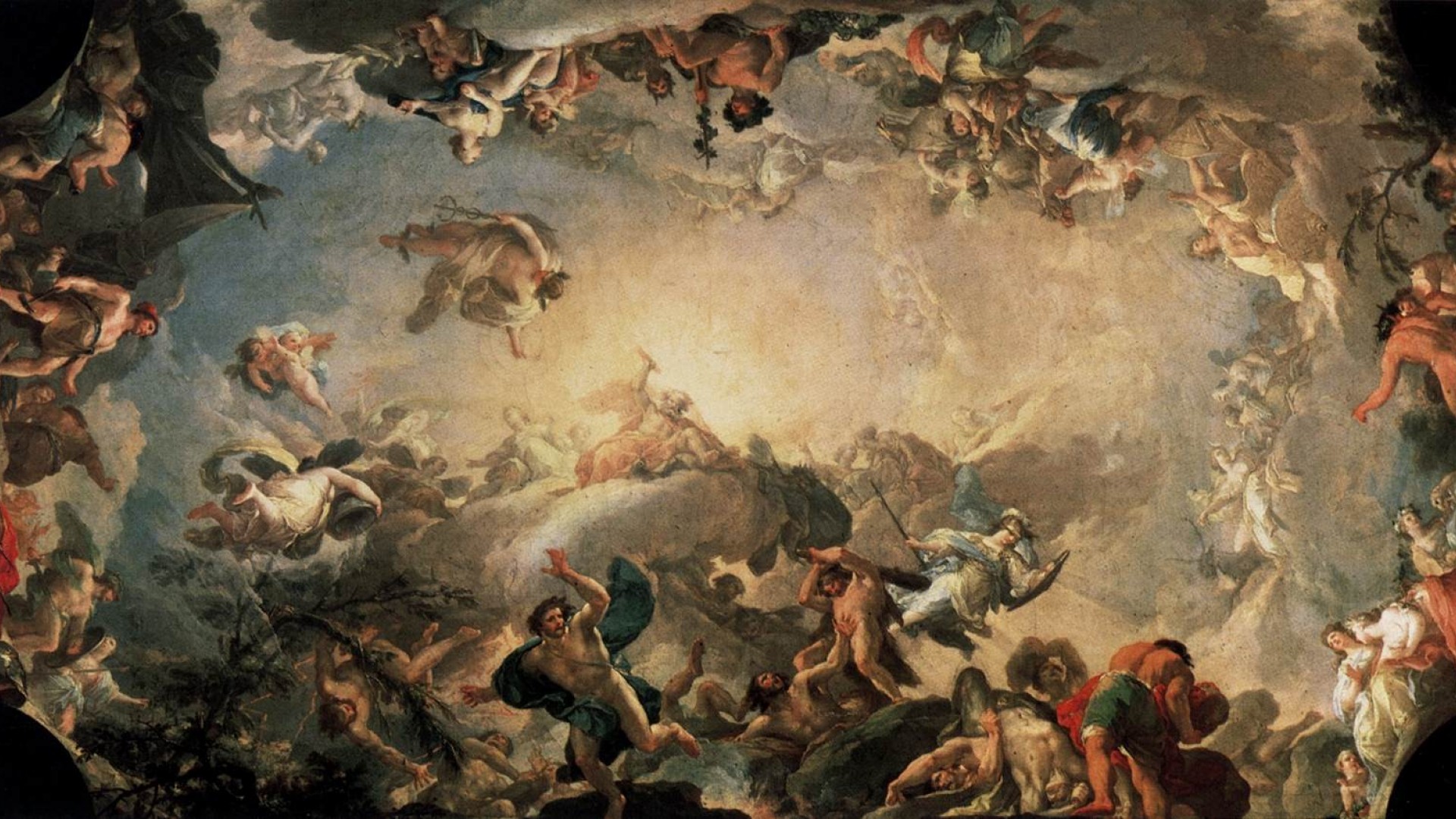 "We live in a world of numerous ideologies and belief systems, all competing for the same real estate, your mind."

– David Snyder
Separate yourself from the superficial and dive deep into the esoteric meanings behind these stories and figureheads, as seeing past those illusions will enable you to reveal a common understanding of divinity and knowledge of self.
Did an enlightened figurehead such as Jesus really exist? It's quite possible. If he did, was he really able to walk on water and turn it into wine? We can't prove that. Instead of getting lost in those details, it is more important to understand the core applicable messages of his teachings as well as the other prophetic leaders, and stories told in religious traditions that share a core commonality with many other belief systems.
Our society focuses on the things that divide and separate our religions, which in turn separate us. Perhaps we can benefit from understanding instead what connects us, in relation to our needs and values. So in an attempt to break down the formality of these religions, I'm going to present the core knowledge that leads to a higher understanding of self and environment, as it will translate to better ways of governing oneself from within and navigating one's journey without.
The word Religion comes from the Latin word "Religare," meaning to tie back, hold back, or to bind fast. To bind is to thwart or hold back the progress of an opposing force or practitioner. A religion is a fixed point of view of understanding divinity, while holding back perspectives and levels of understanding the fall outside of the established religion. All religions share a core truth that the exoteric elements are holding back and because of this, the grounded esoteric alternatives of many modern religions are more interconnected with the commonalities of all cultures. Religion is a box for consciousness because you're not seeing the whole picture.
Esoteric traditions were more grounded in the here and now while instilling the divine Will in one's current plane of existence rather than seeking it only in the next life. The divine Will was to maintain balance and order so that everything that works within the system of creation continued to function. This form of order was not coercive authoritarian driven, it was an order that lent itself to responsibly maintaining the harmony and balance through systems and cycles that prevented chaos. Likewise hell on earth can exist within and without if proper balance and order are not maintained, as well as failing to resolve one's karmic challenges in the present.
In marvel of the heavens, many belief systems are intimately connected with some form of astrotheology, which was the worship of astronomical bodies as Deities. To this day, very high levels of the Catholic church own some of the most expensive and powerful telescopes in the world, yet to the masses below those power structures of Catholicism, studying the night sky or even dabbling in one's Horoscope is forbidden, as it is considered to be blasphemous. The study of the planets, stars, sun, and moon, as well as their relation to the cycles that repeat, such as their orbits and sequential seasons, intervolving solstices and equinoxes, are incorporated into the esoteric laws of analogy.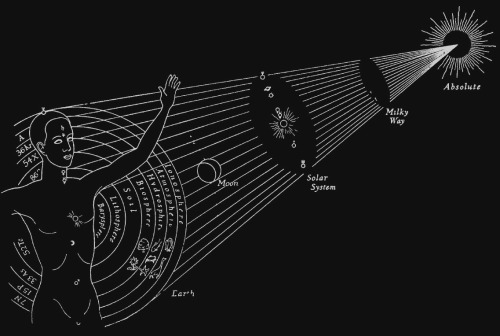 The laws of analogy are very present in our understanding of the physical word, meaning, at different levels of reality, the same patterns and cycles repeat themselves; as above, so below; so within, so without. In light of astronomy and horoscopes, the word horoscope, which pertains to one's life path in relation to the cycles around the sun, is derived from the name Horus, an ancient Egyptian sun God and later adapted into Greek language as Horos.
The ancient Egyptian culture and mythology, which has influence other religions, fundamentally subscribed to a sun worshiping religion. In many cultures the sun was their first astrological body, or higher power to be depicted as a deity. It was bright and luminous, it allowed one to see, and it gave life. One could feel the sun's warmth and was starkly aware of its power to incinerate. It is tangible enough to be seen and felt, yet it was impossibly out of reach, as its presence and power were above those who marveled at it, making one an insignificant spec in comparison to it. Association with the Sun has laid the basic premise for the duality of many belief systems that integrate the polarities of light and darkness, a concept that will repeat itself much throughout this series as we explore other belief systems and ideologies.
Horus was the sun God, depicted as the golden falcon who rises in the east, flies across the sky in a solar ark until he reaches the west and Sets. He makes his trek across the sky daily across the horizon. The word Horizon means "the zone of Horus." Hori is the generative word for Horus, Zon refers to the zone of Horus, thus it is the horizon of Horus, which is where Horus appears on the horizon. It is his arc, his flight path across the sky.
Horus is also named Amen-Ra. Amen is the name ancient Egyptians said after a prayer to evoke the sun God Amen-Ra. Amen-Ra represents the sun (Horus) at its zenith, which is the sun at its highest point. The zenith is the highest point in its arc across the sky. The highest point of Horus's flight path, at 12 noon, is called Amen-Ra.
Horus is depicted as the savior who is anointed with the light, vision, and wisdom. He is the son of the creator God who brings wisdom by knowing what is seen with the light.
Horus has 3 main family members — a mother, father, and brother. His mother Isis is the moon Goddess of the night sky. At night she is the queen of the heavens who rules the night sky, while her husband Osiris is the creator God and ruler of the heavens. In ancient Egyptian mythology, Isis gives birth to the rising sun each day, which is the solar God Horus, who is given divine right by Osiris to rule and give light to the earth during his horizon.
After his trek across the horizon, his brother Set conquers Horus as his fall from the sky Sets into the underworld of darkness. (In other Egyptian stories Set is also depicted as his uncle, but either role has little consequence over the major role he plays as the dark pillar of duality.) Set is considered the dark figure, who is in a state of ignorance because he does not posses the light to see. He lives entirely in the shadows of darkness and ignorance, yet he is the conqueror of the light at night. Set represents chaos, death, and sin, and is somewhat of a devilish figure among the mythology of ancient Egypt. However, he is not entirely depicted as evil because the ancient Egyptians understood that his darkness was necessary for Horus's light to exist. His bad qualities were more understood as an accepted duality between light and dark, good and evil, positive and negative.
Horus and Set were originally expressions of innate duality, the two aspects of creation playing a role throughout the cycles of the day-sky and night-sky.
In the picture below, Horus is touching the pharaoh on the right temple, and his dark brother set is touching the left temple. This represents the duality of consciousness. Horus is the right mind, wisdom, moral action, order, and peace. 
The left side is the God of darkness, deception, storms, chaos, anger, domination, control, and war.
Eventually Horus and Set reconciled and negotiated their conduct so that one wasn't selfishly looking out for himself or having to defend against the other's transgression. A trusting relationship was formed in which both sides began to understand the importance of their complimentary existence. Without this balance of opposites, Horus would not be able to uphold the balance of Ma'at. This balance gave Horus the ability to fight chaos, which was represented as well by the God Apep, who was even more of a personification of evil left unchecked prior to Horus becoming Ra. Set manifested chaos within, while Apep manifested chaos in the external environment. Since Horus, who was the light, represented the peace while being the God of war who instills Ma'at's order over the chaos, one could speculate that the tactics of combat were consulted with Set since he had lived much of his life in affliction. It was during this time of balance with Set that Horus was able to reach his highest point, becoming Ra to fight Apep and instill the will of Ma'at on earth as it is in heaven.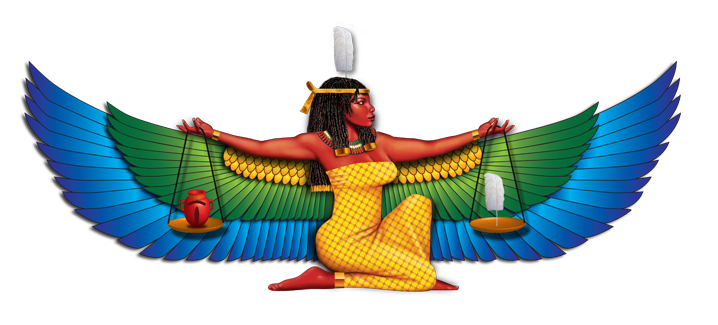 Fighting the chaos of Apep was inspired by the will of Ma'at. Ma'at is the Goddess or conception of truth, balance, order, harmony, law, morality, and justice. She carried out order in the heavens and on earth by regulating the stars, seasons, and regulating moral action of Gods and Pharoahs. Carrying out the karmic order and natural laws of the heavens was done on the earthly plane by fighting the external physical chaos of those who had abandoned truth, justice, and equality. Just as people who deal with the devil become ego-absorbed demon archetypes, people who were imbalanced in the ways of Set became Apeps. Foreign invaders who threatened the balance were also considered Apeps. Other forms of chaos beyond human acts on the earth plane were also considered to be influenced by the spirit of Apep. The union of Horus and Set is a lesson to Egypt's citizens to reconcile the internal chaos within by accepting the parts of themselves that need the light's guidance. As long as there was chaos within, the threat of chaos (Apep) existing in the external environment was imminent. Apep's external chaos threatened to provoke the actions of Set within, making it more difficult to restore order and balance throughout the land and the people.
Both Horus and Set whisper in the ears of the pharaoh while the pharaoh has free will to decide who he listens to and what action to take. It was intended that he carry out the will of Ma'at upon his kingdom by creating balance within his inner kingdom. Pharoahs are frequently depicted with the emblems of Ma'at to emphasize their role of upholding divine order. Through the ruling of the Pharaoh, Egyptian citizens were expected to follow this legitimate form of order that is aligned with the principles of moral action, growth, and sustainability.
This was important to uphold because a disturbance in the force of cosmic harmony could have a significant impact on the individual and the state. A Pharoah self absorbed in ego could bring about disaster and chaos. In addition, the actions and judgments of the Pharoah were meant to guide the citizens through the ambiguous moments of reality, simplifying the principles of Ma'at so that choices of the citizens are made with the highest integrity and care. Obeying the order was not servitude to selfish authority figures, it was doing your part to integrate into the wholeness of an ordered, balanced, natural divinity, which is why authority and compassion were integrated into the foundation of ancient Egyptians.
The degree to which one obeys Ma'at will determine the karmic consequences weighing on the heart of the individual. The heart could only be rewarded for its devotion to Ma'at if it embodied the light, not only in its weightlessness but also in its luminosity to see the truth of proper action.
The ancient Egyptians used these myths and analogies to depict that each of these archetypes exist within us and the symbology of them is meant to remind us of their presence in our daily lives. They are moral, orderly, and divine symbolic analogies, an expression of consciousness, not to be taken as physical Gods.
They represent the pillars of duality: the light and darkness within ourselves that we must reconcile in order to make proper actions. The dark elements help us understand our fears and desires, and with this understanding we cycle back into the light of wisdom. They are Gods within us that influence our actions. Without balance the light and darkness are continually at war, battling for dominance over our behavior. To try and extinguish the darkness would only cause Set to resist with war. Negotiation was the only way because complete annihilation of the darker elements within was beyond our mortal capabilities.
Beyond our inner universe and the grounded earth, Isfet was the chaos of the heavens that threatened the stability of the heavens, which is the absence of light and order, injustice, chaos, violence, and evil, all of which threatened to trickle down into the earthly plane of form which interacts with the inner world of the Pharoah and his people.
On all levels of reality, this balancing cycle of order and harmony must be upheld to maintain the structure above and below. If the balance of Ma'at was not maintained, the ignorance of order would manifest as Isfet, which is chaos in the heavens, chaos in Apep who will disrupt the earthly realm, and chaos within Set, who will affect the Pharoahs and citizens from within. Isfet is more of an abstract concept with no known God attached to it to give its understanding a more relatable nature. It is seen more as the absence of structure and balance, which means that there is more responsibility on the part of Ma'at to maintain structure, rather than to blame external circumstances. It was pretty much all on Ma'at to balance the heavens.
Set's chaotic and warlike qualities were reconciled to fight chaos outside of his temple. The Pharoah would fight manifestations of Apep through the actions of Horus, the emotions of Set, and the Instruction of Ma'at. As long as he was balanced with Horus, Isfet would not destroy their temple. The destructive force of Set was still useful when fighting an enemy of Ma'at. In the heavens, on the other hand, Ma'at was threatened by the absence of responsibility if she did not maintain order, not by an opposing deity who continually aspired to disrupt her. Lack of order in the heavens would cause a lack of order on the earth plane, causing irritability within Apep and Set.
Polarity and balance are the main concepts to understand in the Egyptian myths shared in this article. The Creator God Osiris gives man free choice to govern his actions, as both light and dark are his children, Horus and Set. In religion, dualism means the belief in two supreme opposed powers — Gods or sets of divine or demonic beings — that influence the world, which has had an important presence in the history of thought and religion.
Dualism can also denote a co-eternal binary opposition to indicate a system which contains two essential parts. Moral dualism is the belief of the great complement or conflict between the benevolent and the malevolent. It simply implies that there are two moral opposites at work. Some of these dualities imply harmony in which one balances the other, such as yin and yang, while other forms of duality imply rivalry and opposition, such as good and evil.
The process of reconciling between these two opposites will resurface throughout this series. It is important to have a foundational understanding and acceptance of the duality that exists within and outside of man in order to grasp the more detailed concepts of future teachings. In this case we talked about light and darkness as it relates to Horus and Set, brothers of the same father, one representing good, the other representing bad. It is only when we balance these two that we can become stable from within. This is not to say that darkness can have equal control over us. To balance the dark is to bring it into the light of consciousness so that it no longer controls you. The sight and understanding of that darkness will reduce its influence that threatens Ma'at's inner and environmental stability. As we build our temple from within we must be aware of Horus and Set on either sides of our temple.
Due to the pressure of mass censorship, we now have our own censorship-free, and ad-free on demand streaming network!
It is the world's first and only conscious media network streaming mind-expanding interviews, news broadcasts, and conscious shows.
Click here to start a FREE 7-Day Trial and watch 100's of hours of conscious media videos, that you won't see anywhere else.
Full Moon In Taurus: Growth & Perseverance
We are having a Full Moon in Taurus on November 12th at 1:34pm Universal Time. It will appear the fullest on the night of the 11th in the Americas and on the night of the 12th elsewhere.
This is the peak of the Lunar cycle that began two weeks prior with a New Moon in Scorpio. The energies of a Full Moon build up as the Moon increases its light and are strongest in the days before and after. However, it will still be a part of the backdrop over the following two weeks.
Mercury is also currently retrograde in Scorpio which you can read more about here. In the day leading up to this Full Moon, Mercury was conjunct the Sun in what is known as the 'inferior conjunction' and is still playing out during the Full Moon.
Generally this is an important phase of every Mercury retrograde, however, this one has even more significance because Mercury was exactly aligned with, and visibly in front of, the Sun. This is not the case for every 'inferior conjunction.' This is called an 'Occultation' and also referred to as a 'Transit of Mercury' by astronomers. The last time it occurred was May 2016 and the next time will be in November 2032.
This can be a period of increased insights and the themes of this retrograde may get amplified. However, typical retrograde complications can also be stronger at this time depending on your circumstances or how you are applying your energy. In some cases, this may also be a period of ridding yourself of certain thoughts, ideas, perceptions, old interests, expectations, or other things that are not serving you to make way for new ones to be seeded either at this time or in the coming months.
Full Moon In Taurus Opposite Sun and Mercury in Scorpio
Full Moon's are a period in which we feel a push-pull between two opposing signs, in this case being the Moon in Taurus and Sun in Scorpio. It can play out as either a conflict, integration, or some sort of dynamic playing out between the energies of both signs.
We can feel this opposition happening individually within us and/or we can also experience it play out around us with some people (or circumstances) expressing the Scorpio side and others expressing the Taurus side. In some cases, Full Moon's can also reflect/trigger some sort of release or change which may apply more so in this case when considering Mercury's conjunction with the Sun in Scorpio.
Taurus is an Earth sign ruled by Venus. It is associated with values, worth, the material world, sensuality, money, food/substances, security, beauty, art, and nature. It is physically oriented, practical, and realistic. Taurus is thorough and also likes stability and routine. It is like a rock; slow, grounded, and solid. Negatively, Taurus energy can be too rigid, lazy, habitual, greedy, possessive, stubborn, materialistic, overly self-indulgent, and very slow.
Scorpio is a Water sign traditionally ruled by Mars and associated with Pluto. It is about power, transformation, intensity, sexuality, passion, regeneration, hidden matters, depth, as well as shared or owed resources and money. It is emotionally oriented, intuitive, primal, complex, calculated, mysterious, and is associated with shadows and the unconscious. Negatively Scorpio energy can be vengeful, manipulative, compulsive, obsessive, and fearful. (Learn more here about how Scorpio energy can play out during this period)
Full Moon Trine Pluto, Mercury Retrograde Aspecting Saturn Sextile Neptune
This Full Moon is moving towards a trine with Pluto which can be beneficial in supporting the Mercury Retrograde process in Scorpio. This can be good for getting to the bottom of things, making positive changes, evolutionary growth, empowerment, and resourcefulness.
This Pluto energy combined with the post 'inferior conjunction' and waning Moon is supportive of releasing aspects of our lives that are not serving us. The previous Full Moon in Aries was also in a configuration with Pluto so for some people these themes may have began around then and could still be playing out now.
This month, Saturn in Capricorn is in its final sextile to Neptune in Pisces. This aspect began earlier in the year but may be more apparent now as it is concluding with both the Full Moon and Mercury Retrograde triggering it. This can reflect developments, thoughts, or ideas around efforts or ambitions pertaining to our ideals, creativity, inspirations, spirituality, or imagination. This can also be good for commitments associated with selflessness, compassion, healing, or spiritual practices.
Mars Sextile Jupiter, Venus Square Neptune
Mars is in Libra aligned with the benefic star Spica while in a sextile with Jupiter in Sagittarius. Considering that Mars is the traditional ruler of Scorpio where Mercury Retrograde is, this helps to bring a more pleasant, optimistic, and perhaps even fortunate energy to the retrograde experience at this time and in the following weeks.
This is in stark contrast to the previous few weeks in this same Lunar cycle that had more challenging configurations which could have reflected obstacles, limitations, delays, intense feelings, and perhaps even destructiveness.
In comparison, the energy now is more expansive, explorative, and growth oriented. We can feel more confident or perhaps even be presented with opportunities. We may want to take action in a big way or towards things connected to education, media, marketing, travel, beliefs, or ideals.
However, considering the retrograde and depending on what it is, it may not be the best time to make final decisions, or solidifying/initiating something major. However, use your judgement. Not every big decision made during a retrograde gets derailed by problems, sometimes it can just be annoying glitches or challenges can playing out in different ways that are still manageable.
Venus in Sagittarius, the ruler of this Full Moon, is moving towards a square with Neptune which is strongest on November 14th. This can play out as confusion, disappointments, and uncertainties which may be connected to relationships, values, finances, worth, or perhaps something to do with aesthetics, pleasures, or material things. We may not see things for what they really are.
Issues around boundaries, self-sacrifice, escapism, intoxication, or sensitivities may also be a theme. Alternatively, this can be good for creativity as well as social situations revolved around spirituality or art. In some cases it can also be magical and romantic.
Things To Consider During This Period
Pay attention to what comes up now or in the days before and after this Full Moon. Circumstances, developments, conversations, thoughts, feelings, or other things that catch your attention may help to provide important realizations or helpful insights. You may better understand something connected to the past and/or whatever occurs now may also be planting a seed for the future.
What aspects of your life need an adjustment, revisitation, or even transformation? Do you have ideas, thoughts, or behaviours that need to be purged? Have you had experiences, feelings, or exposure to anything connected to personal shadows or trauma? Regardless if you did or not, be open to anything that comes up now which can help you or others towards healing and achieving wholeness.
Is there anything coming up regarding financial matters or values, and if so, what changes do you need to make? What do you need to do to be constructive with your inspirations, ideals, compassion, spirituality, or creativity? Do you feel like you should be incorporating a new spiritual practice or ambition in your life? What actions can you take that are empowered or expansive?
These are just some examples of what could come up during this period; however, there may be other variations of this energy playing out. If you wish to do any sort of intentional release connected to what has come up it is best to do so anytime after the peak of the Full Moon or as it is waning over the following two weeks. The exact moment of of it will be on November 12th at 1:34pm Universal Time. You can click here to see what that is in your time zone.
Follow me on INSTAGRAM, FACEBOOK, and YOUTUBE for more astrology related content.
—
Looking for astrological insight into what is going on in your life? Or perhaps looking to better understand your life and its potentials? Get a personalized astrology reading with Carmen (author of this article) specific to you based on your exact birth date, time, and location. Click here for more information or to order. 
Due to the pressure of mass censorship, we now have our own censorship-free, and ad-free on demand streaming network!
It is the world's first and only conscious media network streaming mind-expanding interviews, news broadcasts, and conscious shows.
Click here to start a FREE 7-Day Trial and watch 100's of hours of conscious media videos, that you won't see anywhere else.
Dealing With "Waking Up." How To Handle Discovering More Than Just The Tip of the Iceberg
In Brief
The Facts:

An evolution in the way we view our world and the systems within it is necessary to create meaningful change at this stage in humanity's journey. This starts with an evolution in media.

Reflect On:

Can we truly change our world if we don't know where we are truly at? Can we expect to see change in our world if we don't change ourselves?
A look at our current world might bring about emotions or observations linked to feelings of chaos. With the incredible divide happening in the US due to the upcoming presidential elections, the manufactured gender, race and sexual orientation divides taking place all over, it's easy to feel like there are 'bad' things happening all the time.
People often look at the media and say it's there to ruin or shift your perception of the world negatively, and I would partly agree with this for sure. After all, that's what inspired me to create a news source that took a different approach. But the reality is, we're in a time where we have to look at some of the tough things going on in our world in order to understand why they are happening, where we are at and how we can shift. The difference in the way we like to do that here at CE is, we might talk about some of the 'darker' stuff, but we'll always help in moving through it vs leaving a reader hanging.
This is done through an important process I built called The CE Protocol. This is partly how we have been creating an evolution in media for the past 10 years.
My feeling is that we must combine an observation of what we are actively creating in our world with personal transformation so that we can truly change the challenges we face at the core, versus simply throwing bandaids at the situation.
For example, we might want people to unite and be more peaceful with one another, yet we'll actively attack, mischaracterize others and divide ourselves simply based on something like political orientation. Why do we do that? Because we don't know who we are deep down, and we actively get caught up in the illusion of politics that has been manufactured to prey on our programmings.
Therefore, the more we wake up and see the illusion that politics is by consuming different media, the more we begin to see truth and are inspired to make new choices. This turns us inward where we make changes within ourselves and this then leads us to interact within our world differently because now we are operating from a different state of consciousness.
Many people feel we can simply change our world by working only on ourselves, without having to see the truth of our world. Often times that changes a person slightly, but they will still support the systems in our world because they still believe in them, thus things don't change.
CETV is our On-Demand streaming platform using the CE Protocol to shift consciousness. Sign up for a free 7 day trial here.
Here's How It Can Be Done
In the four short videos below, I will guide you by explaining exactly what this protocol is and how it encompasses the totality of what's needed to create a shift in inward consciousness and our physical world.
The basic steps are: 1. Breaking The Illusion 2. Awakening Neutrality 3. Deprogramming Limits 4. Living Aligned
1: Breaking The Illusion
2: Awakening Neutrality
3: Deprogramming Limits
4. Living Aligned
Due to the pressure of mass censorship, we now have our own censorship-free, and ad-free on demand streaming network!
It is the world's first and only conscious media network streaming mind-expanding interviews, news broadcasts, and conscious shows.
Click here to start a FREE 7-Day Trial and watch 100's of hours of conscious media videos, that you won't see anywhere else.
Parables For The New Conversation (Chapter 12: The King)
The following is a chapter from my book 'Parables For The New Conversation.' One chapter will be published every Sunday for 36 weeks here on Collective Evolution. (I would recommend you start with Chapter 1 if you haven't already read it.) I hope my words are a source of enjoyment and inspiration for you, the reader. If perchance you would like to purchase a signed paperback copy of the book, you can do so on my production company website Pandora's Box Office.
From the back cover: "Imagine a conversation that centers around possibility—the possibility that we can be more accepting of our own judgments, that we can find unity through our diversity, that we can shed the light of our love on the things we fear most. Imagine a conversation where our greatest polarities are coming together, a meeting place of East and West, of spirituality and materialism, of religion and science, where the stage is being set for a collective leap in consciousness more magnificent than any we have known in our history.
Now imagine that this conversation honors your uniqueness and frees you to speak from your heart, helping you to navigate your way more deliberately along your distinct path. Imagine that this conversation puts you squarely into the seat of creator—of your fortunes, your relationships, your life—thereby putting the fulfillment of your deepest personal desires well within your grasp.
'Parables for the New Conversation' is a spellbinding odyssey through metaphor and prose, personal sagas and historic events, where together author and reader explore the proposal that at its most profound level, life is about learning to consciously manifest the experiences we desire–and thus having fun. The conversation touches on many diverse themes but always circles back to who we are and how our purposes are intertwined, for it is only when we see that our personal desires are perfectly aligned with the destiny of humanity as a whole that we will give ourselves full permission to enjoy the most exquisite experiences life has to offer."
12. The King
On a little hill on the outskirts of the village on the island of Allandon the children were playing 'King of the Hill,' a game in which the last one standing at the top of the hill would be able to proclaim a royal decree that all the other children would have to obey. The game would often bring on bloody noses and bruised muscles since every child wanted desperately to end up on top. On this particular day, however, for the first time that anyone could remember, a clever little girl was the last one standing and was made king. And so they began the traditional ceremony to announce the royal decree.

"Long live the king," said the children in unison from the bottom of the hill.

"I am your king. And you will obey my command," the little girl said.

"How may we serve you?" the children asked.

"I ask only one thing. That from this day forward, rather than the people serving the king, the king will serve the people."

The children were confused.

"Can she do that?" said one boy to another.

"I guess so. She's the king," said the other.

"Please be silent," the girl said. "It is time to think about what you desire most. How may I serve you?"

From that day forward the game changed. Although becoming king was as revered as ever, the children no longer fought so hard with each other for the honor.
Of the dualities present in human life, one of the most prevalent in our day-to-day experience is that of male and female. It is virtually impossible to ignore, and even in the name of equality it makes no sense to pretend it isn't there. Indeed, the suggestion that women and men come from different planets seems to be helpful in our endeavor to explore our unique qualities and accept our differences. Many a relationship has been saved or enhanced through the understanding that broadly speaking men and women have different needs and desires, as well as a different way of looking at things.
However in the larger picture of our social and political order, our recent history shows that we have used these differences more as a way to divide us than unite us. Western society leans more heavily on the side of the male perspective, and as a result our power structures have been dominated by men for most of our known history. Perhaps more significant is the fact that this has long been seen by men and women alike as the natural order of things. But we are starting to see now that this belief is no more than mere convention, a model that has been enforced through physical might to perpetuate itself over time.
The patriarchal model of society favors action over reflection, matter over spirit, and confrontation over conciliation. It is built on the equation of power with control, which has in large part defined the way in which our social, political, and religious structures have been organized. Massive hierarchies with top-down chains of command have predominated, founded on the essential belief that humans must be placed in a regimented environment and need to be compelled to act in the interests of the collective in order for a society to flourish.
Generally speaking, women do not thrive in this form of organization. Historically, whenever a woman of power has appeared on the Western geopolitical landscape, she tended to be as uncomfortable with the hierarchy as the hierarchy was with her. A perfect example is Jeanne D'Arc, a teenage girl who vaulted over the entire male-dominated military establishment to lead her French people to repel English occupation in the early 15th century. It was her intimate connection with divine inspiration that gave her the wisdom and the courage to succeed where her male compatriots had failed. And while the generals may have grudgingly been willing to honor her deeds, there was no place for her in her country's military establishment. She felt above it all, and rejected any attempts to be assimilated into its ranks. In the end, both sides of the male-dominated war she was engaged in—not only the embattled English but also the victorious French—were complicit in having her tried for heresy and then burned at the stake as a witch. Translation: she could not be controlled by the hierarchy and therefore had to be destroyed by it.
This is not the exception but the rule of the past two thousand years. It is believed that tens of thousands of women have been burned at the stake as witches, essentially because they were exhibiting a greater understanding and connectedness with divinely inspired wisdom than their male counterparts. Supported by the thinly veiled prejudice that men were superior and therefore the authority on such matters, symbolized by the all-powerful one God being male, the unwarranted violence, intimidation, and abuse that has been heaped upon women is perhaps the most relentless mass atrocity that has occurred in the course of our history.
One of the greatest shortcomings of a predominantly male-centered society is that it actually promotes inequality. The whole concept of equality, balance, and cooperation is a feminine attribute. And so in essence a patriarchy will cast women more as rivals than mates, and men will be driven to seize the gifts that women might otherwise want to offer freely. Chastity belts, genital mutilation, black burkas in the searing sun, all are telling signs of men trying to control those things that are most lacking in themselves. Male-centered efforts to suppress the power of the 'weaker' sex speaks to a broad if fairly unconscious campaign over the last few millennia to deny feminine influence in our society. And by and large it has been successful, positioning men as the sole rule-makers of the game of life. Men have garnered all the roles of influence: the political leaders and priests, the explorers, the literate and educated thinkers, the scientists, and the scribes and historians, those recounters of the past whose writings were rife with patriarchal undertones that reinforced the myth that men were the superior sex. We are still at the effect of the designation of terms such as 'man' and 'mankind' to represent all of humanity, as though a woman's inferiority was so patently obvious as to be seen as a sort of sub-class of man.
In recent years, however, we have started to see through the collective fog that proclaims men superior to women. And the more we penetrate this fiction and see that it has no real foundation, the harder it becomes for us to believe that this mindset endured for so long in our history. It is certainly no coincidence that people have suddenly become captivated by the growing evidence popularized by Dan Brown's DaVinci Code that Jesus may have had a lover or a wife in Mary Magdalene, and that she was considered an equal to him and held a high degree of honor and status in her society. The significance of this point is not to be understated: it gives us reason to infer that the Biblical portrayal of Mary Magdalene as a prostitute was part of a much larger, almost systematic effort on the part of men to strip away evidence that women ever had any power or influence in the world.
Today we are poised to acknowledge and assimilate what historians of ancient myth and culture have always known: that male domination in the world marks only the recent history of humanity, and that in fact many periods in the Ancient world were matriarchal in nature. In old agrarian cultures, where survival was dependant on the fertility of the Earth, it was natural to see the all-powerful Creator as female, as the provider of life and sustenance for all human beings. If anything, a civilization guided by women would seem more like the natural order of things. A woman's bodily cycles put her into greater alignment with the grand rhythms of nature, and as her body is the vessel to create another human being, she is more connected to the process of bringing a life into the world.
This is not to say that I think women want to be more important in the world than men, nor does it mean that they are plotting global revenge for all the injustices perpetrated against them. This simply is not the way of women. What it does mean is that the pendulum has begun swinging back to the center, which will not only give women a greater voice but also give men permission to awaken the other side within themselves. This promises to bring more emotion to our thoughts, more art to our sciences, and more heart to our human relations.
While male energy is more of a doing force, female energy is centered more in being. Men and women alike have both male and female energies within them, and it is only when these energies are balanced and working together that we are able to act in a way that makes us feel fulfilled. The shift that is coming in our society is away from commanding and towards being of service. A male-centered perspective views serving and being a servant in a most pejorative fashion. Subservience means disempowerment, servitude implies a lack of will, being a servant is closely associated with being a slave. To desire to serve rather than command is seen as a sign of weakness. The implications of this are clear: a society where everyone has to fight for what they need, where citizens feel alienated from each other and disconnected from the community.
We have to hearken back to less patriarchal societies of the past to see that being of service was once revered as a strength, not simply because it benefited the community at large, but the individual as well. Serving others without expectation of personal gain or reward helped to move individuals away from self-consumed isolation to a feeling of connectedness. When I was in a Yoga Ashram in India, which promotes a balance between male and female influence in daily life, we were asked to practice selfless service, or karma yoga. I noticed that the simple act of serving the morning meal to other yoga practitioners brought me closer to all the people there, towards the blissful feeling of unity that is the goal of yoga. During one of our lectures, the swami was asked about the burden of availing himself in the service of others throughout the day. He responded with a wry smile that he might actually be the most selfish one of all, since he knew very well from experience that as he serves others he is served tenfold.
The growing strength of the voices of women in our society has been a big part of the shift away from a self-service mentality and towards a service-to-others mentality. This is starting to gain traction in the way we look at our environment, our governance, our economy. New business models today are actually preaching service over self-interest. People are volunteering for community-building activities more than ever. And the very wealthy in our society, from our athletes and entertainers to our politicians and businessmen, have come to realize more and more that their most worthwhile endeavors involve contributing to others less fortunate or even creating foundations of their own in order to share their wealth.
Of course some of the old power brokers will not change their ways. They want to stay driven by a heart that beats to the drum of control, and they will try to tighten their grip. The only thing is that a growing number of men aren't buying into it anymore. And women are gaining confidence that they no longer need to put up a male-centered façade in order to have some sway in the 'Old Boy's Clubs'. With the gradual but steady influence of more and more women into positions of power and influence, we are seeing things differently. The fact is that we have become weary of control-oriented governance. We can feel now that we have been suffocating and we just want to breathe again.
As we become more aware of how much this disparity of opportunity and influence between men and women has skewed the unfolding of our lives, we will become conscious participants in restoring balance and issuing in a greater sense of belonging for all. Rules will be taken down in favor of freedom, intuition will move back into collaboration with reason, and indeed women will start to take their rightful place beside men in returning a wholeness to the process of human evolution.
My own experience speaks to the benefits of increasingly giving women a voice and letting them be a bigger part of the conversation. I look back to an educational program I took part in recently where women served not only as facilitators but also as the program architects and administrators. What seemed different was that although the subject matter was complex and sometimes even confronting, there was an atmosphere of mutual support, acceptance, and trust that pervaded throughout. It was completely unlike my experience of academic life, which dealt more in superficiality and rarely struck to the heart of issues important in my own personal growth. The conversations in this program were intelligent and subtle, capable of cultivating a shift in my thinking and my life. And because I still came fundamentally from my mind rather than my feelings, this experience was exactly what I needed. I was able to gain a brand new awareness of what a balance of male and female energies felt like. Near the end of the week-long program I was moved to stand up and make an acknowledgement to 'the brilliance of women' for creating a fertile environment for learning and transformation and fostering such an inspiring conversation throughout the program.
The new conversation not only promotes the bringing-into-balance of polarities such as male and female, it is at the same time being informed by the way this growing balance is manifesting in our society. This illustrates how the new conversation is emerging organically while we slowly raise our consciousness together. As more men and women enter into the new conversation, we will develop an ever clearer vision not only of more balanced personal relationships but of a higher social and political order. Women will be poised to have a shared influence in the corridors of authority in our society where, anchored in the wholeness of its citizens, power can be transformed from something that is feared and fought for into something that can be celebrated and enjoyed by all.
Due to the pressure of mass censorship, we now have our own censorship-free, and ad-free on demand streaming network!
It is the world's first and only conscious media network streaming mind-expanding interviews, news broadcasts, and conscious shows.
Click here to start a FREE 7-Day Trial and watch 100's of hours of conscious media videos, that you won't see anywhere else.