Breaking Down Religious Dogmas & Deciphering The Truth
Take a moment and breathe. Place your hand over your chest area, near your heart. Breathe slowly into the area for about a minute, focusing on a sense of ease entering your mind and body. Click here to learn why we suggest this.
Religion is filled with a number of dogmatic concepts yet there are gems that lie underneath the doctrinaires of how to conduct one's spiritual life. Setting aside religion's literal depictions of creation and conduct on this earthly plane, one can learn to appreciate the core lessons and values embedded in each belief system without needing a devout subscription to many of religion's divisive ideologies.
What matters are the core messages of how to live a happy and peaceful life, while getting more of what you want and helping others do the same through proper moral conduct and harmony with divinity.
--> Our latest podcast episode: Were humans created by extraterrestrials? Joe sits down with Bruce Fenton, multidisciplinary researcher and author to explore the fascinating evidence behind this question. Click here to listen!
The questions that truly concern humanity since its conception are:
Who are we?
What is the purpose of our lives? What is our role in the cosmos?
How and why do we act the way we do toward ourselves and others?
What is happening in the world today and why?
Throughout this series we will explore shamanic, polytheist, and monotheistic myths and theologies to uncover and reveal that which is hidden below the exoteric presentation of spirituality in its organized forms. The immediate focus at the beginning of this series will be the ancient traditions, as much of their wisdom serves as the foundation of the modern religions that influence our culture.
This is aimed toward giving you an understanding of how various societies have described the basic laws of moral action, consciousness, and manifestation that pertain to the human condition, while grasping the unique cultural, geographical, and chronological understandings that all point to reasonably similar and useful understandings of governing yourself mentally, emotionally, and physically. The applicable wisdom that lies underneath the dogma of modern theologies may provide clarity and guidance toward your journey of ascension.
The stories and figures are not to be taken literally as they are archetypes, allegories, emblems, parables, and metaphors used to depict an understanding of how reality works in relation to the ethereal which is our microcosm deep and within, our grounded reality, which is our immediate environment, and the divine, which is the macrocosm far and beyond — all of which harmoniously work in accordance with each other.
Back then, without the tools and precision of modern science and mathematics accessible to the masses, as well as the useful level of technological development during those eras, an understanding of reality had to be depicted visually through symbology while engaging the imagination's ability to add meaning and context to the quality of their stories of creation and conduct. The problem that spurred from this was that people demanded, coerced, and enforced that their word is the Truth. This right brain perspective can run wild, as those who subscribe to the strict ideologies of their faith take every word and depiction of their sacred understandings literally, with no room for practical analysis. This leads to division among people as well as unquestioned obedience to theologies that are tainted with man's manipulation to control the will of the people.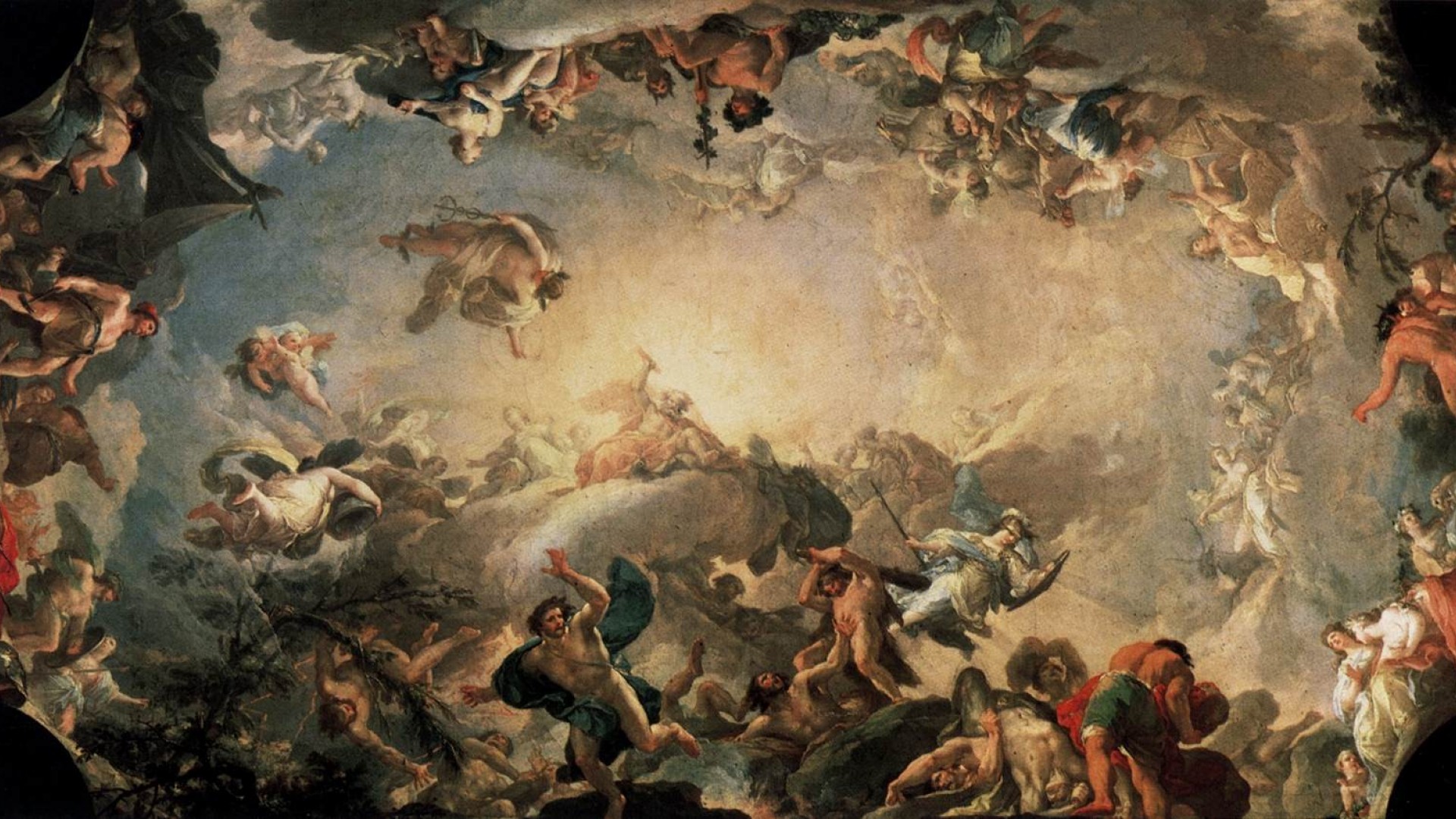 "We live in a world of numerous ideologies and belief systems, all competing for the same real estate, your mind."

– David Snyder
Separate yourself from the superficial and dive deep into the esoteric meanings behind these stories and figureheads, as seeing past those illusions will enable you to reveal a common understanding of divinity and knowledge of self.
Did an enlightened figurehead such as Jesus really exist? It's quite possible. If he did, was he really able to walk on water and turn it into wine? We can't prove that. Instead of getting lost in those details, it is more important to understand the core applicable messages of his teachings as well as the other prophetic leaders, and stories told in religious traditions that share a core commonality with many other belief systems.
Our society focuses on the things that divide and separate our religions, which in turn separate us. Perhaps we can benefit from understanding instead what connects us, in relation to our needs and values. So in an attempt to break down the formality of these religions, I'm going to present the core knowledge that leads to a higher understanding of self and environment, as it will translate to better ways of governing oneself from within and navigating one's journey without.
The word Religion comes from the Latin word "Religare," meaning to tie back, hold back, or to bind fast. To bind is to thwart or hold back the progress of an opposing force or practitioner. A religion is a fixed point of view of understanding divinity, while holding back perspectives and levels of understanding the fall outside of the established religion. All religions share a core truth that the exoteric elements are holding back and because of this, the grounded esoteric alternatives of many modern religions are more interconnected with the commonalities of all cultures. Religion is a box for consciousness because you're not seeing the whole picture.
Esoteric traditions were more grounded in the here and now while instilling the divine Will in one's current plane of existence rather than seeking it only in the next life. The divine Will was to maintain balance and order so that everything that works within the system of creation continued to function. This form of order was not coercive authoritarian driven, it was an order that lent itself to responsibly maintaining the harmony and balance through systems and cycles that prevented chaos. Likewise hell on earth can exist within and without if proper balance and order are not maintained, as well as failing to resolve one's karmic challenges in the present.
In marvel of the heavens, many belief systems are intimately connected with some form of astrotheology, which was the worship of astronomical bodies as Deities. To this day, very high levels of the Catholic church own some of the most expensive and powerful telescopes in the world, yet to the masses below those power structures of Catholicism, studying the night sky or even dabbling in one's Horoscope is forbidden, as it is considered to be blasphemous. The study of the planets, stars, sun, and moon, as well as their relation to the cycles that repeat, such as their orbits and sequential seasons, intervolving solstices and equinoxes, are incorporated into the esoteric laws of analogy.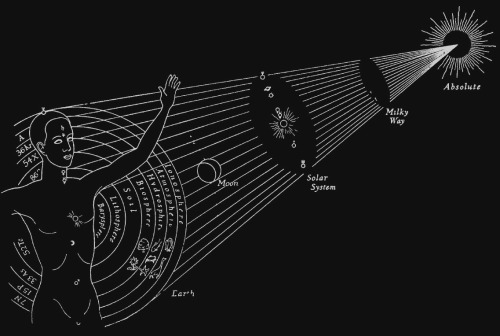 The laws of analogy are very present in our understanding of the physical word, meaning, at different levels of reality, the same patterns and cycles repeat themselves; as above, so below; so within, so without. In light of astronomy and horoscopes, the word horoscope, which pertains to one's life path in relation to the cycles around the sun, is derived from the name Horus, an ancient Egyptian sun God and later adapted into Greek language as Horos.
The ancient Egyptian culture and mythology, which has influence other religions, fundamentally subscribed to a sun worshiping religion. In many cultures the sun was their first astrological body, or higher power to be depicted as a deity. It was bright and luminous, it allowed one to see, and it gave life. One could feel the sun's warmth and was starkly aware of its power to incinerate. It is tangible enough to be seen and felt, yet it was impossibly out of reach, as its presence and power were above those who marveled at it, making one an insignificant spec in comparison to it. Association with the Sun has laid the basic premise for the duality of many belief systems that integrate the polarities of light and darkness, a concept that will repeat itself much throughout this series as we explore other belief systems and ideologies.
Horus was the sun God, depicted as the golden falcon who rises in the east, flies across the sky in a solar ark until he reaches the west and Sets. He makes his trek across the sky daily across the horizon. The word Horizon means "the zone of Horus." Hori is the generative word for Horus, Zon refers to the zone of Horus, thus it is the horizon of Horus, which is where Horus appears on the horizon. It is his arc, his flight path across the sky.
Horus is also named Amen-Ra. Amen is the name ancient Egyptians said after a prayer to evoke the sun God Amen-Ra. Amen-Ra represents the sun (Horus) at its zenith, which is the sun at its highest point. The zenith is the highest point in its arc across the sky. The highest point of Horus's flight path, at 12 noon, is called Amen-Ra.
Horus is depicted as the savior who is anointed with the light, vision, and wisdom. He is the son of the creator God who brings wisdom by knowing what is seen with the light.
Horus has 3 main family members — a mother, father, and brother. His mother Isis is the moon Goddess of the night sky. At night she is the queen of the heavens who rules the night sky, while her husband Osiris is the creator God and ruler of the heavens. In ancient Egyptian mythology, Isis gives birth to the rising sun each day, which is the solar God Horus, who is given divine right by Osiris to rule and give light to the earth during his horizon.
After his trek across the horizon, his brother Set conquers Horus as his fall from the sky Sets into the underworld of darkness. (In other Egyptian stories Set is also depicted as his uncle, but either role has little consequence over the major role he plays as the dark pillar of duality.) Set is considered the dark figure, who is in a state of ignorance because he does not posses the light to see. He lives entirely in the shadows of darkness and ignorance, yet he is the conqueror of the light at night. Set represents chaos, death, and sin, and is somewhat of a devilish figure among the mythology of ancient Egypt. However, he is not entirely depicted as evil because the ancient Egyptians understood that his darkness was necessary for Horus's light to exist. His bad qualities were more understood as an accepted duality between light and dark, good and evil, positive and negative.
Horus and Set were originally expressions of innate duality, the two aspects of creation playing a role throughout the cycles of the day-sky and night-sky.
In the picture below, Horus is touching the pharaoh on the right temple, and his dark brother set is touching the left temple. This represents the duality of consciousness. Horus is the right mind, wisdom, moral action, order, and peace. 
The left side is the God of darkness, deception, storms, chaos, anger, domination, control, and war.
Eventually Horus and Set reconciled and negotiated their conduct so that one wasn't selfishly looking out for himself or having to defend against the other's transgression. A trusting relationship was formed in which both sides began to understand the importance of their complimentary existence. Without this balance of opposites, Horus would not be able to uphold the balance of Ma'at. This balance gave Horus the ability to fight chaos, which was represented as well by the God Apep, who was even more of a personification of evil left unchecked prior to Horus becoming Ra. Set manifested chaos within, while Apep manifested chaos in the external environment. Since Horus, who was the light, represented the peace while being the God of war who instills Ma'at's order over the chaos, one could speculate that the tactics of combat were consulted with Set since he had lived much of his life in affliction. It was during this time of balance with Set that Horus was able to reach his highest point, becoming Ra to fight Apep and instill the will of Ma'at on earth as it is in heaven.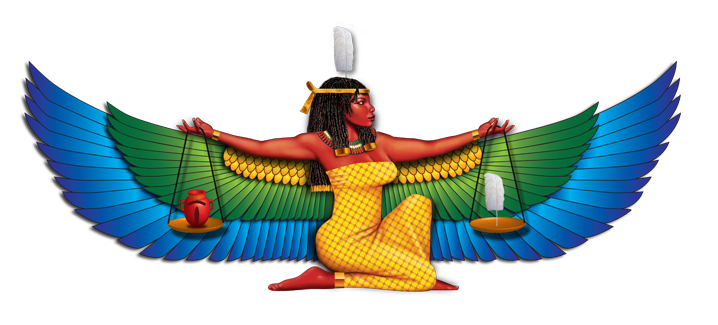 Fighting the chaos of Apep was inspired by the will of Ma'at. Ma'at is the Goddess or conception of truth, balance, order, harmony, law, morality, and justice. She carried out order in the heavens and on earth by regulating the stars, seasons, and regulating moral action of Gods and Pharoahs. Carrying out the karmic order and natural laws of the heavens was done on the earthly plane by fighting the external physical chaos of those who had abandoned truth, justice, and equality. Just as people who deal with the devil become ego-absorbed demon archetypes, people who were imbalanced in the ways of Set became Apeps. Foreign invaders who threatened the balance were also considered Apeps. Other forms of chaos beyond human acts on the earth plane were also considered to be influenced by the spirit of Apep. The union of Horus and Set is a lesson to Egypt's citizens to reconcile the internal chaos within by accepting the parts of themselves that need the light's guidance. As long as there was chaos within, the threat of chaos (Apep) existing in the external environment was imminent. Apep's external chaos threatened to provoke the actions of Set within, making it more difficult to restore order and balance throughout the land and the people.
Both Horus and Set whisper in the ears of the pharaoh while the pharaoh has free will to decide who he listens to and what action to take. It was intended that he carry out the will of Ma'at upon his kingdom by creating balance within his inner kingdom. Pharoahs are frequently depicted with the emblems of Ma'at to emphasize their role of upholding divine order. Through the ruling of the Pharaoh, Egyptian citizens were expected to follow this legitimate form of order that is aligned with the principles of moral action, growth, and sustainability.
This was important to uphold because a disturbance in the force of cosmic harmony could have a significant impact on the individual and the state. A Pharoah self absorbed in ego could bring about disaster and chaos. In addition, the actions and judgments of the Pharoah were meant to guide the citizens through the ambiguous moments of reality, simplifying the principles of Ma'at so that choices of the citizens are made with the highest integrity and care. Obeying the order was not servitude to selfish authority figures, it was doing your part to integrate into the wholeness of an ordered, balanced, natural divinity, which is why authority and compassion were integrated into the foundation of ancient Egyptians.
The degree to which one obeys Ma'at will determine the karmic consequences weighing on the heart of the individual. The heart could only be rewarded for its devotion to Ma'at if it embodied the light, not only in its weightlessness but also in its luminosity to see the truth of proper action.
The ancient Egyptians used these myths and analogies to depict that each of these archetypes exist within us and the symbology of them is meant to remind us of their presence in our daily lives. They are moral, orderly, and divine symbolic analogies, an expression of consciousness, not to be taken as physical Gods.
They represent the pillars of duality: the light and darkness within ourselves that we must reconcile in order to make proper actions. The dark elements help us understand our fears and desires, and with this understanding we cycle back into the light of wisdom. They are Gods within us that influence our actions. Without balance the light and darkness are continually at war, battling for dominance over our behavior. To try and extinguish the darkness would only cause Set to resist with war. Negotiation was the only way because complete annihilation of the darker elements within was beyond our mortal capabilities.
Beyond our inner universe and the grounded earth, Isfet was the chaos of the heavens that threatened the stability of the heavens, which is the absence of light and order, injustice, chaos, violence, and evil, all of which threatened to trickle down into the earthly plane of form which interacts with the inner world of the Pharoah and his people.
On all levels of reality, this balancing cycle of order and harmony must be upheld to maintain the structure above and below. If the balance of Ma'at was not maintained, the ignorance of order would manifest as Isfet, which is chaos in the heavens, chaos in Apep who will disrupt the earthly realm, and chaos within Set, who will affect the Pharoahs and citizens from within. Isfet is more of an abstract concept with no known God attached to it to give its understanding a more relatable nature. It is seen more as the absence of structure and balance, which means that there is more responsibility on the part of Ma'at to maintain structure, rather than to blame external circumstances. It was pretty much all on Ma'at to balance the heavens.
Set's chaotic and warlike qualities were reconciled to fight chaos outside of his temple. The Pharoah would fight manifestations of Apep through the actions of Horus, the emotions of Set, and the Instruction of Ma'at. As long as he was balanced with Horus, Isfet would not destroy their temple. The destructive force of Set was still useful when fighting an enemy of Ma'at. In the heavens, on the other hand, Ma'at was threatened by the absence of responsibility if she did not maintain order, not by an opposing deity who continually aspired to disrupt her. Lack of order in the heavens would cause a lack of order on the earth plane, causing irritability within Apep and Set.
Polarity and balance are the main concepts to understand in the Egyptian myths shared in this article. The Creator God Osiris gives man free choice to govern his actions, as both light and dark are his children, Horus and Set. In religion, dualism means the belief in two supreme opposed powers — Gods or sets of divine or demonic beings — that influence the world, which has had an important presence in the history of thought and religion.
Dualism can also denote a co-eternal binary opposition to indicate a system which contains two essential parts. Moral dualism is the belief of the great complement or conflict between the benevolent and the malevolent. It simply implies that there are two moral opposites at work. Some of these dualities imply harmony in which one balances the other, such as yin and yang, while other forms of duality imply rivalry and opposition, such as good and evil.
The process of reconciling between these two opposites will resurface throughout this series. It is important to have a foundational understanding and acceptance of the duality that exists within and outside of man in order to grasp the more detailed concepts of future teachings. In this case we talked about light and darkness as it relates to Horus and Set, brothers of the same father, one representing good, the other representing bad. It is only when we balance these two that we can become stable from within. This is not to say that darkness can have equal control over us. To balance the dark is to bring it into the light of consciousness so that it no longer controls you. The sight and understanding of that darkness will reduce its influence that threatens Ma'at's inner and environmental stability. As we build our temple from within we must be aware of Horus and Set on either sides of our temple.
These days, it's not just knowing information and facts that will create change, it's changing ourselves, how we go about communicating, and re-assessing the underlying stories, ideas and beliefs that form our world. We have to practice these things if we truly want to change. At Collective Evolution and CETV, this is a big part of our mission.
Amongst 100's of hours of exclusive content, we have recently completed two short courses to help you become an effective changemaker, one called Profound Realization and the other called How To Do An Effective Media Detox.
How Does Anesthesia Work? We Still Don't Know: What Happens When Someone Goes "Under"?
Take a moment and breathe. Place your hand over your chest area, near your heart. Breathe slowly into the area for about a minute, focusing on a sense of ease entering your mind and body. Click here to learn why we suggest this.
When patients ask anesthesiologists what we charge for putting them to sleep, we often say we do it for free. We only bill them for the waking up part.
This isn't just a way of deflecting a question, it also serves as a gentle reminder to both parties regarding the importance of "coming to." If we couldn't regain consciousness, what would be the point in having the surgery in the first place? Nobody wants to experience pain and fear if it can be avoided. If the only way to avoid the pain of an operation is to temporarily be rendered unconscious, most people will readily and willingly consent to that, as long as we can return to our natural state of being alert and interactive with the world around us. We are awake and aware and that–rather than any particular conception of health–is our most precious gift.
How does Anesthesia work ?
From an Anesthesiologist's point of view, we really shouldn't charge for putting someone to sleep. It's too easy. With today's medications, putting someone to sleep, or in more correct terms, inducing general anesthesia, is straightforward. Two hundred milligrams of this and fifty milligrams of that and voilà: you have a completely unconscious patient who is incapable of even breathing independently. The medications we administer at induction are similar to the lethal injections executioners use. Unlike executioners, we then intervene to reestablish their breathing and compensate for any large changes in blood pressure and the patient thereby survives until consciousness miraculously returns sometime later.
In addition, those in my field have to contend with the reality that we really don't know what we are doing. More precisely, we have very little if any understanding of how anesthetic gases render a person unconscious. After 17 years of practicing Anesthesiology, I still find the whole process nothing short of pure magic. You see, the exact mechanism of how these agents work is, at present, unknown. Once you understand how a trick works, the magic disappears. With regard to inhaled anesthetic agents, magic abounds. 
Take ether, for example. In 1846 a dentist named William T.G. Morton used ether to allow Dr. Henry J. Bigelow to partially remove a tumor from the neck of a 24-year-old patient safely with no outward signs of pain. The surgery took place at Massachusetts General Hospital in front of dozens of physicians. When the patient regained consciousness with no recollection of the event it is said that many of the surgeons in attendance, their careers spent hardening themselves to the agonizing screams of their patients while operating without modern anesthesia, wept openly after witnessing this feat. At the time, no one knew how ether worked. We still don't. Over the last 173 years, dozens of different anesthetic gases have been developed and they all have three basic things in common: they are inhaled, they are all very, very tiny molecules by biological standards, and we don't know how any of them work.
Why we still don't know…
If you have never closely considered how our bodies do what they do (move, breathe, grow, pee, reproduce, etc.), the answers may be astounding. It is obvious that the energy required to power biological systems comes from food and air. But how do they use them to do everything? How does it all get coordinated?
These are the fundamental questions that have been asked for millennia, by ancient shamans and modern pharmaceutical companies alike. It turns out that the answers are different depending on what sort of perspective and tools we begin with. In the West, our predecessors in medicine were anatomists. Armed with scalpels, the human form was first subdivided into organ systems. Our knives and eyes improved with the development of microtomes and microscopes giving rise to the field of Histology (the study of tissue). Our path of relentless deconstruction eventually gave rise to Molecular Biology and Biochemistry. This is where Western medicine stands today. We define "understanding" as a complete description of how the very molecules that comprise our bodies interact with one another. This method and model has served us well. We have designed powerful antibiotics, identified neurotransmitters, and mapped our own genome. Why then have we not been able to figure out how a gas like ether works? The answer is two-fold.
First, although we have been able to demonstrate some of the biological processes and structures that are altered by an inhaled anesthetic gas, we cannot pinpoint which ones are responsible for altering levels of awareness because inhaled anesthetic agents affect so many seemingly unrelated things at the same time. It is impossible to identify which are directly related to the "awake" state. It is also entirely possible that all of them are, and if that were the case consciousness would be the single most complex function attributed to a living organism by a very large margin.
The second difficulty we have is even more unwieldy and requires some contemplation. As explained above, western medicine has not been able to isolate which molecular interaction is responsible for anesthetics' effect on our awareness. It is therefore reasonable to approach the puzzle from the opposite side and ask instead, "Where is the source of our awareness in our bodies?" and go from there.
We do know that certain neurological pathways in the brain are active in awake patients, but if we attribute consciousness to those pathways then we are necessarily identifying them as the "things" that are awake. To find the source of their "awakeness" we must then examine them more closely. With the tools we have and the paradigm we have chosen we will inevitably find more molecules interacting with other molecules. When you go looking for molecules that is all you will find. Our paradigm has dictated what the answer would be like if we ever found one. Does it seem plausible to think we will find an "awareness molecule" and attribute our vivid, multisensorial experience to the presence of it? If such a molecule existed, how would our deconstructive approach ever explain why that molecule was the source of our awareness?  Can consciousness ever be represented materially?
A more sensible model would be to consider the activity of these structures in the brains of conscious individuals as evidence of consciousness, not the cause of it.  To me it is apparent that, unless we expand our search beyond the material plane, we are not going to find consciousness or be able to understand how anesthetic gases work. Until then I know I am nothing more than a wand-waver in the operating room. And that is being generous. The magician is the anesthetic gas itself, which has, up to this point, never let us in on the secret.
What happens when someone goes "under"?
The mechanistic nature of our model is well suited to most biological processes. However, with regard to consciousness, the model not only lends little understanding of what is happening, it also gives rise to a paradigm that is widely and tightly held, but in actuality cannot be applied to the full breadth of human experience. We commonly believe that a properly functioning physical body is required for us to be aware. Although this may seem initially incontrovertible, upon closer examination it becomes quite clear that this belief is actually an assumption that has massive implications. To be more precise, how do we know that consciousness does not continue uninterrupted and only animate our physical bodies intermittently rather than the other way around, where the body intermittently gives rise to the awake state? At first, this hypothesis may seem absurd, irrelevant and unprovable. I assure you that if you spent a day in an operating room, this idea is not only possible, it is far more likely to be true than the converse.
Let us first consider how we measure anesthetic depth in the operating room. We continually measure the amount of agent that is circulating in a patient's system, but as described earlier, there is no measurable "conscious" molecule that can be found. We must assess the behavior of our patients to make that determination. Do they reply to verbal commands? Do they require a tap on the shoulder or a painful stimulus to respond? Do they respond verbally or do they merely shudder or fling an arm into the air? Perhaps they do not even move when the very fibers of their body are literally being dissected.
There are many situations when a person will interact normally for a period of time while under the influence of a sedative with amnestic properties, and then have absolutely no recollection of that period of time. As far as they know, that period of time never existed. They had no idea that they were lying on an operating room table for 45 minutes talking about their recent vacation while their surgeon performed a minor procedure on their wrist, for example. Sometime later, they found themselves in the recovery room when, to their profound disbelief, they noticed a neatly placed surgical dressing on their hand. More than once I have been told that a patient had asked that the dressing be removed so that they could see the stitches with their own eyes.
How should we characterize their level of consciousness during the operation? By our own standards they were completely awake. However, because they have no memory of being awake during the experience, they would recount it more or less the same way a patient who was rendered completely unresponsive would. This phenomenon is common and easily reproducible. Moreover, it invites us to consider the possibility that awareness continually exists without interruption, but we are not always able to access our experiences retrospectively. 
During some procedures where a surgeon is operating very close to the spinal cord, we often infuse a combination of anesthetic drugs that render the patient unconscious but allow all of the neural pathways between the brain and the body to continue to function normally so that they can be monitored for their integrity. In other words, the physiology required to feel or move remains intact, yet the patient apparently has no experience of any stimuli, surgical or otherwise during the operation. How are we to reconcile the fact that we have a patient with a functioning body and no ability to experience it? Who exactly is the patient in this situation?
What can Near Death Experiences (NDEs) tell us?
If we broadened our examination of the human experience to consider more extreme situations, another wrinkle appears in the paradigm. There are numerous accounts of people who have experienced periods of awareness whilst their bodies have been rendered insentient by anesthetics and/or severe trauma. Near Death Experiences (NDEs) are all characterized by lucid awareness that remains continuous during a period of time while outside observers assume the person is unconscious or dead. Very often patients who have experienced an NDE in the operating room can accurately recount what was said and done by people attending to them during their period of lifelessness. They are also able to describe the event from the perspective as an observer to their own body, often viewing it from above.
Interestingly, people describe their NDEs in a universally positive way. "Survival" was an option that they were free to choose. Death of their body could be clearly seen as a transcending event in their continuing awareness and not as the termination of their existence. Very often the rest of their lives are profoundly transformed by the experience. No longer living with the fear of mortality, life subsequently opens up into a more vibrant and meaningful experience that can be cherished far more deeply than was possible prior to their brush with death. Those who have had an NDE would have no problem adopting the idea that their awareness exists independently of their body, functioning or not. Fear and anxiety would still probably arise in their life from time to time, but it is the rest of us who carry the seemingly inescapable load of a belief system that ties our existence to a body that will perish.
What happens when we wake up from Anesthesia?
The waking up part is no less magical. When the anesthetic gas is eliminated from the body, consciousness returns on its own. Waking someone up simply requires enough space and time for it to occur spontaneously. There is no reversal agent available to speed the return of consciousness. I can only wait. In fact, the waiting period is directly related to the amount of time the patient has been exposed to the anesthetic. At some point the patient will open their eyes when a threshold has been crossed. Depending on how long the patient has been "asleep," complete elimination of the agent from the body may not happen until a long while after the patient has "woke." 
By the time I leave a patient in the care of our recovery room nurses, I am confident that they are safely on a path to their baseline state of awareness. Getting back to a normal state of awareness may take hours or even days. In some cases, patients may never get their wits back completely. Neurocognitive testing has demonstrated that repeated exposure to general anesthesia can sometimes have long-lasting or even irreversible effects on the awake state. It may occur for everyone. Perhaps it is a matter of how closely we look.
Interestingly, it is well known that the longterm effects of anesthetic exposure are more profound in individuals who have already demonstrated elements of cognitive decline in their daily life. Indeed, this population of patients requires significantly less anesthetic to reach the same depth of unconsciousness during an operation. This poses an intriguing question: Is our understanding of being awake also too simplistic? Is there a continuum of "awakeness" in everyday life just as there is one of unconsciousness when anesthetized? If so, how would we measure it?
Does our limited understanding of awareness keep us "asleep"?
Modern psychiatry has been rigorous in defining and categorizing dysfunction. Although there has been recent interest in pushing our understanding of what may be interpreted as a "super-functioning" psyche, western systems are still in their infancy with regard to this idea. In eastern schools of thought, however, this concept has been central for centuries.
In some schools of Eastern philosophy, the idea of attaining a super-functioning awake state is seen as something that also occurs spontaneously when intention and practice are oriented correctly. Ancient yogic teachings specifically describe super abilities, or Siddhis, that are attained through dedicated practice. These Siddhis include fantastical abilities like levitation, telekinesis, dematerialization, remote-viewing and others. The most advanced abilities, interestingly, are those that allow an individual to remain continuously in a state of joy and fearlessness. If such a state were attainable it would clearly be incompatible with the kind of absolute psychological identification most of us have with our mortal bodies. It may be of no surprise that Eastern medicine also subscribes to an entirely different perspective of the body and uses different tools to examine it.
Certainly fear has served our ancestors well, helping us to avoid snakes and lions, but how much fear is necessary these days? Could fear be the barrier that separates us from our highest potential in the awake state just as an anesthetic gas prevents us from waking in the operating room? It is not possible to remain fearless while continuing to identify with a body that is prone to disease and death. Even if one were to drop the assumption that the source of our existence is a finite body, how long would it take to be free from the effects of a lifetime of fearful thinking before any changes that reflect a shift in this paradigm manifest? As long as we leave this model unchallenged we may be missing what it means to be truly awake.
These days, it's not just knowing information and facts that will create change, it's changing ourselves, how we go about communicating, and re-assessing the underlying stories, ideas and beliefs that form our world. We have to practice these things if we truly want to change. At Collective Evolution and CETV, this is a big part of our mission.
Amongst 100's of hours of exclusive content, we have recently completed two short courses to help you become an effective changemaker, one called Profound Realization and the other called How To Do An Effective Media Detox.
4 Key Steps To Heal From Any Kind Of Trauma
In Brief
The Facts:

Trauma can be seen as stress that has been trapped in the body. It can affect our daily life in many ways, and given our neuroplastic brain, trauma can create undesirable habits if gone unchecked.

Reflect On:

Do you feel consistent stress? Perhaps unexplainable low energy? Feeling as though you are on edge for no reason? This could be a sign of a body and nervous system stuck in a trauma trained pattern.
Take a moment and breathe. Place your hand over your chest area, near your heart. Breathe slowly into the area for about a minute, focusing on a sense of ease entering your mind and body. Click here to learn why we suggest this.
Trauma can be challenging, but the moment we are willing to do work on it is the moment that so much potential for healing and growth opens up. The more aware we are of the bigger picture, the less we suffer.
As a general rule, the mind clings to negative, fear-based experiences as a biological survival mechanism. But when we can consciously step outside of our own stories, outdated beliefs, and personal perspective, we can empower personal transformation through self-awareness.
Below are some useful questions to ask yourself in different instances of trauma. They are designed to help clear your mind, open your heart, and begin the healing process.
1. Life Is About Evolution. Find The Lesson In Your Experience
The Big Bang has revealed a universe to us that is radically evolutionary. It is constantly growing, evolving, and developing, and has been for more than 14 billion years. Life is evolution. It is an ongoing process of transformation and conscious expansion. This is a natural law, and this means that from a higher perspective, all of the experiences in our lives are happening for us, not "to" us.
While things may create suffering on an egoic level, there is often a different layer of meaning from a higher perspective. You must be willing to look for the hidden order in your perceived chaos. Ask yourself:
What am I supposed to learn?
How did I play a part in the creation of this, and what habits or behaviours do I need to clear?
How can I grow from this?
These questions will take you out of a state of learned helplessness and begin shifting your mind to focus on the solution rather than the problem.
I recently worked with a client whose house burnt down. She was overcome with grief. While discussing the situation, she mentioned to me that it was also days within the ten-year anniversary of her husband's death.
I asked her if she felt that the two situations were somehow connected. Right away, she mentioned that she had still kept all of her husband's belongings in that house and their bedroom exactly the same, more than ten years later.
She also mentioned how consistently her family begged her to move on. One family member specifically said to her, "If you don't let go and choose to move on, the universe will eventually force you to." She felt that this was a lesson in moving forward in her life, and in letting go. She also knew that by holding on so tightly to the past, she was preventing new love and peace of mind from entering her life.
She knew it was time to let go, and as challenging as it would be, it couldn't be more painful than spending every day trying to pretend that nothing had changed.
Finding the lesson is an important first step to opening our minds to the evolutionary process, and finding a higher meaning in the sequence of events occurring in our lives.
"The wound is the place where the light enters."    – Rumi
2. See The Other Side
 Beyond simply learning from our experiences, we can also find the hidden benefits in all of the circumstances we are faced with.
Our beliefs and expectations will often create one-sided stories in our mind about whether events are good or bad. This often causes us to focus primarily on the drawbacks of unmet expectations. And yet the exact events that challenge us most in life often have the greatest unseen blessings embedded within them.
Ask yourself, "What are the unseen benefits of this traumatic experience?"
Based on the natural laws of duality that exist on our planet, this technique I've learned from Dr. Nima Rahmany in The Overview Method is very effective. It works to un-filter your selective perception so that you can see both sides in a traumatic situation.
Where are you being supported in the face of this challenge? How is this trauma actually supporting the things you care about most in your life?
If you are courageous enough, you will be willing to go directly into the challenges you face, open up your perspective, and do the work. The more benefits you find, the closer you will get to neutralizing the feeling of loss within yourself.
3. Look Beyond Your Perspective
There is a difference between pain and suffering. Pain is a feedback loop, while suffering is the story we create about the pain itself. It adds another layer to our pain
If someone else has hurt you, ask yourself: "Why, according to this person's life story and perception of events, did this person feel justified in making their decision?"
Every single one of us makes a decision because the combination of our conscious + subconscious mind believes there are more benefits than drawbacks in that decision.
This means that everyone is always doing the best they can with what they understand at the time. And more often than not, the people who do the most careless or destructive things are often the ones hurting the most.
The same principle applies to you also, meaning that the notion of having regret is illusory. It is based on only being able to see the conscious mind's perspective, putting us in a state of limited awareness. If we could open up the selective filter and see the bigger picture, we would find that the subconscious mind saw greater benefits in our decision at the time, that we weren't consciously aware of.
In the words of Yehuda Berg, "Hurt people, hurt people." With awareness and understanding, we can work to break the cycle.
4. Find What's Missing
In the case of a traumatic loss, developed by Dr. John DeMartini:
All positive and negative particles in the universe are created simultaneously, in perfect one-to-one balance. We are made of these particles, and if these laws apply to all matter (in both quantum mechanics and classical physics), they must apply to the whole.
This perfect one-to-one balance exists within all things, but our senses create imbalanced perceptions. It is completely normal to become attached to the form of what we've lost, but it can be very healing to find where what we're missing still exists in our lives.
Ask yourself, "What do I miss about who/what I've lost?"
For example, let's say that you've lost a friend and you miss:
His sense of humour
Having deep conversations with him
Playing video games
His awesome hugs
Keep listing until you've covered all of the things you miss about that person.
Now, see where these things still appear in your life, but in different forms:
Who do you laugh with now/who has a good sense of humour?
Who do you have deep conversations with now?
Go through all of the traits that you've listed. Sometimes, you'll have to look very carefully to open up your selective perception. The things you miss in your friend might not only come in the form of other people. For example, you might laugh with your aunt or siblings more often, but you might also find yourself watching more comedy television or funny videos.
If you look carefully, you will find that what you're missing isn't actually gone, it has only changed forms. Universal laws state that everything is always in a state of balance, a state of wholeness. While grieving is a necessary part of dealing with trauma, it is often the form we are attached to that creates the most suffering.
Then, what are the benefits of these new forms, that the old one didn't have?
Some of these questions can be challenging to go through, but if you truly want to create transformation, they are well worth it.
Love yourself enough to do the work, ask the questions, and set yourself free. You deserve it.
These days, it's not just knowing information and facts that will create change, it's changing ourselves, how we go about communicating, and re-assessing the underlying stories, ideas and beliefs that form our world. We have to practice these things if we truly want to change. At Collective Evolution and CETV, this is a big part of our mission.
Amongst 100's of hours of exclusive content, we have recently completed two short courses to help you become an effective changemaker, one called Profound Realization and the other called How To Do An Effective Media Detox.
Full Moon In Virgo: Taking Important Steps Forward
Take a moment and breathe. Place your hand over your chest area, near your heart. Breathe slowly into the area for about a minute, focusing on a sense of ease entering your mind and body. Click here to learn why we suggest this.
IMAGE CREDIT: Sergey Svistunov
We are having a Full Moon in Virgo on February 27th which will appear the brightest on the night of the 26th for countries West of Central Asia and on the night of the 27th for countries East of there. This is the peak of the Lunar cycle that began with a New Moon in Aquarius on February 11th/12th. The energies of a Full Moon are strongest in the days surrounding it yet its astrological configurations also play a part over the following two weeks. You may start to see its themes slowly build up after the New Moon prior.
Full Moons are a period in which we feel a push-pull between two opposing signs, in this case being the Moon in Virgo and the Sun in Pisces. It can play out as either a conflict, an integration, or some sort of dynamic between the energies of both signs. The Moon reflects the expression of feeling and emotion while the Sun reflects the expression of ego and conscious self.
We may feel this opposition happening individually within us and/or we can also experience it play out around us with some people (or circumstances) expressing the Virgoan side and others expressing the Piscean side. In some cases, Full Moons can also reflect/trigger some sort of change or release.
Virgo is an Earth sign ruled by Mercury. It is associated with tasks, duty, service, productivity, practicality, organizing, analyzing, perfection, physical health, cleanliness, sustainability, and purity. It is systematic, detailed, discerning, discriminating, diligent, and efficient. Virgo corresponds with problem solving, adjusting to changing conditions, and coming up with solutions. Negatively, Virgo energy can be cynical, overly critical, fussy, high strung, and too much in the head.
Pisces is a Water sign linked to Neptune and traditionally ruled by Jupiter. It is associated with sensitivity, compassion, empathy, spirituality, creativity, art, inspiration, dreams, imagination, oneness, and idealism. Pisces can be psychic, mystical, healing, and retreating. Negatively, this sign can also be unrealistic, flaky, elusive, delusional, and deceptive. Drugs, alcohol, escapism, fantasy, and illusions are also under the domain of Pisces.
Full Moon Opposing Venus and Trine Uranus, Both Planets In A Sextile With Each Other
This Full Moon is in a trine with Uranus in Taurus. This can be a stimulating energy which can be good for trying new things or anything involving originality, innovation, technology, metaphysics, or science. Some people may also experience breakthroughs or surprises in a way that is welcoming and beneficial in most cases.
The Full Moon also opposes Venus in Pisces which will be closely behind the Sun over the next month until they make an exact conjunction in late March. Venus themes pertaining to love, relationships, friends, values, pleasures, money, and aesthetics may also be at odds with duties and other Virgo themes mentioned. This can also emphasize certain Piscean energies such as creativity, art, escapism, and intoxication. However, if we emphasize the Virgo side of the polarity, this can also be good for productive efforts around our relations, finances, art, or other Venus ruled areas of life.
The combination of all of this can also reflect taking new creative approaches to things which can be potentially for our work. Social, romantic, and financially related occurrences and undertakings can be exciting, unusual, liberating, ingenious, tech related, or experience a positive and/or evolutionary change. Generally, Venus in Pisces can also bring a magical, spiritual, or compassionate tone in our relations with others which can also play into this configuration with Uranus. This energy will build up as we approach March 3rd/4th when Venus will make its exact sextile with Uranus.
Virgo Ruler Mercury Conjunct Jupiter & In Post Retrograde Shadow
The ruler of this Full Moon is Mercury which had finished its retrograde in Aquarius on February 20th/21st. From that point until March 12th/13th it is in its post retrograde shadow which is the conclusion of the retrograde process. Certain areas of our lives that have experienced shifts, complications, changes in perception, or revisitation over the last month are becoming more clear. Things will fall into place more easily and we will be in a better position to proceed ahead in a way that is revised based on what has transpired.
Mercury is closely approaching a conjunction with Jupiter in the same sign of Aquarius. This can be good for anything educational or applying our minds in expansive or explorative ways. Thinking or communicating about the big picture, ideals, or undertakings involving media, marketing, or foreign places may also come up. This energy will be strong on March 4th/5th and build up as we approach that date.
Halfway Point Between Eclipses with Squares To Lunar Nodes
This Full Moon is in a square aspect with the previous Lunar Eclipse in Gemini which is also a grand cross when we factor in the oppositions with the Sun. The period between now and the next New Moon in Pisces marks the halfway period between the previous eclipse season in November/December (which also included a Solar Eclipse in Sagittarius) and the upcoming one in May/June.
We may experience developments pertaining to the themes of these eclipses. It can be a time of making important steps forward while also releasing certain expressions of ourselves or expired aspects of our life to help us in our evolution. The areas of our lives that are being affected by these eclipses depend on how they are configured to our natal astrology charts and are also connected to expressions of Gemini and Sagittarius.
Developments connected to communication, information, duality, intellectual matters, our immediate environment, local issues, neighborhood/neighbors, or siblings, cousins, or friends from an earlier part of our life can be part of this process. This is represented by the North Node and previous Lunar Eclipse in Gemini. The Sagittarius side of this polarity can reflect shifts connected to beliefs, opinions, dogmas, judgments, morals, higher education, travel, foreign lands, and excessiveness.
A significant part of this halfway period will be on March 5th/6th when the Sun will be in a square with the Lunar nodes. The themes and potentialities mentioned in the above paragraphs can come up more strongly at that time. Considerations may involve where we are coming from and where we are heading or being stuck between things that can be holding us back and things that can facilitate growth. Activities and developments happening at this time can also involve incorporating beneficial aspects of the past and applying/experiencing them in an evolved or forward moving way.
On March 9th/10th, Venus will also be in a square with the Lunar Nodes. The themes mentioned in the above paragraph may come up again. However, they can also involve Venus ruled areas such as love, friendships, financial matters, values, pleasures, art, aesthetics, and creativity. We may experience turning points or perhaps we may also feel that we are at a crossroads when it comes to these areas.
Things To Consider
How can you integrate creativity, compassion, spirituality, inspiration, originality, or innovation into your work, duties, and service to others? What new approaches can you take for your health or to help you be more organized, productive, and efficient? Do you need to be more attentive to details? What is coming up for you now, and in the days prior to this Full Moon, that is bringing more clarity to help you move forward in a revised way? How do your friendships, social network, groups, the collective, technology, innovation, ideals, the big picture, education, or media tie in to this?
Is there a connection between current/recent developments, issues, insights, realizations, or ideas with happenings that occurred for you back in November and/or December? If so, these newer developments can be a next step for you to proceed forward in new ways and move on from certain behaviors, tendencies, or aspects of life that are holding you back.
These are just some examples of themes that could come up during this period; however, there may be other variations of this energy playing out as well.  If you wish to do any sort of intentional release connected to what has come up at this Full Moon, it is best to do so anytime over the two weeks following when it is waning. The exact moment of this Full Moon is at 8:17am Universal Time on February 27th. You can click here to see what that is in your time zone.
Follow me on INSTAGRAM, FACEBOOK, and YOUTUBE for more astrology-related content.
—
I'm currently doing a DISCOUNT with 20-30% off personal readings.  Gain more astrological insight into what is going on in your life and have a better understanding of your individual potentials. Get a personalized astrology reading with Carmen (author of this article) specific to you based on your exact birth date, time, and location. Click here for more information or to order.
These days, it's not just knowing information and facts that will create change, it's changing ourselves, how we go about communicating, and re-assessing the underlying stories, ideas and beliefs that form our world. We have to practice these things if we truly want to change. At Collective Evolution and CETV, this is a big part of our mission.
Amongst 100's of hours of exclusive content, we have recently completed two short courses to help you become an effective changemaker, one called Profound Realization and the other called How To Do An Effective Media Detox.