Breaking Down Religious Dogmas & Deciphering The Truth
Religion is filled with a number of dogmatic concepts yet there are gems that lie underneath the doctrinaires of how to conduct one's spiritual life. Setting aside religion's literal depictions of creation and conduct on this earthly plane, one can learn to appreciate the core lessons and values embedded in each belief system without needing a devout subscription to many of religion's divisive ideologies.
What matters are the core messages of how to live a happy and peaceful life, while getting more of what you want and helping others do the same through proper moral conduct and harmony with divinity.
The questions that truly concern humanity since its conception are:
Who are we?
What is the purpose of our lives? What is our role in the cosmos?
How and why do we act the way we do toward ourselves and others?
What is happening in the world today and why?
Throughout this series we will explore shamanic, polytheist, and monotheistic myths and theologies to uncover and reveal that which is hidden below the exoteric presentation of spirituality in its organized forms. The immediate focus at the beginning of this series will be the ancient traditions, as much of their wisdom serves as the foundation of the modern religions that influence our culture.
This is aimed toward giving you an understanding of how various societies have described the basic laws of moral action, consciousness, and manifestation that pertain to the human condition, while grasping the unique cultural, geographical, and chronological understandings that all point to reasonably similar and useful understandings of governing yourself mentally, emotionally, and physically. The applicable wisdom that lies underneath the dogma of modern theologies may provide clarity and guidance toward your journey of ascension.
The stories and figures are not to be taken literally as they are archetypes, allegories, emblems, parables, and metaphors used to depict an understanding of how reality works in relation to the ethereal which is our microcosm deep and within, our grounded reality, which is our immediate environment, and the divine, which is the macrocosm far and beyond — all of which harmoniously work in accordance with each other.
Back then, without the tools and precision of modern science and mathematics accessible to the masses, as well as the useful level of technological development during those eras, an understanding of reality had to be depicted visually through symbology while engaging the imagination's ability to add meaning and context to the quality of their stories of creation and conduct. The problem that spurred from this was that people demanded, coerced, and enforced that their word is the Truth. This right brain perspective can run wild, as those who subscribe to the strict ideologies of their faith take every word and depiction of their sacred understandings literally, with no room for practical analysis. This leads to division among people as well as unquestioned obedience to theologies that are tainted with man's manipulation to control the will of the people.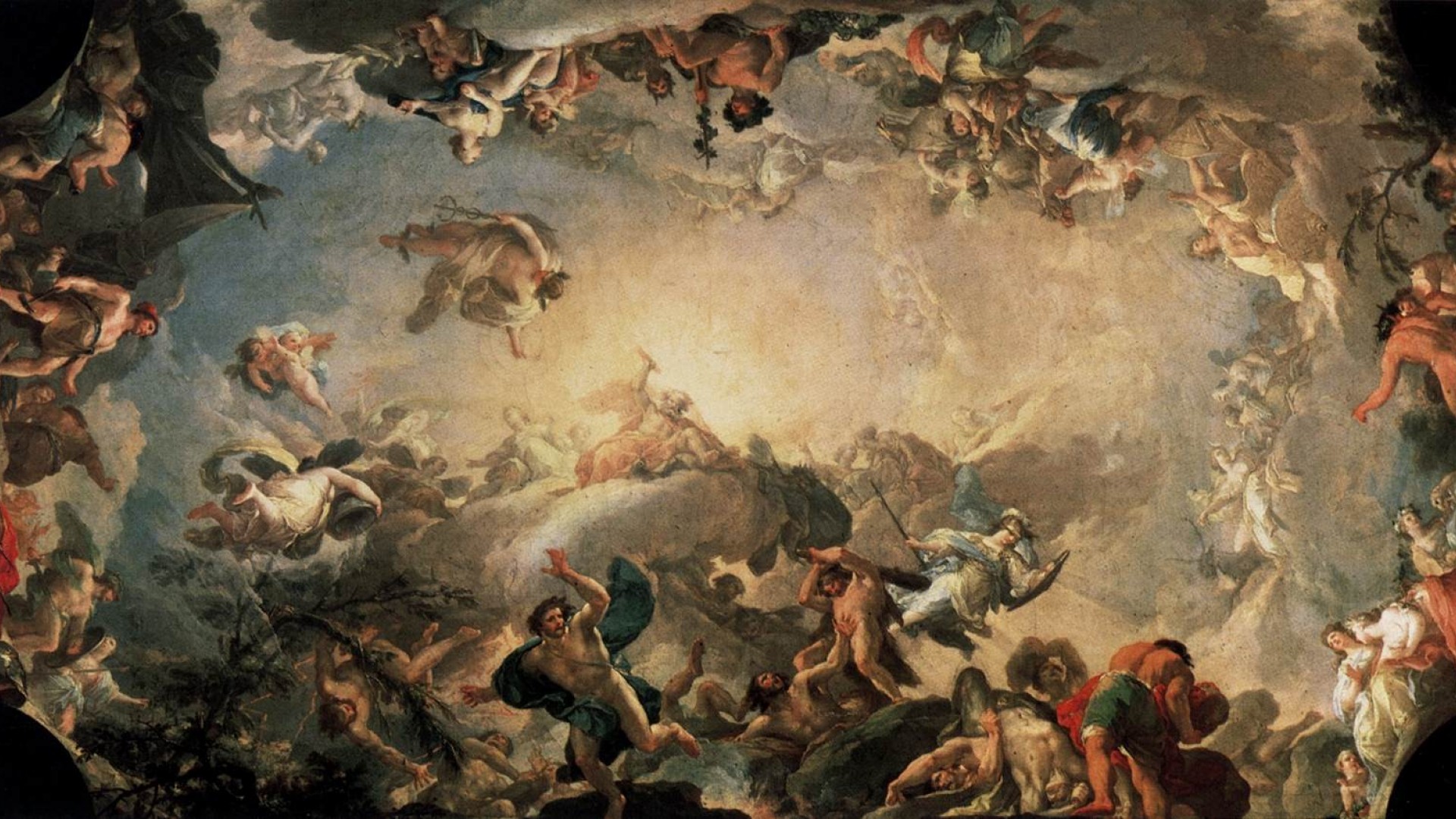 "We live in a world of numerous ideologies and belief systems, all competing for the same real estate, your mind."

– David Snyder
Separate yourself from the superficial and dive deep into the esoteric meanings behind these stories and figureheads, as seeing past those illusions will enable you to reveal a common understanding of divinity and knowledge of self.
Did an enlightened figurehead such as Jesus really exist? It's quite possible. If he did, was he really able to walk on water and turn it into wine? We can't prove that. Instead of getting lost in those details, it is more important to understand the core applicable messages of his teachings as well as the other prophetic leaders, and stories told in religious traditions that share a core commonality with many other belief systems.
Our society focuses on the things that divide and separate our religions, which in turn separate us. Perhaps we can benefit from understanding instead what connects us, in relation to our needs and values. So in an attempt to break down the formality of these religions, I'm going to present the core knowledge that leads to a higher understanding of self and environment, as it will translate to better ways of governing oneself from within and navigating one's journey without.
The word Religion comes from the Latin word "Religare," meaning to tie back, hold back, or to bind fast. To bind is to thwart or hold back the progress of an opposing force or practitioner. A religion is a fixed point of view of understanding divinity, while holding back perspectives and levels of understanding the fall outside of the established religion. All religions share a core truth that the exoteric elements are holding back and because of this, the grounded esoteric alternatives of many modern religions are more interconnected with the commonalities of all cultures. Religion is a box for consciousness because you're not seeing the whole picture.
Esoteric traditions were more grounded in the here and now while instilling the divine Will in one's current plane of existence rather than seeking it only in the next life. The divine Will was to maintain balance and order so that everything that works within the system of creation continued to function. This form of order was not coercive authoritarian driven, it was an order that lent itself to responsibly maintaining the harmony and balance through systems and cycles that prevented chaos. Likewise hell on earth can exist within and without if proper balance and order are not maintained, as well as failing to resolve one's karmic challenges in the present.
In marvel of the heavens, many belief systems are intimately connected with some form of astrotheology, which was the worship of astronomical bodies as Deities. To this day, very high levels of the Catholic church own some of the most expensive and powerful telescopes in the world, yet to the masses below those power structures of Catholicism, studying the night sky or even dabbling in one's Horoscope is forbidden, as it is considered to be blasphemous. The study of the planets, stars, sun, and moon, as well as their relation to the cycles that repeat, such as their orbits and sequential seasons, intervolving solstices and equinoxes, are incorporated into the esoteric laws of analogy.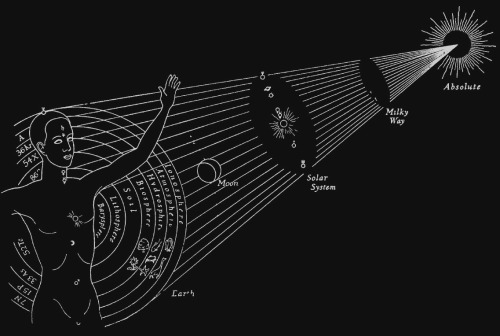 The laws of analogy are very present in our understanding of the physical word, meaning, at different levels of reality, the same patterns and cycles repeat themselves; as above, so below; so within, so without. In light of astronomy and horoscopes, the word horoscope, which pertains to one's life path in relation to the cycles around the sun, is derived from the name Horus, an ancient Egyptian sun God and later adapted into Greek language as Horos.
The ancient Egyptian culture and mythology, which has influence other religions, fundamentally subscribed to a sun worshiping religion. In many cultures the sun was their first astrological body, or higher power to be depicted as a deity. It was bright and luminous, it allowed one to see, and it gave life. One could feel the sun's warmth and was starkly aware of its power to incinerate. It is tangible enough to be seen and felt, yet it was impossibly out of reach, as its presence and power were above those who marveled at it, making one an insignificant spec in comparison to it. Association with the Sun has laid the basic premise for the duality of many belief systems that integrate the polarities of light and darkness, a concept that will repeat itself much throughout this series as we explore other belief systems and ideologies.
Horus was the sun God, depicted as the golden falcon who rises in the east, flies across the sky in a solar ark until he reaches the west and Sets. He makes his trek across the sky daily across the horizon. The word Horizon means "the zone of Horus." Hori is the generative word for Horus, Zon refers to the zone of Horus, thus it is the horizon of Horus, which is where Horus appears on the horizon. It is his arc, his flight path across the sky.
Horus is also named Amen-Ra. Amen is the name ancient Egyptians said after a prayer to evoke the sun God Amen-Ra. Amen-Ra represents the sun (Horus) at its zenith, which is the sun at its highest point. The zenith is the highest point in its arc across the sky. The highest point of Horus's flight path, at 12 noon, is called Amen-Ra.
Horus is depicted as the savior who is anointed with the light, vision, and wisdom. He is the son of the creator God who brings wisdom by knowing what is seen with the light.
Horus has 3 main family members — a mother, father, and brother. His mother Isis is the moon Goddess of the night sky. At night she is the queen of the heavens who rules the night sky, while her husband Osiris is the creator God and ruler of the heavens. In ancient Egyptian mythology, Isis gives birth to the rising sun each day, which is the solar God Horus, who is given divine right by Osiris to rule and give light to the earth during his horizon.
After his trek across the horizon, his brother Set conquers Horus as his fall from the sky Sets into the underworld of darkness. (In other Egyptian stories Set is also depicted as his uncle, but either role has little consequence over the major role he plays as the dark pillar of duality.) Set is considered the dark figure, who is in a state of ignorance because he does not posses the light to see. He lives entirely in the shadows of darkness and ignorance, yet he is the conqueror of the light at night. Set represents chaos, death, and sin, and is somewhat of a devilish figure among the mythology of ancient Egypt. However, he is not entirely depicted as evil because the ancient Egyptians understood that his darkness was necessary for Horus's light to exist. His bad qualities were more understood as an accepted duality between light and dark, good and evil, positive and negative.
Horus and Set were originally expressions of innate duality, the two aspects of creation playing a role throughout the cycles of the day-sky and night-sky.
In the picture below, Horus is touching the pharaoh on the right temple, and his dark brother set is touching the left temple. This represents the duality of consciousness. Horus is the right mind, wisdom, moral action, order, and peace. 
The left side is the God of darkness, deception, storms, chaos, anger, domination, control, and war.
Eventually Horus and Set reconciled and negotiated their conduct so that one wasn't selfishly looking out for himself or having to defend against the other's transgression. A trusting relationship was formed in which both sides began to understand the importance of their complimentary existence. Without this balance of opposites, Horus would not be able to uphold the balance of Ma'at. This balance gave Horus the ability to fight chaos, which was represented as well by the God Apep, who was even more of a personification of evil left unchecked prior to Horus becoming Ra. Set manifested chaos within, while Apep manifested chaos in the external environment. Since Horus, who was the light, represented the peace while being the God of war who instills Ma'at's order over the chaos, one could speculate that the tactics of combat were consulted with Set since he had lived much of his life in affliction. It was during this time of balance with Set that Horus was able to reach his highest point, becoming Ra to fight Apep and instill the will of Ma'at on earth as it is in heaven.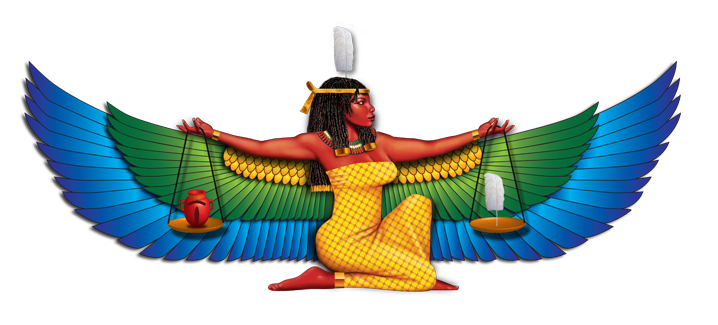 Fighting the chaos of Apep was inspired by the will of Ma'at. Ma'at is the Goddess or conception of truth, balance, order, harmony, law, morality, and justice. She carried out order in the heavens and on earth by regulating the stars, seasons, and regulating moral action of Gods and Pharoahs. Carrying out the karmic order and natural laws of the heavens was done on the earthly plane by fighting the external physical chaos of those who had abandoned truth, justice, and equality. Just as people who deal with the devil become ego-absorbed demon archetypes, people who were imbalanced in the ways of Set became Apeps. Foreign invaders who threatened the balance were also considered Apeps. Other forms of chaos beyond human acts on the earth plane were also considered to be influenced by the spirit of Apep. The union of Horus and Set is a lesson to Egypt's citizens to reconcile the internal chaos within by accepting the parts of themselves that need the light's guidance. As long as there was chaos within, the threat of chaos (Apep) existing in the external environment was imminent. Apep's external chaos threatened to provoke the actions of Set within, making it more difficult to restore order and balance throughout the land and the people.
Both Horus and Set whisper in the ears of the pharaoh while the pharaoh has free will to decide who he listens to and what action to take. It was intended that he carry out the will of Ma'at upon his kingdom by creating balance within his inner kingdom. Pharoahs are frequently depicted with the emblems of Ma'at to emphasize their role of upholding divine order. Through the ruling of the Pharaoh, Egyptian citizens were expected to follow this legitimate form of order that is aligned with the principles of moral action, growth, and sustainability.
This was important to uphold because a disturbance in the force of cosmic harmony could have a significant impact on the individual and the state. A Pharoah self absorbed in ego could bring about disaster and chaos. In addition, the actions and judgments of the Pharoah were meant to guide the citizens through the ambiguous moments of reality, simplifying the principles of Ma'at so that choices of the citizens are made with the highest integrity and care. Obeying the order was not servitude to selfish authority figures, it was doing your part to integrate into the wholeness of an ordered, balanced, natural divinity, which is why authority and compassion were integrated into the foundation of ancient Egyptians.
The degree to which one obeys Ma'at will determine the karmic consequences weighing on the heart of the individual. The heart could only be rewarded for its devotion to Ma'at if it embodied the light, not only in its weightlessness but also in its luminosity to see the truth of proper action.
The ancient Egyptians used these myths and analogies to depict that each of these archetypes exist within us and the symbology of them is meant to remind us of their presence in our daily lives. They are moral, orderly, and divine symbolic analogies, an expression of consciousness, not to be taken as physical Gods.
They represent the pillars of duality: the light and darkness within ourselves that we must reconcile in order to make proper actions. The dark elements help us understand our fears and desires, and with this understanding we cycle back into the light of wisdom. They are Gods within us that influence our actions. Without balance the light and darkness are continually at war, battling for dominance over our behavior. To try and extinguish the darkness would only cause Set to resist with war. Negotiation was the only way because complete annihilation of the darker elements within was beyond our mortal capabilities.
Beyond our inner universe and the grounded earth, Isfet was the chaos of the heavens that threatened the stability of the heavens, which is the absence of light and order, injustice, chaos, violence, and evil, all of which threatened to trickle down into the earthly plane of form which interacts with the inner world of the Pharoah and his people.
On all levels of reality, this balancing cycle of order and harmony must be upheld to maintain the structure above and below. If the balance of Ma'at was not maintained, the ignorance of order would manifest as Isfet, which is chaos in the heavens, chaos in Apep who will disrupt the earthly realm, and chaos within Set, who will affect the Pharoahs and citizens from within. Isfet is more of an abstract concept with no known God attached to it to give its understanding a more relatable nature. It is seen more as the absence of structure and balance, which means that there is more responsibility on the part of Ma'at to maintain structure, rather than to blame external circumstances. It was pretty much all on Ma'at to balance the heavens.
Set's chaotic and warlike qualities were reconciled to fight chaos outside of his temple. The Pharoah would fight manifestations of Apep through the actions of Horus, the emotions of Set, and the Instruction of Ma'at. As long as he was balanced with Horus, Isfet would not destroy their temple. The destructive force of Set was still useful when fighting an enemy of Ma'at. In the heavens, on the other hand, Ma'at was threatened by the absence of responsibility if she did not maintain order, not by an opposing deity who continually aspired to disrupt her. Lack of order in the heavens would cause a lack of order on the earth plane, causing irritability within Apep and Set.
Polarity and balance are the main concepts to understand in the Egyptian myths shared in this article. The Creator God Osiris gives man free choice to govern his actions, as both light and dark are his children, Horus and Set. In religion, dualism means the belief in two supreme opposed powers — Gods or sets of divine or demonic beings — that influence the world, which has had an important presence in the history of thought and religion.
Dualism can also denote a co-eternal binary opposition to indicate a system which contains two essential parts. Moral dualism is the belief of the great complement or conflict between the benevolent and the malevolent. It simply implies that there are two moral opposites at work. Some of these dualities imply harmony in which one balances the other, such as yin and yang, while other forms of duality imply rivalry and opposition, such as good and evil.
The process of reconciling between these two opposites will resurface throughout this series. It is important to have a foundational understanding and acceptance of the duality that exists within and outside of man in order to grasp the more detailed concepts of future teachings. In this case we talked about light and darkness as it relates to Horus and Set, brothers of the same father, one representing good, the other representing bad. It is only when we balance these two that we can become stable from within. This is not to say that darkness can have equal control over us. To balance the dark is to bring it into the light of consciousness so that it no longer controls you. The sight and understanding of that darkness will reduce its influence that threatens Ma'at's inner and environmental stability. As we build our temple from within we must be aware of Horus and Set on either sides of our temple.
We plan to investigate the telecom industry, it's ties to politics, and expose its efforts to push 5G while ignoring the dangers and without proper safety testing, but we can't do it without your support.
We've launched a funding campaign to fuel our efforts on this matter as we are confident we can make a difference and have a strong plan to get it done.
Check out our plan and join our campaign here.
Lunar Eclipse In Capricorn: Letting Go
We are having a partial Lunar Eclipse in Capricorn which will occur July 16th in the West and early on the 17th in the Eastern part of the world. It will be visible in most countries except for Greenland, the Northern parts of Scandinavia, Eastern Russia, and the majority of North America other than small portions of the furthest Southern and Eastern parts of the continent.
However, even when an eclipse is not visible in your location, it still has astrological significance. They reflect changes and can sometimes be a bit of a wildcard. The energies of a Lunar Eclipse can begin a month prior and also influence the following 3 months. Prior to this we had a Solar Eclipse in Cancer on July 2nd, which also affects this period and the following 5-6 months.
As mentioned in previous articles, this series of Eclipses in the Cancer-Capricorn axis began when it transitioned in mid-2018 and will transition out in late 2020. Therefore, some of the themes mentioned in this article (and my previous one) are actually playing out over a 2-year period with different eclipses triggering it in different ways and areas of your personal astrology chart.
However, this specific eclipse season of Summer 2019 will probably be the most impactful of this series when we consider that the Solar Eclipse was 'Total' and near the North Node, while this Lunar Eclipse is aligned with Pluto and Saturn at the South Node.
Lunar Eclipse In Capricorn Conjunct Pluto and Saturn Near South Node
This is a South Node Lunar Eclipse, which means that the changes and developments that it reflects lean more towards something that needs to decrease. In some cases, it can even bring significant endings or some sort of release. This ultimately will help us with what the North Node is pointing towards, which is currently in Cancer. See my previous eclipse article here to learn more about that.
Capricorn is associated with structures, ambitions, career, strategy, business, and mastery. It strives for excellence and attaining goals, as it is symbolically represented by the Mountain Goat climbing to the peak. Capricorn energy can also be cold, too caught up in social status, overly conservative, serious, controlling, can seek power over others,  and be excessively focused on work and/or materialism while creating an imbalance with personal life and emotional needs.
This Eclipse is in a close conjunction to Pluto with Saturn (the ruler of Capricorn) close by at the South Node. All of this emphasizes what was written above as Pluto is associated with purging, death, & transformation.
This can reflect the need to make changes around other Pluto themes as well. This planet is associated with fears, obsessions, compulsive behavior, shadows, dark drives, manipulation, desires, deeply repressed feelings, jealousy, the underworld, and destruction. It shares some themes with Capricorn such as power and control.
This is a period in which we need to reflect on which aspects of Capricorn (and perhaps Pluto) energy we need to reduce in order to help us evolve and move forward in other ways. The events and circumstances around this time may help to push this on us.
Saturn will be near the South Node over the next 3 months, which also emphasizes what has already been written. It makes its final conjunction with it in September and early October, which is when we can experience the next strong wave of this energy after this Eclipse period. For many people there will be some concluding factor at that time in relation to what is currently playing out in our lives.
Venus At North Node While Opposing Saturn/Pluto & Trine Neptune, Mercury Retrograde Reaching its Peak
Venus is currently in Cancer at the North Node while in opposition with Saturn at the South Node. We may feel a push/pull between our relationships, love, values, money and pleasures and at odds with responsibilities, limitations, work or restrictive behavior. However, some relationship developments that occur now and over the following weeks may be highly beneficial for our evolution even if it comes with, or is faced with, complications.
Venus is also in a trine with Neptune, which can help to soften any challenges or conflicts in our relationships. This energy will be strongest on July 18th. Compassion, empathy, oneness, and harmony are themes reflected by this. For some people it can be magical, romantic, or spiritually potent. It may also stimulate creativity and inspiration.
From July 20th-21st, Venus will then be opposing Pluto, which can be a bit challenging and trigger the themes of this eclipse. In relationships (friends or lovers), it can reflect power struggles, intensity and possessiveness, but it could also trigger deep feelings and passion. Issues around hidden matters may come up as well. This can also help us make needed changes in our values or relations. Complications with financial matters can manifest more easily at this time and would be good to be cautious around compulsive spending.
Around the same time as the Venus-Pluto energy mentioned above, Mercury (which is currently retrograde) will be returning to the Sun, which is known as the 'Inferior Conjunction'. This is the halfway point of Mercury Retrograde–a time in which we can have important insights.
It's good to pay attention to what the universe is trying to show you at that time. It can be a period in which new ideas, thoughts, or perspectives are seeded that may develop over the coming months. Depending on what you are doing, it can also amplify the potential complications that these retrogrades are known for, which may or may not be connected to the insights you are getting. You can read more about this Mercury Retrograde here.
Things To Consider

What do you need to decrease or completely release from? What is getting in the way of emotional fulfillment? Do you need to find a new balance between different aspects of your life? Do you feel the need to let go of certain attachments, obsessions, or personal shadows? What aspects of your ambitions, duties, or structures are not serving you anymore?
These are just some examples of what to reflect on. It's good to pay attention to how you feel during this eclipse or even during the hours and days surrounding it. It is also possible that things going on at that time can be symbolic for you. Keep in mind that this energy is part of a process that will continue to play out over the coming 2.5 months, and we may experience concluding developments leading up to early Fall. Some of these themes can even extend into later next year, but probably in different ways due to how the upcoming eclipses interact with your personal astrology chart based on your exact birth time.
The partial eclipse will begin at 8:02pm and will peak at 9:31pm (Universal Time). The Full Moon will begin to wane after 9:38pm. You can click here to see when the peak is in your time zone.
—
I'm doing a Sale on Astrology Readings this month during the Eclipse and Mercury Retrograde Season. Get a reading specific to your birth time  to help guide you navigate the astrological energies and to help you understand your potentials better. Sale ends July 31st but can be scheduled for later. More information here.

Follow me on INSTAGRAM, FACEBOOK, and YOUTUBE for more astrology related content.
We plan to investigate the telecom industry, it's ties to politics, and expose its efforts to push 5G while ignoring the dangers and without proper safety testing, but we can't do it without your support.
We've launched a funding campaign to fuel our efforts on this matter as we are confident we can make a difference and have a strong plan to get it done.
Check out our plan and join our campaign here.
Whether You Know It Or Not, You're Being Prepared For Contact With Extraterrestrials
In Brief
The Facts:

In 2019 UFOs became mainstream. But this truth had already been known for many decades. Collective consciousness is ready now more than ever for contact, and you're being prepared for that.

Reflect On:

Why is humanity so deeply interested in the UFO and ET subject. Sure, you might say there is an 'agenda' with ET disclosure, but is there more to this picture? Why has this subject become the most sought after information out there?
UFOs became mainstream in 2019, the next question is who's manning them? The mainstream media, and the agencies that direct them, have hidden the truth about UFOs for decades and they finally changed their story on that this year. Given we had known UFOs were real for many decades prior, and that we also have known ETs are involved in this whole phenomenon, are we really going to wait many more decades for the mainstream to admit ETs are real too? Or are we going to start listening to what independent media has been saying for decades?
Humanity is preparing for contact on a mass level. This is a blunt truth but one that is undeniable when you look at how interested and hungry the masses are for content related to this subject. Some of the most watched, read, and searched content on the internet, Netflix and YouTube all relate to ETs and UFOs. Sure, some might still be in the closet about it, but that's changing QUICK!
But why has this been a secret for so long? The truth is, the biggest secret behind why ET and UFO disclosure has been suppressed is something that isn't discussed all that much. We typically hear about things like technology suppression, specifically energy systems. How do these crafts get here? What propulsion systems do they use? These questions lead people towards the reality that the technologies of UFO craft ultimately would disrupt our fossil fuel energy oligarchy so much that it would also collapse our economies in some ways.
Of course, this would not be such a bad thing. Why? Because when you consider that this would mean having endless and 'free' energy, cost for goods would drop dramatically. Not just that but, when you begin to examine the ease in creating systems based around abundance, it becomes incredible to consider what is truly possible.
An endless supply of food grown locally, everywhere! Endless energy, installed everywhere! Cars and building facilities that do not create pollution. We could essentially live in a society built such that we do not need to be enslaved by money or debt because abundance would simply become a natural happening of a society built with abundant technology, that's harmonious, in place.
We can all see the value of such disclosures, and the reason why this would be covered but. But there is something even deeper.
The Biggest Secret
The question is, if we know these technologies exist, and they are being suppressed. And if we know that whistleblowers and people have already reverse engineered or built these things, and not all have been killed or threatened, what is the reason why these things are held back? Why do we still deny these realities en masse?
The truth is, it comes down to consciousness. We've been saying this since the inception of CE in 2009: solutions are there, but they won't come until humanity is ready. What does this ACTUALLY mean to be ready? It means growing up enough as a race, that we can actually be responsible for what it is we will have access to. Not just that, but to be able to say we have 'graduated' in a sense, to say we are beyond our old ways.
While that sounds like a loaded few sentences, and they are in a sense, all that is really being said here is, humanity has been stuck in a cycle of experience where we continually see everything, and everyone as separate from us. We are individuals, living out our identities and lives and we are simply here to survive. We believe the limiting ideas of what our reality is and should be and thus we create that reality consciously. Our collective belief about how our world should be is directly tied to what actually happens.
But there is this feeling deep within us at this time, and I know you feel it, where we are beginning to deeply question our ways. How we treat one another, our political systems, the elite manipulation and control that exists, the existential reality of who we are and how we are truly just consciousness, all connected. These deep questions are asking us to explore who we truly are and why we are truly here. And many of us are doing so. This is beginning to create instability and change in our system because the consciousness that holds up our old world, is beginning to crack, and a new one is emerging.
Contact: It's On Us
WE are preparing ourselves fro contact. This is not happening through someone else, it's a collective phenomenon that is simply the next stage of humanity's journey. As our consciousness continues to shift, through us truly doing our own questioning, changing our own patterns, habits, thoughts, and actions, we will begin to truly create the solutions necessary to create a world where we can thrive. And disclosure of technologies will come forth. It comes down to US having to do this work, not governments, not someone else coming to save us. It's about creating an entire populace with the mentality of truly being empowered and self-responsible, as opposed to needed governance and feeling helpless.
This is why the greatest reason why ET reality is so suppressed comes down to consciousness because with an introduction to ET life, comes an entire myriad of experience we have not been exposed to.
Our CETV platform is designed to help prepare us for the stages of the personal transformation that is occurring in people's lives. From information, to techniques, to how to guides, CETV is here as a tool to help us move through these confusing and yet expansive times. You can check out CETV here.
In the video below I explain what this means deeply, and how we can begin opening up the doors to mass contact with ET's.
We plan to investigate the telecom industry, it's ties to politics, and expose its efforts to push 5G while ignoring the dangers and without proper safety testing, but we can't do it without your support.
We've launched a funding campaign to fuel our efforts on this matter as we are confident we can make a difference and have a strong plan to get it done.
Check out our plan and join our campaign here.
Is The Q Narrative Providing False Hope? Catherine Austin Fitts Weighs In
In Brief
The Facts:

It appears as though people are becoming too engaged with the Q narrative that it is blinding them from the truth of what Q truly represents.

Reflect On:

Instead of viewing Q as right or wrong, what steps does it represent in our awakening process? Is the narrative truly creating a world where humanity thrives? Or is it perhaps only taking us a step forward, if at all?
When the Q narrative began popping up I didn't pay much attention to it. It was only about 1 year into it that I started to do my research and really dive in. What I saw was interesting, but it didn't necessarily get me feeling like we were suddenly all on the right track, and that everything was being taken care of – a sentiment shared by many in the community who follow Q. I'm going to get to my observations down below on a few more things.
Before we continue I want to be clear, I don't feel all who follow Q sit back and just watch the show. In fact, I think there is a good chunk of people who actively do other things to help change themselves and their world, but I do feel for the most part – people seem to think Trump and the gang have humanity's pure best interests at heart, and that they will save America and the world.
I don't agree, and haven't agreed, with this sentiment since day 1. I understand that just this article alone may bring up defensiveness and emotion in those who follow Q deeply, and all I can say to that is am I really saying anything crazy here? Or is it that some of us have become too loyal to a narrative that it's now clouding our judgement? Have we created a new 'political side' that we align with in the same way Dems and Reps align with their party?
One last thing before we go on, Q is certainly part of an awakening for some folks too, further illustrating that I'm not saying it's all bad or anything, nor am I here to discuss whether it's true or not, but that I'm neutral on the subject and instead wish to raise some reflections about it. Also remember, Q material could literally be written by anyone with knowledge of alternative media and 'conspiracy theories,' nothing said is that far outside the basic knowledge of understanding these fields.
Looking At Q Metaphysically
In early April I posted on my Instagram account the following:
I think researching, piecing things together and questioning things when it comes to Q is great, I see nothing wrong with that. But I do feel that a lot of people become very complacent and just sit back 'trusting' that Q and team have it all taken care of.. even when things don't quite go as planned.

I hear people in posts and videos say things like "I want Trump to be right. I want Q to be right.. I don't want to lose my faith cause there is nowhere else to go." etc.

This makes me wonder, are we acting from desperation? Do we really think this is the whole answer? Do those who follow this so deeply really think this is all we have to do? Just follow the posts and just sit back and watch… with POPCORN as is so often said.

The ones we have been waiting for are US.. each and every one of US.. no one is going to get this all done for us, we gotta do the work as a collective.

So sure, maybe there are things that are right going on within the Q drops, I'm not gonna take that away, but I think it's time we start really focusing on having some deeper conversations about where we want to go, how we can empower ourselves as individuals, change as individuals and ultimately make up a collective of empowered people.. instead of just trusting that others have it taken care of.

Remember, it's consciousness that creates this reality.. where is yours at? That's what will decide our future more than 'the plan.'

And if you're looking for deeper, more insightful and action-oriented conversations.. check out cetv.one we're flippin the script over there.⠀⠀⠀
This sentiment was a breath of fresh air for most as it appears many are growing a bit tired of the Q narrative only because every time something happens in the world through Trump that doesn't seem good for humanity, the community continues to spin it so that it becomes good.. and herein lies the blind spots that are being created from choosing sides.
Catherine Austin Fitts Weighs In
When we choose sides we add a lens to our perception, that lens then clouds seeing the totality of what is playing out. I was recently having a conversation about this with my good buddy and filmmaker Michael Mazzola, which you can check out here, he proceeded to tell me about something Catherine Austin Fitts, former Commissioner at the United States Department of Housing and Urban Development,  recently said that totally summed up my position as well:
Here's what she said:
"In the Red Button Problem, everybody wants their check and they want to pretend that they are good. So it's very important that politicians come up with this story of 'good'. The story of "I'm good," doesn't have to make sense, but it has to be good enough so that I can just take my check and feel good and not have to do anything. It's a way of being free to stay on my couch and do the things that I love instead of being bothered with the responsibility of being a citizen."

So Q is the new story of, "I am good," because, "I can just trust the plan, and these covert operators are going to get their thing done." So I've been nice because I know some very intelligent, capable people who buy this whole thing hook, line, and sinker. It has been really frustrating for you and me. I took FASAB 56 to these Q believers, and they said, "You need to trust the plan."
The reason why I have not gotten on full board with Q is simple: Q could be something written by ANY truther out there that knows a bit about how our world works. Even after all my research, I don't see anything that suggests we're seeing a highly conscious world being created, thus, there is room for further discussions.
Sure, it is helping to wake people up to some extent, but so do many other actions that happen in our world. I'm not against the Q narrative by any means, I simply feel it's important to bring things back to us as individuals. Even is Trump and Q are in fact working together, is all you see happening truly good for humanity? That's simply the question to keep in our minds.
If we're going to truly make change, we must not just wait for others to do it, and we must also question the true path others are suggesting they are taking. For example, can you truly say within yourself that Trump has illustrated he and his alliance are going to create a world where you are truly free? Or is it more so that he might shake up some of the deep state, but there will still be a ton of work to do before humanity truly thrives?
I highlight the piece above because I do feel it's obvious that Trump is shaking things up, and that's important to note.
But what about things like pushing 5G? Why is this not questioned in deep detail?
The Takeaway
Ultimately my take Q has been the same since pretty well the beginning. We are not necessarily seeing a human alliance take over the Deep State. We are seeing a deep state alliance take over the Deep State. Meaning, one faction of the DS has split and is going against another. One has a slightly less dystopian view for humanity. I summed this up in a video here.
Things are happening in stages, steps forward are sometimes slow and bit by bit. But it appears as though some of those who follow Q and who align with Trump too heavily, in a religious like sense, are developing blind spots and putting too much faith in having these people save the world.. where might that lead if Trump doesn't create that world? Does he even resonate as someone that will?
I'm inspired to help us out of the one side vs another narrative and simply see things for what they are so we can keep fluidly evolving vs. jumping from one box to the next.
I urge you to check out my deeper explanation of Trump and Q through the 5G unfoldment in this video analysis, it truly helps to lay a deeper framework and understanding of what is taking place here.
Bottom line is, this is all a step into further questioning and beginning to break down the old world, but by no means is this the full picture and we must remember that.
We plan to investigate the telecom industry, it's ties to politics, and expose its efforts to push 5G while ignoring the dangers and without proper safety testing, but we can't do it without your support.
We've launched a funding campaign to fuel our efforts on this matter as we are confident we can make a difference and have a strong plan to get it done.
Check out our plan and join our campaign here.