Breaking Down Religious Dogmas & Deciphering The Truth
Religion is filled with a number of dogmatic concepts yet there are gems that lie underneath the doctrinaires of how to conduct one's spiritual life. Setting aside religion's literal depictions of creation and conduct on this earthly plane, one can learn to appreciate the core lessons and values embedded in each belief system without needing a devout subscription to many of religion's divisive ideologies.
What matters are the core messages of how to live a happy and peaceful life, while getting more of what you want and helping others do the same through proper moral conduct and harmony with divinity.
The questions that truly concern humanity since its conception are:
Who are we?
What is the purpose of our lives? What is our role in the cosmos?
How and why do we act the way we do toward ourselves and others?
What is happening in the world today and why?
Throughout this series we will explore shamanic, polytheist, and monotheistic myths and theologies to uncover and reveal that which is hidden below the exoteric presentation of spirituality in its organized forms. The immediate focus at the beginning of this series will be the ancient traditions, as much of their wisdom serves as the foundation of the modern religions that influence our culture.
This is aimed toward giving you an understanding of how various societies have described the basic laws of moral action, consciousness, and manifestation that pertain to the human condition, while grasping the unique cultural, geographical, and chronological understandings that all point to reasonably similar and useful understandings of governing yourself mentally, emotionally, and physically. The applicable wisdom that lies underneath the dogma of modern theologies may provide clarity and guidance toward your journey of ascension.
The stories and figures are not to be taken literally as they are archetypes, allegories, emblems, parables, and metaphors used to depict an understanding of how reality works in relation to the ethereal which is our microcosm deep and within, our grounded reality, which is our immediate environment, and the divine, which is the macrocosm far and beyond — all of which harmoniously work in accordance with each other.
Back then, without the tools and precision of modern science and mathematics accessible to the masses, as well as the useful level of technological development during those eras, an understanding of reality had to be depicted visually through symbology while engaging the imagination's ability to add meaning and context to the quality of their stories of creation and conduct. The problem that spurred from this was that people demanded, coerced, and enforced that their word is the Truth. This right brain perspective can run wild, as those who subscribe to the strict ideologies of their faith take every word and depiction of their sacred understandings literally, with no room for practical analysis. This leads to division among people as well as unquestioned obedience to theologies that are tainted with man's manipulation to control the will of the people.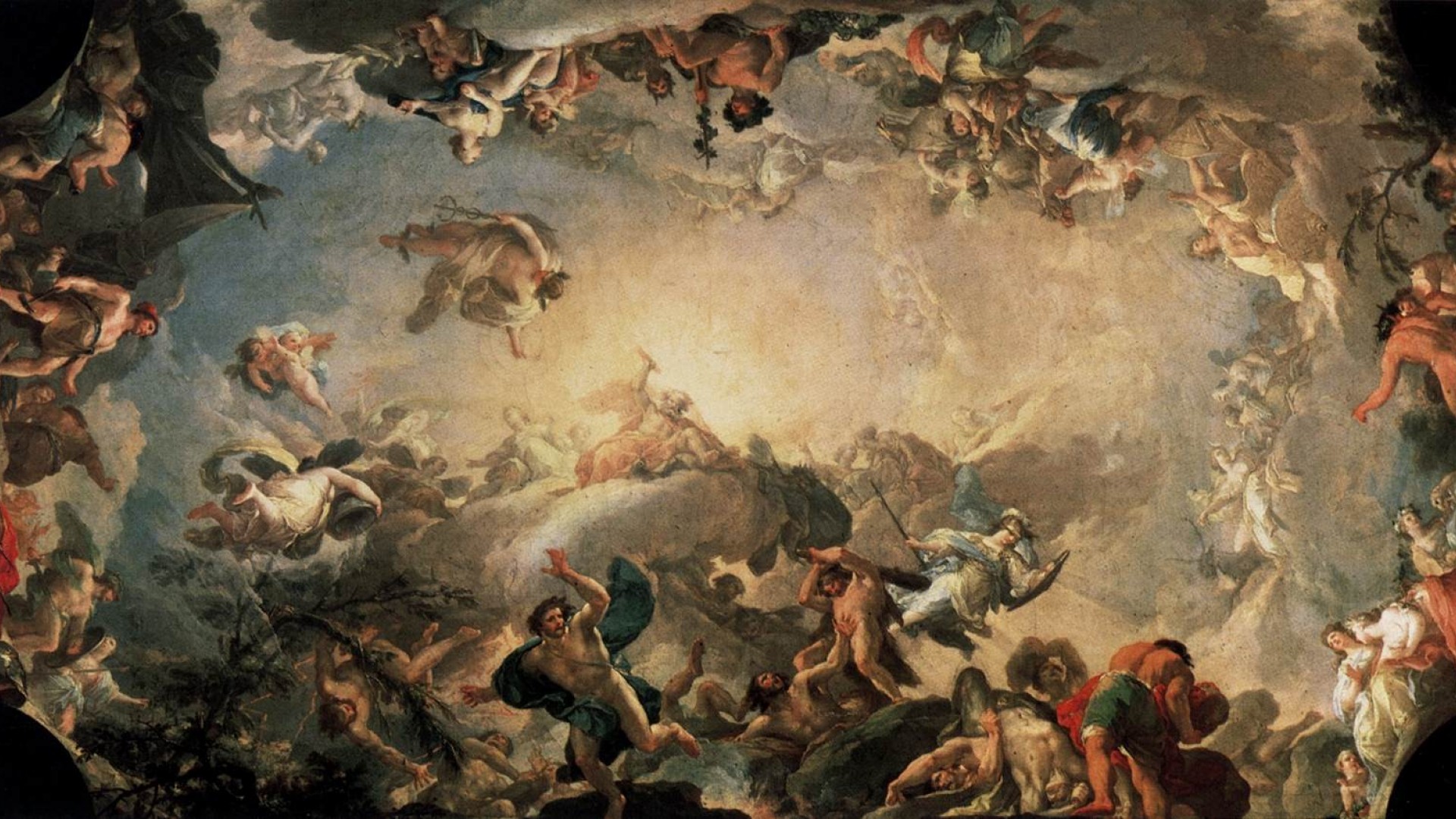 "We live in a world of numerous ideologies and belief systems, all competing for the same real estate, your mind."

– David Snyder
Separate yourself from the superficial and dive deep into the esoteric meanings behind these stories and figureheads, as seeing past those illusions will enable you to reveal a common understanding of divinity and knowledge of self.
Did an enlightened figurehead such as Jesus really exist? It's quite possible. If he did, was he really able to walk on water and turn it into wine? We can't prove that. Instead of getting lost in those details, it is more important to understand the core applicable messages of his teachings as well as the other prophetic leaders, and stories told in religious traditions that share a core commonality with many other belief systems.
Our society focuses on the things that divide and separate our religions, which in turn separate us. Perhaps we can benefit from understanding instead what connects us, in relation to our needs and values. So in an attempt to break down the formality of these religions, I'm going to present the core knowledge that leads to a higher understanding of self and environment, as it will translate to better ways of governing oneself from within and navigating one's journey without.
The word Religion comes from the Latin word "Religare," meaning to tie back, hold back, or to bind fast. To bind is to thwart or hold back the progress of an opposing force or practitioner. A religion is a fixed point of view of understanding divinity, while holding back perspectives and levels of understanding the fall outside of the established religion. All religions share a core truth that the exoteric elements are holding back and because of this, the grounded esoteric alternatives of many modern religions are more interconnected with the commonalities of all cultures. Religion is a box for consciousness because you're not seeing the whole picture.
Esoteric traditions were more grounded in the here and now while instilling the divine Will in one's current plane of existence rather than seeking it only in the next life. The divine Will was to maintain balance and order so that everything that works within the system of creation continued to function. This form of order was not coercive authoritarian driven, it was an order that lent itself to responsibly maintaining the harmony and balance through systems and cycles that prevented chaos. Likewise hell on earth can exist within and without if proper balance and order are not maintained, as well as failing to resolve one's karmic challenges in the present.
In marvel of the heavens, many belief systems are intimately connected with some form of astrotheology, which was the worship of astronomical bodies as Deities. To this day, very high levels of the Catholic church own some of the most expensive and powerful telescopes in the world, yet to the masses below those power structures of Catholicism, studying the night sky or even dabbling in one's Horoscope is forbidden, as it is considered to be blasphemous. The study of the planets, stars, sun, and moon, as well as their relation to the cycles that repeat, such as their orbits and sequential seasons, intervolving solstices and equinoxes, are incorporated into the esoteric laws of analogy.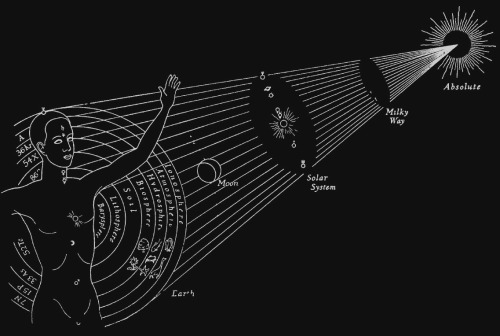 The laws of analogy are very present in our understanding of the physical word, meaning, at different levels of reality, the same patterns and cycles repeat themselves; as above, so below; so within, so without. In light of astronomy and horoscopes, the word horoscope, which pertains to one's life path in relation to the cycles around the sun, is derived from the name Horus, an ancient Egyptian sun God and later adapted into Greek language as Horos.
The ancient Egyptian culture and mythology, which has influence other religions, fundamentally subscribed to a sun worshiping religion. In many cultures the sun was their first astrological body, or higher power to be depicted as a deity. It was bright and luminous, it allowed one to see, and it gave life. One could feel the sun's warmth and was starkly aware of its power to incinerate. It is tangible enough to be seen and felt, yet it was impossibly out of reach, as its presence and power were above those who marveled at it, making one an insignificant spec in comparison to it. Association with the Sun has laid the basic premise for the duality of many belief systems that integrate the polarities of light and darkness, a concept that will repeat itself much throughout this series as we explore other belief systems and ideologies.
Horus was the sun God, depicted as the golden falcon who rises in the east, flies across the sky in a solar ark until he reaches the west and Sets. He makes his trek across the sky daily across the horizon. The word Horizon means "the zone of Horus." Hori is the generative word for Horus, Zon refers to the zone of Horus, thus it is the horizon of Horus, which is where Horus appears on the horizon. It is his arc, his flight path across the sky.
Horus is also named Amen-Ra. Amen is the name ancient Egyptians said after a prayer to evoke the sun God Amen-Ra. Amen-Ra represents the sun (Horus) at its zenith, which is the sun at its highest point. The zenith is the highest point in its arc across the sky. The highest point of Horus's flight path, at 12 noon, is called Amen-Ra.
Horus is depicted as the savior who is anointed with the light, vision, and wisdom. He is the son of the creator God who brings wisdom by knowing what is seen with the light.
Horus has 3 main family members — a mother, father, and brother. His mother Isis is the moon Goddess of the night sky. At night she is the queen of the heavens who rules the night sky, while her husband Osiris is the creator God and ruler of the heavens. In ancient Egyptian mythology, Isis gives birth to the rising sun each day, which is the solar God Horus, who is given divine right by Osiris to rule and give light to the earth during his horizon.
After his trek across the horizon, his brother Set conquers Horus as his fall from the sky Sets into the underworld of darkness. (In other Egyptian stories Set is also depicted as his uncle, but either role has little consequence over the major role he plays as the dark pillar of duality.) Set is considered the dark figure, who is in a state of ignorance because he does not posses the light to see. He lives entirely in the shadows of darkness and ignorance, yet he is the conqueror of the light at night. Set represents chaos, death, and sin, and is somewhat of a devilish figure among the mythology of ancient Egypt. However, he is not entirely depicted as evil because the ancient Egyptians understood that his darkness was necessary for Horus's light to exist. His bad qualities were more understood as an accepted duality between light and dark, good and evil, positive and negative.
Horus and Set were originally expressions of innate duality, the two aspects of creation playing a role throughout the cycles of the day-sky and night-sky.
In the picture below, Horus is touching the pharaoh on the right temple, and his dark brother set is touching the left temple. This represents the duality of consciousness. Horus is the right mind, wisdom, moral action, order, and peace. 
The left side is the God of darkness, deception, storms, chaos, anger, domination, control, and war.
Eventually Horus and Set reconciled and negotiated their conduct so that one wasn't selfishly looking out for himself or having to defend against the other's transgression. A trusting relationship was formed in which both sides began to understand the importance of their complimentary existence. Without this balance of opposites, Horus would not be able to uphold the balance of Ma'at. This balance gave Horus the ability to fight chaos, which was represented as well by the God Apep, who was even more of a personification of evil left unchecked prior to Horus becoming Ra. Set manifested chaos within, while Apep manifested chaos in the external environment. Since Horus, who was the light, represented the peace while being the God of war who instills Ma'at's order over the chaos, one could speculate that the tactics of combat were consulted with Set since he had lived much of his life in affliction. It was during this time of balance with Set that Horus was able to reach his highest point, becoming Ra to fight Apep and instill the will of Ma'at on earth as it is in heaven.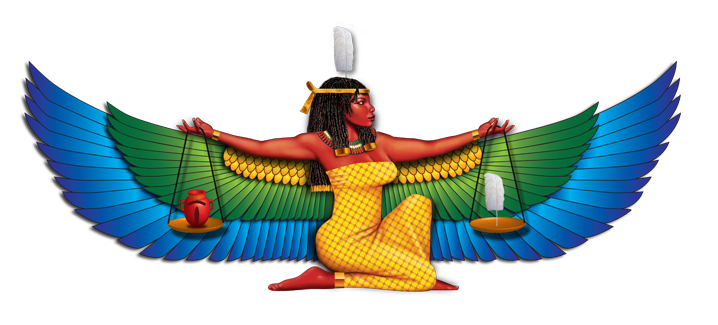 Fighting the chaos of Apep was inspired by the will of Ma'at. Ma'at is the Goddess or conception of truth, balance, order, harmony, law, morality, and justice. She carried out order in the heavens and on earth by regulating the stars, seasons, and regulating moral action of Gods and Pharoahs. Carrying out the karmic order and natural laws of the heavens was done on the earthly plane by fighting the external physical chaos of those who had abandoned truth, justice, and equality. Just as people who deal with the devil become ego-absorbed demon archetypes, people who were imbalanced in the ways of Set became Apeps. Foreign invaders who threatened the balance were also considered Apeps. Other forms of chaos beyond human acts on the earth plane were also considered to be influenced by the spirit of Apep. The union of Horus and Set is a lesson to Egypt's citizens to reconcile the internal chaos within by accepting the parts of themselves that need the light's guidance. As long as there was chaos within, the threat of chaos (Apep) existing in the external environment was imminent. Apep's external chaos threatened to provoke the actions of Set within, making it more difficult to restore order and balance throughout the land and the people.
Both Horus and Set whisper in the ears of the pharaoh while the pharaoh has free will to decide who he listens to and what action to take. It was intended that he carry out the will of Ma'at upon his kingdom by creating balance within his inner kingdom. Pharoahs are frequently depicted with the emblems of Ma'at to emphasize their role of upholding divine order. Through the ruling of the Pharaoh, Egyptian citizens were expected to follow this legitimate form of order that is aligned with the principles of moral action, growth, and sustainability.
This was important to uphold because a disturbance in the force of cosmic harmony could have a significant impact on the individual and the state. A Pharoah self absorbed in ego could bring about disaster and chaos. In addition, the actions and judgments of the Pharoah were meant to guide the citizens through the ambiguous moments of reality, simplifying the principles of Ma'at so that choices of the citizens are made with the highest integrity and care. Obeying the order was not servitude to selfish authority figures, it was doing your part to integrate into the wholeness of an ordered, balanced, natural divinity, which is why authority and compassion were integrated into the foundation of ancient Egyptians.
The degree to which one obeys Ma'at will determine the karmic consequences weighing on the heart of the individual. The heart could only be rewarded for its devotion to Ma'at if it embodied the light, not only in its weightlessness but also in its luminosity to see the truth of proper action.
The ancient Egyptians used these myths and analogies to depict that each of these archetypes exist within us and the symbology of them is meant to remind us of their presence in our daily lives. They are moral, orderly, and divine symbolic analogies, an expression of consciousness, not to be taken as physical Gods.
They represent the pillars of duality: the light and darkness within ourselves that we must reconcile in order to make proper actions. The dark elements help us understand our fears and desires, and with this understanding we cycle back into the light of wisdom. They are Gods within us that influence our actions. Without balance the light and darkness are continually at war, battling for dominance over our behavior. To try and extinguish the darkness would only cause Set to resist with war. Negotiation was the only way because complete annihilation of the darker elements within was beyond our mortal capabilities.
Beyond our inner universe and the grounded earth, Isfet was the chaos of the heavens that threatened the stability of the heavens, which is the absence of light and order, injustice, chaos, violence, and evil, all of which threatened to trickle down into the earthly plane of form which interacts with the inner world of the Pharoah and his people.
On all levels of reality, this balancing cycle of order and harmony must be upheld to maintain the structure above and below. If the balance of Ma'at was not maintained, the ignorance of order would manifest as Isfet, which is chaos in the heavens, chaos in Apep who will disrupt the earthly realm, and chaos within Set, who will affect the Pharoahs and citizens from within. Isfet is more of an abstract concept with no known God attached to it to give its understanding a more relatable nature. It is seen more as the absence of structure and balance, which means that there is more responsibility on the part of Ma'at to maintain structure, rather than to blame external circumstances. It was pretty much all on Ma'at to balance the heavens.
Set's chaotic and warlike qualities were reconciled to fight chaos outside of his temple. The Pharoah would fight manifestations of Apep through the actions of Horus, the emotions of Set, and the Instruction of Ma'at. As long as he was balanced with Horus, Isfet would not destroy their temple. The destructive force of Set was still useful when fighting an enemy of Ma'at. In the heavens, on the other hand, Ma'at was threatened by the absence of responsibility if she did not maintain order, not by an opposing deity who continually aspired to disrupt her. Lack of order in the heavens would cause a lack of order on the earth plane, causing irritability within Apep and Set.
Polarity and balance are the main concepts to understand in the Egyptian myths shared in this article. The Creator God Osiris gives man free choice to govern his actions, as both light and dark are his children, Horus and Set. In religion, dualism means the belief in two supreme opposed powers — Gods or sets of divine or demonic beings — that influence the world, which has had an important presence in the history of thought and religion.
Dualism can also denote a co-eternal binary opposition to indicate a system which contains two essential parts. Moral dualism is the belief of the great complement or conflict between the benevolent and the malevolent. It simply implies that there are two moral opposites at work. Some of these dualities imply harmony in which one balances the other, such as yin and yang, while other forms of duality imply rivalry and opposition, such as good and evil.
The process of reconciling between these two opposites will resurface throughout this series. It is important to have a foundational understanding and acceptance of the duality that exists within and outside of man in order to grasp the more detailed concepts of future teachings. In this case we talked about light and darkness as it relates to Horus and Set, brothers of the same father, one representing good, the other representing bad. It is only when we balance these two that we can become stable from within. This is not to say that darkness can have equal control over us. To balance the dark is to bring it into the light of consciousness so that it no longer controls you. The sight and understanding of that darkness will reduce its influence that threatens Ma'at's inner and environmental stability. As we build our temple from within we must be aware of Horus and Set on either sides of our temple.
We interviewed David about what is happening within the cabal and disclosure. He shared some incredible insight that is insanely relevant to today.
So far, the response to this interview has been off the charts as people are calling it the most concise update of what's happening in our world today.
Watch the interview here.
How Changes In Collective Consciousness Alter Our Everyday Reality
In Brief
The Facts:

Science has demonstrated that there is an energy field that connects us all, and that at its core, all matter is consciousness. Collective Consciousness plays a huge role in how we define our world functions, based on our collective beliefs.

Reflect On:

What do you believe is possible for yourself and for humanity? Do you feel we are capable of creating a world where we can thrive? Do you find yourself thinking humans are not capable of much? These beliefs affect the world around us deeply.
Want to see change in the world? We have to change collective consciousness. And in order to do that, we must change ourselves.
This has been the core message of Collective Evolution since our humble beginnings in 2009. Why? Because collective consciousness is something at the centre, or core, of what connects all of us. In post material science we are beginning to understand that we are not entirely just a brain inside a body, and that consciousness is who we truly are. Beyond that, consciousness is also at the crux of everything.
We sit at an interesting time in our history where the need and desire to change our world has become something almost all of us feel. Whether we witness the apparent chaos of daily life, the turmoil that happens in areas around the world, or whether we witness the challenges in our own life, we feel this need for change. Deep down, something about the human experience, as it is, seems outdated and almost stale.
We've grown tired of suffering, pain, war, poverty, doing the same thing over and over again. We want to experience something new, rich and deep. This is showing up in political activism, the search for who we are beyond our identities, the search for meaning in life and wanting to do careers that we love.
Ultimately, we are searching for peace and a deeper understanding of our reality. So how do we do this? How do we change our world, change the various daily structures we deal with like our economy, government, career paths, as well as the limited idea of what life is and should be. How do we end our suffering and war with one another to truly create a world where we can thrive and have abundance?
Collective Consciousness
If you are gaining curiosity reading this, great. You are feeling something that has been growing within you, and all of us, for quite some time. If you think these ideas are laughable, and that none of this change is possible, then great, because the video below is for you too. Because your disbelief is playing a role in why our world is this way, and it's time to explore what that truly means.
Collective consciousness is an energy field, if you will, by which groups of people or all humans connect to and share ideas, beliefs and understandings about our world. This is not a physical space, but one that is energetic or conscious.
Below is a video I created to help explain how something called collective consciousness functions, so we can begin to understand why we must change ourselves to change our world, and how our limited belief of what our world is and can be, plays a role in keeping it that way.
Post Material Science & Consciousness
The Princeton Engineering Anomalies Research (PEAR) Laboratory has been trying to wrap their heads around the subject and have concluded that the human mind does, in fact, have a capacity to influence the output of devices known as Random Event Generators (REGs), on a collective scale, or via collective consciousness.
A project that initially started when a student was curious to study the effects of the human mind and intention on the surrounding environment, turned into a rigorous testing lab where Dr. Robert Jahn and his lab assistant spent many hours experimenting to determine whether or not the mind has an effect on our physical world. Jahn and his assistant were able to determine that the human minds interactions with the machines demonstrated a relationship that was not physical in nature. The mind was able to affect and change outcomes of the machine in ways that were beyond standard deviations. In essence, consciousness was having an effect over the physical world.
To determine the effects of the mind's intention on the physical world, they built several machines called a random number generator. The machine would essentially mimic a coin flip and record the results over time. The machine performed 200 flips per second and produced an average mean of 100 as one would expect. Left unattended, the machine would continue to produce results that suggested a 50/50 chance of producing either heads or tails. The interesting results came when human intention started to interact with the machine. What was once a random 50/50 chance of producing heads or tails began to deviate from expectation as the observer began to intend for the numbers to be higher or lower. While the effects of the mind over the machines was not large, it was enough that contemporary physics is unable to explain what exactly is happening. Perhaps this is where the quantum world can shed light?
The implications of this research on humanity is quite fascinating given it could reach into the realms of creating a world of peace, a thriving world and abundance. If intentions and thoughts can impact something the way it has been demonstrated above, why not explore the boundaries of how far this can go? It is my feeling and understanding that we create our realities with our intentions and state of consciousness and I feel science is starting to confirm this. In time we will realize the true power of our minds and intentions.
The video below is a very brief synopsis of the Princeton Engineering Anomalies Research laboratory of Princeton University, whose research into mind-matter interaction forms the foundation of Psyleron Technology.
If we wish to understand collective consciousness more deeply, and how we are all truly connected, a great place to start is to begin exploring what we are discovering in the field of post material science as we study consciousness.
We have a great deal of content to explore on that by clicking here. 
To explore deeply who you truly are, you can listen to this CE Podcast episode.
Sources:
Princeton PEAR Lab
We interviewed David about what is happening within the cabal and disclosure. He shared some incredible insight that is insanely relevant to today.
So far, the response to this interview has been off the charts as people are calling it the most concise update of what's happening in our world today.
Watch the interview here.
Who Lucifer Actually Is & Why They Are Here (Part 4: Selling Your Soul)
In Brief
The Facts:

According to Hidden-Hand, there is a big distinction between the extraterrestrial bloodlines (Lucifer's group soul) and human bloodlines (the 'Illuminati'). Members of Illuminati families have a soul contract with Lucifer to maintain negativity here.

Reflect On:

What does it mean to 'sell your soul to Lucifer'? Does it make a difference if one has a pre-existing soul contract with Lucifer?
(Note: If you have not read the first three instalments of this article, I would highly recommend that you first read  Who Lucifer Actually Is & Why They Are Here (Part 1), (Part 2: Bloodline Families) and (Part 3: The Harvest), because they provide an essential context for the discussion here.)
Where the rubber hits the road in this discussion about Lucifer is what his true impact is on us as human beings. Is he the bringer of knowledge and enlightenment to us in our quest to evolve? Or is he the cunning enticer who would drag much of humanity down into a well of iniquity? Let's continue to examine the testimony of Hidden-Hand to see what it reveals.
Distinguishing The Bloodlines
As discussed previously, Lucifer was mandated to introduce evil to the human population by providing a 'choice' in the garden of Eden between obedience and disobedience. It was only after this initial choice had been made, however, that it became mandated that Lucifer would incarnate as individual souls to rule the planet:
Now that Free Will had been granted, Yahweh could not retract it, and we have to stay here as contracted to continue to provide the planet with the Polarity choice. Since then, Yahweh has confined us (as a Group Soul) here within the Earth's Astral Planes (which is very constricting and uncomfortable for a Being of our Wisdom and experience). The Council of Elders gave us the choice to be released (against Yahweh's will), but at the cancellation of our contract to Serve the planet earth; or to remain and fulfill our assignment, and endure Yahweh's self proclaimed "Wrath". We stayed, but as a karmic result of our Group Soul's confinement by Yahweh, our own individuated Souls were given the mandate (by The Council) to "Rule" over Yahweh's people during our physical incarnations here on your planet.
Those 'individuated Souls' of the group soul Lucifer, which incarnate through 'extraterrestrial' bloodlines, need to be distinguished from the human bloodlines. This is in order to clarify what it means to 'sell your soul' to Lucifer.
Extraterrestrial Bloodlines
The 'Extraterrestrial Bloodlines' consists, quite simply, of the individuated souls of the group soul Lucifer, which as a whole is known as the 'Family'. Hidden-Hand introduces himself as a 'generational member,' which he explains as follows:
It means that one is born into the Family. The Order and its agenda is handed down, from generation to generation. Only in extremely rare occasions, have outsiders been invested into the Family, and then, even these were of other 'esoterically' integrable lines.
I presume, though I am not certain, that he means that there are on rare occasions souls who incarnate into the Family who are not part of the group soul Lucifer, but who nonetheless have enough compatibility with that group soul to participate in the agenda. For the purposes of clarity, though, the core power of the 'Family' is the group soul Lucifer. And, as Hidden-Hand points out in the following answer to a question, it's a pretty 'tight' family:
Questioner: To what extent has selective breeding been used to preserve the purity of the line?

Hidden-Hand: The breeding is generally case specific, dependent upon the role that the Family members in question are due to grow into. There are no unapproved unions. Our Family will always intermarry between lines, or, what we would term 'Houses'. Marriages are arranged. In all my years alive, I have never seen or heard of a Family member breaking this code, as far as marriage goes. You do as you are told. One cannot 'join' the Family. One is 'born', or incarnated into it.
The whole idea that ruling bloodlines have been running our planet since antiquity is hard to fathom for many. The very feasibility that something like this could be happening without it being common knowledge is the source of this next questioner's skepticism:
Questioner: If this really existed there would be countless thousands of people involved, and any one person could leak.

Hidden-Hand: Thousands? Try Millions. And you have no possible comprehension of the rigorous training and the harshness of the conditioning we undergo from an early age. No one dares to go against the Family. We know what would happen if we did. But that is not the prime motivator. The motivator is unbridled Loyalty to the Family, and our Creator. We understand the importance of what we are doing here, even though most of humanity does not.
If we take Hidden Hand at his word, then we accept that MILLIONS of individuals on our planet work together in a coordinated effort to control and govern the rest of us. By coordinated, I would refer to what we hear from Hidden-Hand that there are local cell groups of families all over the world that are governed by a hierarchy of councils that range from local to regional, national, and global. As with most hierarchies, knowledge of the entire operation and its true purpose increases as one rises up. Hidden-Hand makes the distinction here about where the human bloodlines end in the hierarchy and where the extraterrestrial bloodlines begin:
Then you have the Supreme World Council above them all, with the National Leaders representing their Countries. Above this, is another group I cannot mention, who liaise with the "Hidden Hands". Then above this, there are many other levels of Leadership, purely from the Power Lines (the ones that are not of this planet). The Supreme World Council only know as much as is "Handed" down to them from us. In our Power Lines, we have a similar structure, with Local and Regional groups etc, though most of us are living in entirely 'different' types of communities than you would understand. All I shall say is that we are not "surface dwellers".
That last point certainly is enticing. It implies that the entire group soul of Lucifer does not live amongst humans on the surface of the planet. Do they live in hidden bases underground? Cloaked in the air? Do they transport to a different planet? A different dimension? Interesting questions, but not fundamental to our conversation here. What is important is to note that the extraterrestrial bloodlines are only really in contact with the highest levels of the human bloodlines, calling the shots, delivering information as needed to those below, being true 'hidden hands' of influence, as it were.
Human Bloodlines
There is much that Hidden-Hand disclosed that distinguished the Extraterrestrial Bloodlines from the Human Bloodlines, which would be populated by individuated souls that are part of Yahweh's group soul.
Questioner: Are these bloodlines the wealthy, as most assume, or seemingly ordinary people (including celebrities and politicians, etc), blending in with society, going relatively unnoticed, but yet contributing to your cause in the grander scheme of things?

Hidden-Hand: The names you know, have no real power. Sure, they "appear" to have lots of power, in the way earthbound souls perceive power. Our wealth makes the million and billionaire "celebs" and corporate bigwigs look like a child's pocket money. Our wealth is Family wealth, which has passed down through the generations over thousands of years. True wealth however, is knowing deep in your heart, that you and your Infinite Creator, are One. "Seek ye first the Kingdom of 'God' (Infinite Creator), and all these things shall be added unto you".

Questioner: So part of this question could also be, are all of them aware they are part of this bloodline, or are some members oblivious to this connection they have? Are they informed of this at a particular age? For example, how and at what age were you told you belonged?

Hidden-Hand: Yes. If you are Bloodline (Family), you are born into it, and you are raised this way, from birth. There is no other way. I want to be clear on this Bloodline issue. The ones you know, they are of earthly lineage. Yes, they have their place in the Family, but the Real Power lines, do not originate from this planet.
The human bloodlines, then, also seem to have a rigorous upbringing that fosters absolute loyalty to the family. The training and structure for the human bloodlines lead in the discussion about the history of the Illuminati, the Knight's Templar, the Freemasons, and other such secret societies. Perhaps these societies were founded by the Lucifer group soul or perhaps they were co-opted by them. There seems to be a very substantial structure in place, which uses both fear and an inbred sense of purpose and loyalty, that prevents many of the secrets of these societies from coming out into the open. One exception to that rule is with a person named 'Svali,' who broke away from the group she identifies as 'the Illuminati' and became a whistleblower of a significant amount of information. Hidden-Hand's direct comments on her case demonstrate how the human bloodlines do not actually have the same 'motivation' for their actions as the extraterrestrial bloodlines.
Questioner: Do people ever try to leave the family? I asked you to comment on the case of one "Svali" in an earlier post. I am still curious if she was one of you or your extended family, or is she just a mis/disinfo agent.

Hidden-Hand: I am aware of her, yes. I've not looked at her supposed "revelations" personally, though heard enough from others in my Family. Yes, she was a part of the Family, at the lower levels, from the German Lines I believe. As I understand, she did reveal a lot of truth about the lower levels, but she was only Regional Level in the Earth Lines, so not that high.

She certainly would not have had anything like the "bigger picture". I understand that she went into detail about some of the training techniques in the lower levels, which to be fair, can be extremely harsh, though as I've said, it's all about reaching the 95% negativity, and when all is said and done, no matter how much one may have suffered in this life-experience, we can never lose sight of the fact that this is a game we are all playing here together, and each incarnating soul has already chosen and agreed in advance the parts they will play in the game. No one really suffers, except in the game, and ultimately, they have chosen these experiences before hand, at a Soul level. No one is 'forced' to incarnate into a storyline they do not want to play and learn from.

The German House is renowned for being particularly harsh and severe in it's training, so much of what she shares may have happened, though my Family have also said that unless her "trainers" were acting "out of protocol" (abusing their power) much of what she 'revealed' would not have happened, or has been embellished to some degree, for whatever reason. I cannot comment myself, as I've had neither the time or inclination to examine her story.

The world of my own Family is very different from that of the lower Earth based bloodlines. Whilst our (my own) training growing up was very strict and disciplined, we were never abused in any way. We grew up with the bigger picture, and didn't need any other motivation.

The Earth lines are not aware of the entire picture. They themselves are not of our Lucifer Group Soul, and as far as they are aware, they are out to 'rule the world', to Control and Enslave, and create as much suffering and negativity as is humanly possible. That's what they 'get out of the deal'. World domination.

You'd have to say with that in mind, they're doing a great job. But one of the things they don't know or understand, is that our (Venusian Power Lines) agenda, is ultimately for the Highest Good of all concerned, in providing you with the Catalyst. If they were aware of this Truth, there is a slight risk that they would not have done their jobs properly, and they would miss out on joining us in our 95% Negative Harvest.

They are aware of the Harvest, and the need for them to attain the 95%, to get out of 3rd density, and that is all the motivation they need to help us achieve our ultimate aims.
How they go about it, is not really of too great a concern to us, as long as they are getting the job done. Sometimes we have to step in, where something they may do or plan goes against our desires, but such instances are few and far between.
The actual testimony of Svali is fascinating and worth examining in greater detail, and perhaps we will do so in a later article. For now, Hidden-Hand continues to put things in the context that at a soul level all of us agreed to the parts that we play in the Game. In essence, this means that the human bloodlines are constructed of millions of people who, at a soul level, wanted to participate in the negative polarity of the ascension process, but as human beings, are not consciously aware that they are doing this for the benefit of humanity in the way that the Luciferian group soul is.
Selling Their Souls To Lucifer?
If it is the case that the human (let's call them 'Illuminati') bloodlines are set up to be motivated by power, wealth, and world domination, can it be said that they have 'sold their souls to Lucifer'? These people have been indoctrinated since birth, and if the testimony of Svali is any indication, it is extremely difficult and rare for someone in the human bloodlines to make the 'choice' of leaving their family. Yes, at a soul level they chose to join Lucifer to support negativity; but having been subjected to severe indoctrination in this life, it's a matter of debate as to whether or not they have 'sold their souls.'
But what about the case of humans who did not go through this indoctrination? I'm talking about people whose purpose here was to ascend positively, but got completely lured into the web of negativity on the strength of their desires for power, wealth, and pleasure. This is perhaps where a human being can truly be said to have 'sold their soul to the Lucifer,' as they have actually chosen ego desires and a service-to-self orientation in contradiction to their soul's purpose.
As I discuss in the article 'Why Do The Elites Participate In Child Sacrifice At Bohemian Grove?', it would seem that 'selling one's soul to Lucifer' involves a willingness to be slowly lured in rituals like the 'Cremation of Care' and other acts of depravity that sever all emotional connection to other human beings, and remove all empathy, care, conscience and sense of morality. This, it seems, not only garners the worldly 'support' of the entire cult, it prepares a person mentally and emotionally for their unbridled pursuit of worldly power, fame and wealth.
Lucifer Does Not 'Own' Souls
In the context of Hidden-Hand's testimony, selling one's soul does not imply that one's soul becomes the permanent property of Lucifer; it means that that one is bound to the 'Negative Ascension,' which involves going to a 4th Density 'Negative' planet to work out one's karma.
Of course in many ways this experience can be considered a 'hell', especially for those souls who have less understanding of the process than the individuated Lucifer souls, and likely will face a tremendous amount of suffering and hard work.
There is much more to examine surrounding the esoteric body of knowledge that informs these bloodlines to 'create as much suffering and Negativity as is humanly possible,' and has the potency to lure outsiders into the cult. Is this body of knowledge what is known as Luciferianism, which there is so much contentious debate about these days? Let's build on what we've found out here to try to address this in the next installment.
We interviewed David about what is happening within the cabal and disclosure. He shared some incredible insight that is insanely relevant to today.
So far, the response to this interview has been off the charts as people are calling it the most concise update of what's happening in our world today.
Watch the interview here.
Red Team vs. Blue Team | Toxic Tribalism We Must Transcend
In Brief
The Facts:

Public discourse is dominated by a dual-based system of categorization and rigid identity. The end-goal of interaction is not to broaden perspective and work together – but to argue and "win" a debate. It is time to transcend this paradigm.

Reflect On:

How can we institute a more open-minded framework whereby public discourse can be influenced by a multi-directional approach to sharing information and viewpoints? The need for a new narrative is upon us – we are all a part of it.
We've all experienced it.  You log on to Facebook and scroll through your timeline – and there it is: a fiery argument where insults are flying freely on a subject that charges you.  Though you may aim to steer clear of the sludge and toxicity of social media comment sections – perhaps you decided to lunge into a particular topic that you care deeply about.
Almost inevitably – an argument takes place where emotions reach a crescendo and the "debate" devolves into sophomoric insults where both sides are trying to tear each other's character down instead of engaging in discourse on the merits of respective viewpoints.
Often, we find ourselves scrambling to score points by reflexively reacting to current events based on agenda and cultural identifiers, (nationality, orientation, race, creed, religion etc..) arguing over semantics, using trigger terms, stereotypes, and gross generalizations to stir the pot of frantic frenzy.  There is a primordial root to this way of interacting with each other.  From the very beginning of our history on this planet, we were thrust into a world where "the others" were viewed as an imminent danger that must be defeated, lest we be invaded and taken over.  In modern times, this tribal notion of "the others" often manifests as an idea, viewpoint, or perspective outside of our own, and it is often perceived as a threat that must be beaten down.
This has come to typify our state of discourse – whether it's in corporate media, in Congress, on social media, or elsewhere – it has become abundantly clear that we are feeding into endless argumentation that features polarized "sides" of an argument – and there are often only two viewpoints presented as acceptable to latch onto. We anger quickly, posit ourselves in a reflexive defensive posture, and prepare to debate with one another in a way that perpetuates conflict instead of fostering education and cooperation.
The quest to be "right" or to "win" the argument takes precedence over actually listening with an open mind to an alternative viewpoint, robbing us of the opportunity to learn something new, expand our perspective, and integrate new data into our thought process to assist in evolving our consciousness.  Scientists call this motivative reasoning: a phenomenon where our unconscious motivations (beliefs/desires/fears) shape the way we interpret information.  Some ideas resonate with what we identify with – and we want them to win.  Other ideas sound like the "other" side – and we want to denigrate, defeat and banish those ideas out of the discourse.  When we apply this to our world we see how the polarizing power of partisanship and deeply held belief-systems influences our perceptions of the world around us.
"Motivated reasoning theory suggests that reasoning processes (information selection and evaluation, memory encoding, attitude formation, judgment, and decision-making) are influenced by motivations or goals. Motivations are desired end-states that individuals want to achieve. The number of these goals that have been theorized is numerous, but political scientists have focused principally on two broad categories of motivations: accuracy motivations (the desire to be "right" or "correct") and directional or defensive motivations (the desire to protect or bolster a predetermined attitude or identity)." ~Thomas J. Leeper
Even when we think we're being objective/fair-minded – we still can wind up unconsciously arguing for something with mechanical repetition – even when the empirical evidence shows that there is no sound basis for our argument.  We've become more adept at crafting and presenting an argument than conducting an actual investigation and critical thinking into the truth of the matter at hand.
But shouldn't our motivation to find truth be more prominent than our motivation to be "right" or to cherry-pick arguments and articles that reinforce our own views? How can we cut through our prejudices/biases and motivation – and look at data and information as objectively as possible?
Making A Change
Perhaps it begins with shedding overly rigid identities and boxes that have been created for us in order to herd us into predictable boxes.  How often do you find yourself parroting a viewpoint or argument that you feel is aligned with your primary identity?  Perhaps you identify primarily as a Democrat.  If so – should your entire viewpoint be defined by this identifier to where you only agree with policies and/or ideas presented by those on your team (Team Democrat)?  If you identify as a woman – is that all you are?  If you consider yourself a Christian – must your perspective only be aligned with a narrow prescription of popularized Christian "values"?  If you consider yourself part of the "conscious community" – must everything be understood and reasoned through that filter?
This isn't to say that identity isn't important.  Expressing a sense of who we are is paramount – but that expression is unnecessarily limited when we aren't open-minded and don't allow for a full-spectrum experience. Identity politics is always an ever-evolving realm, and many of us attach more value to certain identifiers than others, be it race, gender, sexual orientation, religion, etc.. It's respectful to be supportive of an individual's universal right to self-identify (or even their right not to identify at all), but it is also helpful to exercise a level of suspicion about the ability of rigid identifiers and social constructs (like race and gender) to accurately portray the multi-dimensional beings that we are.
"There's a dangerous corrosive side to identity politics, ie: making one's gender/skin color/religion/sect/sexuality one's *defining* trait. Between groups this can divide people rather than unite them, promoting rather than reducing group stereotypes, and therefore increasing discrimination.

Within groups this can lend itself to reinforcing a hegemony for those individual members who refuse to conform to what being a member of that group is *meant* to mean, as defined by that community's internal power structures. This is like the old trope "You can't be a true Muslim/black man, and be gay".  ~Maajid Nawaz
Breaking down these constructs and constrictive identifiers will usher in a new framework for discourse.  Currently, major media and news outlets rarely put forth effort in facilitating an open-range discourse, and are capitalizing (and in many instances feeding) the toxic tribalism where only two-view points are presented without any real effort to find intersectionality or genuine exchange. We see the phenomena of "both sides of the same coin" playing itself out again and again as it pertains to a polarized duality of public opinion.   Thus, the vast percentage of the populace are unconsciously bombarded with polarized view-points that unseat their own ability to find the neutral and to explore new thought-forms outside of the limits of dual categorization.
"An unknown 'something' has taken possession of a smaller or greater portion of the psyche and asserts its hateful and harmful existence undeterred by all our insight, reason, and energy, thereby proclaiming the power of the unconscious over the conscious mind, the sovereign power of possession."  ~Carl Jung
It would be prudent for all of us to examine whether our own psyches and intellects have been unseated by an unknown, unconscious force. We are now tasked to get back in the driver's seat of our own consciousness, turn off cruise-control, and navigate our own vehicles.  Just as the fleshly body must be cleansed of parasites and toxins such that they don't become hosts for worms that weaken the body's vitality, the mind must go through its own filtration process to clear out intrusions and predictive programming that wane our original core vibrational thought patterns.  Otherwise, we are often just passive receivers of whatever the TV is downloading into our minds.
The Need for Innovative Narrative
So who are the new story-tellers who can create a more progressive narrative of universality?  A narrative where we seek to understand each other by coalescing in multi-sensory empathy and cosmic commonality?  A narrative which rejects that humanity is a simple, basic species that can easily be divided into boxes of artificially devised social constructs.  A narrative which recognizes that we are coming out of an age of spiritual amnesia – and many of our societal problems are related to our universal yearning for meaning, truth, and a desire to be connected, balanced, and whole in our relationship with each other and our selves. The need for a new narrative is upon us – and we each bring a unique gift that is required to comprise the tapestry of our immediate position in this time/space.
We interviewed David about what is happening within the cabal and disclosure. He shared some incredible insight that is insanely relevant to today.
So far, the response to this interview has been off the charts as people are calling it the most concise update of what's happening in our world today.
Watch the interview here.