Breaking Down Religious Dogmas & Deciphering The Truth
Religion is filled with a number of dogmatic concepts yet there are gems that lie underneath the doctrinaires of how to conduct one's spiritual life. Setting aside religion's literal depictions of creation and conduct on this earthly plane, one can learn to appreciate the core lessons and values embedded in each belief system without needing a devout subscription to many of religion's divisive ideologies.
What matters are the core messages of how to live a happy and peaceful life, while getting more of what you want and helping others do the same through proper moral conduct and harmony with divinity.
The questions that truly concern humanity since its conception are:
Who are we?
What is the purpose of our lives? What is our role in the cosmos?
How and why do we act the way we do toward ourselves and others?
What is happening in the world today and why?
Throughout this series we will explore shamanic, polytheist, and monotheistic myths and theologies to uncover and reveal that which is hidden below the exoteric presentation of spirituality in its organized forms. The immediate focus at the beginning of this series will be the ancient traditions, as much of their wisdom serves as the foundation of the modern religions that influence our culture.
This is aimed toward giving you an understanding of how various societies have described the basic laws of moral action, consciousness, and manifestation that pertain to the human condition, while grasping the unique cultural, geographical, and chronological understandings that all point to reasonably similar and useful understandings of governing yourself mentally, emotionally, and physically. The applicable wisdom that lies underneath the dogma of modern theologies may provide clarity and guidance toward your journey of ascension.
The stories and figures are not to be taken literally as they are archetypes, allegories, emblems, parables, and metaphors used to depict an understanding of how reality works in relation to the ethereal which is our microcosm deep and within, our grounded reality, which is our immediate environment, and the divine, which is the macrocosm far and beyond — all of which harmoniously work in accordance with each other.
Back then, without the tools and precision of modern science and mathematics accessible to the masses, as well as the useful level of technological development during those eras, an understanding of reality had to be depicted visually through symbology while engaging the imagination's ability to add meaning and context to the quality of their stories of creation and conduct. The problem that spurred from this was that people demanded, coerced, and enforced that their word is the Truth. This right brain perspective can run wild, as those who subscribe to the strict ideologies of their faith take every word and depiction of their sacred understandings literally, with no room for practical analysis. This leads to division among people as well as unquestioned obedience to theologies that are tainted with man's manipulation to control the will of the people.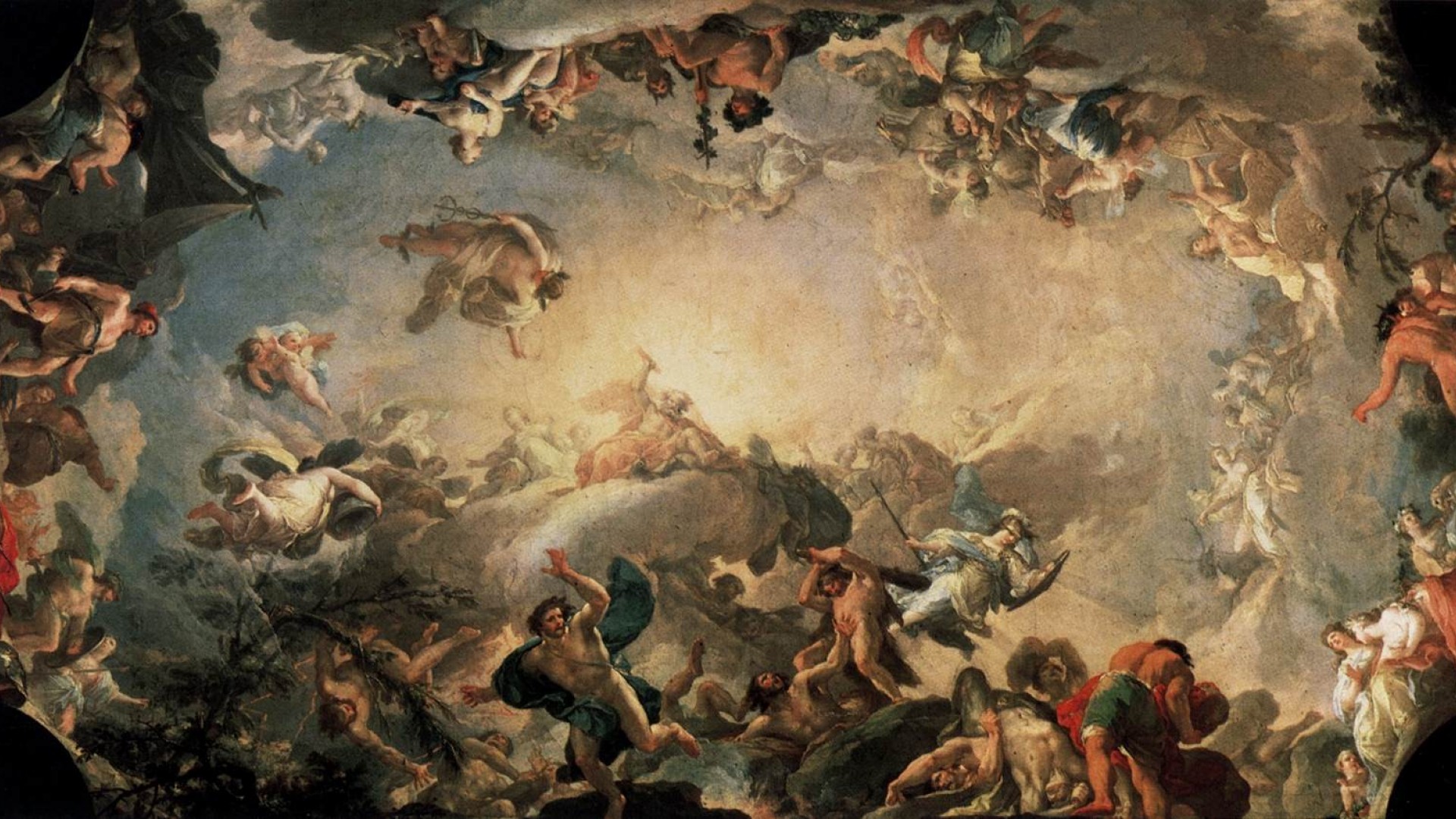 "We live in a world of numerous ideologies and belief systems, all competing for the same real estate, your mind."

– David Snyder
Separate yourself from the superficial and dive deep into the esoteric meanings behind these stories and figureheads, as seeing past those illusions will enable you to reveal a common understanding of divinity and knowledge of self.
Did an enlightened figurehead such as Jesus really exist? It's quite possible. If he did, was he really able to walk on water and turn it into wine? We can't prove that. Instead of getting lost in those details, it is more important to understand the core applicable messages of his teachings as well as the other prophetic leaders, and stories told in religious traditions that share a core commonality with many other belief systems.
Our society focuses on the things that divide and separate our religions, which in turn separate us. Perhaps we can benefit from understanding instead what connects us, in relation to our needs and values. So in an attempt to break down the formality of these religions, I'm going to present the core knowledge that leads to a higher understanding of self and environment, as it will translate to better ways of governing oneself from within and navigating one's journey without.
The word Religion comes from the Latin word "Religare," meaning to tie back, hold back, or to bind fast. To bind is to thwart or hold back the progress of an opposing force or practitioner. A religion is a fixed point of view of understanding divinity, while holding back perspectives and levels of understanding the fall outside of the established religion. All religions share a core truth that the exoteric elements are holding back and because of this, the grounded esoteric alternatives of many modern religions are more interconnected with the commonalities of all cultures. Religion is a box for consciousness because you're not seeing the whole picture.
Esoteric traditions were more grounded in the here and now while instilling the divine Will in one's current plane of existence rather than seeking it only in the next life. The divine Will was to maintain balance and order so that everything that works within the system of creation continued to function. This form of order was not coercive authoritarian driven, it was an order that lent itself to responsibly maintaining the harmony and balance through systems and cycles that prevented chaos. Likewise hell on earth can exist within and without if proper balance and order are not maintained, as well as failing to resolve one's karmic challenges in the present.
In marvel of the heavens, many belief systems are intimately connected with some form of astrotheology, which was the worship of astronomical bodies as Deities. To this day, very high levels of the Catholic church own some of the most expensive and powerful telescopes in the world, yet to the masses below those power structures of Catholicism, studying the night sky or even dabbling in one's Horoscope is forbidden, as it is considered to be blasphemous. The study of the planets, stars, sun, and moon, as well as their relation to the cycles that repeat, such as their orbits and sequential seasons, intervolving solstices and equinoxes, are incorporated into the esoteric laws of analogy.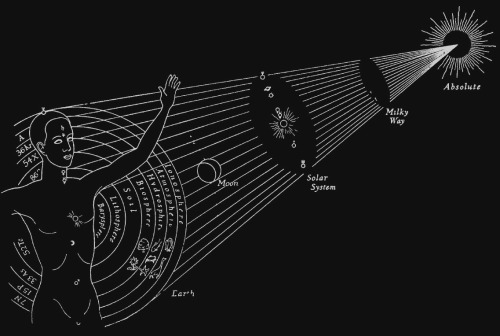 The laws of analogy are very present in our understanding of the physical word, meaning, at different levels of reality, the same patterns and cycles repeat themselves; as above, so below; so within, so without. In light of astronomy and horoscopes, the word horoscope, which pertains to one's life path in relation to the cycles around the sun, is derived from the name Horus, an ancient Egyptian sun God and later adapted into Greek language as Horos.
The ancient Egyptian culture and mythology, which has influence other religions, fundamentally subscribed to a sun worshiping religion. In many cultures the sun was their first astrological body, or higher power to be depicted as a deity. It was bright and luminous, it allowed one to see, and it gave life. One could feel the sun's warmth and was starkly aware of its power to incinerate. It is tangible enough to be seen and felt, yet it was impossibly out of reach, as its presence and power were above those who marveled at it, making one an insignificant spec in comparison to it. Association with the Sun has laid the basic premise for the duality of many belief systems that integrate the polarities of light and darkness, a concept that will repeat itself much throughout this series as we explore other belief systems and ideologies.
Horus was the sun God, depicted as the golden falcon who rises in the east, flies across the sky in a solar ark until he reaches the west and Sets. He makes his trek across the sky daily across the horizon. The word Horizon means "the zone of Horus." Hori is the generative word for Horus, Zon refers to the zone of Horus, thus it is the horizon of Horus, which is where Horus appears on the horizon. It is his arc, his flight path across the sky.
Horus is also named Amen-Ra. Amen is the name ancient Egyptians said after a prayer to evoke the sun God Amen-Ra. Amen-Ra represents the sun (Horus) at its zenith, which is the sun at its highest point. The zenith is the highest point in its arc across the sky. The highest point of Horus's flight path, at 12 noon, is called Amen-Ra.
Horus is depicted as the savior who is anointed with the light, vision, and wisdom. He is the son of the creator God who brings wisdom by knowing what is seen with the light.
Horus has 3 main family members — a mother, father, and brother. His mother Isis is the moon Goddess of the night sky. At night she is the queen of the heavens who rules the night sky, while her husband Osiris is the creator God and ruler of the heavens. In ancient Egyptian mythology, Isis gives birth to the rising sun each day, which is the solar God Horus, who is given divine right by Osiris to rule and give light to the earth during his horizon.
After his trek across the horizon, his brother Set conquers Horus as his fall from the sky Sets into the underworld of darkness. (In other Egyptian stories Set is also depicted as his uncle, but either role has little consequence over the major role he plays as the dark pillar of duality.) Set is considered the dark figure, who is in a state of ignorance because he does not posses the light to see. He lives entirely in the shadows of darkness and ignorance, yet he is the conqueror of the light at night. Set represents chaos, death, and sin, and is somewhat of a devilish figure among the mythology of ancient Egypt. However, he is not entirely depicted as evil because the ancient Egyptians understood that his darkness was necessary for Horus's light to exist. His bad qualities were more understood as an accepted duality between light and dark, good and evil, positive and negative.
Horus and Set were originally expressions of innate duality, the two aspects of creation playing a role throughout the cycles of the day-sky and night-sky.
In the picture below, Horus is touching the pharaoh on the right temple, and his dark brother set is touching the left temple. This represents the duality of consciousness. Horus is the right mind, wisdom, moral action, order, and peace. 
The left side is the God of darkness, deception, storms, chaos, anger, domination, control, and war.
Eventually Horus and Set reconciled and negotiated their conduct so that one wasn't selfishly looking out for himself or having to defend against the other's transgression. A trusting relationship was formed in which both sides began to understand the importance of their complimentary existence. Without this balance of opposites, Horus would not be able to uphold the balance of Ma'at. This balance gave Horus the ability to fight chaos, which was represented as well by the God Apep, who was even more of a personification of evil left unchecked prior to Horus becoming Ra. Set manifested chaos within, while Apep manifested chaos in the external environment. Since Horus, who was the light, represented the peace while being the God of war who instills Ma'at's order over the chaos, one could speculate that the tactics of combat were consulted with Set since he had lived much of his life in affliction. It was during this time of balance with Set that Horus was able to reach his highest point, becoming Ra to fight Apep and instill the will of Ma'at on earth as it is in heaven.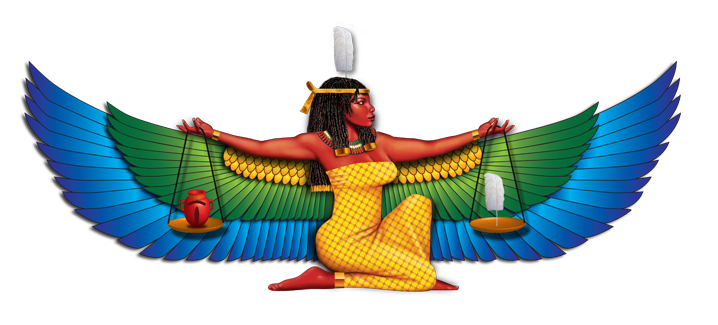 Fighting the chaos of Apep was inspired by the will of Ma'at. Ma'at is the Goddess or conception of truth, balance, order, harmony, law, morality, and justice. She carried out order in the heavens and on earth by regulating the stars, seasons, and regulating moral action of Gods and Pharoahs. Carrying out the karmic order and natural laws of the heavens was done on the earthly plane by fighting the external physical chaos of those who had abandoned truth, justice, and equality. Just as people who deal with the devil become ego-absorbed demon archetypes, people who were imbalanced in the ways of Set became Apeps. Foreign invaders who threatened the balance were also considered Apeps. Other forms of chaos beyond human acts on the earth plane were also considered to be influenced by the spirit of Apep. The union of Horus and Set is a lesson to Egypt's citizens to reconcile the internal chaos within by accepting the parts of themselves that need the light's guidance. As long as there was chaos within, the threat of chaos (Apep) existing in the external environment was imminent. Apep's external chaos threatened to provoke the actions of Set within, making it more difficult to restore order and balance throughout the land and the people.
Both Horus and Set whisper in the ears of the pharaoh while the pharaoh has free will to decide who he listens to and what action to take. It was intended that he carry out the will of Ma'at upon his kingdom by creating balance within his inner kingdom. Pharoahs are frequently depicted with the emblems of Ma'at to emphasize their role of upholding divine order. Through the ruling of the Pharaoh, Egyptian citizens were expected to follow this legitimate form of order that is aligned with the principles of moral action, growth, and sustainability.
This was important to uphold because a disturbance in the force of cosmic harmony could have a significant impact on the individual and the state. A Pharoah self absorbed in ego could bring about disaster and chaos. In addition, the actions and judgments of the Pharoah were meant to guide the citizens through the ambiguous moments of reality, simplifying the principles of Ma'at so that choices of the citizens are made with the highest integrity and care. Obeying the order was not servitude to selfish authority figures, it was doing your part to integrate into the wholeness of an ordered, balanced, natural divinity, which is why authority and compassion were integrated into the foundation of ancient Egyptians.
The degree to which one obeys Ma'at will determine the karmic consequences weighing on the heart of the individual. The heart could only be rewarded for its devotion to Ma'at if it embodied the light, not only in its weightlessness but also in its luminosity to see the truth of proper action.
The ancient Egyptians used these myths and analogies to depict that each of these archetypes exist within us and the symbology of them is meant to remind us of their presence in our daily lives. They are moral, orderly, and divine symbolic analogies, an expression of consciousness, not to be taken as physical Gods.
They represent the pillars of duality: the light and darkness within ourselves that we must reconcile in order to make proper actions. The dark elements help us understand our fears and desires, and with this understanding we cycle back into the light of wisdom. They are Gods within us that influence our actions. Without balance the light and darkness are continually at war, battling for dominance over our behavior. To try and extinguish the darkness would only cause Set to resist with war. Negotiation was the only way because complete annihilation of the darker elements within was beyond our mortal capabilities.
Beyond our inner universe and the grounded earth, Isfet was the chaos of the heavens that threatened the stability of the heavens, which is the absence of light and order, injustice, chaos, violence, and evil, all of which threatened to trickle down into the earthly plane of form which interacts with the inner world of the Pharoah and his people.
On all levels of reality, this balancing cycle of order and harmony must be upheld to maintain the structure above and below. If the balance of Ma'at was not maintained, the ignorance of order would manifest as Isfet, which is chaos in the heavens, chaos in Apep who will disrupt the earthly realm, and chaos within Set, who will affect the Pharoahs and citizens from within. Isfet is more of an abstract concept with no known God attached to it to give its understanding a more relatable nature. It is seen more as the absence of structure and balance, which means that there is more responsibility on the part of Ma'at to maintain structure, rather than to blame external circumstances. It was pretty much all on Ma'at to balance the heavens.
Set's chaotic and warlike qualities were reconciled to fight chaos outside of his temple. The Pharoah would fight manifestations of Apep through the actions of Horus, the emotions of Set, and the Instruction of Ma'at. As long as he was balanced with Horus, Isfet would not destroy their temple. The destructive force of Set was still useful when fighting an enemy of Ma'at. In the heavens, on the other hand, Ma'at was threatened by the absence of responsibility if she did not maintain order, not by an opposing deity who continually aspired to disrupt her. Lack of order in the heavens would cause a lack of order on the earth plane, causing irritability within Apep and Set.
Polarity and balance are the main concepts to understand in the Egyptian myths shared in this article. The Creator God Osiris gives man free choice to govern his actions, as both light and dark are his children, Horus and Set. In religion, dualism means the belief in two supreme opposed powers — Gods or sets of divine or demonic beings — that influence the world, which has had an important presence in the history of thought and religion.
Dualism can also denote a co-eternal binary opposition to indicate a system which contains two essential parts. Moral dualism is the belief of the great complement or conflict between the benevolent and the malevolent. It simply implies that there are two moral opposites at work. Some of these dualities imply harmony in which one balances the other, such as yin and yang, while other forms of duality imply rivalry and opposition, such as good and evil.
The process of reconciling between these two opposites will resurface throughout this series. It is important to have a foundational understanding and acceptance of the duality that exists within and outside of man in order to grasp the more detailed concepts of future teachings. In this case we talked about light and darkness as it relates to Horus and Set, brothers of the same father, one representing good, the other representing bad. It is only when we balance these two that we can become stable from within. This is not to say that darkness can have equal control over us. To balance the dark is to bring it into the light of consciousness so that it no longer controls you. The sight and understanding of that darkness will reduce its influence that threatens Ma'at's inner and environmental stability. As we build our temple from within we must be aware of Horus and Set on either sides of our temple.
The demand for Collective Evolution's content is bigger than ever, except ad agencies and social media keep cutting our revenues. This is making it hard for us to continue.
In order to stay truly independent, we need your help. We are not going to put up paywalls on this website, as we want to get our info out far and wide. For as little as $3 a month, you can help keep CE alive!
Farmer Gives His Cows To A Sanctuary After Seeing Them "Terrified"
In Brief
The Facts:

A Cattle farmer turned vegan and gave his whole £50,000 herd to an animal sanctuary because he could no longer bear seeing them 'terrified' on the way to the abattoir.

Reflect On:

Why do we subject other living beings to torture, pain, hurt and a terrible life? Why do we not value the life of an animal as much as we do a human?
Billions of animals are raised and killed for slaughter every single year, and that's in America alone. There is nothing humane about our food industry. It's quite clear that the majority of animals are tortured, live in extreme fear, anxiety and depression, and constantly have their kids and other family members ripped away from them. Take cows, for example. These majestic, compassionate, empathetic and brilliant beings are basically raped so we can drink their milk.
They are forcefully inseminated, which is odd given the fact that casein, the protein found within the milk of a cow, has been found to increase our risk of cancer and even accelerate the growth rate of cancer . Furthermore, the milk from a cow creates a condition within the body called metabolic acidosis, and as a result the body compensates by leeching calcium from the bones. How ironic is that?
When the cow gives birth, the babies do not get the milk because that's reserved for humans and big profit. The babies are separated from their mothers and then are either immediately killed or raised for slaughter. This is extremely inhumane, and it represents one of the most heartbreaking genocides in human history. It makes no sense to drink the milk of a cow because it's meant for cows.
In fact, humans are the only animal that drink the milk of another animal, and we are the only animal to drink milk after weaning. Furthermore, we previously didn't have the ability to digest the milk of a cow, that's an ability our bodies eventually developed, given the fact that the milk of a cow is so unnatural to the human body. It makes sense that 65 percent of the planet has some form of lactose intolerance. In some regions of the world it's an astonishing 90 percent. It makes no sense at all, and it's quite clear that the big food companies are behind this and have marketed milk as 'healthy' simply for the purposes of profit.
The main purpose of this article is to emphasize that all of this is happening because of us. Granted, things have drastically changed over the past decade, and are continuing to change. The profits of the dairy and meat industries are steadily declining, and this is as a result of people waking up to what's really going on with regards to how these animals are treated as well as the health consequences of human beings over-consuming animal products.
One other thing that seems to be happening is an increase in global compassion. It's always strange to ask how any human being can be involved in this process. We are talking about living, sentient, emotional, intelligent beings being subjected to extreme pain. How can anybody on the planet be okay with someone else going through such things? The reality is that there are individuals who oppose these industries, and there are those who deem the lives of other animals as insignificant.
As I said, people are changing, but some people just don't realize this. Jay and Katja Wilde are the latest examples of how change is spreading.
Pictured above, the 61-year-old farmers just couldn't take the guilt anymore after spending many years as beef farmers. They recently decided to give their entire herd to an animal sanctuary. It's interesting because he's been a vegetarian for thirty years, yet at the same time this was his occupation, and through it he discovered that each individual cow had their own unique personality. They are loving, caring, intelligent and affectionate animals.
In an interview with the Daily Mail, he said:
"I've long felt there was a very strong conflict of interest between not eating meat and producing cattle for meat," he says. "The problem is that when you inherit a farm, it feels like a duty to keep its life continuing into the future. That also means looking after animals, really getting to know them. But then I felt that sending them off was betraying them. I needed to do something differently. Whether they are stubborn, shy, friendly, they're all different. These traits can pass down generations, too. You can match sons and daughters to their mothers."
He emphasized how his profession made him much more "acutely aware of taking them to their place of death." A death that Jay felt sure the cows were fully aware of. "It's hard to know exactly what they know, but logic suggests everything about that final journey must be terrifying," he said.
Jay and his wife Katja have now converted their beef farm into an organic vegan one, becoming the first farmers in the UK who are believed to have taken such action.
"The time will come when men such as I will look upon the murder of animals as now they look upon the murder of humans." – Leonardo Da Vinci
Below is great, heart-warming video.
The Takeaway
Eating meat isn't healthy. It's well-established in scientific literature that a meat-free diet, when done correctly, offers tremendous health benefits. Plant-based eating is not only nutritionally sufficient, but helps you avoid chronic illness as well. You can read more information regarding that in the articles linked below.
What we are doing today, raising and slaughtering billions of animals, is not only destroying our health, it's destroying our environment as well. More importantly, compassion, care, empathy and love must return to our planet, and the food industry is where we need to start showing these qualities that have somehow been made to lay dormant within us. If one suffers, we all suffer.
Related Articles:
9 Things That Happen When You Stop Eating Meat
Internal Medicine Physician Shares What Happens To Your Body When You Stop Eating Meat
Studies Show What Happens To Your Heart When You Go Vegan or Vegetarian
Disturbing Aerial Photos Show What Killing Billions of Animals for Meat is Doing To The Environment
Warning: Graphic Images That The Egg Industry Does Not Want You To See
New Study Shows What Vegan Diets Do For Heart Health, Endurance Athletes & Sports Performance
Scientist: Milk From Cows Has "The Most Relevant Carcinogen Ever Identified" & "Turns on Cancer"
Scientist Explains How Cow's Milk Leeches Calcium From Your Bones & Makes Them Weaker
The demand for Collective Evolution's content is bigger than ever, except ad agencies and social media keep cutting our revenues. This is making it hard for us to continue.
In order to stay truly independent, we need your help. We are not going to put up paywalls on this website, as we want to get our info out far and wide. For as little as $3 a month, you can help keep CE alive!
Full Moon In Libra: Approaching Changes
We are having a 2nd Full Moon in Libra on April 19th; however, it will appear fullest on the night of the 18th in the American continents. This is the peak of the Lunar cycle that began on April 5th with a New Moon in Aries.
This Full Moon happens with the Sun opposing the Moon right at the tail end of Aries and Libra, at the 29th degree, less than a day before we begin Taurus season. The energies of a sign tend to be more heightened at these points. Also, with it being a 2nd consecutive Full Moon in the same sign, it is an 'Astrological Blue Moon,' which is something that occurs once every 3 years. This also amplifies the energies of this polarity of signs over an extended period.
During this Full Moon, we can experience either a push-pull or collaboration between the Sun in Aries and Moon in Libra. The energies of it gradually build up and become more noticeable on the day of and days surrounding the Full Moon. It is also part of the backdrop of the other astrological influences/reflections over the following two weeks.
Aries is a fire sign ruled by Mars. It is about action, moving forward, pioneering, independence, self-identity, self-orientation, and leadership. It is bold, courageous, and instinctual, yet it can also be aggressive, impulsive, impatient, selfish, and hot-tempered.
Libra is an Air sign ruled by Venus. It is about relating, relationships, partnerships, codependency, consideration, harmony, balance, fairness, art, creativity, and beauty. It is sociable, diplomatic, and intellectual, yet it can also be indecisive, passive aggressive, vain, and even judgemental.
Full Moon Quincunx Venus, Opposing Sun/Uranus Conjunction
Venus is the ruler of Libra and is in a quincunx aspect with this Full Moon. This could indicate frustrations, challenges between emotional needs, relationship considerations, balance, fairness, or equality with values, finances, or other aspects of our relationships. The solution to this may require adjustments, which may seem complicated.
Venus is about to change signs just like the Sun and Moon. It is currently near the end of Pisces, which is also the end of the entire zodiac. All of this combined with Uranus being tied into this Full Moon could indicate some sort of change or transition regarding some of the themes mentioned in this article.
The Sun is moving close to Uranus in Taurus with the Moon in opposition to it. This could reflect surprises, instability, and disruptive or separative circumstances. Individual needs connected to freedom, liberation, new experiences, excitement, independence, authenticity, innovation, or rebellion may be at odds with other considerations or relationships.
Jupiter is also in a separating aspect with the Sun and Moon. This could emphasize some of what is mentioned above, but could also bring in themes connected to beliefs, opinions, travel, education, media, and marketing. Considering that Jupiter recently began its retrograde, many people may experience a shift or revisitation around these things as well.
Mars Square Neptune, Mercury and Venus in Aries Conjunct Chiron
Mars, the ruler of Aries, is in Gemini moving towards a square with Neptune in Pisces, which is strongest from April 25th-28th. At best, this energy can be good for asserting ourselves in a spiritual, inspired, imaginative, or creative way. This can also be good for activities that involve water.
However, it can feel harder to take on mundane duties and we can lack direction or even have less energy for physical assertion. We can also feel lazy, scattered, or overwhelmed. Certain efforts might end up not working out due to insufficient execution, lack of attention, or by other means.
Mercury entered Aries a few days before this Full Moon, where it will stay until May 6th. This follows an extended stay in Pisces due to the previous retrograde. We can be more mentally sharp, quick, bold, and courageous in comparison to the last few months, which were a time of heightened absent mindedness, confusion, and less focus.
During the day of this Full Moon and the days surrounding it, Mercury is in a conjunction Chiron. Thoughts and communications could be connected to Chiron themes of healing, wounds, blockages, inadequacies, innovation, bridging, or perhaps some sort of holistic orientation. Venus will also enter Aries and join Chiron from April 21st-24th. Similar themes could play out in our relationships or regarding values, finances, or beauty.
Saturn and Pluto Going Retrograde Near The South Node
Around the time of the previous New Moon, Pluto was aligned with the South Node, and it has been slowing down to go retrograde on April 24th. This could be bringing themes of purging, transforming, and perhaps endings into this Moon cycle. It is also possible that past issues or behaviours could have resurfaced. Themes connected to fears, power, control, manipulation, shadows, sex, or perhaps even death could also come up.
Saturn is also now getting closer to the South Node as it slows down to go retrograde on April 29th. This could extend and accentuate some of the same themes mentioned above such as endings, changes, or obstacles associated with the past.
It can also bring up themes connected to responsibilities, commitments, boundaries, structures, career obligations, barriers, and limitations. This energy will be strong over the coming 2-3 weeks, especially during the days surrounding April 29th. It will also be strong in the early Summer and then early Fall when it concludes.
Things To Consider During This Period
What do you need to do to balance your relationship needs with your individual ones? Are there any adjustments that you need to make? What do you need to do to feel more liberated? What considerations do you need to make before making any changes?
What areas of your life are calling for endings and what aspects of your past do you need to let go of? Do you need to shift your commitments and responsibilities? Are there any unusual solutions coming up that could help you overcome obstacles or facilitate some sort of healing?
These are just some examples of themes that could come up during this period; however, there may be other variations of this energy playing out as well.  If you wish to do any sort of intentional release connected to what has come up at this Full Moon, it is best to do so anytime over the two weeks following, when it is waning. The exact moment of this Full Moon is on the night of April 19th at 11:12am Universal Time. You can click here to see what that is in your time zone.
Follow me on INSTAGRAM, FACEBOOK, and YOUTUBE for more astrology related content.
—
Looking for astrological insight into what is going on in your life? Or perhaps looking to better understand your life and its potentials? Get a personalized astrology reading with Carmen (author of this article) specific to you based on your exact birth date, time, and location. Click here for more information or to order. 
The demand for Collective Evolution's content is bigger than ever, except ad agencies and social media keep cutting our revenues. This is making it hard for us to continue.
In order to stay truly independent, we need your help. We are not going to put up paywalls on this website, as we want to get our info out far and wide. For as little as $3 a month, you can help keep CE alive!
Embodied Spirituality: The Truth Shall Set You Free
In Brief
The Facts:

There are truths, despite what our president would want us to believe. Subjective and objective domains for truth are largely distinct, and discerning the difference informs a spirituality that honors more than just our convenient worldviews.

Reflect On:

The key is learning how to appropriately identify subjective versus objective truths. When we mix up these domains, we end up not living in alignment with the truth, which is not only anti-spiritual but leads to the demise of the Earth as well.
For myself, spirituality means aligning with what is true, or most likely true. This means looking at what is true through the lens of my unique experience and self-reflection (subjectively) and what is true in the world (objectively).
Living in accord with what's true means I have to confront lots of things that are tough to stomach and that I'd prefer weren't true. I practice resiliency by enduring this discovery process. It takes courage, humility, sensitivity, insight, intellectual rigor, emotional intelligence, and flexibility—in essence, all of me.
Why does it require all of me to be honest?
Because we humans have evolved to stick to our beliefs, even though many of them are false. We, in fact, experience a dopamine rush (a feel-good neurotransmitter in our brains) when we affirm our beliefs, even if they are wrong. So, confronting false beliefs about myself and the world means I have to endure some degree of feeling badly, some emotional turmoil, cognitive dissonance, and reorientation of my world. When I challenge many of my false beliefs, I encounter nothing short of transformation on all levels. Sounds like a bona fide spiritual path to me.
The Power of (False) Belief
This being human is a guesthouse,
Every morning a new arrival.
A joy, a depression, a meanness,
some momentary awareness comes
as an unexpected visitor.
—Rumi
When we don't align with what's true about ourselves, interpersonally, and in the world, we develop false beliefs. And we like to assert these false beliefs. Using evidence and acknowledging reality can help us let go of our false beliefs. We receive this information subjectively through self-reflection and what others share with us (which we also need to sort through for false projections). We receive true information about objective reality by direct observation and through evidence.
Ascertaining inconvenient truths means we have to let go of our self-administered dopamine addiction (by lying to ourselves and others when wrong) and experience feeling badly temporarily. We have to accept new visitors to the guesthouse of our psyche if we want to be more honest. If we can't do this, we cut ourselves short of our potential.
We can't be as loving and kind when we're deluded about what's true, subjectively and objectively. If I can't accept that I am more self-serving than I think I am, I will continue to unconsciously put myself first at the expense of others. If I can't acknowledge that smoking cigarettes, synthetic chemicals in perfumes, or spraying RoundUp is harmful, I am more likely to condone their use, which causes harm.
To change belief structures includes a collapse of our sense of self, trust, safety, belonging, and our perceived survival. This is also why many cling so dearly to their beliefs; even war can seem like a better option than to adjust ourselves to reality. Reality seems pretty powerful this way! If we adopt reality as our guru, we have a powerful teacher on our side to wake us up. So, a willingness to embody our humanness can be a path to greater compassion and peace. Embodied spirituality means being fully human—accepting and working skillfully with all our thoughts, emotions, physical issues, and relationships.
When we don't embody our spirituality, we don't take as good care of the Earth, which is the extension of our own bodies. In the age of environmental collapse, an earthy and embodied relationship to life that apprehends what is true helps us heal what's ill. Like missing a medical diagnosis, how can we treat what what we can't bear to admit and accurately diagnose? Honesty is therefore the first step to healing and embodying our lives.
Being Human is Very Spiritual
We, in fact, need nothing more than everyday honest living for spirituality to put us on a path of massive transformation.The more we can let go of spiritual loftiness and encounter our ordinary humanness, the more resilient and honest we become. Ironically, it is precisely this difficult growth that has given rise to many spiritual and religious paths that abandon the ordinary, grounded world of embodied living, as complex as it is. These spiritual paths thrive on what is highly likely untrue. They try to escape the pain of everyday living by denying what's painful, which is called spiritual bypassing. With skillfulness, wisdom, and support we can navigate what's honestly human while not bypassing.
Learning to welcome and tolerate all manner of emotions and inconvenient truths to our guesthouse allows us to align with reality, especially welcoming what makes us feel badly. It's important to align both with the good and the ugly because when we ignore the ugly and painful, it goes unhealed and untended. Our precious biosphere suffering under the weight of our pollution is a prime example. What we don't want to look at, we can't address. Turning our heads and hearts away from it creates more pain and ugliness.
The New Age dictum, "What you put your attention on grows," fails to acknowledge the importance of embracing what's ugly and painful. A wiser, more embodied version might go: "The negative things you put your attention on allow you to see reality and address it before it takes over beyond the point of repair." Look at the plastic pollution issue or climate change as examples. Acknowledging both sides of the coin is more important than choosing only the bright side of life in order to remain happy, which is short-lived when we're in denial of the dark side. Wanting to remain happy at the expense of not seeing reality (except when we need a recharge break from honestly facing it) is fear in disguise that ultimately comes back to bite us. It also bites us in the moment because this denial cuts us off from our deeper hearts—our compassion and empathy—which are stirred by painful realities.
We can't know everything, of course. Nor can we be right all the time. But we can be aligned enough with everyday reality (what matters at the end of the day) to make a difference and eliminate unnecessary suffering. We just have to be willing to be selfless enough to stop avoiding necessary pain to the degree we do.
Science & Critical Thinking
Scientific consensus is the primary arbiter of what's objectively true in the world; what we subjectively experience is not as good a measure of what's objectively true. "I like apples" is a subjective truth. No one can disprove this; it's a personal truth. It is not the purview of science to disprove a subjective experience. Yet, if I claim that everyone likes apples just because I experience their yumminess, this is imposing a personal truth onto external reality. And, it's not true—we know not everyone likes apples, and nothing is wrong with them for not liking them. It is the purview of science to demonstrate that not everyone likes apples, and simple common sense will do in a pinch.
Of course, there is bad science, like the junk (dishonest) science produced by many corporations such as Big Pharma and Bayer-Monsanto with regard to GMOs. So, when I say science, I mean good, peer-reviewed (and not conflict-of-interest and corporate-funded), consensus science. And yes, many scientific truths are always in flux, but many scientific discoveries do not change because they have stood the test of many challenges. Think about the law of gravity and the laws of thermodynamics. Many who want to protect their sense of self and ego deem all science to be manipulative, dishonest, and just another belief system. This is just not true. If it were, the device on which you are reading this article would not function because it's constructed as a result of the collaboration of many scientific laws that have not been debunked and instead stood the test of time.
Consider another example: If I experience a vision during a medicine journey or receive a message in a dream one night that has personal meaning to me, I might conclude it's true for everyone, or true in the world. Let's say a blue dragon with white polka-dots tells me that aliens are communicating to humanity by way of trees. Well, before I know if this is true or not, I'd have to investigate its veracity. I don't deem it true simply because I had a subjective experience that conveyed it was. This way, I can tentatively receive this bit of intuitive knowledge and seek to determine if it's true. Intuition tips me off to what is possible, not necessarily what is true.
Confounding subjective and objective truth is one of the biggest faux pas we make, especially in spiritual circles.
Science shows us what's most likely true beyond our own intuition, beliefs, and biases. Even with science's errors and its dishonest publishing politics, good scientific consensus is still the best tool we have for determining what's true about the natural world, not our subjective experiences. We have to be skillful and aware not to automatically deem our subjective experiences as objective truths. This helps us align with reality, keep an appropriately open mind, and helps everyone get along better because we're not feuding over what's objectively true.
"What's True for Me"
When everyone feels entitled to their opinion—"what's true for me"—we end up with lots of personal beliefs and memes that aren't true. "Personal truth" or "what's true for me" is a subjective truth. Your like of apples doesn't mean anything about the external world, such as my opinion of apples. If I don't trust politicians or my landlord, this doesn't mean they are untrustworthy. I need objective evidence to prove or verify my distrust. Or I can just own this hunch and honestly call it so, while knowing it might not be true. This discernment between subjective and objective truth helps prevent assumptions and dogmas. This also sounds pretty spiritual to me.
If someone sheds distressing light on a politicianI like or my best friend, I'm likely to become defensive because my sense of self and orientation in the world, as well as my emotional security, are invested in these beliefs. If my belief structures are challenged, all of what that belief system keeps in place becomes shaky. And this is just too scary for most of us, so much so that we defend against it or attack and assault others because of it. We often make the mistake of imposing "what's true for me" onto what's true for everyone or what's true in the world.
"What's true for me"  beliefs can't automatically be extended to external reality unless we have evidence beyond our own subjective perception to deem them so. If I believe the world is flat and this is "what's true for me," that doesn't fly. This is to make a subjective truth objectively factual. This is what leads to conflict and living in fantasy. Just look at religious and many New Age beliefs as examples. They are not different from our personal beliefs about the nature of reality that are also false and cause us to act in egoic, violent ways.
What's True "Out There"
Good science to determine the mostly likely and factual objective knowledge offers us the opportunity to dismantle our egos and illusions. Science and critical thinking show us that many of our "what's true for me" opinions about the world are wrong. Notice I am not talking about personal feelings and preferences, but rather our statements of fact about the world.
Objective truths implicitly challenge us to change, to transform ourselves. It takes spiritual-emotional courage to accept these facts, which builds resiliency the more we practice aligning with what is both subjectively and objectively true. The sun appears to go down over the horizon; the Earth appears flat. Via science, we know these subjective observations are not true. Using my intuition to make such conclusions is a wrong use of this faculty. If my intuition tells me there is more to the story, then I can investigate it for other evidence. This, in fact, is how many scientific discoveries occur. Intuition and science are not mutually exclusive. In fact, they are allies as long as we don't assume what's subjectively true to be objectively true, and vice versa.
Many people dismiss science precisely because its conclusions fly in the face of what they'd prefer to believe. This results in intellectual dishonesty and spiritual delusion. Our emotional bents and grudges—especially those resulting from our hurt and wounds that have generated anger, fear, pain and thus, bias—prevent us from being intellectually honest, unless we recognize the dynamic by which we deceive ourselves and we set about to be more honest. This requires enduring the discomfort of being humbled and sacrificing a temporary dopamine rush for the truth.
To be able to accept truth therefore requires that we deal with our emotional baggage and triggers, because this is the primary driver for our intellectual dishonesty and spiritual laziness. Many of us would fall apart if we discovered that parts of our worldview are untrue. That could result in a spiritual emergency, akin to a healing crisis, which ultimately improves us and makes us more effective in the world.
Warriorship
This is why spiritual warriorship—aligning myself with what is most likely objectively and subjectively true—requires I be emotionally and intellectually rigorous and courageous. It means that I listen to scientific consensus and not discard it because I'd like to believe something else. It means that I listen to the opinions of others and gain perspective on myself (while also honestly and humbly sorting out projections and displacements of other people's biases). It means that I genuinely and honestly consider interpersonal facts about which I might have an incorrect opinion. And it means that I notice the whispers inside me that tell me when I am being dishonest or hiding from the truth, with white lies tolerated now and again.
Many spiritual paths involve giving over one's will and beliefs to a guru. Yet, that guru can be corrupt and deluded and conflate subjective and objective truths. For example, feeling "one with all" in meditation doesn't mean that we are all one in a black or white way—without appropriate boundaries, individual needs, and different tolerances and sensibilities. In this sense, aligning ourselves with what is most likely true, subjectively and objectively, is a robust spiritual path—because, much like a guru, it forces us to align with truth and withstand the breakdown of some part of our existing paradigm. This is death and rebirth work, for sure. Again, this sounds pretty spiritual to me.
Detachment from reality by remaining stuck in one's self-centered and deluded beliefs doesn't help the planet or help us show up for one another. Consider our government's failure to acknowledge the widespread harm of key pesticides, or the neurotoxic chemicals in perfumes and scented products, despite the scientific evidence and the fact that many of these products are banned in the EU and other, more sensible places than America. This creates crimes of global proportion because of the actions (and inactions) and resulting injury that a denial of the facts causes. Or consider a smaller-scale example. If someone doesn't appreciate you, despite evidence to the contrary they choose not to see, they will treat you poorly and create unnecessary suffering for you and themselves.
Embodied Spirituality
To live an embodied spirituality—where we are in alignment with reality and what's as true as we can glean— means we have to give up many of our fantasies and wishful thinking. It means we have to tend intimately to our emotional lives and the hidden aches and wounds that hide us from the truth. We find these hidden places when we descend into and become more conscious of our bodies (this is a key aspect of the "body" part of "embodied spirituality"). We have to practice critical thinking to align with external reality, what's known as "intellectual honesty." Emotional and intellectual honesty are the pillars that produce spiritual honesty.
When we practice emotional healing, good thinking, and care for the greater good, we inhabit our bodies more fully. Belonging to ourselves this way connects us to the body of the Earth, so we can treat it with the same integrity with which we treat ourselves . This way, spirituality begins with our (extra)ordinary humanness and self-healing and extends to the ordinary, extraordinary world around us in the same vein of integrity.
It's easy to live in a fantasy world, believing what's convenient, what feeds our biases, puffs up our superiority, denies what makes us uncomfortable, and propels our hate. These convenient, false beliefs also protect our core wounds and our need to belong in the world at any cost. The problem is that believing in what's untrue damages the world because it guides our actions and inaction.
Science and everyday evidence are beautiful because they bypass our bias and opinion; they don't care what we believe or what injures our ego. They're impartial. Sounds like the work of a good guru to me. When we get humility, courage, honesty, good thinking, and passion all working in harmony and assuming their appropriate roles for truth-discerning, we get integration, which begets integrity. These psycho-spiritual capacities are the cornerstone of an embodied spirituality, which is simply to be an exquisitely integrated and aware human being who genuinely cares about oneself and the world . . . enough to be willing to suffer disillusionment to align with and serve it.
When we align our subjective and objective truths, we live in more harmony, not only with ourselves but with every other precious, living thing. What better path could we take than to strive for an embodied, earthy life in the age of environmental collapse? For, the collapse of the natural world may indeed be due to our collective, personal collapse of integrity—the abandonment of our own embodiment.
****
Jack Adam Weber, L.Ac., M.A., is a Chinese medicine physician, having graduated valedictorian of his class in 2000. He has authored hundreds of articles, thousands of poems, and several books. Weber is an activist for embodied spirituality and writes extensively on the subjects of holistic medicine, emotional depth work, and mind-body integration, all the while challenging his readers to think and act outside the box. His latest creation is the Nourish Practice, a deeply restorative, embodied meditation practice as well as an educational guide for healing the wounds of childhood. His work can be found at jackadamweber.com, on Facebook, or on Twitter, where he can also be contacted for medical consultations and life-coaching.
The demand for Collective Evolution's content is bigger than ever, except ad agencies and social media keep cutting our revenues. This is making it hard for us to continue.
In order to stay truly independent, we need your help. We are not going to put up paywalls on this website, as we want to get our info out far and wide. For as little as $3 a month, you can help keep CE alive!