Can Baby Powder Cause Ovarian Cancer? 3 Natural Alternatives If You Don't Want To Use It Anymore
Do you use baby powder?
Have you thought twice about its safety?
For years, without knowing, and blindly trusting, many of us apply harmful chemicals to our delicate parts, such as our bottoms, feet, armpits, and groin — anywhere that is moist and emits odour. Unfortunately, the talc in baby powder destroys our delicate skin and microbial community and confuses our immune system, sprouting cancer in reproductive organs.
Massive lawsuits were recently awarded to cancer sufferers by Johnson & Johnson, the formulators of baby powder.
On August 21, 2017, a jury in California recently ordered Johnson & Johnson to pay $417 million to a woman who says she developed terminal ovarian cancer as a result of using the company's baby powder. And in February 2016, a Missouri court ordered Johnson & Johnson to pay $72 million in damages to the family of Jackie Fox, a woman who died of ovarian cancer.
Both lawsuits said the cancer was linked to their longtime habit of applying baby powder. Two other Missouri court cases against Johnson & Johnson went in favour of the women who sued, leaving the company on the hook for $197 million. And more than 2,500 lawsuits are pending in the state.
Nearly $700 million dollars has been paid out to women who have suffered serious illness and death for simply using something many of us have not been properly informed comes with serious health consequences.  We assume that just because it's advertised as safe for our babies that it is.
My goal in this article is to give you the full disclosure you haven't received, and talk about the hero woman of this story who died in the process of getting the truth out.
How Can We Protect Ourselves From This?
Let's distinguish between: What's proclaimed vs. not disclaimed?
When will these lawsuits be enough for us to listen?
What to use instead that's safer and perhaps more effective
The same people who have repeatedly brainwashed us through marketing luxury purses, perfumes, prescriptions, people, and products that poison us more than beautify us, because you're not enough without them, are the same people who are echoing the same in studies, saying "The research is not enough to prove that talc is toxic enough to cause ovarian cancer."
Who are these people? The 1% in charge of virtually every message we hear from the skewed media and news, and so-called beauty and health products.
So what's the problem with talc? 
#1 Let's Distinguish — Proclaimed vs. Disclaimed
What's Proclaimed (aka What We're Told):
Talcum powder is made from talc, a mineral made up mainly of the elements magnesium, silicon, and oxygen. As a powder, it absorbs moisture well and helps cut down on friction, making it useful for keeping skin dry and helping to prevent rashes. It can be found in powdered cosmetics, deodorants, and more. 
What's Not Proclaimed (aka the Dark Truth About Talc):
Talc is a powdered native hydrous magnesium silicate sometimes containing a small portion of aluminum silicate. Talc can be contaminated with asbestos fibers, posing risks for respiratory toxicity and cancer. Studies by the National Toxicology Panel demonstrated that cosmetic-grade talc free of asbestos is a form of magnesium silicate that also can be toxic and carcinogenic — so much so that it is banned in the EU as well as in Canada, both of whom place much more scrutiny on the ingredients allowed in their food and drug products.
So why are these things not banned in America?
One word: greed.
We're the lab rats.
Although many attempts have been made by doctors, researchers, and attorneys since the first discovery of its potential threat to our ovaries, J&J still refused to change the formula.
Dr. Daniel Cramer, a professor of obstetrics and gynecology at Brigham and Women's Hospital in Boston, has served as a paid consultant on several ovarian cancer cases against Johnson & Johnson, and published one of the first studies noting an association between talc and ovarian cancer in 1982.  It found a 92% increased risk for ovarian cancer with women who reported genital talc use.
"This story goes back a long, long way, back into the '70s when people noted that ovarian cancer had many similarities to asbestos exposure," he says. "Meanwhile another group in England found talc that was deeply embedded in ovaries and said there might be a story here."
According to the EWG on this site, 23,653 studies in PubMed science library may include information on the toxicity of this chemical.
In 1993, The United States National Toxicology Program concluded "talc is a carcinogen." Then, in 1996, the condom industry stopped dusting condoms with talc at the request of the U.S. Food and Drug Administration (FDA), which was the direct result of the scientific concern about the ovarian cancer risk from vaginal exposure to talc.
The International Agency for Research on Cancer, part of the World Health Organization, also called talc a possible carcinogen in 2010.
In spite of this overwhelming evidence, they continued to aggressively market the powder. The internal documents obtained in the lawsuits reveal the company knew years ago that "Retrospective studies have implicated talc use in the vaginal area with the incidence of ovarian cancer."
Yet, even after paying over half a billion dollars in lawsuits that Johnson & Johnson baby powder had a direct link to these womens' cancers, they deny the toxicity of their product and continue to stand behind it.
"Several decades of medical research do not support the hypothesis that use of talcum powder causes ovarian cancer," said Dr. Hal Lawrence, chief executive officer of the American Congress of Obstetricians and Gynecologists.
Other Risk Factors of Baby Powder — Hormonal Chaos?
Talc aside, another group of chemicals called Phthalates are commonly found in baby lotions and powders. This class of ingredients, also abundantly formulated in cosmetics, is among 70,000 other registered chemicals that have hormonal effects on the body.
These factors are called xenoestrogens, foreign estrogens that mimic the functions of our natural estrogens. When they enter our body, they attach themselves to our cells' receptor sites, taking over our naturally produced estrogens' functions to control growth and development, negatively affecting our breasts, skin, menstruation, and fertility.
Over time, high exposure to these 'fake estrogens' can promote unnatural growth in tissues such as fibroids, cysts, tumours and weight gain. It also wreaks havoc on the endocrine system, leaving women with a myriad of hormonal health imbalances, one of the most common conditions I see today in my practice. PMS, heavy bleeding, cancer, PCOS, infertility, acne, mood swings, chronic fatigue, weight gain, and more are all too misunderstood by the medical community and thought to have unknown causes. Research suggests it's caused by a condition called Estrogen Dominance, however, the result of an accumulation of chemicals in the body. Essentially, all the products we use on a daily basis and the effects of their ingredients stack up over time.
So the next time you read a study that says "not toxic in small doses," ask yourself how much these small doses of various products add up over years of use.
We're putting hundreds of different products, full of xenoestrogens, onto our bodies. When applied to the skin, they are far more potent than those ingested orally, because they travel directly to the tissues instead of passing through the liver. So even if talc weren't the issue, as per Johnson & Johnson's representatives, perhaps you should consider seeking alternatives due to these negative ramifications.
Studies are now showing that one in two men, and one in three women in this generation are estimated to have cancer, and over 75% of America is now overweight or obese, at least in part because of the hormonal imbalances caused by xenoestrogens, we should all aim to reduce our exposure as much as possible. Read how here.
#2 When Will These Lawsuits Be Enough for Us to Listen?
The Scary Truth:
Johnson & Johnson knew about the risk since the early 1980s, and even before, yet did not protect its customers.
The medical community is nevertheless claiming to 'not know' the cause of ovarian cancer — but I beg to differ.  Overwhelming proof shows that for most cancers today, the underlying cause is manmade chemicals, environmental toxins, and in a large proportion of cancers, xenoestrogens.
My question to you is, when will it be enough?
How many kids 'dying too young' of cancer need we witness?
How exhausted, hormonally imbalanced, diseased, and infertile do we need to become?
How many lawsuits, how many women have to suffer, how many loved ones die, before we wake up and learn from their losses?
Ms. Echeverria, who was too sick to testify in court, started using Johnson's baby powder when she was 11 and continued after being diagnosed with ovarian cancer in 2007, unaware that some studies had linked talc to cancer, said her lawyer, Mark Robinson. She stopped using it after hearing news reports of a verdict in another lawsuit against Johnson & Johnson, he said, and now wanted to warn other women.
"She told me, 'I'm not doing this for myself,' " Mr. Robinson said. "She knows she's going to die. She's doing this for other women. She wants to do something good before she leaves."
And good she did, as a warrior champion of ovaries and baby butts everywhere.
Now let's talk alternative solutions.
Thankfully, there are plenty of other choices you can use instead that you probably already have in your kitchen!
#3 Three Healthy and Beautifying Alternatives
Baking Soda (aluminum free)
Arrowroot (Paleo baking soda) – comes from plants
Diatomaceous earth – comes from fossilized diatoms, aka algae
Baking Soda?
Sodium Bicarbonate works very effectively to absorb odour. Apply it just as you would baby powder. As with all things, however, you should test out a little at a time to see how your body reacts, especially because these are sensitive areas. Be sure to purchase the kind without aluminum so your heavy metal levels don't look like the below chart. I test for heavy metal toxicity in my online nutrition company, and often see metals in excess of safe ranges, which negatively impacts our health, causing auto immune disease, neurological damage, and brain disfunction, and has ties to virtually every symptom you can think of.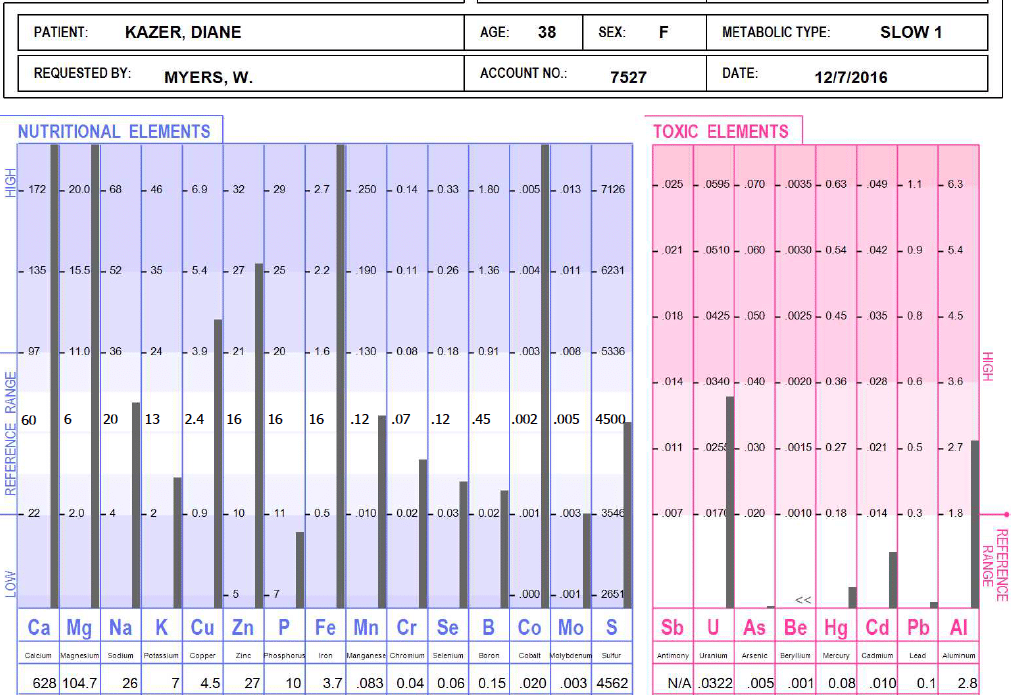 What Is Arrowroot?
Arrowroot is derived from several tropical South American plants. Tapioca starch is derived from the crushed up pulp of the South American cassava plant, a woody shrub. I bought it long ago to use in my vegan and paleo recipes as alternatives to flour and cornstarch that otherwise are genetically modified and filled with heavy metals, which leech minerals such as zinc, Vitamin C, and iron from our body. Since zinc is perhaps the most important mineral to boost immune health, we want to stay as free from GMO ingredients as possible, to combat cancer.
What Is Diatomaceous Earth?
Diatoms are hard-shelled algae that come from bodies of water and have a high silica content, which makes it good for hair and skin use. It's been called a miracle dust.
Benefits of Diatomaceous Earth:
Better digestive health
Healthier colon
Better food absorption
Clearer skin
Healthier hair and nails
More energy
Lower Candida levels
Kills parasites and worms in the body (works for dogs too)
This miracle powder also works as a 'deodorant' to decrease odour. You can also use it in hair to ditch dandruff and also sprinkle it into your shoes (instead of talc) for foot fungus.
If you are going to buy it, make sure it's food grade diatomaceous earth. You can get a huge 10 pound bag for around $20.
Closing Points and Takeaways
It's our job to pay attention and be mindful of the things we put on, in, and around our body. We must stop assuming that decades old FDA regulations are in place to protect us. It is impossible to test for reactions of not only how one unique person would react to these harsh ingredients, but also how two or thousands of combinations react inside of the body. So it's on us to research and test ourselves.
I am still surprised to hear how many people don't realize that what you apply to your skin becomes a part of you, just as any bite of food you take does. Your skin eats too, and these applied toxins become a burden to our organs of elimination.
I've worked with thousands of clients and this is the most under-addressed topic, which most don't consider could have such a drastic impact on health.
You could eat the perfect diet, and have the perfect exercise/yoga/rest routine, but if you're slathering toxins like talc to your body, your odds of disease, fat, fatigue, and frustration are still very high.
Bottom Line:  If we love on our skin-biome and treat it well, it can keep us energetic and happy, reduce pain and disease, and lessen the signs of aging. The best two ways to do this are to feed our body probiotics (this is the brand I use), and then consume food for these bugs with prebiotics such as leafy greens and fermented foods. I teach this, step by step, in my four-week online program, The Warrior Cleanse.  Then, stop consuming and applying things to the skin and body that destroy the 'good guys' within it.
For a great resource on what products are safe to put on your body, check out the free online resource, Environmental Working Group at EWG.org.
For more empowering articles just like this, and how to steer clear of these toxins, check out my website, Facebook page, and Youtube channel for all things hormones/cleansing and fat burning fitness!
Cleanse your Body, Heal your Hormones, Ignite your Life!
Due to the pressure of mass censorship, we now have our own censorship-free, and ad-free on demand streaming network!
It is the world's first and only conscious media network streaming mind-expanding interviews, news broadcasts, and conscious shows.
Click here to start a FREE 7-Day Trial and watch 100's of hours of conscious media videos, that you won't see anywhere else.
Johnson & Johnson Found To Have Knowingly Allowed Asbestos In Their Baby Powder
In Brief
The Facts:

Johnson and Johnson have recently lost lawsuits for negligence in knowingly allowing carcinogenic substances in their talc-based hygiene products.

Reflect On:

Are we starting to turn the page on an era where human health and safety are not the prime considerations in the manufacturing of consumer products?
We are starting to awaken to the fact that it seems to be the rule, and not the exception, that large Western corporations put profits above human health considerations. The only time they seem to give any regard to human health concerns is when their forecasts of potential lawsuits down the road would likely exceed the cost measures needed to ensure the safety of their product.
Johnson & Johnson is just one of a long line of corporate perpetrators who believed that covering up and lying about known health concerns would make better business sense than taking the time and resources to actually address those health concerns within their products.
Contaminated Baby Powder: The Height Of Indignity
One would think, regardless of an understanding that the bottom line is a priority for most private companies, that the health and safety of a nursing mother and her newborn child would be sacrosanct for any industry. The reality is that this is simply not the case, even though J&J could have mitigated this problem from the start.
Companies that mine talc are required to take extra steps to ensure the absence of asbestos in their talc. Instead, J&J allegedly went to great lengths to fake it.

Not only did the company know about the asbestos contamination, evidence suggests, but J&J also failed to warn its customers about the link between Baby Powder and cancer or replace its talc with a safer alternative. As a result, J&J guaranteed its customers' exposure to asbestos.

And regardless of their size or numbers, asbestos fibers are lethal at any capacity. As the World Health Organization (WHO) has stressed repeatedly, there is no safe level of exposure. (source)
The Testimony of Scientist James Webber
Baby Powder's contamination with asbestos (a mineral that naturally occurs near talc) has long been the subject of lawsuits. But only in recent years has evidence begun to unravel J&J's defense – that the company had no idea – and threatened its success in lawsuits to come.
In March, a California jury awarded $29 million to Terry Leavitt, a woman who said that asbestos in Johnson & Johnson's talcum-powder-based products caused her terminal mesothelioma. Environmental scientist James Webber testified in her high-profile California trial and made these observations:
During several hours on the stand, Webber explained how he ran tests that showed "clear" evidence of asbestos contamination in the mines from which J&J sourced talc.

"The testing I have seen [shows] that it was present at least as early as 1971 and up through the late 1990s," said Webber, who ran an asbestos laboratory in New York state.

Despite denying it publicly, J&J had observed this contamination in internal memos. Its notes dismissed the amount of asbestos in its talc as "but a trace," Webber alleged. But that was just an optimistic interpretation of superficial testing, he said: the tests used methods too weak to detect microscopic asbestos fibers. Webber insisted the actual tests results revealed there could be millions of asbestos fibers per gram of talc.

And J&J's inaccurate reports were allegedly only the tip of the iceberg. In some instances, Webber said, photos attached to J&J's reports revealed that "they had been seeing it and not reporting it."  (source)
And It's Getting Worse
The $29 million verdict, in California Superior Court in Oakland, was the latest defeat for the healthcare conglomerate facing more than 13,000 talc-related lawsuits nationwide. And things may be getting even worse for J&J, according to ZeroHedge:
Johnson & Johnson shares are down over 5% after Bloomberg reports that, according to people with knowledge of the matter, the U.S. Justice Department is pursuing a criminal investigation into whether Johnson & Johnson lied to the public about the possible cancer risks of its talcum powder…

Now, a grand jury in Washington is examining documents related to what company officials knew about any carcinogens in their products, the people said.
The Takeaway
It seems as though corporations have long been willing to take the calculated risk of short-cuts and denials instead of ensuring that their products are safe for public use. My suspicion is that a part of our collective awakening process will be issuing in a new business paradigm in which human health and safety become paramount.
Due to the pressure of mass censorship, we now have our own censorship-free, and ad-free on demand streaming network!
It is the world's first and only conscious media network streaming mind-expanding interviews, news broadcasts, and conscious shows.
Click here to start a FREE 7-Day Trial and watch 100's of hours of conscious media videos, that you won't see anywhere else.
Prescription Infant Formulas Found To Be Contaminated With Aluminum
In Brief
The Facts:

Multiple brands of prescription infant formula were found to contain high levels of aluminum.

Reflect On:

Should we be questioning the quality of products that come from pharmaceutical production? Do we veer away from natural methods of raising children more than we should? At what cost?
You may not think aluminum is a big deal, but it is. For anybody who has looked into aluminum toxicology, it's quite clear and apparent that it has no place inside of any living biological organism. Putting it simply, it wreaks havoc on our biology. High amounts of aluminum have been found in the brains of people with Alzheimer's disease, with experts in the field believing that aluminum brain accumulation may be one of the main causes of Alzheimer's disease.
It's also been discovered within the brains of MS patients, and some of the highest aluminum content ever recorded in brain tissue has also been discovered in people with autism. Aluminum is associated with several diseases. But an adult body can do a great job of flushing out aluminum.
Despite the fact that aluminum has no place within earth's biota, it's still present in many of our medications, our food, and even in the water that we drink due to contamination since the industrial revolution. Aluminum inside the body is a new phenomenon and still understudied. Again, there is a threshold, and aluminum that is injected via vaccines doesn't exit the body–there is strong evidence that it remains inside the body and ends up in distant organs and eventually inside of the brain. If you want to access more studies on that topic, you can read this article I published that provides them and goes into more detail. You can also watch this interview with Christopher Exley, where he also points to that fact.
A new study published in the International Journal of Environmental Research and Public Health has shown that multiple popular infant prescriptions are contaminated with aluminum. You may be asking how much aluminum, but the authors make it a point to stress that there are no safe amounts of aluminum levels that can be inside of a human body, let alone a newborn baby. That being said, the amounts found are listed within the abstract of the study:
Historical and recent data demonstrate that off-the-shelf infant formulas are heavily contaminated with aluminium. The origin of this contamination remains to be elucidated though may be imported via ingredients, packaging and processing. Specialised infant formulas exist to address health issues, such as low birth weight, allergy or intolerance and medical conditions, such as renal insufficiency. The aluminium content of these prescription infant formulas is measured here for the first time. We obtained 24 prescription infant formulas through a paediatric clinic and measured their total aluminium content by transversely heated graphite furnace atomic absorption spectrometry following microwave assisted acid/peroxide digestion. The aluminium content of ready-to-drink formulas ranged from 49.9 (33.7) to 1956.3 (111.0) μg/L. The most heavily contaminated products were those designed as nutritional supplements for infants struggling to gain weight. The aluminium content of powdered formulas ranged from 0.27 (0.04) to 3.27 (0.19) μg/g. The most heavily contaminated products tended to be those addressing allergies and intolerance. Prescription infant formulas are contaminated with aluminium.
Another very important point made right off the bat by the authors:
Human exposure to aluminium is a serious health concern. Aluminium exposure in infants is understandably a burgeoning issue. While infant exposure to aluminium continues to be documented, its consequences, immediate and in the future, have received only scant attention and research is required to understand the biological availability of aluminium through formula feeding. For example, how much aluminium is absorbed across the neonate gut and its subsequent fate, including excretion.

There is already too much aluminium in infant formulas and herein we have measured its content in a large number of prescription formulas, products which are fed to vulnerable infants in their first months of life. Many of these products are heavily contaminated with aluminium.
As for the specific infant formulas, you can refer to the study. The researchers obtained 24 prescription infant formulas via the Paediatric Clinic of Russells Hall Hospital in Dudley, United Kingdom. The ready-to-drink and powdered products were new, ready-to-be used and unopened samples. These formulas are for babies with some sort of growth restriction, like for preterm infants or infants who have poor weight gain. There were also powdered formulas for allergies and intolerances and powdered formulas with additional amino acids.
The authors contacted each manufacturer and expressed that they denied knowing that there was any aluminum in their products, which means it's still a mystery as to their source. The authors hypothesize on a number of ways that aluminum could be entering into the formulas.
In their conclusion, the authors emphasize that:
Where possible, breast milk feeding should be prioritised, as the aluminium content of breast milk is invariably an order of magnitude lower than in formula feeds. Where infant formulas are the only source of nutrition for many infants in their first weeks and months of life, aluminium ingested in formula feeds will be the major contributor to their body burden of aluminium. The last thing that vulnerable infants fed specialised formulas for their specific nutritional/medicinal need is additional aluminium in their diet.
Detoxing
There is a lot of information out there on how a person can detox from aluminum and other heavy metals. There are multiple studies, and based on what I've looked into, water with high amounts of Silica are effective in draining aluminum out of your body and brain. Herbs like cilantro and substances like chlorella and spirulina are also great for removing some metals. The information is out there, so be sure to do your research.
The Takeaway
It's concerning to think about what these corporations are doing. Again, aluminum should hold no place in our society, it should've remained well below our surface as part of the Earth's crust for a reason. It wasn't until humans began digging it out and using it for a number of things, irresponsibly I might add, that we started to see the health implications which still go largely ignored by the medical community.
In fact, heavy metal accumulation and detoxification of aluminum haven't been addressed at all, which is odd given the fact that heavy metal accumulation is linked to a variety of diseases.
Due to the pressure of mass censorship, we now have our own censorship-free, and ad-free on demand streaming network!
It is the world's first and only conscious media network streaming mind-expanding interviews, news broadcasts, and conscious shows.
Click here to start a FREE 7-Day Trial and watch 100's of hours of conscious media videos, that you won't see anywhere else.
9 Studies You Should Be Aware of Before Trying The Ketogenic Diet
In Brief
The Facts:

The Ketogenic diet is a popular fad diet that promotes quick weight loss and symptom management for bodies that are dealing with poor lymph, kidney and digestion health.

Reflect On:

Based on the studies that are emerging, is our desire for quick weight loss more important than living a long and healthy life? Are we learning about these diets primarily through those with strong ties to upholding these diets?
The ketogenic diet has popped up as a popular approach to weight loss in the last few years. Is it successful at that? Sure, it is. I've experimented with the diet myself years ago when I was looking to lose some belly fat. I was entering into ketosis in a different way than most, as I was not eating any animal products, but it does in fact work.
But like any animal product based diet, what are the consequences of eating so much food that does not truly jive with our human bodies? Not only that, is fast weight loss more important than keeping our morality rate down?
In the last few years, we've reported a lot on the Keto diet and the various ways it can be done. We have explored the studies, the results and in some ways, we supported it. But lately, I have been thinking about how supporting this could actually be encouraging people to jump into these diets, including the paleo diet, when in reality these diets increase mortality rates and are not healthy for the human body.
It became a thought in the back of my mind, I have always strived to put the best information out that I can through this platform to promote good health. And so we must look at that, even if that means upsetting some people who currently are on paleo or keto and are seeing some good weight loss or symptom management. The truth is, like the many people I've seen crash on these diets after a few years, I want people to know the truth of what's going on out there. And how we can get beyond diets that symptom manage, and instead get onto diets that truly heal.
Anytime we have fad diets, which paleo and keto are, we see products and bias pop up all over the place to support the continuation of these trends. It becomes less about health and more about upholding an identity or a business.
So as I recently looked into what experts are saying about these diets, I came upon two important videos I think everyone should check out. Both have been embedded below. Remember, it's not that I care what you choose in your own life, or that I feel there is a right or wrong, it's that I believe we should be informed and I wish to use this platform to promote as best a message as I can.
The Videos
Thanks to Plant-Based News for creating such a good channel and resource of information on YouTube.
In this video, several plant-based health experts talk through 9 nutrition studies that would be of interest to low carb keto diet proponents. To read the 9 studies, click here.
Next up, Dr. Kim Williams (past President of the American College of Cardiology) shares his insights about the ketogenic.
Related Articles
Diabetic Shares Why He Quit 'The Ketogenic Diet'
Doctor Explains Why She Never Recommends The 'Ketogenic Diet'
The Biggest Misconception About The 'Ketogenic Diet'…You Don't Actually Have To Follow It
Due to the pressure of mass censorship, we now have our own censorship-free, and ad-free on demand streaming network!
It is the world's first and only conscious media network streaming mind-expanding interviews, news broadcasts, and conscious shows.
Click here to start a FREE 7-Day Trial and watch 100's of hours of conscious media videos, that you won't see anywhere else.