Can Baby Powder Cause Ovarian Cancer? 3 Natural Alternatives If You Don't Want To Use It Anymore
Do you use baby powder?
Have you thought twice about its safety?
For years, without knowing, and blindly trusting, many of us apply harmful chemicals to our delicate parts, such as our bottoms, feet, armpits, and groin — anywhere that is moist and emits odour. Unfortunately, the talc in baby powder destroys our delicate skin and microbial community and confuses our immune system, sprouting cancer in reproductive organs.
Massive lawsuits were recently awarded to cancer sufferers by Johnson & Johnson, the formulators of baby powder.
On August 21, 2017, a jury in California recently ordered Johnson & Johnson to pay $417 million to a woman who says she developed terminal ovarian cancer as a result of using the company's baby powder. And in February 2016, a Missouri court ordered Johnson & Johnson to pay $72 million in damages to the family of Jackie Fox, a woman who died of ovarian cancer.
Both lawsuits said the cancer was linked to their longtime habit of applying baby powder. Two other Missouri court cases against Johnson & Johnson went in favour of the women who sued, leaving the company on the hook for $197 million. And more than 2,500 lawsuits are pending in the state.
Nearly $700 million dollars has been paid out to women who have suffered serious illness and death for simply using something many of us have not been properly informed comes with serious health consequences.  We assume that just because it's advertised as safe for our babies that it is.
My goal in this article is to give you the full disclosure you haven't received, and talk about the hero woman of this story who died in the process of getting the truth out.
How Can We Protect Ourselves From This?
Let's distinguish between: What's proclaimed vs. not disclaimed?
When will these lawsuits be enough for us to listen?
What to use instead that's safer and perhaps more effective
The same people who have repeatedly brainwashed us through marketing luxury purses, perfumes, prescriptions, people, and products that poison us more than beautify us, because you're not enough without them, are the same people who are echoing the same in studies, saying "The research is not enough to prove that talc is toxic enough to cause ovarian cancer."
Who are these people? The 1% in charge of virtually every message we hear from the skewed media and news, and so-called beauty and health products.
So what's the problem with talc? 
#1 Let's Distinguish — Proclaimed vs. Disclaimed
What's Proclaimed (aka What We're Told):
Talcum powder is made from talc, a mineral made up mainly of the elements magnesium, silicon, and oxygen. As a powder, it absorbs moisture well and helps cut down on friction, making it useful for keeping skin dry and helping to prevent rashes. It can be found in powdered cosmetics, deodorants, and more. 
What's Not Proclaimed (aka the Dark Truth About Talc):
Talc is a powdered native hydrous magnesium silicate sometimes containing a small portion of aluminum silicate. Talc can be contaminated with asbestos fibers, posing risks for respiratory toxicity and cancer. Studies by the National Toxicology Panel demonstrated that cosmetic-grade talc free of asbestos is a form of magnesium silicate that also can be toxic and carcinogenic — so much so that it is banned in the EU as well as in Canada, both of whom place much more scrutiny on the ingredients allowed in their food and drug products.
So why are these things not banned in America?
One word: greed.
We're the lab rats.
Although many attempts have been made by doctors, researchers, and attorneys since the first discovery of its potential threat to our ovaries, J&J still refused to change the formula.
Dr. Daniel Cramer, a professor of obstetrics and gynecology at Brigham and Women's Hospital in Boston, has served as a paid consultant on several ovarian cancer cases against Johnson & Johnson, and published one of the first studies noting an association between talc and ovarian cancer in 1982.  It found a 92% increased risk for ovarian cancer with women who reported genital talc use.
"This story goes back a long, long way, back into the '70s when people noted that ovarian cancer had many similarities to asbestos exposure," he says. "Meanwhile another group in England found talc that was deeply embedded in ovaries and said there might be a story here."
According to the EWG on this site, 23,653 studies in PubMed science library may include information on the toxicity of this chemical.
In 1993, The United States National Toxicology Program concluded "talc is a carcinogen." Then, in 1996, the condom industry stopped dusting condoms with talc at the request of the U.S. Food and Drug Administration (FDA), which was the direct result of the scientific concern about the ovarian cancer risk from vaginal exposure to talc.
The International Agency for Research on Cancer, part of the World Health Organization, also called talc a possible carcinogen in 2010.
In spite of this overwhelming evidence, they continued to aggressively market the powder. The internal documents obtained in the lawsuits reveal the company knew years ago that "Retrospective studies have implicated talc use in the vaginal area with the incidence of ovarian cancer."
Yet, even after paying over half a billion dollars in lawsuits that Johnson & Johnson baby powder had a direct link to these womens' cancers, they deny the toxicity of their product and continue to stand behind it.
"Several decades of medical research do not support the hypothesis that use of talcum powder causes ovarian cancer," said Dr. Hal Lawrence, chief executive officer of the American Congress of Obstetricians and Gynecologists.
Other Risk Factors of Baby Powder — Hormonal Chaos?
Talc aside, another group of chemicals called Phthalates are commonly found in baby lotions and powders. This class of ingredients, also abundantly formulated in cosmetics, is among 70,000 other registered chemicals that have hormonal effects on the body.
These factors are called xenoestrogens, foreign estrogens that mimic the functions of our natural estrogens. When they enter our body, they attach themselves to our cells' receptor sites, taking over our naturally produced estrogens' functions to control growth and development, negatively affecting our breasts, skin, menstruation, and fertility.
Over time, high exposure to these 'fake estrogens' can promote unnatural growth in tissues such as fibroids, cysts, tumours and weight gain. It also wreaks havoc on the endocrine system, leaving women with a myriad of hormonal health imbalances, one of the most common conditions I see today in my practice. PMS, heavy bleeding, cancer, PCOS, infertility, acne, mood swings, chronic fatigue, weight gain, and more are all too misunderstood by the medical community and thought to have unknown causes. Research suggests it's caused by a condition called Estrogen Dominance, however, the result of an accumulation of chemicals in the body. Essentially, all the products we use on a daily basis and the effects of their ingredients stack up over time.
So the next time you read a study that says "not toxic in small doses," ask yourself how much these small doses of various products add up over years of use.
We're putting hundreds of different products, full of xenoestrogens, onto our bodies. When applied to the skin, they are far more potent than those ingested orally, because they travel directly to the tissues instead of passing through the liver. So even if talc weren't the issue, as per Johnson & Johnson's representatives, perhaps you should consider seeking alternatives due to these negative ramifications.
Studies are now showing that one in two men, and one in three women in this generation are estimated to have cancer, and over 75% of America is now overweight or obese, at least in part because of the hormonal imbalances caused by xenoestrogens, we should all aim to reduce our exposure as much as possible. Read how here.
#2 When Will These Lawsuits Be Enough for Us to Listen?
The Scary Truth:
Johnson & Johnson knew about the risk since the early 1980s, and even before, yet did not protect its customers.
The medical community is nevertheless claiming to 'not know' the cause of ovarian cancer — but I beg to differ.  Overwhelming proof shows that for most cancers today, the underlying cause is manmade chemicals, environmental toxins, and in a large proportion of cancers, xenoestrogens.
My question to you is, when will it be enough?
How many kids 'dying too young' of cancer need we witness?
How exhausted, hormonally imbalanced, diseased, and infertile do we need to become?
How many lawsuits, how many women have to suffer, how many loved ones die, before we wake up and learn from their losses?
Ms. Echeverria, who was too sick to testify in court, started using Johnson's baby powder when she was 11 and continued after being diagnosed with ovarian cancer in 2007, unaware that some studies had linked talc to cancer, said her lawyer, Mark Robinson. She stopped using it after hearing news reports of a verdict in another lawsuit against Johnson & Johnson, he said, and now wanted to warn other women.
"She told me, 'I'm not doing this for myself,' " Mr. Robinson said. "She knows she's going to die. She's doing this for other women. She wants to do something good before she leaves."
And good she did, as a warrior champion of ovaries and baby butts everywhere.
Now let's talk alternative solutions.
Thankfully, there are plenty of other choices you can use instead that you probably already have in your kitchen!
#3 Three Healthy and Beautifying Alternatives
Baking Soda (aluminum free)
Arrowroot (Paleo baking soda) – comes from plants
Diatomaceous earth – comes from fossilized diatoms, aka algae
Baking Soda?
Sodium Bicarbonate works very effectively to absorb odour. Apply it just as you would baby powder. As with all things, however, you should test out a little at a time to see how your body reacts, especially because these are sensitive areas. Be sure to purchase the kind without aluminum so your heavy metal levels don't look like the below chart. I test for heavy metal toxicity in my online nutrition company, and often see metals in excess of safe ranges, which negatively impacts our health, causing auto immune disease, neurological damage, and brain disfunction, and has ties to virtually every symptom you can think of.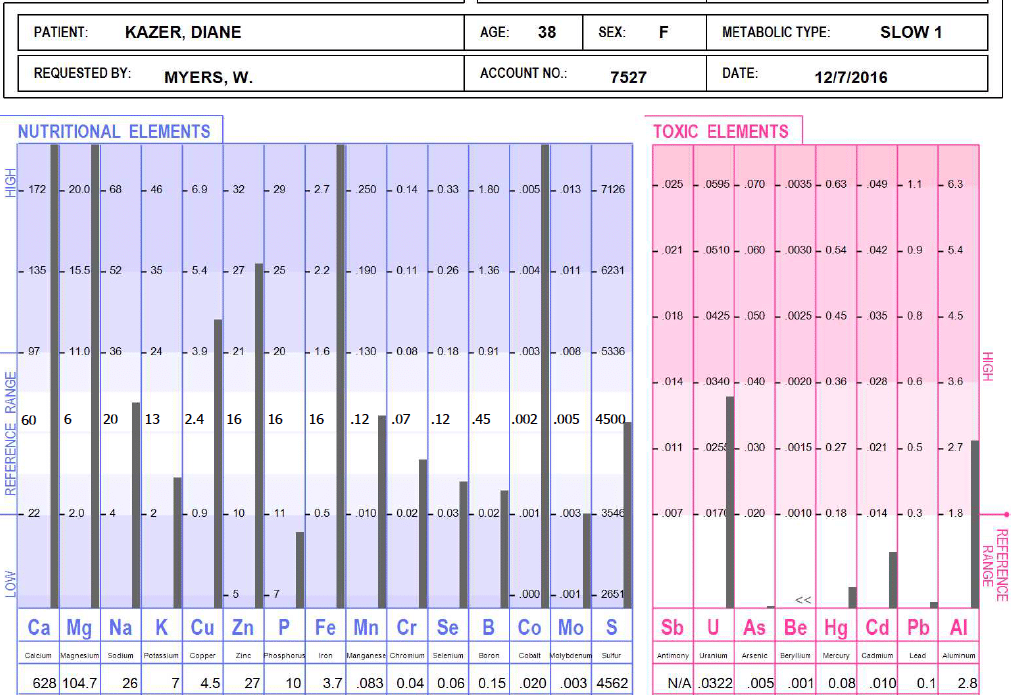 What Is Arrowroot?
Arrowroot is derived from several tropical South American plants. Tapioca starch is derived from the crushed up pulp of the South American cassava plant, a woody shrub. I bought it long ago to use in my vegan and paleo recipes as alternatives to flour and cornstarch that otherwise are genetically modified and filled with heavy metals, which leech minerals such as zinc, Vitamin C, and iron from our body. Since zinc is perhaps the most important mineral to boost immune health, we want to stay as free from GMO ingredients as possible, to combat cancer.
What Is Diatomaceous Earth?
Diatoms are hard-shelled algae that come from bodies of water and have a high silica content, which makes it good for hair and skin use. It's been called a miracle dust.
Benefits of Diatomaceous Earth:
Better digestive health
Healthier colon
Better food absorption
Clearer skin
Healthier hair and nails
More energy
Lower Candida levels
Kills parasites and worms in the body (works for dogs too)
This miracle powder also works as a 'deodorant' to decrease odour. You can also use it in hair to ditch dandruff and also sprinkle it into your shoes (instead of talc) for foot fungus.
If you are going to buy it, make sure it's food grade diatomaceous earth. You can get a huge 10 pound bag for around $20.
Closing Points and Takeaways
It's our job to pay attention and be mindful of the things we put on, in, and around our body. We must stop assuming that decades old FDA regulations are in place to protect us. It is impossible to test for reactions of not only how one unique person would react to these harsh ingredients, but also how two or thousands of combinations react inside of the body. So it's on us to research and test ourselves.
I am still surprised to hear how many people don't realize that what you apply to your skin becomes a part of you, just as any bite of food you take does. Your skin eats too, and these applied toxins become a burden to our organs of elimination.
I've worked with thousands of clients and this is the most under-addressed topic, which most don't consider could have such a drastic impact on health.
You could eat the perfect diet, and have the perfect exercise/yoga/rest routine, but if you're slathering toxins like talc to your body, your odds of disease, fat, fatigue, and frustration are still very high.
Bottom Line:  If we love on our skin-biome and treat it well, it can keep us energetic and happy, reduce pain and disease, and lessen the signs of aging. The best two ways to do this are to feed our body probiotics (this is the brand I use), and then consume food for these bugs with prebiotics such as leafy greens and fermented foods. I teach this, step by step, in my four-week online program, The Warrior Cleanse.  Then, stop consuming and applying things to the skin and body that destroy the 'good guys' within it.
For a great resource on what products are safe to put on your body, check out the free online resource, Environmental Working Group at EWG.org.
For more empowering articles just like this, and how to steer clear of these toxins, check out my website, Facebook page, and Youtube channel for all things hormones/cleansing and fat burning fitness!
Cleanse your Body, Heal your Hormones, Ignite your Life!
Due to the pressure of mass censorship, we now have our own censorship-free, and ad-free on demand streaming network!
It is the world's first and only conscious media network streaming mind-expanding interviews, news broadcasts, and conscious shows.
Click here to start a FREE 7-Day Trial and watch 100's of hours of conscious media videos, that you won't see anywhere else.
12,000 Doctors Urge the FDA to Put Cancer Warnings on Cheese
In Brief
The Facts:

The Physicians Committee for Responsible Medicine (PCRM) recently submitted a citizen petition with the Food and Drug Administration (FDA) to change labeling on cheese to include a cancer warning.

Reflect On:

Why have our federal health regulatory agencies and big food companies marketed dairy products as safe, healthy and necessary when the science clearly suggests otherwise.
What do doctors learn about nutrition in medical school? Shockingly and unfortunately, nothing. Why? Because nutrition does not bring in profit, and treating people with nutrition hasn't seemed to be an option at all ever since the birth of the mainstream medical industry. The sad reality is that "the medical profession is being bought by the pharmaceutical industry, not only in terms of the practice of medicine, but also in terms of teaching and research. The academic institutions of this country are allowing themselves to be the paid agents of the pharmaceutical industry. I think it's disgraceful." – Arnold Seymour Relman (source)
Thankfully, things are changing and changing fast. A lot of people are taking their nutritional education into their own hands, and many doctors are also educating themselves on the power of nutrition through the plethora studies and clinical evidence that's available out there.
One of the latest examples of doctors educating themselves comes from the Physicians Committee for Responsible Medicine (PCRM), who recently submitted a citizen petition with the Food and Drug Administration (FDA) to change labeling on cheese to include a cancer warning.
Why? Because based on the research, cheese, and dairy from the animal of another is not good, but bad for us. This reality may be hard for many to believe given the fact that it's been one of the stable food groups for so long. It's time we start recognizing that "nutritional education" that we grow up with is a product of the big food companies and marketing, it's not backed by any science and more people are starting to become aware of what the science is actually showing us.
The petition states:
Dairy cheese contains reproductive hormones that may increase breast cancer mortality risk. (This sentence is what they want on dairy cheese products).

High-fat dairy products, such as cheese, are associated with an increased risk for breast cancer. Components in dairy such as insulin-like growth factor (IGF-1) and other growth hormones may be among the reasons for the increased risk for cancer.

To ensure that Americans understand the potential significant risks, and resulting long-term costs, of consuming dairy cheese products, the FDA should ensure that the notice above is prominently placed on product packaging and labeling for all dairy cheese products.
I find it interesting that they mention IGF-1 growth hormone.
A 2015 study published in Cell Metabolism is one of multiple studies that points out:
Mice and humans with Growth Hormone Receptor/IGF-1 deficiencies display major reductions in age-related diseases. Because protein restriction reduces GHR-IGF-1 activity, we examined links between protein intake and mortality. Respondents (n=6,381) aged 50–65 reporting high protein intake had a 75% increase in overall mortality and a 4-fold increase in cancer and diabetes mortality during an 18 year follow up period. These associations were either abolished or attenuated if the source of proteins was plant-based.
The study above corroborates with a lot of other research showing that animal protein skyrockets IFG-1 growth hormone, thus leading to a wide variety of diseases, in the long term, including cancer. The interesting thing is that protein from plants, as the study points out, "abolished or attenuated" these associations "if the source of proteins was plant-based."
Fasting has been shown to reduce the risk and even reverse many age related diseases, like Parkinson's and Alzheimer's. It's also been shown to regenerate stem cells and slow down the overall aging process, much of that is due to the fact that fasting drops our IGF-1 growth hormone levels.
A recent study conducted by researchers in California and France found that meat protein is associated with a very sharp increased risk of heart disease, while protein from nuts and seeds is actually beneficial for the human heart.
The study is titled "Patterns of plant and animal protein intake are strongly associated with cardiovascular mortality: The Adventist Health Study-2 cohort," It was a joint project between researchers from Loma Linda University School of Public Health in California and AgroParisTech and the Institut National de la Recherche Agronomique in Paris, France.
It was published in the International Journal of Epidemiology. The researchers found that people who ate large amounts of meat protein, which is a daily norm for many people, represented a portion of the human population that would experience a 60 percent increase in cardiovascular disease (CVD), while people who consumed large amounts of protein from nuts and seeds actually experienced a 40 percent reduction in CVD.
Dairy "Turning on Cancer."
Doctor Colin Campbell. author of the "China Study"  discovered that animal protein (casein) can accelerate and "turn on" cancer, while plant based protein has the opposite effect.
"What I did during the early part of my career was nothing more than what traditional science would suggest. I made the observation that diets presumably higher in animal protein were associated with liver cancer in the Philippines. When coupled with the extraordinary report from India showing that casein fed to experimental rats at the usual levels of intake dramatically promoted liver cancer, it prompted my 27-year-long study The China Project, of how this effect worked. We did dozens of experiments to see if this was true and, further, how it worked." – Dr Colin Campbell, (China Study)
Campbell is an American biochemist who specializes in the effect of nutrition on long term health. He is Professor Emeritus of Nutritional Biochemistry at Cornell University, he has a Ph.D. in nutrition, biochemistry, and microbiology. Scholars like Campbell and their work is so important in a world of medical education and academia that almost completely ignores nutrition.
Casein is the most relevant chemical carcinogen ever identified, make no mistake about it. (source)
Campbell went beyond mere correlation and found using animal studies he conducted that casein actually "turns on" cancer. When animals were fed a diet high in casein, the cancer increased dramatically. What's even more interesting is when they decided to do a comparison using plant protein.
What we learned along the way is that we could turn on and turn off cancer. Turn it on by increasing casein consumption, turn it off by decreasing it or replacing it with plant protein. That was a really exciting thing that we could take nutrition and turn cancer on and off, I mean that, that was pretty startling. – Campbell (source)
The Takeaway
We are the only species on the planet that consumes the dairy of another animal after weaning.  The reduction of lactase activity after infancy is a genetically programmed event. Approximately 75 % of Earths population is lactose intolerant for a reason, because it's perfectly natural. We are not meant to drink the milk of another animal and we had to evolve the gene to digest it.  The statistics vary from race to race and country to country but overall they show an abnormal amount of individuals who qualify. In some Asian countries, 90 percent of the population is lactose intolerant.
It seems the big food companies convinced us that it's a requirement, and that it's healthy. They used protein and calcium (both of which are present in a number of plant sources, for example) as mass marketing tools to push dairy products on the population in order to turn a very large profit, all at the health expense of human beings.
This is one of multiple examples off mass perception manipulation.
Due to the pressure of mass censorship, we now have our own censorship-free, and ad-free on demand streaming network!
It is the world's first and only conscious media network streaming mind-expanding interviews, news broadcasts, and conscious shows.
Click here to start a FREE 7-Day Trial and watch 100's of hours of conscious media videos, that you won't see anywhere else.
7 Ways to Prevent and Even Reverse Heart Disease with Nutrition
In Brief
The Facts:

This article was written by Sayer Ji. Founder of Greenmedinfo.com. Posted here with permission.

Reflect On:

Heart disease, while still the #1 cause of mortality in the developed world, can be prevented and even reversed with nutritional interventions, according to a growing body of scientific research.
Considering that heart disease is the #1 cause of death in the developed world, anything that can prevent or reduce cardiac mortality, or slow or even reverse the cardiovascular disease process, should be of great interest to health professionals and the general public alike.
Sadly, millions are still unaware of the extensive body of biomedical literature that exists supporting the use of natural compounds for preventing and even reversing heart disease, which we have indexed on GreenMedInfo.com.
Instead, they spend billions of healthcare dollars annually on highly toxic cholesterol-lowering pharmaceuticals such as statin drugs which have known cardiotoxicity, among 300 other proven side effects, simply because their doctors told them to do so. Bad advice is the rule and not the exception here. For instance, after decades of recommending a so-called 'low dose' aspirin to prevent heart disease and stroke, the weight of evidence now points to it being a cause of significantly more harm than good: Doctors Reverse Decades Old Aspirin Recommendation: Deadly Risks Outweigh Benefits for Heart Disease & Stroke. 
So, with this in mind, let's look at a small but significant sample of natural, food-based alternatives to these drugs through the lens of the clinical and biomedical literature itself.
Three Natural Substances that Reduce the Risk of Heart-Related Death
Omega-3 Fatty Acids: There is a robust body of research indicating that the risk of sudden cardiac death is reduced when consuming higher levels of omega-3 fatty acids. Going all the way back to 2002, the New England Journal of Medicine published a study titled, "Blood levels of long-chain n-3 fatty acids and the risk of sudden death," which found: "The n-3 fatty acids found in fish are strongly associated with a reduced risk of sudden death among men without evidence of prior cardiovascular disease." Another 2002 study, published in the journal Circulation, found that Omega-3 fatty acid supplementation reduces total mortality and sudden death in patients who have already had a heart attack.[i] For additional research, view our dataset on the topic of Omega-3 fatty acids and the reduction of cardiac mortality. It should be noted that the best-selling cholesterol drug class known as statins may actually reduce the effectiveness of omega-3 fats at protecting the heart. This has been offered as an explanation as to why newer research seems to show that consuming omega-3 fats does not lower the risk of cardiac mortality.
Vitamin D: Levels of this essential compound have been found to be directly associated with the risk of dying from all causes. Being in the lowest 25% percent of vitamin D levels is associated with a 26% increased rate of all-cause mortality.[ii] It has been proposed that doubling global vitamin D levels could significantly reduce mortality.[iii] Research published in the journal Clinical Endocrinology in 2009 confirmed that lower vitamin D levels are associated with increased all-cause mortality but also that the effect is even more pronounced with cardiovascular mortality.[iv] This finding was confirmed the same year in the Journal of the American Geriatric Society, [v] and again in 2010 in the American Journal of Clinical Nutrition.[vi]
Magnesium: In a world gone mad over taking inorganic calcium supplementation for manufactured diseases such as T-score defined "osteopenia" or "osteoporosis,"despite their well-known association with increased risk of cardiac mortality, magnesium's role in protecting against heart disease cannot be overstressed. It is well-known that even the accelerated aging of the heart muscle experienced by those in long space flight is due to magnesium deficiency. In 2010, the Journal of Biomedical Sciences reported that cardiovascular risks are significantly lower in individuals who excrete higher levels of magnesium, indicating its protective role.[vii] Another study published in the journal Atherosclerosis in 2011 found that low serum magnesium concentrations predict cardiovascular and all-cause mortality.[viii] Remember that when you are looking to 'supplement' your diet with magnesium go green. Chlorophyll is green because it has a magnesium atom at its center. Kale, for example, is far better a source of complex nutrition than magnesium supplements. But, failing the culinary approach, magnesium supplements can be highly effective at attaining a therapeutic and/or cardioprotective dose.
For an additional list of compounds that may reduce cardiac mortality, including cocoa, tea, wine and yes, even cholesterol itself, view our Reduce Cardiac Mortality page.
Four Natural Compounds Which May Unclog the Arteries
For additional research on artery unclogging substances visit our page dedicated to the topic Unclogging Arteries.
Additional Heart Unfriendly Things To Avoid
No discussion of preventing cardiac mortality would be complete without discussing things that need to be removed in order to reduce risk, such as:
NSAIDs: Drugs like aspirin, ibuprofen, and Tylenol, have well-known association with increased cardiac mortality. Review six studies on the topic here: NSAID Cardiotoxicity.
Statin Drugs: It is the height of irony that the very category of drugs promoted to millions globally as the standard of care for primary and secondary prevention of cardiovascular disease and cardiac mortality are actually cardiotoxic agents, linked to no less than 300 adverse health effects. Statin drugs have devastating health effects. Explore the research here: Statin Drug Health Effects.
Wheat: while this connection is rarely discussed, even by those who promote grain-free and wheat free diets, wheat has profound cardiotoxic potential, along with over 200 documented adverse health effects: Wheat Toxicity. And why wouldn't it, when the very countries that eat the most of it have the highest rate of cardiovascular disease and heart-related deaths? For an in-depth explanation read our article: Wheat's Cardiotoxicity: As Serious As A Heart Attack.
Finally, for additional research on the topic of heart health promoting strategies visit our Health Guide: Heart Health. Interested in healing an injured heart? Read about cardiac tissue regeneration: 6 Bodily Tissues That Can Be Regenerated Through Nutrition.
---
References
[i] Roberto Marchioli, Federica Barzi, Elena Bomba, Carmine Chieffo, Domenico Di Gregorio, Rocco Di Mascio, Maria Grazia Franzosi, Enrico Geraci, Giacomo Levantesi, Aldo Pietro Maggioni, Loredana Mantini, Rosa Maria Marfisi, G Mastrogiuseppe, Nicola Mininni, Gian Luigi Nicolosi, Massimo Santini, Carlo Schweiger, Luigi Tavazzi, Gianni Tognoni, Corrado Tucci, Franco Valagussa,. Early protection against sudden death by n-3 polyunsaturated fatty acids after myocardial infarction: time-course analysis of the results of the Gruppo Italiano per lo Studio della Sopravvivenza nell'Infarto Miocardico (GISSI)-Prevenzione. Circulation. 2002 Apr 23;105(16):1897-903. PMID: 11997274
[ii] Michal L Melamed, Erin D Michos, Wendy Post, Brad Astor. 25-hydroxyvitamin D levels and the risk of mortality in the general population. Arch Intern Med. 2008 Aug 11;168(15):1629-37. PMID: 18695076
[iii] W B Grant. An estimate of the global reduction in mortality rates through doubling vitamin D levels. Eur J Clin Nutr. 2011 Jul 6. Epub 2011 Jul 6. PMID: 21731036
[iv] Stefan Pilz, Harald Dobnig, Giel Nijpels, Robert J Heine, Coen D A Stehouwer, Marieke B Snijder, Rob M van Dam, Jacqueline M Dekker. Vitamin D and mortality in older men and women. Clin Endocrinol (Oxf). 2009 Nov;71(5):666-72. Epub 2009 Feb 18. PMID: 19226272
[v] Adit A Ginde, Robert Scragg, Robert S Schwartz, Carlos A Camargo. Prospective study of serum 25-hydroxyvitamin D level, cardiovascular disease mortality, and all-cause mortality in older U.S. adults. J Am Geriatr Soc. 2009 Sep;57(9):1595-603. Epub 2009 Jun 22. PMID: 19549021
[vi] Karl Michaëlsson, John A Baron, Greta Snellman, Rolf Gedeborg, Liisa Byberg, Johan Sundström, Lars Berglund, Johan Arnlöv, Per Hellman, Rune Blomhoff, Alicja Wolk, Hans Garmo, Lars Holmberg, Håkan Melhus. Plasma vitamin D and mortality in older men: a community-based prospective cohort study. Am J Clin Nutr. 2010 Oct;92(4):841-8. Epub 2010 Aug 18. PMID: 20720256
[vii] Yukio Yamori, Takashi Taguchi, Hideki Mori, Mari Mori. Low cardiovascular risks in the middle aged males and females excreting greater 24-hour urinary taurine and magnesium in 41 WHO-CARDIAC study populations in the world. J Biomed Sci. 2010;17 Suppl 1:S21. Epub 2010 Aug 24. PMID: 20804596
[viii] Thorsten Reffelmann, Till Ittermann, Marcus Dörr, Henry Völzke, Markus Reinthaler, Astrid Petersmann, Stephan B Felix. Low serum magnesium concentrations predict cardiovascular and all-cause mortality. Atherosclerosis. 2011 Jun 12. Epub 2011 Jun 12. PMID: 21703623
[ix] Sayer Ji, Research: Pomegranate May Reverse Blocked Arteries
[x] GreenMedInfo.com, Pomegranate's Health Benefits
[xi] G Siegel, A Walter, S Engel, A Walper, F Michel. [Pleiotropic effects of garlic]. Wien Med Wochenschr. 1999;149(8-10):217-24. PMID: 10483684
[xii] Günter Siegel, Frank Michel, Michael Ploch, Miguel Rodríguez, Martin Malmsten. [Inhibition of arteriosclerotic plaque development by garlic]. Wien Med Wochenschr. 2004 Nov;154(21-22):515-22. PMID: 15638070
[xiii] Matthew J Budoff, Junichiro Takasu, Ferdinand R Flores, Yutaka Niihara, Bin Lu, Benjamin H Lau, Robert T Rosen, Harunobu Amagase. Inhibiting progression of coronary calcification using Aged Garlic Extract in patients receiving statin therapy: a preliminary study. Prev Med. 2004 Nov;39(5):985-91. PMID: 15475033
[xiv] Howard N Hodis, Wendy J Mack, Laurie Dustin, Peter R Mahrer, Stanley P Azen, Robert Detrano, Jacob Selhub, Petar Alaupovic, Chao-ran Liu, Ci-hua Liu, Juliana Hwang, Alison G Wilcox, Robert H Selzer,. High-dose B vitamin supplementation and progression of subclinical atherosclerosis: a randomized controlled trial. Stroke. 2009 Mar;40(3):730-6. Epub 2008 Dec 31. PMID: 19118243
[xv] Uwe Till, Peter Röhl, Almut Jentsch, Heiko Till, Andreas Müller, Klaus Bellstedt, Dietmar Plonné, Horst S Fink, Rüdiger Vollandt, Ulrich Sliwka, Falko H Herrmann, Henning Petermann, Reiner Riezler. Decrease of carotid intima-media thickness in patients at risk to cerebral ischemia after supplementation with folic acid, Vitamins B6 and B12. Atherosclerosis. 2005 Jul;181(1):131-5. Epub 2005 Feb 16. PMID: 15939064
[xvi] Claudio Maldonado, Chirag V Soni, Nathan D Todnem, Sathnur Pushpakumar, Dorothea Rosenberger, Srikanth Givvimani, Juan Villafane, Suresh C Tyagi. Hyperhomocysteinemia and sudden cardiac death: potential arrhythmogenic mechanisms. Curr Vasc Pharmacol. 2010 Jan;8(1):64-74. PMID: 19485933
Originally published: 2018-08-05
Aritcle updated: 2019-07-24
---
Due to the pressure of mass censorship, we now have our own censorship-free, and ad-free on demand streaming network!
It is the world's first and only conscious media network streaming mind-expanding interviews, news broadcasts, and conscious shows.
Click here to start a FREE 7-Day Trial and watch 100's of hours of conscious media videos, that you won't see anywhere else.
United States Drinking Water Pollution Could Cause 100,000 Cancer Cases
In Brief
The Facts:

A new study has found United States drinking water pollution could cause 100,000 cancer cases.

Reflect On:

What will it take for us to clean up our planet and our waterways? Why are we always focused on raising money for cancer treatment instead of creating awareness about the many causes of cancer?
While the push for reducing carbon emissions is stronger than ever, there are plenty of environmental issues that deserve just as much, if not more, attention. One of those issues is the pollution of our water systems. This is a global problem that plagues the entire planet, and North America is no exception. In Canada, for example, First Nations reserves have some of the worst drinking water in the world. It's terrible and makes absolutely no sense at all.
Water contamination in the United States is at an all-time high, which was further illustrated by a new study published in the Journal Heliyon. The study looked at 22 cancer-causing compounds that researchers found in 48,363 U.S. municipal water systems, and is the first of its kind to contemplate the total cancer risk from the mixture of these chemical components that've been found in tap water. It's important to note that the study did not include the approximately 13.5 million people that are currently on private well water.
The study concludes:
Overall, state- and national-level cumulative cancer risks due to carcinogenic water contaminants are similar in magnitude to the risks reported for carcinogenic air pollutants. Thus, improving water quality at the tap and investing in measures for source water protections represent opportunities for protecting public health and decreasing potential disease incidence due to environmental pollution.
"We're seeing cancer risk estimated at about 100,000 cases for the U.S.– due to drinking water contaminants at levels that currently meet requirements," lead author, Sydney Evans, a science analyst at the Environmental Working Group, told EHN.
The astonishing thing is that the chemical water contaminates actually meet the safety requirements. It appears that safety requirements that've been set by our federal health regulatory agencies need to be adjusted. At the end of the day, is there really a safe level of harmful chemical contamination? The obvious answer is no.
"Water at the legal limit may still hold health risks," Evans said.
The 100,000 cancer cases estimate is the calculated risk of people drinking water over a lifetime. In the United States, there are approximately 300 million people who access their water from community water systems, which is a large majority of the US population. According to the authors, we're talking about 4 lifetime cancer cases per 10,000.
That may not seem like a large number to some, but it is, especially when you consider all of the other environmental contaminants that have been linked to cancer like everyday household products, pesticides and herbicides like RoundUp that are now found on many of our foods, not to mention electromagnetic radiation, processed foods, sugar (high fructose corn syrup), air pollution, and a host of other factors that have been strongly linked to cancer.
There are many such studies on public water systems in America. According to an Environmental Working Group's review of government water analysis, 75% of America's drinking water is ridden with cancer-causing hexavalent chromium or chromium-6. And 200 million Americans are currently being exposed to it.
Chromium-6 is a heavy metal categorized as a Group 1 carcinogen by the World Health Organization. The same heavy metal Erin Brockovich brought to attention–it's a by-product of industrial manufacturing and is known to cause cancer even in minute concentrations. Indeed, California scientists labelled it dangerous when it surpasses a mere 0.02 parts per billion—the equivalent of one drop of water in an Olympic-sized swimming pool.
Bottled water isn't much better, and also contributes to pollution.
Even antidepressant drugs, making their way through an increasing number of people's bodies, getting excreted in small amounts into their toilets, and moving through the wastewater treatment process to lakes and rivers, have been found in multiple Great Lakes fish species' brains. (source)
Research has exposed that no level of toxins is completely safe in your water. A two-year study conducted by the National Toxicology Program (2008) concluded that drinking water with traces of chromium-6 resulted in cancer among the test subjects.
Yes, we can protect ourselves from these risks by eating healthy, drinking clean water, and maintaining a healthy lifestyle, but it's really getting out of hand. One of the main concerns is that people are constantly raising money for cancer, but that money isn't being used to combat these issues. The disease has become a popular hashtag without any of these supposed cancer activists creating awareness on the actual causes of cancer.
Cancer is Not Just A Stroke of Bad Luck
Cancer is not just a stroke of bad luck. We know there are many environmental factors, products and services that can cause cancer. It would be interesting to see a similar study done, but one that took into account the dozens upon dozens of factors that are clearly contributing to rising cancer rates. Why aren't cancer activists creating awareness about this? Why is the cancer industry constantly trying to raise money for cancer, while at the same time ignoring a number of potential treatments that can't be patented by big pharmaceutical companies? These are all very important questions to ask.
The Takeaway
Real cancer awareness is about educating others on the alternative treatment methods suppressed by big pharma and creating awareness about the known causes of cancer. It's not just about raising money, so next time you or someone you know donates or wants to raise awareness, point them in the direction of the known environmental pollutants, foods, products and services that are clearly contributing to the massive cancer epidemic our world is experiencing. The best type of activism is a healthy lifestyle, and it starts with you.
Due to the pressure of mass censorship, we now have our own censorship-free, and ad-free on demand streaming network!
It is the world's first and only conscious media network streaming mind-expanding interviews, news broadcasts, and conscious shows.
Click here to start a FREE 7-Day Trial and watch 100's of hours of conscious media videos, that you won't see anywhere else.