Can Baby Powder Cause Ovarian Cancer? 3 Natural Alternatives If You Don't Want To Use It Anymore
Take a moment and breathe. Place your hand over your chest area, near your heart. Breathe slowly into the area for about a minute, focusing on a sense of ease entering your mind and body. Click here to learn why we suggest this.
Do you use baby powder?
Have you thought twice about its safety?
--> Our Journalism Is Moving - Our investigative journalism and reporting is moving to our new brand called The Pulse. Click here to stay informed.
For years, without knowing, and blindly trusting, many of us apply harmful chemicals to our delicate parts, such as our bottoms, feet, armpits, and groin — anywhere that is moist and emits odour. Unfortunately, the talc in baby powder destroys our delicate skin and microbial community and confuses our immune system, sprouting cancer in reproductive organs.
Massive lawsuits were recently awarded to cancer sufferers by Johnson & Johnson, the formulators of baby powder.
On August 21, 2017, a jury in California recently ordered Johnson & Johnson to pay $417 million to a woman who says she developed terminal ovarian cancer as a result of using the company's baby powder. And in February 2016, a Missouri court ordered Johnson & Johnson to pay $72 million in damages to the family of Jackie Fox, a woman who died of ovarian cancer.
Both lawsuits said the cancer was linked to their longtime habit of applying baby powder. Two other Missouri court cases against Johnson & Johnson went in favour of the women who sued, leaving the company on the hook for $197 million. And more than 2,500 lawsuits are pending in the state.
Nearly $700 million dollars has been paid out to women who have suffered serious illness and death for simply using something many of us have not been properly informed comes with serious health consequences.  We assume that just because it's advertised as safe for our babies that it is.
My goal in this article is to give you the full disclosure you haven't received, and talk about the hero woman of this story who died in the process of getting the truth out.
How Can We Protect Ourselves From This?
Let's distinguish between: What's proclaimed vs. not disclaimed?
When will these lawsuits be enough for us to listen?
What to use instead that's safer and perhaps more effective
The same people who have repeatedly brainwashed us through marketing luxury purses, perfumes, prescriptions, people, and products that poison us more than beautify us, because you're not enough without them, are the same people who are echoing the same in studies, saying "The research is not enough to prove that talc is toxic enough to cause ovarian cancer."
Who are these people? The 1% in charge of virtually every message we hear from the skewed media and news, and so-called beauty and health products.
So what's the problem with talc? 
#1 Let's Distinguish — Proclaimed vs. Disclaimed
What's Proclaimed (aka What We're Told):
Talcum powder is made from talc, a mineral made up mainly of the elements magnesium, silicon, and oxygen. As a powder, it absorbs moisture well and helps cut down on friction, making it useful for keeping skin dry and helping to prevent rashes. It can be found in powdered cosmetics, deodorants, and more. 
What's Not Proclaimed (aka the Dark Truth About Talc):
Talc is a powdered native hydrous magnesium silicate sometimes containing a small portion of aluminum silicate. Talc can be contaminated with asbestos fibers, posing risks for respiratory toxicity and cancer. Studies by the National Toxicology Panel demonstrated that cosmetic-grade talc free of asbestos is a form of magnesium silicate that also can be toxic and carcinogenic — so much so that it is banned in the EU as well as in Canada, both of whom place much more scrutiny on the ingredients allowed in their food and drug products.
So why are these things not banned in America?
One word: greed.
We're the lab rats.
Although many attempts have been made by doctors, researchers, and attorneys since the first discovery of its potential threat to our ovaries, J&J still refused to change the formula.
Dr. Daniel Cramer, a professor of obstetrics and gynecology at Brigham and Women's Hospital in Boston, has served as a paid consultant on several ovarian cancer cases against Johnson & Johnson, and published one of the first studies noting an association between talc and ovarian cancer in 1982.  It found a 92% increased risk for ovarian cancer with women who reported genital talc use.
"This story goes back a long, long way, back into the '70s when people noted that ovarian cancer had many similarities to asbestos exposure," he says. "Meanwhile another group in England found talc that was deeply embedded in ovaries and said there might be a story here."
According to the EWG on this site, 23,653 studies in PubMed science library may include information on the toxicity of this chemical.
In 1993, The United States National Toxicology Program concluded "talc is a carcinogen." Then, in 1996, the condom industry stopped dusting condoms with talc at the request of the U.S. Food and Drug Administration (FDA), which was the direct result of the scientific concern about the ovarian cancer risk from vaginal exposure to talc.
The International Agency for Research on Cancer, part of the World Health Organization, also called talc a possible carcinogen in 2010.
In spite of this overwhelming evidence, they continued to aggressively market the powder. The internal documents obtained in the lawsuits reveal the company knew years ago that "Retrospective studies have implicated talc use in the vaginal area with the incidence of ovarian cancer."
Yet, even after paying over half a billion dollars in lawsuits that Johnson & Johnson baby powder had a direct link to these womens' cancers, they deny the toxicity of their product and continue to stand behind it.
"Several decades of medical research do not support the hypothesis that use of talcum powder causes ovarian cancer," said Dr. Hal Lawrence, chief executive officer of the American Congress of Obstetricians and Gynecologists.
Other Risk Factors of Baby Powder — Hormonal Chaos?
Talc aside, another group of chemicals called Phthalates are commonly found in baby lotions and powders. This class of ingredients, also abundantly formulated in cosmetics, is among 70,000 other registered chemicals that have hormonal effects on the body.
These factors are called xenoestrogens, foreign estrogens that mimic the functions of our natural estrogens. When they enter our body, they attach themselves to our cells' receptor sites, taking over our naturally produced estrogens' functions to control growth and development, negatively affecting our breasts, skin, menstruation, and fertility.
Over time, high exposure to these 'fake estrogens' can promote unnatural growth in tissues such as fibroids, cysts, tumours and weight gain. It also wreaks havoc on the endocrine system, leaving women with a myriad of hormonal health imbalances, one of the most common conditions I see today in my practice. PMS, heavy bleeding, cancer, PCOS, infertility, acne, mood swings, chronic fatigue, weight gain, and more are all too misunderstood by the medical community and thought to have unknown causes. Research suggests it's caused by a condition called Estrogen Dominance, however, the result of an accumulation of chemicals in the body. Essentially, all the products we use on a daily basis and the effects of their ingredients stack up over time.
So the next time you read a study that says "not toxic in small doses," ask yourself how much these small doses of various products add up over years of use.
We're putting hundreds of different products, full of xenoestrogens, onto our bodies. When applied to the skin, they are far more potent than those ingested orally, because they travel directly to the tissues instead of passing through the liver. So even if talc weren't the issue, as per Johnson & Johnson's representatives, perhaps you should consider seeking alternatives due to these negative ramifications.
Studies are now showing that one in two men, and one in three women in this generation are estimated to have cancer, and over 75% of America is now overweight or obese, at least in part because of the hormonal imbalances caused by xenoestrogens, we should all aim to reduce our exposure as much as possible. Read how here.
#2 When Will These Lawsuits Be Enough for Us to Listen?
The Scary Truth:
Johnson & Johnson knew about the risk since the early 1980s, and even before, yet did not protect its customers.
The medical community is nevertheless claiming to 'not know' the cause of ovarian cancer — but I beg to differ.  Overwhelming proof shows that for most cancers today, the underlying cause is manmade chemicals, environmental toxins, and in a large proportion of cancers, xenoestrogens.
My question to you is, when will it be enough?
How many kids 'dying too young' of cancer need we witness?
How exhausted, hormonally imbalanced, diseased, and infertile do we need to become?
How many lawsuits, how many women have to suffer, how many loved ones die, before we wake up and learn from their losses?
Ms. Echeverria, who was too sick to testify in court, started using Johnson's baby powder when she was 11 and continued after being diagnosed with ovarian cancer in 2007, unaware that some studies had linked talc to cancer, said her lawyer, Mark Robinson. She stopped using it after hearing news reports of a verdict in another lawsuit against Johnson & Johnson, he said, and now wanted to warn other women.
"She told me, 'I'm not doing this for myself,' " Mr. Robinson said. "She knows she's going to die. She's doing this for other women. She wants to do something good before she leaves."
And good she did, as a warrior champion of ovaries and baby butts everywhere.
Now let's talk alternative solutions.
Thankfully, there are plenty of other choices you can use instead that you probably already have in your kitchen!
#3 Three Healthy and Beautifying Alternatives
Baking Soda (aluminum free)
Arrowroot (Paleo baking soda) – comes from plants
Diatomaceous earth – comes from fossilized diatoms, aka algae
Baking Soda?
Sodium Bicarbonate works very effectively to absorb odour. Apply it just as you would baby powder. As with all things, however, you should test out a little at a time to see how your body reacts, especially because these are sensitive areas. Be sure to purchase the kind without aluminum so your heavy metal levels don't look like the below chart. I test for heavy metal toxicity in my online nutrition company, and often see metals in excess of safe ranges, which negatively impacts our health, causing auto immune disease, neurological damage, and brain disfunction, and has ties to virtually every symptom you can think of.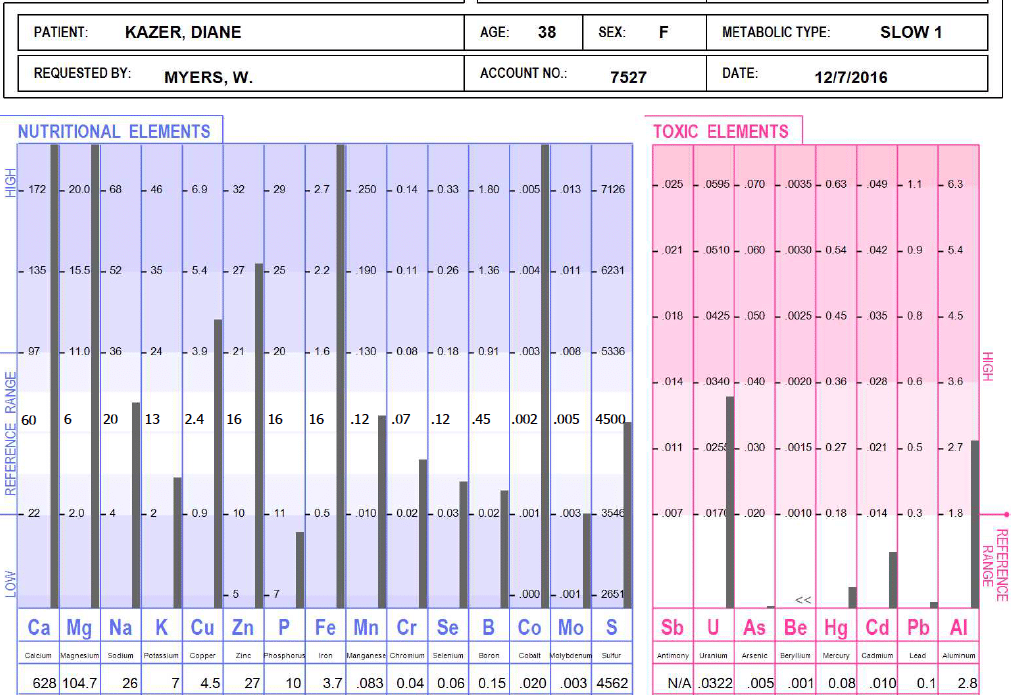 What Is Arrowroot?
Arrowroot is derived from several tropical South American plants. Tapioca starch is derived from the crushed up pulp of the South American cassava plant, a woody shrub. I bought it long ago to use in my vegan and paleo recipes as alternatives to flour and cornstarch that otherwise are genetically modified and filled with heavy metals, which leech minerals such as zinc, Vitamin C, and iron from our body. Since zinc is perhaps the most important mineral to boost immune health, we want to stay as free from GMO ingredients as possible, to combat cancer.
What Is Diatomaceous Earth?
Diatoms are hard-shelled algae that come from bodies of water and have a high silica content, which makes it good for hair and skin use. It's been called a miracle dust.
Benefits of Diatomaceous Earth:
Better digestive health
Healthier colon
Better food absorption
Clearer skin
Healthier hair and nails
More energy
Lower Candida levels
Kills parasites and worms in the body (works for dogs too)
This miracle powder also works as a 'deodorant' to decrease odour. You can also use it in hair to ditch dandruff and also sprinkle it into your shoes (instead of talc) for foot fungus.
If you are going to buy it, make sure it's food grade diatomaceous earth. You can get a huge 10 pound bag for around $20.
Closing Points and Takeaways
It's our job to pay attention and be mindful of the things we put on, in, and around our body. We must stop assuming that decades old FDA regulations are in place to protect us. It is impossible to test for reactions of not only how one unique person would react to these harsh ingredients, but also how two or thousands of combinations react inside of the body. So it's on us to research and test ourselves.
I am still surprised to hear how many people don't realize that what you apply to your skin becomes a part of you, just as any bite of food you take does. Your skin eats too, and these applied toxins become a burden to our organs of elimination.
I've worked with thousands of clients and this is the most under-addressed topic, which most don't consider could have such a drastic impact on health.
You could eat the perfect diet, and have the perfect exercise/yoga/rest routine, but if you're slathering toxins like talc to your body, your odds of disease, fat, fatigue, and frustration are still very high.
Bottom Line:  If we love on our skin-biome and treat it well, it can keep us energetic and happy, reduce pain and disease, and lessen the signs of aging. The best two ways to do this are to feed our body probiotics (this is the brand I use), and then consume food for these bugs with prebiotics such as leafy greens and fermented foods. I teach this, step by step, in my four-week online program, The Warrior Cleanse.  Then, stop consuming and applying things to the skin and body that destroy the 'good guys' within it.
For a great resource on what products are safe to put on your body, check out the free online resource, Environmental Working Group at EWG.org.
For more empowering articles just like this, and how to steer clear of these toxins, check out my website, Facebook page, and Youtube channel for all things hormones/cleansing and fat burning fitness!
Cleanse your Body, Heal your Hormones, Ignite your Life!
Click below to watch a sneak peek of our brand new course!
Our new course is called 'Overcoming Bias & Improving Critical Thinking.' This 5 week course is instructed by Dr. Madhava Setty & Joe Martino
If you have been wanting to build your self awareness, improve your.critical thinking, become more heart centered and be more aware of bias, this is the perfect course!
3 Powerful Tools to Help Overcome the Emotional Toll of the Pandemic
In Brief
The Facts:

The pandemic has had a significant effect on our lives. Possibly without realizing it, many are suffering from a form of Post-Traumatic Stress Disorder (PTSD).

Reflect On:

If you feel stressed or feel that you have PTSD resulting from this pandemic, try these suggestions before resorting to medication or maladaptive coping strategies.
Take a moment and breathe. Place your hand over your chest area, near your heart. Breathe slowly into the area for about a minute, focusing on a sense of ease entering your mind and body. Click here to learn why we suggest this.
The pandemic has had a significant effect on our lives. Possibly without realizing it, many are suffering from a form of Post-Traumatic Stress Disorder (PTSD). Every news cycle paralyzes us with fear of a new variant. Some feel grief over who or what they have lost or continue to have feelings of social disconnectedness. Despite what we have all been through, we need to start moving forward with our lives and truly live again. We must recognize that we have more control over our physical and mental health than advertised. The truth is that there are many helpful things that we can do.
PTSD is a stress-related disorder that may develop after exposure to a traumatic event or ordeal in which death or severe physical harm was a threat or occurred. Those with PTSD may experience agitation, irritability, hostility, hypervigilance, self-destructive behavior, social isolation, flashbacks, fear, anxiety, depression, attention difficulty, loneliness, insomnia, or nightmares.
Trauma can lead to feelings of powerlessness, but powerlessness can also keep us trapped in a PTSD cycle. The psychological imprint of trauma rewires the brain. There's an old saying in neuroscience: "neurons that fire together wire together." Our brain neurons begin firing in the amygdala, the emotional part of our brains, during a traumatic event. People can get stuck in an emotional loop, and the rational voice in their heads does not weigh in. This looping can cause a person to respond disproportionately to stress – freezing, panicking, or acting out in anger. Some dissociate or enter a trance-like state. Maladaptive coping skills can sometimes develop. Cutting, burning, overeating, drinking, drugs, overspending, etc., is all an attempt to dampen our painful emotional feelings. So, to avoid getting stuck in a PTSD cycle, we must act and take our power back.
Time to seek out the most effective help so that we can feel calm and in control again. What can we do?
1. Boost Your Immune System
If you fear getting sick, it's time to live a healthier lifestyle and boost your immune system. Sadly, we are taught (with the help of pharmaceutical dollars) that health comes from a needle or a pill. Our "experts" recommend masks, hand-washing, social distancing, and mRNA vaccines. Still, they seldom suggest a healthy diet, supplements, and other natural remedies to help improve our health and support the body to fight off illness and disease. Click here for my article that includes 16 Tips on Boosting Immunity.
2. Embrace Spirituality
Over the last 20 years, I have been honored to have worked with many great therapists, healers, spiritual leaders, and trauma survivors to witness the power of Spirituality in healing. Spirituality is an inner belief system providing an individual with meaning and purpose in life. Whether it involves a higher power, nature, religious rituals, meditation, mindfulness, or prayer, the premise is to stay connected to the core of who we are. That place of stillness within us holding the memory of wholeness, peace, inner strength, and balance – despite what has happened. A spiritual philosophy or practice can provide us with a bigger context for our experiences and clarify our purpose. Spiritual methods also connect us with a sense of community and support. Finding our tribe is essential in the face of trauma and loss. The spiritual journey often allows us to go inside ourselves and listen to our inner guidance and "knowingness." The inner voice may know, for instance, that the virus will not hurt us, or what we are being told by the media is untrue. Spirituality also helps us shift our perspective from "why me" to "what can I do about it. It brings us a sense of power and control.
3. Guided Imagery & Bilateral Stimulation
Both tools are essential for the trauma therapy toolbox. They are noninvasive and helpful for overcoming the effects of trauma. Guided imagery can help us alter the negative or stressful pictures and thoughts in our minds and help us create new, more peaceful ones—a form of instilling positive affirmations. Before you read on, I thought you might like to download my 10-minute exercise. This science-based, comprehensive video will help you to cultivate a sense of inner peace and give you a way to help overcome the effects of this pandemic – GET IT HERE
Is There Science Behind This?
Science, yes. Magic, no. This method requires regular practice if you want to make lasting, long-term changes to the ways that you think and feel. The good news is that both guided imagery and bilateral stimulation are widely practiced and well-established practices. However, I recommend that if you are still struggling after repeated listening, you find a qualified trauma therapist to continue the work you have already started.
A Look At The Research
Guided imagery is a behavioral technique using a series of verbal suggestions to guide oneself or others in visualizing an image in the mind to bring a desired response in the way of a reduction in stress, anxiety, or pain. A growing list of empirical literature supports the use of these techniques in various physical and emotional conditions. Guided imagery resulted in a clinically significant reduction in PTSD and related symptoms in a returning, combat-exposed active-duty military population. Positive affirmations can positively affect the brain's circuitry. There is MRI evidence suggesting that specific neural pathways are increased when people practice self-affirmation tasks.
Numerous research articles have established that bilateral stimulation is one of the most effective treatments for post-traumatic stress disorder (PTSD). Some therapists practice Eye Movement Desensitization and Reprocessing (EMDR), a combination of psychotherapy and bilateral stimulation. EMDR is very effective for treating a wide range of mental health issues due to emotional and physical trauma. During bilateral stimulation, patients tend to "process" the memory in a way that leads to a peaceful resolution. And, often results in increased insight regarding both previously disturbing events and long-held negative thoughts about the self.
"Bilateral Stimulation induces a fundamental change in brain circuitry, similar to what happens in REM sleep. It allows the person undergoing treatment to process and incorporate traumatic memories into general association networks in the brain. This therapy helps the individual integrate and understand the memories within the larger context of their life experience." – Robert Stickgold, Ph.D., Harvard Medical School
Takeaway
If you feel stressed or feel that you have PTSD resulting from this pandemic, try the above suggestions and download my helpful video before resorting to medication or maladaptive coping strategies. Also, you can discover the many mind-body practices you can do at home to help manage stress more successfully and so much more. SIGN UP HERE to receive your free download today. To purchase my book Healing Without Hurting, click here.
Click below to watch a sneak peek of our brand new course!
Our new course is called 'Overcoming Bias & Improving Critical Thinking.' This 5 week course is instructed by Dr. Madhava Setty & Joe Martino
If you have been wanting to build your self awareness, improve your.critical thinking, become more heart centered and be more aware of bias, this is the perfect course!
Boosting Your Mood and Improving Your Health With Vitamin D
In Brief
The Facts:

Vitamin D is essential for proper immune functioning and alleviation of inflammation.

Reflect On:

Are you or someone you love suffering from depression or an autoimmune disorder? When is the last time you checked your Vitamin D levels?
Take a moment and breathe. Place your hand over your chest area, near your heart. Breathe slowly into the area for about a minute, focusing on a sense of ease entering your mind and body. Click here to learn why we suggest this.
Are you or someone you love suffering from depression or an autoimmune disorder? It appears vitamin D deficiency may be to blame.
Vitamin D is essential for proper immune functioning and alleviation of inflammation. The beneficial effects of vitamin D on protective immunity are due in part to its impact on the innate immune system and has numerous effects on cells within the immune system. Vitamin D is also involved in maintaining the proper balance of several minerals in the body. And, it helps to ward off the flu and many viruses and treat them. The latest research links vitamin D deficiency to many disease states. These disease states include cancer, osteoporosis, heart disease, depression, arthritis, and just about every other degenerative disease.
 "Vitamin D reduces depression. In a randomized, double-blind study, People with depression who received vitamin D supplements noticed a marked improvement in their symptoms." – Journal of Internal Medicine
According to the Nutrition Research Journal, as many as 80% of people are deficient in vitamin D. Inadequate exposure to sunshine, poor eating habits, malabsorption, the VDR genetic mutation, and accelerated catabolism due to certain medications, dark skin pigment color, and too much sunscreen can be to blame. 
A doctor can check vitamin D levels with a simple blood test. Many mainstream doctors will suggest that you are within normal limits if your levels are 20-30ng/mL. However, for optimal health, the Endocrine Society and many functional medicine M.D.s and naturopaths will recommend levels of between 40-70 ng/mL for both children and adults. These doctors will also recommend a more aggressive replenishment program. For example, at age five, my son's level was 24. The pediatrician recommended 500iu daily of supplementation, while our naturopath recommended 5,000iu daily for six months before retesting. Six months later, his levels were almost normal. 
"Through several mechanisms, vitamin D can reduce risk of infections. Those mechanisms include inducing cathelicidins and defensins that can lower viral replication rates and reducing concentrations of pro-inflammatory cytokines that produce the inflammation that injures the lining of the lungs, leading to pneumonia, as well as increasing concentrations of anti-inflammatory cytokines" – PubMed
How to Increase Your Vitamin D Levels
Get enough sun. Vitamin D3, "the sunshine vitamin," is the only vitamin your body that is made, with the help of the sun. So be sure to get enough sun exposure to help the body make this essential nutrient. Hold off trying to protect ourselves from the rays of the sun at every turn by slathering sunscreen. Allow yourself to play outside, garden, and enjoy the rays in moderation.
If you must use some sunscreen, avoid chemical sunscreens made with toxic chemicals that cause thyroid dysfunction, endocrine disruption, allergies, organ toxicity, reproductive toxicity, skin cancer, development, brain, and metabolism problems. Shop for natural mineral-zinc-based certified products instead. When exposed to scorching climates or in the sun for extended periods, we use sunscreens by Babyganics, Badger, Babo Botanicals, and Goddess Garden products.
Eat a well-balanced diet, with foods higher in vitamin D. Although it is believed that we only get twenty percent from the foods we eat. Some foods higher in D include cod liver oil, fish, oysters, eggs, and mushrooms. 
Get checked for the VDR mutation. A blood test will determine if you have mutations in the vitamin D receptor. The consequence can be lower vitamin D levels and the inability to absorb vitamin calcium and many other minerals properly. According to a 2020 scientific report, supplementation of vitamin D can help improve VDR gene expression, so more supplementation may be necessary if you have this mutation.
"Something so simple. Vitamin D supplementation could improve the health status of millions and so becomes an elegant solution to many of our health problems today." – Carol L. Wagner, MD – Medical University of South Carolina
Supplementation 101. Supplementation is often critical if you cannot properly metabolize or absorb enough vitamin D or not get enough sunshine. In areas with long winters and specific populations of people with darker skin color, supplementation may be even more critical. There are many supplements on the market. However, many tablet forms are not as bioavailable and harder to absorb. Therefore, it has been recommended that liquid forms are better. In addition, liquid D is often suspended in olive oil, which helps the vitamins to absorb more easily since it is fat soluble. One of my favorite brands is by Seeking Health. It does not contain any impurities or allergy-inducing ingredients. 
Final Thoughts
Boosting the immune system naturally works on your body's innate wisdom. It supports the body to operate like a well-oiled machine, protects it from unwanted pathogens and disease, and helps ensure a healthy body and mind.
To receive more info on how you and your family can overcome ADHD, apraxia, anxiety, and more without medication SIGN UP HERE or purchase my book Healing without Hurting.
Click below to watch a sneak peek of our brand new course!
Our new course is called 'Overcoming Bias & Improving Critical Thinking.' This 5 week course is instructed by Dr. Madhava Setty & Joe Martino
If you have been wanting to build your self awareness, improve your.critical thinking, become more heart centered and be more aware of bias, this is the perfect course!
Most Diabetic, Heart Disease & Alzheimer's Deaths Categorized As "Covid" Deaths (UK)
In Brief
The Facts:

According to professor of evidence based medicine at Oxford Dr. Carl Heneghan , who is also an emergency GP, most diabetic, heart disease & alzheimer's deaths were categorized as COVID deaths in the United Kingdom.

Reflect On:

How many deaths have actually been a result of COVID? Why is this pandemic surrounded with so much controversy? Why does mainstream media fail at having appropriate conversations about 'controversial' evidence/opinions?
Take a moment and breathe. Place your hand over your chest area, near your heart. Breathe slowly into the area for about a minute, focusing on a sense of ease entering your mind and body. Click here to learn why we suggest this.
 Dr. Carl Heneghan has an interesting view on the pandemic, not only is he a professor of evidence-based medicine at Oxford University, he also works Saturday shifts as an emergency GP. This allows him to see healthcare from both the academic perspective as well as the healthcare experience, more specifically, it allows him to see COVID from both perspectives.
What Happened: In a recent article he wrote for The Spectator, he writes the following,
It's hard to imagine, let alone measures, the side effects of lockdowns. The risk with the government's 'fear' messaging is that people become so worried about burdening the NHS that they avoid seeking medical help. Or by the time they do so, it can be too late. The big rise in at-home deaths (still ongoing) points to that. You will be familiar with the Covid death toll, updated in the papers every day. But did you know that since the pandemic, we've had 28,200 more deaths among diabetics that we'd normally expect? That's not the kind of figure they show on a graph at No. 10 press conference. For people with heart disease, it's 17,100. For dementia and Alzheimer's, it's 22,800. Most were categorised as Covid deaths: people can die with multiple conditions, so they can fall into more than one of these categories. It's a complicated picture. But that's the problem in assessing lockdown. you need to do a balance of risks.

Evidence-based medicine might sound like a tautology — what kind of medicine isn't based on evidence? I'm afraid that you'd be surprised. Massive decisions are often taken on misleading, low-quality evidence. We see this all the time. In the last pandemic, the swine flu outbreak of 2009, I did some work asking why the government spent £500 million on Tamiflu: then hailed as a wonder drug. In fact, it proved to have a very limited effect. The debate then had many of the same cast of characters as today: Jonathan Van-Tam, Neil Ferguson and others. The big difference this time is the influence of social media, whose viciousness is something to behold. It's easy to see why academics would self-censor and stay away from the debate, especially if it means challenging a consensus.
This is something that's been a concern since the beginning of the pandemic. For example, a report published during the first wave in the British Medical Journal  titled Covid-19: "Staggering number" of extra deaths in community is not explained by covid-19″ has suggested that quarantine measures in the United Kingdom, as a result of the new coronavirus, may have already killed more UK seniors than the coronavirus has during the months of April and May.
According to the data, COVID-19, at the time of publication, only accounted for 10,000 of the 30,000 excess deaths that have been recorded in senior care facilities during the height of the pandemic. The article quotes British Health officials stating that these unexplained deaths may have occurred because quarantine measures have prevented seniors from accessing the health care that they need.
Fast forward to more recent research regarding lockdowns, and these concerns have grown. Professor Anna-Mia Ekström and Professor Stefan Swartling Peterson have gone through the data from UNICEF and UNAIDS, and came to the conclusion that at least as many people have died as a result of the restrictions to fight COVID as have died of COVID. You can read more about that here.
These are just a few of many examples. You can read more about the hypothesized "catastrophic" impacts of lockdown, here.
When it comes to what he mentions about academics shying away from debate, especially if their research goes against the grain, we've a seen a lot of that too. Here's a great example you can read about from Sweden regarding zero deaths of school children during the first wave despite no masks mandates or lockdown measures. Jonas F Ludvigsson, a paediatrician at Örebro University Hospital and professor of clinical epidemiology at the Karolinska Institute is quitting his work on COVID-19 because of harassment from people who dislike what he has discovered.
Why This Is Important: Heneghan's words are something that many people have been concerned about when it comes to the deaths that are attributed to COVID-19. How many of them are actually a result of COVID? The truth seems to be that we don't really know. But one thing we do know is that total death toll caused by COVID doesn't seem to be quite accurate.
That being said, we do know that people with comorbidities are more susceptible to illness and death from COVID, and that's something to keep in mind. For people with underlying health conditions, covid, just like flu or pneumonia, can be fatal.
Ontario (Canada) Public Health has a page on their website titled "How Ontario is responding to COVID-19." On it, they clearly state that deaths are being marked as COVID deaths and are being included in the COVID death count regardless of whether or not COVID actually contributed to or caused the death. They state the following:
Any case marked as "Fatal" is included in the deaths data. Deaths are included whether or not COVID-19 was determined to be a contributing or underlying cause of death…"
This statement from Ontario Public Health echoes statements made multiple times by Canadian public health agencies and personnel. According to Ontario Ministry Health Senior Communications Advisor Anna Miller:
As a result of how data is recorded by health units into public health information databases, the ministry is not able to accurately separate how many people died directly because of COVID versus those who died with a COVID infection.
In late June 2020, Toronto (Ontario, Canada) Public Health tweeted that:
"Individuals who have died with COVID-19, but not as a result of COVID-19 are included in the case counts for COVID-19 deaths in Toronto."
It's not just in Canada where we've seen these types of statements being made, it's all over the world. There are multiple examples from the United States that we've covered since the start of the pandemic.
For example, Dr. Ngozi Ezike, Director of the Illinois Department of Public Health stated the following during the first wave of the pandemic:
If you were in hospice and had already been given a few weeks to live and then you were also found to have COVID, that would be counted as a COVID death, despite if you died of a clear alternative cause it's still listed as a COVID death. So, everyone who is listed as a COVID death that doesn't mean that was the cause of the death, but they had COVID at the time of death.
Also during the first wave, the Colorado Department of Public Health and Environment had to announce a change to how it tallies coronavirus deaths due to complaints that it inflated the numbers.
As you can see, we've struggled to find an accurate way to go about tallying COVID deaths since the start, creating more fear and hysteria around total numbers that are plastered constantly in front of citizens by news stations. That being said, a lot of people who are dying of COVID do have co-morbidities as well. But as the professor says, "it's a complicated picture" and hard to figure out, and probably something we will never figure out.
There's been a lot of "fear mongering" by governments and mainstream media, and some believe that lockdowns and masks are simply being used as a psychological tool to keep that fear constant, which in turn makes it easier to control people and make them comply.
Meanwhile, there are a lot of experts in the field who are pointing to the fact that yes, COVID is dangerous, but it does not at all warrant the measures that are being taken, especially when the virus has a 99.95 percent survival rate for people over the age of 70. There are better ways to protect the vulnerable without creating even more chaos that lockdown measures have created, and are creating throughout this pandemic.
That said, it's also important to note that some calls for lockdown measures are focused on stopping hospitals from becoming overwhelmed. Why do some places with very restrictions see no hospital capacity issues? Why do some places with a lot of restrictions see hospital capacity issues? Why do we also see the opposite for both in some areas? These questions appear to be unanswered still. That being said. Hospitals have always been overwhelmed. This is not a new phenomenon.
The main issue here is not who is right or wrong, it's the censorship of data, science, and opinions of experts in the field. The censorship that has occurred during this pandemic has been unprecedented.
Science is being suppressed for political and financial gain. COVID-19 has unleashed state corruption on a grand scale, and it is harmful to public health. Politicians and industry are responsible for this opportunistic embezzlement. So too are scientists and health experts. The pandemic has revealed how the medical-political complex can be manipulated in an emergency—a time when it is even more important to safeguard science. –  Dr. Kamran Abbasi, recent executive editor of the prestigious British Medical Journal (source)
This censorship alone has been an excellent catalyst for people to question what we are constantly hearing from mainstream media, government, and political scientists. Any type of information that calls into question the recommendations or the information we are receiving from our government seems to be subjected to this type of censorship. Mainstream media has done a great job at not acknowledging many aspects of this pandemic, like clinically proven treatments other than a vaccine, and therefore the masses are completely unaware of it.
Is this what we would call ethical? When trying to explain this to a friend or family member, the fact that they are not aware of these other pieces of information, because they may be avid mainstream news watchers, has them in disbelief and perhaps even sometimes labelling such assertions as a "conspiracy theory." This Brings me to my next point.
The Takeaway: As I've said in a number of articles before, society is failing to have conversations about "controversial" topics and viewpoints. This is in large part due to the fact that mainstream media does such a poor job at covering these viewpoints let alone acknowledging them. The fact that big media has such a stranglehold over the minds of many is also very concerning, because we are living in a time where independent research may be more useful. There seems to be massive conflicts of interest within mainstream media, and the fact that healthy conversation and debate is being shut down by mainstream media contributes to the fact that we can't even have normal conversations about controversial topics in our everyday lives.
Why does this happen? Why can't we see the perspective of another? To be honest, I still sometimes struggle with this. When it comes to COVID, things clearly aren't as black and white as they're being made out to be, and as I've said many times before when things aren't clear, and when government mandates oppose the will of so many people, it reaches a point where they become authoritarian and overreaching.
In such circumstances I believe governments should simply be making recommendations and explaining why certain actions might be important, and then leave it to the people to decide for themselves what measures they'd like to take, if any. What do you think? One thing is for certain, COVID has been a catalyst for more and more people to question the world we live in, and why we live the way that we do.
To help make sense of what's happening in our society today, we have released a course on overcoming bias and improving critical thinking. It's an 8 module course and you can learn more about it here.
Click below to watch a sneak peek of our brand new course!
Our new course is called 'Overcoming Bias & Improving Critical Thinking.' This 5 week course is instructed by Dr. Madhava Setty & Joe Martino
If you have been wanting to build your self awareness, improve your.critical thinking, become more heart centered and be more aware of bias, this is the perfect course!