Can Baby Powder Cause Ovarian Cancer? 3 Natural Alternatives If You Don't Want To Use It Anymore
Do you use baby powder?
Have you thought twice about its safety?
--> CE Reader Exclusive: Get 45% off PuraThrive's Micelle Liposomal Vitamin C and/or Micelle Liposomal Vitamin D3 + K2. Click here to learn more.
For years, without knowing, and blindly trusting, many of us apply harmful chemicals to our delicate parts, such as our bottoms, feet, armpits, and groin — anywhere that is moist and emits odour. Unfortunately, the talc in baby powder destroys our delicate skin and microbial community and confuses our immune system, sprouting cancer in reproductive organs.
Massive lawsuits were recently awarded to cancer sufferers by Johnson & Johnson, the formulators of baby powder.
On August 21, 2017, a jury in California recently ordered Johnson & Johnson to pay $417 million to a woman who says she developed terminal ovarian cancer as a result of using the company's baby powder. And in February 2016, a Missouri court ordered Johnson & Johnson to pay $72 million in damages to the family of Jackie Fox, a woman who died of ovarian cancer.
Both lawsuits said the cancer was linked to their longtime habit of applying baby powder. Two other Missouri court cases against Johnson & Johnson went in favour of the women who sued, leaving the company on the hook for $197 million. And more than 2,500 lawsuits are pending in the state.
Nearly $700 million dollars has been paid out to women who have suffered serious illness and death for simply using something many of us have not been properly informed comes with serious health consequences.  We assume that just because it's advertised as safe for our babies that it is.
My goal in this article is to give you the full disclosure you haven't received, and talk about the hero woman of this story who died in the process of getting the truth out.
How Can We Protect Ourselves From This?
Let's distinguish between: What's proclaimed vs. not disclaimed?
When will these lawsuits be enough for us to listen?
What to use instead that's safer and perhaps more effective
The same people who have repeatedly brainwashed us through marketing luxury purses, perfumes, prescriptions, people, and products that poison us more than beautify us, because you're not enough without them, are the same people who are echoing the same in studies, saying "The research is not enough to prove that talc is toxic enough to cause ovarian cancer."
Who are these people? The 1% in charge of virtually every message we hear from the skewed media and news, and so-called beauty and health products.
So what's the problem with talc? 
#1 Let's Distinguish — Proclaimed vs. Disclaimed
What's Proclaimed (aka What We're Told):
Talcum powder is made from talc, a mineral made up mainly of the elements magnesium, silicon, and oxygen. As a powder, it absorbs moisture well and helps cut down on friction, making it useful for keeping skin dry and helping to prevent rashes. It can be found in powdered cosmetics, deodorants, and more. 
What's Not Proclaimed (aka the Dark Truth About Talc):
Talc is a powdered native hydrous magnesium silicate sometimes containing a small portion of aluminum silicate. Talc can be contaminated with asbestos fibers, posing risks for respiratory toxicity and cancer. Studies by the National Toxicology Panel demonstrated that cosmetic-grade talc free of asbestos is a form of magnesium silicate that also can be toxic and carcinogenic — so much so that it is banned in the EU as well as in Canada, both of whom place much more scrutiny on the ingredients allowed in their food and drug products.
So why are these things not banned in America?
One word: greed.
We're the lab rats.
Although many attempts have been made by doctors, researchers, and attorneys since the first discovery of its potential threat to our ovaries, J&J still refused to change the formula.
Dr. Daniel Cramer, a professor of obstetrics and gynecology at Brigham and Women's Hospital in Boston, has served as a paid consultant on several ovarian cancer cases against Johnson & Johnson, and published one of the first studies noting an association between talc and ovarian cancer in 1982.  It found a 92% increased risk for ovarian cancer with women who reported genital talc use.
"This story goes back a long, long way, back into the '70s when people noted that ovarian cancer had many similarities to asbestos exposure," he says. "Meanwhile another group in England found talc that was deeply embedded in ovaries and said there might be a story here."
According to the EWG on this site, 23,653 studies in PubMed science library may include information on the toxicity of this chemical.
In 1993, The United States National Toxicology Program concluded "talc is a carcinogen." Then, in 1996, the condom industry stopped dusting condoms with talc at the request of the U.S. Food and Drug Administration (FDA), which was the direct result of the scientific concern about the ovarian cancer risk from vaginal exposure to talc.
The International Agency for Research on Cancer, part of the World Health Organization, also called talc a possible carcinogen in 2010.
In spite of this overwhelming evidence, they continued to aggressively market the powder. The internal documents obtained in the lawsuits reveal the company knew years ago that "Retrospective studies have implicated talc use in the vaginal area with the incidence of ovarian cancer."
Yet, even after paying over half a billion dollars in lawsuits that Johnson & Johnson baby powder had a direct link to these womens' cancers, they deny the toxicity of their product and continue to stand behind it.
"Several decades of medical research do not support the hypothesis that use of talcum powder causes ovarian cancer," said Dr. Hal Lawrence, chief executive officer of the American Congress of Obstetricians and Gynecologists.
Other Risk Factors of Baby Powder — Hormonal Chaos?
Talc aside, another group of chemicals called Phthalates are commonly found in baby lotions and powders. This class of ingredients, also abundantly formulated in cosmetics, is among 70,000 other registered chemicals that have hormonal effects on the body.
These factors are called xenoestrogens, foreign estrogens that mimic the functions of our natural estrogens. When they enter our body, they attach themselves to our cells' receptor sites, taking over our naturally produced estrogens' functions to control growth and development, negatively affecting our breasts, skin, menstruation, and fertility.
Over time, high exposure to these 'fake estrogens' can promote unnatural growth in tissues such as fibroids, cysts, tumours and weight gain. It also wreaks havoc on the endocrine system, leaving women with a myriad of hormonal health imbalances, one of the most common conditions I see today in my practice. PMS, heavy bleeding, cancer, PCOS, infertility, acne, mood swings, chronic fatigue, weight gain, and more are all too misunderstood by the medical community and thought to have unknown causes. Research suggests it's caused by a condition called Estrogen Dominance, however, the result of an accumulation of chemicals in the body. Essentially, all the products we use on a daily basis and the effects of their ingredients stack up over time.
So the next time you read a study that says "not toxic in small doses," ask yourself how much these small doses of various products add up over years of use.
We're putting hundreds of different products, full of xenoestrogens, onto our bodies. When applied to the skin, they are far more potent than those ingested orally, because they travel directly to the tissues instead of passing through the liver. So even if talc weren't the issue, as per Johnson & Johnson's representatives, perhaps you should consider seeking alternatives due to these negative ramifications.
Studies are now showing that one in two men, and one in three women in this generation are estimated to have cancer, and over 75% of America is now overweight or obese, at least in part because of the hormonal imbalances caused by xenoestrogens, we should all aim to reduce our exposure as much as possible. Read how here.
#2 When Will These Lawsuits Be Enough for Us to Listen?
The Scary Truth:
Johnson & Johnson knew about the risk since the early 1980s, and even before, yet did not protect its customers.
The medical community is nevertheless claiming to 'not know' the cause of ovarian cancer — but I beg to differ.  Overwhelming proof shows that for most cancers today, the underlying cause is manmade chemicals, environmental toxins, and in a large proportion of cancers, xenoestrogens.
My question to you is, when will it be enough?
How many kids 'dying too young' of cancer need we witness?
How exhausted, hormonally imbalanced, diseased, and infertile do we need to become?
How many lawsuits, how many women have to suffer, how many loved ones die, before we wake up and learn from their losses?
Ms. Echeverria, who was too sick to testify in court, started using Johnson's baby powder when she was 11 and continued after being diagnosed with ovarian cancer in 2007, unaware that some studies had linked talc to cancer, said her lawyer, Mark Robinson. She stopped using it after hearing news reports of a verdict in another lawsuit against Johnson & Johnson, he said, and now wanted to warn other women.
"She told me, 'I'm not doing this for myself,' " Mr. Robinson said. "She knows she's going to die. She's doing this for other women. She wants to do something good before she leaves."
And good she did, as a warrior champion of ovaries and baby butts everywhere.
Now let's talk alternative solutions.
Thankfully, there are plenty of other choices you can use instead that you probably already have in your kitchen!
#3 Three Healthy and Beautifying Alternatives
Baking Soda (aluminum free)
Arrowroot (Paleo baking soda) – comes from plants
Diatomaceous earth – comes from fossilized diatoms, aka algae
Baking Soda?
Sodium Bicarbonate works very effectively to absorb odour. Apply it just as you would baby powder. As with all things, however, you should test out a little at a time to see how your body reacts, especially because these are sensitive areas. Be sure to purchase the kind without aluminum so your heavy metal levels don't look like the below chart. I test for heavy metal toxicity in my online nutrition company, and often see metals in excess of safe ranges, which negatively impacts our health, causing auto immune disease, neurological damage, and brain disfunction, and has ties to virtually every symptom you can think of.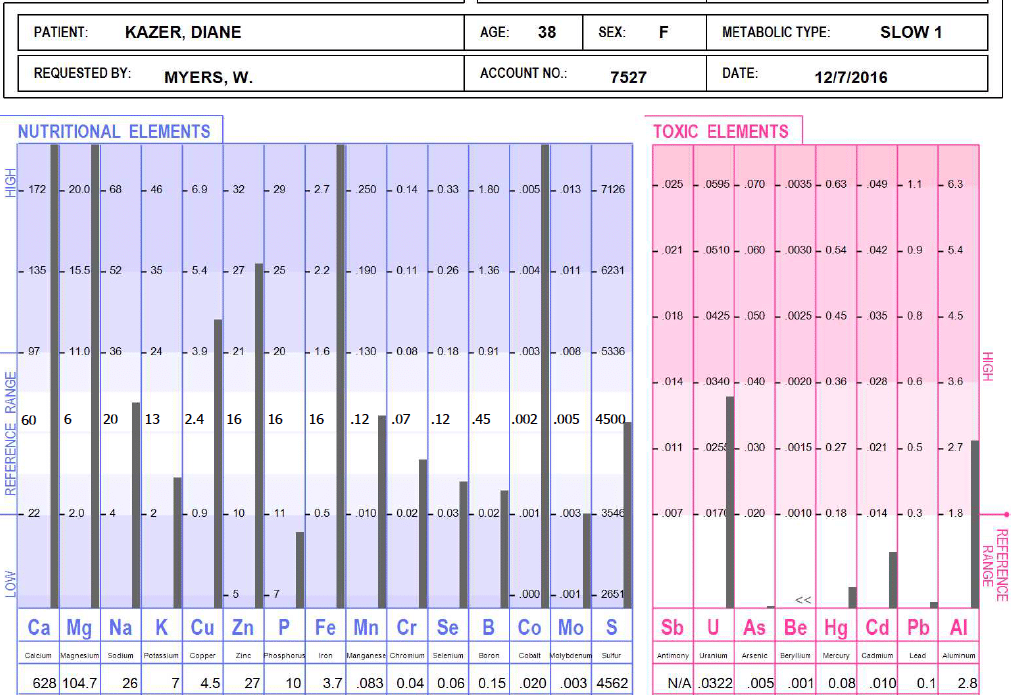 What Is Arrowroot?
Arrowroot is derived from several tropical South American plants. Tapioca starch is derived from the crushed up pulp of the South American cassava plant, a woody shrub. I bought it long ago to use in my vegan and paleo recipes as alternatives to flour and cornstarch that otherwise are genetically modified and filled with heavy metals, which leech minerals such as zinc, Vitamin C, and iron from our body. Since zinc is perhaps the most important mineral to boost immune health, we want to stay as free from GMO ingredients as possible, to combat cancer.
What Is Diatomaceous Earth?
Diatoms are hard-shelled algae that come from bodies of water and have a high silica content, which makes it good for hair and skin use. It's been called a miracle dust.
Benefits of Diatomaceous Earth:
Better digestive health
Healthier colon
Better food absorption
Clearer skin
Healthier hair and nails
More energy
Lower Candida levels
Kills parasites and worms in the body (works for dogs too)
This miracle powder also works as a 'deodorant' to decrease odour. You can also use it in hair to ditch dandruff and also sprinkle it into your shoes (instead of talc) for foot fungus.
If you are going to buy it, make sure it's food grade diatomaceous earth. You can get a huge 10 pound bag for around $20.
Closing Points and Takeaways
It's our job to pay attention and be mindful of the things we put on, in, and around our body. We must stop assuming that decades old FDA regulations are in place to protect us. It is impossible to test for reactions of not only how one unique person would react to these harsh ingredients, but also how two or thousands of combinations react inside of the body. So it's on us to research and test ourselves.
I am still surprised to hear how many people don't realize that what you apply to your skin becomes a part of you, just as any bite of food you take does. Your skin eats too, and these applied toxins become a burden to our organs of elimination.
I've worked with thousands of clients and this is the most under-addressed topic, which most don't consider could have such a drastic impact on health.
You could eat the perfect diet, and have the perfect exercise/yoga/rest routine, but if you're slathering toxins like talc to your body, your odds of disease, fat, fatigue, and frustration are still very high.
Bottom Line:  If we love on our skin-biome and treat it well, it can keep us energetic and happy, reduce pain and disease, and lessen the signs of aging. The best two ways to do this are to feed our body probiotics (this is the brand I use), and then consume food for these bugs with prebiotics such as leafy greens and fermented foods. I teach this, step by step, in my four-week online program, The Warrior Cleanse.  Then, stop consuming and applying things to the skin and body that destroy the 'good guys' within it.
For a great resource on what products are safe to put on your body, check out the free online resource, Environmental Working Group at EWG.org.
For more empowering articles just like this, and how to steer clear of these toxins, check out my website, Facebook page, and Youtube channel for all things hormones/cleansing and fat burning fitness!
Cleanse your Body, Heal your Hormones, Ignite your Life!
Collective Evolution is one of the world's fastest-growing conscious media and education companies providing news and tools to raise collective consciousness. Get inside access to Collective Evolution by becoming a member of CETV.
Stream content 24/7 and enjoy mind-expanding interviews, original shows, documentaries and guided programs.
Click here to start a FREE 7-Day Trial and help conscious media thrive!
Study: Exercising With Mask Induces a "Hypercapnic Hypoxia Environment" – Not Good
In Brief
The Facts:

A study published in June 2020 raises some health concerns about people wearing masks while exercising. It also calls into question the ability of masks to stop Covid-19.

Reflect On:

Are the mandatory orders that we are being given from government health authorities really the right thing to do? Why is there such a back-lash for questioning these measures? Should we not encourage questioning and discussion?
What Happened: A recent study published in the Journal Medical Hypothesis titled "Exercise with facemask; Are we handling a devil's sword? – A physiological hypothesis" claims the following:
Exercising with facemasks may reduce available Oxygen and increase air trapping preventing substantial carbon dioxide exchange. The hypercapnic hypoxia may potentially increase acidic environment, cardiac overload, anaerobic metabolism and renal overload, which may substantially aggravate the underlying pathology of established chronic diseases. Further contrary to the earlier thought, no evidence exists to claim the facemasks during exercise offer additional protection from the droplet transfer of the virus. Hence, we recommend social distancing is better than facemasks during exercise and optimal utilization rather than exploitation of facemasks during exercise.
According to the authors, exercising with facemasks induced as "a hypercapnic hypoxia environment [inadequate Oxygen (O2) and Carbon dioxide (CO2) exchange] [15]. This acidic environment, both at the alveolar and blood vessels level, induces numerous physiological alterations when exercising with facemasks: 1) Metabolic shift; 2) cardiorespiratory stress; 3) excretory system altercations; 4) Immune mechanism; 5) Brain and nervous system.'
Further, poor saturation of haemoglobin would be anticipated due to increased partial pressure of CO2 at higher exercise intensity [19]. Fig. 2 demonstrates the extreme right shift of the oxyhemoglobin dissociation curve, which would be higher than that expected during exercise. This acidic environment would unload O2 faster at the muscle level, but due to higher heart rate and reduced affinity at the alveolar junction, the partial pressure of O2 would substantially fall, creating a hypoxic environment for all vital organs.
In the figure below, the authors present a dissociation curve that "is showing the extreme right side shift with the carbon dioxide rebreathing (PaCO2) and inadequate available Oxygen (PAO2). Red dotted lines show the right shift of the curve due to exercise without masks (↑PaCO2, PH and temperature). Violet dotted lines show the extreme curve shift during exercise with masks (↑↑↑↑PaCO2, PH and temperature). (For interpretation of the references to colour in this figure legend, the reader is referred to the web version of this article.)"
The authors also point out that "wearing of facemasks to prevent the community spread of the novel Covid-19 is itself debatable, considering the limited evidence on the subject matter. WHO recommends masks only for Covid-19 patients but the usage of masks is morally "exploited" among community individuals."
This is important to recognize, the use of masks is indeed debatable. Right now, "fact-checkers" are going around the internet censoring and labelling any information that seems to question the efficacy of masks when it comes to Covid-19, or anything that contradicts the WHO organization. Why do voices looking at facts ad science, and providing another perspective get silenced?
The purpose of the paper cited in this article is to explore and question: Does the use of facemasks offer any benefit for 'social exercisers' during this pandemic; 2) Does exercising with facemasks alter normal physiological responses to exercise; 3) Does exercising with facemasks increase the risk of falling prey to Coronavirus; 4) How could "social exercisers" combat the physiological alteration?
Here's another interesting claim by the researchers:
The study concludes:
Exercising with facemasks might increase pathophysiological risks of underlying chronic disease, especially cardiovascular and metabolic risks. Social exercisers are recommended to do low to moderate-intensity exercise, rather than vigorous exercise when they are wearing facemasks. We also recommend people with chronic diseases to exercise alone at home, under supervision when required, without the use of facemasks. Given the identified and hypothesized risks, social distancing and self-isolation appear to be better than wearing facemasks while exercising during this global crisis.
This isn't the only paper that has called into question the use of a mask. This study, is one of multiple that conveys the idea that they might in fact increase one's chance of contracting a respiratory infection.
For example,
According to a study published in BMJ Open in 2015,
This study is the first RCT of cloth masks, and the results caution against the use of cloth masks. This is an important finding to inform occupational health and safety. Moisture retention, reuse of cloth masks and poor filtration may result in increased risk of infection. Further research is needed to inform the widespread use of cloth masks globally. However, as a precautionary measure, cloth masks should not be recommended for HCWs, particularly in high-risk situations, and guidelines need to be updated.

We have provided the first clinical efficacy data of cloth masks, which suggest HCWs should not use cloth masks as protection against respiratory infection. Cloth masks resulted in significantly higher rates of infection than medical masks, and also performed worse than the control arm. The controls were HCWs who observed standard practice, which involved mask use in the majority, albeit with lower compliance than in the intervention arms. The control HCWs also used medical masks more often than cloth masks. When we analysed all mask-wearers including controls, the higher risk of cloth masks was seen for laboratory-confirmed respiratory viral infection.
According to another study published a year after the one mentioned above,
The physiological effects of breathing elevated inhaled CO2 may include changes in visual performance, modified exercise endurance, headaches and dyspnea. The psychological effects include decreased reasoning and alertness, increased irritability, severe dyspnea, headache, dizziness, perspiration, and short-term memory loss. (source)
There are many examples. Doctors have been making YouTube videos and giving interviews about the same concerns as well. Again, many of these videos and interviews have been deleted from big tech platforms like YouTube.
Why?
Why This Is Important: We are living in a time where simply questioning information that's dished out to us is becoming harder and harder to do and talk about on the internet – a place where ideas are shared. When something credible opposes a narrative handed to the population via some very powerful people, not only is it censored and often removed, but a mass media campaign of ridicule ensues. Of course, the main strategy used in the mainstream is to call these ideas a "conspiracy theory" and cast doubt. Censorship + Ridicule = massive perception manipulation.
Below is a screenshot of what has happened with our YouTube channel January 1st 2019. We were demonetized and shaddow banned. This is just one example of big tech censorship we have experienced. Our Facebook page has been heavily cut, and we no longer get ranked in Google search. We often joke at the office that, if people knew what we've gone through to keep Collective Evolution afloat for the past 11 years they wouldn't believe it.
This is why we created CETV. Our own platform we created to help us continue doing what we do. CETV is our inner circle membership site that provides news and tools to raise collective consciousness. You can support our work and get inside access to Collective Evolution by becoming a member of CETV.
We thank everybody who has joined so far, you've truly kept CE going!
Why are there a digital authoritarian "fact-checkers" going around the internet and censoring information? Should people not have the right to examine information openly, freely and transparently and decide for themselves what is, and what isn't, instead of having people in positions of power do it for them? Does this not leave room for mass manipulation of information?
The good news is that the censorship of information has drawn the attention of even more people, and has been a catalyst for some to recognize what's really going on here.
Our physical rights are slowly being taken away under the guise of good will. Crisis' like the coronavirus, or terrorism have always been used to do this. Create the problem, propose the solution and make it justified in the eyes of the masses. If we continue down this path and choose to be governed by those who do not have the best interests of humanity at heart, we are going down the path of total and complete population control.
The Takeaway
At the end of the day, there is so much controversy and information out there that completely opposes the mainstream media narrative. This information and evidence, once seen, has such a big impact on one's consciousness and perception of the world we live in. Just like 9/11, this coronavirus incident is serving the collective and sparking more questions about what exactly we are doing here. Why do we live the way we live? Why do we respond the way we respond? Why do we continue to follow orders from those whom we choose to let govern us when it isn't even clear that their recommendations are for the best interest of humanity?
Collective Evolution is one of the world's fastest-growing conscious media and education companies providing news and tools to raise collective consciousness. Get inside access to Collective Evolution by becoming a member of CETV.
Stream content 24/7 and enjoy mind-expanding interviews, original shows, documentaries and guided programs.
Click here to start a FREE 7-Day Trial and help conscious media thrive!
Trump Gives 1.16 Billion To Bill Gates' Vaccine Alliance & Inks Deal With Pfizer For A COVID Vaccine
In Brief
The Facts:

Not long ago, President Trump gave more than a billion dollars to a vaccine alliance called Gavi that was co-founded by Bill & Melinda Gates. He also inked a deal with Pfizer for 100,000 doses of the COVID-19 vaccine.

Reflect On:

Are you going to get the vaccine? Will it be required to travel and to enter into certain buildings? If so, will you get it then? Are mandatory medical measures a violation of our freedom and human rights? Is it really for the good of everyone?
What Happened: Last month, US President Donald Trump "donated more to Gavi, the Vaccine Alliance, to prevent the spread of infectious diseases worldwide." He did so in a statement of support for Gavi at the public Gavi pledge conference, which was hosted by the United Kingdom, on June 4th. So far, the United States has donated more than $12 billion for the development of COVID-19 vaccines and therapies, and "the U.S. commitment to immunization complements the work of innovators in the United States and other countries who are racing to find a vaccine and treatments for COVID­19." (source)
Bill and Melinda Gates co-founded the Gavi alliance in the year 2000, it's a public-private partnership that claims to support "global health-system strengthening and vaccine deployment for infectious diseases worldwide."  (source)
Here's a video clip of Trump talking about his decision.
Shortly after this, Trump announced that they will give nearly $2 billion to Pfizer, a big pharmaceutical company, for 100 million doses of a COVID-19 vaccine that could make its way into the public domain sometime next year. According to Health and Human Services Secretary Alex Azar, the U.S. could buy another 500 million doses under the agreement if the vaccine is safe and effective in the U.S.
Multiple countries are now purchasing vaccines for the new coronavirus.
Why This Is Important: It's important because the coronavirus vaccine is extremely relevant right now and on the minds of many as the only possible solution to this pandemic, at least that's how it's being marketed, despite the fact that multiple peer-reviewed studies and examples have emerged from all over the world regarding the success of other interventions.
For example, a study published last month in Frontiers in Immunology titled "Quercetin and Vitamin C: An Experimental, Synergistic Therapy for the Prevention and Treatment of SARS-CoV-2 Related Disease (COVID-19)" concluded the following:
Quercetin displays a broad range of antiviral properties which can interfere at multiple steps of pathogen virulence – virus entry, virus replication, protein assembly – and that these therapeutic effects can be augmented by the co-administration of vitamin C. Furthermore, due to their lack of severe side effects and low-costs, we strongly suggest the combined administration of these two compounds for both the prophylaxis and the early treatment of respiratory tract infections, especially including COVID-19 patients."
As far as vitamin C goes, this is not the only study or article to recommend its use when it comes to treating COVID-19. For examplem Medicine in Drug Discovery of Elsevier, a major scientific publishing house, recently published an article on early and high-dose IVC in the treatment and prevention of Covid-19. High-dose intravenous VC was successfully used in the treatment of 50 moderate to severe COVID-19 patients in China. The doses used varied between 2 g and 10 g per day, given over a period of 8–10 h. Additional VC bolus may be required among patients in critical conditions."
New York hospitals were also seeing success with Quercetin and Vitamin C. You can read more about that here. Vitamin C isn't the only 'alternative' therapy, Hydroxychloroquine also caused quite a bit of controversy. The main point I am trying to make here is that mainstream media has not only ignored these facts, but there seemed to be a coordinated attack on the idea that these therapies can work. Once the mainstream media and organizations who are threatened come up with a way, whether it be by paying scientists or manipulating data, to ridicule an idea, that idea instantaneously loses credibility in the minds of the masses. That's how much of a stranglehold mainstream media has, and has had on our collective perception.
Secondly, it's important because according to organizations like the American Medical Association as well as the World Health Organization, vaccine hesitancy among people, parents, and, as mentioned by scientists at the World Health Organization's recent Global Vaccine Safety Summit, health professionals and scientists continues to increase. This is no secret, as vaccines have become a very popular topic over the past few years alone. In fact, the World Health Organization has listed vaccine hesitancy as one of the biggest threats to global health security. The issue of vaccine hesitancy is no secret, for example, one study (of many) published in the journal EbioMedicineoutlines this point.
This fact was also  emphasized by Professor Heidi Larson, a Professor of Anthropology and the Risk and Decision Scientist Director at the Vaccine Confidence Project. She is referenced by the authors in the study above. At the WHO conference, she emphasized that safety concerns among people and health professionals seem to be the biggest issue regarding vaccine hesitancy.
The other thing that's a trend, and an issue, is not just confidence in providers but confidence of health care providers, we have a very wobbly health professional frontline that is starting to question vaccines and the safety of vaccines. That's a huge problem, because to this day any study I've seen–and we're constantly looking on any studies in this space–still, the most trusted person on any study I've seen globally is the health care provider.
There are a number  of physicians and scientists raising awareness about this. The Physicians For Informed Consent are one of many such groups. This brings me to my next point, informed consent.
Vaccine mandates have already caused quite a controversy when it comes to children. The right to receive a medical or religious exemption is being taken away in various states, and a child cannot attend a public school unless they are up to date with the CDC's recommended vaccination schedule. This is done on the basis that unvaccinated children are a danger to vaccinated children, which is a highly flawed argument given the fact that vaccines aren't safe and effective for everyone, which is why the National Childhood Vaccine Injury act has paid nearly $4 billion to families of vaccine-injured children, and that's only counting approximately 1 percent of vaccine-injured children because most of them go unreported. You can read more about that here.
It's also important because we need to weigh the dangers of the vaccine compared to the actual disease. The Physicians For Informed Consent (PIC) recently published a report titled "Physicians for Informed Consent (PIC) Compares COVID-19 to Previous Seasonal and Pandemic Flu Periods." According to them, the infection/fatality rate of COVID-19 is 0.26%.
Similar to CDC estimations, PIC's analysis results in a COVID-19 CFR of 0.26%, which is comparable to the CFRs of previous seasonal and pandemic flu periods. "Knowing the CFR of COVID-19 allows for an objective standard by which to compare both non-pharmaceutical interventions and medical countermeasures," said Dr. Shira Miller, PIC's founder and president. "For example, safety studies of any potential COVID-19 vaccine should be able to prove whether or not the risks of the vaccine are less than the risks of the infection. (source)
You can read more about that story here.  So far, multiple clinical trials for COVID-19 vaccines have shown severe reactions within 10 days after taking the vaccine. You can read more about that story, here.
Alan Dershowitz and Robert F. Kennedy recently had a vaccine debate regarding the safety of vaccines. It includes a discussion about the upcoming COVID-19 vaccine. You can watch that and read more about it here.
Last but not least, it goes to show just how susceptible politicians and presidents are to what many before them have referred to as the invisible government. Donald Trump was clearly not a fan of vaccines, and that was made clear during his 2016 election campaign. When it comes to politics, big business always seems to win. Even those from within our federal health regulatory agencies are speaking up. In fact, only a few years ago, more than a dozen scientists from within the CDC put out an anonymous public statement detailing the influence corporations and rougue interests  have on government policy. They were referred to as the Spider Papers.
The invisible government, which like a giant octopus sprawls its slimy legs over our cities, states and nation…The little coterie of powerful international bankers virtually run the United States government for their own selfish purposes. They practically control both parties…(and) control the majority of the newspapers and magazines in this country. They use the columns of these papers to club into submission or drive out of office public officials who refuse to do the bidding of the powerful corrupt cliques which compose the invisible government. It operates under the cover of a self-created screen and seizers  our executive officers, legislative bodies, schools, courts, newspapers and every agency created for the public protection." (source)(source) – John F. Hylan, Mayor of New York City from 1918-1925
Another great one from Theodore Roosevelt
"Political parties exist to secure responsible government and to execute the will of the people. From these great tasks both of the old parties have turned aside. Instead of instruments to promote the general welfare, they have become the tools of corrupt interests which use them impartially to serve their selfish purposes. Behind the ostensible government sits enthroned an invisible government, owing no allegiance and acknowledging no responsibility to the people. To destroy this invisible government, to dissolve the unholy alliance between corrupt business and corrupt politics is the first task of the statesmanship of the day."(source)
The Takeaway
At the end of the day, the new coronavirus and the measures taken to combat it have caused a lot of controversy. When someone like NSA whistleblower Edward Snowden said governments are using the coronavirus to push more authoritarian measures upon the population, it's important that we listen. Instead, we prosecute them, exile them, and put people like Julian Assange who expose war crimes in jail while we agree with and identify with those who are committing the crime. What is encouraging, however, is that just like 9/11 did, COVID-19 is shifting human consciousness in a major way.
Collective Evolution is one of the world's fastest-growing conscious media and education companies providing news and tools to raise collective consciousness. Get inside access to Collective Evolution by becoming a member of CETV.
Stream content 24/7 and enjoy mind-expanding interviews, original shows, documentaries and guided programs.
Click here to start a FREE 7-Day Trial and help conscious media thrive!
Physicians For Informed Consent Say Infection Fatality Rate of COVID-19 Is 0.26 Percent
In Brief
The Facts:

The Physicians For Informed Consent (PIC) recently published a report titled "Physicians for Informed Consent (PIC) Compares COVID-19 to Previous Seasonal and Pandemic Flu Periods." According to them, the infection/fatality rate of COVID-19 is 0.26%.

Reflect On:

Is the new coronavirus as dangerous as it's being made out to be, or does it compare to other severe respiratory viruses? Is what we've gone through with regards to lockdown measures and mask really about the virus, or something else?
What Happened: The Physicians For Informed Consent (PIC) recently published a report titled "Physicians for Informed Consent (PIC) Compares COVID-19 to Previous Seasonal and Pandemic Flu Periods." In their article, they stated the following:
The public has been made aware of the number of COVID-19 deaths and reported cases that have occurred since the beginning of the current pandemic; however, the number of unreported cases has not been widely known or publicized. Recently, the Centers for Disease Control and Prevention (CDC) estimated that more than one-third of SARS-CoV-2 (the coronavirus that can lead to COVID-19) infections are asymptomatic, meaning that initial estimations of its severity were grossly overestimated. Now, for the first time, Physicians for Informed Consent (PIC) has collated data from U.S. antibody studies and produced an educational document outlining how an accurate case-fatality rate (CFR) requires antibody studies in order to guide and measure medical care and public health policies.

Similar to CDC estimations, PIC's analysis results in a COVID-19 CFR of 0.26%, which is comparable to the CFRs of previous seasonal and pandemic flu periods. "Knowing the CFR of COVID-19 allows for an objective standard by which to compare both non-pharmaceutical interventions and medical countermeasures," said Dr. Shira Miller, PIC's founder and president. "For example, safety studies of any potential COVID-19 vaccine should be able to prove whether or not the risks of the vaccine are less than the risks of the infection.

"Regardless of proof of safety, however, a potential COVID-19 vaccine should only be voluntary, in order to safeguard a patient's human right to determine what will happen with his or her body," said Dr. Miller.
You can view the PIC's educational document assessing COVID-19 severity and how they came to their conclusion, here. Obviously the data is always delayed and things are constantly changing with regards to COVID-19 numbers.
Who are the PIC? They are a group of doctors and academics from around the world who have come together to support informed consent when it comes to mandatory vaccine measures. Their information is based on science. Their mission is to deliver data on infectious diseases and vaccines, and to unite doctors, scientists, healthcare professionals, attorneys, and families who support voluntary vaccinations. Their vision is that doctors and the public are able to evaluate the data on infectious diseases and vaccines objectively and voluntarily engage in informed decision-making about vaccination.
They are not the only ones in the 'academic world' who make the point that COVID-19 perceptions of danger and numbers are unsubstantiated. For example, John P. A. Ioannidis, a professor of medicine and epidemiology at Stanford University has said that the infection fatality rate is close to 0 percent for people under the age of 45 years old, explaining how that number rises significantly for people who are older, as with most other respiratory viruses. You can read more about that and access that here. In fact, not long ago a study published by several academics from the Stanford School of Medicine suggests that COVID-19 has a similar infection fatality rate as seasonal influenza, you can read more about that and access the study here.
The mainstream media has also addressed the low case fatality rate, warning the public not to be compliant.
Why This Is Important
This is important because the data validates what many doctors have been emphasizing from the beginning of the lockdown, that the new coronavirus is being made out to be far more dangerous than it actually is. This is the opinion of many, not a consensus. As a result, many scientists were extremely confused, and still are, at the measures that multiple governments have taken. For example, Dr. Sucharit Bhakdi, a specialist in microbiology and one of the most cited research scientists in German history, was one of them. (source) There seem to be dozens upon dozens of doctors and scientists raising the same ideas.
Doctors and scientists of such a prestigious background with decades of experience in the field have been censored and silenced by multiple social media platform for sharing their opinion and research, simply because it opposes the narrative that's being put out by organizations like the World Health Organization (WHO) and the United Nations, for example. YouTube has flat out said that it's censoring any information that contradicts the WHO.
It's understandable why so many people are confused. On one hand you have mainstream media outlets reporting an overwhelming amount of dead bodies that have to be carted away in freezer trucks, and on the other hand you have a number of scientists and doctors letting people know that we are dealing something that we've been dealing with for decades, just another non-severe respiratory virus. Complimenting that is "fact checkers" that are going around blindly upholding the government and health agency narrative. In reality, they are censoring different perspectives, not fact checking.
Other factors are also confusing, like the fact that deaths are being attributed to Covid that are not a result of it.
Did you know that metapneumovirus has been shown to have worldwide circulation with nearly universal infection by age 5? We are talking billions of people. Did you know that outbreaks of metapneumovirus have been well documented every single year, especially in long term care facilities with mortality rates of up to 50%? (source) Did you know that human metapneumovirus infection results in a large number of hospitalizations of children every single year? Did you know nearly 1-2 million children every single year die of these types of respiratory illnesses because they lead to acute respiratory illness? Imagine if the infection rates and death numbers were constantly tracked, and put on an easy to access website, mainstream media, radio etc… Imagine if the other coronaviruses and respiratory illnesses that are more severe in some cases, and arguably more infectious in some cases were subjected to constant monitoring and beamed out to the population every single minute, could you imagine the fear and hysteria?
Are fear and hysteria being used as a marketing tool for a vaccine?
What about Edward Snowden's thoughts about the under-discussed consequences of the coronavirus pandemic and how it's being used to take away more human rights?
Here's a recent Instagram post I came across from Robert F. Kennedy Jr. It makes you wonder, doesn't it?
The Takeaway
Right now, and we seem to see the same thing with other major global events, there seems to be a great divide amongst the population with regards to what is going on. How dangerous is the virus is? Are receiving the correct information from not only our federal, state, and provincial health authorities but the WHO as well?
This divide was further expressed by the collective reaction to lockdown and other mandated measures that have been put in place. There are simply a growing number of people who do not agree with the actions governments have taken to combat Covid, and many of them are doctors, scientists, and people who have some sort of expertise in this area.
The point is, we are not obligated to listen to our government. Although it seems that way sometimes, "obey or be punished", the ultimate power lies with the people. We as a collective choose what direction we go, and right now many of us are simply choosing to follow, obey, not question, and be wary of the ones who are asking questions. This is OK, this path is not wrong, but how does it feel to simply follow narratives that you don't know are true? Why are so many others questioning and backing up their conclusions with facts? What world is created out of blind acceptance of anything?
Furthermore, the emergence of a digital "fact-checker" going around the internet that's censoring the opinions and research of some experts in the field simply serves as a catalyst for many to also question what is going on here. The fact checks, in many cases, become so ridiculous that people are now realizing that the information that is fact checked is often the information to reflect on.
One thing is for certain, the coronavirus has served as a great catalyst for more people to start questioning what they're told, and to seek out information for themselves. For quite a long time, we haven't really been thinking for ourselves, instead we've let "the corporation" do that for us. This is why we are seeing the emergence of so much information that continues to contradict what we are being told.
We have so much potential as a human race, and to come closer to accessing that potential, a great step would begin asking deeper and better questions about what we're told. We can do this by gathering different perspectives as opposed to s simply one from mainstream media.
Reflect, is participating in our current political process helping us thrive? Or are we simply giving our power away to a system that is full of what we call corruption and that doesn't have our best interests at hand?
Our current system was created from a level of consciousness that we as humans are evolving beyond. This is why so many are feeling a desire to look for new ideas and ways of seeing things, because our current ways no longer resonate with our being, we are simply doing them out of. habit and unconsciousness.
In order to create a new system, you can't do it from the same level of consciousness we are at now or else we will only create more of the same thing. If we want change, might we create it when we as individuals operate from a greater sense of awareness and inclusiveness, a higher state of consciousness? Might we create it from a place of peace, understanding, and non-judgement as opposed to ego consciousness and polarity?
At the end of the day no matter what is happening, we are all united in our desire to see humanity thrive.
Collective Evolution is one of the world's fastest-growing conscious media and education companies providing news and tools to raise collective consciousness. Get inside access to Collective Evolution by becoming a member of CETV.
Stream content 24/7 and enjoy mind-expanding interviews, original shows, documentaries and guided programs.
Click here to start a FREE 7-Day Trial and help conscious media thrive!