Can Baby Powder Cause Ovarian Cancer? 3 Natural Alternatives If You Don't Want To Use It Anymore
Do you use baby powder?
Have you thought twice about its safety?
For years, without knowing, and blindly trusting, many of us apply harmful chemicals to our delicate parts, such as our bottoms, feet, armpits, and groin — anywhere that is moist and emits odour. Unfortunately, the talc in baby powder destroys our delicate skin and microbial community and confuses our immune system, sprouting cancer in reproductive organs.
Massive lawsuits were recently awarded to cancer sufferers by Johnson & Johnson, the formulators of baby powder.
On August 21, 2017, a jury in California recently ordered Johnson & Johnson to pay $417 million to a woman who says she developed terminal ovarian cancer as a result of using the company's baby powder. And in February 2016, a Missouri court ordered Johnson & Johnson to pay $72 million in damages to the family of Jackie Fox, a woman who died of ovarian cancer.
Both lawsuits said the cancer was linked to their longtime habit of applying baby powder. Two other Missouri court cases against Johnson & Johnson went in favour of the women who sued, leaving the company on the hook for $197 million. And more than 2,500 lawsuits are pending in the state.
Nearly $700 million dollars has been paid out to women who have suffered serious illness and death for simply using something many of us have not been properly informed comes with serious health consequences.  We assume that just because it's advertised as safe for our babies that it is.
My goal in this article is to give you the full disclosure you haven't received, and talk about the hero woman of this story who died in the process of getting the truth out.
How Can We Protect Ourselves From This?
Let's distinguish between: What's proclaimed vs. not disclaimed?
When will these lawsuits be enough for us to listen?
What to use instead that's safer and perhaps more effective
The same people who have repeatedly brainwashed us through marketing luxury purses, perfumes, prescriptions, people, and products that poison us more than beautify us, because you're not enough without them, are the same people who are echoing the same in studies, saying "The research is not enough to prove that talc is toxic enough to cause ovarian cancer."
Who are these people? The 1% in charge of virtually every message we hear from the skewed media and news, and so-called beauty and health products.
So what's the problem with talc? 
#1 Let's Distinguish — Proclaimed vs. Disclaimed
What's Proclaimed (aka What We're Told):
Talcum powder is made from talc, a mineral made up mainly of the elements magnesium, silicon, and oxygen. As a powder, it absorbs moisture well and helps cut down on friction, making it useful for keeping skin dry and helping to prevent rashes. It can be found in powdered cosmetics, deodorants, and more. 
What's Not Proclaimed (aka the Dark Truth About Talc):
Talc is a powdered native hydrous magnesium silicate sometimes containing a small portion of aluminum silicate. Talc can be contaminated with asbestos fibers, posing risks for respiratory toxicity and cancer. Studies by the National Toxicology Panel demonstrated that cosmetic-grade talc free of asbestos is a form of magnesium silicate that also can be toxic and carcinogenic — so much so that it is banned in the EU as well as in Canada, both of whom place much more scrutiny on the ingredients allowed in their food and drug products.
So why are these things not banned in America?
One word: greed.
We're the lab rats.
Although many attempts have been made by doctors, researchers, and attorneys since the first discovery of its potential threat to our ovaries, J&J still refused to change the formula.
Dr. Daniel Cramer, a professor of obstetrics and gynecology at Brigham and Women's Hospital in Boston, has served as a paid consultant on several ovarian cancer cases against Johnson & Johnson, and published one of the first studies noting an association between talc and ovarian cancer in 1982.  It found a 92% increased risk for ovarian cancer with women who reported genital talc use.
"This story goes back a long, long way, back into the '70s when people noted that ovarian cancer had many similarities to asbestos exposure," he says. "Meanwhile another group in England found talc that was deeply embedded in ovaries and said there might be a story here."
According to the EWG on this site, 23,653 studies in PubMed science library may include information on the toxicity of this chemical.
In 1993, The United States National Toxicology Program concluded "talc is a carcinogen." Then, in 1996, the condom industry stopped dusting condoms with talc at the request of the U.S. Food and Drug Administration (FDA), which was the direct result of the scientific concern about the ovarian cancer risk from vaginal exposure to talc.
The International Agency for Research on Cancer, part of the World Health Organization, also called talc a possible carcinogen in 2010.
In spite of this overwhelming evidence, they continued to aggressively market the powder. The internal documents obtained in the lawsuits reveal the company knew years ago that "Retrospective studies have implicated talc use in the vaginal area with the incidence of ovarian cancer."
Yet, even after paying over half a billion dollars in lawsuits that Johnson & Johnson baby powder had a direct link to these womens' cancers, they deny the toxicity of their product and continue to stand behind it.
"Several decades of medical research do not support the hypothesis that use of talcum powder causes ovarian cancer," said Dr. Hal Lawrence, chief executive officer of the American Congress of Obstetricians and Gynecologists.
Other Risk Factors of Baby Powder — Hormonal Chaos?
Talc aside, another group of chemicals called Phthalates are commonly found in baby lotions and powders. This class of ingredients, also abundantly formulated in cosmetics, is among 70,000 other registered chemicals that have hormonal effects on the body.
These factors are called xenoestrogens, foreign estrogens that mimic the functions of our natural estrogens. When they enter our body, they attach themselves to our cells' receptor sites, taking over our naturally produced estrogens' functions to control growth and development, negatively affecting our breasts, skin, menstruation, and fertility.
Over time, high exposure to these 'fake estrogens' can promote unnatural growth in tissues such as fibroids, cysts, tumours and weight gain. It also wreaks havoc on the endocrine system, leaving women with a myriad of hormonal health imbalances, one of the most common conditions I see today in my practice. PMS, heavy bleeding, cancer, PCOS, infertility, acne, mood swings, chronic fatigue, weight gain, and more are all too misunderstood by the medical community and thought to have unknown causes. Research suggests it's caused by a condition called Estrogen Dominance, however, the result of an accumulation of chemicals in the body. Essentially, all the products we use on a daily basis and the effects of their ingredients stack up over time.
So the next time you read a study that says "not toxic in small doses," ask yourself how much these small doses of various products add up over years of use.
We're putting hundreds of different products, full of xenoestrogens, onto our bodies. When applied to the skin, they are far more potent than those ingested orally, because they travel directly to the tissues instead of passing through the liver. So even if talc weren't the issue, as per Johnson & Johnson's representatives, perhaps you should consider seeking alternatives due to these negative ramifications.
Studies are now showing that one in two men, and one in three women in this generation are estimated to have cancer, and over 75% of America is now overweight or obese, at least in part because of the hormonal imbalances caused by xenoestrogens, we should all aim to reduce our exposure as much as possible. Read how here.
#2 When Will These Lawsuits Be Enough for Us to Listen?
The Scary Truth:
Johnson & Johnson knew about the risk since the early 1980s, and even before, yet did not protect its customers.
The medical community is nevertheless claiming to 'not know' the cause of ovarian cancer — but I beg to differ.  Overwhelming proof shows that for most cancers today, the underlying cause is manmade chemicals, environmental toxins, and in a large proportion of cancers, xenoestrogens.
My question to you is, when will it be enough?
How many kids 'dying too young' of cancer need we witness?
How exhausted, hormonally imbalanced, diseased, and infertile do we need to become?
How many lawsuits, how many women have to suffer, how many loved ones die, before we wake up and learn from their losses?
Ms. Echeverria, who was too sick to testify in court, started using Johnson's baby powder when she was 11 and continued after being diagnosed with ovarian cancer in 2007, unaware that some studies had linked talc to cancer, said her lawyer, Mark Robinson. She stopped using it after hearing news reports of a verdict in another lawsuit against Johnson & Johnson, he said, and now wanted to warn other women.
"She told me, 'I'm not doing this for myself,' " Mr. Robinson said. "She knows she's going to die. She's doing this for other women. She wants to do something good before she leaves."
And good she did, as a warrior champion of ovaries and baby butts everywhere.
Now let's talk alternative solutions.
Thankfully, there are plenty of other choices you can use instead that you probably already have in your kitchen!
#3 Three Healthy and Beautifying Alternatives
Baking Soda (aluminum free)
Arrowroot (Paleo baking soda) – comes from plants
Diatomaceous earth – comes from fossilized diatoms, aka algae
Baking Soda?
Sodium Bicarbonate works very effectively to absorb odour. Apply it just as you would baby powder. As with all things, however, you should test out a little at a time to see how your body reacts, especially because these are sensitive areas. Be sure to purchase the kind without aluminum so your heavy metal levels don't look like the below chart. I test for heavy metal toxicity in my online nutrition company, and often see metals in excess of safe ranges, which negatively impacts our health, causing auto immune disease, neurological damage, and brain disfunction, and has ties to virtually every symptom you can think of.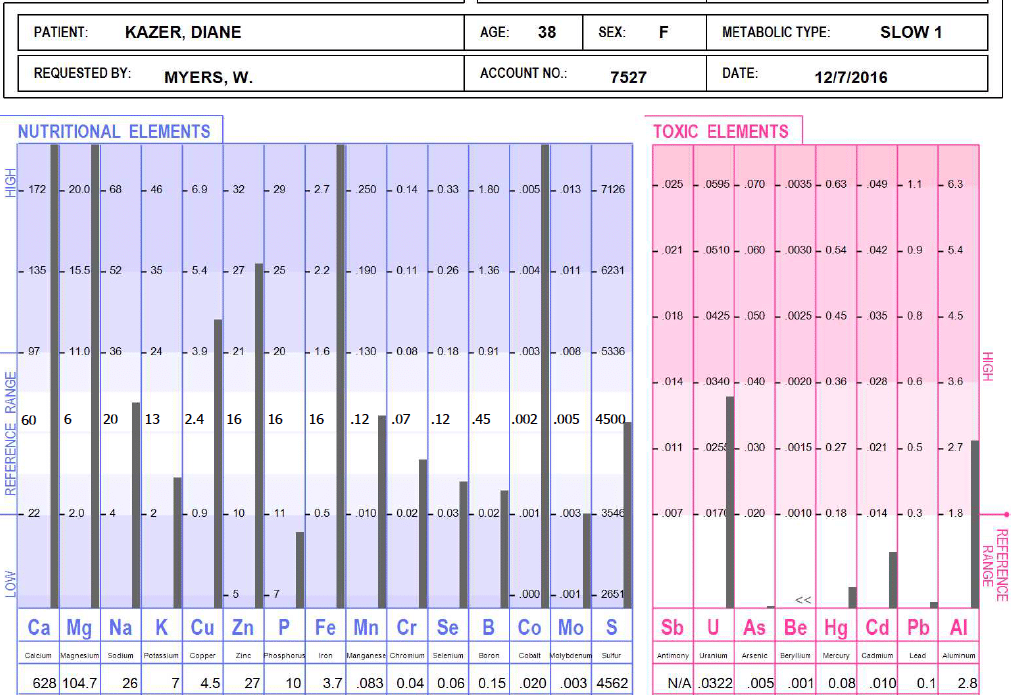 What Is Arrowroot?
Arrowroot is derived from several tropical South American plants. Tapioca starch is derived from the crushed up pulp of the South American cassava plant, a woody shrub. I bought it long ago to use in my vegan and paleo recipes as alternatives to flour and cornstarch that otherwise are genetically modified and filled with heavy metals, which leech minerals such as zinc, Vitamin C, and iron from our body. Since zinc is perhaps the most important mineral to boost immune health, we want to stay as free from GMO ingredients as possible, to combat cancer.
What Is Diatomaceous Earth?
Diatoms are hard-shelled algae that come from bodies of water and have a high silica content, which makes it good for hair and skin use. It's been called a miracle dust.
Benefits of Diatomaceous Earth:
Better digestive health
Healthier colon
Better food absorption
Clearer skin
Healthier hair and nails
More energy
Lower Candida levels
Kills parasites and worms in the body (works for dogs too)
This miracle powder also works as a 'deodorant' to decrease odour. You can also use it in hair to ditch dandruff and also sprinkle it into your shoes (instead of talc) for foot fungus.
If you are going to buy it, make sure it's food grade diatomaceous earth. You can get a huge 10 pound bag for around $20.
Closing Points and Takeaways
It's our job to pay attention and be mindful of the things we put on, in, and around our body. We must stop assuming that decades old FDA regulations are in place to protect us. It is impossible to test for reactions of not only how one unique person would react to these harsh ingredients, but also how two or thousands of combinations react inside of the body. So it's on us to research and test ourselves.
I am still surprised to hear how many people don't realize that what you apply to your skin becomes a part of you, just as any bite of food you take does. Your skin eats too, and these applied toxins become a burden to our organs of elimination.
I've worked with thousands of clients and this is the most under-addressed topic, which most don't consider could have such a drastic impact on health.
You could eat the perfect diet, and have the perfect exercise/yoga/rest routine, but if you're slathering toxins like talc to your body, your odds of disease, fat, fatigue, and frustration are still very high.
Bottom Line:  If we love on our skin-biome and treat it well, it can keep us energetic and happy, reduce pain and disease, and lessen the signs of aging. The best two ways to do this are to feed our body probiotics (this is the brand I use), and then consume food for these bugs with prebiotics such as leafy greens and fermented foods. I teach this, step by step, in my four-week online program, The Warrior Cleanse.  Then, stop consuming and applying things to the skin and body that destroy the 'good guys' within it.
For a great resource on what products are safe to put on your body, check out the free online resource, Environmental Working Group at EWG.org.
For more empowering articles just like this, and how to steer clear of these toxins, check out my website, Facebook page, and Youtube channel for all things hormones/cleansing and fat burning fitness!
Cleanse your Body, Heal your Hormones, Ignite your Life!
Your life path number can tell you A LOT about you.
With the ancient science of Numerology you can find out accurate and revealing information just from your name and birth date.
Get your free numerology reading and learn more about how you can use numerology in your life to find out more about your path and journey. Get Your free reading.
This Super Simple Breathing Technique Can Help Alleviate Anxiety & Depression
In Brief
The Facts:

Small study finds breathing technique can help treat major depressive disorder and anxiety.

Reflect On:

The answers to our challenges are much simpler than we thought, we have everything we need inside of us. Great alternative to prescription anti-depressant medication, or other substances.
The breath is one of the most underrated and under-utilized methods of healing. Breathing comes naturally to us, we do it without thinking, which is why it is not something we generally think of as a way to connect deeply with ourselves, calm our anxieties or even reach higher levels of consciousness. Something as simple as breathing can help those who suffer from severe mental conditions and those who have survived global disasters.
There are many forms of breathwork, there is the well-known Holotropic Breathing, made popular by the Iceman himself, Wim Hof. There is another technique known as transformational breathwork and the featured practice of breathing that will be featured in this article, resonant breathing or Coherent Breathing, which is a trademarked term.
This specific style of breathwork came from years of studying the ancient breathing practices of indigenous people all over the world including those from African, Hawaiian, and Native American traditions.
Assistant clinical professor of psychiatry at New York Medical College, Patricia Gerbarg, studies the technique with her husband, Richard Brown, associate professor of clinical psychiatry at Columbia University College of Physicians and Surgeons. "We wanted to identify a short program that could be given quickly to people, that they would have immediate relief within five or ten minutes, and that over time would produce long-term changes," Gerbarg told Vice.
The Study
A study published in the Journal of Alternative and Complementary medicine in 2017 led by researchers from Boston University asked 30 people with major depression to practice the breathing technique regularly as well as Iyengar yoga. After 3 months, results from a standard depression inventory test showed how the depressive symptoms had significantly declined.
Even though the study size was very small, it is comforting to know that something as simple as breath alone could help to alleviate symptoms of severe depression. No pills needed. This technique is especially powerful because it can be practiced anytime, anywhere. The process involved taking regular breaths in and out of the nose, at a pace of 5 breaths per minute, each breath in and out taking around 6 seconds. When starting out, it is recommended that this be practiced with the eyes closed, but once you get it under control you can easily do it with your eyes open, meaning while you're driving, while in a meeting, anytime during the day that you may find yourself feeling anxious, stressed or down. Gerbarg says, "It's totally private. Nobody knows you're doing it."
The breath should be calm and gentle because the goal is to balance the sympathetic — fight or flight with the parasympathetic — rest and digest areas of the nervous system. Interestingly, when the couple first began looking into the power of the breath, the first thought was that this must send extra oxygen to the brain that we may have otherwise been lacking. However, they knew that there must be more to this to explain the profound effects they had been seeing in those who practiced the breathing technique. Not to mention, some types of breathwork actually decreases the amount of oxygen going to the brain.
Why Does This Work?
Gerbarg and Brown believe that the reason this technique works is thanks to the vagal nerves, those connecting the brain to the body and what tell the organs when to beat, digest, breathe and all other functions, have been found in recent years to send even more messages in the opposite direction from the body to the brain. "These ascending messages strongly influence stress response, emotion and neurohormonal regulatory networks," stated in a book written by the couple, Yoga Therapy: Theory and Practice.
According to Gerbarg, "Respiration is the only autonomic function we can voluntarily control," it's easy to see how changing the breathing pattern can shift the messages received by the brain.
The calm and even breaths send messages of safety, according to Gerbarg, this can reduce anxious or depressive thoughts and makes way for more loving and connected emotions to be felt. Adverse reactions are generally rare, but those with asthma or other breathing conditions should only try this practice under the guidance of a trained professional.
We really do have everything we need inside of us. Our human bodies are magnificent, and if something as simple as breathing can help alleviate symptoms of depression, then we should certainly be studying this more. If you are skeptical about this information and feel it's too good to be true, give it a shot next time you find yourself feeling down or anxious and see if it helps!
Much Love
Your life path number can tell you A LOT about you.
With the ancient science of Numerology you can find out accurate and revealing information just from your name and birth date.
Get your free numerology reading and learn more about how you can use numerology in your life to find out more about your path and journey. Get Your free reading.
It's Not New: Pictures Show The Fight Against Vaccines Is Well Over 100 Years Old
In Brief
The Facts:

The struggle against vaccination, especially compulsory vaccination mandated by a government/industry coalition, was met with fierce resistance from people during the early history of vaccination over a century ago.

Reflect On:

What does the pictorial evidence of opposition to vaccines from early in the previous century tell us about today's vaccine industry?
In the foreword to the book by Doctor Suzanne Humphries and Roman Bistrianyk entitled 'Dissolving Illusions: Disease, Vaccines, and the Forgotten History,' Dr. Jayne L. M. Donegan sums up the vaccine 'landscape' that she and all MDs enter into as they become doctors:
Despite questioning the safety and efficacity of vaccination by reputable medical men since its introduction, debate has been, and is, increasingly discouraged. Information published in scientific journals is used to support this position, other views being regarded as "unscientific."

It was a received "article of faith" for me and my contemporaries, that vaccination was the single most useful health intervention that had ever been introduced. Along with all my medical and nursing colleagues, I was taught that vaccines were the reason children and adults stopped dying from diseases for which there are vaccines. We were told that other diseases, such as scarlet fever, rheumatic fever, typhus, typhoid, cholera, and so on, for which there are no vaccines at the time, diminished both in incidence and mortality (ability to kill) due to better social conditions.

You would think–as medical students who are supposed to be moderately intelligent–that some of us would have asked, "But if deaths from these diseases decreased due to improved social conditions, mightn't the ones for which there are vaccines also have decreased at the same time for the same reason?" But we didn't.

The medical curriculum is so overloaded with information that you just have to learn what you hear, as you hear it: nonvaccinatable diseases into the social conditions box and vaccinatable diseases into the vaccines box and then onto the next subject.
What this book especially brought to light for me was not just that open 'debate' on vaccination is systematically stifled, but the gruesome early history of vaccination itself is hidden, suppressed, and denied. For me, just knowing the early history of vaccination has been enough for me to see that all along this phenomena has fundamentally been about power and money, in complete and abject disregard for human health. I believe an open-minded reading of the book mentioned above will lead you to the same conclusions.
Early Resistance Against Vaccines
The early history of vaccines is fraught with egregious trial-and-error 'science' on humans treated as guinea pigs matched with strong-arm tactics at compulsory vaccination. But even though they were dealing with human populations that were not as educated as we may be today, the illness and deaths of children resulting from vaccination were not lost on parents–and in some cases, before the medical establishment had full control over their doctors' muzzles, were admitted to by doctors. Here are a few among many pictorial examples and their heart-breaking stories:
Public Gatherings
At a time when mainstream media, government, and the medical establishment were not the well-oiled machine of elite propaganda they are today, public outrage and attempts to mobilize against compulsory vaccination were squarely in the public eye:
Anti-Vaccine Literature And Images
Like today, there were professionals and researchers speaking out against the dangers of vaccination, and probably suffered from the same lack of funding to proliferate their message.
Comparisons With Today
One would imagine that if the early vaccine industry actually cared about public health, that even the death or crippling of ONE CHILD that occurred directly after vaccination would cause them to shut down operations until they could verify that this death was not caused by vaccines. Alas, these pictures demonstrate otherwise. And if it did not happen then, it certainly is not happening now.
The outright lie found on government medical websites that 'vaccines are safe and effective' belies the fact that a special fund and a special court was set up by the government to issue compensation to sufferers of vaccine injury that has already paid out over $3.7 billion dollars. The fact is that this court was set up to prevent people from being able to sue vaccine companies directly, because it was forecast that all the vaccine manufacturers would go bankrupt if they were not protected from being sued. That's how 'safe and effective' vaccines have proven to be.
Sure, today there is less of a push towards compulsory vaccination–but that is in part due to the awesome and tireless work of enraged citizens at the turn of the century as evidenced in these pictures! All that happened was that the vaccine industry realized that they could better ply their trade by focusing not on forced vaccination and the obvious resistance it generates, but rather by controlling the narrative with well-funded propaganda through coordinated efforts of the medical establishment, government, and the media. Part of this effort is hiding the history from us that we see in the pictures featured here.
If we are to become clear as a collective about the big picture of what is going on behind government and industry policy today, sometimes a brief look at history is all it takes.
Your life path number can tell you A LOT about you.
With the ancient science of Numerology you can find out accurate and revealing information just from your name and birth date.
Get your free numerology reading and learn more about how you can use numerology in your life to find out more about your path and journey. Get Your free reading.
10 Ways To Boost Serotonin Levels Without Medication
In Brief
The Facts:

Millions are diagnosed with depression every year, and people can begin feeling better without medication by increasing serotonin levels in the brain. Some lifestyle changes and food adjustments can help solve this.

Reflect On:

Is your diet truly helping you feel good? We sometimes think 'we only live once, I should eat what I want!' but how do you want to feel while you're alive: Vital or foggy?
As defined by psychologists, a person has a major depressive episode when he or she has symptoms of major depressive disorder, including depressed mood or feelings of emptiness, hopelessness or irritability, that last for two weeks or more.  And, according to the National Ambulatory Medical Care Survey (NAMCS), the number of people diagnosed with depression has increased by 450% since 1987.
It is often recommended that we start taking a medication to reduce symptoms. However, medication often comes with sometimes dangerous side-effects. Here are some simple ways to feel happier without needing to take a pill.
1. Get Enough Vitamin B6
Foods like spinach, turnip greens, garlic, cauliflower, mustard greens, celery, and non-factory farmed fish (especially tuna, halibut, salmon, cod and snapper) can be great sources.
2. Eat Brain Boosting Seed Grains Instead of Wheat
This includes: Amaranth, buckwheat, millet and quinoa are seeds with grain-like taste and properties. These are healthy, high-protein carbohydrates and small amounts of the right carbohydrates are critical to boosting serotonin.
Not only will you improve your mood, you will Sleep better too. A nice dose of serotonin in the early evening will help you sleep better at night.
These grain-like seeds also provide important B vitamins. As just mentioned B vitamins play a critical role in brain health and in the manufacture of all your neurotransmitters including serotonin. Vitamins B1 (thiamine), B2 (riboflavin) and B6 (pyridoxine) as well as vitamin D, folic acid and selenium plus calcium, and magnesium are needed to make serotonin.
For protein meals: focus on digestion and food combining – Eating foods that are high in protein – and specifically have a higher percentage of tryptophan (like sunflower seeds and pumpkin seeds), will provide much-needed tryptophan, the precursor to serotonin. But beware: because research shows that eating protein with carbohydrates actually works against your ability to make serotonin. 
Good to know: Plant-based protein helps to create more serotonin than animal protein does.
To boost your mood and immunity naturally, protein and probiotics – is the delicious natural answer!
3. Include Fermented Food & Drinks In Your Diet
Fermented foods and drinks greatly assist in digestion and assimilation of all the important nutrients you need for serotonin. Additionally, they boost the nutrients in your food by at least a hundredfold.
4. Get Massages & Other Forms of Body Work
We've heard about the healing power of touch, but now research backs it up! A study conducted by the Touch Research Institutes at the University of Miami School of Medicine shows that massage increases serotonin by 28% and decreases cortisol (the stress hormone) by 31%.
5. Have Fun in the Sun
Early morning sunlight is more intense and this can boost your body's production of melatonin in the evening. Serotonin converts to melatonin for a great night's sleep. Getting outside for a 20-minute walk in the early morning sunlight can boost your mood and improve your sleep!
6. Remove Toxins From Your Health That Interfere With Brain Health
Eat foods like dandelion and citrus fruit to help detox daily. Detoxing is about increasing the effectiveness of your detox pathways so unnecessary toxins don't get stuck in your body. Although the medical field keeps saying detoxing is a myth, lack of proper detoxing is a common challenge.
7. Reduce Stress
Prolonged physical or emotional stress produce adrenaline and cortisol, which interfere with serotonin. Shifting your lifestyle and adding more relaxation into your week can make a huge difference. Focus on Emotional Healing – Reducing stress and focusing on spending more time relaxing is a first step to boosting serotonin. You can take this even further by taking action in key areas to remove negative emotions like fear, guilt and anger. Meditate & do yoga!
8. Exercise
A comprehensive review of the relation between exercise and mood concluded that antidepressant and anxiolytic effects have been clearly demonstrated. In the United Kingdom the National Institute for Health and Clinical Excellence, which works on behalf of the National Health Service and makes recommendations on treatments according to the best available evidence, has published a guide on the treatment of depression.
9. Eliminate Processed Sugar (or at least drastically reduce it)
If you have low serotonin, you may have intense cravings for sugar. This is your body's way of trying to increase serotonin because eating sugar produces insulin, which helps tryptophan go into your brain. However, too much sugar can eventually cause addiction to sugar, insulin resistance, hypoglycemia and type 2 diabetes.
Instead, satisfy your sweet tooth in a healthy way with pure maple syrup, coconut sugar or pure honey.
10. Give More Hugs, Love More & Fear Less
Human connection, living in the heart, being connected to self. All of these things are natural to us and yet we have become quite disconnected from it all in our modern world.
Listen to CE Podcast episode Treating Autism Naturally w/ Jennifer Kozek
---
To receive more info on how you and your family can overcome ADHD, apraxia, anxiety and more without medication SIGN UP HERE or purchase my book Healing Without Hurting
.
Your life path number can tell you A LOT about you.
With the ancient science of Numerology you can find out accurate and revealing information just from your name and birth date.
Get your free numerology reading and learn more about how you can use numerology in your life to find out more about your path and journey. Get Your free reading.