Can Baby Powder Cause Ovarian Cancer? 3 Natural Alternatives If You Don't Want To Use It Anymore
Do you use baby powder?
Have you thought twice about its safety?
For years, without knowing, and blindly trusting, many of us apply harmful chemicals to our delicate parts, such as our bottoms, feet, armpits, and groin — anywhere that is moist and emits odour. Unfortunately, the talc in baby powder destroys our delicate skin and microbial community and confuses our immune system, sprouting cancer in reproductive organs.
Massive lawsuits were recently awarded to cancer sufferers by Johnson & Johnson, the formulators of baby powder.
On August 21, 2017, a jury in California recently ordered Johnson & Johnson to pay $417 million to a woman who says she developed terminal ovarian cancer as a result of using the company's baby powder. And in February 2016, a Missouri court ordered Johnson & Johnson to pay $72 million in damages to the family of Jackie Fox, a woman who died of ovarian cancer.
Both lawsuits said the cancer was linked to their longtime habit of applying baby powder. Two other Missouri court cases against Johnson & Johnson went in favour of the women who sued, leaving the company on the hook for $197 million. And more than 2,500 lawsuits are pending in the state.
Nearly $700 million dollars has been paid out to women who have suffered serious illness and death for simply using something many of us have not been properly informed comes with serious health consequences.  We assume that just because it's advertised as safe for our babies that it is.
My goal in this article is to give you the full disclosure you haven't received, and talk about the hero woman of this story who died in the process of getting the truth out.
How Can We Protect Ourselves From This?
Let's distinguish between: What's proclaimed vs. not disclaimed?
When will these lawsuits be enough for us to listen?
What to use instead that's safer and perhaps more effective
The same people who have repeatedly brainwashed us through marketing luxury purses, perfumes, prescriptions, people, and products that poison us more than beautify us, because you're not enough without them, are the same people who are echoing the same in studies, saying "The research is not enough to prove that talc is toxic enough to cause ovarian cancer."
Who are these people? The 1% in charge of virtually every message we hear from the skewed media and news, and so-called beauty and health products.
So what's the problem with talc? 
#1 Let's Distinguish — Proclaimed vs. Disclaimed
What's Proclaimed (aka What We're Told):
Talcum powder is made from talc, a mineral made up mainly of the elements magnesium, silicon, and oxygen. As a powder, it absorbs moisture well and helps cut down on friction, making it useful for keeping skin dry and helping to prevent rashes. It can be found in powdered cosmetics, deodorants, and more. 
What's Not Proclaimed (aka the Dark Truth About Talc):
Talc is a powdered native hydrous magnesium silicate sometimes containing a small portion of aluminum silicate. Talc can be contaminated with asbestos fibers, posing risks for respiratory toxicity and cancer. Studies by the National Toxicology Panel demonstrated that cosmetic-grade talc free of asbestos is a form of magnesium silicate that also can be toxic and carcinogenic — so much so that it is banned in the EU as well as in Canada, both of whom place much more scrutiny on the ingredients allowed in their food and drug products.
So why are these things not banned in America?
One word: greed.
We're the lab rats.
Although many attempts have been made by doctors, researchers, and attorneys since the first discovery of its potential threat to our ovaries, J&J still refused to change the formula.
Dr. Daniel Cramer, a professor of obstetrics and gynecology at Brigham and Women's Hospital in Boston, has served as a paid consultant on several ovarian cancer cases against Johnson & Johnson, and published one of the first studies noting an association between talc and ovarian cancer in 1982.  It found a 92% increased risk for ovarian cancer with women who reported genital talc use.
"This story goes back a long, long way, back into the '70s when people noted that ovarian cancer had many similarities to asbestos exposure," he says. "Meanwhile another group in England found talc that was deeply embedded in ovaries and said there might be a story here."
According to the EWG on this site, 23,653 studies in PubMed science library may include information on the toxicity of this chemical.
In 1993, The United States National Toxicology Program concluded "talc is a carcinogen." Then, in 1996, the condom industry stopped dusting condoms with talc at the request of the U.S. Food and Drug Administration (FDA), which was the direct result of the scientific concern about the ovarian cancer risk from vaginal exposure to talc.
The International Agency for Research on Cancer, part of the World Health Organization, also called talc a possible carcinogen in 2010.
In spite of this overwhelming evidence, they continued to aggressively market the powder. The internal documents obtained in the lawsuits reveal the company knew years ago that "Retrospective studies have implicated talc use in the vaginal area with the incidence of ovarian cancer."
Yet, even after paying over half a billion dollars in lawsuits that Johnson & Johnson baby powder had a direct link to these womens' cancers, they deny the toxicity of their product and continue to stand behind it.
"Several decades of medical research do not support the hypothesis that use of talcum powder causes ovarian cancer," said Dr. Hal Lawrence, chief executive officer of the American Congress of Obstetricians and Gynecologists.
Other Risk Factors of Baby Powder — Hormonal Chaos?
Talc aside, another group of chemicals called Phthalates are commonly found in baby lotions and powders. This class of ingredients, also abundantly formulated in cosmetics, is among 70,000 other registered chemicals that have hormonal effects on the body.
These factors are called xenoestrogens, foreign estrogens that mimic the functions of our natural estrogens. When they enter our body, they attach themselves to our cells' receptor sites, taking over our naturally produced estrogens' functions to control growth and development, negatively affecting our breasts, skin, menstruation, and fertility.
Over time, high exposure to these 'fake estrogens' can promote unnatural growth in tissues such as fibroids, cysts, tumours and weight gain. It also wreaks havoc on the endocrine system, leaving women with a myriad of hormonal health imbalances, one of the most common conditions I see today in my practice. PMS, heavy bleeding, cancer, PCOS, infertility, acne, mood swings, chronic fatigue, weight gain, and more are all too misunderstood by the medical community and thought to have unknown causes. Research suggests it's caused by a condition called Estrogen Dominance, however, the result of an accumulation of chemicals in the body. Essentially, all the products we use on a daily basis and the effects of their ingredients stack up over time.
So the next time you read a study that says "not toxic in small doses," ask yourself how much these small doses of various products add up over years of use.
We're putting hundreds of different products, full of xenoestrogens, onto our bodies. When applied to the skin, they are far more potent than those ingested orally, because they travel directly to the tissues instead of passing through the liver. So even if talc weren't the issue, as per Johnson & Johnson's representatives, perhaps you should consider seeking alternatives due to these negative ramifications.
Studies are now showing that one in two men, and one in three women in this generation are estimated to have cancer, and over 75% of America is now overweight or obese, at least in part because of the hormonal imbalances caused by xenoestrogens, we should all aim to reduce our exposure as much as possible. Read how here.
#2 When Will These Lawsuits Be Enough for Us to Listen?
The Scary Truth:
Johnson & Johnson knew about the risk since the early 1980s, and even before, yet did not protect its customers.
The medical community is nevertheless claiming to 'not know' the cause of ovarian cancer — but I beg to differ.  Overwhelming proof shows that for most cancers today, the underlying cause is manmade chemicals, environmental toxins, and in a large proportion of cancers, xenoestrogens.
My question to you is, when will it be enough?
How many kids 'dying too young' of cancer need we witness?
How exhausted, hormonally imbalanced, diseased, and infertile do we need to become?
How many lawsuits, how many women have to suffer, how many loved ones die, before we wake up and learn from their losses?
Ms. Echeverria, who was too sick to testify in court, started using Johnson's baby powder when she was 11 and continued after being diagnosed with ovarian cancer in 2007, unaware that some studies had linked talc to cancer, said her lawyer, Mark Robinson. She stopped using it after hearing news reports of a verdict in another lawsuit against Johnson & Johnson, he said, and now wanted to warn other women.
"She told me, 'I'm not doing this for myself,' " Mr. Robinson said. "She knows she's going to die. She's doing this for other women. She wants to do something good before she leaves."
And good she did, as a warrior champion of ovaries and baby butts everywhere.
Now let's talk alternative solutions.
Thankfully, there are plenty of other choices you can use instead that you probably already have in your kitchen!
#3 Three Healthy and Beautifying Alternatives
Baking Soda (aluminum free)
Arrowroot (Paleo baking soda) – comes from plants
Diatomaceous earth – comes from fossilized diatoms, aka algae
Baking Soda?
Sodium Bicarbonate works very effectively to absorb odour. Apply it just as you would baby powder. As with all things, however, you should test out a little at a time to see how your body reacts, especially because these are sensitive areas. Be sure to purchase the kind without aluminum so your heavy metal levels don't look like the below chart. I test for heavy metal toxicity in my online nutrition company, and often see metals in excess of safe ranges, which negatively impacts our health, causing auto immune disease, neurological damage, and brain disfunction, and has ties to virtually every symptom you can think of.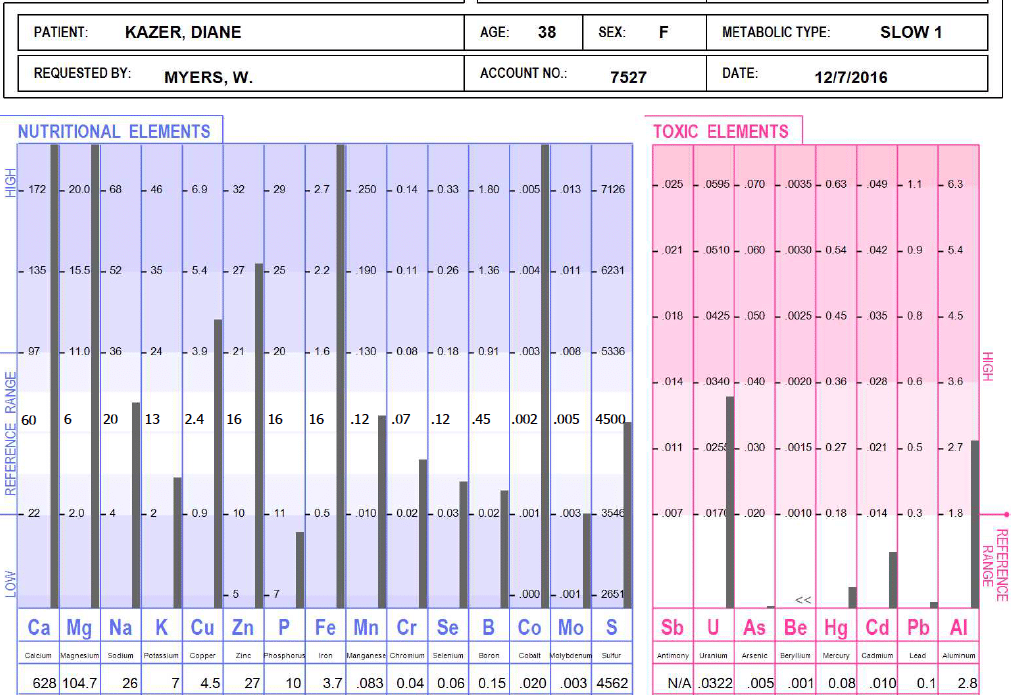 What Is Arrowroot?
Arrowroot is derived from several tropical South American plants. Tapioca starch is derived from the crushed up pulp of the South American cassava plant, a woody shrub. I bought it long ago to use in my vegan and paleo recipes as alternatives to flour and cornstarch that otherwise are genetically modified and filled with heavy metals, which leech minerals such as zinc, Vitamin C, and iron from our body. Since zinc is perhaps the most important mineral to boost immune health, we want to stay as free from GMO ingredients as possible, to combat cancer.
What Is Diatomaceous Earth?
Diatoms are hard-shelled algae that come from bodies of water and have a high silica content, which makes it good for hair and skin use. It's been called a miracle dust.
Benefits of Diatomaceous Earth:
Better digestive health
Healthier colon
Better food absorption
Clearer skin
Healthier hair and nails
More energy
Lower Candida levels
Kills parasites and worms in the body (works for dogs too)
This miracle powder also works as a 'deodorant' to decrease odour. You can also use it in hair to ditch dandruff and also sprinkle it into your shoes (instead of talc) for foot fungus.
If you are going to buy it, make sure it's food grade diatomaceous earth. You can get a huge 10 pound bag for around $20.
Closing Points and Takeaways
It's our job to pay attention and be mindful of the things we put on, in, and around our body. We must stop assuming that decades old FDA regulations are in place to protect us. It is impossible to test for reactions of not only how one unique person would react to these harsh ingredients, but also how two or thousands of combinations react inside of the body. So it's on us to research and test ourselves.
I am still surprised to hear how many people don't realize that what you apply to your skin becomes a part of you, just as any bite of food you take does. Your skin eats too, and these applied toxins become a burden to our organs of elimination.
I've worked with thousands of clients and this is the most under-addressed topic, which most don't consider could have such a drastic impact on health.
You could eat the perfect diet, and have the perfect exercise/yoga/rest routine, but if you're slathering toxins like talc to your body, your odds of disease, fat, fatigue, and frustration are still very high.
Bottom Line:  If we love on our skin-biome and treat it well, it can keep us energetic and happy, reduce pain and disease, and lessen the signs of aging. The best two ways to do this are to feed our body probiotics (this is the brand I use), and then consume food for these bugs with prebiotics such as leafy greens and fermented foods. I teach this, step by step, in my four-week online program, The Warrior Cleanse.  Then, stop consuming and applying things to the skin and body that destroy the 'good guys' within it.
For a great resource on what products are safe to put on your body, check out the free online resource, Environmental Working Group at EWG.org.
For more empowering articles just like this, and how to steer clear of these toxins, check out my website, Facebook page, and Youtube channel for all things hormones/cleansing and fat burning fitness!
Cleanse your Body, Heal your Hormones, Ignite your Life!
The demand for Collective Evolution's content is bigger than ever, except ad agencies and social media keep cutting our revenues. This is making it hard for us to continue.
In order to stay truly independent, we need your help. We are not going to put up paywalls on this website, as we want to get our info out far and wide. For as little as $3 a month, you can help keep CE alive!
Long-Term Consequences of Mumps Vaccination: Many Unanswered Questions
This is Part II of a two-part series on mumps. Part I discussed how mumps vaccination and the flawed mumps component of Merck's MMR vaccine are fostering dangerous mumps outbreaks in adolescents and young adults.
It has been about five decades since the U.S. Food and Drug Administration (FDA) approved Merck's first mumps vaccine. The company began launching combination MMR (measles, mumps and rubella) vaccines in the 1970s. Coincidentally—or not—an infertility crisis has been brewing over roughly the same time period, with dramatic declines in sperm counts and record-lowfertility levels. However, few investigators seem interested in assessing whether mumps outbreaks in highly vaccinated populations of teens and young adults could be having long-termeffects on fertility or other health indicators.
As described in Part I, childhood MMR vaccination has been an unmitigated disaster where mumps is concerned, deferring mumps infection to older ages and leaving adolescents and young adults vulnerable to serious reproductive complications. Public health reports show that the vast majority of mumps cases and outbreaks occur in youth who have been fully vaccinatedwith the prescribed two-dose MMR series, supporting a hypothesis of "waning immunity after the second dose." FDA and Centers for Disease Control and Prevention (CDC) officials even admitthat mumps outbreaks in the post-vaccination era "typically involve young adults," and that vaccination is failing to protect those who are college-age and above.
Myopically, many vaccine experts have called for a third MMR dose—or even "booster dosing throughout adulthood"—even though the FDA's and CDC's own research shows that MMR boosters in college-age youth barely last one year. As alleged in whistleblower lawsuits wending their way through the courts over the past eight years, Merck presented the FDA with a "falsely inflated efficacy rate" for the MMR's mumps component, using animal antibodies and other fraudulent tactics to fool FDA—and the public—into believing that the vaccine was effective.
When infection arises after puberty, however, mumps is no laughing matter, presenting an increased risk of complications such as hearing loss, encephalitis and inflammation of the reproductive organs.
Mumps after puberty is no laughing matter
Around the time that the first mumps vaccine came on the market, the 1967 children's classic The Great Brain humorously depicted mumps infection in childhood as a mere nuisance. The book's young protagonist goes out of his way to intentionally infect himself with mumps so that he can beat his two brothers to the recovery finish line—and he experiences no adverse consequences other than his siblings' annoyance.
When infection arises after puberty, however, mumps is no laughing matter, presenting an increased risk of complications such as hearing loss, encephalitis and inflammation of the reproductive organs. About one in three postpubertal men with mumps develops orchitis(inflammation of the testes), which can damage sperm, affect testosterone production and contribute to subfertility and infertility. During a mumps outbreak in England in the mid-2000s, mumps orchitis accounted for 42% of all hospitalized mumps cases; the researchers attributed this outcome—which was the most common reason for hospitalization—to "the high attack rates in adolescents and young adults" that occurred "despite high coverage with two-dose MMR." An analysis of a 2006 mumps outbreak in the U.S. reported that male patients were over three times more likely than female patients to experience complications, "due primarily to orchitis."
An estimated 5% to 10% of postpubertal women will develop oophoritis (swelling of the ovaries) following mumps infection. Oophoritis is associated with premature menopause and infertility, but mumps-related oophoritis has garnered little notice.
Mumps infections are often asymptomatic or produce nonspecific symptoms such as fever, while cases of orchitis may present with no other mumps symptoms. Nonetheless, public health officials advise clinicians that orchitis is an instant cue to test for mumps virus, and testing often reveals elevated mumps antibodies. In a case report of MMR failure, British clinicians isolated a novel genetic strain of mumps virus from the patient's semen two weeks after the onset of orchitis and found mumps RNA in the semen 40 days later; they also noted "the appearance of anti-sperm antibodies," with "potential long-term adverse effects on the patient's fertility."
In 2017, researchers who reviewed 185 studies conducted in Western nations found that sperm counts had plummeted by 50% to 60% between 1973 and 2011—an average decrease of 1.4% annually. Commenting on this work, one analyst estimated that 20% to 30% of young men in Europe and North America have sperm concentrations associated with a reduced ability to father a child. Given estimates that as much as 40% of reproductive problems have to do with the male partner, there is agreement on the importance of "finding and eliminating [the] hidden culprits in the environment" that most researchers believe are to blame.
An estimated 5% to 10% of postpubertal women will develop oophoritis (swelling of the ovaries) following mumps infection. Oophoritis is associated with premature menopause and infertility, but mumps-related oophoritis has garnered little notice.
MMR's and MMRV's potential to impair fertility never studied
Merck has not evaluated either of its two MMR vaccines—the MMR-II and the MMR-plus-varicella (MMRV) vaccine—for their potential to impair fertility. Whether such testing would unearth direct effects on fertility (as appears to be possible with HPV vaccination in women) is thus unknown. However, mumps vaccination undeniably increases reproductive-age individuals' risk of mumps infection and, in the process, increases the risk of fertility-altering complications. These facts alone should be attracting far more attention.
Unfortunately, because clinicians already tend to underdiagnose mumps infection and underestimate mumps complications, it is likely that they are failing to recognize possible vaccine-induced reproductive health consequences of mumps infection in their adolescent and young adult patients. In one university outbreak, "most physicians…did not suspect mumps," and even when they became aware of the outbreak, "diagnosing mumps was not always straightforward." Moreover, although differentiating between vaccine strains of mumps virus and wild types could provide valuable information, few clinicians have the capacity or inclination to perform testing of this type. A Japanese study of cerebrospinal fluid and saliva from patients with mumps complications found vaccine strain in nearly all of the samples and noted the information's importance in helping determine whether the complications were vaccine-related.
Those who have sought to understand mumps vaccines' poor performance point to a mixture of explanatory factors. These include waning immunity, the high population density and close quarters encountered in settings such as college campuses, incomplete vaccine-induced immunity to wild virus as well as viral evolution such that "the vaccine triggers a less potent reaction against today's mumps viruses than those of 50 years ago." However, some also quietly admit that individuals with "mild vaccine-modified disease" could be perpetuating the chain of transmission. This latter point ought to be raising questions about the logic and wisdom of administering further rounds of MMR boosters during outbreaks while ignoring the problems created by the doses already given.
… some individuals respond poorly to mumps vaccination and vaccine-induced antibody levels correlate poorly with protection from mumps infection, irrespective of the number of additional doses of mumps-containing vaccine they receive.
Most scientists appear to be either resigned to ongoing mumps outbreaks in vaccinated populations or actually accept periodic outbreaks as the cost of doing business. Publications by FDA and CDC researchers reveal these agencies' awareness that some individuals respond poorly to mumps vaccination and that vaccine-induced antibody levels correlate poorly with protection from mumps infection, "irrespective of the number of additional doses of mumps-containing vaccine they receive." Considering the effects on fertility, the generally abysmal track record of mumps vaccination and Merck's fraudulent claims about efficacy, it is hard to fathom medical and public health experts' complacency about current mumps vaccines and vaccine policies.
---
Sign up for free news and updates from Robert F. Kennedy, Jr. and the Children's Health Defense. CHD is planning many strategies, including legal, in an effort to defend the health of our children and obtain justice for those already injured. Your support is essential to CHD's successful mission.
The demand for Collective Evolution's content is bigger than ever, except ad agencies and social media keep cutting our revenues. This is making it hard for us to continue.
In order to stay truly independent, we need your help. We are not going to put up paywalls on this website, as we want to get our info out far and wide. For as little as $3 a month, you can help keep CE alive!
Legal Challenge Against Forced Vaccination Filed in New York City
On April 15, 2019, a legal challenge was filed in the New York State Trial Court by Robert Krakow, Robert F. Kennedy, Jr. and Patricia Finn against the New York City Department of Health and Human Hygiene for their forced Measles-Mumps-Rubella vaccination. The legal team asked for a temporary restraining order against the mandate that the Judge will likely review and provide an ex parte decision. Children's Health Defense is supporting these efforts.
Last week, Children's Health Defense reported that the NYC Commissioner of Health declared a public health emergency, ordering all people who live, work or reside in four Brooklyn zip codes to be vaccinated with the Measles-Mumps-Rubella vaccine. Non-compliance with the order is a misdemeanor subject to criminal and civil fines, including imprisonment. Only those with documented immunity, medical contraindications or infants under six months are exempt from the vaccine mandate.
READ THE PETITION
READ THE MEMORANDUM OF LAW
READ THE AFFIRMATION
Sign up for free news and updates from Robert F. Kennedy, Jr. and the Children's Health Defense. CHD is planning many strategies, including legal, in an effort to defend the health of our children and obtain justice for those already injured. Your support is essential to CHD's successful mission.
The demand for Collective Evolution's content is bigger than ever, except ad agencies and social media keep cutting our revenues. This is making it hard for us to continue.
In order to stay truly independent, we need your help. We are not going to put up paywalls on this website, as we want to get our info out far and wide. For as little as $3 a month, you can help keep CE alive!
Magnesium Puts Psychiatric Drugs to Shame for Depression
In Brief
The Facts:

This article was written by Sayer Ji, Founder of Greenmedinfo.com where this article first appeared. Posted here with permission.

Reflect On:

Is the priority of our federal health regulatory agencies and pharmaceutical companies human health, or profit? If there are more effective ways to treat several illnesses, why do they never mention them?
Depression is one of the most widely diagnosed conditions of our time, with over 3 million cases in the U.S. every year, and 350 million believed affected worldwide.1 Conventional medicine considers antidepressant drugs first-line treatments, including the newly approved injected postpartum drug costing $34,000 a treatment, to the tune of a 16 billion dollars in global sales by 2023. Despite their widespread use, these drugs are fraught with a battery of serious side effects, including suicidal ideation and completion — the last two things you would hope to see in a condition that already has suicidality as a co-morbidity. For this reason alone, natural, safe, and effective alternatives are needed more than ever before.
While research into natural alternatives for depression is growing daily — GreenMedInfo.com's Depression database contains 647 studies on over 100 natural substances that have been studied to prevent or treat depression — it is rare to find quality human clinical research on the topic published in well-respected journals. That's why a powerful study published in PLOS One titled, "Role of magnesium supplementation in the treatment of depression: A randomized clinical trial," is so promising. Not only is magnesium safe, affordable, and easily accessible, but according to this recent study, effective in treating mild-to moderate symptoms of depression.
While previous studies have looked at the association between magnesium and depression,2-7 this is the first placebo-controlled clinical study to evaluate whether the use of over-the-counter magnesium chloride (248 mg elemental magnesium a day for 6 weeks) improves symptoms of depression.
The study design was a follows:
" An open-label, blocked, randomized, cross-over trial was carried out in outpatient primary care clinics on 126 adults (mean age 52; 38% male) diagnosed with and currently experiencing mild-to-moderate symptoms with Patient Health Questionnaire-9 (PHQ-9) scores of 5–19. The intervention was 6 weeks of active treatment (248 mg of elemental magnesium per day) compared to 6 weeks of control (no treatment). Assessments of depression symptoms were completed at bi-weekly phone calls. The primary outcome was the net difference in the change in depression symptoms from baseline to the end of each treatment period. Secondary outcomes included changes in anxiety symptoms as well as adherence to the supplement regimen, appearance of adverse effects, and intention to use magnesium supplements in the future. Between June 2015 and May 2016, 112 participants provided analyzable data."
The study results were as follows:
"Consumption of magnesium chloride for 6 weeks resulted in a clinically significant net improvement in PHQ-9 scores of -6.0 points (CI -7.9, -4.2; P<0.001) and net improvement in Generalized Anxiety Disorders-7 scores of -4.5 points (CI -6.6, -2.4; P<0.001). Average adherence was 83% by pill count. The supplements were well tolerated and 61% of participants reported they would use magnesium in the future. Similar effects were observed regardless of age, gender, baseline severity of depression, baseline magnesium level, or use of antidepressant treatments. Effects were observed within two weeks. Magnesium is effective for mild-to-moderate depression in adults. It works quickly and is well tolerated without the need for close monitoring for toxicity."
 For perspective, conventional antidepressant drugs are considering to generate an "adequate or complete treatment response" with a PHQ-9 score "decrease of 5 points or more from baseline." At this level of efficacy, their recommended action is: "Do not change treatment; conduct periodic follow-up." The magnesium's score of -6.0 therefore represents the height of success within conventional expectations for a complete response, which is sometimes termed "remission." In contradistinction, conventional antidepressant drugs result in nearly half of patients discontinuing treatment during the first month, usually due to their powerful and sometimes debilitating side effects.8
To summarize the main study outcomes:
There was a clinically significant improvement in both Depression and Anxiety scores.
61% of patients reported they would use magnesium in the future.
Similar effects occurred across age, gender, severity of depression, baseline magnesium levels, or use of antidepressant treatments.
Effects were observed within two weeks.
 The study authors concluded:
"Magnesium is effective for mild-to-moderate depression in adults. It works quickly and is well tolerated without the need for close monitoring for toxicity."
Beyond Depression: Magnesium's Many Health Benefits & Where To Source It
Magnesium is a central player in your body's energy production, as its found within 300 enzymes in the human body, including within the biologically active form of ATP known as MG-ATP. In fact, there have been over 3,751 magnesium binding sites identified within human proteins, indicating that it's central nutritional importance has been greatly underappreciated.
Research relevant to magnesium has been accumulating for the past 40 years at a steady rate of approximately 2,000 new studies a year. Our database project has indexed well over 100 health benefits of magnesium thus far.  For the sake of brevity, we will address seven key therapeutic applications for magnesium as follows:
Fibromyalgia: Not only is magnesium deficiency common in those diagnosed with fibromyalgia, 9,10 but relatively low doses of magnesium (50 mg), combined with malic acid in the form of magnesium malate, has been clinically demonstrated to improve pain and tenderness in those to which it was administered.11
Atrial Fibrillation: A number of studies now exist showing that magnesium supplementation reduce atrial fibrillation, either by itself, or in combination with conventional drug agents.12
Diabetes, Type 2: Magnesium deficiency is common in type 2 diabetics, at an incidence of 13.5 to 47.7% according to a 2007 study. 13 Research has also shown that type 2 diabetics with peripheral neuropathy and coronary artery disease have lower intracellular magnesium levels. 14 Oral magnesium supplementation has been shown to reduce plasma fasting glucose and raising HDL cholesterol in patients with type 2 diabetes.15 It has also been shown to improve insulin sensitivity and metabolic control in type 2 diabetic subjects.16
Premenstrual Syndrome: Magnesium deficiency has been observed in women affected by premenstrual syndrome.17 It is no surprise therefore  that it has been found to alleviate premenstrual symptoms of fluid retention, 18 as well as broadly reducing associated symptoms by approximately 34% in women, aged 18-45, given 250 mg tablets for a 3-month observational period.20 When combined with B6, magnesium supplementation has been found to improve anxiety-related premenstrual symptoms.19
Cardiovascular Disease and Mortality: Low serum magnesium concentrations predict cardiovascular and all-cause mortality.21 There are a wide range of ways that magnesium may confer its protective effects. It may act like a calcium channel blocker,22it is hypotensive,23 it is antispasmodic (which may protect against coronary artery spasm),24 and anti-thrombotic.25 Also, the heart muscle cells are exceedingly dense in mitochondria (as high as 100 times more per cell than skeletal muscle), the "powerhouses" of the cell," which require adequate magnesium to produce ATP via the citric acid cycle.
Migraine Disorders: Blood magnesium levels have been found to be significantly lower in those who suffer from migraine attacks.26,27 A recent Journal of Neural Transmission article titled, "Why all migraine patients should be treated with magnesium," pointed out that routine blood tests do not accurately convey the true body magnesium stores since less than 2% is in the measurable, extracellular space, "67% is in the bone and 31% is located intracellularly."28The authors argued that since "routine blood tests are not indicative of magnesium status, empiric treatment with at least oral magnesium is warranted in all migraine sufferers." Indeed, oral magnesium supplementation has been found to reduce the number of headache days in children experiencing frequent migranous headaches,29and when combined with l-carnitine, is effective at reducing migraine frequency in adults, as well.30
Aging: While natural aging is a healthy process, accelerated aging has been noted to be a feature of magnesium deficiency,31especially evident in the context of long space-flight missions where low magnesium levels are associated with cardiovascular aging over 10 times faster than occurs on earth.32 Magnesium supplementation has been shown to reverse age-related neuroendocrine and sleep EEG changes in humans.33 One of the possible mechanisms behind magnesium deficiency associated aging is that magnesium is needed to stabilize DNA and promotes DNA replication. It is also involved in healing up of the ends of the chromosomes after they are divided in mitosis.34
 It is quite amazing to consider the afformentioned side benefits of magnesium consumption or supplementation within the context of the well-known side effects of pharmaceutical approaches to symptom
management of disease. On average, conventional drugs have 75 side effects associated with their use, including lethal ones (albeit sometimes rare). When considering magnesium's many side benefits
and extremely low toxicity, clearly this fundamental mineral intervention (and dietary requirement) puts pharmaceutical approaches to depression to shame.
Best Sources of Magnesium In The Diet
The best source of magnesium is from food, and one way to identify magnesium-containing foods are those which are green, i.e. chlorophyll rich. Chlorophyll, which enable plants to capture solar energy and convert it into metabolic energy, has a magnesium atom at its center. Without magnesium, in fact, plants could not utilize the sun's light energy.
Magnesium, however, in its elemental form is colorless, and many foods that are not green contain it as well. The point is that when found complexed with food cofactors, it is absorbed and utilized more efficiently than in its elemental form, say, extracted from limestone in the form of magnesium oxide.
 The following foods contain exceptionally high amounts of magnesium. The portions described are 100 grams, or a little over three ounces.
Rice bran, crude (781 mg)
Seaweed, agar, dried (770 mg)
Chives, freeze-dried (640 mg)
Spice, coriander leaf, dried (694 mg)
Seeds, pumpkin, dried (535 mg)
Cocoa, dry powder, unsweetened (499 mg)
Spices, basil, dried (422 mg)
Seeds, flaxseed (392 mg)
Spices, cumin seed (366 mg)
Nuts, brazilnuts, dried (376 mg)
Parsley, freeze-dried (372 mg)
Seeds, sesame meal (346 mg)
Nut, almond butter (303 mg)
Nuts, cashew nuts, roasted (273 mg)
Soy flour, defatted (290 mg)
Whey, sweet, dried (176 mg)
Bananas, dehydrated (108 mg)
Millet, puffed (106 mg)
Shallots, freeze-dried (104 mg)
Leeks, freeze-dried (156 mg)
Fish, salmon, raw (95 mg)
Onions, dehydrated flakes (92 mg)
Kale, scotch, raw (88 mg)
 Fortunately, for those who need higher doses, or are not inclined to consume magnesium rich foods, there are supplemental forms commonly available on the market. Keep in mind, for those who wish to take advantage of the side benefit of magnesium therapy, namely, its stool softening and laxative properties, magnesium citrate or oxide will provide this additional feature.
For those looking to maximize absorption and bioavailability magnesium glycinate is ideal, as glycine is the smallest amino acid commonly found chelated to magnesium, and therefore highly absorbable.
For more information on natural solutions to resolving depression, download our free e-book on the topic "21st Century Solutions to Depression." 
References:
1) World Health Organization. Depression fact sheet no. 369 2012 [cited 2016 December 20]. Available from: http://www.who.int/mediacentre/factsheets/fs369/en/.
2) Jacka FN, Overland S, Stewart R, Tell GS, Bjelland I, Mykletun A. Association between magnesium intake and depression and anxiety in community-dwelling adults: the Hordaland Health Study. Aust N Z J Psychiatry. 2009;43(1):45–52. Pmid:19085527.
3) Huang JH, Lu YF, Cheng FC, Lee JN, Tsai LC. Correlation of magnesium intake with metabolic parameters, depression and physical activity in elderly type 2 diabetes patients: a cross-sectional study. Nutrition J. 2012;11(1):41. pmid:22695027; PubMed Central PMCID: PMC3439347.
4) Tarleton EK, Littenberg B. Magnesium intake and depression in adults. J Am Board Fam Med. 2015;28(2):249–56. Pmid:25748766
5) Yary T, Lehto SM, Tolmunen T, Tuomainen T-P, Kauhanen J, Voutilainen S, et al. Dietary magnesium intake and the incidence of depression: a 20-year follow-up study. J Affect Disord. 2016;193:94–8. Pmid:26771950
6) Eby GA, Eby KL. Rapid recovery from major depression using magnesium treatment. Med Hypotheses. 2006;67(2):362–70. pmid:16542786
7) N Engl J Med. 2000 Dec 28;343(26):1942-50. Managing depression in medical outpatients.
8)  Damiano Piovesan, Giuseppe Profiti, Pier Luigi Martelli, Rita Casadio. 3,751 magnesium binding sites have been detected on human proteins. BMC Bioinformatics. 2012 ;13 Suppl 14:S10. Epub 2012 Sep 7. PMID: 23095498
9) G Moorkens, B Manuel y Keenoy, J Vertommen, S Meludu, M Noe, I De Leeuw. Magnesium deficit in a sample of the Belgian population presenting with chronic fatigue. Magnes Res. 1997 Dec;10(4):329-37. PMID: 9513929
10)  J Eisinger, A Plantamura, P A Marie, T Ayavou. Selenium and magnesium status in fibromyalgia. Magnes Res. 1994 Dec;7(3-4):285-8. PMID: 7786692
11)  I J Russell, J E Michalek, J D Flechas, G E Abraham. Treatment of fibromyalgia syndrome with Super Malic: a randomized, double blind, placebo controlled, crossover pilot study. J Rheumatol. 1995 May;22(5):953-8. PMID: 8587088
12) GreenMedInfo.com, Atrial Fibrillation and Magnesium (5 studies)
13)  Phuong-Chi T Pham, Phuong-Mai T Pham, Son V Pham, Jeffrey M Miller, Phuong-Thu T Pham . Hypomagnesemia in patients with type 2 diabetes. Clin J Am Soc Nephrol. 2007 Mar;2(2):366-73. Epub 2007 Jan 3. PMID: 17699436
14)  M de Lordes Lima, T Cruz, J C Pousada, L E Rodrigues, K Barbosa, V Canguçu. The effect of magnesium supplementation in increasing doses on the control of type 2 diabetes. Diabetes Care. 1998 May;21(5):682-6. PMID: 9589224
15) Y Song, K He, E B Levitan, J E Manson, S Liu. Effects of oral magnesium supplementation on glycaemic control in Type 2 diabetes: a meta-analysis of randomized double-blind controlled trials. Cardiovasc Toxicol. 2008;8(3):115-25. Epub 2008 Jul 8. PMID: 16978367
16)  Martha Rodríguez-Morán, Fernando Guerrero-Romero. Oral magnesium supplementation improves insulin sensitivity and metabolic control in type 2 diabetic subjects: a randomized double-blind controlled trial. Diabetes Care. 2003 Apr;26(4):1147-52. PMID: 12663588
17)  F Facchinetti, P Borella, G Sances, L Fioroni, R E Nappi, A R Genazzani. Oral magnesium successfully relieves premenstrual mood changes. Obstet Gynecol. 1991 Aug;78(2):177-81. PMID: 2067759
18)  A F Walker, M C De Souza, M F Vickers, S Abeyasekera, M L Collins, L A Trinca. Magnesium supplementation alleviates premenstrual symptoms of fluid retention. J Womens Health. 1998 Nov;7(9):1157-65. PMID: 9861593
19)  S Quaranta, M A Buscaglia, M G Meroni, E Colombo, S Cella. Pilot study of the efficacy and safety of a modified-release magnesium 250 mg tablet (Sincromag) for the treatment of premenstrual syndrome. Am J Gastroenterol. 2008 Dec;103(12):2972-6. PMID: 17177579
20) M C De Souza, A F Walker, P A Robinson, K Bolland. A synergistic effect of a daily supplement for 1 month of 200 mg magnesium plus 50 mg vitamin B6 for the relief of anxiety-related premenstrual symptoms: a randomized, double-blind, crossover study. J Womens Health Gend Based Med. 2000 Mar;9(2):131-9. PMID: 10746516
21) Thorsten Reffelmann, Till Ittermann, Marcus Dörr, Henry Völzke, Markus Reinthaler, Astrid Petersmann, Stephan B Felix. Low serum magnesium concentrations predict cardiovascular and all-cause mortality. Atherosclerosis. 2011 Jun 12. Epub 2011 Jun 12. PMID: 21703623
22) Andrea Rosanoff, Mildred S Seelig. Comparison of mechanism and functional effects of magnesium and statin pharmaceuticals. J Am Coll Nutr. 2004 Oct;23(5):501S-505S. PMID: 15466951
23)  GreenMedInfo.com, Magnesium's Hypotensive Properties.
24) GreenMedInfo.com, Magnesium's Antispasmodic Properties.
25) Joen R Sheu, George Hsiao, Ming Y Shen, Yen M Lee, Mao H Yen . Antithrombotic effects of magnesium sulfate in in vivo experiments. Int J Hematol. 2003 May;77(4):414-9. PMID: 12774935
26) Afshin Samaie, Nabiollah Asghari, Raheb Ghorbani, Jafar Arda. Blood Magnesium levels in migraineurs within and between the headache attacks: a case control study. Pan Afr Med J. 2012 ;11:46. Epub 2012 Mar 15. PMID: 22593782
27) Mahnaz Talebi, Dariush Savadi-Oskouei, Mehdi Farhoudi, Solmaz Mohammadzade, Seyyedjamal Ghaemmaghamihezaveh, Akbar Hasani, Amir Hamdi. Relation between serum magnesium level and migraine attacks. Neurosciences (Riyadh). 2011 Oct ;16(4):320-3. PMID: 21983373
28) Alexander Mauskop, Jasmine Varughese. Why all migraine patients should be treated with magnesium. J Neural Transm. 2012 May ;119(5):575-9. Epub 2012 Mar 18. PMID: 22426836
29)  Fong Wang, Stephen K Van Den Eeden, Lynn M Ackerson, Susan E Salk, Robyn H Reince, Ronald J Elin. Oral magnesium oxide prophylaxis of frequent migrainous headache in children: a randomized, double-blind, placebo-controlled trial. Eur J Endocrinol. 2009 Apr;160(4):611-7. Epub 2009 Jan 29. PMID: 12786918
30) Ali Tarighat Esfanjani, Reza Mahdavi, Mehrangiz Ebrahimi Mameghani, Mahnaz Talebi, Zeinab Nikniaz, Abdolrasool Safaiyan. The effects of magnesium, L-carnitine, and concurrent magnesium-L-carnitine supplementation in migraine prophylaxis. Biol Trace Elem Res. 2012 Dec ;150(1-3):42-8. Epub 2012 Aug 17. PMID: 22895810
31) David W Killilea, Jeanette A M Maier. A connection between magnesium deficiency and aging: new insights from cellular studies. Magnes Res. 2008 Jun;21(2):77-82. PMID: 18705534
32) GreenMedInfo.com, What We Learned From The Accelerated Aging of Astronauts
33) Katja Held, I A Antonijevic, H Künzel, M Uhr, T C Wetter, I C Golly, A Steiger, H Murck. Oral Mg(2+) supplementation reverses age-related neuroendocrine and sleep EEG changes in humans. Pharmacopsychiatry. 2002 Jul;35(4):135-43. PMID: 12163983
34) William J Rowe. Correcting magnesium deficiencies may prolong life. Clin Interv Aging. 2012 ;7:51-4. Epub 2012 Feb 16. PMID: 22379366
---
Sayer Ji is founder of Greenmedinfo.com, a reviewer at the International Journal of Human Nutrition and Functional Medicine, Co-founder and CEO of Systome Biomed, Vice Chairman of the Board of the National Health Federation, Steering Committee Member of the Global Non-GMO Foundation.
---
For more info from Greenmedinfo, you can join their newsletter by clicking here.
---
The demand for Collective Evolution's content is bigger than ever, except ad agencies and social media keep cutting our revenues. This is making it hard for us to continue.
In order to stay truly independent, we need your help. We are not going to put up paywalls on this website, as we want to get our info out far and wide. For as little as $3 a month, you can help keep CE alive!