The Special Ed Epidemic: Burying Our Heads and Crippling Our Economy. Part 2 of 4.
WMP Note: In this 4-part series, World Mercury Project partner, Focus For Health,  examines the special needs epidemic and its effects on schools, the US economy, life after age 21 and the many theories that point to potential causes of the explosion of chronic disease and disability in our children.
A recent survey of early childhood teachers asked "What is your greatest concern?" The majority of teachers reported "Managing challenging behaviors in our classroom," according to Mary Ann Hansen, the director of First 5 Humboldt, a county-based commission in California which provides programs for children under age 5. She went on to say "We hear this over and over again, that teachers are struggling." Sadly, many students are also struggling as their needs are unable to be met in a classroom environment that lacks support, proper teacher training, and the funding necessary to provide a quality education which addresses their varying needs.
With an increasing number of children requiring special education services in the schools, significant demands are being placed on both special and regular education teachers. Learners with differing educational, behavioral, and medical needs are both financially and emotionally challenging for both their school districts and teachers alike. School budgets are being depleted rapidly as districts attempt to provide a free and appropriate education (FAPE) for all, especially when Individualized Education Plans (IEP) require extensive special services including speech, physical, occupational therapy, nursing, counseling, behavioral services, in-class support, and personal aides.
Providing for the many needs of children classified in special education costs our nation an estimated $50 billion annually, and that number is likely outdated as it is based on data from the 1999-2000 SEED study, which doesn't reflect the rise in students requiring special education since 2000.
The average annual cost for a general education student is $7,552, while the average cost per special education student is $16,921. However, approximately 330,000 students with exceptionally high-needs cost their districts $100,000 or more on an annual basis.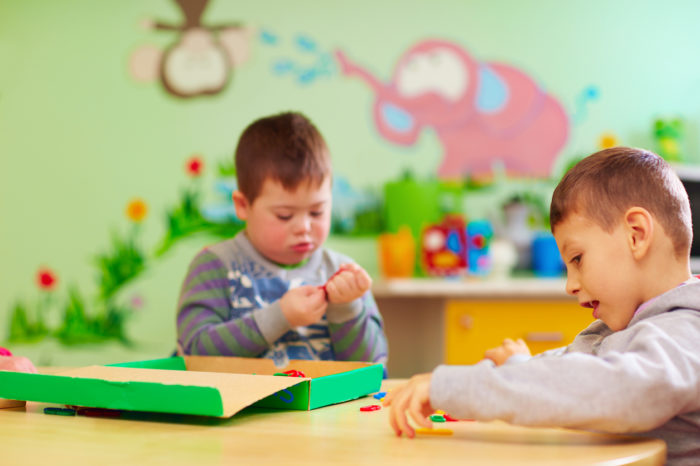 Students identified with one of 13 disabilities listed under the Individuals with Disabilities Education Act (IDEA) are classified in school and provided with an IEP identifying learning goals, necessary accommodations,  and describes the special services to be provided by the school, free of charge to the families.  Students who do not qualify for an IEP may receive a 504 plan. This plan may provide specific accommodations, supports, or services for a child with any disability which can include learning or attention issues. It has a broader definition of a disability, but it does not have to be a written document.
The number of students ages 6-21 with disabilities rose to 5.83 million by fall 2014. Chronic health issues such as epilepsy, mental health disorder, attention deficit hyperactivity disorder (ADHD), and mobility impairments, classified in school as "other health impaired," increased nearly 51%, between 2005-06 and 2014-15 school years. In the same age group, students classified with autism spectrum disorder had risen 165% nationwide. Children classified with "autism" or "other health impaired" account for more than 1 in 5 school-aged children covered under IDEA nationwide.
The least restrictive environment (LRE) mandate within IDEA requires that all students in special education be educated with typical peers to the greatest extent possible to prevent segregation, while still providing a free and appropriate education. This means children with IEP's or 504 plans and their typical peers are integrated in one classroom with a general education teacher when possible. While some students receive in-class support with the help of an aid and sometimes a special education teacher, many general education teachers report they lack the support, training, and resources necessary to teach classified students appropriately.
Chronic health issues such as epilepsy, mental health disorder, attention deficit hyperactivity disorder (ADHD), and mobility impairments, classified in school as "other health impaired," increased nearly 51%, between 2005-06 and 2014-15 school years.
In addition, some children presenting with emotional and behavioral issues, who have not been identified or classified at all, do not receive any accommodations for educational or behavioral support. As a result of limited funding and teacher shortages, general education teachers are often challenged to divide their time and attention teaching the curriculum to general education students while managing classified as well as unclassified students with attentional, emotional and behavioral issues at once. These issues affect the quality of education for all students.
MENTAL HEALTH ISSUES IN THE SCHOOLS
Mental health problems often develop during childhood and adolescence and are treatable if recognized and diagnosed. Students with mental health issues present challenges to teachers and commonly have social-emotional issues affecting peer relationships. Studies show that mental health disorders are at the root of some bullying behavior occurring in schools. School nurses report frequent complaints of "stomach aches" and "headaches" because an individual's mental health is intertwined with their physical being. Yet research shows most children who need a mental health evaluation do not receive services. Because schools are often understaffed with social workers, counselors, and school nurses, the burden is placed on the classroom teachers who are with the students throughout the school day.
Educating children with mental health issues is not the only challenge for general education teachers. More and more teachers are reporting explosive outbursts by students including hitting, scratching, and flipping desks, putting teachers at risk, while at the same time they are trying to protect other students in the classroom. Disciplinary actions including suspensions are on the rise across the nation. Classified students with behavior issues are frequently sent home from school when teaching assistants are not available to shadow them. For students with autism who have complex behavior issues, physical restraints have become commonplace and can occur daily. Add to it the significant rise in self-harm and teen suicides; schools are being forced to look at this epidemic and to provide solutions at all costs. Some schools are attempting to mitigate the issues by creating sensory rooms and calming stations, while others have even created new mental health clinics on site to help manage the behavioral issues.
Compared to the national average, only 40% of students with emotional, behavioral, and mental health disorders graduate.
Studies looking at teacher job stress in early childhood education show that teacher-child conflicts are more common where workplace stress is higher. Essentially, this reduces the ability of the teachers to work effectively with students with emotional and behavioral problems. These teachers also report they felt mentally, emotionally, or physically exhausted or overwhelmed by working with these children, ultimately leading to burnout and staff turnover.
WHAT ABOUT THE SEVERELY DISABLED?
Children with severe disabilities have even more difficulty getting their needs met in district as the school may not have the resources on site to accommodate their various educational and healthcare needs. In such cases, these high-needs students may be offered placements in private schools for the disabled outside of the local school district. Children diagnosed with autism spectrum disorder, cerebral palsy, and other medically complex disabilities require services beyond what most districts can afford to provide because they require specialized training and care. This can include nursing, advanced technologies for communication and learning, special transportation, and more. While providing out of district placement can cost an average of $10,000 more per student than placements within district for similar students, keeping them in-district may not be cost effective if they need to hire staff and purchase equipment for just a few high-needs individuals.
ACCOMMODATING CHRONICALLY ILL KIDS
The number of children in the US with chronic health conditions has dramatically increased in the past 4 decades, doubling from 12.8 percent in 1994 to 26.6 percent in 2006.
With chronic health conditions on the rise, schools are faced with additional challenges of providing for the medical needs of children with severe health issues. Food allergies now affect 1 in 13 children, and asthma affects 1 in 10 children, requiring nursing staff on site to help care for these students. In addition, juvenile diabetes increased 23% between 2001 and 2009, while epilepsy/seizures affect 1 in 20 children. Some schools are opening health clinics on site to manage the medical needs of the student population. Unfortunately, the cost of building and staffing such clinics is prohibitive for most districts which already lack funding to meet the basic needs of special education students.
WHO PAYS FOR ALL OF THIS?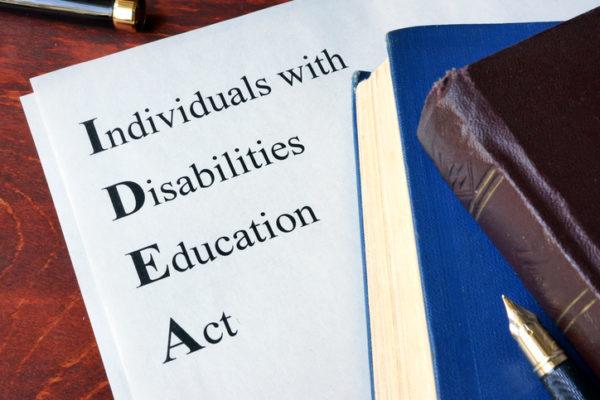 You do. We all do. Federal, state and local governments all contribute to fund K-12 public special education. IDEA was established to provide the bulk of federal funding contribution for special education and governs how states and public agencies provide early intervention, special education, and related services. The states distribute funds to local agencies to be used in accordance with state and federal law, and allocation is based upon the local district's tax structure. The local district budgets vary greatly and are dependent on local revenues resulting, however, in significant disparities.
Unfortunately, Congress historically fails to fully fund IDEA. While they have authorized special education funding equal to 40% of the national average per pupil expenditure (APPE), spending typically ranges between 10-20% per child.
This leaves the burden on the states to make up the difference. IDEA funding is based on FY 1999. This formula was derived from the number of children identified with disabilities in each state in relation to total state population. However, populations within states have increased or decreased, as have the number of children with disabilities within each state yet the base award has not changed. This creates a wide disparity in funding across the US. Additionally, when a state decides to accept federal funds, mandates apply in association with those programs. Despite this funding, many states find it insufficient to cover the local costs of meeting those program's requirements. Consequently, districts are often compelled to tap into their general education funds to meet those requirements.
The number of students with disabilities and chronic health issues are rising across the nation while programs and services are being cut to save money. Currently, all taxpayers are bearing the financial burdens of the local school districts as property taxes help fund special education programs. Although Medicaid helps to offset the gap by covering health-related expenses for students with disabilities, cuts in Medicaid funding are frequently threatened.  Without appropriate education, therapies, and medical services, these children will grow up to be adults who may not reach their full potential. In turn, employability will decrease, and without sustainable jobs, they may not become productive, self-sustaining adults. 1 in 36 children between 3-17 yrs. of age have ASD now; this means in the next 1-15 years, these individuals will become adults. Individuals with ASD have a normal life expectancy, and many will outlive their parents, requiring other family members to take care of them, if willing and able. And if not, tax-payers will be responsible for funding supportive housing and living costs, including health care, for those unable to live and care for themselves.
The prevalence of ASD in the US reportedly increased from 2.24% to 2.76%…indicating 1 in 36 children have autism, up from 1 in 45 in 2014; however, the CDC has not released a statement acknowledging this increase.
This system is unsustainable, and it is spiraling out of control, yet few people are talking about it. More importantly, nobody is asking "What is happening to our children?" In fact, the latest report just released by The National Center for Health Statistics within the US Department of Health and Human Services, does the opposite. Authors of the 2017 report "Estimated Prevalence of Children with Diagnosed Developmental Disabilities in the United States, 2014-2016" point out the prevalence of children aged 3-17 years who had ever been diagnosed with a developmental disability has increased from 5.76% to 6.99%. This increase of 1.23% is STATISTICALLY SIGNIFICANT. The prevalence of autism spectrum disorder in the US reportedly increased from 2.24% to 2.76%, a difference of .52%. According to NCHS, this increase is not statistically significant. While the article failed to disclose the sample size, the fact is, both increases are alarming.
According to the Centers for Disease Control (CDC) "The mission of the National Center for Health Statistics (NCHS) is to provide statistical information that will guide actions and policies to improve the health of the American people. As the Nation's principal health statistics agency, NCHS leads the way with accurate, relevant, and timely data." The first step to making change is acknowledging we have a problem. A .52% rise in ASD indicates I in 36 children have autism, up from 1 in 45 in 2014; however, the CDC has not released a statement acknowledging this increase. The CDC must stop burying its head and work to address this problem first, by admitting we have one, and second, by identifying the causes with trustworthy science so that we may stop this epidemic. Until then, this and many other systems are destined to fail, affecting not only those individuals with special needs and their families, but every citizen in our nation.
REFERENCE
This concludes Part Two: "The Special Ed Epidemic: Burying Our Heads and Crippling Our Economy." Part Three, "What Happens When They Age Out of School?" will explore the exploding financial burdens to taxpayers as the children exit school and looks deeply into the options for individuals who have aged out of IDEA, which only mandates services be provided until age 21. So what happens next?
Sign up for free news and updates from Robert F. Kennedy, Jr. and the World Mercury Project. Your donation will help to support us in our efforts.
The demand for Collective Evolution's content is bigger than ever, except ad agencies and social media keep cutting our revenues. This is making it hard for us to continue.
In order to stay truly independent, we need your help. We are not going to put up paywalls on this website, as we want to get our info out far and wide. For as little as $3 a month, you can help keep CE alive!
"I Tried Every Diet & Nothing Worked" How Mucus Free Living Saved This Woman's Life
In Brief
The Facts:

After a year on a high-fat/high-protein lifestyle, Livia Macdonald nearly died. After adopting a 'mucus-free' lifestyle, a diet rich in fresh fruit and vegetables, she cured her depression, anxiety, and health issues.

Reflect On:

True healing takes time and commitment, and a willingness to face the emotions and trauma buried beneath our eating habits.
In 2011, Livia Macdonald was looking for answers to her health. At nearly 300 lbs and stuck in the despairs of chronic illness, she was ready to make a big change. The first step—divorcing allopathic medicine all together. Like many others stepping away from conventional medicine, Livia found herself enveloped by the siren of holistic healthcare, adopting the protocols laid out by natural-health celebrity and functional medicine doctor, Mark Hyman.
Following Hyman's vitality guidelines, Livia cut out grains, starches, and processed sugars, while incorporating more vegetables, 'healthy' fats and animal products into her diet.
"I was told that high protein and high fats is the way to go because our brain needs fat. I even made my own ghee and ate loads of coconut oil and eggs every day," she told Collective Evolution.
At first the high-fat diet did wonders for Livia's health. She felt more energized, had more mental clarity, and even began to drop weight. "I lost almost 80 lbs the first year on the [high-fat] diet," she said.
But after twelve months of a high-fat lifestyle, Livia said her body began to shut down.
"I started to feel awful. Like everything turned on me. I got severe depression, anxiety, shaking, internal tremors, my organs started to really hurt, I had them checked and my pancreas had so many fat deposits all over it and my cholesterol was through the roof after being optimal. My entire body started to shut down and I became bed ridden for an entire year."
During this difficult time Livia came across the work of Dr. Robert Morse, a regenerative detoxification specialist well known in the natural health world. One of the foundations of Dr. Morse's teachings is that man is a part of the primate family, and therefore we are primarily a frugivore species whose bodies thrive off of fruit, some vegetables and herbs. Livia says that a lightbulb went off in her head immediately upon reading Dr. Morse's work.
"My intuition was screaming that this was the missing piece of my puzzle, and that he speaks the absolute truth."
Next, Livia discovered the work of a 19th century natural health educator named Arnold Ehret. Ehret's rise to fame came through his in depth knowledge about the body, specifically in healing chronic disease through systematic fasting and a diet similar to what Morse prescribes—raw fruit and vegetables.
His magnum opus, The Mucusless Diet Healing System, detailed his many years working in a clinic for the chronically ill while implementing his detox protocols to cure their diseases. Ehret's work garnered a cult-following throughout the early 20th century and inspired the works of well-known detox specialists like Robert Morse himself, Paul Braggs, and Alfredo Bowman.
Adopting A Mucus-Free Lifestyle
But Livia said her biggest aha moment did not come until she discovered the work of South-African detox specialist  Alexandra Cousins. Inspired by the teachings of Robert Morse and Arnold Ehret, Cousins takes their healing principles and merges them with the shamanic and emotional work which she feels is the missing piece for those seeking full-bodied healing.
"What I am witnessing is that trauma, PTSD, OCD, addictions are running everyone's lives," she writes in her Facebook group, Living Mucus Free. "The degree will vary but we all have it unless we have specifically addressed it. It is safe to say that all my clients, especially the chronically ill suffer from some form of unresolved trauma. If you have adrenal, hormonal, thyroid, or CFS issues, you are dealing with trauma residue. Living mucus free tends to bring up all our unresolved trauma. As we no longer consume foods that numb us or stimulate us, trauma rises to the surface so that it can be felt and dealt with."
Having endured years of ill-health herself and having tried almost every diet trend out there, Cousins eventually found solace through a lifestyle termed Living Mucus Free (LMF). Mucus, for those wondering, is the residue which builds in the body from eating non-species-specific food, i.e., animal products, grains, or most cooked food. This mucus putrefies and plaques to the intestinal walls, eventually causing acids to build up in the body and damage our organs and glands.
LMF does away with mucus-causing foods while utilizing fruit, vegetables, herbs, systematic fasting, lymphatic movement, and various trauma-release therapies. Today, Cousins teaches what she's learned at detox retreats around the globe and inspires thousands through her fierce social media presence.
Livia says she has dedicated herself to the Living Mucus Free principles with great results, incorporating daily intermittent fasting, herbal tinctures, movement and breathing practices targeted at draining the lymphatic system, as well as raw food diet.
"I have been vegan one year and living mucus free for 10 months now. My anxiety and depression cleared up within two months, never to return. I have so much more clarity and mental focus now and that is getting better with time, not worse. I am slowly healing my endocrine system and gaining more energy back, I am no longer bed ridden since the first couple of months on this lifestyle.. all my spiritual and emotional stuff has surfaced to be healed and it's truly a fascinating and incredible journey to learn the truth and realize just how wrongly we have been conditioned in such a deep way."
The emphasis in Living Mucus Free is elimination—getting out of the body's way and allowing it to do its job of eliminating acids, toxins, undigested food material and mucoid plaque. This is primarily achieved through daily dry fasting and eating watery, astringent fruit, which pulls out toxins as it transits the digestive tract.
Another principle to the Living Mucus Free lifestyle is eating little to no fat while detoxing, a principle that goes against many of the high-fat diet trends of today. But as Alexandra Cousins explains, in the case of those who are cellularly degenerate, fats only serve to cover up their issues. Fats are anti-inflammatory, buffering the acidity in the body but never pulling the acids out. A temporary bandaid for true healing.
Livia feels this is what happened in her case, and it is why she thinks so many initially feel great adopting a high-fat diet.
"I feel the high fat diet works for some because it suppresses and clogs their lymphatic system so naturally they will feel instant relief. But now that I understand how the body actually works, of course you are going to show improvement at the beginning if you remove junk food, sugars/grains, dairy etc."
Cousins also speaks much to the notion that fats, salts, animal products, and processed foods are stimulating to our nervous system which cover up our emotional wounds, so when we begin to remove these foods and focus on detoxifying the body, we are suddenly faced with old emotions or traumatic memories, and this, Alex says, is mostly what Living Mucus Free is about.
"When we detox on a cellular level, we are consistently clearing old information, old cellular memory in the form of emotion which is held in physical waste stored in the body, replacing it with new cellular information," Alex Cousins, Living Mucus Free.
For those looking for a quick fix, Living Mucus Free probably isn't the right fit. Those living the Mucus Free lifestyle don't make false promises that you will be healed after a 30 day detox. The journey is slow and steady, one with bumps along the way known as healing crises. During a healing crisis any number of uncomfortable symptoms can arise as the body expels old debris and toxins. But as Livia says, walking through the discomfort is the only way towards true healing.
"I believe that our society has everything so backwards," says Livia. "We are taught to chase feeling good, and run away from feeling bad, and Living Mucus Free isn't going to feel good in the beginning as it brings up our weaknesses for healing."
The reward, as promised by Cousins, Morse, Ehret, and thousands of others who have healed through regenerative detox principles, is beyond anything we can imagine:
"Unimaginable health and vitality, weight loss and reversed ageing, improved energy levels, mental clarity and confidence, liberation from anxiety, mood swings and self-doubt, resolution of stored trauma and a deeper connection to source, vastly improved sex life and orgasms."
Is Living Mucus Free really the key to such incredible feats? The answer, it seems, is to be discovered only by those willing to walk through the fire to find out.
For more information about Living Mucus Free, visit Alexandra Cousins' website, Living Mucus Free.
For amazing mucus free recipes and to continue following Livia's journey, check her out Instagram or Facebook, or her website, LiveAlittleRaw.
The demand for Collective Evolution's content is bigger than ever, except ad agencies and social media keep cutting our revenues. This is making it hard for us to continue.
In order to stay truly independent, we need your help. We are not going to put up paywalls on this website, as we want to get our info out far and wide. For as little as $3 a month, you can help keep CE alive!
Measles Outbreaks: How a Witch Hunt Against Parents of Unvaccinated Children Was Unleashed
In Brief
The Facts:

Artilce written Vera Sharav, Children's Health Defense Contributing Writer.

Reflect On:

Why does the mainstream media label this as 'anti-vax' when it's just factual information? Why don't they ever address it or try to counter it?
We are witness to an orchestrated frenzy that has been revved-up by vaccine stakeholders – i.e., those who have a direct or indirect financial stake in vaccines– through the corporate / academic institutions that employ them. Their unified objective is to achieve maximum utilization of vaccines, and total compliance with vaccination schedules set by the government in collaboration with vaccine manufacturers.
During the measles outbreak in California in 2015, a large number of suspected cases occurred in recent vaccinees. Of the 194 measles virus sequences obtained in the United States in 2015, 73 were identified as vaccine sequences.
Contrary to the barrage of "fake news" promulgated by government public health officials and the media to influence public opinion, the fact is, most childhood infectious disease "outbreaks" include both vaccinated and unvaccinated children. What's more, when the infection has been tested, vaccine strain has often been identified as the cause of infection.
In 2015, a "measles outbreak" in California's Disney Land garnered nationwide front page publicity and dire warnings by public health officials and vaccine "authorities". They generated high public anxiety. This fear mongering led to the demonization of unvaccinated children, who were perceived as the spreaders of disease.
Never disclosed to the public, but known to CDC officials is the following evidence that has finally been published in the Journal of Clinical Microbiology (2017):
"During the measles outbreak in California in 2015, a large number of suspected cases occurred in recent vaccinees. Of the 194 measles virus sequences obtained in the United States in 2015, 73 were identified as vaccine sequences (R. J. McNall, unpublished data)."[1]
Rebecca J. McNall, a co-author of the published report, is a CDC official in the Division of Viral Diseases, who had the data proving that the measles outbreak was in part caused by the vaccine. It is evidence of the vaccine's failure to provide immunity.
But this crucial information has been concealed, and continues to be withheld from the public.  After all, how many have read the belated disclosure in the Journal of Microbiology?
So, the mumps outbreak at Texas detention centers occurred following children's MMR vaccination!  Does anyone fail to see the connection between vaccination and an infectious disease outbreak?
Current Mumps Outbreak Following Vaccination
The Texas Tribune headline announced: Nearly 200 People In Texas Detention Facilities Have Contracted Mumps, March 1 2019. Since October, 186 children and adults contracted mumps at migrant detention facilities across Texas, according to a state health agency. These include immigrants and employees.
Lara Anton, a spokeswoman for the Department of State Health Services, said in an email that patients range in age from 13-66 and that "there has been no reported transmission to the community." She added that the state doesn't know the vaccination status of detained migrant adults or the children who entered the U.S. with them but that "all unaccompanied minors are vaccinated when they are detained."
The Texas cases are not unique! Numerous similar outbreaks of mumps in have occurred in vaccinated children in New York, and in the U.S. Territory of Guam in 2009.[2]
So, the mumps outbreak at Texas detention centers occurred following children's MMR vaccination!  Does anyone fail to see the connection between vaccination and an infectious disease outbreak?
"From 1985 through 1988, 42% of cases occurred in persons who were vaccinated on or after their first birthday. During these years, 68% of cases in school-aged children (5–19 years) occurred among those who had been appropriately vaccinated. The occurrence of measles among previously vaccinated children (i.e., vaccine failure) led to a recommendation for a second dose in this age group.

During the 1989 -1991 measles resurgence, incidence rates for infants were more than twice as high as those in any other age group. The mothers of many infants who developed measles were young, and their measles immunity was most often due to vaccination rather than infection with wild virus. As a result, a smaller amount of antibody was transferred across the placenta to the fetus, compared with antibody transfer from mothers who had higher antibody titers resulting from wild-virus infection. The lower quantity of antibody [in the vaccine] resulted in immunity that waned more rapidly, making infants susceptible at a younger age than in the past."

…  38% of measles cases in the U.S. were in vaccinated persons.
CDC further acknowledges that: despite relatively high vaccination rates, small measles outbreaks continue to occur. Since 2008, most of these outbreaks were imported or linked to importation from other countries. In 2011, CDC reported 220 measles cases – "62% were in persons not vaccinated." That means that 38% of measles cases in the U.S. were in vaccinated persons.
The CDC Pink Book further acknowledges that: "Some studies indicate that secondary vaccine failure (waning immunity) may occur after successful vaccination". Evidence of MMR vaccine-induced infection undermines the protective rationale for its indiscriminate, mass use, much less, mandating its use against parents' objections.
200 measles cases in the U.S. do not justify the current media frenzy;
The empirical evidence is based on reality; the evidence cannot be wiped out by the faith-based "safe and effective" chant.
Empirical evidence refutes the faked epidemiological vaccine studies that are only draped with the mantle of "science".
200 measles cases in the U.S. do not justify the current media frenzy; this frenzy is fomented by collaborating vaccine stakeholders with financial conflicts of interest who should be held accountable for subjecting an unknown number of children to defective vaccines – some of which were the cause of infectious disease outbreaks.
Two congressional hearings called for enforcement of mandatory childhood vaccination, citing the current measles outbreaks. The committees invited only vaccine promoters who endorsed mandatory vaccination of children, but not of adults.
February 27th hearing, the House Committee on Energy and Commerce:
Dr. Dr. Anthony Fauci, Director of the National Institute of Allergy and Infectious Diseases declared: "Risks from vaccines are almost non-measurable…" In an earlier interview with Frontline, Dr. Fauci is on record stating:
"We know historically that it's much more difficult to get adults vaccinated for a variety of sociological and other reasons, whereas when you have the children, you can get it out of the way …"
Dr. Nancy Messonnier, director of the National Center for Immunization and Respiratory Diseases at the CDC declared:
"I do believe that parents' concerns about vaccines leads to undervaccination, and most of the cases that we're seeing are in unvaccinated communities. Outbreaks of measles occur when measles gets into these communities of unvaccinated people. The only way to protect against measles is to get vaccinated."
March 5th hearing, Senate Health, Education, Labor & Pensions (HELP) committee:  John G. Boyle, CEO of the Immune Deficiency Foundation (whose core benefactors are bio-pharma corporations) upped the decibel, declaring:
"The current decline in vaccine usage is literally bringing back plagues of the past."
Senator Rand Paul, a HELP Committee member, was the only member of the committee who voiced some reservations about the stampede toward depriving U.S. citizens of their human right to choose what's in the best interest of their children!
Why is the public health armamentarium aimed at eliminating "unvaccinated" children rather than on preventing a true catastrophic epidemic of neurodevelopmental injuries in children?
The focus of concern and public anger should be directed at the failure of the public health establishment to methodically investigate the contributing cause[s] of the genuine, empirically documented childhood epidemic – the relentless, ever-increasing rise in the number of neurologically injured children has climbed to 1 in 36 in the U.S. The numbers of those affected is now in the millions.
*Witch Hunt defined: "the searching out for persecution and deliberate harassment of those with unpopular views" Merriam Webster's; "a rigorous campaign to round up or expose dissenters on the pretext of safeguarding the welfare of the public" Collins English Dictionary.
References:
CDC. Pink Book, Chapter 15 Mumps
CDC Pink Book, Chapter 13 Measles
Sign up for free news and updates from Robert F. Kennedy, Jr. and the Children's Health Defense. CHD is planning many strategies, including legal, in an effort to defend the health of our children and obtain justice for those already injured. Your support is essential to CHD's successful mission.
The demand for Collective Evolution's content is bigger than ever, except ad agencies and social media keep cutting our revenues. This is making it hard for us to continue.
In order to stay truly independent, we need your help. We are not going to put up paywalls on this website, as we want to get our info out far and wide. For as little as $3 a month, you can help keep CE alive!
Two Doctors Explain Autophagy, How To Induce It (Fasting) & What It Does To The Human Body (Video)
In Brief
The Facts:

Dr. Guido Kroemer and Rhonda Patrick sit down and discuss autophagy, how to induce it and it's health benefits.

Reflect On:

Why do we never hear about fasting interventions as an 'official' treatment for certain from our federal health regulatory agencies when there is so much scientific proof?
Fasting and caloric restriction, if done correctly in a healthy and appropriate manner, combined with a healthy diet can have tremendous benefits for the human body. Interventions like fasting are gaining tremendous amounts of popularity, and that is in large part due to the fact that this information is being spread across the world via alternative media outlets and independent websites, youtube channels, etc. It's not really a health topic that we're hearing from mainstream media sources or our federal health regulatory agencies. Why? Because you can't make money off of fasting. Perhaps when drugs are developed that mimic the effects of fasting, that's when its popularity will skyrocket; but unfortunately, modern day health authorities don't really seem to be as concerned with our health and wellbeing as they are about profiting and making money, and nobody is going to make any money if people starting eating less. That being said, the information revolution cannot be stopped, and fasting is now on the minds of many, and for good reason.
On October 3rd, 2016, the Nobel Assembly at Karolinska Institutet awarded the Nobel Prize in Physiology or Medicine to Yoshinori Ohsumi for his discoveries of mechanisms for autophagy, a term that translates to "self-eat." In short, autophagy is the body's self-cleaning system, a mechanism in which cells get rid of all the broken down, old cell machinery (organelles, proteins and cell membranes). It is a regulated, orderly process to degrade and recycle cellular components.
The process of autophagy is like replacing parts in a car—sometimes we need a new engine or battery for the car to function better. The same thing happens within each of our cells. During autophagy, old cellular debris is sent to specialized compartments within the cell called "lysosomes." Lysosomes contain enzymes that degrade the old debris, breaking it down into smaller components to be reused again by the cell.
Scientists have found that fasting for 12 to 24+ hours triggers autophagy, which is thought to be one of the reasons that fasting is associated with longevity. There is a large body of research that connects fasting to improved blood sugar control, reduced inflammation, weight loss, and improved brain function, and Oshumi's findings provide greater insight into this research.
"Sporadic short-term fasting, driven by religious and spiritual beliefs, is common to many cultures and has been practiced for millennia, but scientific analyses of the consequences of caloric restriction are more recent… short-term food restriction induces a dramatic upregulation of autophagy in cortical and Purkinje neurons. As noted above, disruption of autophagy can cause neurodegenerative disease, and the converse also may hold true: upregulation of autophagy may have a neuroprotective effect.

Food restriction is a simple, reliable, inexpensive and harmless alternative to drug ingestion and, therefore, we propose that short-term food restriction may represent an attractive alternative to the prophylaxis and treatment of diseases in which candidate drugs are currently being sought."
If you look at the plethora of studies that've been published regarding caloric restriction and fasting, the benefits are overwhelming. These benefits are seen across the board, not just in humans, but in animals as well. Some of these benefits are talked about below in a fascinating interview and discussion between Dr. Rhonda Patrick  and Dr. Guido Kroemer. Dr. Patrick, as her website states, "is dedicated to the pursuit of longevity and optimal health and shares the latest research on nutrition, aging, and disease prevention with her audience. She has a gift for translating scientific topics into understandable takeaways for all levels of education and interest." She has a lot of great content on her Youtube channel with some very interesting people who are leaders in their respective field.
Dr. Guido Kroemer is currently a Professor at the Faculty of Medicine of the University of Paris Descartes, Director of the research team "Apoptosis, Cancer and Immunity" of the French Medical Research Council (INSERM), Director of the Metabolomics and Cell Biology platforms of the Gustave Roussy Comprehensive Cancer Center, Deputy Director of the Cordeliers Research Center, and Hospital Practitioner at the Hôpital Européen George Pompidou, Paris, France. He is also a Foreign Adjunct Professor at the Karolinska Institutet, Stockholm, Sweden.
The Takeaway
The takeaway here is to recognize the potential of dietary interventions for certain ailments. It's also to recognize the importance of seeking out knowledge and wisdom, and not just relying on your doctor for advice or prescription medications.
Related CE Articles on Fasting
How To Activate Autophagy: Your Body's Self-Cleansing System
Autophagy, Fasting & Exercise: Scientist Reveal Multiple Ways You Can Slow Down The Process of Aging
The Complete Guide To Fasting & Reversing Type 2 Diabetes: A Special Interview With Dr. Jason Fung
Neuroscientist Shows What Fasting Does To Your Brain & Why Big Pharma Won't Study It
Scientists Explain How Fasting Fights Cancer, Triggers Stem Cell Regeneration & Changes Your Brain (In A Good Way)
The demand for Collective Evolution's content is bigger than ever, except ad agencies and social media keep cutting our revenues. This is making it hard for us to continue.
In order to stay truly independent, we need your help. We are not going to put up paywalls on this website, as we want to get our info out far and wide. For as little as $3 a month, you can help keep CE alive!