The Special Ed Epidemic: Burying Our Heads and Crippling Our Economy. Part 2 of 4.
WMP Note: In this 4-part series, World Mercury Project partner, Focus For Health,  examines the special needs epidemic and its effects on schools, the US economy, life after age 21 and the many theories that point to potential causes of the explosion of chronic disease and disability in our children.
A recent survey of early childhood teachers asked "What is your greatest concern?" The majority of teachers reported "Managing challenging behaviors in our classroom," according to Mary Ann Hansen, the director of First 5 Humboldt, a county-based commission in California which provides programs for children under age 5. She went on to say "We hear this over and over again, that teachers are struggling." Sadly, many students are also struggling as their needs are unable to be met in a classroom environment that lacks support, proper teacher training, and the funding necessary to provide a quality education which addresses their varying needs.
With an increasing number of children requiring special education services in the schools, significant demands are being placed on both special and regular education teachers. Learners with differing educational, behavioral, and medical needs are both financially and emotionally challenging for both their school districts and teachers alike. School budgets are being depleted rapidly as districts attempt to provide a free and appropriate education (FAPE) for all, especially when Individualized Education Plans (IEP) require extensive special services including speech, physical, occupational therapy, nursing, counseling, behavioral services, in-class support, and personal aides.
Providing for the many needs of children classified in special education costs our nation an estimated $50 billion annually, and that number is likely outdated as it is based on data from the 1999-2000 SEED study, which doesn't reflect the rise in students requiring special education since 2000.
The average annual cost for a general education student is $7,552, while the average cost per special education student is $16,921. However, approximately 330,000 students with exceptionally high-needs cost their districts $100,000 or more on an annual basis.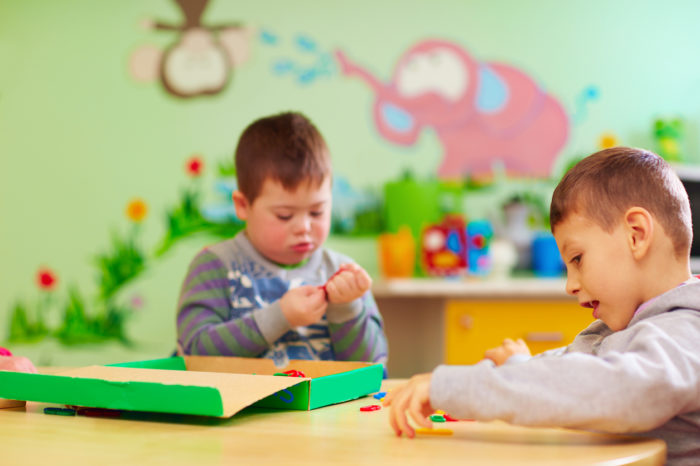 Students identified with one of 13 disabilities listed under the Individuals with Disabilities Education Act (IDEA) are classified in school and provided with an IEP identifying learning goals, necessary accommodations,  and describes the special services to be provided by the school, free of charge to the families.  Students who do not qualify for an IEP may receive a 504 plan. This plan may provide specific accommodations, supports, or services for a child with any disability which can include learning or attention issues. It has a broader definition of a disability, but it does not have to be a written document.
The number of students ages 6-21 with disabilities rose to 5.83 million by fall 2014. Chronic health issues such as epilepsy, mental health disorder, attention deficit hyperactivity disorder (ADHD), and mobility impairments, classified in school as "other health impaired," increased nearly 51%, between 2005-06 and 2014-15 school years. In the same age group, students classified with autism spectrum disorder had risen 165% nationwide. Children classified with "autism" or "other health impaired" account for more than 1 in 5 school-aged children covered under IDEA nationwide.
The least restrictive environment (LRE) mandate within IDEA requires that all students in special education be educated with typical peers to the greatest extent possible to prevent segregation, while still providing a free and appropriate education. This means children with IEP's or 504 plans and their typical peers are integrated in one classroom with a general education teacher when possible. While some students receive in-class support with the help of an aid and sometimes a special education teacher, many general education teachers report they lack the support, training, and resources necessary to teach classified students appropriately.
Chronic health issues such as epilepsy, mental health disorder, attention deficit hyperactivity disorder (ADHD), and mobility impairments, classified in school as "other health impaired," increased nearly 51%, between 2005-06 and 2014-15 school years.
In addition, some children presenting with emotional and behavioral issues, who have not been identified or classified at all, do not receive any accommodations for educational or behavioral support. As a result of limited funding and teacher shortages, general education teachers are often challenged to divide their time and attention teaching the curriculum to general education students while managing classified as well as unclassified students with attentional, emotional and behavioral issues at once. These issues affect the quality of education for all students.
MENTAL HEALTH ISSUES IN THE SCHOOLS
Mental health problems often develop during childhood and adolescence and are treatable if recognized and diagnosed. Students with mental health issues present challenges to teachers and commonly have social-emotional issues affecting peer relationships. Studies show that mental health disorders are at the root of some bullying behavior occurring in schools. School nurses report frequent complaints of "stomach aches" and "headaches" because an individual's mental health is intertwined with their physical being. Yet research shows most children who need a mental health evaluation do not receive services. Because schools are often understaffed with social workers, counselors, and school nurses, the burden is placed on the classroom teachers who are with the students throughout the school day.
Educating children with mental health issues is not the only challenge for general education teachers. More and more teachers are reporting explosive outbursts by students including hitting, scratching, and flipping desks, putting teachers at risk, while at the same time they are trying to protect other students in the classroom. Disciplinary actions including suspensions are on the rise across the nation. Classified students with behavior issues are frequently sent home from school when teaching assistants are not available to shadow them. For students with autism who have complex behavior issues, physical restraints have become commonplace and can occur daily. Add to it the significant rise in self-harm and teen suicides; schools are being forced to look at this epidemic and to provide solutions at all costs. Some schools are attempting to mitigate the issues by creating sensory rooms and calming stations, while others have even created new mental health clinics on site to help manage the behavioral issues.
Compared to the national average, only 40% of students with emotional, behavioral, and mental health disorders graduate.
Studies looking at teacher job stress in early childhood education show that teacher-child conflicts are more common where workplace stress is higher. Essentially, this reduces the ability of the teachers to work effectively with students with emotional and behavioral problems. These teachers also report they felt mentally, emotionally, or physically exhausted or overwhelmed by working with these children, ultimately leading to burnout and staff turnover.
WHAT ABOUT THE SEVERELY DISABLED?
Children with severe disabilities have even more difficulty getting their needs met in district as the school may not have the resources on site to accommodate their various educational and healthcare needs. In such cases, these high-needs students may be offered placements in private schools for the disabled outside of the local school district. Children diagnosed with autism spectrum disorder, cerebral palsy, and other medically complex disabilities require services beyond what most districts can afford to provide because they require specialized training and care. This can include nursing, advanced technologies for communication and learning, special transportation, and more. While providing out of district placement can cost an average of $10,000 more per student than placements within district for similar students, keeping them in-district may not be cost effective if they need to hire staff and purchase equipment for just a few high-needs individuals.
ACCOMMODATING CHRONICALLY ILL KIDS
The number of children in the US with chronic health conditions has dramatically increased in the past 4 decades, doubling from 12.8 percent in 1994 to 26.6 percent in 2006.
With chronic health conditions on the rise, schools are faced with additional challenges of providing for the medical needs of children with severe health issues. Food allergies now affect 1 in 13 children, and asthma affects 1 in 10 children, requiring nursing staff on site to help care for these students. In addition, juvenile diabetes increased 23% between 2001 and 2009, while epilepsy/seizures affect 1 in 20 children. Some schools are opening health clinics on site to manage the medical needs of the student population. Unfortunately, the cost of building and staffing such clinics is prohibitive for most districts which already lack funding to meet the basic needs of special education students.
WHO PAYS FOR ALL OF THIS?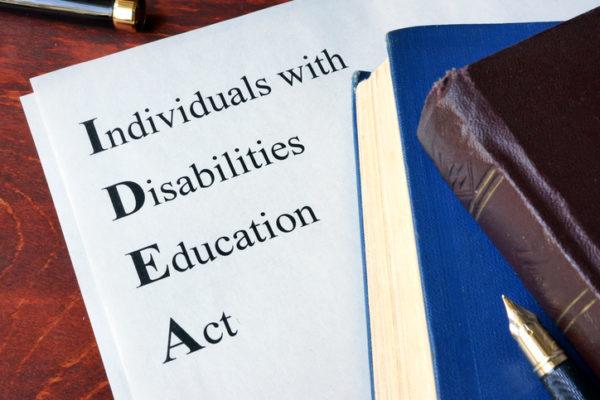 You do. We all do. Federal, state and local governments all contribute to fund K-12 public special education. IDEA was established to provide the bulk of federal funding contribution for special education and governs how states and public agencies provide early intervention, special education, and related services. The states distribute funds to local agencies to be used in accordance with state and federal law, and allocation is based upon the local district's tax structure. The local district budgets vary greatly and are dependent on local revenues resulting, however, in significant disparities.
Unfortunately, Congress historically fails to fully fund IDEA. While they have authorized special education funding equal to 40% of the national average per pupil expenditure (APPE), spending typically ranges between 10-20% per child.
This leaves the burden on the states to make up the difference. IDEA funding is based on FY 1999. This formula was derived from the number of children identified with disabilities in each state in relation to total state population. However, populations within states have increased or decreased, as have the number of children with disabilities within each state yet the base award has not changed. This creates a wide disparity in funding across the US. Additionally, when a state decides to accept federal funds, mandates apply in association with those programs. Despite this funding, many states find it insufficient to cover the local costs of meeting those program's requirements. Consequently, districts are often compelled to tap into their general education funds to meet those requirements.
The number of students with disabilities and chronic health issues are rising across the nation while programs and services are being cut to save money. Currently, all taxpayers are bearing the financial burdens of the local school districts as property taxes help fund special education programs. Although Medicaid helps to offset the gap by covering health-related expenses for students with disabilities, cuts in Medicaid funding are frequently threatened.  Without appropriate education, therapies, and medical services, these children will grow up to be adults who may not reach their full potential. In turn, employability will decrease, and without sustainable jobs, they may not become productive, self-sustaining adults. 1 in 36 children between 3-17 yrs. of age have ASD now; this means in the next 1-15 years, these individuals will become adults. Individuals with ASD have a normal life expectancy, and many will outlive their parents, requiring other family members to take care of them, if willing and able. And if not, tax-payers will be responsible for funding supportive housing and living costs, including health care, for those unable to live and care for themselves.
The prevalence of ASD in the US reportedly increased from 2.24% to 2.76%…indicating 1 in 36 children have autism, up from 1 in 45 in 2014; however, the CDC has not released a statement acknowledging this increase.
This system is unsustainable, and it is spiraling out of control, yet few people are talking about it. More importantly, nobody is asking "What is happening to our children?" In fact, the latest report just released by The National Center for Health Statistics within the US Department of Health and Human Services, does the opposite. Authors of the 2017 report "Estimated Prevalence of Children with Diagnosed Developmental Disabilities in the United States, 2014-2016" point out the prevalence of children aged 3-17 years who had ever been diagnosed with a developmental disability has increased from 5.76% to 6.99%. This increase of 1.23% is STATISTICALLY SIGNIFICANT. The prevalence of autism spectrum disorder in the US reportedly increased from 2.24% to 2.76%, a difference of .52%. According to NCHS, this increase is not statistically significant. While the article failed to disclose the sample size, the fact is, both increases are alarming.
According to the Centers for Disease Control (CDC) "The mission of the National Center for Health Statistics (NCHS) is to provide statistical information that will guide actions and policies to improve the health of the American people. As the Nation's principal health statistics agency, NCHS leads the way with accurate, relevant, and timely data." The first step to making change is acknowledging we have a problem. A .52% rise in ASD indicates I in 36 children have autism, up from 1 in 45 in 2014; however, the CDC has not released a statement acknowledging this increase. The CDC must stop burying its head and work to address this problem first, by admitting we have one, and second, by identifying the causes with trustworthy science so that we may stop this epidemic. Until then, this and many other systems are destined to fail, affecting not only those individuals with special needs and their families, but every citizen in our nation.
REFERENCE
This concludes Part Two: "The Special Ed Epidemic: Burying Our Heads and Crippling Our Economy." Part Three, "What Happens When They Age Out of School?" will explore the exploding financial burdens to taxpayers as the children exit school and looks deeply into the options for individuals who have aged out of IDEA, which only mandates services be provided until age 21. So what happens next?
Sign up for free news and updates from Robert F. Kennedy, Jr. and the World Mercury Project. Your donation will help to support us in our efforts.
Due to the pressure of mass censorship, we now have our own censorship-free, and ad-free on demand streaming network!
It is the world's first and only conscious media network streaming mind-expanding interviews, news broadcasts, and conscious shows.
Click here to start a FREE 7-Day Trial and watch 100's of hours of conscious media videos, that you won't see anywhere else.
30-Year Study Finds Weekly Use Of Disinfectants Greatly Increases Your Chances Of Lung Disease
In Brief
The Facts:

A 30-year study conducted by Harvard researchers and the French National Institute of Health and Medical Research determined that people who use disinfectants just once a week have a 22-32% of developing lung disease.

Reflect On:

There are many other natural alternatives out there these days. Some are listed in the article, be sure to do your research!
One of the most versatile cleaning supplies in the home, bleach disinfects anything it comes into contact with and can not only clean every surface but remove stains from fabrics, too. Despite its cleaning power, we've also long heard of the effects such chemicals can have on our health and wellbeing. The labels on such products make some of these clear, explaining they are corrosive and can irritate  eyes, skin, and respiratory tract, often through simple inhalation. Despite these warnings signs, people continue to buy into this corporate propaganda.
As previously stated in an article of ours from 2013:
It is important to note that there is no FDA-type organization that regulates the cleaning products that are brought into your home. Instead groups such as the United States Environmental Protection Agency (EPA) make warnings of the use of Chlorine Bleach publicly available. Under the assumption that consumers will continue to use Chlorine Bleach within their households, the following safety precautions are widely recommended:
Dilute the chlorine bleach with water. The lower concentration poses a potentially lesser risk of unwanted exposure.
Wear a safety mask and rubber gloves when working with bleach as a preventative measure.
Only use chlorine bleach in a well ventilated area to allow for sufficient air flow and to prevent the unwanted gasses from remaining stationary in the working space.
Never mix chlorine bleach with any other household cleaners.
It's unlikely people exercise these precautions when dealing with this chemical, and it's also interesting to note that even more studies have come forward since then confirming these risks.

A new study has found that people who use disinfectants just once a week have a 22-32% increased chance of developing chronic obstructive pulmonary disease (COPD).
"COPD is the third leading cause of death in the United States. More than 11 million people have been diagnosed with COPD, but millions more may have the disease without even knowing it. COPD causes serious long-term disability and early death. At this time there is no cure, and the number of people dying from COPD is growing," according to the American Lung Association.
The 30-year study was conducted by Harvard University and the French National Institute of Health and Medical Research. This new study could potentially link COPD to specific cleaning chemicals, as two other studies in European populations showed that "working as a cleaner was associated with a higher risk of COPD," according to Orianne Dumas, a researcher at Inserm. Dumas goes on to say, "Earlier studies have found a link between asthma and exposure to cleaning products and disinfectants at home, such as bleach and sprays, so it is important to investigate this further."
In 1989, the Harvard researchers found 55,185 working female nurses in the U.S. who did not have COPD, then analyzed those who were still working in 2009 over the next eight years. Participants were given a questionnaire to determine which disinfectants they used most frequently and why they used them. The disinfectants included glutaraldehyde (a strong disinfectant used for medical instruments), bleach, hydrogen peroxide, alcohol, and quaternary ammonium compounds (known as "quats"). In addition to the questionnaire, they took into account factors such as age, weight and ethnicity.
During this period they found that 663 were diagnosed with the condition. "In our study population, 37% of nurses used disinfectants to clean surfaces on a weekly basis and 19% used disinfectants to clean medical instruments on a weekly basis," says Dumas.
The study aims to highlight the lack of health guidelines when it comes to cleaning and disinfectants, especially in healthcare settings, and researchers hope their results will prompt further investigation and better safety precautions.
There are many substantial alternatives to bleach like vinegar or essential oils, and if you'd like to further rid your home of harsh chemicals, check out this article (click here).
We need more people like these researchers, who dedicate their time to ensuring our safety when it comes to items we have incorporated into our lifestyle and assume are safe, doing this kind of work. This information isn't meant to scare anyone, especially those of us who actively use these materials, but rather to bring more awareness so that we can educate ourselves and make healthier choices. There are countless healthy and safe alternatives when it comes to what we clean with, what we wear, and what we eat. You have to play the role of researcher in your own life if you expect to make positive change, and by having an open mind, you allow yourself to accept opportunities that can further your growth, mentally, physically, and spiritually.
Due to the pressure of mass censorship, we now have our own censorship-free, and ad-free on demand streaming network!
It is the world's first and only conscious media network streaming mind-expanding interviews, news broadcasts, and conscious shows.
Click here to start a FREE 7-Day Trial and watch 100's of hours of conscious media videos, that you won't see anywhere else.
Alcohol Is Killing More People Than The Opioid Epidemic. So Why Aren't We Talking About It?
In Brief
The Facts:

Alcohol related deaths are the third leading cause of preventable deaths in the US.

Reflect On:

Should we be glamorizing the consumption of alcohol in the media and in advertisements? Is it time to get real about the potentially life threatening risks of this drug?
In recent years, we have been hearing a lot about the opioid epidemic that is sweeping the nation. The Center for Disease Control reported that over 47,000 people died in the United States alone from an opiate overdose in 2017, that is almost 5 times the amount of deaths caused by opiates in 1999. This is important, and yes it is good this is getting the attention that it deserves. However, in the same year, an estimated 88,000 people died from alcohol related causes — Did anyone hear about that?
Alcohol is the third leading cause of preventable death in the United States, the first is tobacco and the second is poor diet and minimal physical activity. Given this, why aren't we talking about it? And why don't we see warning labels on alcoholic beverages? Why are we promoting such a harmful substance? We certainly don't see huge billboards with people in bikinis popping oxycontin or injecting heroin, because we are well aware that these substances are addictive and can cause harm, so again, why are we openly promoting alcohol? Especially to young people?
Is It Because It's Legal?
Is it possible that alcohol related deaths do not garner as much of a cause for concern because it is legal, easily available and socially acceptable? Most likely. Alcohol sales reached $253.8 billion in the US in 2018 — this might also have something to do with it.
I'm not suggesting that criminalizing alcohol is a solution to this issue or anything, the same way I don't see how it's still against the law to use any drugs at all, regardless of how bad they are for you. I believe that we should have the say in how we treat ourselves and what we put into our bodies, not the government or a legal system. But instead of being portrayed as a harmful substance, like opiates, crystel meth, and crack are — alcohol is glamorized by the media; often being portrayed as sophisticated, fun, sexy and generally just the cool thing to do.
Alcohol Is Basically Encouraged In Our Society
There is no doubt about it, the use of alcohol is deeply ingrained in our culture. So much so, that choosing not to drink is often the more odd thing to do. People will always ask, oh, how come you're not drinking? As opposed to other drugs, people won't typically ask, oh why aren't you smoking meth tonight? Or whatever it may be.
Binge drinking is practically expected on the weekends, and for many people it is a way to unwind, let loose and have fun after a long workweek. Many people justify their consumption this way insisting that it's fine, because, I don't drink every day. The thing about alcohol abuse is that it doesn't have to be every day to be considered a problem or for the person to be considered an alcoholic.
There are many ways we tend to justify our use, because the thought of giving it up entirely or admitting that we even have a problem can be extremely overwhelming — especially if our entire livelihoods are centered on it.
How Much Is Too Much?
The National Institute on Alcohol Abuse and Alcoholism (NIAAA) created a web site called "Rethinking Drinking" to highlight the amount of misconceptions about what is considered "low-risk" and "high-risk" alcohol consumption. It turns out, more than three drinks in a day or more than seven drinks per week for women and four drinks per day or 14 drinks per week for men are considered "high-risk," and these patterns can be detrimental both in the short and long-term.
Some people might have an attitude of, I don't drink at all during the week, so I have all of my allotted alcoholic beverages on the weekend — however, for men consuming 5 or more drinks and for women consuming 4 or more drinks in about a 2 hour period is considered binge drinking.
Is It Time To 'Rethink That Drink'?
Should we have more campaigns aimed to raise awareness about the potential harm caused by alcohol? Because it is legal it seems to have this view of also being safe, because our government officials and lawmakers always have our best interest at heart, right? 😉 But if we aren't educating young people effectively on the potential risks associated with alcohol consumption, then perhaps there should be more of an effort to make the risks known on the packaging and even eliminating ads. In my opinion, it simply does not make sense to be legally allowed to advertise something that is so harmful — especially in such a glamorized way.
I don't know what it's like now for teens and if it is still considered "cool" to drink and if there is a ton of peer pressure around the whole thing. My hope is that this view will shift, young people will be made more aware of the risks and more people will find the courage to step away from what is no longer serving them or what's not in their best interest.
Many health advocates and people that are very cautious with regards to what they are putting into their body are still completely overlooking alcohol as a harmful substance. Now, there is no judgment to anyone who chooses to drink, but I think it's time to take a good hard look at these things and at least have the awareness behind it. Surely, it can be fun from time to time to relax, to loosen up, to be silly, but when we are relying on it to escape our unhappiness from our current situation, well then maybe it's time to face these situations head on, rather than escape them and change whatever is encouraging us to reach for that glass of wine, whiskey or beer in the first place.
How Can We Support Others?
The fact of the matter remains, many people who drink can do so sparingly, not in excess and not very often. They have a handle on it and it doesn't interfere with their lives in a negative way. However, for the ones who have struggled — with drinking too much, too frequently, with black outs, it can be difficult to even know if it's a problem because of how acceptable it is in our society.
If someone says, no thanks I'm not drinking, don't ask why, and instead try, right on! And no peer pressure. I've had problems with drinking, have quit and relapsed twice, currently I'm sober. Before I stopped drinking this time around I would open up to some people about it, questioning my use and whether or not it was harmful, many people would tell me, ahh don't be so hard on yourself! We are allowed to enjoy life, or shut down from time to time if we need to. If someone is expressing to you that they are concerned they might have a drinking problem, don't make them second guess themselves, if they are opening up about it please try to support them. We don't always know what others are going through — apparently even if they flat out tell us. This may also challenge our own relationship with alcohol, but if you can keep that separate.
Do You Have A Problem?
If you are concerned that you might have a drinking problem, you probably do. Keeping in mind that having a problem with alcohol doesn't necessarily make you an alcoholic. You may have a problem with alcohol if you can identify with any of the following scenarios:
Spending a lot of time obtaining, using, and recovering from the effects of alcohol.
Cravings, or a strong desire to use alcohol.
Being unable to cut down on alcohol use despite a desire to do so.
Continuing to abuse alcohol despite negative interpersonal or social problems that are likely due to alcohol use.
Using alcohol in physically dangerous situations (such as driving or operating machinery).
Drinking more or for a longer time than originally intended.
Continuing to abuse alcohol despite the presence of a psychological or physical problem that is probably due to alcohol use.
Being unable to fulfill major obligations at home, work, or school because of alcohol use.
Giving up previously enjoyed social, occupational, or recreational activities because of alcohol use.
Having a tolerance (i.e. needing to drink increasingly large or more frequent amounts of alcohol to achieve the desired effect).
Developing symptoms of withdrawal when efforts are made to stop using alcohol.
A great way to get things in check is to commit to a period of time without any alcohol consumption and monitor how you feel, what you accomplish, and if you feel uplifted. You may need to ask your friends to support you during this time and have some sober activities prepared! Board games, cards, movies, sports, hiking — all these things can be great sober fun!
If your problem is more severe than this, or you are needing help in any way, reach out to a trusted friend or family member or you may benefit from your local Alcoholics Anonymous meetings for a whole slough of support and resources. If that's not your jam, check out Hello Sunday Morning for assistance in moderating your use.
My hope is that in the near future it will be more common not to drink and doing so will be more like taking a drug, or having an experience that is typically out of the ordinary.
It is never too late to make a change, first step is to get really honest with yourself…
Due to the pressure of mass censorship, we now have our own censorship-free, and ad-free on demand streaming network!
It is the world's first and only conscious media network streaming mind-expanding interviews, news broadcasts, and conscious shows.
Click here to start a FREE 7-Day Trial and watch 100's of hours of conscious media videos, that you won't see anywhere else.
Joe Rogan May Take Down The Original Criticism Of "The Game Changers" Documentary
In Brief
The Facts:

Joe Rogan recently had James Wilks, the maker of "The Game Changers" documentary on to discuss the benefits of a plant base diet and to refute a previous episode where Chris Kresser debunked it.

Reflect On:

When it comes to health, it's important sometimes to suspend what we believe and have been made to believe, and simply look at the information from a neutral perspective.
Joe Rogan has long 'criticized' vegans in various ways, and has also emphasized his belief that one cannot be optimally healthy on a vegan diet. He's done this a number of times, which was hard for some onlookers to watch and listen to who have educated themselves on plant-based diets. Until recently, Rogan mainly focused on guests that were geared towards promoting meat-eating as optimal, and there's nothing wrong with that, but a balance of understanding and information can go a long way to educating people.
One of the most recent examples of Joe Rogan and his guest '"debunking" a plant-based diet came from a critique of a recent documentary that is now airing on Netflix, called "The Game Changers," made by filmmaker, James Wilks – a retired English mixed martial artist. The film was executively produced by James Cameron, and features interviews with the top scientists and doctors in their field who present an abundance of research and publications showing the benefits of a plant-based diet.
Not long ago, health coach and author Chris Kresser came on the "Joe Rogan Experience" after the documentary received a lot of attention, and the title of the podcast was titled: "Chris Kresser Debunks 'The Game Changers Documentary.'
For someone like my self who has done a lot of research into the topic, it was frustrating to listen to it given the fact that it was quite clear, for me and others who had actually done thorough research from a neutral standpoint, that Kresser wasn't really addressing all the facts, and was simply a big believer in what he was saying without even examining the information on the other side.
The challenge is, Rogan's podcast was listened to by millions of people, and many came away actually believing the information that was said in the original debunking episode – information we later find out was completely incorrect. These types of episodes that massively mislead people are not just an issue with people who have large followings discussing vegan diets and health, but it's a big issue with many other topics. This is why it was great that Rogan decided to have James Wilks on for a chance to defend his documentary, and the truth is he absolutely destroyed Kresser's claims that were presented as facts in the previous podcast with Rogan. The best part was Kresser was on the show as well so he had a chance to truly make sure everyone was on the same page.
Wilks addressed every single criticism made by Kresser in the previous episode, from topics such as B12, protein amount, and protein quality, among many others. He also brought up the fact that we shouldn't be listening to people like Kresser on such topics, but should be relying on properly published peer reviewed research that's repeatable, non-industry conflicting research, as well as information that comes from the world's leading scientists in the field of biology and nutrition, many of whom were presented in the Game Changers documentary. Or, people like Wilks, who have throughout done their research.  This episode really exposes how Kresser is not accurate or factual in his position on this topic, an important note for his followers.
It's important to keep in mind that not everything Kresser said previously had time to be addressed in this podcast, but it could have been. 100 percent of Kresser's criticisms that were addressed were 100 percent completely debunked by Wilks, so much so that this is what Joe Rogan had to say via an Instagram post:
If interested, you can watch The Game Changers documentary on Netflix, and check out the podcast in question below.
Some Quotes From The Game Changers Documentary
One of these experts is Dr. Christina Warinner, who earned her Ph.D. from Harvard University in 2010 and received her postdoctoral training at the University of Zurich (2010-2012) and the University of Oklahoma (2012-2014). She became a Presidential Research Professor and Assistant Professor of Anthropology at the University of Oklahoma in 2014, and is currently a Leader in Microbiome Sciences at the Max Planck Institute for the Science of Human History.
Her work has led to some very interesting findings and conclusions:
"Humans do not have any specialized genetic anatomical or physiological adaptations to meat consumption. By contrast, we have many adaptations to plant consumption." (The Game Changers documentary)
She goes deeper in her presentation at the 2016 International Conference on Nutrition in Medicine, and in this TEDX talk she gave a number of years ago.
Gradual increases in brain sizes of early humans have also been attributed to meat, but research is showing that "because there is not a very strong match between meat consumption and gradual increases in brain size, scientists have looked to other options. And given that plant foods are such an important part of modern humans that hunt and gather foods, the money is on plant foods and shift in the kinds of plant foods as being the major driving factor in increasing brain size." – Nathaniel J. Dominy
"We have a brain, that just is desperate for glucose. It's such a fussy organ, that's the only thing it really takes in for energy. Well, meat is not a very good source of glucose, to have a big brain like this you need to eat something different. And the most efficient way to get glucose is to eat carbohydrates." – Dr. Mark Thomas, geneticist, University College, London (The Game Changers documentary)

With overwhelming scientific evidence to many of the most common deadly diseases, I discovered that the meat, egg, and dairy industries have been engaged in a covert response, funding studies that deny this evidence while burying their involvement in the fine print. One of the hired guns paid to conduct these studies is Exponent, INC. A company whose research was used by the Tobacco industry to deny the connection between second hand smoke and cancer. For more than 50 years, Exponent has generated studies that challenge the health-risks of everything from asbestos, arsenic and and mercury, to animal foods." – James Wilks,  "The Game Changers" documentary

"The formula, works beautifully for people selling food, it works beautifully for people selling drugs to treat the diseases that bad food causes, and it works beautifully for the media, which can give us a new story about diet, everyday. But despite the appearance in our media of confusion, there's massive global consensus about the fundamentals of a health-promoting, and it's a diet that every time… In every population, every kind of research, it's a plant food predominant diet, every time." – Dr. David Katz, Founding Director of Yale University Prevention Research Center (The Game Changers documentary)
A Related CE Articles With More Information: 
Humans Are Not Designed To Eat Meat – Leading Microbiome Scientist Explains
12,000 Doctors Urge The FDA to put Cancer Warnings on Cheese 
Scientist: Milk From Cows Has "The Most Relevant Carcinogen Ever Identified" & "Turns on Cancer"
Scientist Explains How Cow's Milk Leeches Calcium From Your Bones & Makes Them Weaker
Due to the pressure of mass censorship, we now have our own censorship-free, and ad-free on demand streaming network!
It is the world's first and only conscious media network streaming mind-expanding interviews, news broadcasts, and conscious shows.
Click here to start a FREE 7-Day Trial and watch 100's of hours of conscious media videos, that you won't see anywhere else.