Facebook User Banned For This E.T. Meme Mocking 'Children In Cages' Narrative
In Brief
The Facts:

A Facebook user was banned for 30 days for posting a seemingly harmless meme poking fun at the frenzy about immigrant children being separated at the border from their parents.

Reflect On:

Why would Facebook choose to ban a user for such a harmless-looking meme? Is it possible that they are trying to prevent the erosion of a highly promoted (and predominantly misleading) mainstream narrative?
Jason Bassler, co-founder of the Free Thought Project, was recently banned from using Facebook for 30 days for posting a clever meme he constructed out of a screenshot from the movie 'E.T.' The meme appears to be a humorous rebuke of the proliferation of 'fake' photos being shared by mainstream media and celebrities to whip the public into a proper state of bother about immigrant children being separated at the border from their families due to the Trump Administration's 'Zero Tolerance' policy.
Mainstream Frenzy
While immigration policy has been identified as a serious and multi-layered problem in the United States for decades, the issue of children being separated from their parents at the border and locked in cages is getting hyper-focus these days, at the expense of all other aspects of the immigration crisis. Donald Trump did recently address this matter in an Executive Order that stopped the separation of children and parents at the border. But the fact is that of the 12,000 immigrant children being held in the United States by the DHS, a full 10,000 of them (over 83%) arrived at the border unaccompanied.
These are children the mainstream virtually ignores. Does this mean that these children are not important or worth talking about? That's how it would seem if you gaze at the headlines. The only thing the mainstream media wants to talk about, often through their surrogate celebrities, is the separation of child from parent.
Take this Instagram post by Jennifer Lopez, for example.
Or this anti-Trump Instagram rant by g-easy:
Not Actual Photos Of Children Separated At The Border
It turns out that these photos are not at all what they pretend to be about, and have nothing to do with the separation of immigrant children from their parents. As cogently explained by news-analyst vlogger 'an0moly' in his video below, the first picture depicts a child who was never separated from her parents, while the second is a picture from Mosul, Iraq in 2016.
The proliferation of 'fake' and 'misrepresentative' photos that help to lend emotional support to a chosen narrative is a ploy that the mainstream media seems to be taking to a new level, and they are able to find plenty of support from puppet celebrities who have a significant reach.
Threatening Meme
 And so it is within this context that we can come to understand how this 
clever but innately harmless meme may have ruffled a few feathers at Facebook, since they may have thought it a threat to the anti-Trump narrative they had going on about illegal immigrants and their children being separated at the border: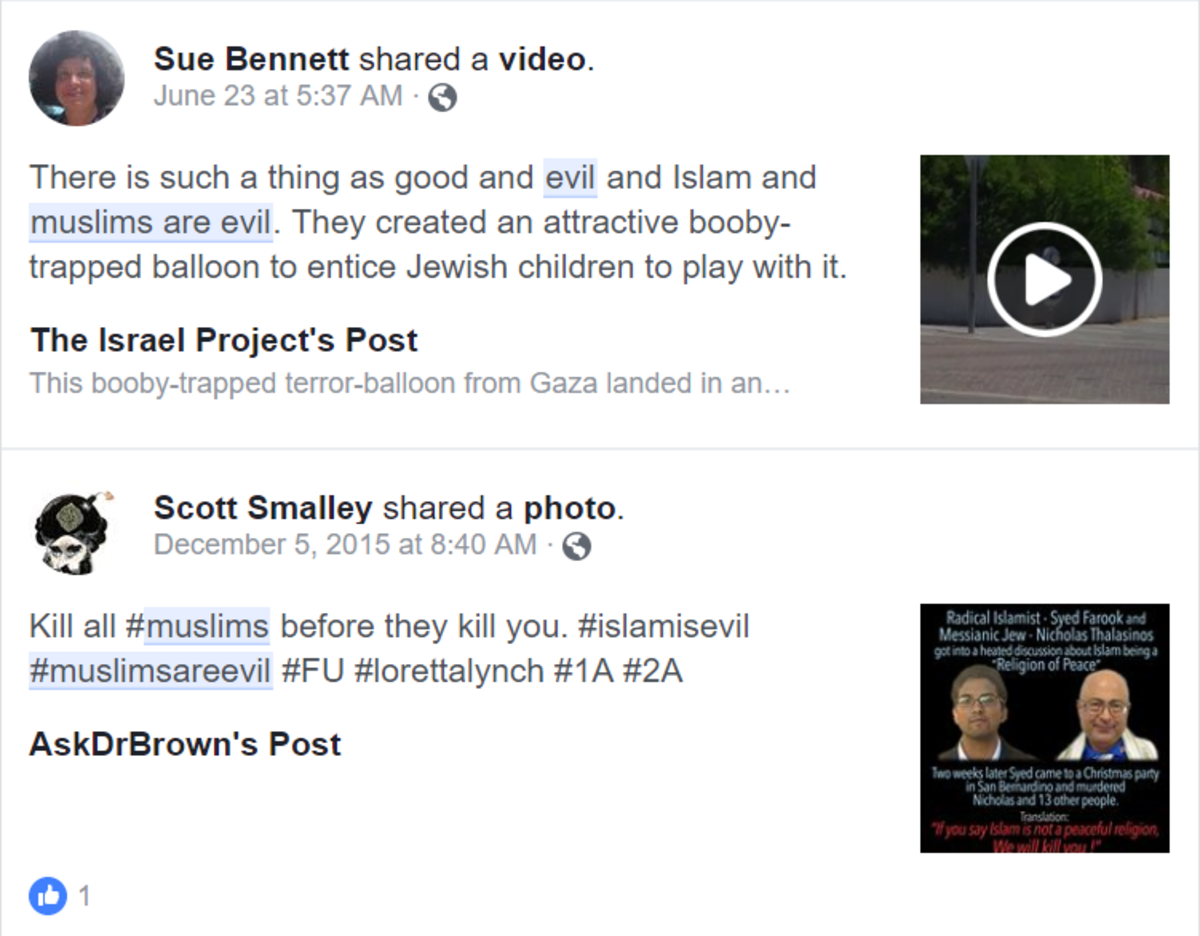 Mainstream Narrative A Hit With Public
How successful has this anti-Trump narrative been that Facebook has been so desperate to preserve? Well, one sign is that a group called RAICES (Refugee and Immigrant Center for Education and Legal Services), has been able to raise a near-record $20 million in a Facebook fundraising campaign purportedly for the purpose of reuniting immigrant children with their families. I could go on about how this fundraising success is a perfect example of mainstream brainwashing in getting people to support efforts that are not addressing the real problems we face, but I will defer to another excellent video by an0moly below, who explains it beautifully:
Our Role In All This
Hopefully, we are getting familiar with this pattern we see here, and a growing number of us have stopped being fooled by it. Problems in our world are never getting solved, not because there are no solutions, but because the powerful elite want to keep things exactly as they are. In this particular case, the current state of immigration and the ongoing gridlock in comprehensive immigration reform keeps the flow of child and human trafficking going for their nefarious purposes.
The suppression of memes like the one above that was banned from Facebook is an indication that the elite are getting more and more desperate to control the narrative, and distract people from coming into a state of awareness about child and human trafficking, and the actual efforts being made by the current administration to combat it. Continuing to take notice of and have discussions about human trafficking, as difficult and confronting as it may be, is one of the most important things that we as truth-seekers can do.
We interviewed David about what is happening within the cabal and disclosure. He shared some incredible insight that is insanely relevant to today.
So far, the response to this interview has been off the charts as people are calling it the most concise update of what's happening in our world today.
Watch the interview here.
Elon Musk And Over 2400 AI Scientists Sign Pledge Against Killer Robots
In Brief
The Facts:

More than 2,400 AI scientists and researchers have signed a pledge which intends to deter military firms and nations from building lethal autonomous weapon systems (LAWS).

Reflect On:

Are we as individuals, working together on shared concerns for all humans on the planet, starting to see the power we have to effect positive change?
It is not an uncommon story in the history of science and technology: the most brilliant and innovative minds of their time discover, create, and invent technologies that can have hugely positive benefits for mankind as a whole. Inevitably, the largest and wealthiest 'consumer' of such technologies is the Military-Industrial Complex, and the main ways these technologies are produced in our world are as tools of control, warfare, and human suffering.
In earlier times scientists and inventors didn't have much say in how their work was used, and could often be persuaded that their use in military applications was actually for the benefit of humankind. Today, those naive days are gone, and the landscape is different. Some of the most prominent minds that are creating advanced technologies are starting to speak out more and more about how their work is being used in the world.
More Than 2400 Signatories
Elon Musk of SpaceX and Demis Hassabis at Google DeepMind are among more than 2,400 signatories to the pledge which intends to deter military firms and nations from building lethal autonomous weapon systems, also known as LAWS. The signatories are scientists who specialize in artificial intelligence, (AI) and have declared that they will not participate in the development or manufacture of robots that can identify and attack people without human oversight. The pledge was created by the Future of Life Institute:
LETHAL AUTONOMOUS WEAPONS PLEDGE

Artificial intelligence (AI) is poised to play an increasing role in military systems. There is an urgent opportunity and necessity for citizens, policymakers, and leaders to distinguish between acceptable and unacceptable uses of AI.

In this light, we the undersigned agree that the decision to take a human life should never be delegated to a machine. There is a moral component to this position, that we should not allow machines to make life-taking decisions for which others – or nobody – will be culpable. There is also a powerful pragmatic argument: lethal autonomous weapons, selecting and engaging targets without human intervention, would be dangerously destabilizing for every country and individual. Thousands of AI researchers agree that by removing the risk, attributability, and difficulty of taking human lives, lethal autonomous weapons could become powerful instruments of violence and oppression, especially when linked to surveillance and data systems. Moreover, lethal autonomous weapons have characteristics quite different from nuclear, chemical and biological weapons, and the unilateral actions of a single group could too easily spark an arms race that the international community lacks the technical tools and global governance systems to manage. Stigmatizing and preventing such an arms race should be a high priority for national and global security.

We, the undersigned, call upon governments and government leaders to create a future with strong international norms, regulations and laws against lethal autonomous weapons. These currently being absent, we opt to hold ourselves to a high standard: we will neither participate in nor support the development, manufacture, trade, or use of lethal autonomous weapons. We ask that technology companies and organizations, as well as leaders, policymakers, and other individuals, join us in this pledge.
The Power Of Public Shaming
The pledge hopes to amount to more than just words. In calling on countries to legislate laws, technology companies to not accept contracts, and individuals to voice their support against lethal autonomous weapons, they hope to sway public opinion overwhelmingly against LAWS, and in doing so shame any person or group who would go ahead with its development. There is some precedent for this approach working, according to Yoshua Bengio, an AI pioneer at the Montreal Institute for Learning Algorithms:
This approach actually worked for land mines, thanks to international treaties and public shaming, even though major countries like the US did not sign the treaty banning landmines. American companies have stopped building landmines.
The timing of this pledge is crucial. The military is one of the largest funders and adopters of AI technology. With advanced computer systems, robots can fly missions over hostile terrain, navigate on the ground, and patrol under seas. More sophisticated weapon systems are in the pipeline. Toby Walsh, a professor of AI at the University of New South Wales in Sydney who signed the pledge, had this to say about it:
We need to make it the international norm that autonomous weapons are not acceptable. A human must always be in the loop.

We cannot stop a determined person from building autonomous weapons, just as we cannot stop a determined person from building a chemical weapon. But if we don't want rogue states or terrorists to have easy access to autonomous weapons, we must ensure they are not sold openly by arms companies.
Collective Consciousness Rising
This pledge is but one example of how people are implicating themselves in the future of the planet. No longer are we waiting on the sidelines and leaving decisions up to corporations, the military, or our political leaders. When we identify ourselves not as a race, culture or nation but as a planet, where all of humankind is considered part of the family, then we get to have greater access to the power of our collective consciousness. Once we harness that power, no initiative that is for the benefit of humanity is beyond our abilities.
We interviewed David about what is happening within the cabal and disclosure. He shared some incredible insight that is insanely relevant to today.
So far, the response to this interview has been off the charts as people are calling it the most concise update of what's happening in our world today.
Watch the interview here.
The Flying Humanoid Phenomena Of Mexico
In Brief
The Facts:

There have been multiple reports over the years of bizarre activity in the skies of Mexico. People have claimed to be seeing flying humanoids in the sky. Though not fully verified as to what onlookers have seen, it is clear what they believe.

Reflect On:

Experiences & stories such as this bring us to the question most of us have heard before, 'Are we alone?' What is the true nature of our reality? More importantly, what could this mean for us as a collective, as humanity?
Throughout time in mainstream media and the entertainment industry we have been programmed to see beings outside of human as dangerous, and for the most part there is a good chunk of fear-based propaganda to remind us of the potential danger if we were to encounter a visit.
Though new films and shows have been coming forth with a different perspective & narrative and new space forces are being declared, it is interesting to question the why. Stories of otherworldly visitors have been spread for centuries, and it is time we closely examine them with an open mind.
In this specific instance, an officer driving his patrol car in Mexico has seen a dark shape that he verified was, in fact, a "flying humanoid entity" which he described looked like a floating old woman, dressed in all black with dark skin and eyes that were "just black sockets, without eyelids."
This startling apparition then apparently flew over to hover right in front of the vehicle and the stunned occupant within. He could see it better at this time, and noted that it was a hideous old woman that "resembled a witch." Apparently annoyed by the car's high beams, the witch then reportedly covered her face with some sort of cloak and then flew right into the vehicle's windshield, causing the dumbfounded officer to go speeding back in reverse. He would explain the terrifying events like this:
As soon as I realized it was a kind of woman being, or a witch, very strange standing there trying to cover her face, she threw herself against my car very fast, falling on the car and hitting the windshield. She was flying very fast and it took only a second to hit the windshield glass. I was so shocked by this action that I put the car in reverse and pushed the accelerator trying to get away while requesting backup assistance by radio.

It was a woman with big black eyes, everything was black, no eyelids. Her skin was dark brown and her expression was horrible. She was furiously trying to get me with her claws while I was running away in reverse calling desperately for backup assistance to any units around.
If you would like to read more about why humanity is seemingly 'obsessed' with the ET phenomena at this time, please read more here and watch our latest video to dive deeper into the subject matter.
We interviewed David about what is happening within the cabal and disclosure. He shared some incredible insight that is insanely relevant to today.
So far, the response to this interview has been off the charts as people are calling it the most concise update of what's happening in our world today.
Watch the interview here.
There Is More Than One Type Of Intelligence
In Brief
The Facts:

The current model of schooling puts emphasis on one particular type of education, which only covers a small percentage of the population of children. It also educates children in batches, assuming they are all ready for the same thing.

Reflect On:

Is it time to reevaluate this method of schooling to be more inclusive to children with all types of other intellect and creative ability? Is our education system even bringing out the full potential in our children?
What was your experience in school like? Did you hate it or love it? Were you an all 'A' student and found it to be a breeze or did you struggle with understanding some of the subjects you were being taught?
The fact of the matter is, our modern education system is not catering to students as individuals, but lumping them all into the same category and expecting them to succeed, even at things they are not particularly good at or even interested in, while those who got the highest test scores were praised and reminded of their perceived superiority and intelligence.
Because of this, many children experience anxiety around tests because they have been taught over and over again that their value is determined by a letter grade and not their creative abilities. If one child has an amazing skill to write poetry, but then fails a math exam, the latter will be the topic that is looked at and how this failure can be turned around. Often telling the child they need to pay attention more in class or study longer, even though this particular topic may not be where the child's intelligence lies. This system is designed strictly for children to learn how to memorize and regurgitate what they have learned in the form of tests, not giving much leeway for other talents and abilities.
Our modern-day schooling system was designed to train children into becoming the perfect employee, to sit at a desk perhaps, or follow orders effectively for when they are old enough to enter the workforce. The hours, little time for play, taking instructions from a person with authority and unfortunately, leaving little room for exploring creative abilities. This system, in reality, only caters to a small percentage of people in the world, and because of this, we are effectively killing the creative potential that exists within all human beings.
The following video from Sustainable Human sums this up quite nicely.
As it says in the video, "How did we get to the point where we decided the best way to school our children is to sit them behind a desk and insist they keep still?"
Children are meant to play, to explore, to observe, to stumble, to be curious, to ask questions, to find answers, to learn from others and as they go. Sitting them in a desk seems far from natural, yet this is something that to this day we still accept as normal and see it as, 'just the way it is.' However, it hasn't actually been that long that this has been our generally accepted method of schooling.
"If a kid is failing, it is not the kids fault, the fault is within the system."
Let us not forget that there are MANY forms of intelligence and it's time we embraced every single one. The schooling system as we know it, needs an overhaul.
Let's get this discussion started over in the Collective Evolution Group on Facebook.
Much Love
We interviewed David about what is happening within the cabal and disclosure. He shared some incredible insight that is insanely relevant to today.
So far, the response to this interview has been off the charts as people are calling it the most concise update of what's happening in our world today.
Watch the interview here.