The Man Who Was Sentenced To 14 Years For Making 'Anti-Gravity' Vehicles
In Brief
The Facts:

Anti-gravity technology has been around for decades, and there is much proof of that. One of the pioneers was Otis T. Carr, who was subjected to large amounts of ridicule and difficulty while pursuing his developments.

Reflect On:

If the release of this technology would completely wipe out the Oil Industry and collapse the monetary system, does that legitimize the suppressing of it? Is our collective consciousness ready for technologies that would change our entire society?
Take a moment and breathe. Place your hand over your chest area, near your heart. Breathe slowly into the area for about a minute, focusing on a sense of ease entering your mind and body. Click here to learn why we suggest this.
It's astonishing to me how the topic of anti-gravity is still be placed in the "conspiracy theory" realm. This isn't the stuff of conspiracy theories or "fringe" science, it's a field full of reputable scientists and scholars, and real-world examples that have come not only from hard evidence but from extremely credible witness testimony as well.  One thing is for certain when talking about such topics: one must delve into the black budget world.
Take, for example, a recent investigation conducted by a Michigan State University professor and a former secretary from the Department of Housing and Development. Together, with a team of Ph.D students, they uncovered approximately $21 trillion that went missing and unaccounted for from the Department of Defense as well as the Department of Housing and Development. Why is this relevant? Because they discovered that the money was going to fund black budget, off the books programs that require no oversight from Congress.  This black budget world has been in operation for many years. You can read more about it here and here in two articles I've previously written on the subject.
--> Become A CE Member: The only thing that keeps our journalism going is YOU. CE members get access to exclusive benefits and support our shared mission.. Click here to learn more!
Breakaway Civilization
The black budget world encompasses a separate civilization (Richard Dolan, "Breakaway Civilization") that has used tremendous amounts of resources in all areas, from science to archaeology, to move itself far ahead of the mainstream world technologically. How many people does it employ? Who is operating it? Many of these questions remain unknown, but if you follow the money it will give you perhaps somewhat of an idea.
Any civilian who invents technology that rivals the black budget world has always been subjected to harassment, and has difficulty getting their innovations or inventions out to the public. That's because these technologies have been 'classified', for if they were made public it would change everything, severely threatening the tremendous amount of power and control the global elite has over the human population.
The technology that's been developed within these programs could change the world, but instead it's used within the military-industrial complex for self-serving purposes, or so it seems. Efficient energy-generating devices that could eliminate the use of oil, or any other modern day fuel source for that matter, have been subjected to patent suppression.
Suppressed Technology List From 1971
For example, the previous list regarding technology suppressed was obtained by researcher Michael Ravnitzky in 1971. Most of the technology listed seems to be related to various military applications. You can view that list here. As Steven Aftergood from the Federation of American Scientists reports:
"The 1971 list indicates that patents for solar photovoltaic generators were subject to review and possible restriction if the photovoltaics were more than 20% efficient. Energy conversion systems were likewise subject to review and possible restriction if they offered conversion efficiencies in "excess of 70-80%." (source)
Why would higher energy efficiencies be a "national security threat?" If this is true, we are talking about solar technology that goes far beyond the best commercial panels available today, which usually can't even generate 20 percent efficiency.
"These concepts have been proven in hundreds of laboratories throughout the world and yet they have not really seen the light of day. If these technologies were to be set free worldwide, the change would be profound, it would be applicable everywhere. These technologies are absolutely the most important thing that has happened in the history of the world"  – Brian O'Leary, Former Nasa Astronaut and Princeton Physics Professor, speaking about over-unity energy, or 'free' energy.  (source)
Anti-Gravity
Anti-Gravity technology most probably falls into this category. According to the very first director of the CIA, Roscoe Hiellenkoetter, we know that there was an "official campaign of secrecy and ridicule" with regards to UFOs while stating that Air Force officers were well aware of their existence. Today we have electro-optical data and even physical evidence, not to mention credible witness testimony of technologies performing and demonstrating this type of technology.
We have statements from previous as well as the most recently retired Directors of Lockheed Martin Aerospace programs, like Steve Justice.  So, what did Mr. Justice have to say? Well, a lot of things. One of the first statements he made using the To The Stars platform is that, when it comes to the technologies he's been around, worked with, and seen, it would be an understatement to call them revolutionary. They are also working on a craft that mimics observations they've seen in UFOs, as he stated:
 It mimics the capabilities observed in unidentified aerial phenomenon by employing a driver system that alters the space-time metric. We have glimpses of how the physics of this works, but we need to harvest technologies from the Science Division to "realize" the capability. (source)
So, as you can see, this type of technology is no joke. Many of the UFOs we see may be made by humans, others, probably not. The point is, they are here, within the "science division."
"It is my thesis that flying saucers are real and that they are space ships from another solar system." – Hermannn Oberth , one of the founding fathers of modern rocketry.
Anti-gravity technology has been around for a long time.
A paper entitled "Outside The Box" Space & Terrestrial Transportation & Energy Technologies For The 21st Century written by Professor Theodore Lodre of the University of New Hampshire reviews the development of anti-gravity research in the United States and emphasizes how "research activity seemed to disappear by the mid-1950s." It then looks into recently reported scientific findings and witness testimonies "that show us that this research and technology is alive and well and very advanced. The revelations of findings in this area will alter dramatically our 20th-century view of physics and technology and must be considered in planning for both energy and transportation needs in the 21st century."
Otis T. Carr
Otis T. Carr is one of many examples throughout history where there are clues that highly advanced technologies like anti-gravity crafts are actually legit. Given everything we know now, as well as what happened to Carr, only strengthens this suspicion.
In the late 1950s, OTC Enterprises, Inc. of Baltimore, Maryland put out a statement that was published in the April 3rd edition of the Baltimore Enterprise. The statement came in the form of a claim that the company was ready to manufacture a flying saucer that was capable of travel outside of the Earth's atmosphere. All that was needed was a massive amount of funding, approximately 20 million dollars. The equivalent to that today is probably several billion.
Now keep in mind that this is the 1950s. There was a big wave of UFO sightings at this time, especially after the Atom bomb was dropped. The topic was getting a lot of mainstream media attention. Rumors of "crashed craft, and bodies recovered," that Apollo 14 astronaut Edgar Mitchell claimed were real were running rampant at this time. Did 'the powers that be' or 'the military-industrial complex' have saucer technology at this time? Based on my research, it certainly seems that way.  Take, for example, a document from the Central Intelligence Agency's Electronic reading room:
"A German newspaper recently published an interview with George Klein, famous German engineer and aircraft expert, describing the experimental construction of 'flying saucers' carried out by him from 1941 to 1945." (source)
The document goes on to describe how many people believed 'flying saucers' to be a postwar development. They were actually in the planning stages in German aircraft factories as early as 1941. The document then goes on to mention an experiment described by Klein:
 "The "flying saucer" reached an altitude of 12,400 meters within 3 minutes and a speed of 2,200 kilometers per hour. Klein emphasized that in accordance with German plans, the speed of these "saucers" would reach 4,000 kilometers per hour. One difficulty, according to Klein, was the problem of obtaining the materials to be used for the construction of the "saucers," but even this had been solved by German engineers toward the end of 1945, and construction on the objects was scheduled to begin, Klein added.
Otis T. Carr, as mentioned above, had similar claims. He even put on numerous demonstrations for the public and amassed millions of dollars from extremely wealthy people to do so. If they did not believe him, and if he had not shown some promise, how did he receive all of this funding?
Think about it. We now know for a fact that global militaries have long had an interest in the UFO phenomenon. They've been asking who, what, where, when and how for a very long time, and of course it's considered a national security matter. Any individual who has invented, or shows potential to invent craft that is capable of extreme, technologically advanced maneuvers, would not be allowed to develop it, and would be ridiculed like Carr was. This is why the invention secrecy act was made in the early 1950s. In my opinion, its true aimto protect the interest of the power under the guise of 'national security.'
Carr's Goal
His goal was to fly to the moon in his "circular foil spacecraft" on December 7th, 1959.
The "spacecraft" allegedly invented by Carr is much like the ideal spaceship imagined by Plantier and others. It is propelled by an artificial gravitic field (the "Carrotto gravity motor") and if this were not miracle enough, it uses no fuel. It is powered by the "Utron electric accumulator"–a short of self-charging battery which "uses the Sun's magnificent force of Electromagnetism by means of natural reproductive chemistry, to quote the interesting language of the Enterprise ad. (Centre for UFO Studies)
Below is a picture of Wayne Aho, a military intelligence officer who was going to accompany Carr on his trip to the moon. He claimed it would only take a few hours. Carr is second from the left.
Otis T. Carr was actually a protege of Nikola Tesla, according to independent researcher Doug Yurchey: "Carr and his team constructed a number of fully functional flying saucers in the late 1950s. The flying disk worked and was demonstrated. Carr was serious about 'taking his craft to the Moon. 'However, two weeks after a dramatic test flight, their laboratory was forcibly closed, Federal agents confiscated equipment as well as all documentation. Authorities told them Carr's project would 'destroy the monetary system of the United States.'  (source)
Carr was heavily criticized, ridiculed, and made a fool of by the press. I could not verify whether his connection with Tesla is actually true or not, but rumors of Carr's relationship with Tesla were rampant, even in the 50's.
Classic Hit Job
This is a classic story of someone who received lots of public attention and had many failed demonstrations, and apparently, many successful ones as well. Like other great inventors, Carr's work was seized by the government. This happened in January 1961, when Louis J. Lefkowitz, the Attorney General of New York at the time, stated that "Carr had swindled $50,000, and later that year True Magazine labelled him as a hoaxer." By then, his laboratory had been raided and destroyed, and the group of engineers had been ordered to disband and cease contact with one another.
This is very fishy, and similar to the Stan Meyer water powered car story. Looking at it today, it was quite clear that this was a huge attempt to shut Carr down. These developments and curiosities were not for our world, but were reserved for the black budget world. He was denied an appeal on March 1st, 1961 for his 'crime'. He could not pay the fine and served part of a 14-year jail term. After that little is known about what became either of Carr himself or the craft, but they never flew again. Carr is reported to have suffered from ill-health, a broken man. He passed away apparently in Gardnerville, Nevada, in 2005.
In 1952, Carr actually wrote a book, called "Dimensions of Mystery." The book was mostly written in 'code,' according to him, it was the complete layout of his plan and how his machine worked, yet for a reader like me, or anyone for that matter, it's impossible to understand. He did switch from user code and poetry, to actually writing some real statements regarding his intentions, as you can see here:
Below is a discussion about the tests that would need to be conducted, and, apparently were conducted.
Hal Puthoff
As you can see, just like with most other stories of great technological advancements (there are too many examples to choose from), the global elite has always demonstrated their supremacy by ridiculing concepts that don't really fit the frame. There are multiple technological developments that have been completely hushed up, for "national security purposes."
Take this quote from Hal Puthoff, for example. It's not with regards to UFOs but more so "free-energy," which actually go hand in hand and relate directly to each other. Puthoff has published numerous papers on electron-beam devices, lasers and space propulsion and has patents issued in the laser, communications, and energy fields. Dr. Puthoff's professional background spans more than five decades of research at General Electric, Sperry, the National Security Agency, Stanford University and SRI International. Dr. Puthoff regularly advises NASA, the Department of Defense and intelligence communities, corporations and foundations. Here's what he's had to say:
"I've been taken out on aircraft carriers by the Navy and shown what it is we have to replace if we have new energy sources to provide new fuel methods."
Puthoff is now part of the 'To The Stars' academy, who have publicly disclosed that they are working on technology that mimics the flight patterns of observed UFOs.
The Design
Below is  the design of the OTC X-1
Please go to Project Camelots write up on Otis, find this picture and click on each image to view it in high resolution.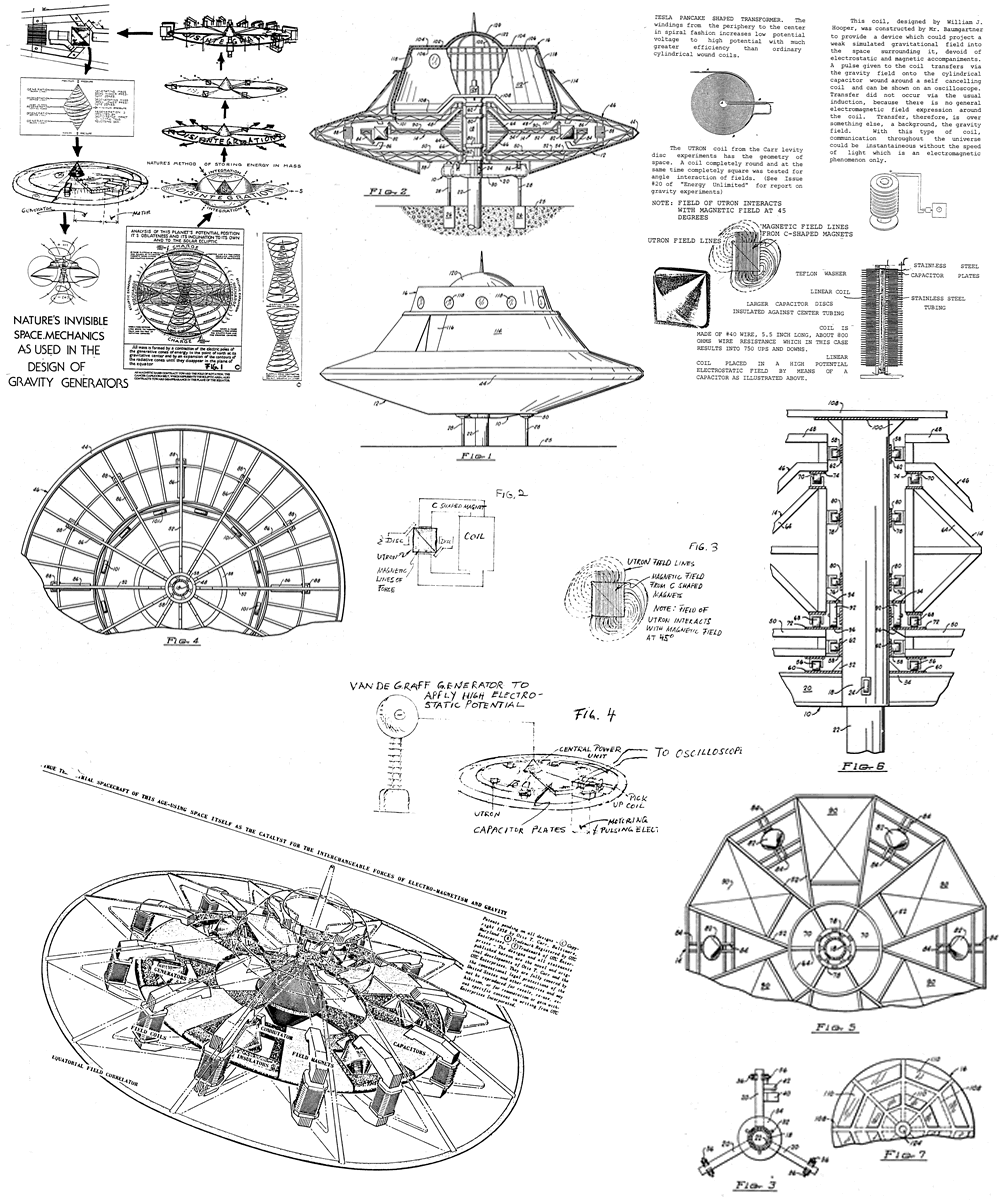 The Takeaway
Let's keep an open mind, and not to brush off revolutionizing technologies just because they break the laws of physics as we know them; after all, such laws are made to be broken. It's similar to when Lord Einstein published his paper on special relativity that completely shattered what we thought we knew back then. Today, we are more aware of how the giant national security apparatus intervenes, and given all of the information that's emerged regarding the subject of exotic technologies like anti-gravity crafts, it's easier to see 70 years after the fact what really happened to Otis T. Carr.
Click below to watch a sneak peek of our brand new course!
Our new course is called 'Overcoming Bias & Improving Critical Thinking.' This 5 week course is instructed by Dr. Madhava Setty & Joe Martino
If you have been wanting to build your self awareness, improve your.critical thinking, become more heart centered and be more aware of bias, this is the perfect course!
Melinda Gates Was Concerned About Her Husband's Relationship With Jeffrey Epstein, WSJ Reveals
In Brief
The Facts:

The Wall Street Journal is reporting that one possible reason for the divorce of Bill and Melinda gates may be due to his supposed relationship with convicted sex offender Jeffrey Epstein.

Reflect On:

Did you know that elite child sex trafficking may be a real issue among certain circles? We are bringing attention to this recent story to bring awareness to this fact.
Take a moment and breathe. Place your hand over your chest area, near your heart. Breathe slowly into the area for about a minute, focusing on a sense of ease entering your mind and body. Click here to learn why we suggest this.
Make sure you follow Collective Evolution on Telegram as we have no idea how much longer we will be on Facebook.
What Happened: Bill and Melinda Gates recently announced that they will be divorcing. They haven't revealed the specific reason for their divorce, but the Wall Street Journal has reported that one source of concern for Ms. Gates "was her husband's dealing with convicted sex offender Jeffrey Epstein, according to the people and a former employee of their charity, the Bill & Melinda Gates Foundation. Ms. Gate's concern about the relationship dated as far back as 2013, the former employee said."
Business Insider explains:
Sources told The Daily Beast last week that Bill Gates' willingness to meet as early as 2011 with Epstein — who by then had already pleaded guilty to soliciting an underage girl in 2008 — "still haunts" Melinda Gates. According to the outlet, the couple met with Epstein in New York City at his Upper East Side mansion in September 2013. Sources told The Daily Beast that soon after the meeting, Melinda Gates told friends of her discomfort during the encounter. Several people close to the couple reportedly said she was "furious" over her husband's relationship with Epstein. Bill Gates told The Journal in 2019 that he was not friends with Epstein. Documents reviewed by The Journal say that after The New York Times first reported in October 2019 that Bill Gates had met more than once with Epstein, Melinda Gates called her advisors multiple times.
According to the National Post, days before Epstein died in a New York Prison he named venture capitalist Boris Nikolic as a backup executor of his will. Nikolic had worked as a science advisor to Bill Gates. The Post goes on to mention that in an emailed statement at the time, "Nikolic told Bloomberg that Epstein had not consulted him about the will and that he had no intention to fulfill the duties."
Nikolic is seen in the picture above on the left side of Gates. The others, from the left are, at the time, a senior JP Morgan executive James E. Staley, former Treasury Secretary Lawrence Summers, Mr. Epstein and of course Bill Gates.
This is the only other connection between Gates and Epstein that seems to exist. Gates met with Epstein in 2011, 2013 and 2018 it appears although no information as to why is available. Rumours related to philanthropy seem to be the reason but again, these meetings had occurred after Epstein was a convicted sex offender.
In 2014, multiple media outlets reported that police arrested  a Seattle man at the Gates' mansion for allegedly collecting more than 6,000 child rape photos. Rick Allen Jones, reportedly employed as an engineer at the Gates' home, is also accused of trading pornography images via Gmail. None of the activity Jones was involved in occurred at the Gates' residence except for his arrest.
Why This Is Important: It's no doubt odd that Bill Gates would meet with Epstein multiple times, especially after he was convicted as a sex offender. Perhaps these meetings were the only ones made public and there were more we don't know about? Who really knows, we will probably never get the truth as to why they had this kind of relationship, if you can even call it that. We've seen the same thing with Prince Andrew, except Bill Gates doesn't have any sexual offence accusations against him like Andrew does.
 Last year the former CEO of Reddit, Ellen K. Pao, tweeted that Ghislaine Maxwell "was at the Kleiner holiday party in 2011" but she "had no desire to meet her much less have a photo taken with her. We knew about her supplying underage girls for sex, but I guess that was fine with the "cool" people who managed the tightly controlled guest list." After the tweet, Pao removed it and then made her profile private.
Maxwell, Epstein's close associate is now on trial facing multiple sex offences and child sex trafficking charges, just like Epstein. It's concerning that many people  seemed to be well aware of Epstein's activities yet nobody really went public.
The Epstein saga, and all of the strange connections that go along with it are important because it highlights a very real problem that doesn't seem to receive enough attention within the mainstream, and that's the issue of supposed elite level child sex trafficking.
These kinds of rumours are quite prevalent among high ranking people, as a paper published in European Psychiatry details:
Research eventually led to the Franklin scandal that broke in 1989 when hundreds of children were apparently flown around the US to be abused by high ranking 'Establishment' members. Former state senator John W DeCamp, cited as one of the most effective legislators in Nebraska history, is today attorney for two of the abuse victims. A 15 year old girl disclosed that she had been abused since the age of 9 and was exposed since the age of 9 and was exposed to 'ritual murder' of a new born girl, a small boy (who was subsequently fried and eaten) and three others.
It's a very deep issue, with countless examples of accusations and convictions involving high ranking people which include Vatican officials, Royal Family members, Prime Ministers, Presidents, politicians, Hollywood elite, financial elite and many more. You can read about more examples here if interested.
Sonia Poulton, a British journalist, social commentator, and filmmaker, has been investigating the dark web of pedophilia for years. Some of her research has been compiled into a documentary called "Pedophiles In Parliament." You can access that here if interested.
We have conducted an interview with a survivor of elite child sex trafficking/slavery. You can access the full interview and start your free trial HERE on CETV, a platform we created to help combat internet censorship and allow us to continue to do our work and get the word out about various issues and topics.
The Takeaway: Much has come to light over the past few years regarding this issue, but if it is prevalent at the highest levels, how can it be stopped? If those with the power to stop this issue and the ones we approach to deal with this issue are involved, what steps can we take? Take Cardinal George Pell, for example, a high ranking Vatican official who was convicted of child sexual abuse. His charges were dropped and he was set free. It's disturbing to contemplate the idea that Cardinal George Pell is or would be involved in such things, after all, he himself established The Diocesan Commission Into Sexual Abuse in 1996.
Perhaps some of those whom we view as idols, or gods and saviours are actually not what they seem? Perhaps it's time for humanity to turn to itself instead of continually relying on big politics and powerful people to solve our issues. Perhaps that's why they never get solved? Politics has become a cesspool of corruption and a system that does not seem to be adequate at dealing with many of the issues we face today, yet we continually turn to it for answers and permission. Given the amount of corruption within the system, the idea that sex trafficking is prevalent in some of these circles should come as no surprise.
The mainstream has failed to have appropriate conversations around elite level child sex trafficking and pedophilia, many people would consider it to be a "conspiracy theory" if you brought it up to them. It really goes to show how media sources have become a hub for disinformation and perception manipulation in many areas. It's important to start having these discussions if we are going to make any progress with regards to solving it, regardless of how unbelievable it may seem.
Click below to watch a sneak peek of our brand new course!
Our new course is called 'Overcoming Bias & Improving Critical Thinking.' This 5 week course is instructed by Dr. Madhava Setty & Joe Martino
If you have been wanting to build your self awareness, improve your.critical thinking, become more heart centered and be more aware of bias, this is the perfect course!
Why Can't We Question COVID's Origins?
Take a moment and breathe. Place your hand over your chest area, near your heart. Breathe slowly into the area for about a minute, focusing on a sense of ease entering your mind and body. Click here to learn why we suggest this.
Recall back to the beginning of the COVID pandemic and discussion were had about the origins of the virus. Was it naturally occurring, coming from an infected bat sold in a wet-market in China, or was it created in a lab and leaked whether on purpose or accidentally? At the time, the ladder was sharply considered a conspiracy theory, and if you ask most people today, inevitably including fact checkers, they will tell you this is true – COVID coming from a lab is a mere conspiracy theory.
But still today, many don't agree with this hypothesis.
On May 3rd, journalist Nicholas Wade, a science writer who has worked on the staff of Nature, Science and, for many years, on the New York Times, penned an extremely lengthy piece on Medium called: Origin of Covid — Following the Clues.
In it he explores how the 'debunking' of the lab origins story came to be, and the stark conflict of interest associated with the letter published by the Lancet claiming the virus was naturally occurring. The letter was written by Dr. Peter Daszak, president of the EcoHealth Alliance of New York. His organization funded coronavirus research at the Wuhan Institute of Virology. This means Dr. Daszak would at least partly responsible for COVID leaking from that lab if it in was made there and in fact had leaked. Yet this stark conflict of interest was never claimed in the Lancet letter that became the political piece that encouraged the world not to consider lab origins.
As time has gone on, as Wade suggests, the evidence that COVID indeed originated in a lab continues to mount:
After all, the more months pass without the natural emergence theory gaining a shred of supporting evidence, the less plausible it may seem. Perhaps the international community of virologists will come to be seen as a false and self-interested guide. The common sense perception that a pandemic breaking out in Wuhan might have something to do with a Wuhan lab cooking up novel viruses of maximal danger in unsafe conditions could eventually displace the ideological insistence that whatever Trump said can't be true.
Make no mistake, and I have to write this in or else we risk further demonetization and de-platforming, mainstream media and fact checkers will assure you COVID did not originate in a lab.
As I read through Wade's extensive research into the origins of COVID, I began to see a possible pattern: the same ridicule and shutting down of scientific conversation regarding the origins of COVID that occurred throughout 2020 appears to be occurring right now when scientists and virologists question current vaccinations and roll out methods.
Multiple scientists have drawn questions about COVID vaccines, and they are only met with censorship and the label of "anti-vaxxer", even when they are themselves pro-vaccine.
We had a discussion about this, and we also gave an inside look at how internet fact checking and Big Tech are being sure vaccine  story doesn't get out. We wanted to give people an inside look at how our narratives, and financial well being as a company, is held hostage until we agree with change them at the behest of internet fact checkers.
Click below to watch a sneak peek of our brand new course!
Our new course is called 'Overcoming Bias & Improving Critical Thinking.' This 5 week course is instructed by Dr. Madhava Setty & Joe Martino
If you have been wanting to build your self awareness, improve your.critical thinking, become more heart centered and be more aware of bias, this is the perfect course!
UFOs: More Advanced Intelligent Life Could Exist Right Here On Earth
In Brief
The Facts:

The UFO phenomenon may not only be indicative of extraterrestrial life, but perhaps intelligent life from here on our planet, perhaps in other realms or dimensions that are not always perceivable to our senses.

Reflect On:

Why is the UFO phenomenon receiving extreme amounts of legitimacy within the mainstream after years of ridicule?
Take a moment and breathe. Place your hand over your chest area, near your heart. Breathe slowly into the area for about a minute, focusing on a sense of ease entering your mind and body. Click here to learn why we suggest this.
Unidentified Flying Objects (UFOs), now commonly known as Unidentified Aerial Phenomenon (UAPs) have become a big topic of discussion within the mainstream as of late. We are talking about objects that have been photographed, videotaped, tracked on radar, and seen by high ranking military personnel as well as civilians on the ground and in air-craft. These objects perform maneuvers and travel at speeds no known man made piece of machinery can. They truly defy our understanding of aerodynamics and, and in some cases, physics.
The next discussion to arise is, are those manning these craft human or something else?
Based on my years of research, just as there was strong evidence for the existence of these objects decades ago when they were deemed a conspiracy theory, there is strong evidence now, and in my opinion, there is evidence these objects are not human made.
As far as credible sources that support this idea, Colonel Robert Friend, in his very last interview before his death, who was a director of Project Blue Book from 1958-1962, suggested that the U.S. Air Force knew what these objects were even at that time. The former director of the Pentagon's UFO program, Lue Elizondo, recently gave an interview to the NY Post saying that he had a meeting with a very senior Department of Defense official who mentioned he knew the craft were not of human origin as well. Former Air Force Colonel Ross Dedrickson also claimed to have information that these objects were not human made, and from what he knew, the beings are benevolent, concerned about the well being of our planet.
I recognize not all people will consider these sources 'credible evidence.'
Beyond these testimonies are things like documented cases of sightings or "contact" experiences. According to these cases, people report both benevolent and malevolent experiences, often linked to the UFO phenomenon.
So, if they are not human, what are they? The obvious truth is, we don't know, but there's no harm in speculating.
Are They From Here?
Plato once said, as documented in Phaedo:
And upon the Earth are animals and men, some in a middle region, others (elementals) dwelling about the air as we dwell about the sea; others in islands which the air flows round, near the continent; and in a word, the air is used by them as the water and the sea are by us, and the ether is to them what the air is to us.
The truth is, much of our "reality" isn't even perceivable to our human senses. We can only see within a tiny frequency of the entire visible light spectrum. We have to use special equipment like infrared telescopes and more to see things that we otherwise couldn't. Quantum mechanics and the emergence of post-material science has shown us that there are "invisible" parts of what we perceive to be our physical and material world that make up the vast majority of it. Some, like Plato, referred to this as the ether, or aether. Who is to say that life does not dwell in these realms? They exist all around us, perhaps some of these objects originate from there – or as you might say, right here on Earth.
Another interesting quote from ancient philosophy:
"And they allowed Apollonius to ask questions; and he asked them of what they thought the cosmos was composed; but they replied; "Of elements." "Are there then four?" he asked. "Not four," said Larchas,  "but five." "And how can there be a fifth," said Apollonius, "alongside of water and air and earth and fire?" "There is the ether," replied the other, "which we must regard as the stuff of which gods are made; for just as all mortal creatures inhale the wire, so do immortal and divine natures inhale the ether." "Am I," said Appollonius, "to regard the universe as a living creature?" "Yes," said the other. – The Life of Apollonius of Tyana, Philostratus, 220AD (source)
Even Rene Descartes proposed the theory that "space," (what we perceive as empty space) is completely filled with matter in various states. There is evidence to suggest he was executed by the Church because his science entered into the realm of metaphysics.
Many ancient cultures have stories and texts which refer to 'magical' and 'mythical' lands that co-exist alongside our reality. Whether these places are actual physical places, or places that reside in 'another dimension,' for lack of a better term, has been the subject of great discussion within various material throughout the ages. These stories can be found in ancient Buddhism and Vedic philosophy, along with oral stories passed down from Native cultures throughout the world.
According to Paracelsus, a German-Swiss physician and alchemist (like Issac Newton) who established the role of chemistry in medicine, in his Philosophia Occulta, translated by Franz Hartmann: 
"Man lives in the exterior elements and the Elementals live in the interior elements. The latter have dwellings and clothing, manners and customs, languages and governments of their own, in the same sense as the bees have their queens and herds of animals their leaders." The Secret Teachings of All Ages, An Encyclopedic Outline of Masonic, Hermetic, Qabbalistic and Rosicrucian Symbolical Philosophy, 1928, Manly P. Hall
What's also interesting is that these objects are commonly observed entering or exiting our oceans. Sometimes when they "fly away" they don't appear to fly away, but rather dematerialize. In other cases they are observed "taking off" at tremendous speeds.
The point is, there could be a number of different explanations, and chances are not all objects originate from the same source. It truly calls into question what we think we know about the nature of reality. And I feel we're at an important time to question this curiously. Recall that there was a time when scientists, like Galileo, were condemned for the discoveries that they made and ideas they presented. Are we really any different today? How open are or minds to concepts of reality that don't fit within the current framework of accepted knowledge?
One thought I've often had is that it can feel concerning to that topics like UFOs have to be presented in mainstream media before most will see it as legitimate. Footage has to be verified by the Pentagon, as it recently was, for the masses to realize that these objects are indeed real. Less than a decade ago the evidence for the existence of these objects was already very strong.  Yet we have to be told by government or mainstream media before the general populace can see it as real?
Does this highlight just how reliant humanity has become on these sources for information? What are the implications of that? As with so many geopolitical issues, it's hard to trust mainstream media, or government for that matter, to get an accurate depiction of what's really happening. This is why I am concerned that so many people rely on these sources when it comes to an honest depiction of the UFO phenomenon. Perhaps this phenomenon is one that requires a citizens initiative as well?
One thing to look out for with critical thinking is the US government's suspicion that these objects are Russian or Chinese in origin. I believe this narrative is an effective to heighten the national security state, for no legitimate reason, while simultaneously controlling the extraterrestrial and/or other life hypothesis that goes with this phenomenon.
Perhaps they will paint these objects as a threat, even though the vast majority of the time these objects perform evasive maneuvers to avoid our own aircraft. We seem to be the ones chasing them.
Click below to watch a sneak peek of our brand new course!
Our new course is called 'Overcoming Bias & Improving Critical Thinking.' This 5 week course is instructed by Dr. Madhava Setty & Joe Martino
If you have been wanting to build your self awareness, improve your.critical thinking, become more heart centered and be more aware of bias, this is the perfect course!