The Man Who Was Sentenced To 14 Years For Making 'Anti-Gravity' Vehicles
In Brief
The Facts:

Anti-gravity technology has been around for decades, and there is much proof of that. One of the pioneers was Otis T. Carr, who was subjected to large amounts of ridicule and difficulty while pursuing his developments.

Reflect On:

If the release of this technology would completely wipe out the Oil Industry and collapse the monetary system, does that legitimize the suppressing of it? Is our collective consciousness ready for technologies that would change our entire society?
It's astonishing to me how the topic of anti-gravity is still be placed in the "conspiracy theory" realm. This isn't the stuff of conspiracy theories or "fringe" science, it's a field full of reputable scientists and scholars, and real-world examples that have come not only from hard evidence but from extremely credible witness testimony as well.  One thing is for certain when talking about such topics: one must delve into the black budget world.
Take, for example, a recent investigation conducted by a Michigan State University professor and a former secretary from the Department of Housing and Development. Together, with a team of Ph.D students, they uncovered approximately $21 trillion that went missing and unaccounted for from the Department of Defense as well as the Department of Housing and Development. Why is this relevant? Because they discovered that the money was going to fund black budget, off the books programs that require no oversight from Congress.  This black budget world has been in operation for many years. You can read more about it here and here in two articles I've previously written on the subject.
Breakaway Civilization
The black budget world encompasses a separate civilization (Richard Dolan, "Breakaway Civilization") that has used tremendous amounts of resources in all areas, from science to archaeology, to move itself far ahead of the mainstream world technologically. How many people does it employ? Who is operating it? Many of these questions remain unknown, but if you follow the money it will give you perhaps somewhat of an idea.
Any civilian who invents technology that rivals the black budget world has always been subjected to harassment, and has difficulty getting their innovations or inventions out to the public. That's because these technologies have been 'classified', for if they were made public it would change everything, severely threatening the tremendous amount of power and control the global elite has over the human population.
The technology that's been developed within these programs could change the world, but instead it's used within the military-industrial complex for self-serving purposes, or so it seems. Efficient energy-generating devices that could eliminate the use of oil, or any other modern day fuel source for that matter, have been subjected to patent suppression.
Suppressed Technology List From 1971
For example, the previous list regarding technology suppressed was obtained by researcher Michael Ravnitzky in 1971. Most of the technology listed seems to be related to various military applications. You can view that list here. As Steven Aftergood from the Federation of American Scientists reports:
"The 1971 list indicates that patents for solar photovoltaic generators were subject to review and possible restriction if the photovoltaics were more than 20% efficient. Energy conversion systems were likewise subject to review and possible restriction if they offered conversion efficiencies in "excess of 70-80%." (source)
Why would higher energy efficiencies be a "national security threat?" If this is true, we are talking about solar technology that goes far beyond the best commercial panels available today, which usually can't even generate 20 percent efficiency.
"These concepts have been proven in hundreds of laboratories throughout the world and yet they have not really seen the light of day. If these technologies were to be set free worldwide, the change would be profound, it would be applicable everywhere. These technologies are absolutely the most important thing that has happened in the history of the world"  – Brian O'Leary, Former Nasa Astronaut and Princeton Physics Professor, speaking about over-unity energy, or 'free' energy.  (source)
Anti-Gravity
Anti-Gravity technology most probably falls into this category. According to the very first director of the CIA, Roscoe Hiellenkoetter, we know that there was an "official campaign of secrecy and ridicule" with regards to UFOs while stating that Air Force officers were well aware of their existence. Today we have electro-optical data and even physical evidence, not to mention credible witness testimony of technologies performing and demonstrating this type of technology.
We have statements from previous as well as the most recently retired Directors of Lockheed Martin Aerospace programs, like Steve Justice.  So, what did Mr. Justice have to say? Well, a lot of things. One of the first statements he made using the To The Stars platform is that, when it comes to the technologies he's been around, worked with, and seen, it would be an understatement to call them revolutionary. They are also working on a craft that mimics observations they've seen in UFOs, as he stated:
 It mimics the capabilities observed in unidentified aerial phenomenon by employing a driver system that alters the space-time metric. We have glimpses of how the physics of this works, but we need to harvest technologies from the Science Division to "realize" the capability. (source)
So, as you can see, this type of technology is no joke. Many of the UFOs we see may be made by humans, others, probably not. The point is, they are here, within the "science division."
"It is my thesis that flying saucers are real and that they are space ships from another solar system." – Hermannn Oberth , one of the founding fathers of modern rocketry.
Anti-gravity technology has been around for a long time.
A paper entitled "Outside The Box" Space & Terrestrial Transportation & Energy Technologies For The 21st Century written by Professor Theodore Lodre of the University of New Hampshire reviews the development of anti-gravity research in the United States and emphasizes how "research activity seemed to disappear by the mid-1950s." It then looks into recently reported scientific findings and witness testimonies "that show us that this research and technology is alive and well and very advanced. The revelations of findings in this area will alter dramatically our 20th-century view of physics and technology and must be considered in planning for both energy and transportation needs in the 21st century."
Otis T. Carr
Otis T. Carr is one of many examples throughout history where there are clues that highly advanced technologies like anti-gravity crafts are actually legit. Given everything we know now, as well as what happened to Carr, only strengthens this suspicion.
In the late 1950s, OTC Enterprises, Inc. of Baltimore, Maryland put out a statement that was published in the April 3rd edition of the Baltimore Enterprise. The statement came in the form of a claim that the company was ready to manufacture a flying saucer that was capable of travel outside of the Earth's atmosphere. All that was needed was a massive amount of funding, approximately 20 million dollars. The equivalent to that today is probably several billion.
Now keep in mind that this is the 1950s. There was a big wave of UFO sightings at this time, especially after the Atom bomb was dropped. The topic was getting a lot of mainstream media attention. Rumors of "crashed craft, and bodies recovered," that Apollo 14 astronaut Edgar Mitchell claimed were real were running rampant at this time. Did 'the powers that be' or 'the military-industrial complex' have saucer technology at this time? Based on my research, it certainly seems that way.  Take, for example, a document from the Central Intelligence Agency's Electronic reading room:
"A German newspaper recently published an interview with George Klein, famous German engineer and aircraft expert, describing the experimental construction of 'flying saucers' carried out by him from 1941 to 1945." (source)
The document goes on to describe how many people believed 'flying saucers' to be a postwar development. They were actually in the planning stages in German aircraft factories as early as 1941. The document then goes on to mention an experiment described by Klein:
 "The "flying saucer" reached an altitude of 12,400 meters within 3 minutes and a speed of 2,200 kilometers per hour. Klein emphasized that in accordance with German plans, the speed of these "saucers" would reach 4,000 kilometers per hour. One difficulty, according to Klein, was the problem of obtaining the materials to be used for the construction of the "saucers," but even this had been solved by German engineers toward the end of 1945, and construction on the objects was scheduled to begin, Klein added.
Otis T. Carr, as mentioned above, had similar claims. He even put on numerous demonstrations for the public and amassed millions of dollars from extremely wealthy people to do so. If they did not believe him, and if he had not shown some promise, how did he receive all of this funding?
Think about it. We now know for a fact that global militaries have long had an interest in the UFO phenomenon. They've been asking who, what, where, when and how for a very long time, and of course it's considered a national security matter. Any individual who has invented, or shows potential to invent craft that is capable of extreme, technologically advanced maneuvers, would not be allowed to develop it, and would be ridiculed like Carr was. This is why the invention secrecy act was made in the early 1950s. In my opinion, its true aimto protect the interest of the power under the guise of 'national security.'
Carr's Goal
His goal was to fly to the moon in his "circular foil spacecraft" on December 7th, 1959.
The "spacecraft" allegedly invented by Carr is much like the ideal spaceship imagined by Plantier and others. It is propelled by an artificial gravitic field (the "Carrotto gravity motor") and if this were not miracle enough, it uses no fuel. It is powered by the "Utron electric accumulator"–a short of self-charging battery which "uses the Sun's magnificent force of Electromagnetism by means of natural reproductive chemistry, to quote the interesting language of the Enterprise ad. (Centre for UFO Studies)
Below is a picture of Wayne Aho, a military intelligence officer who was going to accompany Carr on his trip to the moon. He claimed it would only take a few hours. Carr is second from the left.
Otis T. Carr was actually a protege of Nikola Tesla, according to independent researcher Doug Yurchey: "Carr and his team constructed a number of fully functional flying saucers in the late 1950s. The flying disk worked and was demonstrated. Carr was serious about 'taking his craft to the Moon. 'However, two weeks after a dramatic test flight, their laboratory was forcibly closed, Federal agents confiscated equipment as well as all documentation. Authorities told them Carr's project would 'destroy the monetary system of the United States.'  (source)
Carr was heavily criticized, ridiculed, and made a fool of by the press. I could not verify whether his connection with Tesla is actually true or not, but rumors of Carr's relationship with Tesla were rampant, even in the 50's.
Classic Hit Job
This is a classic story of someone who received lots of public attention and had many failed demonstrations, and apparently, many successful ones as well. Like other great inventors, Carr's work was seized by the government. This happened in January 1961, when Louis J. Lefkowitz, the Attorney General of New York at the time, stated that "Carr had swindled $50,000, and later that year True Magazine labelled him as a hoaxer." By then, his laboratory had been raided and destroyed, and the group of engineers had been ordered to disband and cease contact with one another.
This is very fishy, and similar to the Stan Meyer water powered car story. Looking at it today, it was quite clear that this was a huge attempt to shut Carr down. These developments and curiosities were not for our world, but were reserved for the black budget world. He was denied an appeal on March 1st, 1961 for his 'crime'. He could not pay the fine and served part of a 14-year jail term. After that little is known about what became either of Carr himself or the craft, but they never flew again. Carr is reported to have suffered from ill-health, a broken man. He passed away apparently in Gardnerville, Nevada, in 2005.
In 1952, Carr actually wrote a book, called "Dimensions of Mystery." The book was mostly written in 'code,' according to him, it was the complete layout of his plan and how his machine worked, yet for a reader like me, or anyone for that matter, it's impossible to understand. He did switch from user code and poetry, to actually writing some real statements regarding his intentions, as you can see here:
Below is a discussion about the tests that would need to be conducted, and, apparently were conducted.
Hal Puthoff
As you can see, just like with most other stories of great technological advancements (there are too many examples to choose from), the global elite has always demonstrated their supremacy by ridiculing concepts that don't really fit the frame. There are multiple technological developments that have been completely hushed up, for "national security purposes."
Take this quote from Hal Puthoff, for example. It's not with regards to UFOs but more so "free-energy," which actually go hand in hand and relate directly to each other. Puthoff has published numerous papers on electron-beam devices, lasers and space propulsion and has patents issued in the laser, communications, and energy fields. Dr. Puthoff's professional background spans more than five decades of research at General Electric, Sperry, the National Security Agency, Stanford University and SRI International. Dr. Puthoff regularly advises NASA, the Department of Defense and intelligence communities, corporations and foundations. Here's what he's had to say:
"I've been taken out on aircraft carriers by the Navy and shown what it is we have to replace if we have new energy sources to provide new fuel methods."
Puthoff is now part of the 'To The Stars' academy, who have publicly disclosed that they are working on technology that mimics the flight patterns of observed UFOs.
The Design
Below is  the design of the OTC X-1
Please go to Project Camelots write up on Otis, find this picture and click on each image to view it in high resolution.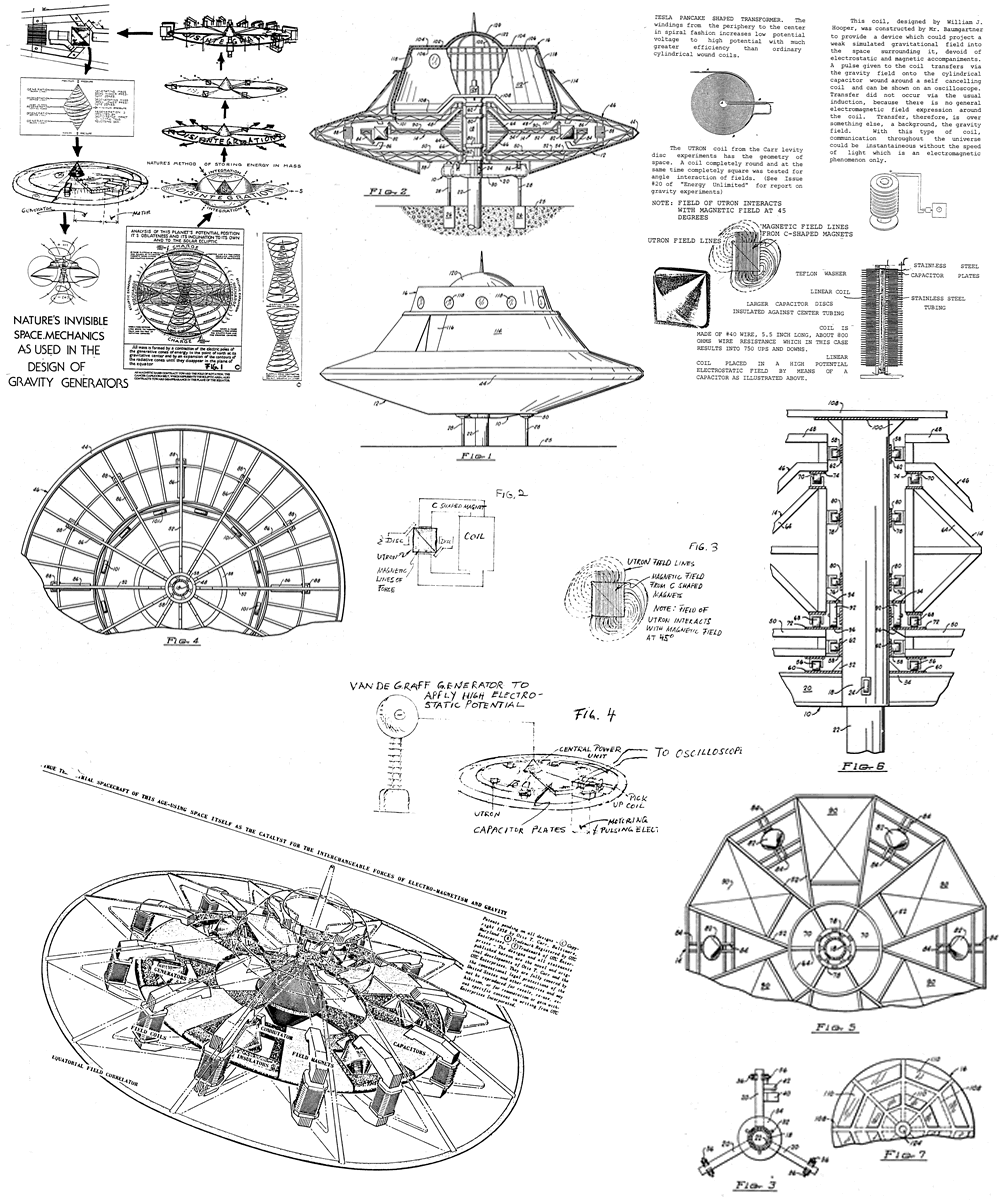 The Takeaway
Let's keep an open mind, and not to brush off revolutionizing technologies just because they break the laws of physics as we know them; after all, such laws are made to be broken. It's similar to when Lord Einstein published his paper on special relativity that completely shattered what we thought we knew back then. Today, we are more aware of how the giant national security apparatus intervenes, and given all of the information that's emerged regarding the subject of exotic technologies like anti-gravity crafts, it's easier to see 70 years after the fact what really happened to Otis T. Carr.
The demand for Collective Evolution's content is bigger than ever, except ad agencies and social media keep cutting our revenues. This is making it hard for us to continue.
In order to stay truly independent, we need your help. We are not going to put up paywalls on this website, as we want to get our info out far and wide. For as little as $3 a month, you can help keep CE alive!
"Existence of Extraterrestrial Space Vehicles OF Enormous Size & Power Is a Fact" – Ex NASA Scientist
In Brief
The Facts:

Ex NASA and Lockheed scientist (Ames Research Centre) Norman Bergrun writes a number of startling facts in his book titled "Ringmakers of Saturn." One of them is the reality of humongous sized extraterrestrial vehicles near Saturn.

Reflect On:

Hundreds, if not thousands of credible testimony is available suggesting that we are not alone, and that some of these 'UFOs' are indeed piloted by extraterrestrial beings. What are the implications of this?
When it comes to credible sources for the existence of UFOs, there is no shortage. The evidence for the existence of UFOs is overwhelming to say the least, whether it's credible witness testimonies from thousands of high-ranking military personnel, academicians, scientists, astronauts, and politicians, or the millions of pages of UFO files published by dozens of governments, or platforms like Tom Delong's To The Stars that has former high-ranking intelligence agency officials on their team. UFO disclosure within the mainstream world is occurring in many different ways.
That being said, it's always been occurring, and it's a sad reality that mainstream media and establishment mouthpieces like CNN and the New York Times have to give attention to something in order for it to gain credibility. Mainstream media has always been used as a tool to program the minds of the masses and influence their perception for ulterior motives, typically to best suit their owners' interests. A great example would be the 'the war on terror.' Now, authoritative figures (like the government) are actively censoring information, deeming certain outlets that address controversial issues as 'fake news' simply because it threatens corporate, political, and elitist agendas. Even mainstream media journalists themselves have been 'blowing the whistle' that these outlets are completely run by intelligence agencies, government agencies and powerful corporations. Are you really that surprised? There are also declassified documents showing the influence intelligence agencies have over not just mainstream media, but academia as well. You can access those documents and read more about it here, as well as here.
Why is the above paragraph relevant to the topic of UFOs? Because this field has a long history of infiltration and disinformation. Given mainstream media's track record of spreading misinformation and hiding the truth, it's not easy to trust anything that comes from these sources, including any information that comes out regarding UFOs. That being said, mainstream UFO disclosure so far seems to involve no deception, as they simply continue to push the fact that these objects are real and have steered away, so far, from any type of false interpretation.
UFOs are no longer taboo, but the extraterrestrial hypothesis as a possible explanation for the their existence still seems to be. Prior to all of the official witness testimonies, electrooptical data, video footage, and pictures being released proving the existence of UFOs, claiming the existence of these crafts was also taboo.
When it comes to the idea that some of these crafts are extraterrestrial in origin, there is no shortage of verified credible sources. One of them is Dr. Bergrun, who had a long career with Ames Research Laboratory, NACA (National Advisory Committee for Aeronautics), Lockheed Missiles and Space Company, and NASA.
In his book, Ringmakers of Saturn, he states multiple times that extraterrestrial vehicles 100% exist. On page 89, for example, he states:
Existence of extraterrestrial space vehicles of enormous size and power is a fact, the significance of which is difficult to grasp, let alone assess. Departing now from the tedious fact-development process, this chapter stands back and takes a philosophical look at the findings.
In his book, Norman provides pictures taken from Voyager 1 and 2 flybys of Saturn to illustrate this.
Luminous sources at Saturn have been observed, notably by Herschel, Knight and Ainslie. In one instance, a fiery source moved suddenly away from the A-ring outer edge. In another unrelated instance a bright, elongated source pursuing a straight-line course entered the A-ring outer edge. After these dramatic events, luminous sources did not become a specific subject of inquiry as might be expected – that is, until this analysis many years later.
Another great quote from the book found on page 49 is:
Evidence is 100 percent positive that propulsive vehicles generate the inner and outer Enke A rings of Saturn. Presence of these units is made fortuitously clear in Plates 5 through 8.
The picture below is from the book. You can see the size of the vehicles, and they are all approximately the same size as planet Earth, although some are larger. Quite mind-altering, isn't it?
The pictures NASA got back from the Voyager mission to Saturn in 1980 were apparently so mind-altering that they locked them up–at least that's what retired U.S. Army Command Sergeant Major Bob Dean said in this lecture. He also showed numerous photographs from the Apollo missions that were never released to the public. You can view some of those photographs here.
Dean was a good friend of Bergrun, and mentioned that Norman had to go through some trouble to get his book published. Below you will see another picture of a 'luminous source' provided in Bergrun's book from the Voyager missions, hovering just outside one of Saturns rings. I circled it in red. This one is also approximately the size of our planet. According to Bergrun, there are several large crafts "proliferating" out around Saturn and its moons.
Extraterrestrial Beings
Norman published this book in 1986, and more than two decades later he gave a rare interview  with Project Camelot's Kerry Cassidy. In that interview he spoke of stories and pictures he'd seen about UFOs, and how these pictures are highly classified. Not only in his book does he show 'luminous' sources within our atmosphere, but he speaks of flying saucers being photographed within Earth's atmosphere as well.
When Kerry asked him directly about extraterrestrial beings, he stated:
"If you want to know about people, kind of thing, there is the ship that picked up the Voyager Capsule at Alameda Naval Shipyard. And they have a picture there of, I think it's the Apollo flight that Buz and Niel were on, but anyway, there's one image there that shows Black People getting off."
He described them as very tall, stating that "7 feet would be a conservative estimate."
You can listen to and watch that full interview HERE.
I'd like to leave you with this clip from the THRIVE documentary, it's one of my favourites and I've shared it in several of my articles for many years, so I apologize if you've already come across it.
The Takeaway
The implications of this information are huge, and perhaps that's why they've been hidden from humanity. But are they really hidden? The truth is indeed out there for those who look. That being said, the implications of this type of disclosure also threaten various industries. What if governments get their hands on UFO technology? What discoveries and developments could come from that? What about the energy industry? This topic relates to every aspect of the human experience, and I believe it's simply one stage in the progression of humanity that we have to and will eventually go through, inevitably becoming a spacefaring race ourselves. We are still in our infancy as a race, and throughout history there have always been paradigm-shifting realizations and events.
At the same time, I believe humanity is living in a very special time, a prophesied time and a very spiritual time, and I believe the extraterrestrial presence has something to do with that, in some way, shape or form. That's not to say this is an entirely benevolent phenomenon, but that's another discussion.
The demand for Collective Evolution's content is bigger than ever, except ad agencies and social media keep cutting our revenues. This is making it hard for us to continue.
In order to stay truly independent, we need your help. We are not going to put up paywalls on this website, as we want to get our info out far and wide. For as little as $3 a month, you can help keep CE alive!
Before Roswell: The 1941 Cape Girardeau, Missouri UFO Crash With Extraterrestrial Bodies
In Brief
The Facts:

In 1941, a supposed crash occurred of an extraterrestrial vehicle. It's one of many that's happened and have been researched and verified by prominent UFO researchers.

Reflect On:

If there have been crashed craft and bodies recovered, how much has our government, or the clandestine group in charge of these subjects discovered? Why don't they tell humanity?
Roswell New Mexico is known for the famous alleged 'crash' that happened there in 1947. But if you're not a UFO researcher, you probably wouldn't know that alleged crashes of unidentified objects with alien bodies found inside of them have occurred dozens of times, not just at Roswell. Why Roswell became the focus of attention for this type of phenomenon, who knows, but perhaps it was the big media hype surrounding the crashed craft at that site with bodies recovered.
The idea that alien bodies were recovered as well as a crashed craft not only came from media outlets at that time, but from what are considered to be very credible sources within the military like Colonel Philip Corso, author of the book The Day After Roswell, and Dr. Edgar Mitchell, the sixth man to walk on the moon during Apollo 14.
Not only do we have credible witness testimonies for this type of thing, but we have an abundance of declassified documentation and current modern day mainstream disclosure of 'UFO technology' as well. For example, Steve Justice, the recently retired Director of Advanced Systems at Lockheed Skunkworks, who signed on board with the modern day mainstream UFO disclosure initiative To The Stars Academy,  has stated publicly that it would be an understatement to call the technologies he's been around, worked with, and seen, "revolutionary." It states that right on their website.
He also stated, while discussing the concept for the craft that To The Stars plans to build, the following:
"This is a concept for an international point-to-point transportation craft that will erase the current travel limits of distance and time. It mimics the capabilities observed in unidentified aerial phenomenon by employing a driver system that alters space-time metric. We have glimpses of how the physics of this works, but we need to harvest technologies from the Science Division to 'realize' the capability." (source)
What he is saying here is that we have these technologies, the quote "harvest them from the Science Division" gives that away.
This gives credibility to the statements made by one of his predecessors, Ben Rich, who was the second director of Lockheed Skunkwork's from 1975-1991. He's been called the Father of Stealth, having overseen the development of the stealth fighter, the F-117A Nighthawk. With regards to UFO technology, he stated:
"We already have the means to travel among the stars, but these technologies are locked up in black projects, and it would take an act of God to ever get them out to benefit humanity. Anything you can imagine, we already know how to do it." (source)
As far as documentation, the amount of electrooptical data and files indicating various military encounters with UFOs is outstanding. (See some examples here).  We also have evidence that governments are and were desperate to reverse engineer this technology, and given the above statements, they already have.
Dr. David Clarke is an investigative journalist, reader and lecturer at Sheffield Hallam University in England. He was also the curator for The National Archives UFO project from 2008-2013, and regularly comments in national and international media on UFOs. He uncovered documents showing how the Royal Air Force expressed great interest in finding UFOs to help come up with new and innovative ways to overcome their enemies during the Cold War . You can read more about that here.
Dr. Clark told The Daily Mail,
Even though they have been partly censored they can't conceal the fact the UK military were interested in capturing UFO technology or what they coyly refer to as 'novel weapon technology'… And the files reveal they were desperate to capture this technology – wherever it came from – before the Russians or the Chinese got hold of it first… Although this was 1997, Russia was still regarded as an undefeated enemy with a weapons programme regarded as a threat to the West.
This type of lore dates back to the 1950's. Here's an interesting piece found within the CIA's electronic reading room:
"A German newspaper recently published an interview with George Klein, famous German engineer and aircraft expert, describing the experimental construction of 'flying saucers' carried out by him from 1941 to 1945." (source)
 The 1941 Cape Girardeau, Missouri UFO Crash
This story began when a woman by the name of Charlotte Mann apparently received a deathbed confession from her grandmother regarding her husband, Reverend William Huffman, who was the local minister in the area. When the craft crashed, Huffman was apparently called by the local sheriff to come and assist in delivering some sort of last rights at a plane crash, at least that's what he was under the impression he was going to do. When he arrived at the scene, he allegedly realized that it was not a plane, but rather a flying saucer. A classic silver craft, looking like a round disk that had started a fire, and there were multiple dead bodies on the scene, which appeared to be extraterrestrial.
Leonard Stringfield, a UFO researcher (1920–1994) looked heavily into this case. According to him, via his book about Crash Retrievals:
"'Police officers, plainclothes men and military officers were already at the scene sifting through the wreckage,' Mann said. Laid to one side of the scene were 'three bodies, not human,' she recounted. 'It was hard for him to tell if they had on suits or if it was their skin, but they were covered head to foot in what looked like wrinkled aluminum foil,' Mann said. 'He could see no hair on their bodies and they had no ears. They were small framed like a child, about 4 feet tall, but had larger heads and longer arms.' Their faces had 'large, oval-shaped eyes, no noses, just holes and no lips, just small slits for mouths,' Mann said. Huffman was told by one of the military officers at the scene not to tell anyone what he had witnessed for security reasons, Mann told Stringfield. Huffman told his wife, Floy, and their two Sons what he had seen when he returned home from the crash site but never spoke of it again, said Mann."
Stringfield was Director of Civilian Research, Interplanetary Flying Objects (CRIFO), and published a monthly newsletter, ORBIT. In 1957, he became the Public Relations Adviser for the civilian UFO group, National Investigations Committee On Aerial Phenomena (NICAP) under the direction of Major Donald Keyhoe (Marines), a friend of his since 1953. From 1967 to 1969, Stringfield served as an "Early Warning Coordinator" for the Condon Committee. During the 1970s, he wrote a number of books about alleged recoveries of alien spaceships and alien bodies.
NICAP was a UFO research group mostly active in the United States from the 1950s to the 1980s. You can learn more about them and their history here.
In 1978, Stringfield served as UFO research adviser to Grenada Prime Minister Sir Eric Gairy. This is interesting because WikiLeaks posted more than half a million U.S. State Department diplomatic documents from 1978 detailing America's interactions with countries around the world, including Grenada Prime Minister Eric Gairy's efforts to organize a United Nations-based committee to research and investigate global UFO reports. Surely Stringfield had something to do with that.
The point is that he had and still has tremendous credibility as a UFO researcher.
The Takeaway
"Decades ago, visitors from other planets warned us about where we were headed and offered to help. But instead, we, or at least some of us, interpreted their visits as a threat, and decided to shoot first and ask questions after." – Paul Hellyer, former Canadian Defence Minister (source)
Edgar Mitchell said "yes, there have been crashed craft, and bodies recovered." (source)
It's unfortunate to think that our governments, or whichever clandestine agencies around the globe control this subject, are constantly trying to bring these crafts down. Our world is wrapped in secrecy, and the UFO/extraterrestrial phenomenon is a perfect example of that.
There is lots that the 'black budget' world knows, obviously, after years of research, reverse engineering, studying these bodies, etc. At the same time, there is lots that we, the human population, know as well. There are still many unknowns, and that includes this part of 'the world of secrecy' as well.
One thing is for certain: As time goes on, more truths will continue to be revealed. This topic and the disclosure of it leaves no aspect of humanity untouched. It will and is changing everything with regards to how we view the planet, and how we view ourselves as well.
The demand for Collective Evolution's content is bigger than ever, except ad agencies and social media keep cutting our revenues. This is making it hard for us to continue.
In order to stay truly independent, we need your help. We are not going to put up paywalls on this website, as we want to get our info out far and wide. For as little as $3 a month, you can help keep CE alive!
Update: Court Prepares To Unseal Documents Pertaining To Jeffrey Epstein's Child Sex Ring
In Brief
The Facts:

Responding to a motion filed by the Herald in court last year to have a case file against Ghislaine Maxwell reopened, a federal court of appeals in New York set the date as March 19 for the summary judgment and supporting documents to be made public.

Reflect On:

Does the acceleration in the revealing of hidden information about crimes of the financial elite in our society not seem to reveal a pattern that is in service of our 'Great Awakening'?
In my article from a few weeks ago titled 'Jeffrey Epstein May Still Be Held Accountable For His Sexual Crimes Against Underaged Girls,' it was announced that the legality of the lenient plea deal received by multimillionaire Hedge Fund manager and socialite Jeffrey Epstein had been struck down:
On Thursday, February 21st, federal judge Kenneth A. Marra declared that Federal prosecutors, under former Miami U.S. Attorney Alex Acosta, broke the law when they concealed a plea agreement from more than 30 underage victims who had been sexually abused by Epstein. In his 33-page statement Marra said prosecutors not only violated the Crime Victims' Rights Act by not informing the victims, but they also misled the girls into believing that the FBI's sex trafficking case against Epstein was still ongoing — when in fact, prosecutors had secretly closed it after sealing the plea bargain from the public record.
In the plea deal, Epstein only got 13 months and was allowed to stay in the Palm Beach County Jail in his own private cell where he was allowed to leave the jail for 12 hours a day for "work release." Epstein was forced to register as a sex offender for life, but with his money and his connections he doesn't seem too bothered. He currently resides on his private island in the Virgin Islands. For more specific details on the case itself, refer to my article above or my previous one 'Elite Pedophile Jeffrey Epstein (Who Ran A Child Sex Ring) Was Given Freedom For Squealing To The FBI.'
The Next Step
So with the plea deal having been ruled illegal only a month ago, the timing of the next step in the process of reversing what the Miami Herald called a 'perversion of justice' seems rather synchronistic. Responding to a motion filed by the Herald in court last year to have a certain case file opened, a federal court of appeals in New York on Monday took the first step in unsealing documents that could reveal evidence of an international sex trafficking operation allegedly run by multimillionaire Jeffrey Epstein and his former partner, British socialite Ghislaine Maxwell, who was considered the 'madam' of his alleged child sex ring.
To be clear, these documents do not pertain directly to the court case against Jeffrey Epstein or his plea deal. They are from a case that was filed against Maxwell in 2015 by Virginia Roberts Giuffre. Giuffre claimed in the lawsuit that she was recruited by Maxwell at Mar-a-Lago in Palm Beach when she was 16 years old. Giuffre had been working at the resort's spa when Maxwell approached her and asked her whether she wanted to become a masseuse for Epstein. Giuffre claimed that the massages were a ruse for Epstein and Maxwell to sexually abuse her and other underage girls, some of whom were trafficked to other influential people, from 1999 to 2002.
The case was a slander suit against Maxwell, who had claimed publicly that Giuffre was lying. When Guiffre demonstrated in court that her testimony was credible, Maxwell settled the case before trial, resulting in several millions paid to Giuffre, according to the Herald. As part of the settlement, much of the documentation was kept hidden. Maxwell, now an environmentalist, continues to deny all of the allegations.
What The Documents May Reveal
The three-judge panel for the U.S. Court of Appeals for the Second Circuit gave Maxwell until March 19 to establish good cause as to why they should remain sealed and, failing to do so, the summary judgment and supporting documents will be made public. The court reserved a ruling on the balance of the documents in the civil case, including discovery materials.
The case, which was settled in 2017, contains more than 1,000 documents, lawyers said during oral arguments in New York on Wednesday. Maxwell is the sole party fighting to keep the case sealed.
What could be revealed in the documents is not only Guiffre's testimony about her own experiences with Epstein, but the inner workings and tactics of Maxwell, who recruited Guiffre and is reputed to have been a regular provider of sexual abuse victims for Epstein. The documents will likely touch on Maxwell's role in procuring girls for friends of Epstein as well. It's hard to say what would characterize this arrangement formally as a 'child sex ring,' but if you listen to some of Epstein's victims, the sheer number of victims they know to have been involved could lead to this type of characterization, especially in terms of how other offenders like Prince Andrew are involved as well.
What could also be revealed is the extent to which the feds were looking into allegations that girls were trafficked across state lines and even internationally when the investigation was closed. This kind of information could lead to much more robust criminal accusations with regards to underage sex trafficking.
Epstein Lawyers Get Proactive
And this might be why we are seeing Epstein's lawyers getting a little nervous and wanting to get out in front of this situation.
In an op-ed letter to The New York Times last week, Martin G. Weinberg and three of Epstein's other lawyers — including Kenneth Starr, known for his pursuit of President Bill Clinton over his sexual conduct — denied that Epstein ever ran a sex trafficking operation. "The number of young women involved in the investigation has been vastly exaggerated, there was no 'international sex-trafficking operation' and there was never evidence that Mr. Epstein 'hosted sex parties' at his home," the lawyers wrote.
Whether or not Maxwell carries behind her the clout to keep the documents sealed is an interesting question. In the past, power and money always seemed to have had the last word on whether or not the crimes of the financial elite would be fully revealed. But increasingly, it looks like this is changing.
The Takeaway
It is virtually impossible to deny that in the past few years there seems to be an increased will on the part of the human collective to know the truth, and a corresponding effort on the part of those with access to the truth to reveal it. Taken in the larger context, it is possible to make out patterns in terms of the order in which these revelations are coming out as well as the speed and volume. It is not beyond the scope of possibility that it is all part of a larger plan that is designed to best foster our collective 'Great Awakening.'
The demand for Collective Evolution's content is bigger than ever, except ad agencies and social media keep cutting our revenues. This is making it hard for us to continue.
In order to stay truly independent, we need your help. We are not going to put up paywalls on this website, as we want to get our info out far and wide. For as little as $3 a month, you can help keep CE alive!