The Man Who Was Sentenced To 14 Years For Making 'Anti-Gravity' Vehicles
In Brief
The Facts:

Anti-gravity technology has been around for decades, and there is much proof of that. One of the pioneers was Otis T. Carr, who was subjected to large amounts of ridicule and difficulty while pursuing his developments.

Reflect On:

If the release of this technology would completely wipe out the Oil Industry and collapse the monetary system, does that legitimize the suppressing of it? Is our collective consciousness ready for technologies that would change our entire society?
It's astonishing to me how the topic of anti-gravity is still be placed in the "conspiracy theory" realm. This isn't the stuff of conspiracy theories or "fringe" science, it's a field full of reputable scientists and scholars, and real-world examples that have come not only from hard evidence but from extremely credible witness testimony as well.  One thing is for certain when talking about such topics: one must delve into the black budget world.
Take, for example, a recent investigation conducted by a Michigan State University professor and a former secretary from the Department of Housing and Development. Together, with a team of Ph.D students, they uncovered approximately $21 trillion that went missing and unaccounted for from the Department of Defense as well as the Department of Housing and Development. Why is this relevant? Because they discovered that the money was going to fund black budget, off the books programs that require no oversight from Congress.  This black budget world has been in operation for many years. You can read more about it here and here in two articles I've previously written on the subject.
Breakaway Civilization
The black budget world encompasses a separate civilization (Richard Dolan, "Breakaway Civilization") that has used tremendous amounts of resources in all areas, from science to archaeology, to move itself far ahead of the mainstream world technologically. How many people does it employ? Who is operating it? Many of these questions remain unknown, but if you follow the money it will give you perhaps somewhat of an idea.
Any civilian who invents technology that rivals the black budget world has always been subjected to harassment, and has difficulty getting their innovations or inventions out to the public. That's because these technologies have been 'classified', for if they were made public it would change everything, severely threatening the tremendous amount of power and control the global elite has over the human population.
The technology that's been developed within these programs could change the world, but instead it's used within the military-industrial complex for self-serving purposes, or so it seems. Efficient energy-generating devices that could eliminate the use of oil, or any other modern day fuel source for that matter, have been subjected to patent suppression.
Suppressed Technology List From 1971
For example, the previous list regarding technology suppressed was obtained by researcher Michael Ravnitzky in 1971. Most of the technology listed seems to be related to various military applications. You can view that list here. As Steven Aftergood from the Federation of American Scientists reports:
"The 1971 list indicates that patents for solar photovoltaic generators were subject to review and possible restriction if the photovoltaics were more than 20% efficient. Energy conversion systems were likewise subject to review and possible restriction if they offered conversion efficiencies in "excess of 70-80%." (source)
Why would higher energy efficiencies be a "national security threat?" If this is true, we are talking about solar technology that goes far beyond the best commercial panels available today, which usually can't even generate 20 percent efficiency.
"These concepts have been proven in hundreds of laboratories throughout the world and yet they have not really seen the light of day. If these technologies were to be set free worldwide, the change would be profound, it would be applicable everywhere. These technologies are absolutely the most important thing that has happened in the history of the world"  – Brian O'Leary, Former Nasa Astronaut and Princeton Physics Professor, speaking about over-unity energy, or 'free' energy.  (source)
Anti-Gravity
Anti-Gravity technology most probably falls into this category. According to the very first director of the CIA, Roscoe Hiellenkoetter, we know that there was an "official campaign of secrecy and ridicule" with regards to UFOs while stating that Air Force officers were well aware of their existence. Today we have electro-optical data and even physical evidence, not to mention credible witness testimony of technologies performing and demonstrating this type of technology.
We have statements from previous as well as the most recently retired Directors of Lockheed Martin Aerospace programs, like Steve Justice.  So, what did Mr. Justice have to say? Well, a lot of things. One of the first statements he made using the To The Stars platform is that, when it comes to the technologies he's been around, worked with, and seen, it would be an understatement to call them revolutionary. They are also working on a craft that mimics observations they've seen in UFOs, as he stated:
 It mimics the capabilities observed in unidentified aerial phenomenon by employing a driver system that alters the space-time metric. We have glimpses of how the physics of this works, but we need to harvest technologies from the Science Division to "realize" the capability. (source)
So, as you can see, this type of technology is no joke. Many of the UFOs we see may be made by humans, others, probably not. The point is, they are here, within the "science division."
"It is my thesis that flying saucers are real and that they are space ships from another solar system." – Hermannn Oberth , one of the founding fathers of modern rocketry.
Anti-gravity technology has been around for a long time.
A paper entitled "Outside The Box" Space & Terrestrial Transportation & Energy Technologies For The 21st Century written by Professor Theodore Lodre of the University of New Hampshire reviews the development of anti-gravity research in the United States and emphasizes how "research activity seemed to disappear by the mid-1950s." It then looks into recently reported scientific findings and witness testimonies "that show us that this research and technology is alive and well and very advanced. The revelations of findings in this area will alter dramatically our 20th-century view of physics and technology and must be considered in planning for both energy and transportation needs in the 21st century."
Otis T. Carr
Otis T. Carr is one of many examples throughout history where there are clues that highly advanced technologies like anti-gravity crafts are actually legit. Given everything we know now, as well as what happened to Carr, only strengthens this suspicion.
In the late 1950s, OTC Enterprises, Inc. of Baltimore, Maryland put out a statement that was published in the April 3rd edition of the Baltimore Enterprise. The statement came in the form of a claim that the company was ready to manufacture a flying saucer that was capable of travel outside of the Earth's atmosphere. All that was needed was a massive amount of funding, approximately 20 million dollars. The equivalent to that today is probably several billion.
Now keep in mind that this is the 1950s. There was a big wave of UFO sightings at this time, especially after the Atom bomb was dropped. The topic was getting a lot of mainstream media attention. Rumors of "crashed craft, and bodies recovered," that Apollo 14 astronaut Edgar Mitchell claimed were real were running rampant at this time. Did 'the powers that be' or 'the military-industrial complex' have saucer technology at this time? Based on my research, it certainly seems that way.  Take, for example, a document from the Central Intelligence Agency's Electronic reading room:
"A German newspaper recently published an interview with George Klein, famous German engineer and aircraft expert, describing the experimental construction of 'flying saucers' carried out by him from 1941 to 1945." (source)
The document goes on to describe how many people believed 'flying saucers' to be a postwar development. They were actually in the planning stages in German aircraft factories as early as 1941. The document then goes on to mention an experiment described by Klein:
 "The "flying saucer" reached an altitude of 12,400 meters within 3 minutes and a speed of 2,200 kilometers per hour. Klein emphasized that in accordance with German plans, the speed of these "saucers" would reach 4,000 kilometers per hour. One difficulty, according to Klein, was the problem of obtaining the materials to be used for the construction of the "saucers," but even this had been solved by German engineers toward the end of 1945, and construction on the objects was scheduled to begin, Klein added.
Otis T. Carr, as mentioned above, had similar claims. He even put on numerous demonstrations for the public and amassed millions of dollars from extremely wealthy people to do so. If they did not believe him, and if he had not shown some promise, how did he receive all of this funding?
Think about it. We now know for a fact that global militaries have long had an interest in the UFO phenomenon. They've been asking who, what, where, when and how for a very long time, and of course it's considered a national security matter. Any individual who has invented, or shows potential to invent craft that is capable of extreme, technologically advanced maneuvers, would not be allowed to develop it, and would be ridiculed like Carr was. This is why the invention secrecy act was made in the early 1950s. In my opinion, its true aimto protect the interest of the power under the guise of 'national security.'
Carr's Goal
His goal was to fly to the moon in his "circular foil spacecraft" on December 7th, 1959.
The "spacecraft" allegedly invented by Carr is much like the ideal spaceship imagined by Plantier and others. It is propelled by an artificial gravitic field (the "Carrotto gravity motor") and if this were not miracle enough, it uses no fuel. It is powered by the "Utron electric accumulator"–a short of self-charging battery which "uses the Sun's magnificent force of Electromagnetism by means of natural reproductive chemistry, to quote the interesting language of the Enterprise ad. (Centre for UFO Studies)
Below is a picture of Wayne Aho, a military intelligence officer who was going to accompany Carr on his trip to the moon. He claimed it would only take a few hours. Carr is second from the left.
Otis T. Carr was actually a protege of Nikola Tesla, according to independent researcher Doug Yurchey: "Carr and his team constructed a number of fully functional flying saucers in the late 1950s. The flying disk worked and was demonstrated. Carr was serious about 'taking his craft to the Moon. 'However, two weeks after a dramatic test flight, their laboratory was forcibly closed, Federal agents confiscated equipment as well as all documentation. Authorities told them Carr's project would 'destroy the monetary system of the United States.'  (source)
Carr was heavily criticized, ridiculed, and made a fool of by the press. I could not verify whether his connection with Tesla is actually true or not, but rumors of Carr's relationship with Tesla were rampant, even in the 50's.
Classic Hit Job
This is a classic story of someone who received lots of public attention and had many failed demonstrations, and apparently, many successful ones as well. Like other great inventors, Carr's work was seized by the government. This happened in January 1961, when Louis J. Lefkowitz, the Attorney General of New York at the time, stated that "Carr had swindled $50,000, and later that year True Magazine labelled him as a hoaxer." By then, his laboratory had been raided and destroyed, and the group of engineers had been ordered to disband and cease contact with one another.
This is very fishy, and similar to the Stan Meyer water powered car story. Looking at it today, it was quite clear that this was a huge attempt to shut Carr down. These developments and curiosities were not for our world, but were reserved for the black budget world. He was denied an appeal on March 1st, 1961 for his 'crime'. He could not pay the fine and served part of a 14-year jail term. After that little is known about what became either of Carr himself or the craft, but they never flew again. Carr is reported to have suffered from ill-health, a broken man. He passed away apparently in Gardnerville, Nevada, in 2005.
In 1952, Carr actually wrote a book, called "Dimensions of Mystery." The book was mostly written in 'code,' according to him, it was the complete layout of his plan and how his machine worked, yet for a reader like me, or anyone for that matter, it's impossible to understand. He did switch from user code and poetry, to actually writing some real statements regarding his intentions, as you can see here:
Below is a discussion about the tests that would need to be conducted, and, apparently were conducted.
Hal Puthoff
As you can see, just like with most other stories of great technological advancements (there are too many examples to choose from), the global elite has always demonstrated their supremacy by ridiculing concepts that don't really fit the frame. There are multiple technological developments that have been completely hushed up, for "national security purposes."
Take this quote from Hal Puthoff, for example. It's not with regards to UFOs but more so "free-energy," which actually go hand in hand and relate directly to each other. Puthoff has published numerous papers on electron-beam devices, lasers and space propulsion and has patents issued in the laser, communications, and energy fields. Dr. Puthoff's professional background spans more than five decades of research at General Electric, Sperry, the National Security Agency, Stanford University and SRI International. Dr. Puthoff regularly advises NASA, the Department of Defense and intelligence communities, corporations and foundations. Here's what he's had to say:
"I've been taken out on aircraft carriers by the Navy and shown what it is we have to replace if we have new energy sources to provide new fuel methods."
Puthoff is now part of the 'To The Stars' academy, who have publicly disclosed that they are working on technology that mimics the flight patterns of observed UFOs.
The Design
Below is  the design of the OTC X-1
Please go to Project Camelots write up on Otis, find this picture and click on each image to view it in high resolution.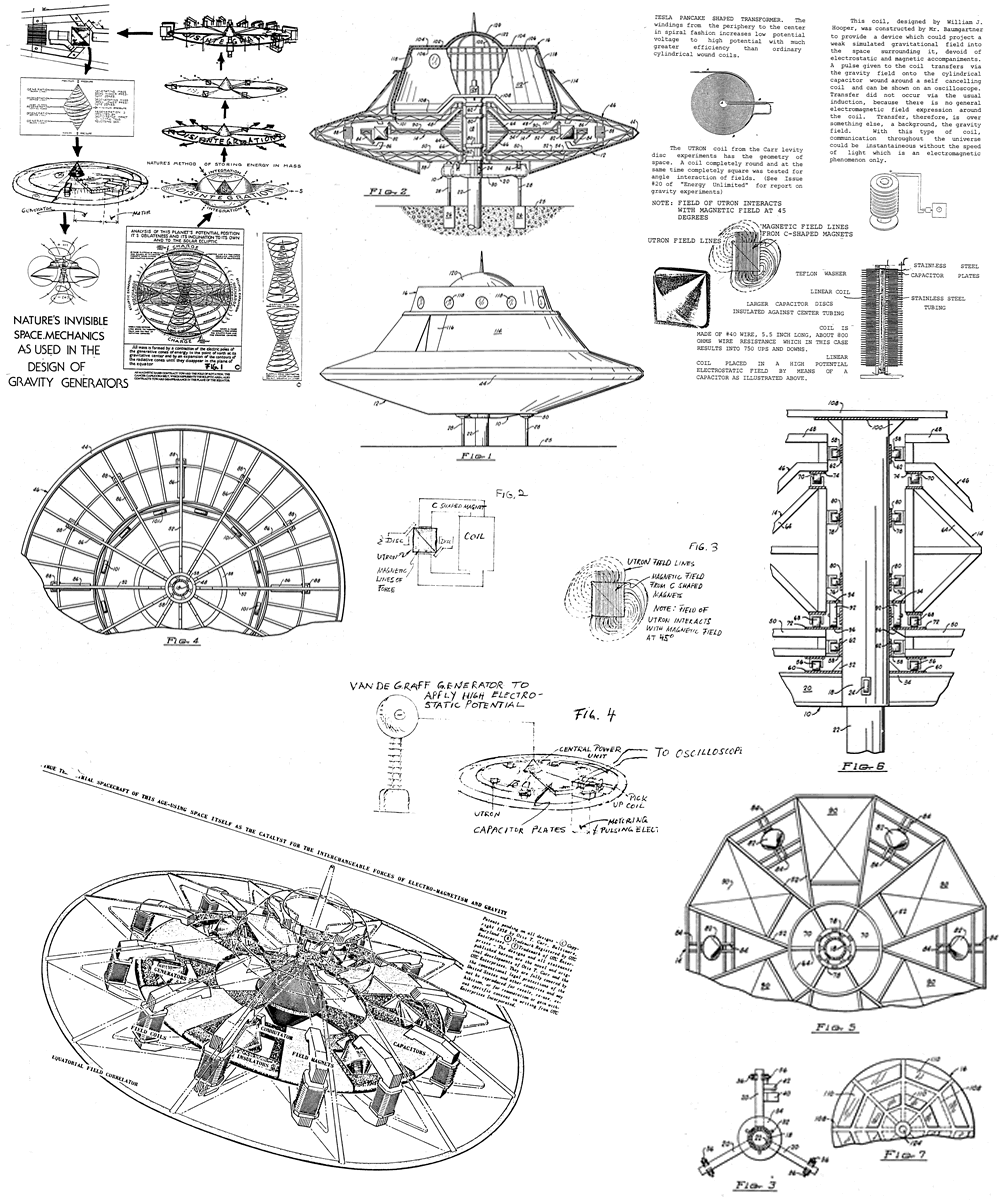 The Takeaway
Let's keep an open mind, and not to brush off revolutionizing technologies just because they break the laws of physics as we know them; after all, such laws are made to be broken. It's similar to when Lord Einstein published his paper on special relativity that completely shattered what we thought we knew back then. Today, we are more aware of how the giant national security apparatus intervenes, and given all of the information that's emerged regarding the subject of exotic technologies like anti-gravity crafts, it's easier to see 70 years after the fact what really happened to Otis T. Carr.
Due to the pressure of mass censorship, we now have our own censorship-free, and ad-free on demand streaming network!
It is the world's first and only conscious media network streaming mind-expanding interviews, news broadcasts, and conscious shows.
Click here to start a FREE 7-Day Trial and watch 100's of hours of conscious media videos, that you won't see anywhere else.
Targeted Individuals All Around The Globe Are Starting To Mobilize
In Brief
The Facts:

Targeted Individual activists and targeted individuals themselves are starting to gather across the world to bring attention to a very real phenomenon.

Reflect On:

Can we see how our intentional awareness of matters like the 'Targeted Individuals' phenomenon helps us all move towards creating the world that we all want?
If you attended or have researched into the Global Targeted Individuals Rallies that ran concurrently in 21 cities worldwide on August 29th, 2019, you would at the very least come to realize that this phenomenon is very real, and not the product of a smattering of delusional and paranoid people, as mainstream media would have us believe (on the rare occasion that they even cover the subject at all).
And stoking your awareness that this phenomenon is real, and is a clear and present danger, is the main motivation of the various organizers of these rallies around the world. By and large, Targeted Individuals are not asking for your sympathy, or your money. They are asking you to join them in coming to a greater understanding of how these programs work, who is behind them, and consequently to build a critical mass of everyday people who acknowledge the dangers of the phenomenon. This alone has the power and capacity to put an end to these programs.
These rallies also serve to help the Targeted Individuals themselves find solace and the inspiration to stay alive, fight for sanity, and find ways to defend themselves from these attacks.
Don't Let The Small Crowds Fool You
Compared to big, heavily funded and promoted globalist-directed rallies like Climate protests and Gun Control marches that draw large numbers of participants, the crowds that gathered for the TI rallies a month ago might not impress you too much, and might even dissuade you from giving the movement much credibility. But I would like you to consider that every Targeted Individual that shows up to and participates in a public rally represents dozens or even hundreds of their brethren who don't have the means or the energy to do so, or simply don't know about the rallies, or have not even come to realize that they are Targeted Individuals at all.
As I did in my previous article 'Why The August 29th Global 'Targeted Individuals' Rallies Deserve Our Attention,' I would again like to quote TI activist and writer Thomas McFarlan, who explained to me why, if there are so many Targeted Individuals worldwide, that so few of them attend these rallies:
The reason so few TIs show up at protests is because most of us end up murdered, suicided, framed to be put in prison, framed to be put in mental wards, homeless with no resources at all and completely psychologically disorientated, or just completely demoralized living with their parents, or in some cheap rental living a life with a demeaning job, next to no money and no hope so no action is taken. The TIs you see out at protests, and doing activism are the cream of the crop, [the most] psychologically strong people that exist.
In London, activist Mark Williams led a gathering of about 60 people, the most Targeted Individuals ever to gather together in the UK. The video below of Mark speaking over a loudspeaker at the rally outlines the true objective of these rallies: familiarizing the public with the phenomenon, pointing the public to credible evidence and whistleblower testimony that is available on the internet, and basically asking for people's help to come together with them in order to eventually put an end to these programs through grassroots efforts. Expecting help from our intelligence agencies, government, law enforcement and judiciary is usually pointless, but even more so in the case of the TI phenomenon, since the highest levels of all these institutions are either directly implicated in this or are pressured to turn a blind eye to it.
Mainstream Media Complicity
As I alluded to earlier, an essential prong of the programs that target individuals for gang-stalking, intrusive surveillance, mind-control tactics, and Directed Energy Weapons attacks is the complicity of the mainstream media, which creates a public perception that is crucial to keeping the program hidden, and hence highly effective. You would think that there would be at least a few mainstream journalists who would be willing to ask questions and investigate into these matters. But in my search of the mainstream press I found only outright dismissals of the phenomenon, save a few esoteric pieces that pretended to walk an objective line while making subtle but clear references to schizophrenia and other mental diseases.
In her powerful article '9/11/2018: Expose the Treason, Challenge & End Domestic US Fusion Center & Military Terrorism Masquerading as Surveillance,' alternative news journalist Ramola D breaks down the mainstream journalistic landscape that continues to give rise to the unchecked proliferation of these programs:
I have witnessed the cavorting and convolutions of numerous bought-and-sold reporters in print and in video as they bent over backwards to accede to the demands of their CIA/and Other Clandestine-Ops-Agencies masters to conceal these crimes of Surveillance Abuse by actively dismissing as "delusional and paranoid" the reports, testimonials, and cries for help from increasing numbers of highly educated and accomplished people of integrity, conscience, and community-mindedness suddenly targeted for apparent assaultive elimination with Stealth Radiation Weapons. I mean reporters from The New York Times, The Washington Post, Vice, Wired, and others — classic "mainstream media" mavens run by the CIA, whose paychecks have apparently prevented them from pursuing the truth. And in fact, given them oodles of leisure time in which to write excoriating pieces of vitriol mocking and maligning reporting victims of Surveillance crimes and Military Experimentation abuse, such as in Rational Wiki and Wikipedia, helping the CIA/DOD equate "Targeted Individual" with "Delusional" and that other CIA-Trickster-Term intended to stop all further critical inquiry: Conspiracy Theorist.
Activist Mark Williams in the UK employed a two-pronged strategy: he tirelessly continues to promote this story to mainstream media, politicians, and human rights groups, in the hopes that some individuals will break out of the pack and report on this phenomenon in an objective light. While the response from people who have that kind of power continues to be abysmal, he feels that continuing to seek these people out may eventually bear fruit. At the same time, the rallies are designed to speak directly to the public and get a conversation started:
What I feel was accomplished was a statement that says that the UK is willing to step up and not accept remote torture abuses and Gang stalking abuses. This could set the scene for many larger more successful protests in the future. This in some ways was the first step to doing that but also a success in itself.

It must be noted that a number of people (incl myself)  contacted mainstream media numerous times (I did so 3 times for every mainstream channel) and I emailed every MP in this country and every major UK human rights group (twice each) that would be relevant and other major international human rights groups that would be relevant. So the whole protest has been used as a leverage in a way to raise information generally to those groups just mentioned (and others) that have the power to actually help our cause. This is a major step forward in itself I believe as I do not believe in the UK there has ever been such a coordinated effort to raise awareness like this to those in positions to help.

We informed the public generally and handed out over 4000 leaflets (many of which were to BBC personnel). Most of the public were receptive to taking leaflets and their was discussion with members of the public.
 These activists are highly motivated as their very lives are at stake. As time goes on, it looks like these rallies will continue to get bigger and the message to the public will continue to get clearer.
Putting The Big Picture Together
Recently, some writers and activists have started to see and speak about the TI phenomenon not as a separate and discrete matter, but rather as one of the interlocking pieces in a much larger agenda of eugenics, mind control, social engineering, a weaponized 5G physical infrastructure and elite global totalitarian rulership. Thomas MacFarlan wrote to me that at a recent 5G Conference he became more familiar with China's social credit blacklist which already contains 13 million names. These people suffer limitations on employment and hence earning potential,  limitations on how, when and where they travel, severe social stigma, all leading to limitations on who they can associate with, limitations on types of purchases, limitations on use of communications technologies and use of the internet and social media, and many others.
This social credit system is another type of targeting, and you can already see the broad strokes of a future dystopian surveillance state that could ultimately come under a single elite global authority. MacFarlan also noted that thousands of Chinese have reported experiencing electromagnetic mind control technologies used on them, as per this Epoch times article. He notes that since getting these testimonies out to Western media is already very difficult for Chinese citizens, the actual number that are effected must be exponentially larger.
Macfarlan has become more active in the 'Stop 5G' movement and has made connections between this and the 'Targeted Individual' phenomenon. He also sees strong connections between 9/11 and the TI phenomenon, as an increase in covert surveillance powers brought on after 9/11 through the Patriot Act and other legislation saw a great uptick in targeting, which Macfarlan discusses in his article 'The 45 Days After 9/11 Campaign for 9/11 & Surveillance Abuse Justice.'
The 'Targeted Individuals' piece of this puzzle fundamentally resembles experiments done on innocent, unsuspecting citizens to see the way people's minds and bodies can be controlled, to test limits of endurance and pain thresholds. The 5G infrastructure would greatly facilitate the ability to locate and, as the situation calls for, attack or otherwise control people as though we were animals to be controlled within a virtual electrified fence. Cell phones, smart meters and home monitors play a role in the surveillance and the analysis of behavior. The unchecked development of Artificial Intelligence plays into this as well, along with the Transhumanist movement, which endeavors to get us off of our own natural intuition-guided human spiritual 'network' and into an artificial technological one. Eugenics, and its arms of fertility-killing vaccines, the creation of diseases like AIDS and Ebola, severe weather modification, and outright geopolitical war-masked genocide, all contribute to the goal of reducing the population to a size, like the 500 million suggested by the Georgia Guidestones, which the small global elite has the means to openly control.
Despite All This There Is Hope
I believe unfailingly in the human spirit, and armed with the truth and our indestructible underlying connection to one another, I think we are capable of anything we choose. The global elite may have the power, the money, and the dark knowledge that have enabled them to essentially be the masters of humanity since time immemorial, but we are at a time in history where all that is changing.
The Targeted Individuals phenomenon, China's Social Credit system, the 5G rollout, Vaccine Mandates, Mind Control, Social Engineering, Transhumanism and many other social and economic travesties will ultimately be the source of our grand awakening, if we rise ourselves to the opportunity as a collective. Getting to understand the nature of all of these phenomena individually helps us to put the puzzle together and see how they are all part of one vast and long-sought global agenda of total control over humanity.
The time for activism is now, and acknowledging and sharing what we learn of the struggles that our brothers and sisters are going through is an important part of that activism.
The Takeaway
As we become more aware of this big plan and what is really going on behind the scenes, we will literally find the 'man behind the curtain,' like Dorothy and her brave companions found in the Wizard of Oz. Of course the global elite is likely to wildly vociferate their superiority and the beneficence of their agenda once they are first revealed, but we will quickly come to see how empty and impoverished they actually are.
We will come to realize how impotent these people would be without our compliance and our tacit consent to be lorded over by them. We will see that we just need to collectively decide to stop being the foot-soldiers for their agenda. Ultimately, this will allow us to simply brush them aside, as one whisks away eraser debris after correcting a mistake, and take our rightful place as masters of our own destiny.
Due to the pressure of mass censorship, we now have our own censorship-free, and ad-free on demand streaming network!
It is the world's first and only conscious media network streaming mind-expanding interviews, news broadcasts, and conscious shows.
Click here to start a FREE 7-Day Trial and watch 100's of hours of conscious media videos, that you won't see anywhere else.
12,000 Doctors Urge the FDA to Put Cancer Warnings on Cheese
In Brief
The Facts:

The Physicians Committee for Responsible Medicine (PCRM) recently submitted a citizen petition with the Food and Drug Administration (FDA) to change labeling on cheese to include a cancer warning.

Reflect On:

Why have our federal health regulatory agencies and big food companies marketed dairy products as safe, healthy and necessary when the science clearly suggests otherwise.
What do doctors learn about nutrition in medical school? Shockingly and unfortunately, nothing. Why? Because nutrition does not bring in profit, and treating people with nutrition hasn't seemed to be an option at all ever since the birth of the mainstream medical industry. The sad reality is that "the medical profession is being bought by the pharmaceutical industry, not only in terms of the practice of medicine, but also in terms of teaching and research. The academic institutions of this country are allowing themselves to be the paid agents of the pharmaceutical industry. I think it's disgraceful." – Arnold Seymour Relman (source)
Thankfully, things are changing and changing fast. A lot of people are taking their nutritional education into their own hands, and many doctors are also educating themselves on the power of nutrition through the plethora studies and clinical evidence that's available out there.
One of the latest examples of doctors educating themselves comes from the Physicians Committee for Responsible Medicine (PCRM), who recently submitted a citizen petition with the Food and Drug Administration (FDA) to change labeling on cheese to include a cancer warning.
Why? Because based on the research, cheese, and dairy from the animal of another is not good, but bad for us. This reality may be hard for many to believe given the fact that it's been one of the stable food groups for so long. It's time we start recognizing that "nutritional education" that we grow up with is a product of the big food companies and marketing, it's not backed by any science and more people are starting to become aware of what the science is actually showing us.
The petition states:
Dairy cheese contains reproductive hormones that may increase breast cancer mortality risk. (This sentence is what they want on dairy cheese products).

High-fat dairy products, such as cheese, are associated with an increased risk for breast cancer. Components in dairy such as insulin-like growth factor (IGF-1) and other growth hormones may be among the reasons for the increased risk for cancer.

To ensure that Americans understand the potential significant risks, and resulting long-term costs, of consuming dairy cheese products, the FDA should ensure that the notice above is prominently placed on product packaging and labeling for all dairy cheese products.
I find it interesting that they mention IGF-1 growth hormone.
A 2015 study published in Cell Metabolism is one of multiple studies that points out:
Mice and humans with Growth Hormone Receptor/IGF-1 deficiencies display major reductions in age-related diseases. Because protein restriction reduces GHR-IGF-1 activity, we examined links between protein intake and mortality. Respondents (n=6,381) aged 50–65 reporting high protein intake had a 75% increase in overall mortality and a 4-fold increase in cancer and diabetes mortality during an 18 year follow up period. These associations were either abolished or attenuated if the source of proteins was plant-based.
The study above corroborates with a lot of other research showing that animal protein skyrockets IFG-1 growth hormone, thus leading to a wide variety of diseases, in the long term, including cancer. The interesting thing is that protein from plants, as the study points out, "abolished or attenuated" these associations "if the source of proteins was plant-based."
Fasting has been shown to reduce the risk and even reverse many age related diseases, like Parkinson's and Alzheimer's. It's also been shown to regenerate stem cells and slow down the overall aging process, much of that is due to the fact that fasting drops our IGF-1 growth hormone levels.
A recent study conducted by researchers in California and France found that meat protein is associated with a very sharp increased risk of heart disease, while protein from nuts and seeds is actually beneficial for the human heart.
The study is titled "Patterns of plant and animal protein intake are strongly associated with cardiovascular mortality: The Adventist Health Study-2 cohort," It was a joint project between researchers from Loma Linda University School of Public Health in California and AgroParisTech and the Institut National de la Recherche Agronomique in Paris, France.
It was published in the International Journal of Epidemiology. The researchers found that people who ate large amounts of meat protein, which is a daily norm for many people, represented a portion of the human population that would experience a 60 percent increase in cardiovascular disease (CVD), while people who consumed large amounts of protein from nuts and seeds actually experienced a 40 percent reduction in CVD.
Dairy "Turning on Cancer."
Doctor Colin Campbell. author of the "China Study"  discovered that animal protein (casein) can accelerate and "turn on" cancer, while plant based protein has the opposite effect.
"What I did during the early part of my career was nothing more than what traditional science would suggest. I made the observation that diets presumably higher in animal protein were associated with liver cancer in the Philippines. When coupled with the extraordinary report from India showing that casein fed to experimental rats at the usual levels of intake dramatically promoted liver cancer, it prompted my 27-year-long study The China Project, of how this effect worked. We did dozens of experiments to see if this was true and, further, how it worked." – Dr Colin Campbell, (China Study)
Campbell is an American biochemist who specializes in the effect of nutrition on long term health. He is Professor Emeritus of Nutritional Biochemistry at Cornell University, he has a Ph.D. in nutrition, biochemistry, and microbiology. Scholars like Campbell and their work is so important in a world of medical education and academia that almost completely ignores nutrition.
Casein is the most relevant chemical carcinogen ever identified, make no mistake about it. (source)
Campbell went beyond mere correlation and found using animal studies he conducted that casein actually "turns on" cancer. When animals were fed a diet high in casein, the cancer increased dramatically. What's even more interesting is when they decided to do a comparison using plant protein.
What we learned along the way is that we could turn on and turn off cancer. Turn it on by increasing casein consumption, turn it off by decreasing it or replacing it with plant protein. That was a really exciting thing that we could take nutrition and turn cancer on and off, I mean that, that was pretty startling. – Campbell (source)
The Takeaway
We are the only species on the planet that consumes the dairy of another animal after weaning.  The reduction of lactase activity after infancy is a genetically programmed event. Approximately 75 % of Earths population is lactose intolerant for a reason, because it's perfectly natural. We are not meant to drink the milk of another animal and we had to evolve the gene to digest it.  The statistics vary from race to race and country to country but overall they show an abnormal amount of individuals who qualify. In some Asian countries, 90 percent of the population is lactose intolerant.
It seems the big food companies convinced us that it's a requirement, and that it's healthy. They used protein and calcium (both of which are present in a number of plant sources, for example) as mass marketing tools to push dairy products on the population in order to turn a very large profit, all at the health expense of human beings.
This is one of multiple examples off mass perception manipulation.
Due to the pressure of mass censorship, we now have our own censorship-free, and ad-free on demand streaming network!
It is the world's first and only conscious media network streaming mind-expanding interviews, news broadcasts, and conscious shows.
Click here to start a FREE 7-Day Trial and watch 100's of hours of conscious media videos, that you won't see anywhere else.
Fort Worth Police Fatally Shoot Black Woman In Her Home – Time For A Change?
In Brief
The Facts:

A woman was shot and killed by a Fort Worth police officer after police responding to a wellness check call at 2:25 am.

Reflect On:

Is it time we start looking at how we can solve the unbalanced state of being many police officers perform their job while within daily? Solutions exist, we simply have to make people aware of them.
Race is important to the point being made in this article which is the only reason it's mentioned in the headline. A woman was shot and killed by police inside her own home early Saturday morning in Fort Worth, Texas. Police responded to a non-emergency call from a neighbor who requested a wellness check be performed on the house as he noticed two doors open and the lights on at 2:25 am.
Police performed a perimeter check of the house. While walking through the gate, the officer looked through the window and sees the woman. He quickly raises his flashlight in one hand and gun in another and shouts "Put your hands up, show me your hands." Within 4 seconds, he fired at the woman, hitting her fatally.
"The individual, a black female, who resides at the residence succumbed to her injuries and was pronounced deceased on the scene," said the Fort Worth PD's statement. "The officer, a white male who has been with the department since April of 2018, has been placed on administrative leave pending the outcome [of] the critical police incident investigation."
Why it matters: Initially many will view this as a race-related killing, and there is a small likelihood that's the case. But I truly believe there is more to this story.
Mainstream culture has been trained to make everything about race right now in what is a working divide and conquer strategy. A deeper look points us to research that police are consistently under a high level of stress and are not living in a balanced state of being while on the job. Not a surprise to some, but perhaps to others.
The larger issue here is we have a police force that is experiencing "among the most stressful occupations in the world and officers typically suffer a variety of physiological, psychological, and behavioral effects and symptoms," according to a 2012 study examining the role of stress and other psychological challenges in a police officers life. "Officers operating under severe or chronic stress are likely to be at greater risk of error, accidents, and overreactions that can compromise their performance, jeopardize public safety, and pose significant liability costs to the organization" the study abstract continues.
After following 59 police officers through 16 weeks that had been trained on Heart Math's Resilience Advantage® training, it was noted that:
"The greatest and, in our view, most important effect of the self-management training was seen in the participants' increased ability to manage their moods and emotions, which is a fundamental key to sustaining resilience. … For the police officer, the abilities to think rationally under stress, concentrate, plan ahead, remember and organize crucial information, make effective decisions, and control inappropriate emotion-triggered reactions are critically important and in some cases, can determine the difference between life and death for the officer and other parties."
Since 2012, 300 to 400 police officers per week in the Netherlands have received heart coherence training through the HeartMath.  It was estimated that by 2016, 30,000 Dutch officers would have gone through the training, we are awaiting an update on this figure. HeartMath Benelux is an official partner of the Dutch Police Academy as clearly they see value in this form of training for officers.
The conscious takeaway: Why is the emotional and psychological state of an officer not one of the most important factors discussed in the media? It so often comes down to race as our social engineering has trained us to view things in that manner.
We have a potentially extremely powerful solution through Heart Math's Resilience Advantage® training yet we're happy to make social media posts about hate and race? Perhaps it's time for a new approach? Maybe we can begin to address the state of being of ourselves and start taking responsibility for how we feel, what we go through and how to master our emotions? There's plenty of tools out there, it simply requires a cultural shift in wanting to move towards peace vs staying right where we are.
After all, are police not people we want to feel like can truly help the community?
"It makes you not want to call the police department […] If you don't feel safe with the police department, then who do you feel safe with?" – James Smith, neighbor who called police.
Due to the pressure of mass censorship, we now have our own censorship-free, and ad-free on demand streaming network!
It is the world's first and only conscious media network streaming mind-expanding interviews, news broadcasts, and conscious shows.
Click here to start a FREE 7-Day Trial and watch 100's of hours of conscious media videos, that you won't see anywhere else.