The Man Who Was Sentenced To 14 Years For Making 'Anti-Gravity' Vehicles
In Brief
The Facts:

Anti-gravity technology has been around for decades, and there is much proof of that. One of the pioneers was Otis T. Carr, who was subjected to large amounts of ridicule and difficulty while pursuing his developments.

Reflect On:

If the release of this technology would completely wipe out the Oil Industry and collapse the monetary system, does that legitimize the suppressing of it? Is our collective consciousness ready for technologies that would change our entire society?
It's astonishing to me how the topic of anti-gravity is still be placed in the "conspiracy theory" realm. This isn't the stuff of conspiracy theories or "fringe" science, it's a field full of reputable scientists and scholars, and real-world examples that have come not only from hard evidence but from extremely credible witness testimony as well.  One thing is for certain when talking about such topics: one must delve into the black budget world.
Take, for example, a recent investigation conducted by a Michigan State University professor and a former secretary from the Department of Housing and Development. Together, with a team of Ph.D students, they uncovered approximately $21 trillion that went missing and unaccounted for from the Department of Defense as well as the Department of Housing and Development. Why is this relevant? Because they discovered that the money was going to fund black budget, off the books programs that require no oversight from Congress.  This black budget world has been in operation for many years. You can read more about it here and here in two articles I've previously written on the subject.
Breakaway Civilization
The black budget world encompasses a separate civilization (Richard Dolan, "Breakaway Civilization") that has used tremendous amounts of resources in all areas, from science to archaeology, to move itself far ahead of the mainstream world technologically. How many people does it employ? Who is operating it? Many of these questions remain unknown, but if you follow the money it will give you perhaps somewhat of an idea.
Any civilian who invents technology that rivals the black budget world has always been subjected to harassment, and has difficulty getting their innovations or inventions out to the public. That's because these technologies have been 'classified', for if they were made public it would change everything, severely threatening the tremendous amount of power and control the global elite has over the human population.
The technology that's been developed within these programs could change the world, but instead it's used within the military-industrial complex for self-serving purposes, or so it seems. Efficient energy-generating devices that could eliminate the use of oil, or any other modern day fuel source for that matter, have been subjected to patent suppression.
Suppressed Technology List From 1971
For example, the previous list regarding technology suppressed was obtained by researcher Michael Ravnitzky in 1971. Most of the technology listed seems to be related to various military applications. You can view that list here. As Steven Aftergood from the Federation of American Scientists reports:
"The 1971 list indicates that patents for solar photovoltaic generators were subject to review and possible restriction if the photovoltaics were more than 20% efficient. Energy conversion systems were likewise subject to review and possible restriction if they offered conversion efficiencies in "excess of 70-80%." (source)
Why would higher energy efficiencies be a "national security threat?" If this is true, we are talking about solar technology that goes far beyond the best commercial panels available today, which usually can't even generate 20 percent efficiency.
"These concepts have been proven in hundreds of laboratories throughout the world and yet they have not really seen the light of day. If these technologies were to be set free worldwide, the change would be profound, it would be applicable everywhere. These technologies are absolutely the most important thing that has happened in the history of the world"  – Brian O'Leary, Former Nasa Astronaut and Princeton Physics Professor, speaking about over-unity energy, or 'free' energy.  (source)
Anti-Gravity
Anti-Gravity technology most probably falls into this category. According to the very first director of the CIA, Roscoe Hiellenkoetter, we know that there was an "official campaign of secrecy and ridicule" with regards to UFOs while stating that Air Force officers were well aware of their existence. Today we have electro-optical data and even physical evidence, not to mention credible witness testimony of technologies performing and demonstrating this type of technology.
We have statements from previous as well as the most recently retired Directors of Lockheed Martin Aerospace programs, like Steve Justice.  So, what did Mr. Justice have to say? Well, a lot of things. One of the first statements he made using the To The Stars platform is that, when it comes to the technologies he's been around, worked with, and seen, it would be an understatement to call them revolutionary. They are also working on a craft that mimics observations they've seen in UFOs, as he stated:
 It mimics the capabilities observed in unidentified aerial phenomenon by employing a driver system that alters the space-time metric. We have glimpses of how the physics of this works, but we need to harvest technologies from the Science Division to "realize" the capability. (source)
So, as you can see, this type of technology is no joke. Many of the UFOs we see may be made by humans, others, probably not. The point is, they are here, within the "science division."
"It is my thesis that flying saucers are real and that they are space ships from another solar system." – Hermannn Oberth , one of the founding fathers of modern rocketry.
Anti-gravity technology has been around for a long time.
A paper entitled "Outside The Box" Space & Terrestrial Transportation & Energy Technologies For The 21st Century written by Professor Theodore Lodre of the University of New Hampshire reviews the development of anti-gravity research in the United States and emphasizes how "research activity seemed to disappear by the mid-1950s." It then looks into recently reported scientific findings and witness testimonies "that show us that this research and technology is alive and well and very advanced. The revelations of findings in this area will alter dramatically our 20th-century view of physics and technology and must be considered in planning for both energy and transportation needs in the 21st century."
Otis T. Carr
Otis T. Carr is one of many examples throughout history where there are clues that highly advanced technologies like anti-gravity crafts are actually legit. Given everything we know now, as well as what happened to Carr, only strengthens this suspicion.
In the late 1950s, OTC Enterprises, Inc. of Baltimore, Maryland put out a statement that was published in the April 3rd edition of the Baltimore Enterprise. The statement came in the form of a claim that the company was ready to manufacture a flying saucer that was capable of travel outside of the Earth's atmosphere. All that was needed was a massive amount of funding, approximately 20 million dollars. The equivalent to that today is probably several billion.
Now keep in mind that this is the 1950s. There was a big wave of UFO sightings at this time, especially after the Atom bomb was dropped. The topic was getting a lot of mainstream media attention. Rumors of "crashed craft, and bodies recovered," that Apollo 14 astronaut Edgar Mitchell claimed were real were running rampant at this time. Did 'the powers that be' or 'the military-industrial complex' have saucer technology at this time? Based on my research, it certainly seems that way.  Take, for example, a document from the Central Intelligence Agency's Electronic reading room:
"A German newspaper recently published an interview with George Klein, famous German engineer and aircraft expert, describing the experimental construction of 'flying saucers' carried out by him from 1941 to 1945." (source)
The document goes on to describe how many people believed 'flying saucers' to be a postwar development. They were actually in the planning stages in German aircraft factories as early as 1941. The document then goes on to mention an experiment described by Klein:
 "The "flying saucer" reached an altitude of 12,400 meters within 3 minutes and a speed of 2,200 kilometers per hour. Klein emphasized that in accordance with German plans, the speed of these "saucers" would reach 4,000 kilometers per hour. One difficulty, according to Klein, was the problem of obtaining the materials to be used for the construction of the "saucers," but even this had been solved by German engineers toward the end of 1945, and construction on the objects was scheduled to begin, Klein added.
Otis T. Carr, as mentioned above, had similar claims. He even put on numerous demonstrations for the public and amassed millions of dollars from extremely wealthy people to do so. If they did not believe him, and if he had not shown some promise, how did he receive all of this funding?
Think about it. We now know for a fact that global militaries have long had an interest in the UFO phenomenon. They've been asking who, what, where, when and how for a very long time, and of course it's considered a national security matter. Any individual who has invented, or shows potential to invent craft that is capable of extreme, technologically advanced maneuvers, would not be allowed to develop it, and would be ridiculed like Carr was. This is why the invention secrecy act was made in the early 1950s. In my opinion, its true aimto protect the interest of the power under the guise of 'national security.'
Carr's Goal
His goal was to fly to the moon in his "circular foil spacecraft" on December 7th, 1959.
The "spacecraft" allegedly invented by Carr is much like the ideal spaceship imagined by Plantier and others. It is propelled by an artificial gravitic field (the "Carrotto gravity motor") and if this were not miracle enough, it uses no fuel. It is powered by the "Utron electric accumulator"–a short of self-charging battery which "uses the Sun's magnificent force of Electromagnetism by means of natural reproductive chemistry, to quote the interesting language of the Enterprise ad. (Centre for UFO Studies)
Below is a picture of Wayne Aho, a military intelligence officer who was going to accompany Carr on his trip to the moon. He claimed it would only take a few hours. Carr is second from the left.
Otis T. Carr was actually a protege of Nikola Tesla, according to independent researcher Doug Yurchey: "Carr and his team constructed a number of fully functional flying saucers in the late 1950s. The flying disk worked and was demonstrated. Carr was serious about 'taking his craft to the Moon. 'However, two weeks after a dramatic test flight, their laboratory was forcibly closed, Federal agents confiscated equipment as well as all documentation. Authorities told them Carr's project would 'destroy the monetary system of the United States.'  (source)
Carr was heavily criticized, ridiculed, and made a fool of by the press. I could not verify whether his connection with Tesla is actually true or not, but rumors of Carr's relationship with Tesla were rampant, even in the 50's.
Classic Hit Job
This is a classic story of someone who received lots of public attention and had many failed demonstrations, and apparently, many successful ones as well. Like other great inventors, Carr's work was seized by the government. This happened in January 1961, when Louis J. Lefkowitz, the Attorney General of New York at the time, stated that "Carr had swindled $50,000, and later that year True Magazine labelled him as a hoaxer." By then, his laboratory had been raided and destroyed, and the group of engineers had been ordered to disband and cease contact with one another.
This is very fishy, and similar to the Stan Meyer water powered car story. Looking at it today, it was quite clear that this was a huge attempt to shut Carr down. These developments and curiosities were not for our world, but were reserved for the black budget world. He was denied an appeal on March 1st, 1961 for his 'crime'. He could not pay the fine and served part of a 14-year jail term. After that little is known about what became either of Carr himself or the craft, but they never flew again. Carr is reported to have suffered from ill-health, a broken man. He passed away apparently in Gardnerville, Nevada, in 2005.
In 1952, Carr actually wrote a book, called "Dimensions of Mystery." The book was mostly written in 'code,' according to him, it was the complete layout of his plan and how his machine worked, yet for a reader like me, or anyone for that matter, it's impossible to understand. He did switch from user code and poetry, to actually writing some real statements regarding his intentions, as you can see here:
Below is a discussion about the tests that would need to be conducted, and, apparently were conducted.
Hal Puthoff
As you can see, just like with most other stories of great technological advancements (there are too many examples to choose from), the global elite has always demonstrated their supremacy by ridiculing concepts that don't really fit the frame. There are multiple technological developments that have been completely hushed up, for "national security purposes."
Take this quote from Hal Puthoff, for example. It's not with regards to UFOs but more so "free-energy," which actually go hand in hand and relate directly to each other. Puthoff has published numerous papers on electron-beam devices, lasers and space propulsion and has patents issued in the laser, communications, and energy fields. Dr. Puthoff's professional background spans more than five decades of research at General Electric, Sperry, the National Security Agency, Stanford University and SRI International. Dr. Puthoff regularly advises NASA, the Department of Defense and intelligence communities, corporations and foundations. Here's what he's had to say:
"I've been taken out on aircraft carriers by the Navy and shown what it is we have to replace if we have new energy sources to provide new fuel methods."
Puthoff is now part of the 'To The Stars' academy, who have publicly disclosed that they are working on technology that mimics the flight patterns of observed UFOs.
The Design
Below is  the design of the OTC X-1
Please go to Project Camelots write up on Otis, find this picture and click on each image to view it in high resolution.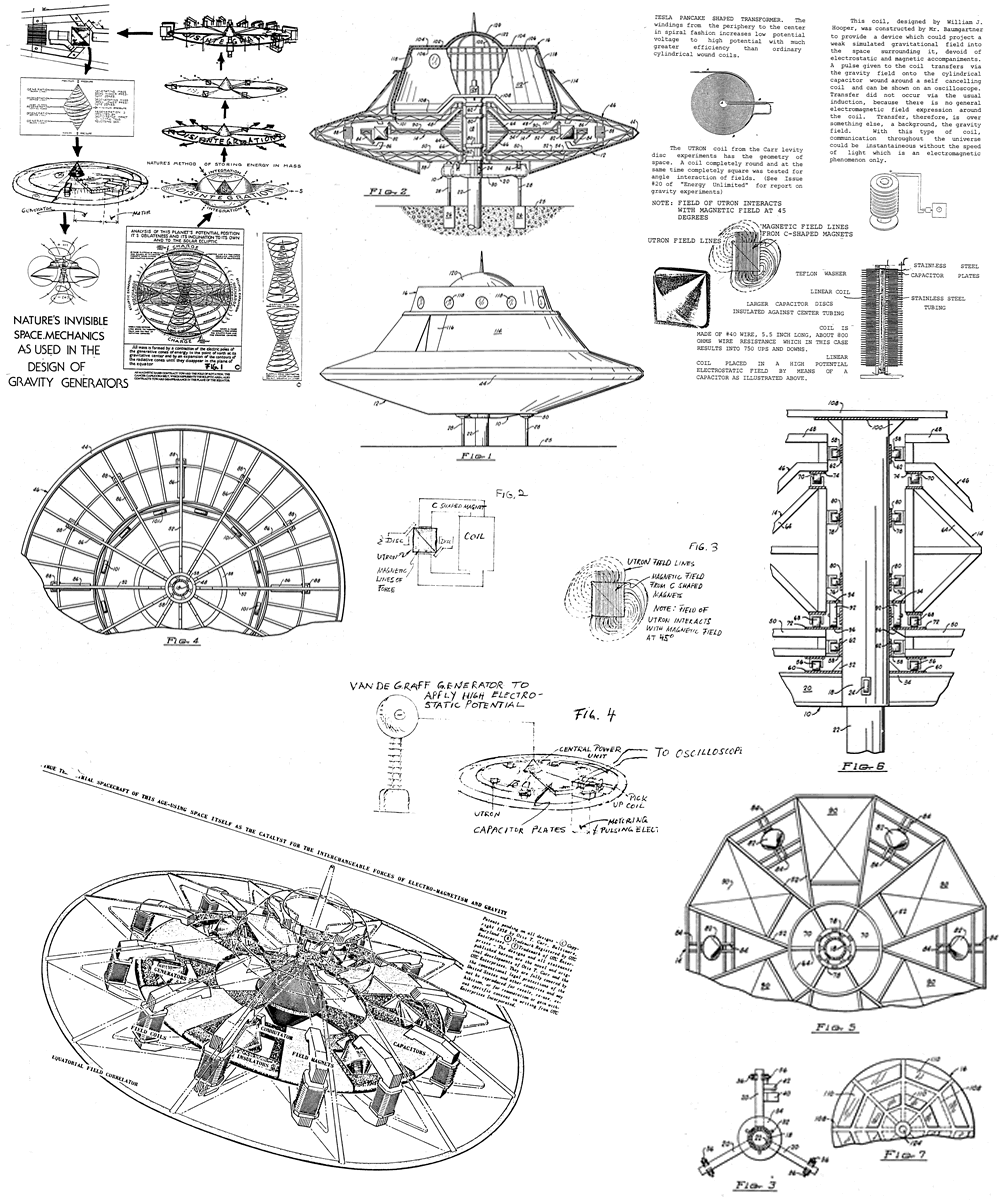 The Takeaway
Let's keep an open mind, and not to brush off revolutionizing technologies just because they break the laws of physics as we know them; after all, such laws are made to be broken. It's similar to when Lord Einstein published his paper on special relativity that completely shattered what we thought we knew back then. Today, we are more aware of how the giant national security apparatus intervenes, and given all of the information that's emerged regarding the subject of exotic technologies like anti-gravity crafts, it's easier to see 70 years after the fact what really happened to Otis T. Carr.
Due to the pressure of mass censorship, we now have our own censorship-free, and ad-free on demand streaming network!
You can stream conscious media 24/7 and enjoy mind-expanding interviews, original shows, and documentaries and guided programs.
Click here to start a FREE 7-Day Trial and watch 100's of hours of conscious media that you won't see anywhere else.
Police Vet Explains Why People Like Jeffrey Epstein Get Away With Child Trafficking & Pedophilia
In Brief
The Facts:

Jon Wedger is a retired Police Detective with over 25 years service in the investigation into child abuse. In the video below, he describes how elite level trafficking and the abuse of children are able to sustain themselves.

Reflect On:

What are some of the most powerful people on our planet involved in? When you are perceived as someone else than who you really are, what implications does that have? Do you research something before simply throwing it into the 'conspiracy' bucket?
Jeffrey Epstein's arrest and death brought a lot of attention to the topic of elite level child trafficking and more awareness to the idea that powerful people may actually be running sex trafficking pedophile rings, as unbelievable as it sounds. The truth is, prior to Epstein's 'fame,' this type of activity was well known. For example, there are strange cases of child porn from within the Pentagon and many more examples within politics, even within the Royal Family–something that Prince Andrew's supposed involvement brought more attention to. If you want in-depth details and evidence, you can refer to this article I published a few months ago, which provides that type of information. There's no point in re-writing it all here.
The key to all of this seems to be bribery and blackmail–at least there is information suggesting that part of Epstein's role was to entrap 'elite' level figures who had the power to make decisions with regards to political policies and much more. You can read more about that here.
A paper published in European Psychiatry titled "The cremation of care ritual: Burning of effigies or human sacrifice murder? The importance of differentiating complex trauma from schizophrenia in extreme abuse settings" by Dr. Rainer Kurz, a chartered occupational psychologist (PhD at The University of Manchester, MSc in Industrial Psychology at The University of Hull) explains:
Research eventually led to the Franklin scandal that broke in 1989 when hundreds of children were apparently flown around the US to be abused by high ranking 'Establishment' members. Former state senator John W DeCamp, cited as one of the most effective legislators in Nebraska history, is today attorney for two of the abuse victims. A 15 year old girl disclosed that she had been abused since the age of 9 exposed to 'ritual murder' of a new born girl, a small boy (who was subsequently fried and eaten) and three others.
It's quite shocking stuff, and who really knows how deep the rabbit hole goes and what these supposed rings are involved in.
Jon Wedger is one of many people who has testified at the International Tribunal For Natural Justice (ITNJ). Here is a list of the ITNJs commissioners, and here's a list of their advocates. Wedger is a retired Police Detective with over 25 years service in the investigation into child abuse. According to his testimony, he was threatened and bullied out of his job for exposing the high-level cover-up of child prostitution. Since his retirement, he's been working with anti-child abuse campaigner Bill Maloney in raising awareness of the true extent of the scale of this heinous crime. Himself, along with other whistleblowing cops as well as victims and survivors of abuse, are campaigning for a change in the Law to give brave whistleblowers the protection they truly deserve.
The truth is, there are many leaks that have come out and will continue to be revealed that have implicated a large portion of the global elite in the use, abuse, and murder of many children. These are very powerful people who basically control the judicial system as well as the mainstream media. Because of their power, they are able to protect themselves from 'punishment.'
When people like Wedger dig into these cases, they are eventually stopped and threatened, and many are then afraid to speak out and of being wrongfully accused, put in prison, and silenced forever.
Whistleblowers in all fields have tremendous problems. The intelligence community does not make it easy for these people, and they show great bravery for speaking out.
The interview with Wedger below is a good interview to give you the extent of this problem and just how high up it goes. Places like the Vatican, global politics, Hollywood, and within the military industrial complex have all been implicated, and there are multiple examples in each field to choose from. Collective Evolution has covered many stories on this topic for multiple years, and you can find more articles on our website if you'd like to learn more. The ITNJ is also a great place to begin your research as well.
The testimony below is a great way to get an idea of how this type of activity is able to continue.
The Takeaway
Obviously, the world is waking up to the fact that some powerful, influential people are involved in some very immoral things. But does this surprise you? To engage in such activities, perpetrators have to not only be dealing with a great amount of trauma, but also lack the ability to feel, lack empathy in some sense, and be devoid of the moral character that makes human beings so special. If many of these people are atop our political and financial worlds, making decisions that greatly influence our entire planet in a number of different ways, are you really surprised to see that our climate and our political relationships are in the states they are today? How can people involved in the abuse of children, among other things, really care about planet Earth and humanity as a whole? Something to think about…
Due to the pressure of mass censorship, we now have our own censorship-free, and ad-free on demand streaming network!
You can stream conscious media 24/7 and enjoy mind-expanding interviews, original shows, and documentaries and guided programs.
Click here to start a FREE 7-Day Trial and watch 100's of hours of conscious media that you won't see anywhere else.
Breaking: Harvey Weinstein Found Guilty of Criminal Sex Acts & Rape
In Brief
The Facts:

Harvey Weinstein was found guilty of committing a criminal sex act in the first degree, and rape in the third degree. Sentencing is still to come.

Reflect On:

How many more high profile figures like Weinstein are involved in actions like this?
(Updates will be posted below as more information arrives.) It took 5 days for a New York jury to hand in their decision just a few hours ago. They found Harvey Weinstein guilty of committing a criminal sex act in the first degree involving one woman, and rape in the third degree involving another woman.
There were more serious charges against Weinstein as well; however the jury acquitted Weinstein on charges of predatory sexual assault involving two women, Miriam Haley and Jessica Mann. Jurors felt that that evidence did not prove beyond a reasonable doubt that Weinstein had also raped Annabella Sciorra, a "Soprano's" star.
The judge remanded Harvey Weinstein into custody following today's verdict. Harvey Weinstein's attorney is already filing an appeal following the verdict.
Sentencing
The sentence has not yet been handed down. The sentencing guidelines are as follows:
Probation to four years in prison for rape in the third degree
At least five years in prison for criminal sexual act in the first degree
More updates will be posted as we get them today.
The charges he was acquitted of carry a recommended sentence of 10 years to life in prison.
On The Rise
News of high profile sexual abuse cases such as this have been on the rise in recent years. This includes the Jeffrey Epstein case which of course involves accusations against Prince Andrew. Evidence and testimony suggest that stories like this lead us to the involvement of many more powerful figures including politicians, presidents and celebrities. These are the people who we idolize, give our power to, and who make up the rules of society.
The big question is, why are we suddenly having to face these revelations so intensely as a society at this moment? Is it finally time for humanity to face what sorts of acts are taking place at high levels of society and government? How would this change how we give trust and power to certain individuals?
Here at CE, we had the opportunity to do an incredible interview series with one survivor of sexual and ritual abuse as part of an elite level ring. Her name is Anneke Lucas and she gives important insights into how people in positions of power take actions like this, and what it means for the rest of society to learn about this stuff so we can create a better world at the end of the day. You can check out her testimony in full here on CETV.
UPDATES:
– Harvey Weinstein is scheduled for sentencing on March 11.
Due to the pressure of mass censorship, we now have our own censorship-free, and ad-free on demand streaming network!
You can stream conscious media 24/7 and enjoy mind-expanding interviews, original shows, and documentaries and guided programs.
Click here to start a FREE 7-Day Trial and watch 100's of hours of conscious media that you won't see anywhere else.
Study: The Human Body Responds To Sharp Changes In Solar & Geomagnetic Activity
In Brief
The Facts:

Multiple studies have shown how changes In solar & geomagnetic activity correlate with human biology. This is usually measured by autonomic nervous system activity.

Reflect On:

How much of an influence do the cosmos have on human consciousness?
Over the past few years, a number of publications have emerged from scientists and researchers all over the world regarding the human magnetic field. Not only have they been studying the human magnetic field, they've also been studying the magnetic field of the planet, and how all these fields, including our own, can impact ourselves and the people around us. It's similar to quantum entanglement, in that both show that everybody and every living thing is "connected" in ways we have yet to fully understand.
Leading the charge are the brilliant scientists over at the HearthMath Institute. An internationally recognized nonprofit research and education organization, it dedicates itself to helping people reduce stress, self-regulate emotions, and build energy and resilience for healthy, happy lives.
A large portion of their research has investigated heart and brain interaction. Researchers have examined how the heart and brain communicate with each other and how that affects our consciousness and the way in which we perceive our world. For example, when a person is feeling really positive emotions like gratitude, love, or appreciation, the heart beats out a certain message. Because the heart beats out the largest electromagnetic field produced in the body, it can yield significant data for researchers. You can read more about that here.
Now, the Institute has published new research which suggests that daily autonomic nervous system activity not only responds to changes in solar and geomagnetic activity, but also synchronizes with the time-varying magnetic fields associated with geomatic field-line resonances and Schumann resonances.
In 1952, German physicist and professor W.O. Schumann of the Technical University of Munich began attempting to answer whether or not the Earth itself has a frequency — a pulse. His assumption about the existence of this frequency came from his understanding that when a sphere exists inside of another sphere, an electrical tension is created. Since the negatively charged Earth exists inside the positively charged ionosphere, there must be tension between the two, giving the Earth a specific frequency. Following his assumptions, through a series of calculations he was able to land upon a frequency he believed was the pulse of the Earth. This frequency was 10hz.
It wasn't until 1954 that Schumann teamed up with another scientist, Herbert König, and confirmed that the resonance of the Earth maintained a frequency of 7.83 Hz. This discovery was later tested out by several scientists and confirmed. Since then, the Schumann Resonance has been the accepted term to describe or measure the pulse or heartbeat of the earth.
You can read more about Schumann Resonance here.
"To follow up and confirm these profound findings, an international study with 104 participants in five countries was conducted. The preliminary findings have confirmed and extended the results of the first study and they indicate humanity's heart rhythms are synchronized on a global scale. We are synchronized not only with each other, but also with the earth's energetic systems." (source)
The study was published in the International Journal of Environmental Research and Public Health, and its results are consistent with other studies showing that changes in solar and geomagnetic activity correlate with changes in the human nervous system activity.
It's long been known that all biological systems on Earth are exposed to invisible magnetic fields of all kinds, and at all range of frequencies, and that these fields can affect every cell and circuit to a greater or lesser degree. A number of physiological rhythms, as the study points out, have been shown to be synchronized with solar and geomagnetic activity. (source)(source)(source)(source)(source)(source)
As the study points out:
Human regulatory systems are designed to adapt to daily and seasonal climatic and geomagnetic variations; however, sharp changes in solar and geomagnetic activity and geomagnetic storms can stress these regulatory systems, resulting in alterations in melatonin/serotonin balance, blood pressure, immune system, reproductive, cardiac, and neurological processes. Disturbed geomagnetic activity is associated with the intensification of existing diseases, significant increases in myocardial infarction incidence and death, changes in blood flow, aggregation, and coagulation, increased blood pressure, cardiac arrhythmias, and seizures in epileptics.
Fascinating, isn't it? it makes one wonder just how much we know about our health and what influences it.
The study outlines how, during periods of increased solar activity, which peaks every 10.5 to 11 years, "the sun emits increased ultraviolet (UV) energy and solar radio flub, which is measured by the 2.8 GHz signal" and "although the details of the physiological mechanisms in humans and animals are not yet fully understood, it is apparent that solar and magnetic influences affect a wide range of human health and behavioral processes, with the cardiovascular and nervous systems being the most clearly affected."
The study goes on to outline several examples where the human autonomic nervous system seems to be responding to this type of activity.
For this specific study, ten healthy individuals from the ages of 34 to 65 years old participated, with an average age of 53. Their Heart Rate Variability (HRV) was recorded for 31 consecutive days. To see the methods and results, as well as the statistical analysis, limitations, and more, please refer to the actual study.
Based on their results, the authors concluded:
Overall, the study suggests that daily autonomic nervous system activity not only responds to changes in solar and geomagnetic activity, but is synchronized with the time-varying magnetic fields associated with geomagnetic field-line resonances and Schumann resonances. A likely explanation for how solar and geomagnetic fields can influence human nervous system activity is through a resonant coupling between our nervous systems and geomagnetic frequencies (Alfvén waves), or ultra low frequency standing waves in the earth-ionosphere resonant cavity (Schumann resonances) that overlap with physiological rhythms.
Findings like these, and many more, are exactly why the HeartMath institute began what's known as the Global Coherence Initiative (GCI).
Others are working on identifying how these fields can be sensed.
A recent study published by Kirschvink in the journal Nature Communications suggests that a protein in the human retina, when placed into fruit flies, has the ability to detect magnetic fields. The research claims that it can serve as a magneto sensor, but it's unknown whether or not humans use it in this way as well. (source)
The Global Coherence Initiative
The GCI in an international cooperative effort to help activate the heart of humanity and facilitate a shift in global consciousness. Its primary focus is to invite people to participate by actively adding more heart-coherent love, care, and compassion into the planetary field. It also aims to scientifically research how we are all energetically connected with each other and the planet, and how we can utilize this interconnectivity to raise our personal vibration to assist in creating a better world.
The hypotheses of the researchers and scientists behind this process are as follows:
The Earth's magnetic fields are a carrier of biologically relevant information that connects all living systems
Every person affects this global information field. Large numbers of people creating heart-coherent states of love, appreciation, care, and compassion can generate a more coherent field environment that benefits others and helps off-set the current planetary discord and incoherence
There is a feedback loop between human beings and Earth's energetic/magnetic systems
Earth has several sources of magnetic fields that affect us all. Two of them are the geomagnetic field that emanates from the core of the Earth, and the fields that exist between Earth and the ionosphere. These fields surround the entire planet and act as protective shields blocking out the harmful effects of solar radiation, cosmic rays, sand, and other forms of space weather. Without these fields, ice as we know it could not exist on Earth. They are part of the dynamic ecosystem of our planet.
The Earth and ionosphere generate frequencies that range from 0.01 hertz to 300 hertz, some of which are in the exact same frequency range as the one happening in our brain, cardiovascular system, and autonomic nervous system. This fact is one way to explain how fluctuations in the Earth's and Sun's magnetic fields can influence us. Changes in these fields have also been shown to affect our brain waves, heart rhythms, memory, athletics performance, and overall halth.Changes in the Earth's fields from extreme solar activity have been linked to some of humanity's greatest creations of art, as well as some of its most tragic events. (source)We know how these fields affect us, but what about how we affect these fields? That's the real question here. GCI scientists believe that because brainwave and heart rhythm frequencies overlap the Earth's field resonance, we are not just receivers of biologically relevant information, but also feed information into the global field, thus creating a feedback loop with the Earth's magnetic fields:

Research is indicating that human emotions and consciousness encode information into the geomagnetic field and this encoded information is distributed globally. The Earth's magnetic fields act as carrier waves for this information which influences all living systems and the collective consciousness. (source)

This research, which is still in its infancy, has great ramifications. It will further push along the fact that our attitudes, emotions, and intentions actually matter, a lot, and that these factors within the realm of non-material science can affect all life on Earth. Coherent, cooperative intention could impact global events and improve the quality of life on Earth. Practicing love, gratitude, and appreciation, and bettering ourselves as individuals, are just a few of many action steps we can take toward changing our planet for the better.
So What?
This research further reinforces the fact that we have a special kind of relationship with every living system around us, an energetic relationship where processes as described above affect our nervous system, health, emotions, and mood.  Previous research on this topic shows just how important our emotions could be with regards to coding information into this field. Positive emotions can uplift our nervous system, while negative emotions can dampen it.
The best way, for now, to work with this information and incorporate it into our daily lives is through self observation.
So, the next time you feel upset, angry, or frustrated, try observing yourself and how you react. It's great practice to identify and neutralize your buttons so they cannot be pushed, and work on your personal development. You have to do whatever you can to feel good, which could include exercise, eating healthy, minimizing electronics usage, spending time with friends and animals, and more. You could practice being less judgemental, and work on your intentions by figuring out if they are coming from a  'good' place. You could be more grateful, you could help others, and you could treat others how they want to be treated.
There are a number of tools you could use, like meditation, for example, to assist you with these action steps. The bottom line is, if you are at peace with yourself, and have control over your emotions, you are helping the planet and others around you. If you are constantly angry, harming others, or have negative intentions, you could be doing the exact opposite.
To further your research on this topic, an excellent place to start is the at the Institute of HeartMath. The Institute of HeartMath is an internationally recognized nonprofit research and education organization dedicated to helping people reduce stress, self-regulate emotions, and build energy and resilience for healthy, happy lives.
Collective Evolution III, The Shift
Some of what is discussed above is also covered in our third documentary that was released three years ago. The Collective Evolution III is a powerful documentary that explores a revolutionary shift affecting every aspect of our planet. As the shift hits the fan, people are becoming more aware of the control structures that prevent us from experiencing our full potential. CE3 uses a different level of consciousness and scientific facts to bring clarity about the shift while dispelling myths about our true nature. It offers practical steps that we can implement right now to transition out of survival mode and into our more natural state of peace and co-operation . CE3 includes fascinating interviews with revolutionary speakers and people who are already opting out of the current socioeconomic system. The film examines hidden technologies and exciting alternatives for a bright limitless future. This is the most exciting time in the history of our world.
So if you're interested, you can watch it on CETV here.
Related CE Articles:
What Science Is Telling Us About The Heart's Intuitive Intelligence
What Science Is Telling Us About Earth's Magnetic Fields & How They Connect To Our Own
Due to the pressure of mass censorship, we now have our own censorship-free, and ad-free on demand streaming network!
You can stream conscious media 24/7 and enjoy mind-expanding interviews, original shows, and documentaries and guided programs.
Click here to start a FREE 7-Day Trial and watch 100's of hours of conscious media that you won't see anywhere else.