The Man Who Was Sentenced To 14 Years For Making 'Anti-Gravity' Vehicles
In Brief
The Facts:

Anti-gravity technology has been around for decades, and there is much proof of that. One of the pioneers was Otis T. Carr, who was subjected to large amounts of ridicule and difficulty while pursuing his developments.

Reflect On:

If the release of this technology would completely wipe out the Oil Industry and collapse the monetary system, does that legitimize the suppressing of it? Is our collective consciousness ready for technologies that would change our entire society?
It's astonishing to me how the topic of anti-gravity is still be placed in the "conspiracy theory" realm. This isn't the stuff of conspiracy theories or "fringe" science, it's a field full of reputable scientists and scholars, and real-world examples that have come not only from hard evidence but from extremely credible witness testimony as well.  One thing is for certain when talking about such topics: one must delve into the black budget world.
Take, for example, a recent investigation conducted by a Michigan State University professor and a former secretary from the Department of Housing and Development. Together, with a team of Ph.D students, they uncovered approximately $21 trillion that went missing and unaccounted for from the Department of Defense as well as the Department of Housing and Development. Why is this relevant? Because they discovered that the money was going to fund black budget, off the books programs that require no oversight from Congress.  This black budget world has been in operation for many years. You can read more about it here and here in two articles I've previously written on the subject.
Breakaway Civilization
The black budget world encompasses a separate civilization (Richard Dolan, "Breakaway Civilization") that has used tremendous amounts of resources in all areas, from science to archaeology, to move itself far ahead of the mainstream world technologically. How many people does it employ? Who is operating it? Many of these questions remain unknown, but if you follow the money it will give you perhaps somewhat of an idea.
Any civilian who invents technology that rivals the black budget world has always been subjected to harassment, and has difficulty getting their innovations or inventions out to the public. That's because these technologies have been 'classified', for if they were made public it would change everything, severely threatening the tremendous amount of power and control the global elite has over the human population.
The technology that's been developed within these programs could change the world, but instead it's used within the military-industrial complex for self-serving purposes, or so it seems. Efficient energy-generating devices that could eliminate the use of oil, or any other modern day fuel source for that matter, have been subjected to patent suppression.
Suppressed Technology List From 1971
For example, the previous list regarding technology suppressed was obtained by researcher Michael Ravnitzky in 1971. Most of the technology listed seems to be related to various military applications. You can view that list here. As Steven Aftergood from the Federation of American Scientists reports:
"The 1971 list indicates that patents for solar photovoltaic generators were subject to review and possible restriction if the photovoltaics were more than 20% efficient. Energy conversion systems were likewise subject to review and possible restriction if they offered conversion efficiencies in "excess of 70-80%." (source)
Why would higher energy efficiencies be a "national security threat?" If this is true, we are talking about solar technology that goes far beyond the best commercial panels available today, which usually can't even generate 20 percent efficiency.
"These concepts have been proven in hundreds of laboratories throughout the world and yet they have not really seen the light of day. If these technologies were to be set free worldwide, the change would be profound, it would be applicable everywhere. These technologies are absolutely the most important thing that has happened in the history of the world"  – Brian O'Leary, Former Nasa Astronaut and Princeton Physics Professor, speaking about over-unity energy, or 'free' energy.  (source)
Anti-Gravity
Anti-Gravity technology most probably falls into this category. According to the very first director of the CIA, Roscoe Hiellenkoetter, we know that there was an "official campaign of secrecy and ridicule" with regards to UFOs while stating that Air Force officers were well aware of their existence. Today we have electro-optical data and even physical evidence, not to mention credible witness testimony of technologies performing and demonstrating this type of technology.
We have statements from previous as well as the most recently retired Directors of Lockheed Martin Aerospace programs, like Steve Justice.  So, what did Mr. Justice have to say? Well, a lot of things. One of the first statements he made using the To The Stars platform is that, when it comes to the technologies he's been around, worked with, and seen, it would be an understatement to call them revolutionary. They are also working on a craft that mimics observations they've seen in UFOs, as he stated:
 It mimics the capabilities observed in unidentified aerial phenomenon by employing a driver system that alters the space-time metric. We have glimpses of how the physics of this works, but we need to harvest technologies from the Science Division to "realize" the capability. (source)
So, as you can see, this type of technology is no joke. Many of the UFOs we see may be made by humans, others, probably not. The point is, they are here, within the "science division."
"It is my thesis that flying saucers are real and that they are space ships from another solar system." – Hermannn Oberth , one of the founding fathers of modern rocketry.
Anti-gravity technology has been around for a long time.
A paper entitled "Outside The Box" Space & Terrestrial Transportation & Energy Technologies For The 21st Century written by Professor Theodore Lodre of the University of New Hampshire reviews the development of anti-gravity research in the United States and emphasizes how "research activity seemed to disappear by the mid-1950s." It then looks into recently reported scientific findings and witness testimonies "that show us that this research and technology is alive and well and very advanced. The revelations of findings in this area will alter dramatically our 20th-century view of physics and technology and must be considered in planning for both energy and transportation needs in the 21st century."
Otis T. Carr
Otis T. Carr is one of many examples throughout history where there are clues that highly advanced technologies like anti-gravity crafts are actually legit. Given everything we know now, as well as what happened to Carr, only strengthens this suspicion.
In the late 1950s, OTC Enterprises, Inc. of Baltimore, Maryland put out a statement that was published in the April 3rd edition of the Baltimore Enterprise. The statement came in the form of a claim that the company was ready to manufacture a flying saucer that was capable of travel outside of the Earth's atmosphere. All that was needed was a massive amount of funding, approximately 20 million dollars. The equivalent to that today is probably several billion.
Now keep in mind that this is the 1950s. There was a big wave of UFO sightings at this time, especially after the Atom bomb was dropped. The topic was getting a lot of mainstream media attention. Rumors of "crashed craft, and bodies recovered," that Apollo 14 astronaut Edgar Mitchell claimed were real were running rampant at this time. Did 'the powers that be' or 'the military-industrial complex' have saucer technology at this time? Based on my research, it certainly seems that way.  Take, for example, a document from the Central Intelligence Agency's Electronic reading room:
"A German newspaper recently published an interview with George Klein, famous German engineer and aircraft expert, describing the experimental construction of 'flying saucers' carried out by him from 1941 to 1945." (source)
The document goes on to describe how many people believed 'flying saucers' to be a postwar development. They were actually in the planning stages in German aircraft factories as early as 1941. The document then goes on to mention an experiment described by Klein:
 "The "flying saucer" reached an altitude of 12,400 meters within 3 minutes and a speed of 2,200 kilometers per hour. Klein emphasized that in accordance with German plans, the speed of these "saucers" would reach 4,000 kilometers per hour. One difficulty, according to Klein, was the problem of obtaining the materials to be used for the construction of the "saucers," but even this had been solved by German engineers toward the end of 1945, and construction on the objects was scheduled to begin, Klein added.
Otis T. Carr, as mentioned above, had similar claims. He even put on numerous demonstrations for the public and amassed millions of dollars from extremely wealthy people to do so. If they did not believe him, and if he had not shown some promise, how did he receive all of this funding?
Think about it. We now know for a fact that global militaries have long had an interest in the UFO phenomenon. They've been asking who, what, where, when and how for a very long time, and of course it's considered a national security matter. Any individual who has invented, or shows potential to invent craft that is capable of extreme, technologically advanced maneuvers, would not be allowed to develop it, and would be ridiculed like Carr was. This is why the invention secrecy act was made in the early 1950s. In my opinion, its true aimto protect the interest of the power under the guise of 'national security.'
Carr's Goal
His goal was to fly to the moon in his "circular foil spacecraft" on December 7th, 1959.
The "spacecraft" allegedly invented by Carr is much like the ideal spaceship imagined by Plantier and others. It is propelled by an artificial gravitic field (the "Carrotto gravity motor") and if this were not miracle enough, it uses no fuel. It is powered by the "Utron electric accumulator"–a short of self-charging battery which "uses the Sun's magnificent force of Electromagnetism by means of natural reproductive chemistry, to quote the interesting language of the Enterprise ad. (Centre for UFO Studies)
Below is a picture of Wayne Aho, a military intelligence officer who was going to accompany Carr on his trip to the moon. He claimed it would only take a few hours. Carr is second from the left.
Otis T. Carr was actually a protege of Nikola Tesla, according to independent researcher Doug Yurchey: "Carr and his team constructed a number of fully functional flying saucers in the late 1950s. The flying disk worked and was demonstrated. Carr was serious about 'taking his craft to the Moon. 'However, two weeks after a dramatic test flight, their laboratory was forcibly closed, Federal agents confiscated equipment as well as all documentation. Authorities told them Carr's project would 'destroy the monetary system of the United States.'  (source)
Carr was heavily criticized, ridiculed, and made a fool of by the press. I could not verify whether his connection with Tesla is actually true or not, but rumors of Carr's relationship with Tesla were rampant, even in the 50's.
Classic Hit Job
This is a classic story of someone who received lots of public attention and had many failed demonstrations, and apparently, many successful ones as well. Like other great inventors, Carr's work was seized by the government. This happened in January 1961, when Louis J. Lefkowitz, the Attorney General of New York at the time, stated that "Carr had swindled $50,000, and later that year True Magazine labelled him as a hoaxer." By then, his laboratory had been raided and destroyed, and the group of engineers had been ordered to disband and cease contact with one another.
This is very fishy, and similar to the Stan Meyer water powered car story. Looking at it today, it was quite clear that this was a huge attempt to shut Carr down. These developments and curiosities were not for our world, but were reserved for the black budget world. He was denied an appeal on March 1st, 1961 for his 'crime'. He could not pay the fine and served part of a 14-year jail term. After that little is known about what became either of Carr himself or the craft, but they never flew again. Carr is reported to have suffered from ill-health, a broken man. He passed away apparently in Gardnerville, Nevada, in 2005.
In 1952, Carr actually wrote a book, called "Dimensions of Mystery." The book was mostly written in 'code,' according to him, it was the complete layout of his plan and how his machine worked, yet for a reader like me, or anyone for that matter, it's impossible to understand. He did switch from user code and poetry, to actually writing some real statements regarding his intentions, as you can see here:
Below is a discussion about the tests that would need to be conducted, and, apparently were conducted.
Hal Puthoff
As you can see, just like with most other stories of great technological advancements (there are too many examples to choose from), the global elite has always demonstrated their supremacy by ridiculing concepts that don't really fit the frame. There are multiple technological developments that have been completely hushed up, for "national security purposes."
Take this quote from Hal Puthoff, for example. It's not with regards to UFOs but more so "free-energy," which actually go hand in hand and relate directly to each other. Puthoff has published numerous papers on electron-beam devices, lasers and space propulsion and has patents issued in the laser, communications, and energy fields. Dr. Puthoff's professional background spans more than five decades of research at General Electric, Sperry, the National Security Agency, Stanford University and SRI International. Dr. Puthoff regularly advises NASA, the Department of Defense and intelligence communities, corporations and foundations. Here's what he's had to say:
"I've been taken out on aircraft carriers by the Navy and shown what it is we have to replace if we have new energy sources to provide new fuel methods."
Puthoff is now part of the 'To The Stars' academy, who have publicly disclosed that they are working on technology that mimics the flight patterns of observed UFOs.
The Design
Below is  the design of the OTC X-1
Please go to Project Camelots write up on Otis, find this picture and click on each image to view it in high resolution.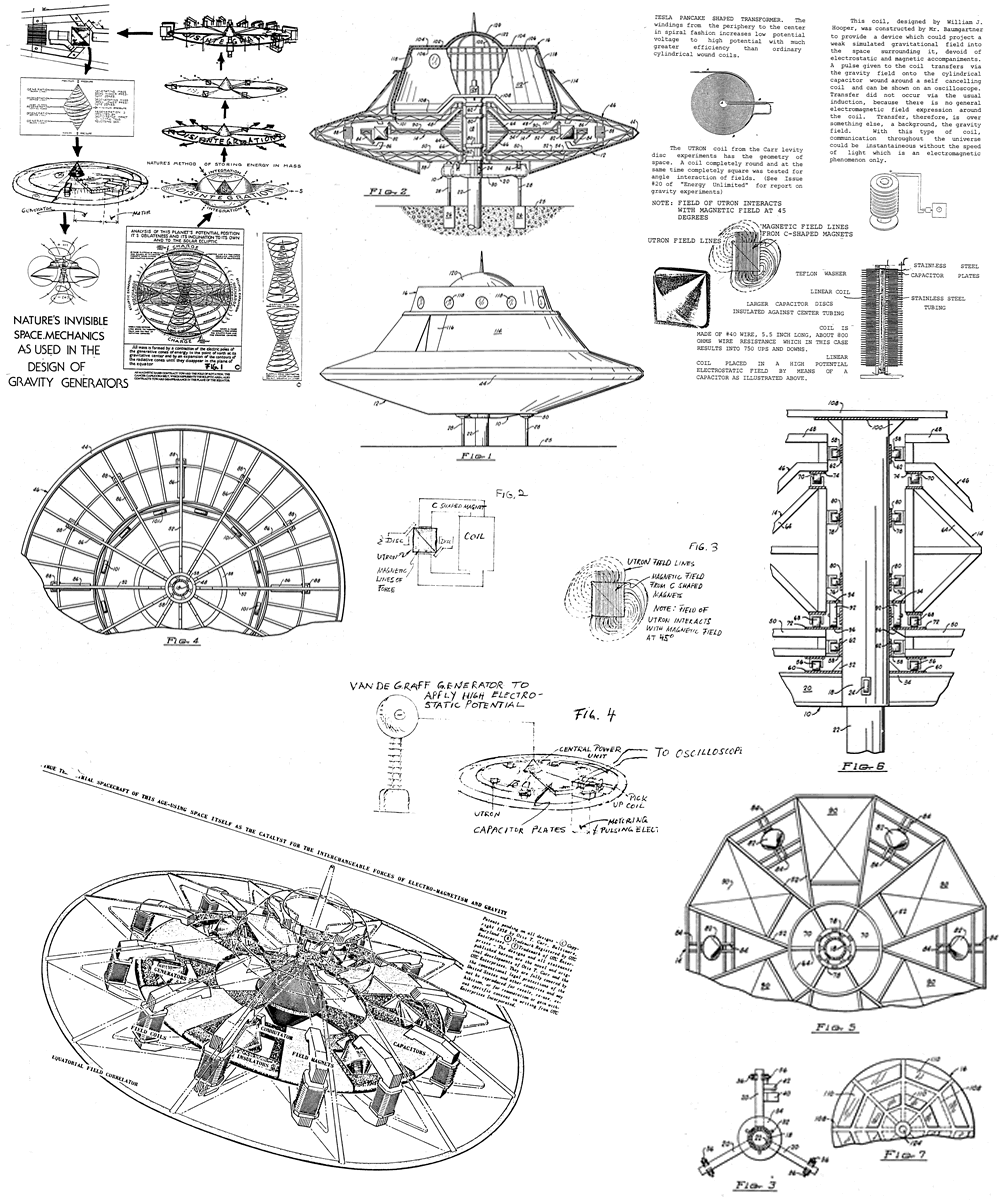 The Takeaway
Let's keep an open mind, and not to brush off revolutionizing technologies just because they break the laws of physics as we know them; after all, such laws are made to be broken. It's similar to when Lord Einstein published his paper on special relativity that completely shattered what we thought we knew back then. Today, we are more aware of how the giant national security apparatus intervenes, and given all of the information that's emerged regarding the subject of exotic technologies like anti-gravity crafts, it's easier to see 70 years after the fact what really happened to Otis T. Carr.
We plan to investigate the telecom industry, it's ties to politics, and expose its efforts to push 5G while ignoring the dangers and without proper safety testing, but we can't do it without your support.
We've launched a funding campaign to fuel our efforts on this matter as we are confident we can make a difference and have a strong plan to get it done.
Check out our plan and join our campaign here.
The Medical Journals' Sell-Out—Getting Paid to Play
[Note: This is Part IX in a series of articles adapted from the second Children's Health Defense eBook: Conflicts of Interest Undermine Children's Health. The first eBook, The Sickest Generation: The Facts Behind the Children's Health Crisis and Why It Needs to End, described how children's health began to worsen dramatically in the late 1980s following fateful changes in the childhood vaccine schedule.]
The vaccine industry and its government and scientific partners routinely block meaningful science and fabricate misleading studies about vaccines. They could not do so, however, without having enticed medical journals into a mutually beneficial bargain. Pharmaceutical companies supply journals with needed income, and in return, journals play a key role in suppressing studies that raise critical questions about vaccine risks—which would endanger profits.
Journals are willing to accept even the most highly misleading advertisements. The FDA has flagged numerous instances of advertising violations, including ads that overstated a drug's effectiveness or minimized its risks.
An exclusive and dependent relationship
Advertising is one of the most obviously beneficial ways that medical journals' "exclusive and dependent relationship" with the pharmaceutical industry plays out. According to a 2006 analysis in PLOS Medicine, drugs and medical devices are the only products for which medical journals accept advertisements. Studies show that journal advertising generates "the highest return on investment of all promotional strategies employed by pharmaceutical companies." The pharmaceutical industry puts a particularly "high value on advertising its products in print journals" because journals reach doctors—the "gatekeeper between drug companies and patients." Almost nine in ten drug advertising dollars are directed at physicians.
In the U.S. in 2012, drug companies spent $24 billion marketing to physicians, with only $3 billion spent on direct-to-consumer advertising. By 2015, however, consumer-targeted advertising had jumped to $5.2 billion, a 60% increase that has reaped bountiful rewards. In 2015, Pfizer's Prevnar-13 vaccine was the nation's eighth most heavily advertised drug; after the launch of the intensive advertising campaign, Prevnar "awareness" increased by over 1,500% in eight months, and "44% of targeted consumers were talking to their physicians about getting vaccinated specifically with Prevnar." Slick ad campaigns have also helped boost uptake of "unpopular" vaccines like Gardasil.
Advertising is such an established part of journals' modus operandi that high-end journals such as The New England Journal of Medicine (NEJM) boldly invite medical marketers to "make NEJM the cornerstone of their advertising programs," promising "no greater assurance that your ad will be seen, read, and acted upon." In addition, medical journals benefit from pharmaceutical companies' bulk purchases of thousands of journal reprints and industry's sponsorship of journal subscriptions and journal supplements.
In 2003, an editor at The BMJ wrote about the numerous ways in which drug company advertising can bias medical journals (and the practice of medicine)—all of which still hold true today. For example:
Advertising monies enable prestigious journals to get thousands of copies into doctors' hands for free, which "almost certainly" goes on to affect prescribing.
Journals are willing to accept even the most highly misleading advertisements. The FDA has flagged numerous instances of advertising violations, including ads that overstated a drug's effectiveness or minimized its risks.
Journals will guarantee favorable editorial mentions of a product in order to earn a company's advertising dollars.
Journals can earn substantial fees for publishing supplements even when they are written by "paid industry hacks"—and the more favorable the supplement content is to the company that is funding it, the bigger the profit for the journal.
Discussing clinical trials, the BMJ editor added: "Major trials are very good for journals in that doctors around the world want to see them and so are more likely to subscribe to journals that publish them. Such trials also create lots of publicity, and journals like publicity. Finally, companies purchase large numbers of reprints of these trials…and the profit margin to the publisher is huge. These reprints are then used to market the drugs to doctors, and the journal's name on the reprint is a vital part of that sell."
… however, even these poor-quality studies—when funded by the pharmaceutical industry—got far more attention than equivalent studies not funded by industry.
Industry-funded bias
According to the Journal of the American Medical Association (JAMA), nearly three-fourths of all funding for clinical trials in the U.S.—presumably including vaccine trials—came from corporate sponsors as of the early 2000s. The pharmaceutical industry's funding of studies (and investigators) is a factor that helps determine which studies get published, and where. As a Johns Hopkins University researcher has acknowledged, funding can lead to bias—and while the potential exists for governmental or departmental funding to produce bias, "the worst source of bias is industry-funded."
In 2009, researchers published a systematic review of several hundred influenza vaccine trials. Noting "growing doubts about the validity of the scientific evidence underpinning [influenza vaccine] policy recommendations," the authors showed that the vaccine-favorable studies were "of significantly lower methodological quality"; however, even these poor-quality studies—when funded by the pharmaceutical industry—got far more attention than equivalent studies not funded by industry. The authors commented:
[Studies] sponsored by industry had greater visibility as they were more likely to be published by high impact factor journals and were likely to be given higher prominence by the international scientific and lay media, despite their apparent equivalent methodological quality and size compared with studies with other funders.
In their discussion, the authors also described how the industry's vast resources enable lavish and strategic dissemination of favorable results. For example, companies often distribute "expensively bound" abstracts and reprints (translated into various languages) to "decision makers, their advisors, and local researchers," while also systematically plugging their studies at symposia and conferences.
The World Health Organization's standards describe reporting of clinical trial results as a "scientific, ethical, and moral responsibility." However, it appears that as many as half of all clinical trial results go unreported—particularly when their results are negative. A European official involved in drug assessment has described the problem as "widespread," citing as an example GSK's suppression of results from four clinical trials for an anti-anxiety drug when those results showed a possible increased risk of suicide in children and adolescents. Experts warn that "unreported studies leave an incomplete and potentially misleading picture of the risks and benefits of treatments."
Many vaccine studies flagrantly illustrate biases and selective reporting that produce skewed write-ups that are more marketing than science.
Debased and biased results
The "significant association between funding sources and pro-industry conclusions" can play out in many different ways, notably through methodological bias and debasement of study designs and analytic strategies. Bias may be present in the form of inadequate sample sizes, short follow-up periods, inappropriate placebos or comparisons, use of improper surrogate endpoints, unsuitable statistical analyses or "misleading presentation of data."
Occasionally, high-level journal insiders blow the whistle on the corruption of published science. In a widely circulated quote, Dr. Marcia Angell, former editor-in-chief of NEJM, acknowledged that "It is simply no longer possible to believe much of the clinical research that is published, or to rely on the judgment of trusted physicians or authoritative medical guidelines." Dr. Angell added that she "[took] no pleasure in this conclusion, which [she] reached slowly and reluctantly" over two decades at the prestigious journal.
Many vaccine studies flagrantly illustrate biases and selective reporting that produce skewed write-ups that are more marketing than science. In formulaic articles that medical journals are only too happy to publish, the conclusion is almost always the same, no matter the vaccine: "We did not identify any new or unexpected safety concerns." As an example of the use of inappropriate statistical techniques to exaggerate vaccine benefits, an influenza vaccine study reported a "69% efficacy rate" even though the vaccine failed "nearly all who [took] it." As explained by Dr. David Brownstein, the study's authors used a technique called relative risk analysis to derive their 69% statistic because it can make "a poorly performing drug or therapy look better than it actually is." However, the absolute risk difference between the vaccine and the placebo group was 2.27%, meaning that the vaccine "was nearly 98% ineffective in preventing the flu."
… the reviewers had done an incomplete job and had ignored important evidence of bias.
Trusted evidence?
In 2018, the Cochrane Collaboration—which bills its systematic reviews as the international gold standard for high-quality, "trusted" evidence—furnished conclusions about the human papillomavirus (HPV) vaccine that clearly signaled industry bias. In May of that year, Cochrane's highly favorable review improbably declared the vaccine to have no increased risk of serious adverse effects and judged deaths observed in HPV studies "not to be related to the vaccine." Cochrane claims to be free of conflicts of interest, but its roster of funders includes national governmental bodies and international organizations pushing for HPV vaccine mandates as well as the Bill & Melinda Gates Foundation and the Robert Wood Johnson Foundation—both of which are staunch funders and supporters of HPV vaccination. The Robert Wood Johnson Foundation's president is a former top CDC official who served as acting CDC director during the H1N1 "false pandemic" in 2009 that ensured millions in windfall profits for vaccine manufacturers.
Two months after publication of Cochrane's HPV review, researchers affiliated with the Nordic Cochrane Centre (one of Cochrane's member centers) published an exhaustive critique, declaring that the reviewers had done an incomplete job and had "ignored important evidence of bias." The critics itemized numerous methodological and ethical missteps on the part of the Cochrane reviewers, including failure to count nearly half of the eligible HPV vaccine trials, incomplete assessment of serious and systemic adverse events and failure to note that many of the reviewed studies were industry-funded. They also upbraided the Cochrane reviewers for not paying attention to key design flaws in the original clinical trials, including the failure to use true placebos and the use of surrogate outcomes for cervical cancer.
In response to the criticisms, the editor-in-chief of the Cochrane Library initially stated that a team of editors would investigate the claims "as a matter of urgency." Instead, however, Cochrane's Governing Board quickly expelled one of the critique's authors, Danish physician-researcher Peter Gøtzsche, who helped found Cochrane and was the head of the Nordic Cochrane Centre. Gøtzsche has been a vocal critic of Cochrane's "increasingly commercial business model," which he suggests is resulting in "stronger and stronger resistance to say anything that could bother pharmaceutical industry interests." Adding insult to injury, Gøtzsche's direct employer, the Rigshospitalet hospital in Denmark, then fired Gøtzsche. In response, Dr. Gøtzsche stated, "Firing me sends the unfortunate signal that if your research results are inconvenient and cause public turmoil, or threaten the pharmaceutical industry's earnings, …you will be sacked." In March 2019, Gøtzsche launched an independent Institute for Scientific Freedom.
In 2019, the editor-in-chief and research editor of BMJ Evidence Based Medicine—the journal that published the critique of Cochrane's biased review—jointly defended the critique as having "provoke[d] healthy debate and pose[d] important questions," affirming the value of publishing articles that "hold organisations to account." They added that "Academic freedom means communicating ideas, facts and criticism without being censored, targeted or reprimanded" and urged publishers not to "shrink from offering criticisms that may be considered inconvenient."
In recent years, a number of journals have invented bogus excuses to withdraw or retract articles critical of risky vaccine ingredients, even when written by top international scientists.
The censorship tsunami
Another favored tactic is to keep vaccine-critical studies out of medical journals altogether, either by refusing to publish them (even if peer reviewers recommend their publication) or by concocting excuses to pull articles after publication. In recent years, a number of journals have invented bogus excuses to withdraw or retract articles critical of risky vaccine ingredients, even when written by top international scientists. To cite just three examples:
The journal Vaccine withdrew a study that questioned the safety of the aluminum adjuvantused in Gardasil.
The journal Science and Engineering Ethics retracted an article that made a case for greater transparency regarding the link between mercury and autism.
Pharmacological Research withdrew a published veterinary article that implicated aluminum-containing vaccines in a mystery illness decimating sheep, citing "concerns" from an anonymous reader.
Elsevier, which publishes two of these journals, has a track record of setting up fake journals to market Merck's drugs, and Springer, which publishes the third journal as well as influential publications like Nature and Scientific American, has been only too willing to accommodate censorship requests. However, even these forms of censorship may soon seem quaint in comparison to the censorship of vaccine-critical information now being implemented across social media and other platforms. This concerted campaign to prevent dissemination of vaccine content that does not toe the party line will make it harder than ever for American families to do their due diligence with regard to vaccine risks and benefits.
---
We plan to investigate the telecom industry, it's ties to politics, and expose its efforts to push 5G while ignoring the dangers and without proper safety testing, but we can't do it without your support.
We've launched a funding campaign to fuel our efforts on this matter as we are confident we can make a difference and have a strong plan to get it done.
Check out our plan and join our campaign here.
Jeffrey Epstein's Case Raises Questions About Royal Family Pedophilia & Elite Ritualistic Abuse of Children
In Brief
The Facts:

The recent case against Jeffrey Epstein, who is being charged with child sex trafficking, has opened up the idea that 'higher powers' like the Royal Family might be involved in this type of thing, along with other political "VIPs."

Reflect On:

Is this really a surprise? If we look at our world and our 'leaders,' our actions are truly a reflection of their psychopathic behaviour. The involvement of high ranking people in ritual sex abuse, if you think about it, shouldn't be a surprise.
Child sex abuse among the global elite is extremely rampant. This no doubt makes those who aren't really aware of it wonder: Why is this not more well-known? Well, the answer to that is simple, it's the same reason why so many other 'happenings' on planet Earth go virtually unknown, and that's because we have been relying on a small group of very powerful and wealthy people and the corporations they run for information about what is happening on our planet. We are constantly being spoon-fed lies by mainstream media. There are a number of examples to choose from, and multiple award-winning mainstream media journalists have been blowing the whistle with regards to what really goes on behind the scenes for years. All information that comes from mainstream media is given to them in the form of instructions from big corporations, government, and intelligence agencies. This is evident by documents that've been released via the Freedom of Information Act as well.
Furthermore, media outlets providing access to alternative information using credible sources that go against the narrative and interests of these big corporations and the government have been completely censored and demonetized.
Information like what's discussed in this article has been made out to be a 'conspiracy theory' by the mainstream, but it's now becoming so obvious that the mainstream has no choice but to start reporting on it.
The latest example is the case of Jeffrey Epstein, a billionaire who has close connections to the Clintons and people like Prince Andrew of the Royal Family. He is a registered sex offender, and apart from that, a number of his victims have come forward over the years claiming that he abused them, many of whom are under age. One example is Virginia Roberts Giuffre, pictured here with Prince Andrew. She claims that she was loaned out by Epstein to people like Prince Andrew as a young teenager.
The latest news regarding Epstein was that he was arrested and taken into federal custody for the sex trafficking of children. Specifically, it deals with the sex trafficking of minors in both New York and Florida between 2002 and 2005. He is expected to appear in court tomorrow. The arrest was made by the FBI-NYPD Crimes Against Children Task Force, and it comes almost 12 years after Epstein didn't receive any penalty except a slap on the wrist for supposedly molesting and raping children in Florida.
Here is the information coming from a Miami Herald article titled 'With Jeffrey Epstein locked up, these are nervous times for his friends, enablers': 

Jeffrey Epstein, 66, was arrested at Teterboro Airport in New Jersey shortly before 4 p.m. Saturday, July 6th as he arrived on his private jet from Paris.
It should be noted that the Department of Justice has said that it is not rescinding the plea deal Jeffrey Epstein got in his previous conviction even though it has been determined to have been illegal.
Although details of the case remain undisclosed, there are indications that others involved in his crimes could be charged or named as cooperating witnesses.
The fact that others involved in his crimes could be charged is quite significant, since it indicates that law enforcement and the judiciary are not shying away from proving a CONSPIRACY in this case. This is quite different from his earlier conviction in Florida in 2008, which was 'soliciting an underage girl for prostitution.'
According to the Daily Beast:
Several of the billionaire's employees and associates allegedly recruited the girls for Epstein's abuse, and some victims eventually became recruiters themselves, according to law enforcement. The girls were as young as 14, and Epstein knew they were underage, according to details of the arrest and indictment shared by two officials.
Why are these people always connected to and have close relationships with the global elite? What's even more eye-opening is that this is not the only example that's leaked into the mainstream. It's become impossible for the world to ignore as of late. For exmaple,  Smallville actress Allison Mack was 'outed' for being a member of a sex cult and working in a management capacity. Apparently, Mack's job was to lure women into the program under the false pretence of female empowerment and self-help workshops. They were then convinced to sign up for a more "advanced program" called Dominus Obsequious Sororium, which required these women to basically turn their lives over to the leader, Keith Raniere. Dominus Obsequious Sororium is a quasi-Latin phrase that roughly translates to "Master Over The Slave Women."
You can read more about that here.
Raniere owns a company called NXIVM, which supposedly offers executive success programs, but clearly, that's not the case. Raniere was also arrested, along with Mack, in March 2018 in Mexico on charges of sex trafficking. He stands accused of raping girls as young as 12 years old, imprisoning a woman for 18 months, child pornography, and more. He has been kept in federal custody in New York, but has now been found guilty on all charges.
This group also has strange connections to the powerful elite, as Billionaire Clare Bronfman was indicted on racketeering charges. These charges were connected to her role as "Operations Director" for NXIVM. Clare Bronfman is the daughter of Charles Bronfman, a Canadian/American businessman and philanthropist. The Bronfman family has been referred to as the "The Rothschilds of the New World" by author Peter C. Newman, a well-known Canadian journalist and writer. The Bronfman family has also been in business with the Rothschild family for quite some time. One of many examples is their wealth management company, Bronfman Rothschild, which began in 1997 as Virchow Krause Wealth Management.
Bronfman's brother, Stephen, was one of Canadian Prime Minister Justin Trudeau's biggest funders. Trudeau was also very close to Peter Danglish, a high-ranking UN sex-offender mentioned below. I mention this because I came across more strange ties to the Trudeau family, like the Pierre Elliott Trudeau foundation symbol, as you can see, is the same symbol used by pedophiles to identify sexual preference.
Just like with the Epstein case, the Clinton's are mentioned with regards to NXIVM as well.
The Rolling Stone reported:
"There are strange political connections as well. Mark Vicente, a documentary filmmaker and former high-ranking member of the group, testified at the trial of NXIVM head Keith Raniere that Clare Bronfman, the billionaire Seagram's heiress and alleged benefactor of the organization, approached him and a few other members of the group to help her make a contribution to a Clinton campaign." (source)
Pretty weird stuff, isn't it?
Let's not forget about Sir Jimmy Savile, a BBC children's television presenter feted by the Royal Family and Downing Street, abused 450 victims, mostly boys and girls as young as eight over 50 years. While Savile had long been seen as odd, the scale of his offenses shocked the country. He was even allowed special access to hospitals, and the authorities laughed at or ignored his victims before he died a national hero. He was very close with the Royal Family.
This kind of thing has been floating around out there for decades. For example, a member of the Royal family was claimed to be part of a suspected pedophile ring under investigation by the police in the late 1980s, a former police officer has said. The former Metropolitan Police officer said he was told by a detective sergeant that the investigation into the ring, which was also claimed to include an MP, was shut down for national security reasons. "I was in a car with two other vice squad officers … The detective sergeant said he had just had a major child abuse investigation shut down by the CPS regarding a royal and an MP," he told the Sunday Mirror newspaper. "He did not mention names, but he said the CPS had said it was not in the public's interest because it 'could destabilise national security'."
We even have whistleblowers when it comes to this issue, like Steve Pieczenik, a former United States Department of State official and a Harvard trained psychiatrist with a doctorate in international relations from the Massachusetts Institute of Technology (MIT). He's been openly talking about this type of thing in elitist circles. You can view an example of him talking about the Clintons here.  Here's another one of him implicating Bush Sr.
Peter McKelvie, a former child protection chief in the UK, gained attention when he claimed that senior politicians, military figures and even people linked to the Royal Family were among the alleged abusers. While working in Hereford and Worcester, he helped to convict notorious child abuser Peter Righton, who was once one of the country's most respected authorities on child care.  This highlights a great point, and something that I've come across multiple times in my research. Many people who work for national child care protection programs are directly involved in this type of thing. McKelvie  is one of many who told the world that these types of powerful VIP pedophile rings have been running in secrecy for multiple years. (source)
The same types of scandals take place here on our side of the pond as well.
Congress is now looking at a bipartisan bill to stop employees from sharing child porn on Department of Defense computers. Yes, it's a real problem, which begs the questions: Where are these kids coming from? Who is making these kids 'perform,' who is filming them, and where are these high-ranking people getting this from?
"The notion that the Department of Defense's network and Pentagon-issued computers may be used to view, create, or circulate such horrifying images is a shameful disgrace, and one we must fight head on." – Abigail Spanberger (D-Virginia), spoken in a  statement as she and co-sponsor Mark Meadows (R-N. Carolina) introduced the End National Defense Network Abuse (END Network Abuse) Act in the House.
As The Hill reports, "The Pentagon's Defense Criminal Investigative Service subsequently identified hundreds of DOD-affiliated individuals as suspects involved in accessing child pornography, several of whom used government devices to use and share the images."
You can read more about that and see some more disturbing connections between high ranking powerful people and this type of activity here.
It doesn't stop there, and it goes all the way up into the Vatican.
What I've Discovered From My Research: This Is Ritualistic In Nature
It was only a few years ago when the information cited above was considered a conspiracy theory, but we here at Collective Evolution were creating awareness about it in a credible way. Based on our research, this doesn't just involve the rape and trafficking of children. It also involves murder and ritualistic satanic abuse of children who are used for various ceremonies, sacrifices and rituals. In some cases, it even deals with cannibalism.
The term "ritual" hasn't been mentioned in the mainstream. On November 12, 2012 the former Prime Minister of Australia, Julia Gillard, set into motion a Royal Commission to inquire into institutional responses to child abuse. Five years later, in December 2017, the Royal Commission presented its final report to the government, an absolutely damning indictment against institutions that dealt with children, including the Catholic Church. As a result, the current Australian Prime Minister, Scott Morrison, delivered a public apology on October 22, 2018.  You can read more about that story here.
"The crimes of ritual sexual abuse happened in schools, churches, youth groups, scout troops, orphanages, foster homes, sporting clubs, group homes, charities, and in family homes as well." Australian Prime Minister, Scott Morrison
Our Interview With A Survivor
Anneke Lucas is an author, speaker, advocate for child sex trafficking victims, founder of the non-profit organization Liberation Prison Yoga, and creator of the Unconditional Model.
Her work is based off her 30-year journey to restore her mental and physical wellbeing after surviving some of the worst atrocities known to humankind before the age of 12. Sold as a young child into a murderous pedophile network by her family, she was rescued after nearly six years of abuse and torture.
We recently conducted an interview with her. Below is a clip from the four part series, as it was a very long and detailed interview. You can access the full interview HERE on CETV, a platform we created to help combat internet censorship and allow us to continue to do our work and get the word out about various issues and topics.
The Takeaway
There is so much evidence showing that the global financial elite (various members of big politics, corporations, hollywood, Royal Families, and people in positions of great power, the Vatican, etc.) are engaged in psychopathic behaviour. But are you really surprised? Look at the world and its systems and all aspects that surround humanity… It's truly a reflection of psychopathic 'leaders.' And it's a reflection of us being totally oblivious to it as a result of mass brainwashing. Still, in many cases, we support and stand up for these systems, and accept no other way. We refuse to acknowledge things that any fairly intelligent person should be able to see with a bit of investigation.
If you watch the Anneke interview, you will see how there is a very positive and uplifting message that comes out of all of this, despite the disheartening subject matter. Human trafficking and child abuse represent the most untold stories of our generation, as they hurt millions of souls every year, many of them being children. The International Tribunal For Natural Justice (ITFNJ) is one of many organizations to bring awareness to child sex trafficking. You can read more about that here, especially if you are feeling hopeless about this issue.
We are slowly coming to terms with the fact that this happens at elite levels, done by some of the most 'prominent' and powerful people. It's time to talk about it, and it's time to ask more questions. Let's keep disclosure coming.
We plan to investigate the telecom industry, it's ties to politics, and expose its efforts to push 5G while ignoring the dangers and without proper safety testing, but we can't do it without your support.
We've launched a funding campaign to fuel our efforts on this matter as we are confident we can make a difference and have a strong plan to get it done.
Check out our plan and join our campaign here.
Why I Haven't Paid Much Attention To "Q Anon"
We are living in some very interesting times. Amidst all of the mass brainwashing we've received from establishment mouthpieces (mainstream media), the birth of alternative media brought to light information that simply wasn't being presented by the mainstream media. Prior to the mass popularity that alternative media garnered, global media was completely owned by a handful of corporations. It still remains a vital tool for this small group of powerful people to completely control the perception of millions of people across the world.
The owners of these outlets did not like how their viewers were wandering off to alternative media, so they've used their power to create massive amounts of censorship, but the truth can't really be stopped. This is why we've seen the persecution of Wikileaks, for example, and the demonization of alternative media outlets simply because their beliefs don't fit the accepted framework of knowledge. Alternative media outlets have been demonetized and censored, and multiple award-winning mainstream media journalists have called out mainstream media and how these networks are slaves to their masters–their masters being big corporations, governments, and intelligence agencies.
Truth doesn't come from mainstream media, so it's no mystery why millions have flocked to other sources of information that provide evidence instead of a news anchor simply talking, since these networks do nothing but push propaganda and put out false information.
Our world is and has been experiencing a shift in consciousness for a very long time, and a big reason the global elite started to deem certain information and credible sources as 'fake news' and subject them to extreme amounts of censorship was simply due to the fact that this type of information is extremely threatening to several corporate, political and elitists agendas, so much so that freedom of information and speech continues to be censored.
In the midst of all this, along came "Q Anon." For reasons I am completely unaware of, I never took an interest in Q Anon, and still haven't. Perhaps it was the predictions being made that didn't come to light, although many did, or perhaps it's the fact that it could be anyone speaking. Nevertheless, I simply don't know why I never took an interest.
The thought crossed my mind that collective consciousness has shifted so much, and so many people have awakened to so many different things, that the only way to capture and deceive this segment of people, who represent the majority in my opinion, would be to develop a character like Q. I don't really believe this, it was just a thought that crossed my mind.
The thought also crossed my mind that Q could be legit, given the fact that they've put out information and predictions that have come to light. Q has a good track record for that and appears to be a team of people who are in or have access to the "inside." In this sense, Q seems very legit at times.
Furthermore, Q could represent Donald Trump and another faction of the 'Deep State.' I believe there are governments within governments, and they are constantly fighting for power, but always remain at the top. This is evident by the fact that all presidents and politicians always followed the will of their masters, they've all had ties and close relationships with corporations and the elite and made policies that benefited certain corporate interests and elitist agendas.
What turns me away from Q is its religious-like following. What Q preaches is never questioned by them, and a lot of information and claims are put out there simply based on nothing. Q is not really needed, there are more than enough whistleblowers, documentation, etc. to really seek out the truth and present it in a credible way that will reach the masses.
That being said, Q has no doubt been an awakening trigger forcing and encouraging people to think for themselves, connect the dots, and do their own research.
Trump is also not questioned by many and is seen as a saviour in some cases. People are giving away their own critical thinking, they're giving away their own brain to another entity without questioning it. Regardless of whether or not Q is legit, or represents another side of the 'deep state' or not, this is dangerous.
There have also been some shady claims, just as there have been some legit claims made by Q. One of them was when Q claimed the arrest of Julian Assange was to free him from his poor conditions, and that we should simply just "trust the plan." This was far from the truth, and this is one of multiple examples that raised red flags about Q in my mind. At the same time, there are many things Q has put out that have been credible and that suggest Q is part of or has deep connections to the inside.
I don't think that this is a larper… This is way beyond, this is someone who is, I don't think it's possible to say the things that Q has been saying without being a true insider. So it's someone that is real, it's someone that truly believes that Trump is working against the deep state for the good of the American people, that's their perspective. The real question is how accurate are they, and I don't really have an answer to that. – Richard Dolan (source)
When it comes to Trump, it's quite clear and easy to see, in my opinion, that he represented a disturbance to some very powerful elite that use people like Hillary Clinton to represent them. Trump represented, and still does in many ways, an 'outsider.' Looking at politics with no opinion or bias and without a "republican" or "democrat" point of view, it's easy to see how, during Trump's campaign, the powerful elite did everything possible to ensure a victory for Clinton. This included not only swaying the Democratic party (which previously played dirty pool against Bernie Sanders), but the entire mainstream media machine, the financial community, the EU, and even the Republican party itself.
Since Trump's campaign, we have been told that Trump is a racist, sexist, xenophobe, liar, cheat, and narcissist. It's reminiscent of the concerted media attack against Brazil's Dilma Rousseff, which culminated earlier in 2016 in her impeachment and removal from power. It's important to understand why Trump is demonized, and that's because he is a disruptor, and his disruption falls squarely against the two key pillars of the American ruling elite's ideology: neoliberalism and neoconservatism.
During Trump's campaign, he was quite vocal about pharmaceutical corruption, the US government funding terrorist organizations, vaccine safety, and he even called out Bill Clinton and his relationship to Jeffrey Epstein. Now, in some instances, he seems to have changed his views on a few matters, which goes to show that he could have been compromised by the deep state, or the other side of the deep state, if you will.
"So a person is elected, he comes with his ideas. Then people with briefcases come to visit him, well dressed, in dark suits, kind of like mine. Except instead of a red tie it's black or navy. And then they explain what to do, and the whole rhetoric changes, you see? This happens from one administration to the next."  – Vladimir Putin, providing one of many examples of politicians around the world and within the US speaking up about this hidden power that controls the presidency. (source)
I'd like to leave you with this thought-provoking quote from Catherine Austin Fitts, former Commissioner of the United States Department of Housing and Urban Development, who recently said:
"In the Red Button Problem, everybody wants their check and they want to pretend that they are good. So it's very important that politicians come up with this story of 'good'. The story of 'I'm good,' doesn't have to make sense, but it has to be good enough so that I can just take my check and feel good and not have to do anything. It's a way of being free to stay on my couch and do the things that I love instead of being bothered with the responsibility of being a citizen."

So Q is the new story of, 'I am good,' because, 'I can just trust the plan, and these covert operators are going to get their thing done.' So I've been nice because I know some very intelligent, capable people who buy this whole thing hook, line, and sinker. It has been really frustrating for you and me. I took FASAB 56 to these Q believers, and they said, 'You need to trust the plan.'"
The Takeaway
It appears that people are becoming too engaged with the Q narrative that it is blinding them from the truth of what Q is actually representing. Instead of viewing Q as right or wrong, what steps does it represent in our awakening process? Is the narrative truly creating a world where humanity thrives? Or is it perhaps only taking us a step forward, if at all?
We can't let Q do all thinking, we must continue to do what got is here in the first place, that's think for ourselves. It's ok to peak and take a look at Q, but to hang on to and live and die by everything Q says, and to constantly push the idea that whatever Q says is correct is a little troublesome to me.
Related CE Article: Is The Q Narrative Providing False Hope? Catherine Austin Fitts Weights In
We plan to investigate the telecom industry, it's ties to politics, and expose its efforts to push 5G while ignoring the dangers and without proper safety testing, but we can't do it without your support.
We've launched a funding campaign to fuel our efforts on this matter as we are confident we can make a difference and have a strong plan to get it done.
Check out our plan and join our campaign here.