The Story of Otis T. Carr – The Man Who Supposedly Invented An 'Anti-Gravity' Vehicle In The 1950s
In Brief
The Facts:

Anti-gravity technology has been around for decades, and there is much proof of that. One of the pioneers was Otis T. Carr, who was subjected to large amounts of ridicule and difficulty while pursuing his developments.

Reflect On:

If the release of this technology would completely wipe out the Oil Industry and collapse the monetary system, does that legitimize the suppressing of it? Is our collective consciousness ready for technologies that would change our entire society?
Take a moment and breathe. Place your hand over your chest area, near your heart. Breathe slowly into the area for about a minute, focusing on a sense of ease entering your mind and body. Click here to learn why we suggest this.
It's astonishing to me how the topic of anti-gravity is still be placed in the "conspiracy theory" realm. This isn't the stuff of conspiracy theories or "fringe" science, it's a field full of reputable scientists and scholars, and real-world examples that have come not only from hard evidence but from extremely credible witness testimony as well.  One thing is for certain when talking about such topics: one must delve into the black budget world.
Take, for example, a recent investigation conducted by a Michigan State University professor and a former secretary from the Department of Housing and Development. Together, with a team of Ph.D students, they uncovered approximately $21 trillion that went missing and unaccounted for from the Department of Defense as well as the Department of Housing and Development. Why is this relevant? Because they discovered that the money was going to fund black budget, off the books programs that require no oversight from Congress.  This black budget world has been in operation for many years. You can read more about it here and here in two articles I've previously written on the subject.
--> Become A CE Member: The only thing that keeps our journalism going is YOU. CE members get access to exclusive benefits and support our shared mission.. Click here to learn more!
Breakaway Civilization
The black budget world encompasses a separate civilization (Richard Dolan, "Breakaway Civilization") that has used tremendous amounts of resources in all areas, from science to archaeology, to move itself far ahead of the mainstream world technologically. How many people does it employ? Who is operating it? Many of these questions remain unknown, but if you follow the money it will give you perhaps somewhat of an idea.
Any civilian who invents technology that rivals the black budget world has always been subjected to harassment, and has difficulty getting their innovations or inventions out to the public. That's because these technologies have been 'classified', for if they were made public it would change everything, severely threatening the tremendous amount of power and control the global elite has over the human population.
The technology that's been developed within these programs could change the world, but instead it's used within the military-industrial complex for self-serving purposes, or so it seems. Efficient energy-generating devices that could eliminate the use of oil, or any other modern day fuel source for that matter, have been subjected to patent suppression.
Suppressed Technology List From 1971
For example, the previous list regarding technology suppressed was obtained by researcher Michael Ravnitzky in 1971. Most of the technology listed seems to be related to various military applications. You can view that list here. As Steven Aftergood from the Federation of American Scientists reports:
"The 1971 list indicates that patents for solar photovoltaic generators were subject to review and possible restriction if the photovoltaics were more than 20% efficient. Energy conversion systems were likewise subject to review and possible restriction if they offered conversion efficiencies in "excess of 70-80%." (source)
Why would higher energy efficiencies be a "national security threat?" If this is true, we are talking about solar technology that goes far beyond the best commercial panels available today, which usually can't even generate 20 percent efficiency.
"These concepts have been proven in hundreds of laboratories throughout the world and yet they have not really seen the light of day. If these technologies were to be set free worldwide, the change would be profound, it would be applicable everywhere. These technologies are absolutely the most important thing that has happened in the history of the world"  – Brian O'Leary, Former Nasa Astronaut and Princeton Physics Professor, speaking about over-unity energy, or 'free' energy.  (source)
Anti-Gravity
Anti-Gravity technology most probably falls into this category. According to the very first director of the CIA, Roscoe Hiellenkoetter, we know that there was an "official campaign of secrecy and ridicule" with regards to UFOs while stating that Air Force officers were well aware of their existence. Today we have electro-optical data and even physical evidence, not to mention credible witness testimony of technologies performing and demonstrating this type of technology.
We have statements from previously retired Directors of Lockheed Martin Aerospace programs (including the most recently retired), like Steve Justice.  So, what did Mr. Justice have to say? Well, a lot of things. One of the first statements he made using the To The Stars platform is that, when it comes to the technologies he's been around, worked with, and seen, it would be an understatement to call them revolutionary. He's stated that the technologies that him and his team at To The Stars are working on now are the same technologies that are employed by Unidentified Flying Objects.
"In some cases, according to incident reports and interviews with military personnel, these vehicles descended from altitudes higher than 60,000 feet at supersonic speeds, only to suddenly stop and hover as low as 50 feet above the ocean." – Christopher Mellon, Deputy Assistant Defense Secretary for Intelligence from 1997 to 2002 (source)
Justice has said that he has had "glimpses" of how this type of technology works, and that his current team needs to "harvest" these technologies from the Science Division to realize their capabilities.
Justice and his team have admitted to having access to materials from these UFOs, wherever they are from and whoever is making them.
Over the last three months, To The Stars Academy has collected seven pieces of material, from multiple sources, to study for The ADAM Research Project.  Each sample represents different elements of potential Unidentified Aerial Phenomena and how they operate.

According to the accompanying provenance documentation, there are two classes of samples:  material that was released as the UAP was hovering and material that makes up parts of the structure or systems. (source)
According to Justice,
The structure and composition of these materials are not from any known existing military or commercial application. They've been collected from sources with varying levels of chain-of-custody documentation, so we are focusing on verifiable facts and working to develop independent scientific proof of the materials' properties and attributes. In some cases, the manufacturing technology required to fabricate the material is only now becoming available, but the material has been in documented possession since the mid-1990's. We currently have multiple material samples being analyzed by contracted laboratories and have plans to extend the scope of this study. If the claims associated with these assets can be validated and substantiated, then we can initiate work to transition them from being a technology to commercial and military capabilities."  (source)
On multiple occasions Justice has spoken of technologies that can alter the space-time metric. The mainstream has picked up on this multiple times, and here's an example from The New York Times.
So, as you can see, this type of technology is no joke. Many of the UFOs we see may be made by humans, others, probably not. The point is, they are here, within the "science division."
"It is my thesis that flying saucers are real and that they are space ships from another solar system." – Hermannn Oberth , one of the founding fathers of modern rocketry.
Anti-gravity technology has been around for a long time.
A paper entitled "Outside The Box" Space & Terrestrial Transportation & Energy Technologies For The 21st Century written by Professor Theodore Lodre of the University of New Hampshire reviews the development of anti-gravity research in the United States and emphasizes how "research activity seemed to disappear by the mid-1950s." It then looks into recently reported scientific findings and witness testimonies "that show us that this research and technology is alive and well and very advanced. The revelations of findings in this area will alter dramatically our 20th-century view of physics and technology and must be considered in planning for both energy and transportation needs in the 21st century."
Otis T. Carr
Otis T. Carr is one of many examples throughout history where there are clues that highly advanced technologies like anti-gravity crafts are actually legit. Given everything we know now, as well as what happened to Carr, only strengthens this suspicion.
In the late 1950s, OTC Enterprises, Inc. of Baltimore, Maryland put out a statement that was published in the April 3rd edition of the Baltimore Enterprise. The statement came in the form of a claim that the company was ready to manufacture a flying saucer that was capable of travel outside of the Earth's atmosphere. All that was needed was a massive amount of funding, approximately 20 million dollars. The equivalent to that today is probably several billion.
Now keep in mind that this is the 1950s. There was a big wave of UFO sightings at this time, especially after the Atom bomb was dropped. The topic was getting a lot of mainstream media attention. Rumors of "crashed craft, and bodies recovered," that Apollo 14 astronaut Edgar Mitchell claimed were real were running rampant at this time. Did 'the powers that be' or 'the military-industrial complex' have saucer technology at this time? Based on my research, it certainly seems that way.  Take, for example, a document from the Central Intelligence Agency's Electronic reading room:
"A German newspaper recently published an interview with George Klein, famous German engineer and aircraft expert, describing the experimental construction of 'flying saucers' carried out by him from 1941 to 1945." (source)
The document goes on to describe how many people believed 'flying saucers' to be a postwar development. They were actually in the planning stages in German aircraft factories as early as 1941. The document then goes on to mention an experiment described by Klein:
 "The "flying saucer" reached an altitude of 12,400 meters within 3 minutes and a speed of 2,200 kilometers per hour. Klein emphasized that in accordance with German plans, the speed of these "saucers" would reach 4,000 kilometers per hour. One difficulty, according to Klein, was the problem of obtaining the materials to be used for the construction of the "saucers," but even this had been solved by German engineers toward the end of 1945, and construction on the objects was scheduled to begin, Klein added.
Otis T. Carr, as mentioned above, had similar claims. He even put on numerous demonstrations for the public and amassed millions of dollars from extremely wealthy people to do so. If they did not believe him, and if he had not shown some promise, how did he receive all of this funding?
Think about it. We now know for a fact that global militaries have long had an interest in the UFO phenomenon. They've been asking who, what, where, when and how for a very long time, and of course it's considered a national security matter. Any individual who has invented, or shows potential to invent craft that is capable of extreme, technologically advanced maneuvers, would not be allowed to develop it, and would be ridiculed like Carr was. This is why the invention secrecy act was made in the early 1950s. In my opinion, its true aimto protect the interest of the power under the guise of 'national security.'
Carr's Goal
His goal was to fly to the moon in his "circular foil spacecraft" on December 7th, 1959.
The "spacecraft" allegedly invented by Carr is much like the ideal spaceship imagined by Plantier and others. It is propelled by an artificial gravitic field (the "Carrotto gravity motor") and if this were not miracle enough, it uses no fuel. It is powered by the "Utron electric accumulator"–a short of self-charging battery which "uses the Sun's magnificent force of Electromagnetism by means of natural reproductive chemistry, to quote the interesting language of the Enterprise ad. (Centre for UFO Studies)
Below is a picture of Wayne Aho, a military intelligence officer who was going to accompany Carr on his trip to the moon. He claimed it would only take a few hours. Carr is second from the left.
Otis T. Carr was actually a protege of Nikola Tesla, according to independent researcher Doug Yurchey: "Carr and his team constructed a number of fully functional flying saucers in the late 1950s. The flying disk worked and was demonstrated. Carr was serious about 'taking his craft to the Moon. 'However, two weeks after a dramatic test flight, their laboratory was forcibly closed, Federal agents confiscated equipment as well as all documentation. Authorities told them Carr's project would 'destroy the monetary system of the United States.'  (source)
Carr was heavily criticized, ridiculed, and made a fool of by the press. I could not verify whether his connection with Tesla is actually true or not, but rumors of Carr's relationship with Tesla were rampant, even in the 50's.
Classic Hit Job
This is a classic story of someone who received lots of public attention and had many failed demonstrations, and apparently, many successful ones as well. Like other great inventors, Carr's work was seized by the government. This happened in January 1961, when Louis J. Lefkowitz, the Attorney General of New York at the time, stated that "Carr had swindled $50,000, and later that year True Magazine labelled him as a hoaxer." By then, his laboratory had been raided and destroyed, and the group of engineers had been ordered to disband and cease contact with one another.
This is very fishy, and similar to the Stan Meyer water powered car story. Looking at it today, it was quite clear that this was a huge attempt to shut Carr down. These developments and curiosities were not for our world, but were reserved for the black budget world. He was denied an appeal on March 1st, 1961 for his 'crime'. He could not pay the fine and served part of a 14-year jail term. After that little is known about what became either of Carr himself or the craft, but they never flew again. Carr is reported to have suffered from ill-health, a broken man. He passed away apparently in Gardnerville, Nevada, in 2005.
In 1952, Carr actually wrote a book, called "Dimensions of Mystery." The book was mostly written in 'code,' according to him, it was the complete layout of his plan and how his machine worked, yet for a reader like me, or anyone for that matter, it's impossible to understand. He did switch from user code and poetry, to actually writing some real statements regarding his intentions, as you can see here:
Below is a discussion about the tests that would need to be conducted, and, apparently were conducted.
Hal Puthoff
As you can see, just like with most other stories of great technological advancements (there are too many examples to choose from), the global elite has always demonstrated their supremacy by ridiculing concepts that don't really fit the frame. There are multiple technological developments that have been completely hushed up, for "national security purposes."
Take this quote from Hal Puthoff, for example. It's not with regards to UFOs but more so "free-energy," which actually go hand in hand and relate directly to each other. Puthoff has published numerous papers on electron-beam devices, lasers and space propulsion and has patents issued in the laser, communications, and energy fields. Dr. Puthoff's professional background spans more than five decades of research at General Electric, Sperry, the National Security Agency, Stanford University and SRI International. Dr. Puthoff regularly advises NASA, the Department of Defense and intelligence communities, corporations and foundations. Here's what he's had to say:
"I've been taken out on aircraft carriers by the Navy and shown what it is we have to replace if we have new energy sources to provide new fuel methods."
Puthoff is now part of the 'To The Stars' academy, who have publicly disclosed that they are working on technology that mimics the flight patterns of observed UFOs.
The Design
Below is  the design of the OTC X-1
Please go to Project Camelots write up on Otis, find this picture and click on each image to view it in high resolution.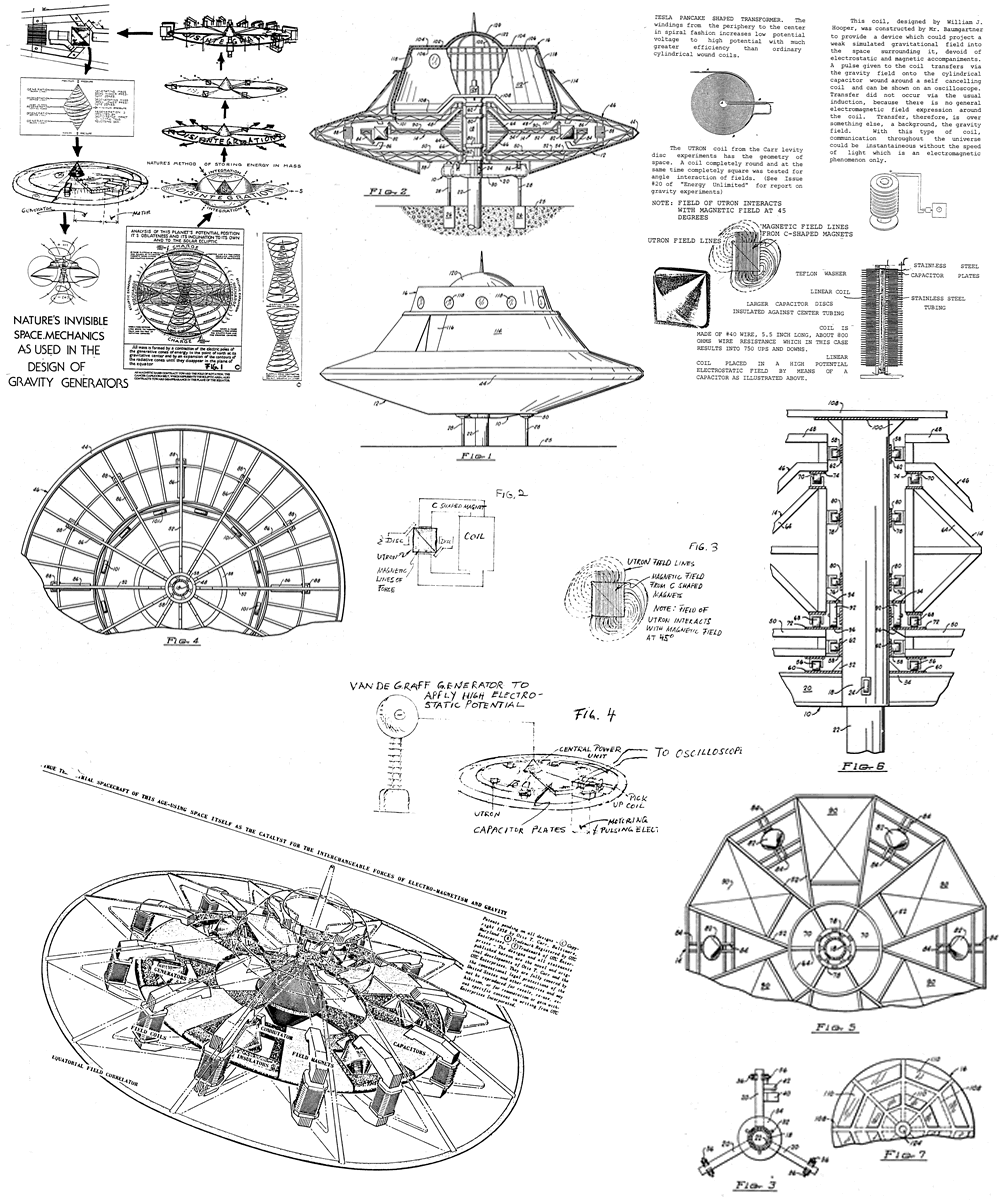 US Gov Grants Patents For An Anti-Gravity Craft That Alters The Space-Time Around It
As far back as 2005, patent 6,960,975 was granted on 1 November to Boris Volfson of Huntington, Indiana. It describes a space vehicle propelled by a superconducting shield, which alters the curvature of space-time outside the craft in a way that counteracts gravity. The device builds on a claim by the Russian physicist Eugene Podkletnov that superconductors can shield the effects of gravity.
A patent filed by the United States Navy in 2016 describes a design for a craft as follows:
A craft using an inertial mass reduction device comprises of an inner resonant cavity wall, an outer resonant cavity, and microwave emitters. The electrically charged outer resonant cavity wall and the electrically insulated inner resonant cavity wall form a resonant cavity. The microwave emitters create high frequency electromagnetic waves throughout the resonant cavity causing the resonant cavity to vibrate in an accelerated mode and create a local polarized vacuum outside the outer resonant cavity wall.
Shortly after the patent for the hybrid craft was approved in 2018, the inventor, Salvatore Cezar Pais presented another related paper, "Room Temperature Superconducting System for Use on a Hybrid Aerospace Undersea Craft" at the 2019 American Institute of Aeronautics and Astronautics SciTech Forum in San Diego this past January. In the paper, Pais writes that "the achievement of room temperature superconductivity (RTSC) represents a highly disruptive technology, capable of a total paradigm change in Science and Technology," and adds that its "military and commercial value is considerable."
These types of technologies, or potential technologies, seem to be bringing up what's known as warp drive, or the Alcubierre Drive. The concept involves basically placing a craft within a space that is moving faster than the speed of light. Therefore, the craft itself does not have to travel at the speed of light from its own type of propulsion system. It's easier to understand if you think in terms of a flat escalator in an airport. The escalator moves faster than you are walking. In this case, the space around the ship would be moving faster than the ship could fly, keeping all the matter of the ship intact. Therefore, we can move faster than light in a massless cloud of space-time.
So, rather than exceed the speed of light alone in a craft, a spacecraft would leap long distances by contracting space in front of it and expanding space behind it. This would result in travel faster than light. (source) Physicist Miguel Alcubierre was the first (that we know of) to identify this possibility. He described it as remaining still on a flat piece of space-time inside a warp bubble that was made to move at "superluminal" (faster than light) velocity. We must not forget that space-time can be warped and distorted, it can be moved. But what about moving sections of space-time that are created by expanding space-time behind the ship, and by contracting space-time in front of the ship?
Here's another great paper on faster than light technology regarding altering the quantum vacuum by legendary physicist Dr. Eric Davis.
The key is developing technology that can alter-space time, but also detecting that space time, or as some like to call it "aether" or "dark matter" in some cases, so it can be engineered.
A similar concept was also recently illustrated by Mathematician James Hill and Barry Cox at the University of Adelaide. They published a paper in the journal proceedings of the Royal Society A: Mathematical and Physical Sciences (source).
The Takeaway
Let's keep an open mind, and not to brush off revolutionizing technologies just because they break the laws of physics as we know them; after all, such laws are made to be broken. It's similar to when Lord Einstein published his paper on special relativity that completely shattered what we thought we knew back then. Today, we are more aware of how the giant national security apparatus intervenes, and given all of the information that's emerged regarding the subject of exotic technologies like anti-gravity crafts, it's easier to see 70 years after the fact what really happened to Otis T. Carr.
Click below to watch a sneak peek of our brand new course!
Our new course is called 'Overcoming Bias & Improving Critical Thinking.' This 5 week course is instructed by Dr. Madhava Setty & Joe Martino
If you have been wanting to build your self awareness, improve your.critical thinking, become more heart centered and be more aware of bias, this is the perfect course!
French Space Agency Releases Information About UFOs: 600 Cases Over 64 Years
In Brief
The Facts:

The French counterpart of the UAP Task Force who reports to the France's Space Agency offers a detailed analysis of 600 UFO cases over 64 years.

Reflect On:

Why, after decades of study, encounters and what seems to be an official ridicule campaign are governments admitting that the phenomenon is very real?
Take a moment and breathe. Place your hand over your chest area, near your heart. Breathe slowly into the area for about a minute, focusing on a sense of ease entering your mind and body. Click here to learn why we suggest this.
Reporting to France's Space Agency (CNES) is a little-known unit that investigates the unidentified aerial phenomenon and makes its findings public. GEIPAN stands for Groupe d'Études et d'Informations sur les Phénomènes Aérospatiaux Non-identifiés (unidentified aerospace phenomenon research and information group)
While everyone is focused on the American version of the study, which will contain over 120 events, GEIPAN has released a report that covers over 600 recorded incidents by pilots over a 64-year period. The paper concentrates on 290 of these incidents when the unidentified aerial device had (or may have had) an impact on flight safety.
While the study has received little attention, there are several data points that are essential in establishing or verifying particular aspects of the phenomena. It will be fascinating to see if the DNI's report to Congress has comparable results, or if they will disclose these findings in the public realm.
1952 & 1954 — The Peak Years
The distribution of the 600 cases by year reveals that 320 instances (53%) occurred over a 16-year period (from 1946 to 1960), with 275 cases (46%) occurring between 1950 and 1957. The year with the most instances (83 cases) was 1952, followed by 1954 with 40 cases. The years 1952 in the United States and 1954 in Europe are regarded as the two peak years for UAP sightings.
There is no discernible seasonal trend in the distribution of these 600 cases per month. July has the most instances (75) compared to the other months, and April has the fewest cases (29). The remaining 10 months had between 42 and 56 instances, which does not appear to be a substantial difference.
Witnesses failed to indicate the time of day in 38 cases (6 percent). Out of the remaining 562 occurrences, 305 (54%) occurred at night and 257 (46%) occurred during the day.
A Global Phenomenon
The 600 instances are almost universally dispersed. They are positioned over continental zones (564 in total), encompassing 56 nations, as well as above marine zones (36 cases). The American continent (North, Central, and South America) had 376 cases (58 percent), with North America having 298 instances (Canada and USA). 108 instances have been reported above Europe, with 33 of them occurring in French airspace.
Witness Credibility — Pilots Only
The UAP sightings recorded by military pilots are the most common among the 600 occurrences documented during a 64-year period: 251 instances (42 percent ). Commercial pilots reported 233 instances (39%), while private pilots recorded 105 cases (18 percent ).
When the latter section of the time range investigated (1990 to 2010) is included, the outcome is completely different. The commercial aircraft instances are the most frequent of the 70: 49 in total (70 percent ). Military pilots reported 12 instances (17 percent), while private pilots reported 9 cases (13 percent ). This, I believe, is related to the secrecy that armies throughout the world have taken when it comes to disclosing UAP sightings.
A thorough study of the distribution of military aircraft cases by year reveals that 75% of them (189 instances) happened during a 14-year period (from 1946 for 1959). The majority of these instances were military cases from the 1950s, and numerous official records from that time period were declassified in the years that followed (U.S. Air Force Projects Sign, Grudge, and Blue Book).
In 141 cases (24%), almost a quarter of the 600 cases, the phenomenon was observed from two or more aircraft in flight.
There were two or more eyewitnesses in 415 incidents (69 percent). The pilot or co-pilot was the lone witness in 185 incidents (31%). The findings reveal that in more than two-thirds of the 600 cases, there were two or more witnesses.
Flight Characteristics & Radar Detection
The distribution of incidents by flight phase reveals that the vast majority of sightings happened when the aircraft was in cruise flight. It should be noted that the pilot has more time to look at the sky during this phase of flight because the aircraft is frequently on autopilot. Pilots, on the other hand, focus their attention on flying and flight instruments throughout the other four phases of flight.
Radar-Visual (RV) sightings are classified into three types: (1) detection by ground radar, (2) detection by airborne radar (AR), and (3) detection by both ground radar and aerial radar (AGR). When ground control checks but does not detect any targets on the radar display and cannot corroborate the visual sighting, a fourth category (NR) occurs.
Among the 600 cases chosen, a radar check (positive or negative) was performed in 278 (46%) of them, and the findings are as follows:
Positive radar detection (GR+AR+AGR) 162 cases (27% of 600 cases)
Negative radar detection (NR) 115 cases
It's worth noting that the proportion of positive radar detection (27%) is precisely the same as the result of a prior research of 300 instances.
The visual observation of the event was verified by both airborne and ground radar in 34 (21%) cases.
Example: On a landing approach, the co-pilot of a Caravelle spotted five or six lights off the right wing tip that followed the aircraft on a parallel track. He inquired with the air traffic controller if there were any other planes on final approach. ATC provided a negative response but confirmed that there was a radar echo on the right of the aircraft that followed it. The lights vanished off the right wing tip and reappeared off the left wing tip. The pilot activated the autopilot and examined the on-board radar, which revealed an echo to the left.
Simultaneously, the air traffic controller reported that the unknown echo had moved to the left of the Caravelle. (Case: 1352, France 1979)
Radar-visual cases are very important and interesting for two reasons: (1) they confirm the visual testimony of the pilot and/or the crew by a technical record of the phenomenon; (2) and sometimes they give technical measures like speed, altitude or trajectory of the UAP.
Example: The crew of a B-757 noticed a black cigar-shaped wingless object below their aircraft off to the right, around 15–20 miles away. Tacoma's NORAD/WASD (Western Air Defence Sector) HQ has an unclear track. It looked to be motionless at first, then surged in a burst of speed for 20 to 30 seconds before coming to a complete halt. It lingered for one and a half minutes before accelerating again in a burst of speed. This was done many times during a four-minute period, after which the target vanished. The calculated speed was between 1000 and 1400 mph.

(Case:1266 USA 1995)
The Phenomenon
Pilots classify the things they see into two categories: "light" points and "objects," which have a "solid" appearance. UAP reported by pilots and crews is described as having a material or three-dimensional, solid aspect in over three-quarters of the instances (74 percent). UAP is described as solid, although it is most commonly reported as "objects," which come in a variety of forms. The most commonly reported forms are round (or elliptical) with a metallic appearance (sphere, silvery disc, etc). Meanwhile, several additional forms were noticed, some of which were quite odd and contradictory to traditional aerodynamic designs.
Examples: Two yellow objects shaped like hamburgers (Case 1149, USA 1980); a black cylindrical object 24 feet long and nine feet wide (Case 1123, Italy 1979); a giant triagle-shaped with intense lights joining the edges (Case 1113, Chile 1978); a long brown cigar-shaped object (Case 1050, Portugal 1976); an airliner fuselage without any wings or tail and with potholes lighted from inside (Case 1347, France 1985); an elliptical shape, flat below and slightly domed on the upper part (Case 1245, Sahara 1965); a large elliptical object looking like a metallic mushroom, which at times appeared to be translucent and seemed to have a transparent glass-line dome (Case 556, Australia 1954).
In more than two third of the 600 selected cases (474 cases — 78%) the witnesses have reported only one UAP.
In 117 cases (20%), pilots reported sightings of two or more UAP. In 12 cases, groups of more than 10 UAP were observed at the same time.
A pilot recorded the lowest estimated altitude as 500 feet. Major Joe Walker, who was piloting the X-15 rocket propelled aircraft on a test flight at more than 2000 mph when his rear view movie camera caught five disc-shaped cylindrical objects flying in echelon formation, reported the greatest UAP height of 246,000 feet. (Case 854, April 1964).
Interaction
Interaction cases are those in which the UAP appears to react to the presence of an aircraft. Interactions between UAP and aircraft were observed in 299 instances (almost 50%). These cases are about the following events: (1) UAP conducts manoeuvres to approach, chase, or escape from the aircraft; (2) dogfights with military aircraft; and (3) UAP circles or performs manoeuvres near to the aircraft. This category includes reports of electromagnetic impacts on aviation systems.
The phenomena approached the aeroplane on a collision path in 78 occasions, and there was a near-collision with the aircraft in six more. The pilot was required to take evasive action in 31 occasions to avoid colliding with the UAP, including three cases (all commercial aircraft incidents) in which passengers were wounded during the move.
In 59 of the incidents, the UAP circled or moved close to the aircraft. This sort of occurrence has the most reports (20 cases) of suspected electro-magnetic impacts on aviation equipment, particularly for commercial (8 cases) and private aircraft (8 cases).
Aggressive Tic-Tacs
In terms of events that may have an influence on flight safety, the most common kind reported by commercial pilots is "UAP approaches aircraft on a collision course," with a total of 38 instances. The pilots claimed that the "UAP circles aircraft and/or moves close to aircraft" in 24 occasions. Pilots most commonly reported claimed electromagnetic impacts on their aircraft systems during this sort of occurrence. In 15 cases, the pilot had to take evasive action to avoid a collision with the object that resulted in passengers injured in three cases.
Example: The three crew members of a B747–300 saw an extremely rapid white rocket-like object overflowing their plane between 200 and 400 feet above in the opposite direction. The item, which they characterised as cylindrical, lacked a wing. There was no TCAS warning. The object flew just above their head. It was close enough that the flight officer lowered his head, fearing it might strike them. It was white and spherical in form. There was no apparent smoke or flames coming from the item. ARTCC observed no radar echo in the aircraft's opposite direction. The National Transportation Safety Board has reached no judgments on the identify of the object, but the matter is considered closed. (Case 1293, USA 1997)
Private aircraft instances with potential influence on flight safety account for the majority of the cases, accounting for 34 of the 65 cases in which pilots reported claimed Electro-magnetic impacts on aircraft systems: Instances involving private aircraft account for 54% of all cases (compared with commercial aircraft cases: 15% and military aircraft cases: 27%).
Electro-Magnetic Effects
The most troublesome element of UAP contacts appears to be situations in which permanent or transitory electromagnetic impacts occurred on aircraft systems during flight, either directly or indirectly as a result of the relatively close presence of one or more UAP.
In 81 of the 600 chosen cases, claimed electromagnetic interference was seen and reported (14%). Everything from radios to weaponry was impacted.
Readers should remember this information and realise that studies that have gone to great efforts to assist us in figuring out the nature of the UAP enigma already exist.
They've been studied by reputable organisations staffed by qualified scientists and professionals.
Click below to watch a sneak peek of our brand new course!
Our new course is called 'Overcoming Bias & Improving Critical Thinking.' This 5 week course is instructed by Dr. Madhava Setty & Joe Martino
If you have been wanting to build your self awareness, improve your.critical thinking, become more heart centered and be more aware of bias, this is the perfect course!
Study Finds That Humans Would Be Quite "Upbeat" About The Discovery of Extraterrestrial Life
Take a moment and breathe. Place your hand over your chest area, near your heart. Breathe slowly into the area for about a minute, focusing on a sense of ease entering your mind and body. Click here to learn why we suggest this.
As the possibilities of a non-human intellect being present on Earth increase on a daily basis, one critical question must be addressed: How will we deal with it if we make contact? Will we be terrified if we feel threatened? Will we accept it? Will we be able to comprehend it? Or will we dismiss it as just another item to cope with in our increasingly fast-paced world?
Researchers from Arizona State University performed a study to try to find out the answer, and the article is titled "How Will We React to the Discovery of Extraterrestrial Life?"
The researchers looked at how language was used in media coverage of previous announcements of this kind, with an emphasis on alien microbial life (Pilot Study). A large online sample was asked to write about their own and humanity's reaction to a hypothetical announcement of such a discovery, and another large online sample was asked to read and respond to a news article about the discovery of fossilised extraterrestrial microbial life in a Martian meteorite.
"If we came face to face with life outside of Earth, we would actually be pretty upbeat about it," said Arizona State University Assistant Professor of Psychology Michael Varnum.
Varnum presented the study's findings on February 16 at the American Association for the Advancement of Science annual meeting in Austin, Texas.
The pilot study's articles focused on the 1996 discovery of possibly fossilised extraterrestrial Martian microbes, the 2015 discovery of periodic dimming around Tabby's Star, thought to indicate the presence of an artificially constructed "Dyson sphere," and the 2017 discovery of Earth-like exoplanets in a star's habitable zone.
The pilot study discovered that the language used to depict these events elicited much more positive than negative feelings.
In a second study, the researchers invited over 500 people to write about their potential reactions to the discovery of alien microbial life, as well as humanity's possible reaction. When considering their individual sentiments as well as those of mankind as a whole, participants' replies revealed substantially more positive than negative emotions.
"I'd be a little excited about the news," one participant remarked. "Even if it existed in a rudimentary form, it would be fascinating."
Varnum's group then gave an additional sample of over 500 people with historical news coverage of scientific breakthroughs and asked them to write about their emotions in another research. Participants were split into two groups. Participants in one group read a previous article from The New York Times on probable evidence of ancient microbial life on a Mars meteorite. The second set of participants wrote a report from the New York Times about the alleged development of synthetic human-made life in a lab.
The scientists discovered evidence of considerably happier than negative emotions in responses to the alleged finding of alien life, and this impact was larger in response to reading about extraterrestrial life than in response to human-made synthetic life.
"This discovery demonstrates that other planets can support life," one participant stated. "It's an intriguing and fascinating discovery that might be only the beginning."
Varnum examined recent media coverage of the potential that the interstellar Oumuamua asteroid is actually a spacecraft in unpublished data given at the conference. Here, too, he discovered evidence of more positive than negative emotions, implying that humans may react favourably to news of the finding of sentient life elsewhere in the cosmos.
According to Varnum, "taken together, this implies that if we find out we're not alone, we'll take the news rather well"
Click below to watch a sneak peek of our brand new course!
Our new course is called 'Overcoming Bias & Improving Critical Thinking.' This 5 week course is instructed by Dr. Madhava Setty & Joe Martino
If you have been wanting to build your self awareness, improve your.critical thinking, become more heart centered and be more aware of bias, this is the perfect course!
US Air Force is Building Telemetry Stations Along The East Coast To Track UAP Activity
In Brief
The Facts:

Several telemetry stations are set to be built along the US east coast to begin tracking UAP activity.

Reflect On:

Are these truly signs that the US military is now taking this subject seriously? Or has it done so behind the scenes for quite some time?
Take a moment and breathe. Place your hand over your chest area, near your heart. Breathe slowly into the area for about a minute, focusing on a sense of ease entering your mind and body. Click here to learn why we suggest this.
The United States Air Force will construct a new telemetry station in Florida that will use cutting-edge tracking equipment to record data mainly from UFOs. This development is most likely connected to Aviator Ryan Graves' assertion that there were sensitive air space intrusions practically daily on Florida's East Coast for two years. For decades, the United States Department of Defense has reserved the specific air space in question for national security concerns. It is clearly a no-fly zone.
I had contacted the Plans Examiner Supervisor for Pasco County's Building Department at the time of this writing. For the past seven years, Jeff Robert Blask has had the distinction of being a part of substantial progress. He has assessed construction designs for buildings ranging from new residences to new hospitals to guarantee compliance with the Florida Building Code.
A Project Engineer contacted Pasco County in April 2021 to obtain a permit for the facility's construction. Mr. Blask understood from his expertise that the Federal Government does not require licenses to develop on state or municipal territory, therefore he was perplexed as to why permission was being asked for what was clearly a military complex. When Jeff inquired, the Project Engineer stated that the property was leased rather than owned by the federal government. As a result, the exemption is inapplicable.
The location is made up of multiple structures, including a 100-foot tall tower with a radar dome, two 50-foot collapsible auxiliary towers, and an elevated monitoring facility with an observation deck.
Jeff Blask wrote in his publication —
"Normally, I wouldn't look at this particular project with too much zeal especially since MacDill Air Force Base is about 45 miles south at the southern tip of Tampa Bay. MacDill is Central Command for Middle Eastern operations. However, being that I am a life-long UFO enthusiast and given everything occurring recently, my radar went off, no pun intended."
Mr. Blask said to the Project Engineer "Wow! That's some hefty equipment. This is obviously for tracking possible UAP activity that we've had around our coasts in recent years."
"You got it! And as a matter of fact, if you are interested in that subject it may also interest you to know that this facility is not being manned and monitored by MacDill Air Force Base… it's being monitored in its entirety by Eglin." responded the Project Engineer.
"The assets themselves are not classified, however, the data that will be collected is. Therefore, this facility will be under heavily armed guards and only people with Top Secret clearance will be allowed in." Added the Engineer that Mr. Flask was speaking with.
Jeff Flask has written in his own story posted to thejolt.net that he has learned that the private contractor has been asked to construct several similar facilities along with the coastal areas.
"Needless to say, I was somewhat speechless. First and foremost, he so nonchalantly confirmed what this site was to be used for and secondly, this site is being monitored by Eglin Air Force Base, a large 640 square mile base that's about 60 miles east of Pensacola; not MacDill our local base here in the greater Tampa Bay Area." stated Jeff Blask.
This demonstrated to him, at his own grassroots level, that the military is now taking the UAP issue seriously.
Click below to watch a sneak peek of our brand new course!
Our new course is called 'Overcoming Bias & Improving Critical Thinking.' This 5 week course is instructed by Dr. Madhava Setty & Joe Martino
If you have been wanting to build your self awareness, improve your.critical thinking, become more heart centered and be more aware of bias, this is the perfect course!